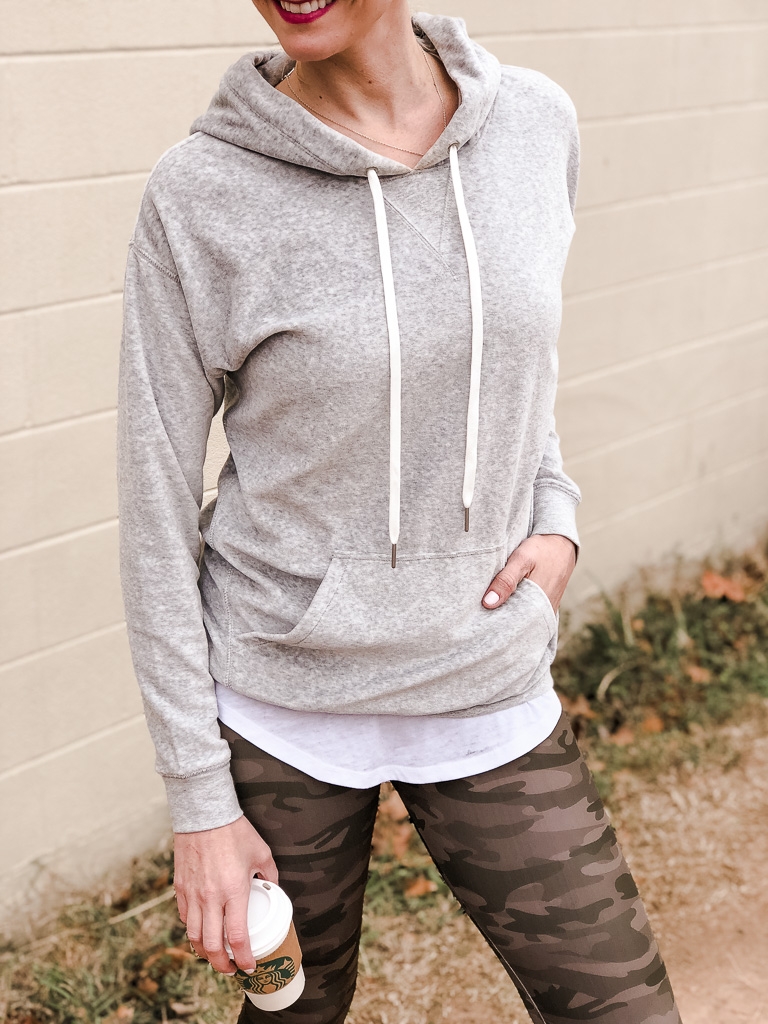 Today I am dedicating this post to getting back and start working out again. But first a little fact about me: I get into hardcore workout routines and then ruts. The last two years I was really into running and ran two marathon relays. A previous knee injury sidelined me for a bit and I was over running. I took a break for a few months then I moved to a boutique gym in my neighborhood with Crossfit type classes. The calendar became jam packed and then the holidays rolled around and the gym routine went out the window.
So today I am sharing how I start working out again after being in a rut.
Outfit Details
Camo Workout Pants– Wearing Sm/Med / Grey Hoodie– Small / Sports Bra– Small / Tennis Shoes
Moto Leggings– Med / Puffer Vest
Grey Workout Pants– Wearing Sm/Med / Black Twist Front Top– Small / Black Tennis Shoes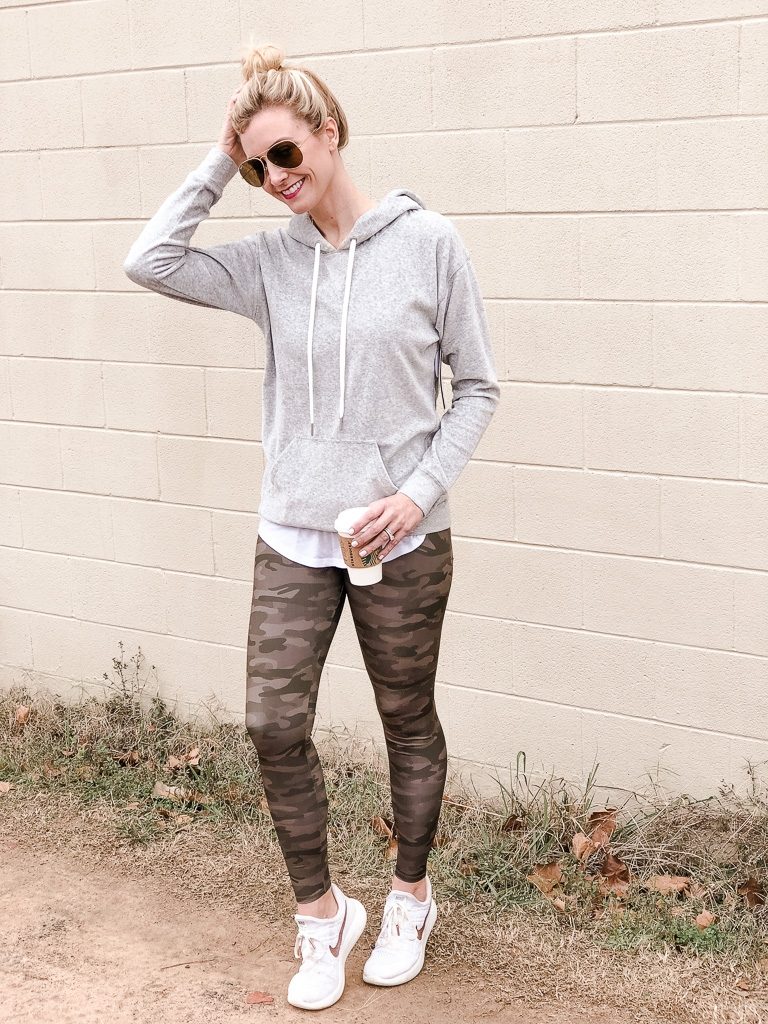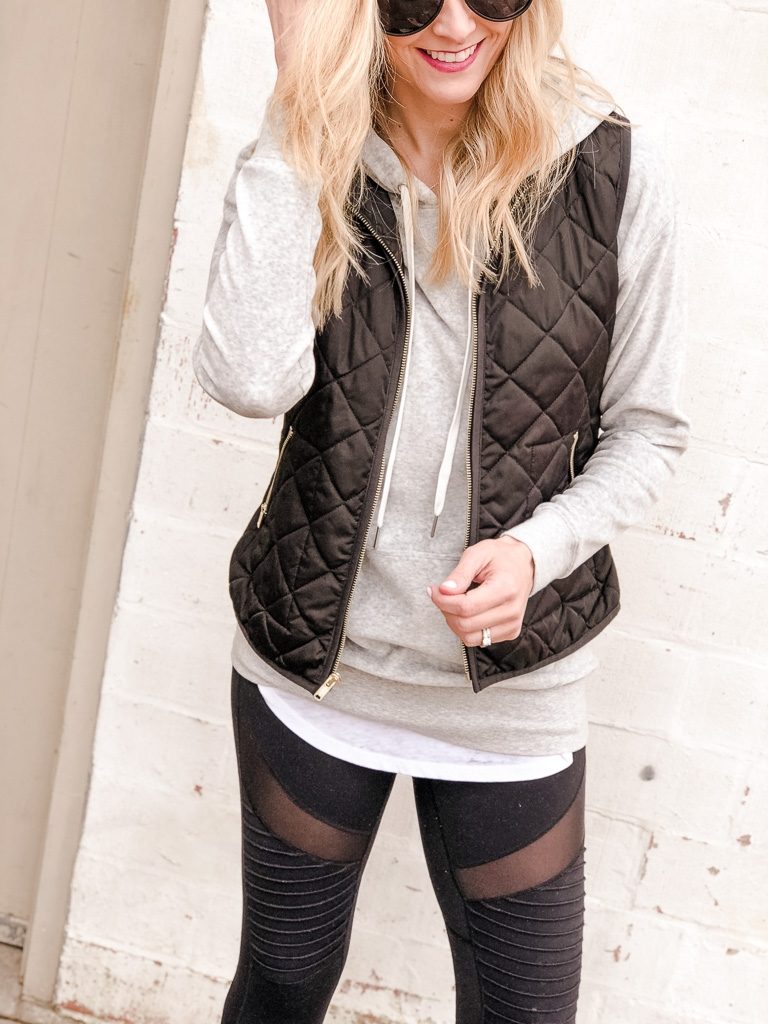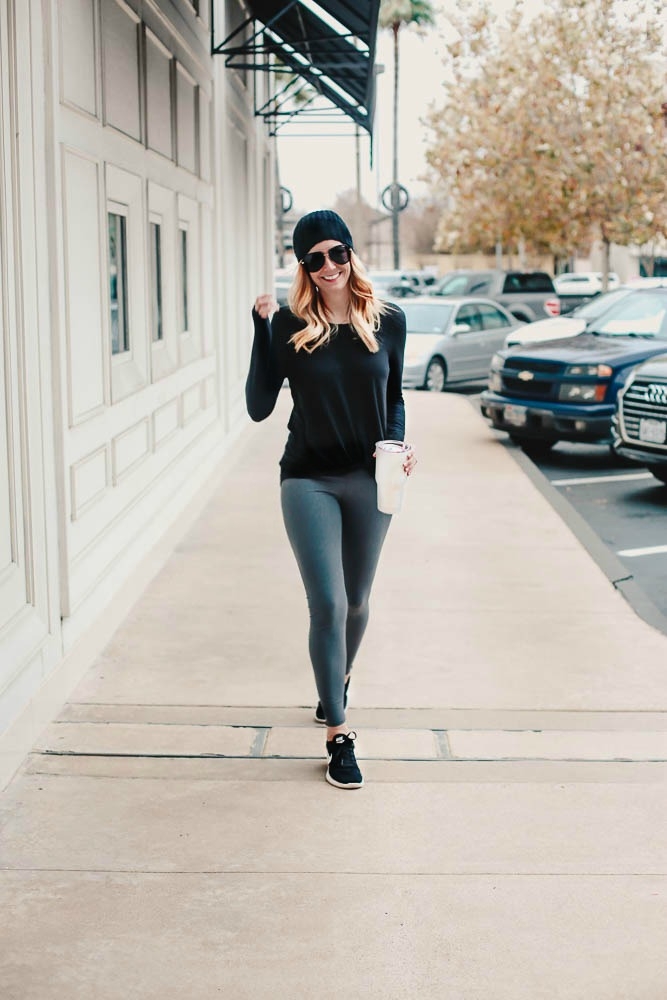 Mentally Prepare Yourself
A week before I start working out, I prepare myself mentally. I psych myself up inside by envisioning how I will feel and look after working out.
Check The Calendar
Think about your day and when the best time to fit a 30 min workout into your day will be. For me, the best time will be 9:30am after I drop all the kids off at school. I know I will be done by 10/10:15 and can get back home to work until I pick the kids up from school. If you know night time is a cluster with dinner, kids activities and homework, don't save your workout until night time. It won't happen and you will probably be exhausted.
Pinterest
I get bored really quickly when I am working out. Honestly, I hate working out! I would rather run from a bank robber than workout. But…I know I need to stay in shape for my health. To combat boredom I pin fun workouts to my Fitness page on Pinterest. You can see everything I have pinned to my board here.
Think Outside The Gym
You don't need a fancy shmancy gym to workout at. When I was really into running I always ran outside. I would run around neighborhoods with big mansions, I would run around different lakes or long woodsey sidewalks. If it is freezing cold where you live use your stairs to workout. Do arm dips, run up and down the stairs. Stair lunges, pushups etc. I bought a simple workout ball that came with a dvd to do ab workouts. The possibilities are endless!
Buy A New Outfit For Motivation
Before I start working out and I am mentally preparing myself I buy myself a new pair of leggings, sports bra or new tennis shoes. There's no harm in treating yourself, especially if it is to motivate you into achieving one of your goals. No matter what it is, we all need that little push in the right direction, even if it means getting a new outfit. Plus, you can get workout clothes on affordable prices, so you don't have to worry about spending too much money. It makes me excited to put them on and get out there!
Create A Challenge
I like to create a goal for myself and then give myself a reward when I meet that goal. For instance, my goal is to workout 3-4 days a week for 30 minutes. If I complete that goal for four weeks I might reward myself with a non food related reward. Pedicures, new workout clothes, or a massage are all great rewards.
Find A Workout Buddy
Do you have a friend or neighbor who you could meet up with a few times a week or month to workout with? Sometimes a friend can help keep you motivated and hold you accountable.
Start Simple
Don't over do it right off the bat. Start simple and keep your workout fun. I would like to get back into running shape and run two miles at a time. Right now I can't even run a mile! I might run for half a song, walk for a full song and then work my way up over the course of a month to running a mile. Eventually, that will turn into two miles. Don't force yourself to workout for a full hour if you haven't worked out in three years. Start with walking for 10-15 min at a fast pace. Something that helped a friend out as well was booking Tennis Lessons, this financial incentive kept her on track because she was putting her money where her mouth was. But this is just what worked for her. Work your way up so you don't burn yourself out early. Once you have been working out for a while you can start pushing yourself more and more; you can use products like this creatine ethyl ester supplement to keep pushing yourself to the next level.
My Favorite Stores/Brands For Workout Clothing
Click Any Store Below For Their Line of Activewear