Let's talk spring must have basics for a moment.  Many times spring basics easily translate into summer staples.  Those same basics can then usually be layered with cardigans or jackets for fall.  So what I'm saying is, spring has some of the best bang for your buck clothing!  However, everyone and their dog also loves shopping for spring clothing so items fly off the shelves.
Madewell has long been one of my favorite retailers because they create comfortable basics that are a little "extra".  They add that little bit of detailing to every piece that makes it look and feel more high end.  They also sell their clothing at multiple retailers.  If something is sold out at one check the others.  Most of these retailers also offer free shipping/free returns.
These are my Top 10 Early Spring Must Have Basics that are classic and casual.
Basic V Neck Tee / Utility Jacket / Layering Necklaces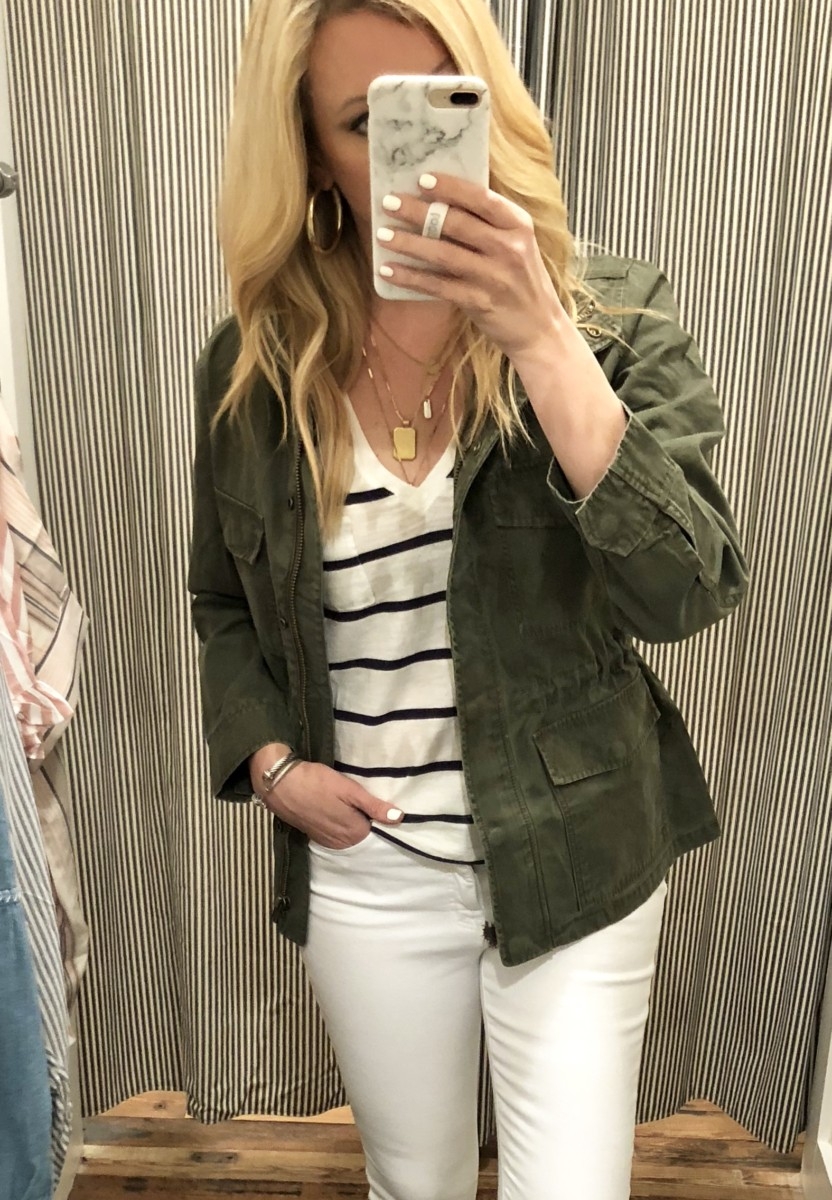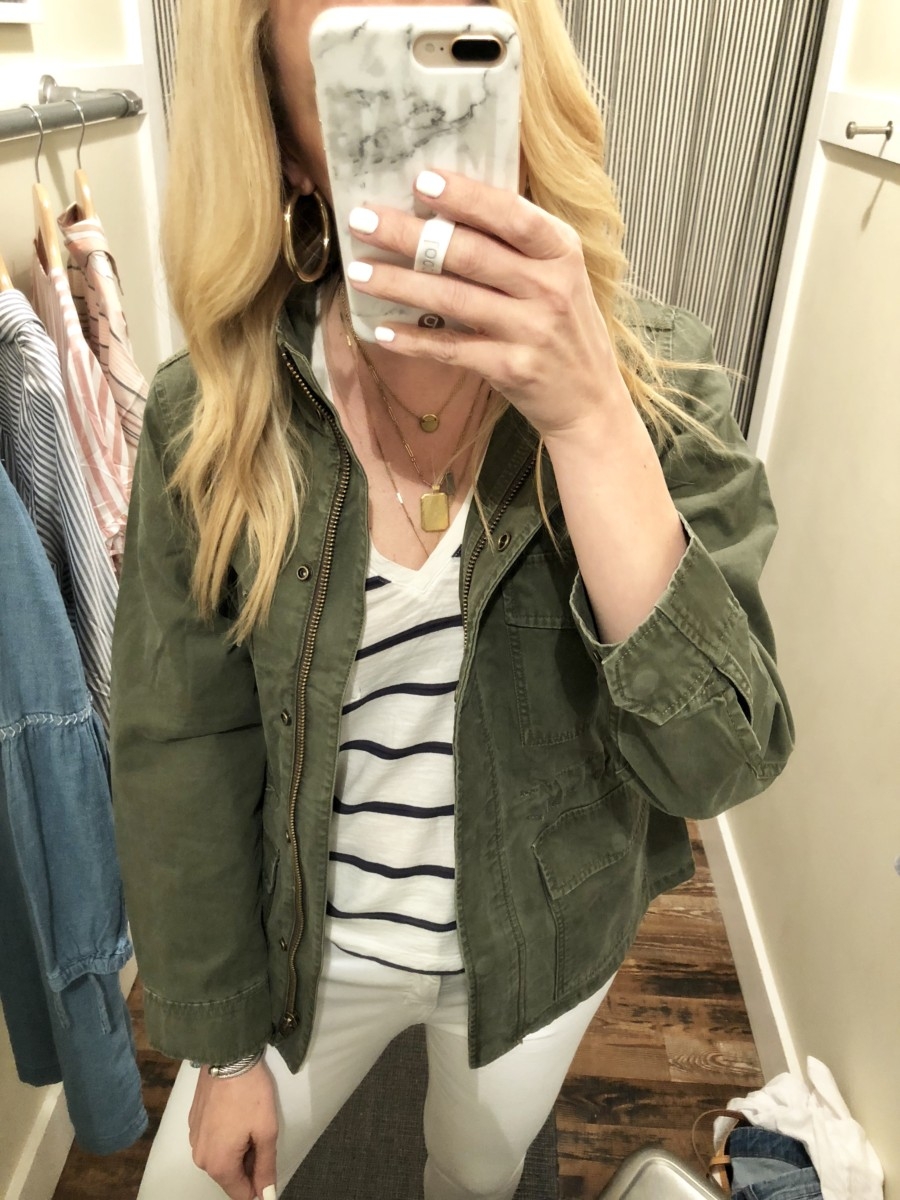 Utility Jacket: here, Size Small  /  Layered Necklace Set  here & here /  V-Neck Tee , Striped here  / White here & here
I sized up in these tees because I like to frontal tuck them.  The V is very figure flattering.  I think their white v neck tee has been rated the best basic white tee two years in a row now.  Add some navy stripes and you have more dimension and contrast!
My utility jacket is worn year round and a definite spring must have basic. Could the weather this time of year be any more bi polar? Rain, Sun, Hot, Cold.  I also sub it for a rain jacket because I don't have one.  The olive green is a great neutral that pairs with almost everything.
Layering necklaces are all the rage.  This three piece necklace is perfect because it is actually 3 separate pieces.  This way you an wear one, two or all three.
Short Sleeve Button Up: Taken Up A Notch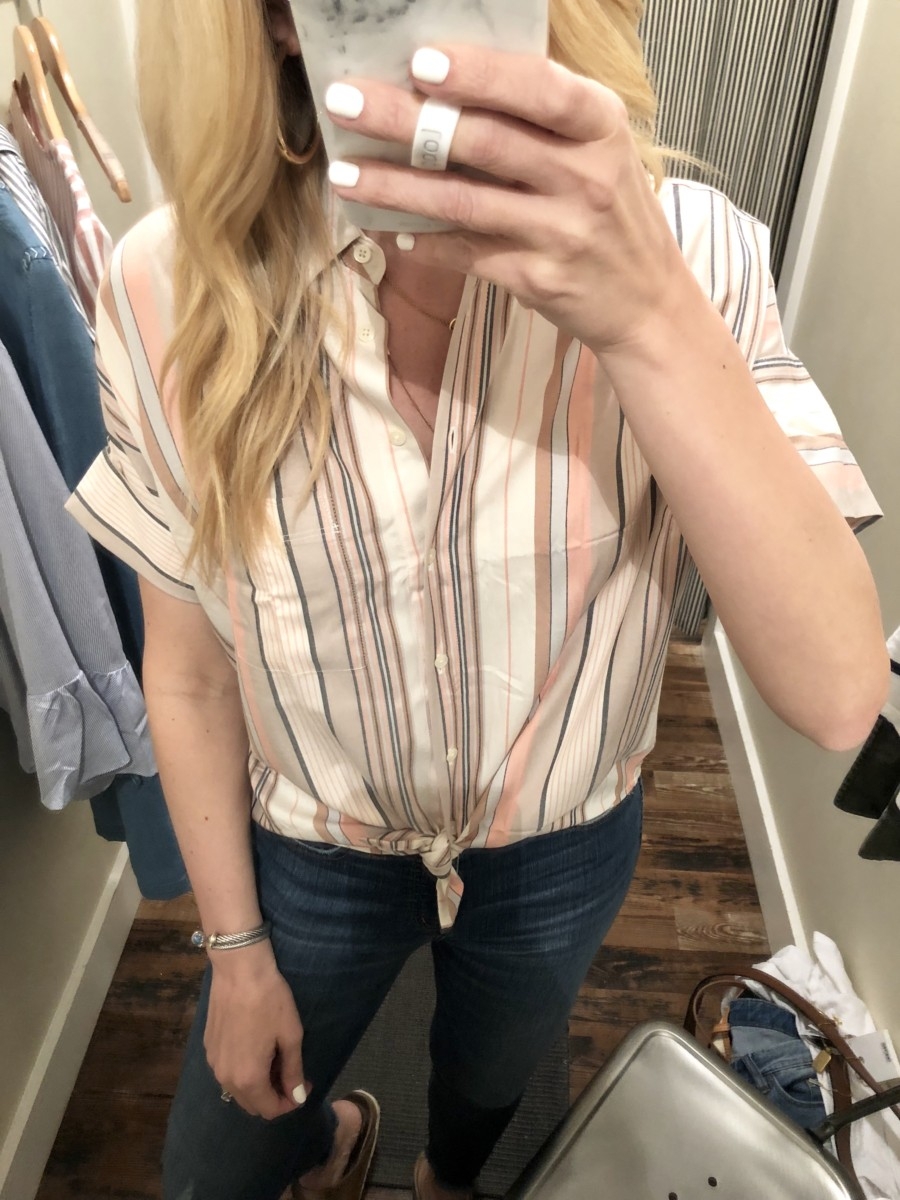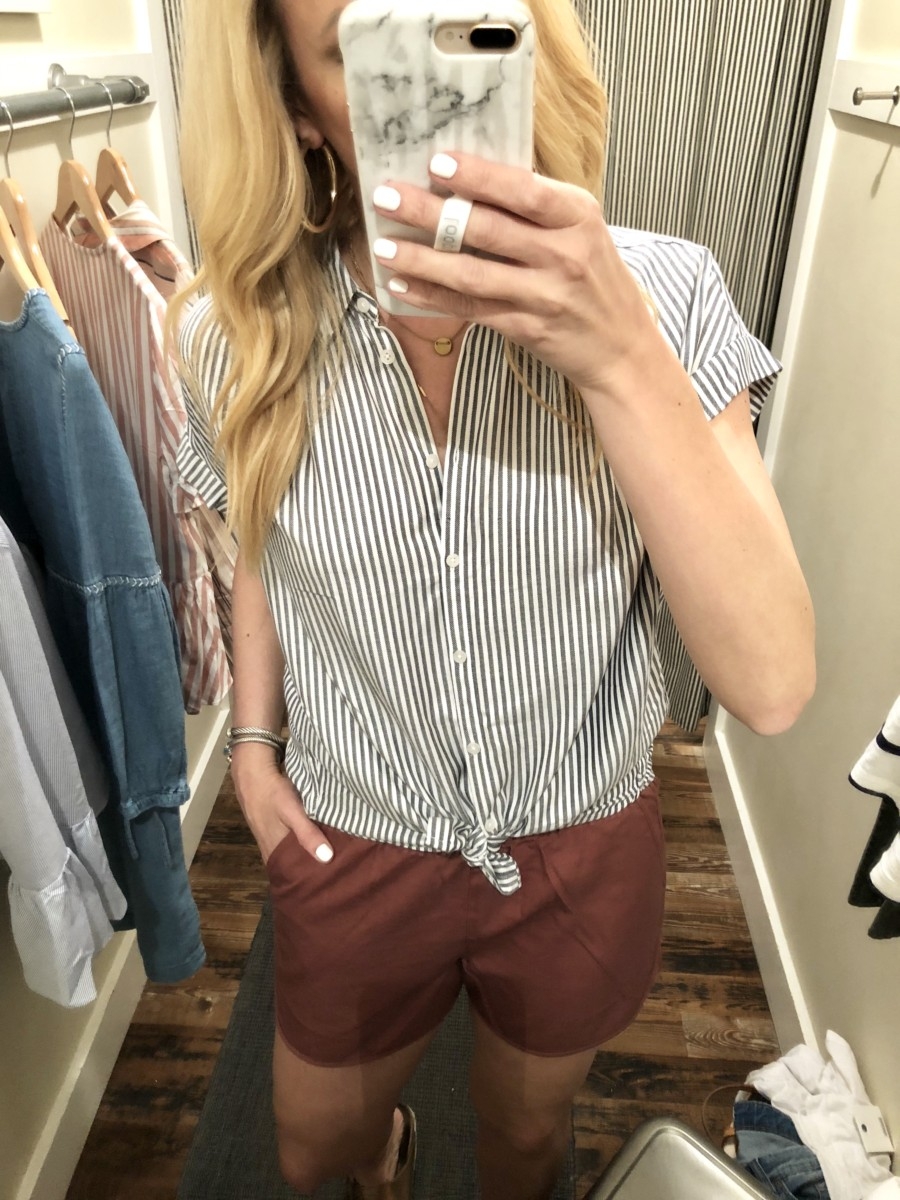 Blush Stripe here & here, XXS  /  Pin Stripe here and here, XS  /  Chambray here and here, XS
These tops are what sets Madewell apart in the basics department.  The material is soft, yet light weight.  The perfect cuff detail is added to the sleeves, the length is perfect for wearing untucked, frontal tucked or tied in the front.  This year they have an adorable blue and blush striped version and a blue and white pin stripe version…that I bought.  Last year I bought the chambray one.  I tend to size down one or two sizes in these tops because they do have an oversized feel.
 Bell Sleeve Button Up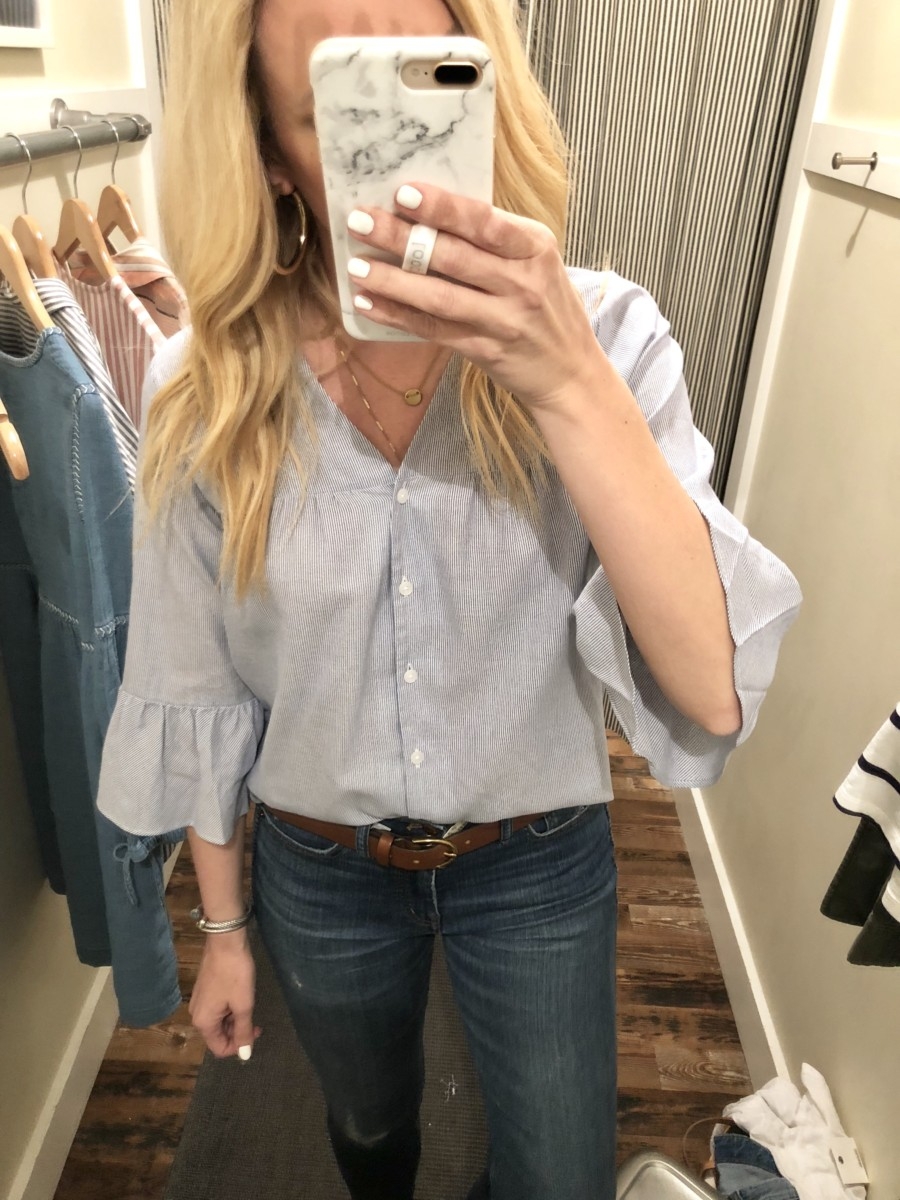 Stripe Bell Sleeve Top here and here, XS
This top was adorable on the hanger and adorable on!  I actually wore it that night to dinner because it was that good!
Fray Hem Denim & Belt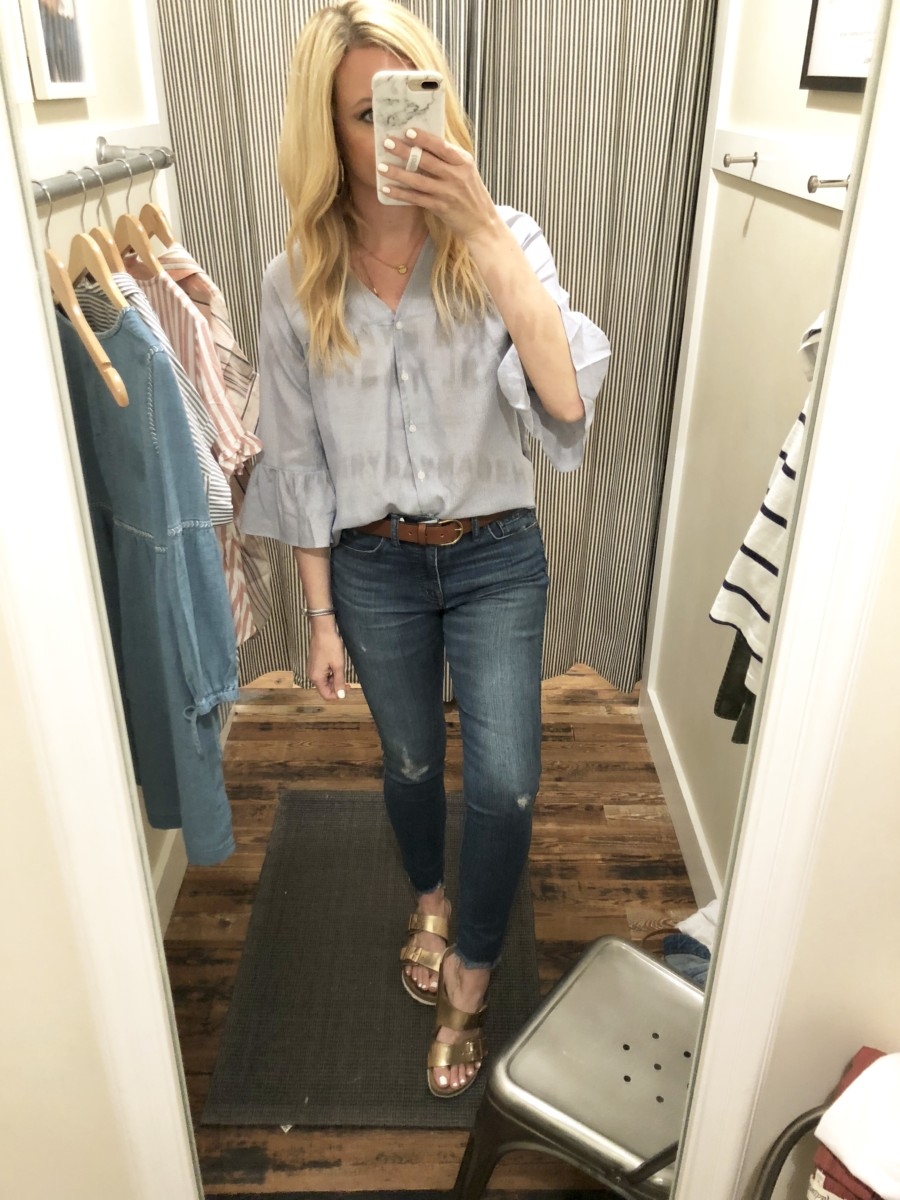 Jeans, TTS wearing 28  /  Belt, color pecan, size small
These fray hem jeans fit true to size and are available in many different lengths.  They were soft, just the right amount of stretch and the medium was was very flattering.
Belts are huge and back in a big way.  This simple brown belt was the perfect accessory.  The brown was the perfect shade and I liked the simple brass buckle.
Pull On Shorts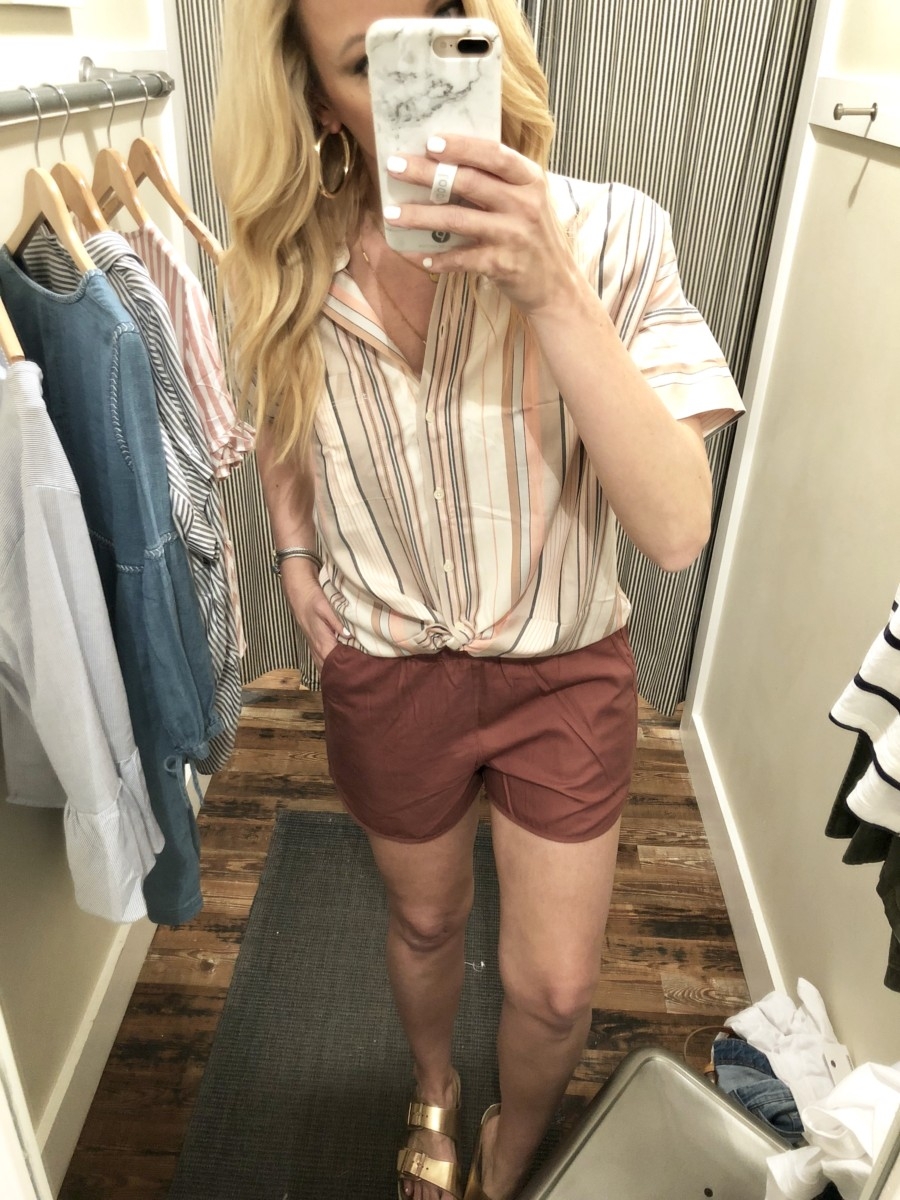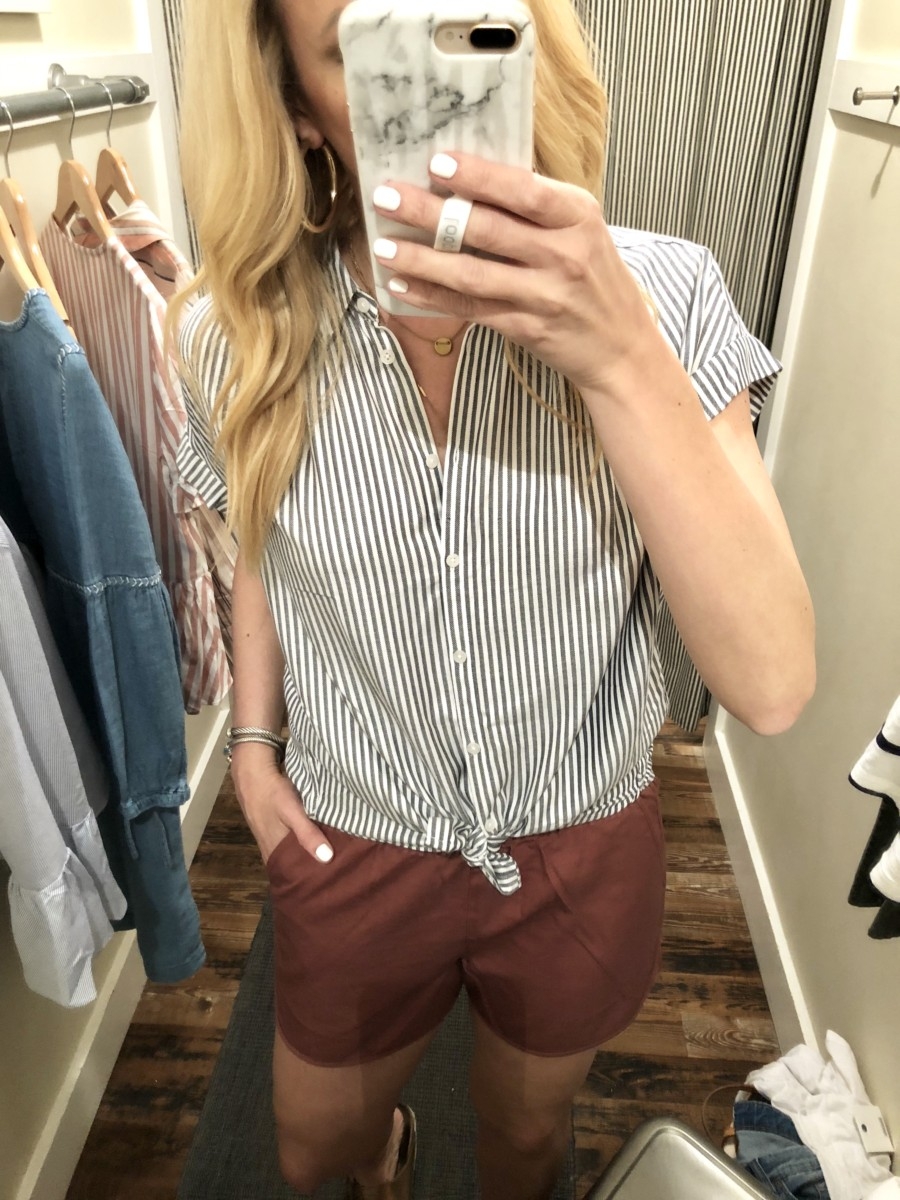 Pull On Shorts, Size Down, Wearing Small But Could Have Gone XS Here
Pull On…need I say more?  I bought these last season when they had a tie on the side.  A lot of people didn't like the tie so Madewell listened and made them without the tie!  I sized down in these which for some reason does wonders for my self esteem!  I am wearing the small in this picture but could have gone down to an XS (mind blown b/c I am NOT an XS!) This exact color isn't online yet but they come in olive and black.
Denim Peasant Dress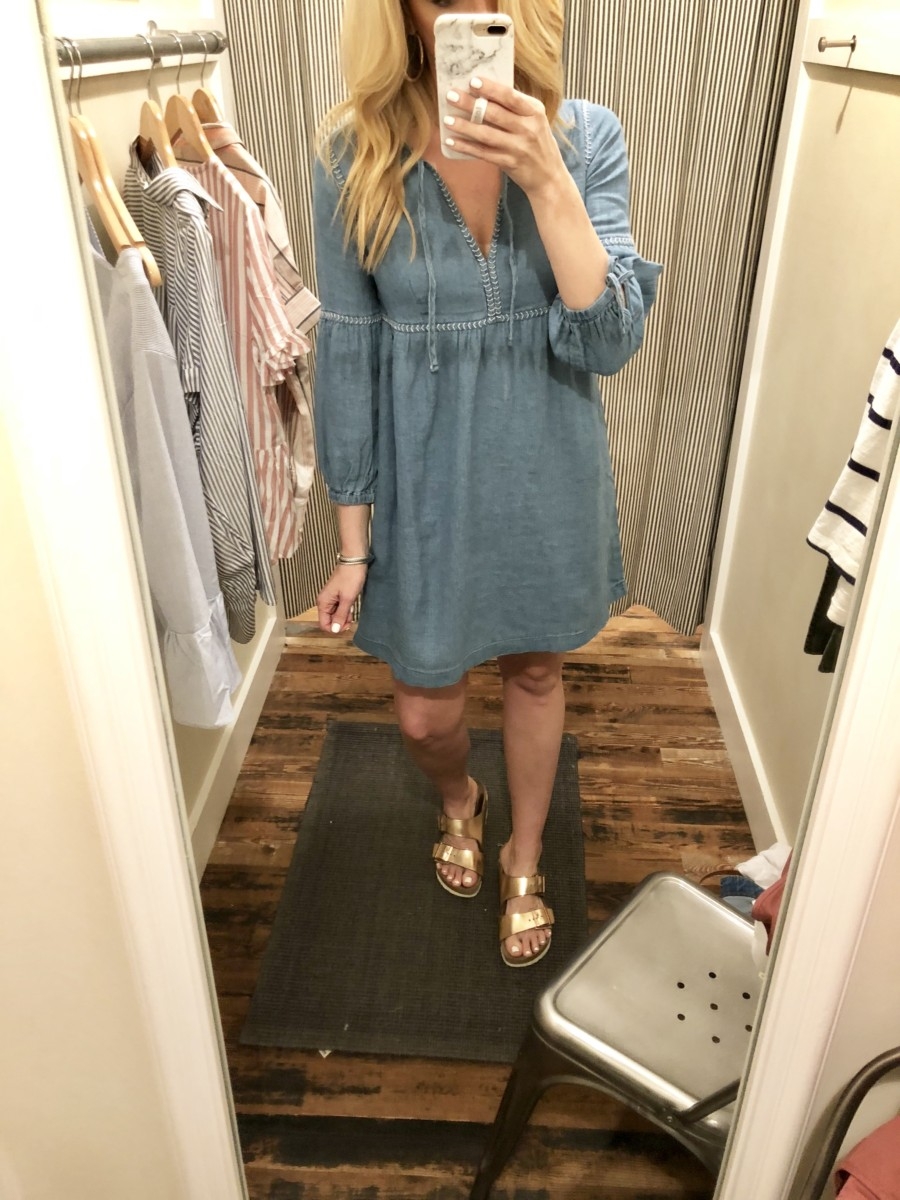 Dress, XS, could have gone to XXS but they were out  Here & Here & Here
This dress was comfy and flowy.  I loved that the V neck and stitching along the bust gave the illusion of a waist.
Denim Shorts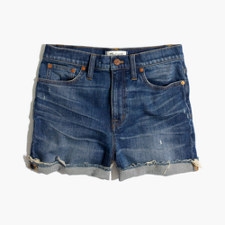 Denim Shorts TTS (true to size) Here,  Here & Here
I bought these denim shorts last year but for some odd reason have zero pictures of me in them.  This is super strange considering I wore them almost daily!
These two denim cut off's aren't Madewell but they are also my favorites!
Denim Shorts One  /  Denim Shorts Two  here & here
ONE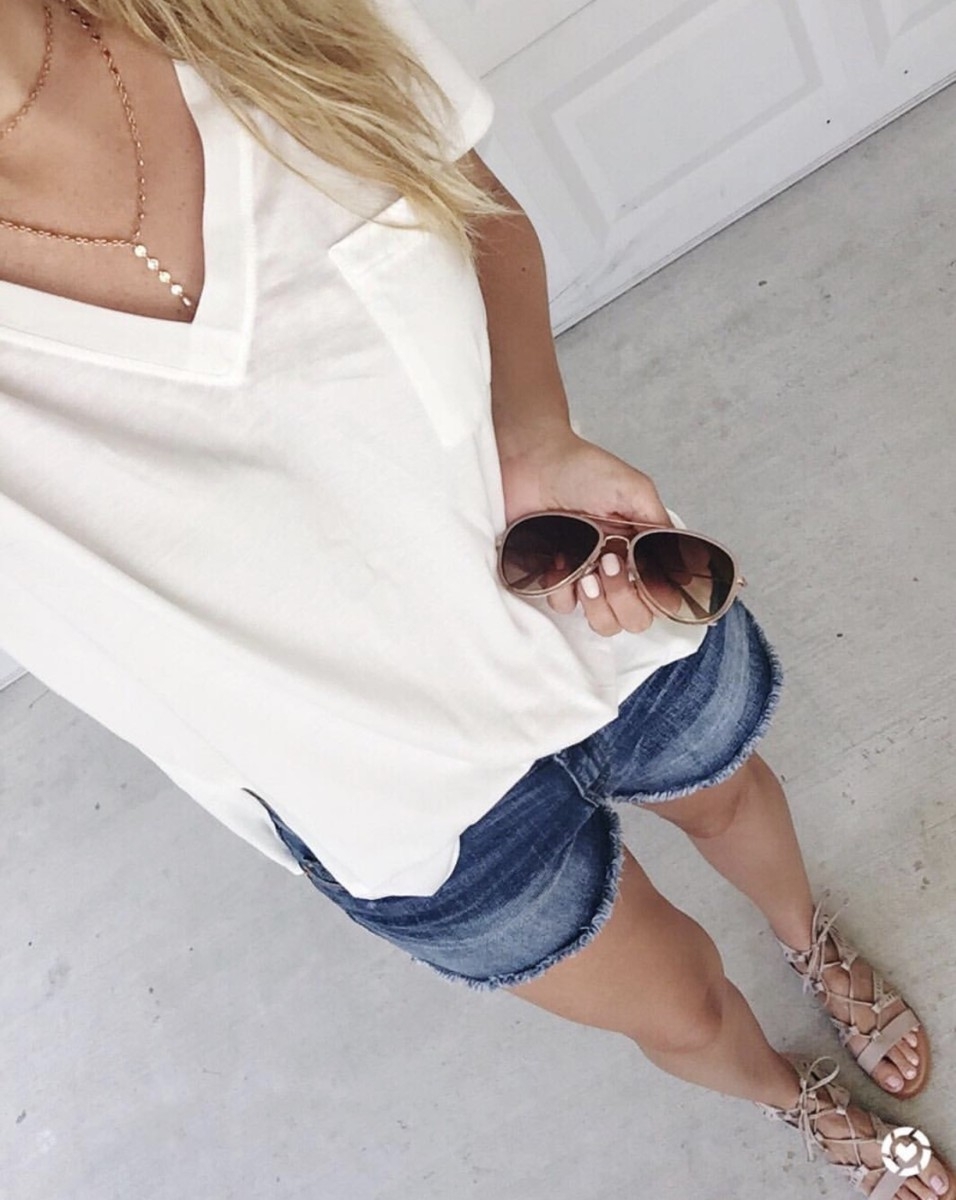 TWO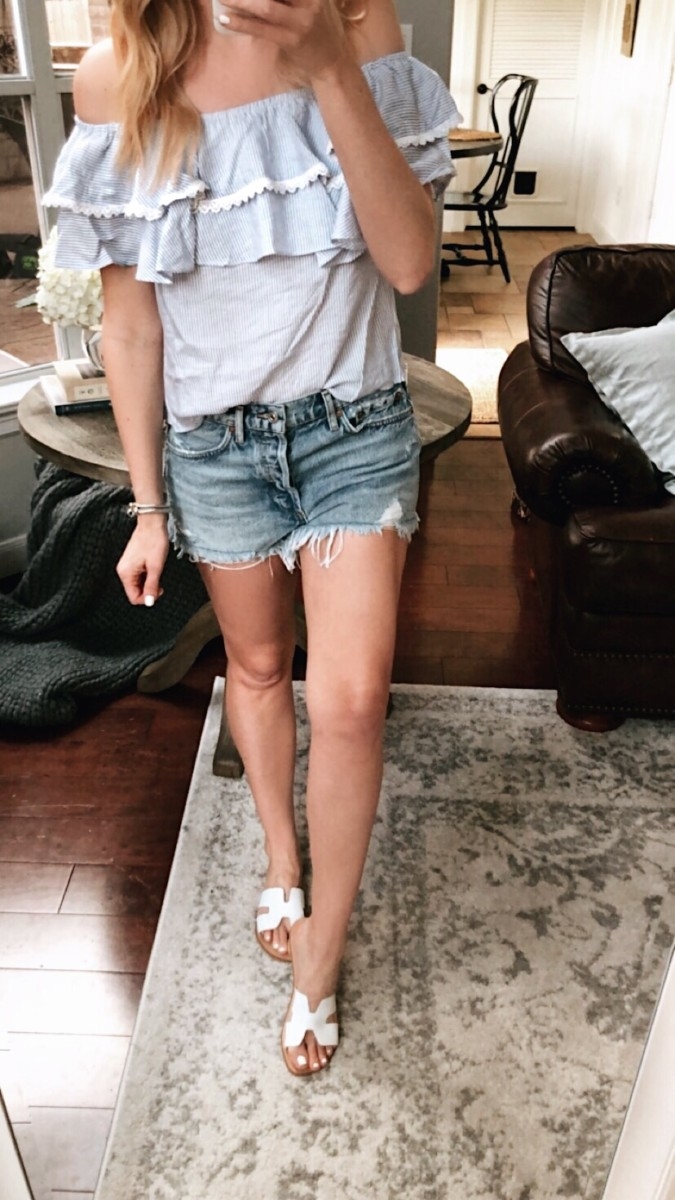 Looking for a short recap of my blog posts and what's coming up next week?  Get a weekly update HERE!
Talk To You Soon!
Sara