As most of you know, I am a lazy when it comes to getting dressed.  If it comes in one piece, I can throw on a necklace or earring to make it look like I have my life together, then I'll buy three.  One in each color.  It just so happens this navy maxi dress fits the bill.  Maxi dresses are a hidden gem in the dress world.  Throw one on and you instantly look a little more glam.  Go crazy and add a denim jacket for an even more polished look.  Maxi dresses can be tricky though. As a tall person, I have a hard time finding a maxi dress that isn't a tea length dress.  Luckily for my shorter friends, most maxi dresses are available in petite sizes as well.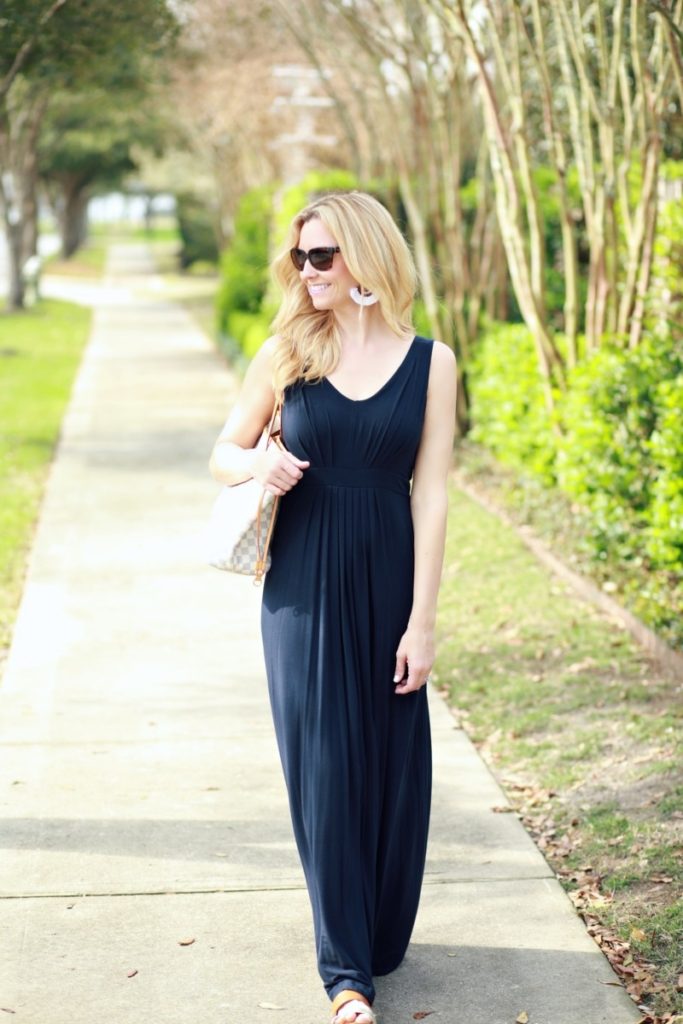 Navy Maxi Dress / Sandals (summer staple) / Earrings
When I find a dress that is casual enough to wear everyday and under $70, phone the bank because this mamma is going shopping!  Call me cheap, but when did every dress all of a sudden have a price tag of over $100.  I have to buy a lot of peanut butter, jelly and bread each week to feed the critters in my house.  This mama can't be scooping up $100 dresses left and right.  I'd like to also note that yes, Tiffany my spray tan friend showed up the next day.  In future pictures I hope to not blind you with the glowing nature of my winter paleness.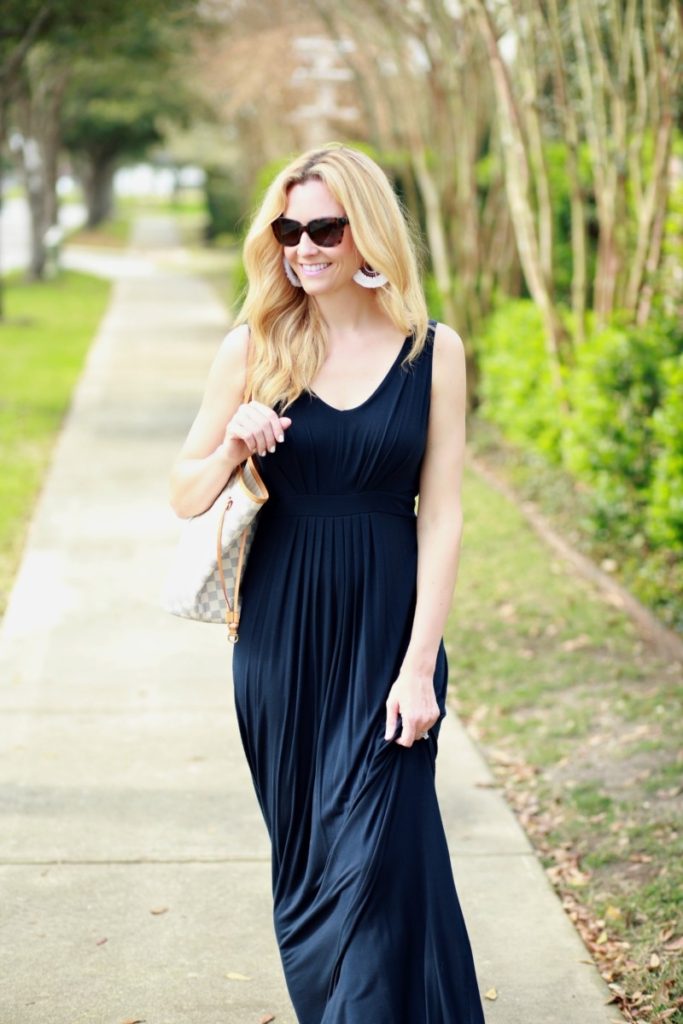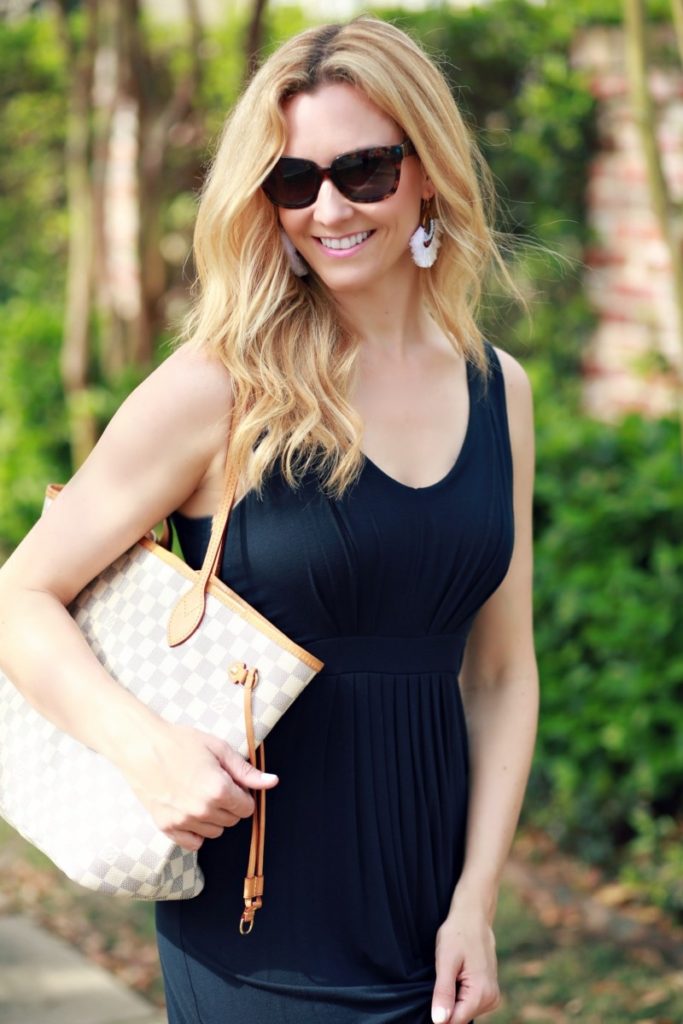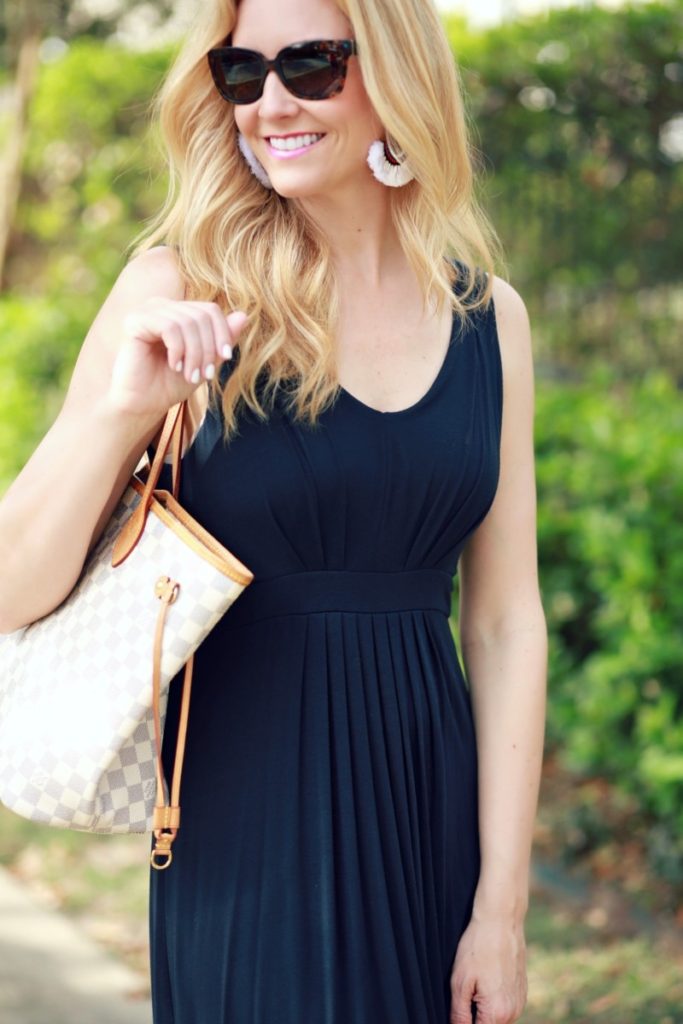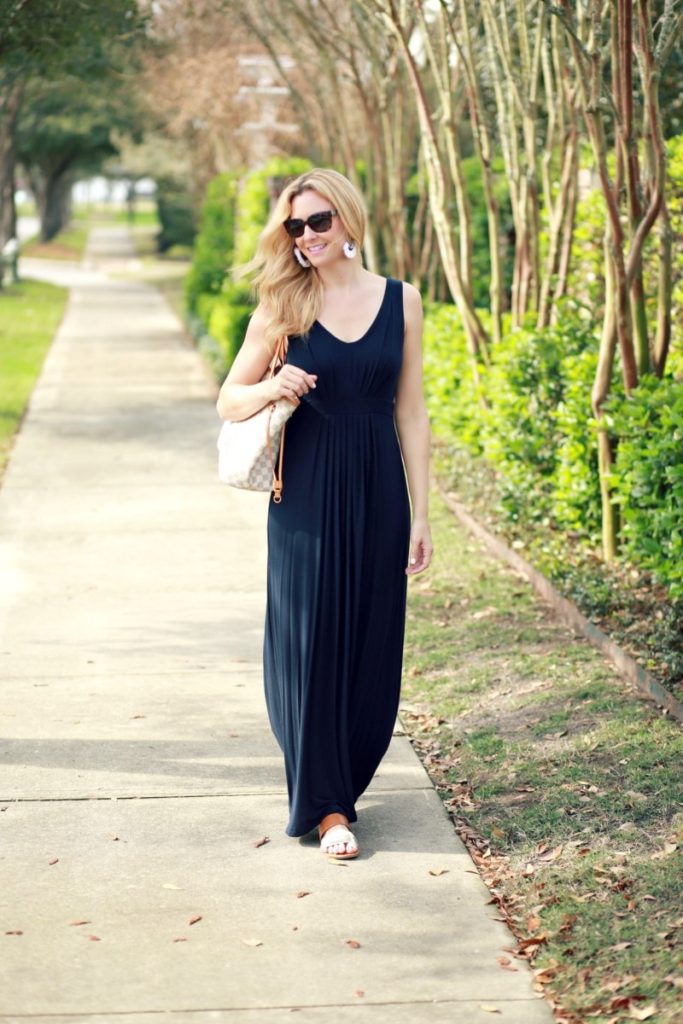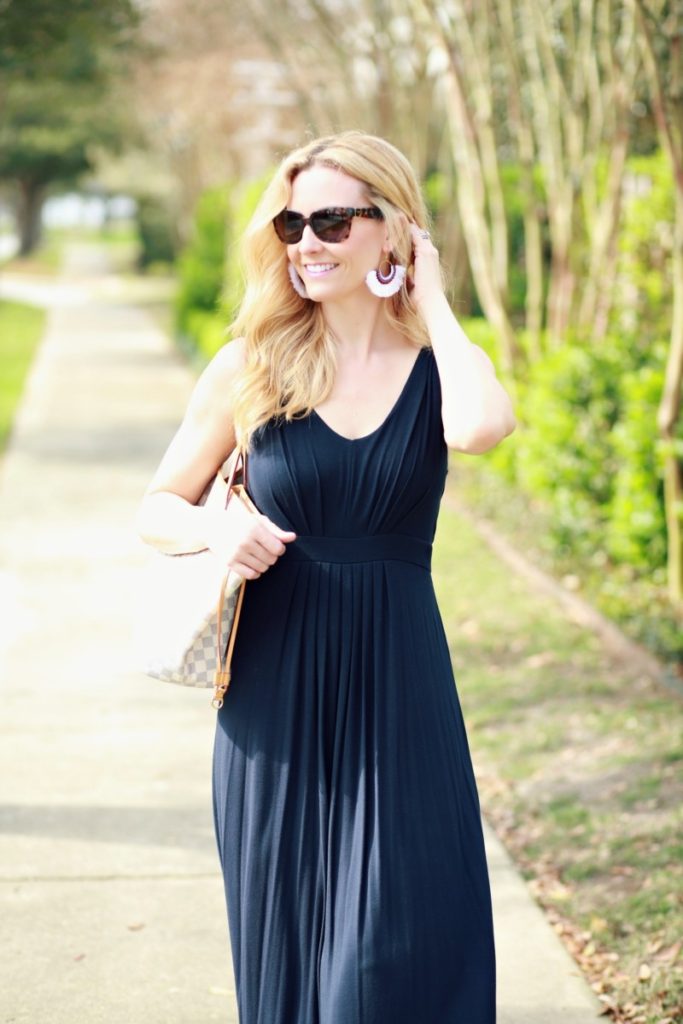 Next up, can we discuss these fabulous statement earrings from Skye + Grace?  I love a big earring!  These gems are feathery light and come in so many gorgeous colors.  I also got the light pink.  Did you catch this post where I showed off the hottest statement earrings of the season?
Now before I go, I have to share with ya'll this amazing grey tank.  It is technically athleisure wear but I thought it was so cute to wear as a regular tank.  The back is open so if you want to wear a fun sports bra or bralette it would be darling peeking through.  If you want to wear your regular bra, the straps stay covered.  This tank is the softest dang thing!  I wore it for regular mom duties during the day with these to die for track pants, which by the way I probably wear 4 out of 7 days a week.  I sized down in the pants.  Even though they have a snap closure, the rest of the waist band is elastic.  The actual pant material has some stretch to it as well.  Again, I am a lazy dresser so I didn't bother changing out of my grey tank.  I put on a pair of white jeans, my block heels, grabbed some jewelry a clutch and headed out the door to a dinner.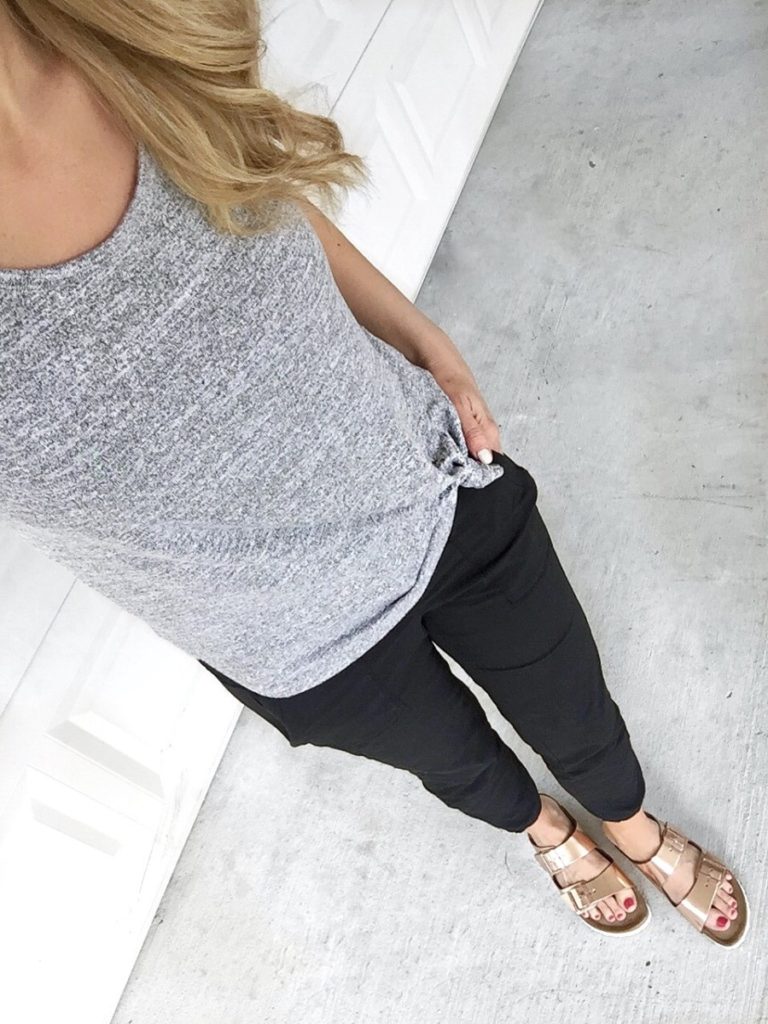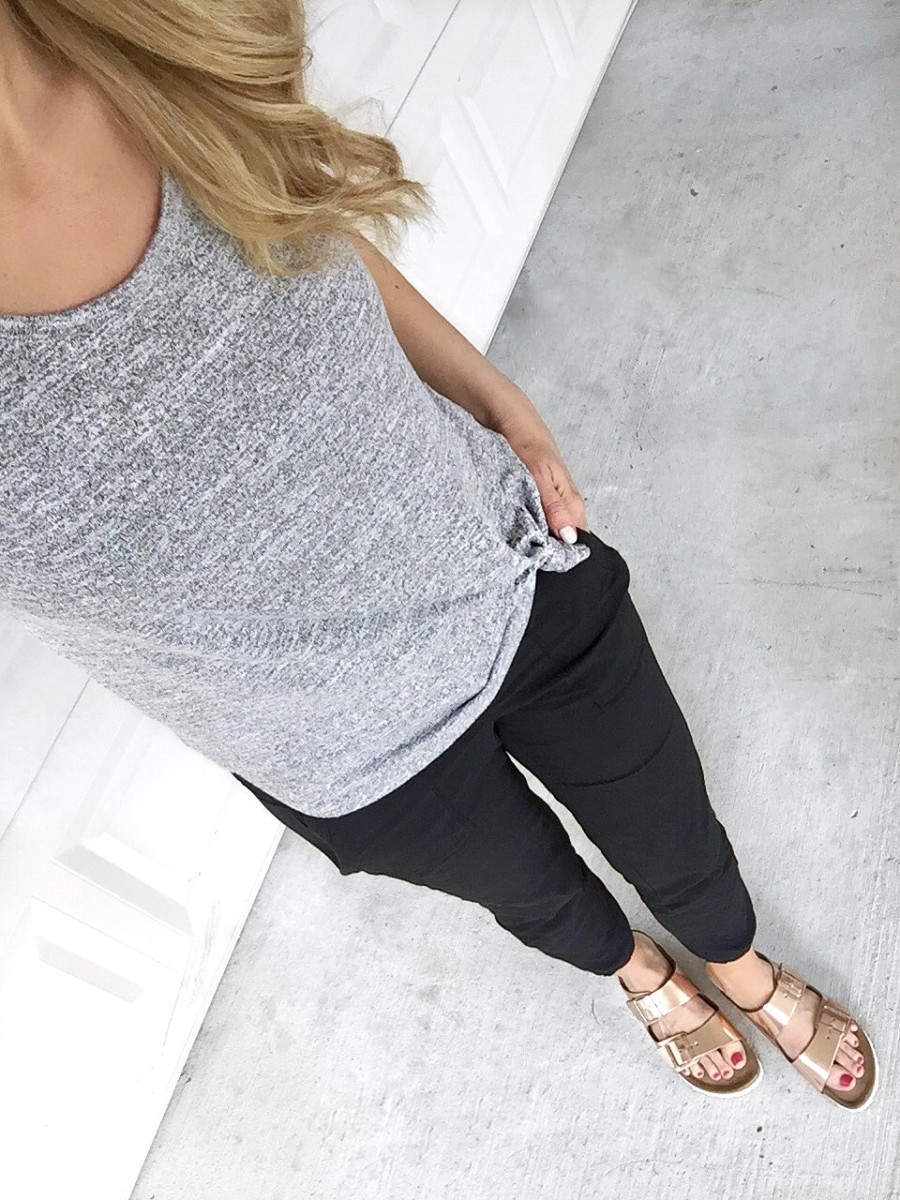 Grey Tank / Track Pants / Sandals– pretty obsessed with these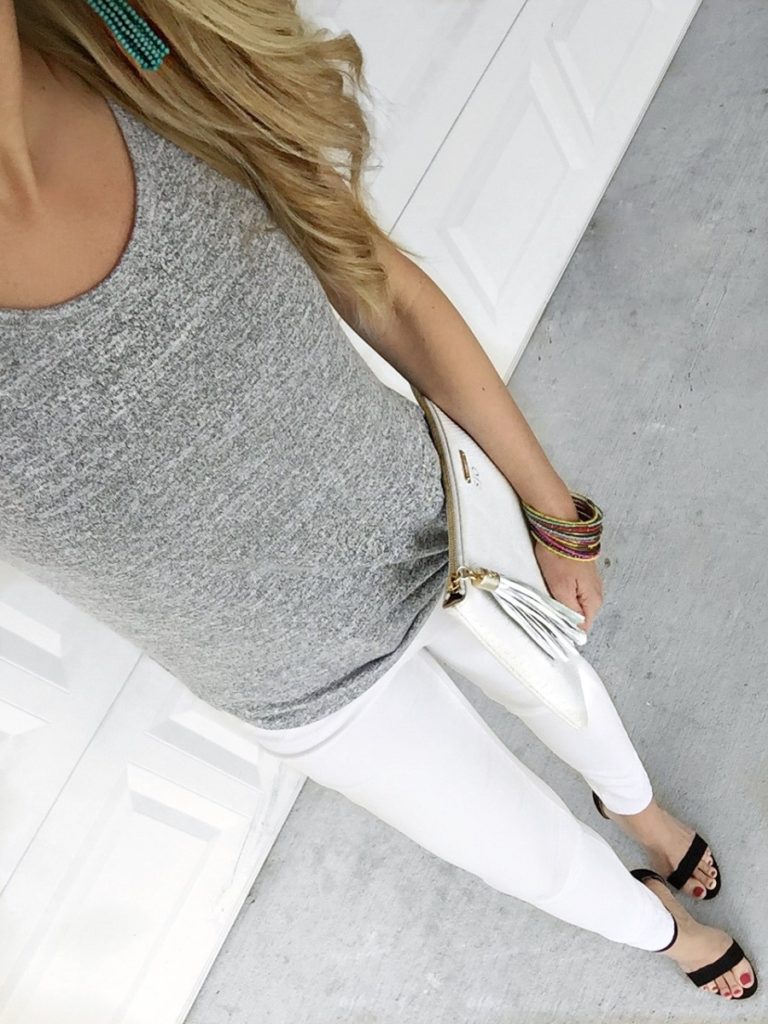 Grey Tank / White Jeans / Block Heels / Earrings
Clutch / Similar Beaded Bracelet
I TOTALLY forgot to add in the healthy banana bread recipe that was on my Instagram stories the other day.  The image is below and here is the link to Cookie and Kate's Sight for the recipe.