My number one question for the past two weeks has been "Can you show me how to make a Christmas ribbon bow for my tree?"  I showed ya'll on my Instagram stores how I make these simple bows for my Christmas tree in lickity split time.  No crazy twisting and folding of ribbon.  Just a few easy steps and two materials and you will have the easiest but most beautiful Christmas ribbon bow for your tree.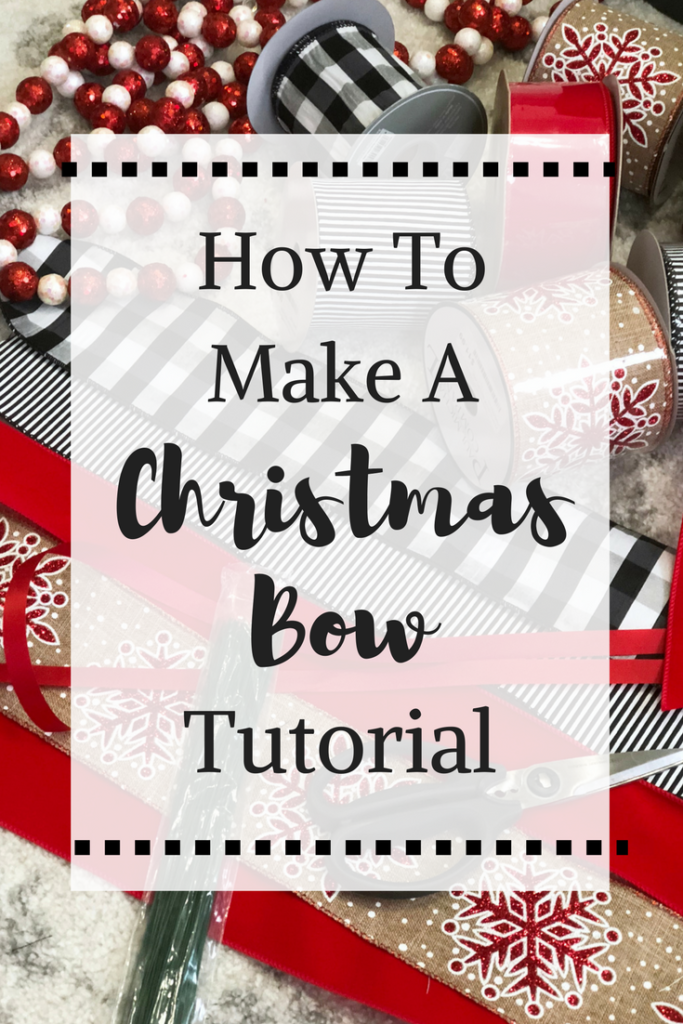 Materials For Your Christmas Ribbon Bow:
Ribbon– I like to have 4-5 different types of coordinating ribbon in different patterns and textures
Floral Wire– I like a high gauge wire that is thin and easy to twist
My favorite places to buy ribbon are Hobby Lobby, Michael's, At Home and Amazon
Red Velvet Ribbon   /  Snowflake Ribbon– similar  /  Gingham Ribbon  / Tartan Ribbon   /  Floral Wire
How To Make A Christmas Ribbon Bow- The Easy Way
1. Cut 5 to six strips of ribbon about 2 1/2 feet.  This can be approximate.  Sometimes I cut two out of the 5-6 ribbons longer for a longer tail.  This gives the bow more dimension.  Cut the ends of the bow at an angle or in a V so they look more visually appealing.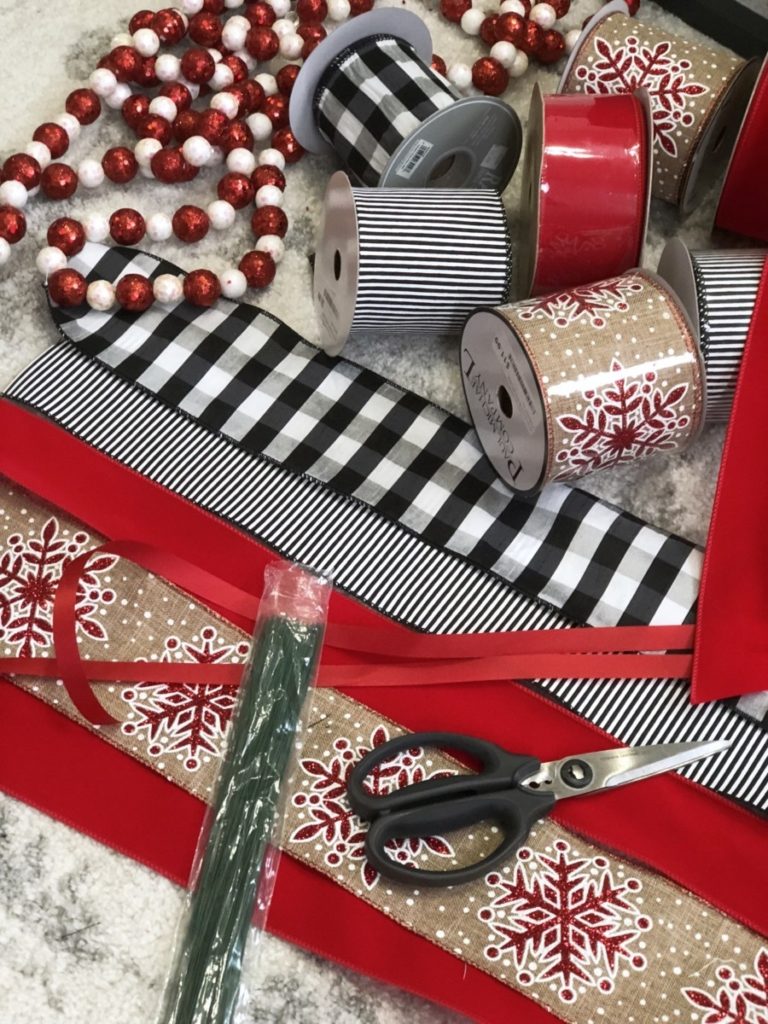 2. Fold the ribbon in half and pinch it in the middle or move the loop up if you want a longer tail on some of the bows.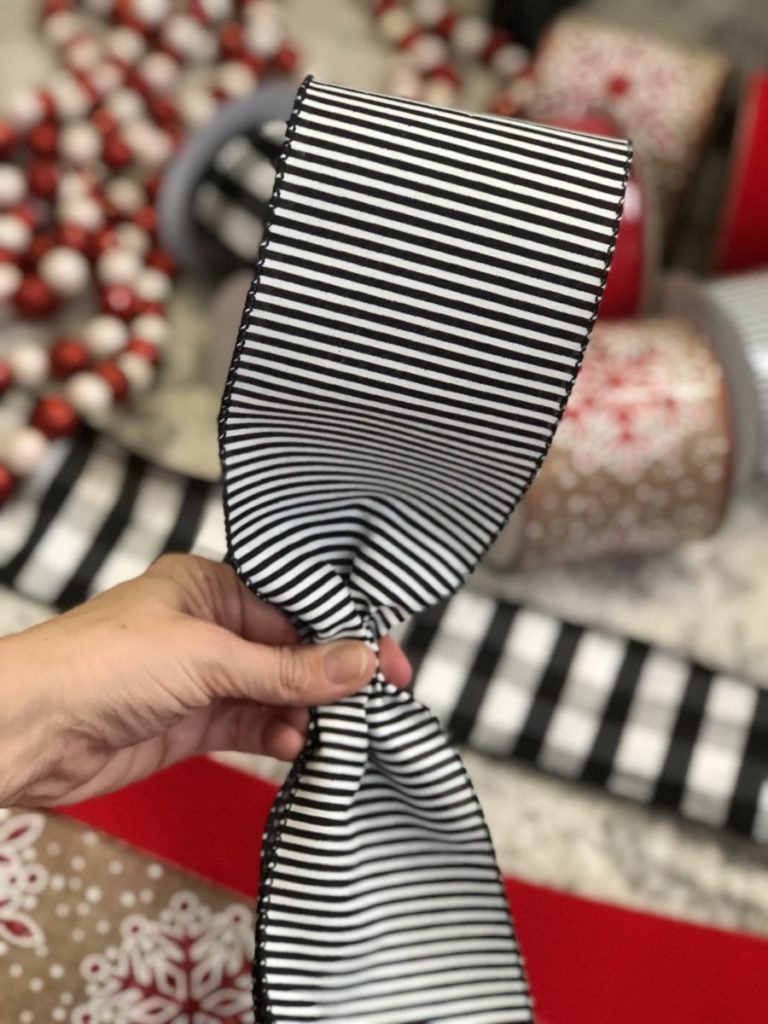 3.  Layer the folded ribbons on top of each other just stacking them while holding them with your thumb and index finger.  Wrap floral wire around the pinched section and twist it tight to hold the ribbon in place.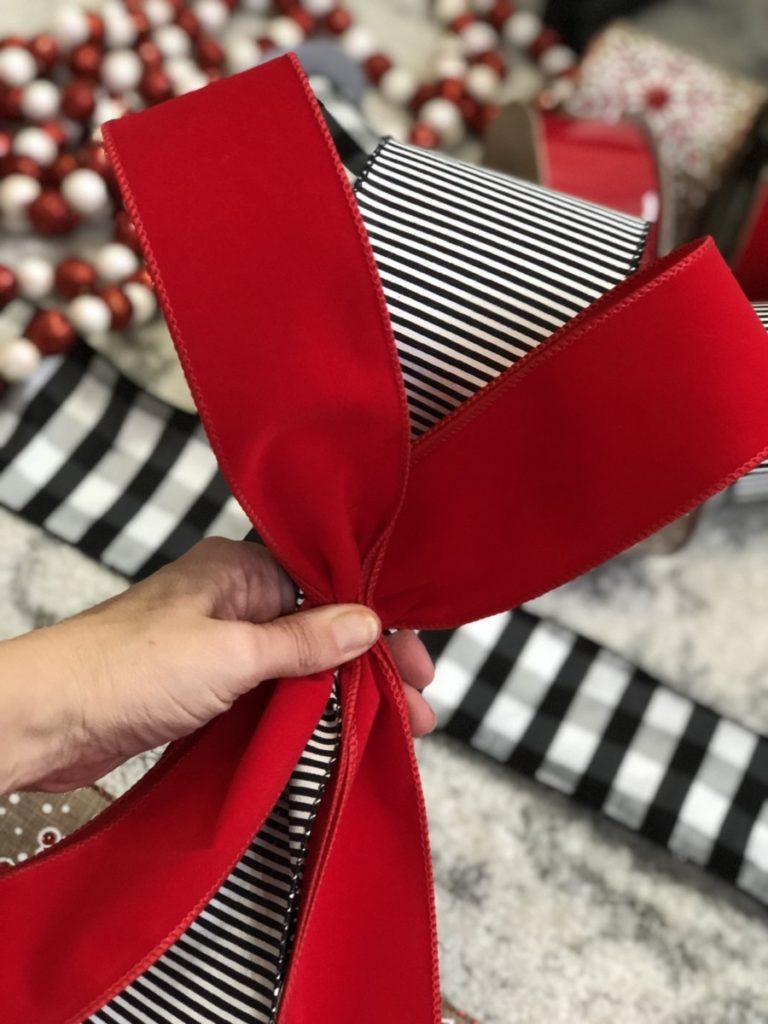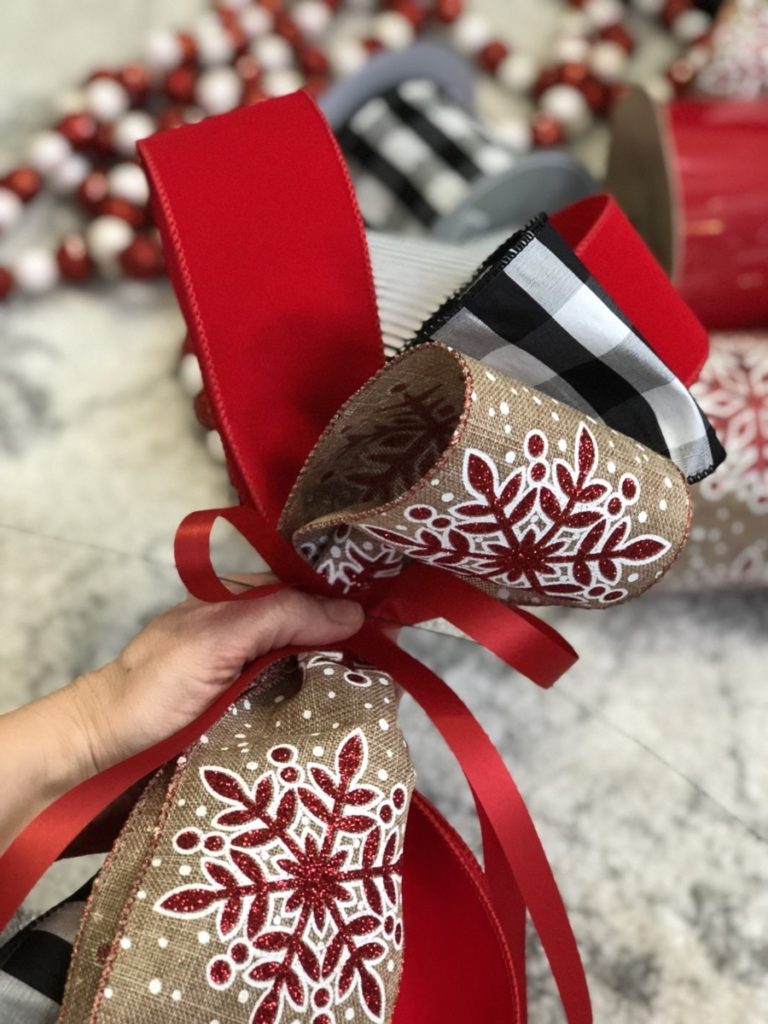 Side View of the Layers with floral wire wrapped around the pinched section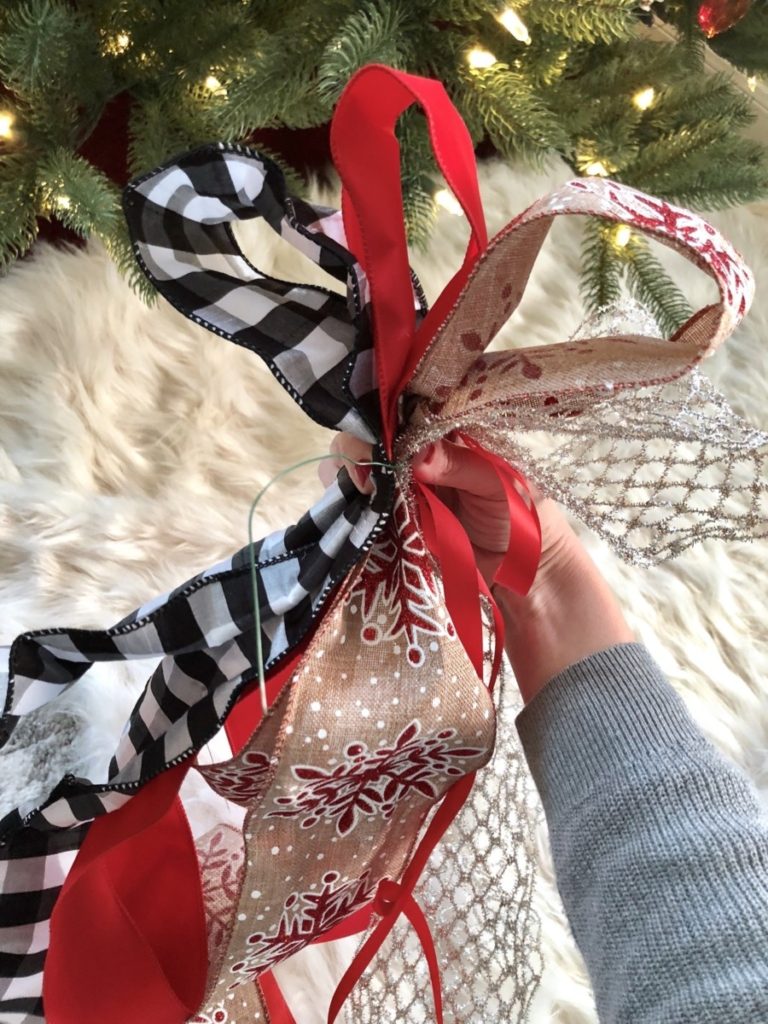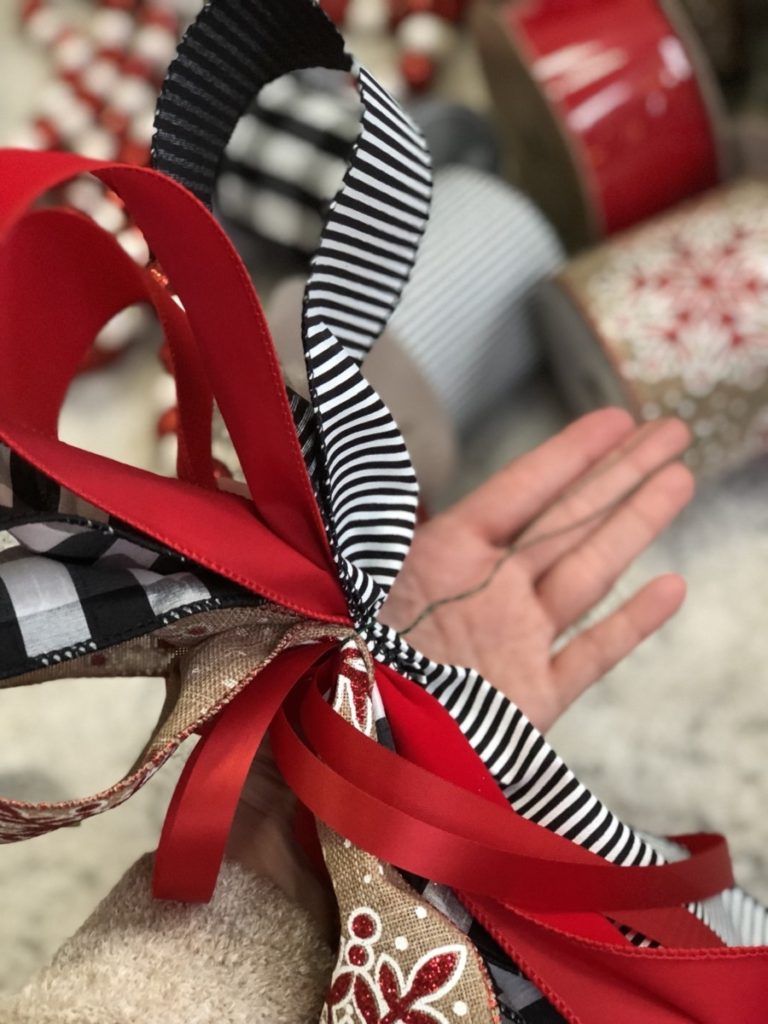 4. Spread the loops out and pouf the  loops out.  If you have longer tails they will drape down your tree.  I prefer a mix of long and short tails so the tree doesn't look too matchy matchy.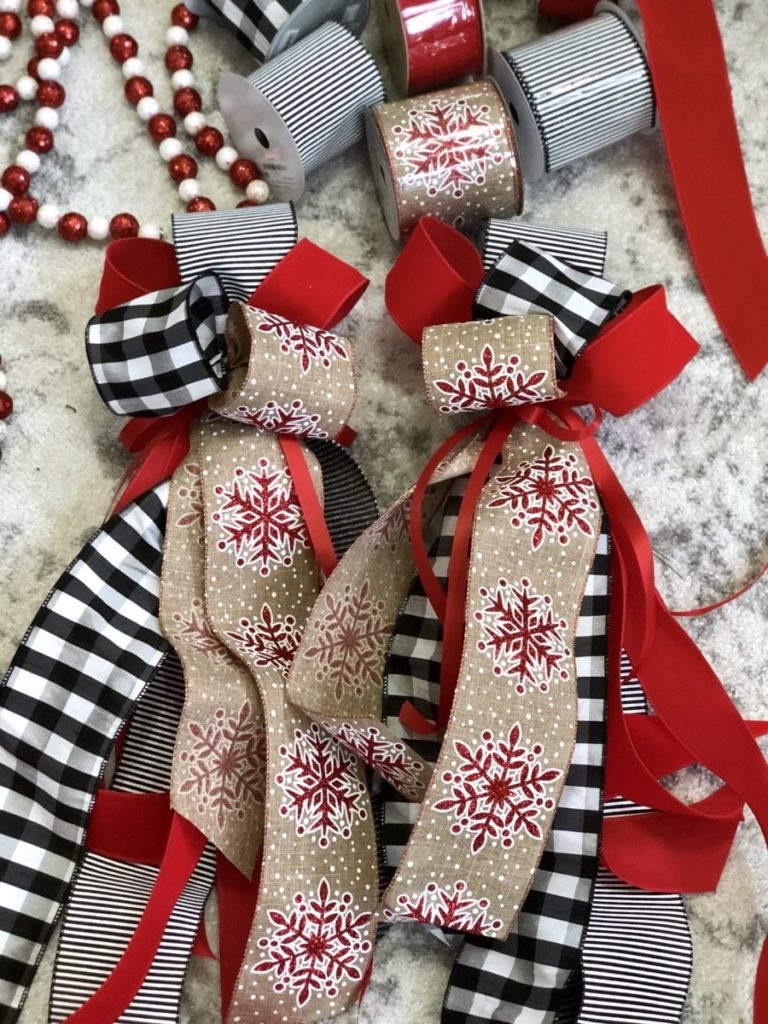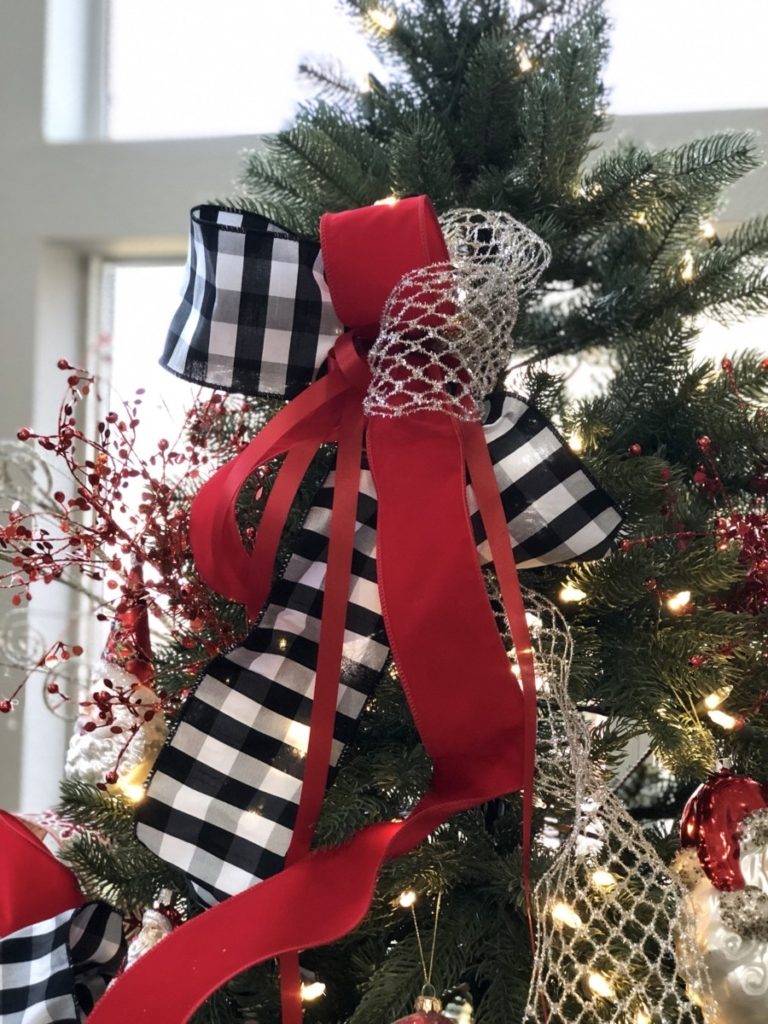 5. Arrange the Christmas ribbon bow on your tree in a diamond pattern.  I start with a bow in the middle and one at the bottom. Then I place a bow on the right and left of those to create diamond.  I go around the tree until my diamond pattern is complete.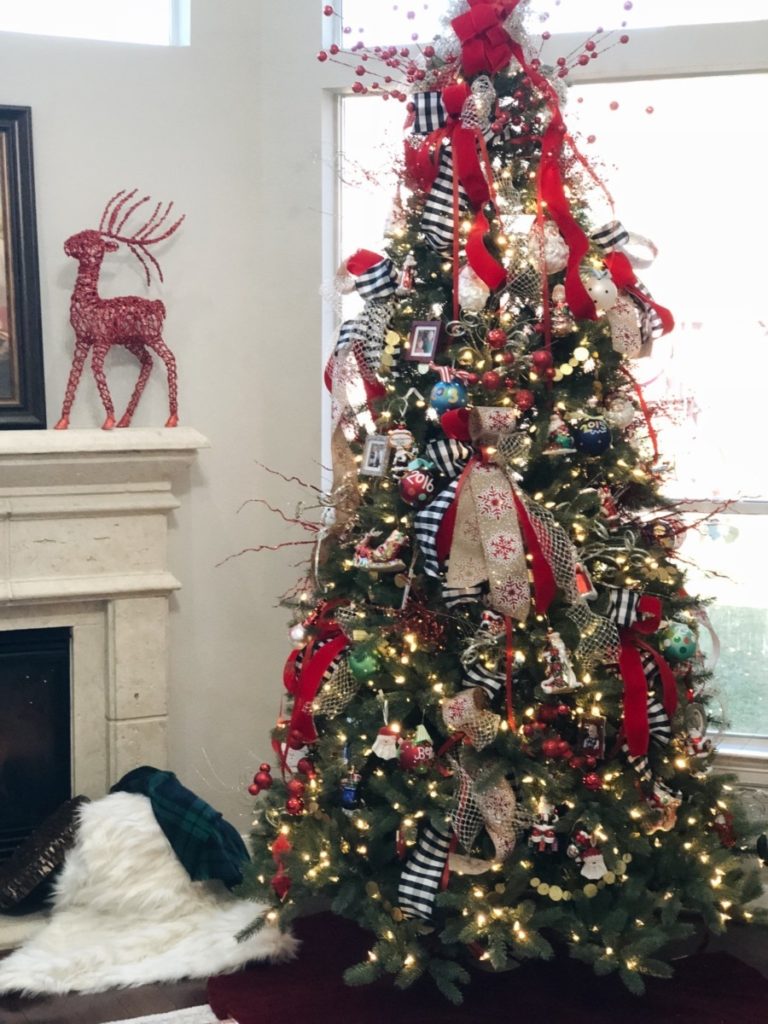 This is my tree partially done.  I made the middle bow bold as a reference point for this picture.
Place one in the middle, bottom, left to right to create the diamond shape.  I also have one at the tippy top and the to the left and right.
Now that I've shown you how to make a bow for your Christmas tree, lets talk storage.  I like to take my bows off the tree and fold the loops flat.  I also try to flatten out the ribbon tails as much as possible.  I put all the bows into a plastic trash bag and tie the end. I usually store my bows in the attic so this keeps them dust free.  For the next Christmas season I pull them out, fluff the tails and reshape the loops.
I hope this Christmas ribbon bow tutorial helped!
If you are still feeling bow challenged, I will also have a video on how to make a bow on my Facebook Page at 10:00am CST for you to watch.
XO- Sara