Today let's talk gifts for Inlaws or parents.  Buying gifts for Inlaws or our parents can seem like a daunting task. Typically they don't really "need" or "want" anything in particular.  I've rounded up 13 fun, creative and useful gifts for inlaws or your parents that are sure to make you numero uno in the daughter in law/son in law department!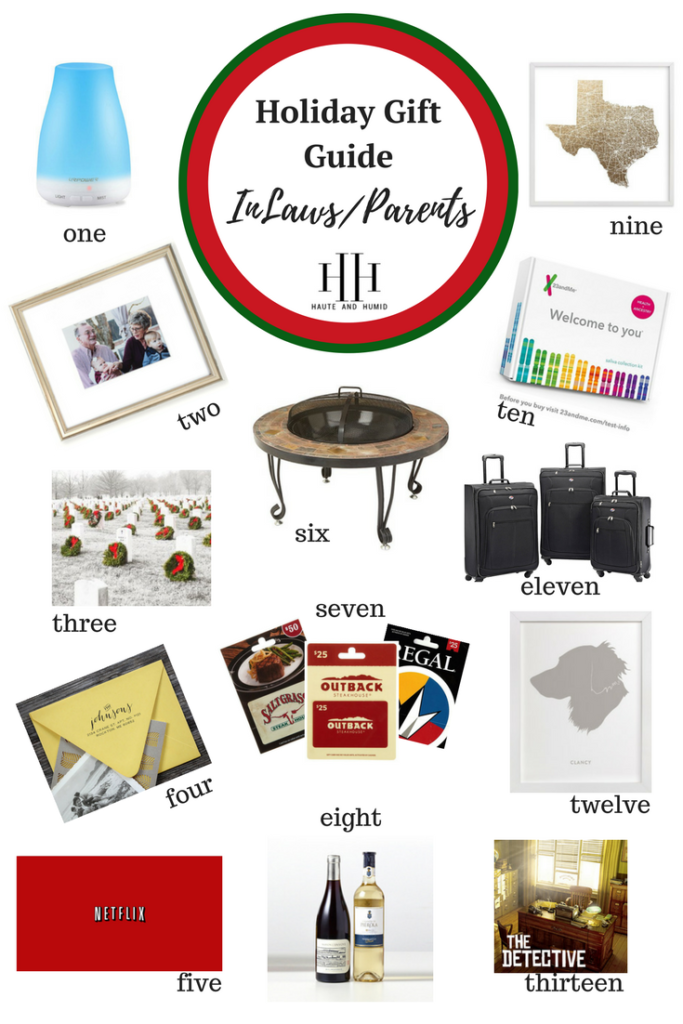 1. Oil Diffuser–Essential Oil Diffuser  and cool mist humidifier with Adjustable Mist Mode,Waterless Auto Shut-off and 7 Color LED Lights Changing for Home Office Baby.  You can usually find oils at the grocery store or sign up through a rep who sells these oils.  My favorite scents are Thieves, Lemongrass, Lemon, Lavender, Peppermint.  If your in laws or parents suffer from allergies or stuffiness, a great oil combo is 2 drops lemon + 2 drops lavender + 1 drop peppermint.
2.Framebridge Instagram/Social Media Framing – This has to be one of the coolest gifts I have received.  If your in laws have social media, you can choose a picture off their feed and frame it.  These are only $39!!! Holiday Order Deadlines– For Free Delivery 12/23, Mail-In Gifts 12/3, Digital Photo Gifts 12/17
3. Wreaths Across America– When my grandma was alive, I would purchase a wreath for my grandpas grave every Christmas in all of our names.  It always made her so happy knowing he was not forgotten over the holidays.
4. Return Address Stamper– This stamper is self inking and has FREE SHIPPING! My parents recently moved and this is a gift they loved receiving!
5. Netflix Subscription–  My sister in law got this for my in laws a few years ago and she renews it every year.  Now my in laws can binge watch all the popular shows and we can awkwardly talk about making meth from Breaking Bad or insest and human torture while watching Game Of Thrones.
6. Fire Pit– This is the perfect little fire pit if you in laws love sitting outside on their patio.  No clean up and it looks pretty too!  This fire pit is a bit more rustic but it has very high reviews and I bet it puts out a lot of heat!
7. Date Night Gift Cards– Gift them a gift card for dinner and movie.  My in laws and parents always love a good steak and checking out the latest movie on a random night.       Regal Theaters  /  AMC Theaters  /  Outback  /  Saltgrass
8. Wine Of The Month Club–  If your in laws or parents are wine lovers this would be the perfect gift.  There are a lot of delivery options to cover every budget.
9. State/City Framed Art– I ordered this Texas print last year for my friend who moved out of the state and she loved it.  You can choose your frame type and state.  Some city options are available.
10. Ancestry Kit–  This new kit allows you to find out your heritage and where your family originated from just from a simple cotton swab of your cheek!
11. Luggage– I know my parents have used the same luggage since the dawn of time.  EBags is my favorite site for luggage.  They always have smoking hot deals and the latest and greatest in luggage sets.
12. Pet Silhouette– If your in laws have a special pet this would be the perfect gift for them.  You can even pic your silhouette color and frame.
13. Escape Room–  Have you heard of and escape room?  It's a team of people signs up to be locked in a room, and must find clues and solve puzzles to complete a given mission and find the key to escape.  This would be a really fun addition to their date night gift cards!  Google your local city for one nearest you.
PS. If you are looking for an easy peasy Christmas bow tutorial I've go you covered!
XO- Sara