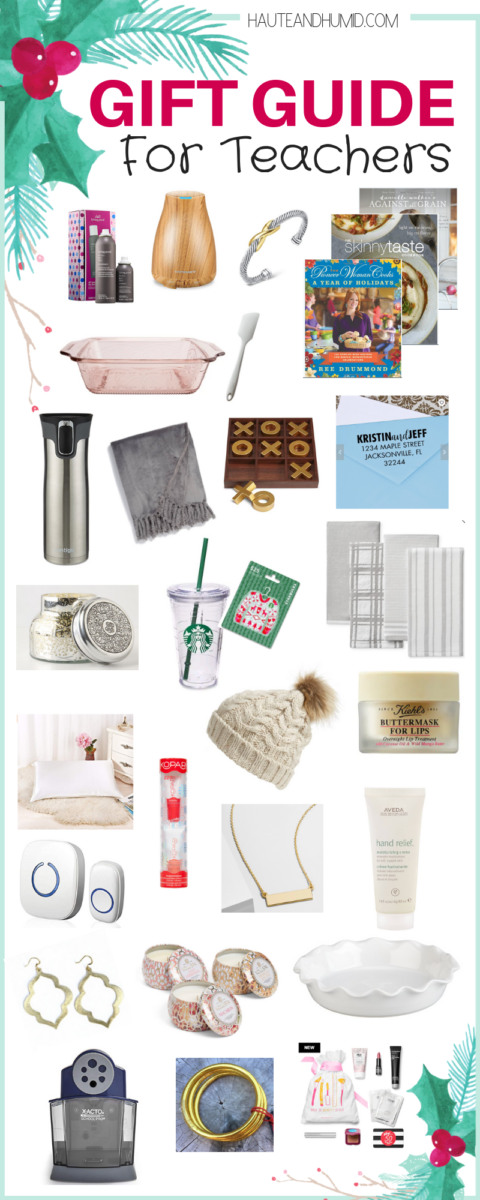 One of my number one questions is "What do I get all of those teachers for Christmas?"  I rounded up 25 of the BEST Christmas presents for teachers UNDER $30 for all of those amazing teachers, principals, therapists, Sunday school teachers, etc. in your life.
How do I know teachers want these presents?  Well, I was a teacher for 7 years!  With roughly 20 students a year giving me presents for 7 years, I've learned what teachers really love and what they will pawn off onto someone else.  Here are some absolute NO's for every teacher:  Coffee mug, we are talking about the general everyday coffee mug.  At one point I had three shelves of coffee mugs!  Chocolate/homemade food.  Sorry, we don't necessarily know how sanitary your home is or if you let your kid lick the spoon and stuck it back in the batter.  It's best to stick to store bought goodies.
Best Christmas Presents For Teachers Under $30
1.DIFFUSER– Perfect for the classroom or at home.  Sometimes the kids can get really stinky, especially the older ones!  This is perfect b/c there is no open flame and it turns off automatically when the water is gone.  You can grab some essential oils to go with it HERE.
2.DRY SHAMPOO– Teachers work long hours and sometimes they want to sleep past 5:30am!  Give them the gift of no hair washing!
3. SILVER & GOLD BRACELET–  This one is nice because it looks similar to David Yurman without the David Yurman price.
4.COOKBOOK– I LOVED getting cookbooks from my students.  I still have every single one.  Pioneer Woman, Against All Grain and Skinny Taste are some I personally love, my teacher friend love and use constantly.
5. BAKING DISH– My neighbor is a 5th grade teacher and she said this was one of her favorite gifts.  Get a nice baking dish, add a box of brownie mix and a new spatula or dish towel.  Wrap it in a bow and you're all set!
6. NO SPILL MUG– I'm going to break the no mug rule with this special one.  It will absolutely not leak so teachers can throw it in their tote and not worry about all those graded papers getting soggy.  It also works great for soup at lunch!
7.COZY THROW– Sometimes the classrooms are freezing, sometimes you want a nice blanket at home.  This one is plush, extra cozy and comes in a million colors. I actually ordered it for myself!
8. TABLE TIC-TAC-TOE– Perfect for indoor recess or at home on the coffee table.  I ordered one of these for my kids' Sunday school teachers.
9. ADDRESS STAMP– If they are willing to shill out their address, this would be the perfect gift.  No more hand writing addresses on all those Christmas cards.
10. VOLCANO CANDLE– I think everyone can agree this is a cult favorite when it comes to candles.  The jars are decorative and they smell divine.
11. STARBUCKS GIFT CARD & TUMBLER– Another cute combo gift my neighbor said she loved was a Starbucks tumbler with iced coffee/instant coffee packets and a Starbucks gift card.  Put everything inside and add a bow.  The tumbler are great for water too.
12. DISH TOWELS– I had a parent give me new dish towels one year and I LOVED them.  I still have them actually and it's probably time to retire them now that I think about it.
13. SILK PILLOWCASE– My mom actually got me hooked on these and now if I sleep on a cotton pillowcase it feels like sandpaper on my face.
14. FAUX POM BEANIE– During the winter I always kept a pair of gloves and a beanie in my desk drawer.  You never know what the weather will do in an 8 hour time span.  There were a few times I had car duty and it was 32 degrees or it would start snowing and we would take all the kids outside.
15. LIP MASK– The other day my lips were raw and I sampled this.  It is magic in a bottle! Perfect to throw in a tote or leave in your desk drawer.
16. WIRELESS DOORBELL– Ok hear me out on this one!  My neighbor texted me last night and told me she uses this in her classroom for noise management.  She carries the remote with her and if the kids get too loud or she needs their attention she rings it.  The kids know to stop, look and listen and it doesn't involve her raising her voice. Gosh don't you love technology…when it works!
17. LIPGLOSS– I have about four of these throughout my house and car.  They are soft and keep your lips moisturizes with a glossy look.
18. BAUBLE BAR NECKLACE– This one is a great simple everyday necklace and usually runs on sale for around $10 with free shipping.
19. HAND CREME– Dry air, constant hand washing or alcohol based hand sanitizer can do a number on your hands.  A great hand creme prevents dry, cracked knuckles.
20. SIMPLE EARRINGS– These quatrafoil earrings a a fun take on a classic gold hoop earring.  If you child's teacher loves jewelry, these are a great pair to have.
21. CANDLE SET– These mini candles are perfect for around the house.  Add one to a powder bath, bedroom or guest room.
22. PIE DISH– Like the casserole dish, you can print out this easy apple pie recipe, add a dish towel or wooden spatula and you have another adorable yet functional gift.
23. ELECTRIC PENCIL SHARPENER–  Believe it or not, teachers are not given money for classroom supplies like pencil sharpeners.  They typically spend a few hundred dollars a year of their own money buying classroom necessities.  These electric pencil sharpeners are perfect for any classroom.
24. GOLD BRACELETS– If you notice your child's teacher is into jewelry, these are great classic piece.  This set of three gold bangles will never go out of style.
25. SEPHORA GIFT CARD– Everyone loves to pamper themselves!  If you aren't sure what makeup, hair products or facial products your child's teacher likes, grab a gift card!  Then they can pick anything from a set of sheet face masks or get a discounted price on that eye shadow palette they always wanted.
Shop the Best Christmas Presents for Teachers Under $30
Teachers also always appreciate a card or one of your family Christmas cards along with a gift card.
Gift cards:
Nail Salon
Massage
Loving this best Christmas presents for teachers feature? Take a look here for more of my holiday favorites!