If I said our living room makeover was long over due, that would be an understatement!  Let's back track two years to 2017…we had just gutted our house and a week later Hurricane Harvey hit.  We sat in a gutted house for months due to others who were in more obvious need than we were.  Finally, the house was painted, counters tile and counter tops changed, among other things. We decided to keep the floors to see how we liked them when the remodel was done.
Fast forward to 2018 when everything was "done" and guess what?!?  THE FLOORS WERE HORRIBLE!  We had orange and brown tile in the kitchen with flat shiny cherry wood floors in the rest of the house.  It took me four months but I finally found the exact flooring color I LOVED.
The house was finally completed but I struggled with decorating.  The house felt cold and sterile.  Our furniture scale was off and it just didn't feel complete or have the homey feeling I dreamed of.  I had expressed these issues on my IG Stories and an old coworker I taught with told me she now worked for Woodlands Style House and did interior decorating.
***I will list as many sources as possible at the end.  Many of the decor pieces came from HomeGoods or At Home and cannot be linked. I will do my best to link as many items for you as possible.
Take a gander at these BEFORE and AFTER PICS
BEFORE AND AFTER PICS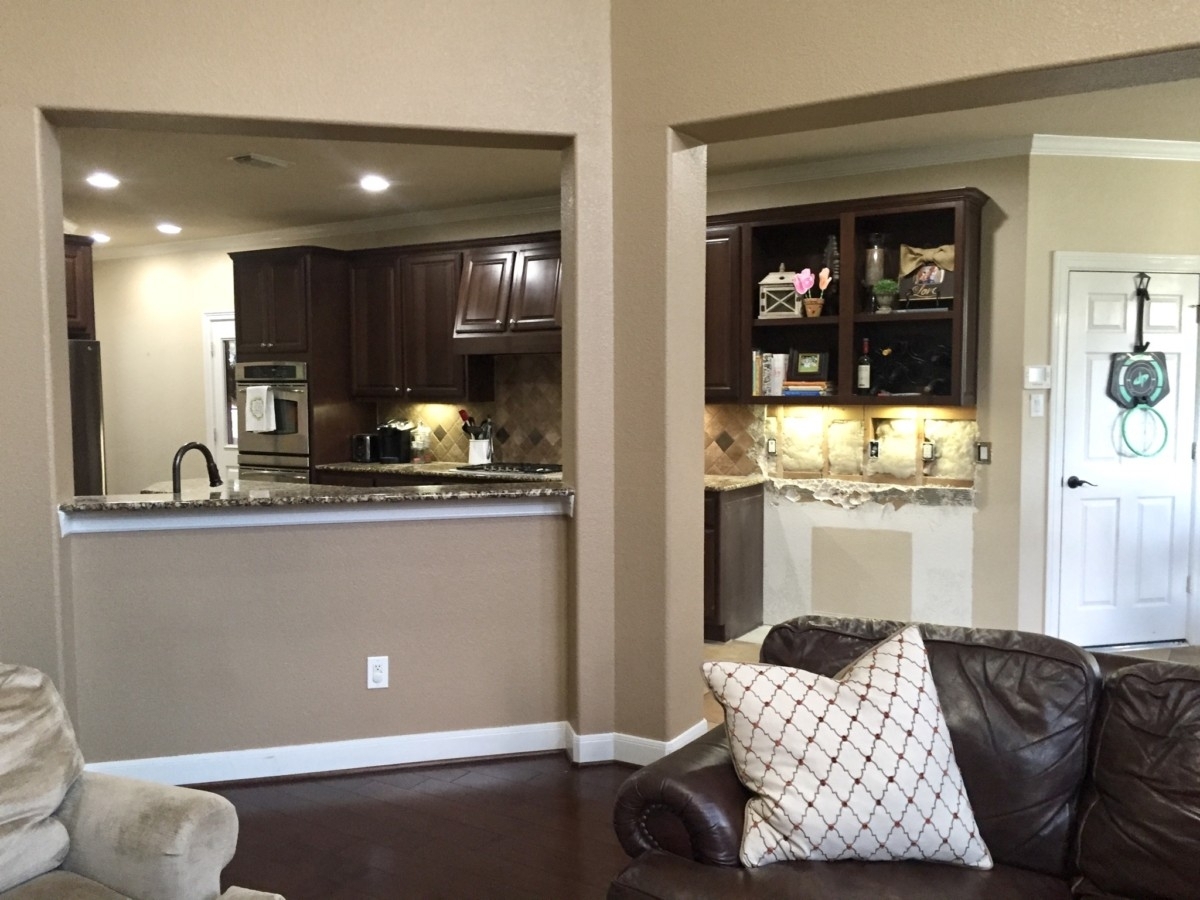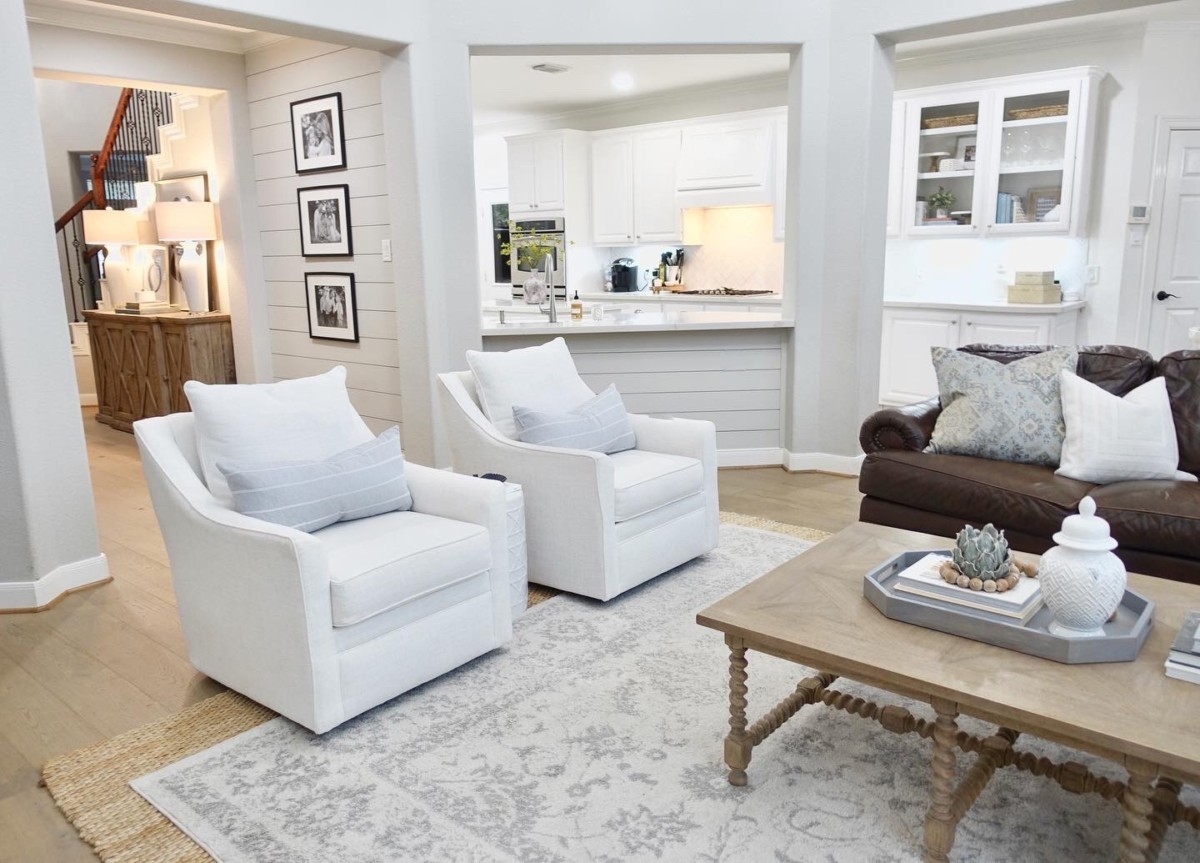 Can you even believe this is the same house!!!  Sometimes I have to pinch myself because the main living areas are finally complete and I am completely in love with how they turned out.  There were a lot of sleepless nights, Pinterest boards, living in our bedroom and glamping in our backyard to make this all happen.
See all the BEFORE PICTURES HERE
Woodlands Style House Living Room Makeover
LIVING ROOM
This wagon wheel chandelier is probably one of my favorite upgrades.  It is crazy how much lighting can change a space.  Previously we had a small ceiling fan that looked dinky.  It was placed so high on the ceiling so we never used it.  The black wagon wheel light also ties in with the black frames in our hallway and the kitchen table.  It is by far one of my favorite changes and everyone comments on it when they come over.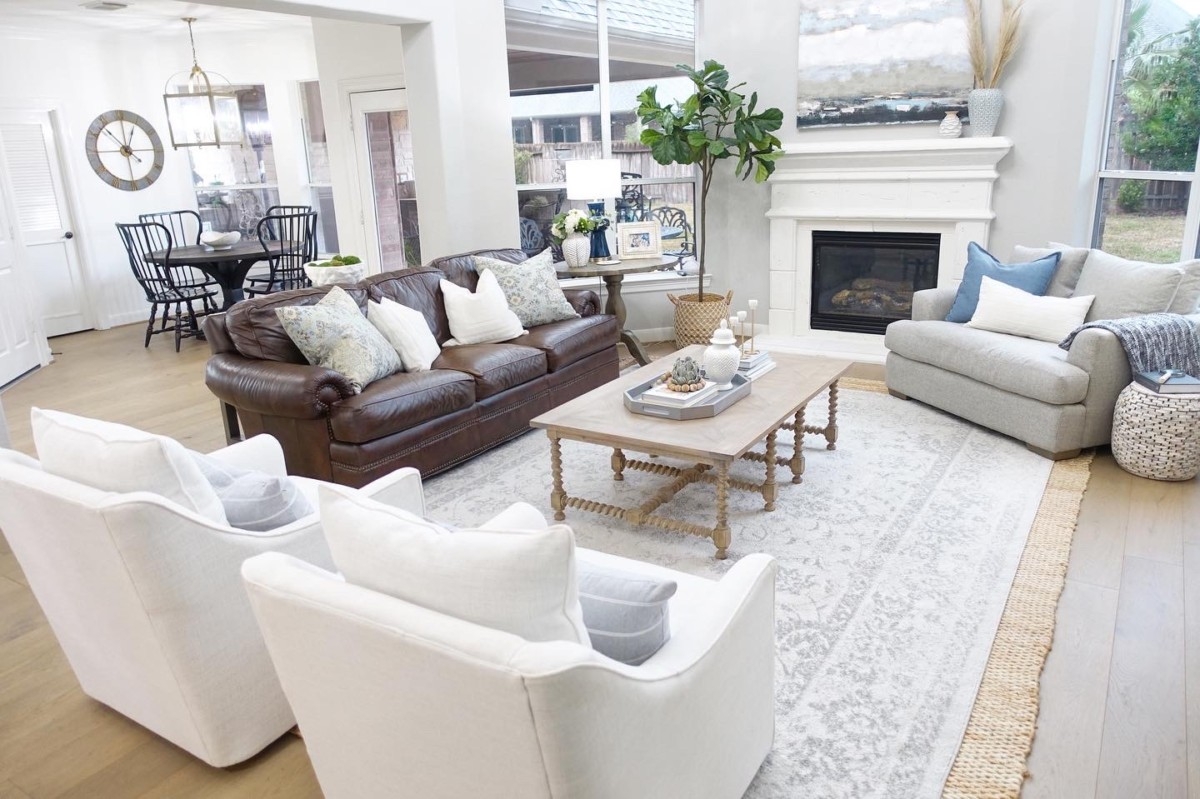 I have spent countless hours wandering around stores trying to decorate my house and ultimately wasting money.  Having Woodlands Style House come and complete my house in two hours was like going to adult Disneyland.  I was beyond excited that they were able to execute my vision.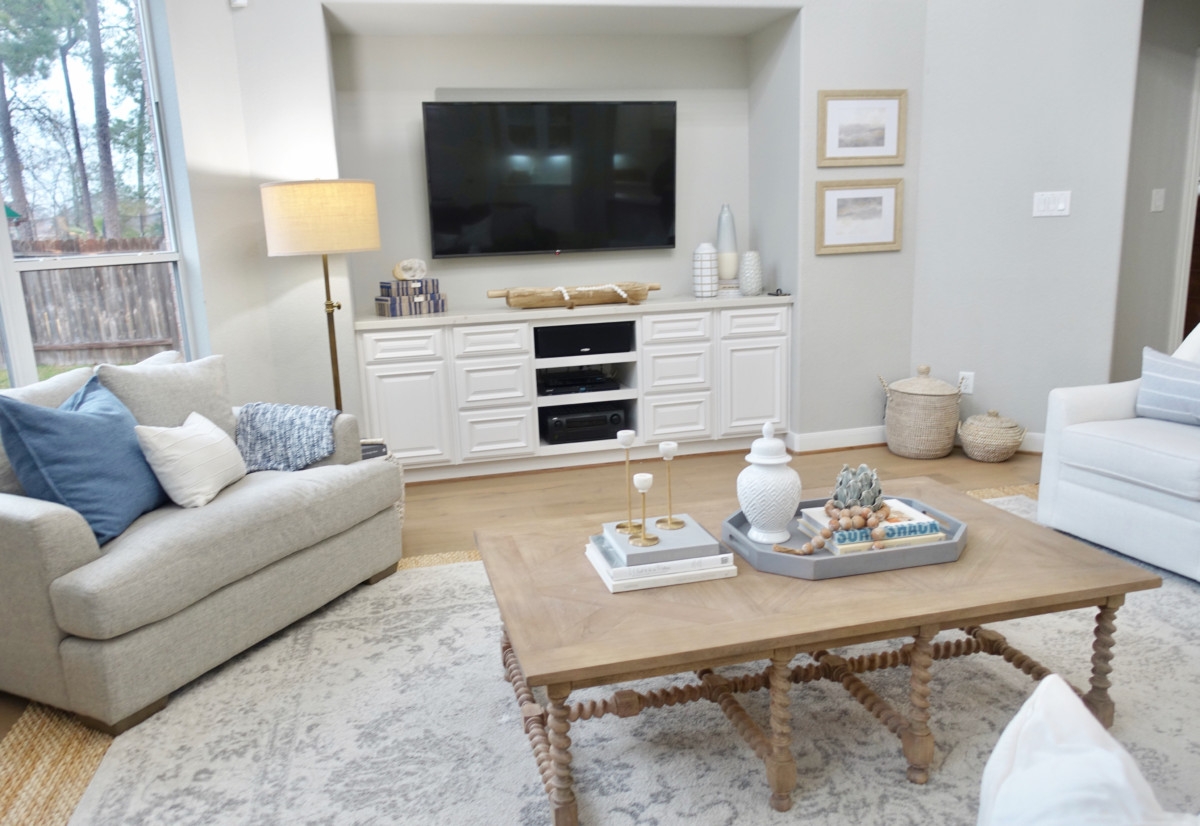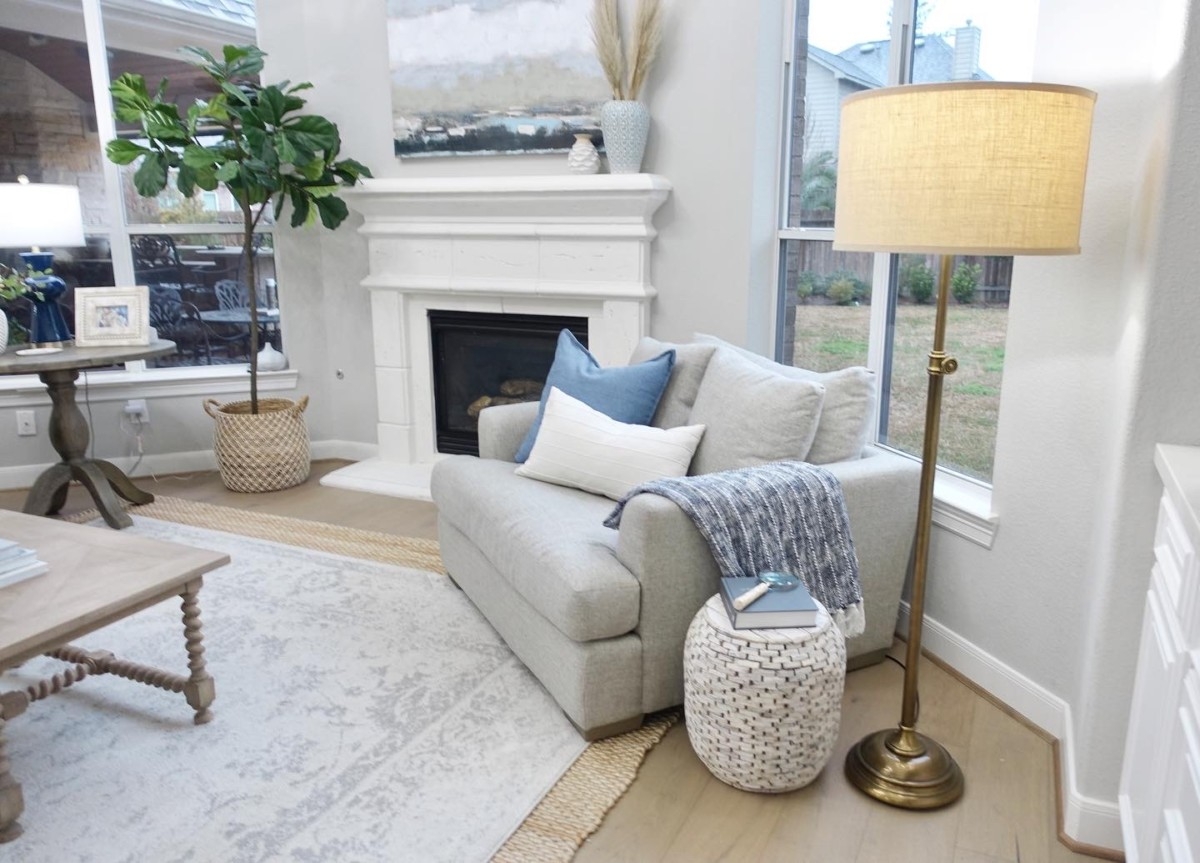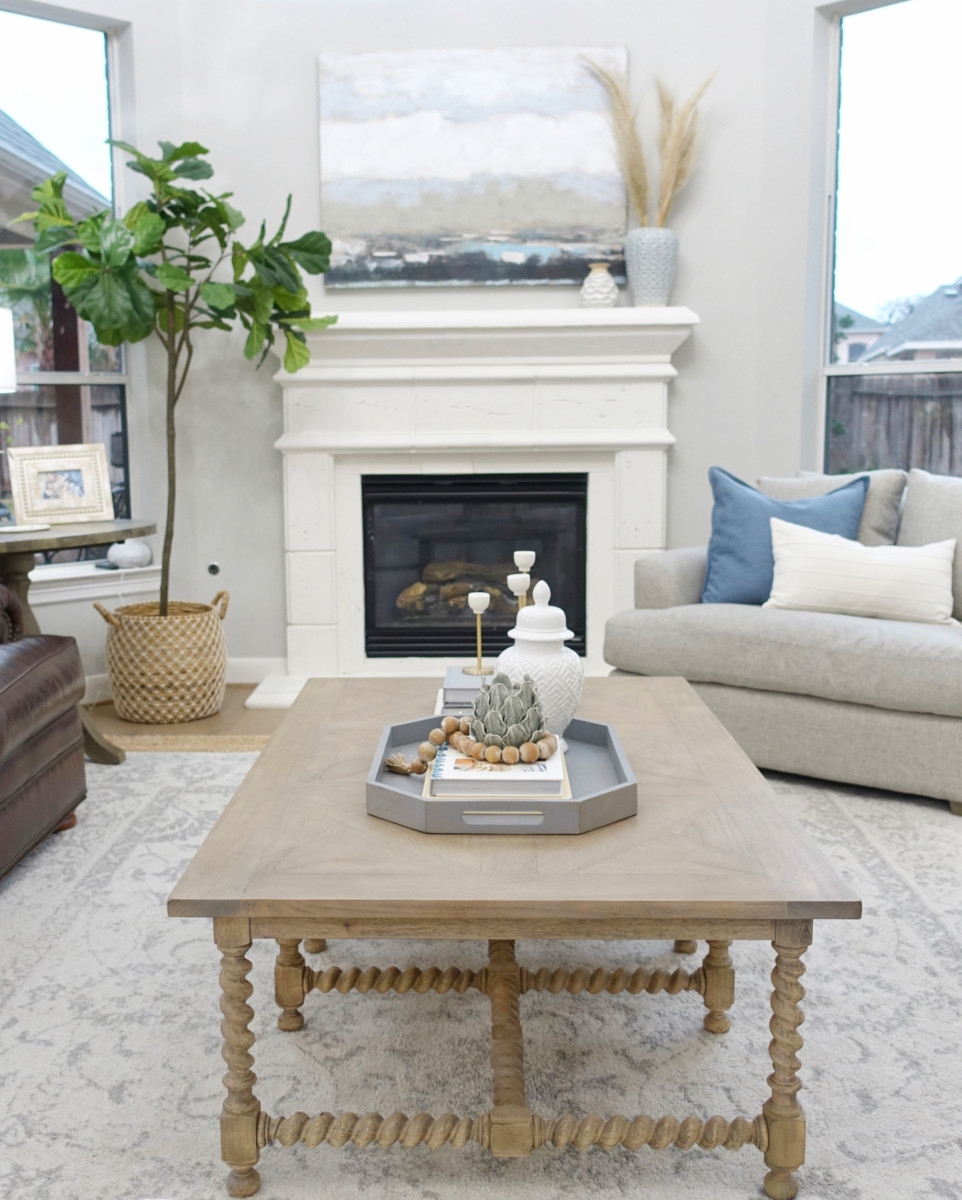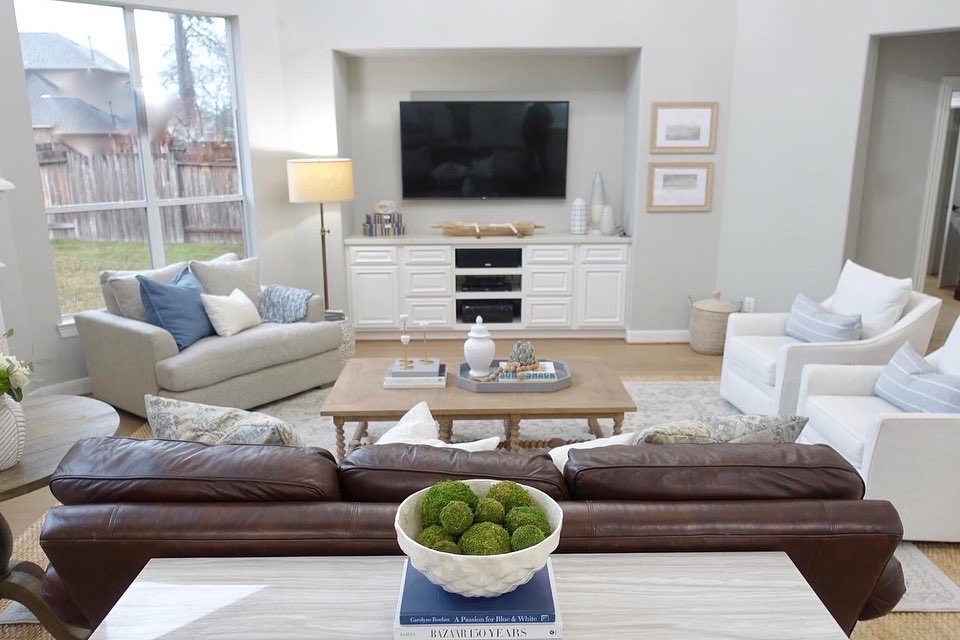 I was VERY leery about getting white chairs.  We constantly have kids over and I just knew they would be covered in dirt the next day.  Luckily I found a company here in Houston called Creative Style Furniture.  Not only do they create custom pieces and reupholster but they have professional grade scotch guard that will protect your furniture.  If the chairs get dirt or spots on them I can easily wipe them off with a damp cloth.
I also love this stain spray for rugs, chairs, etc.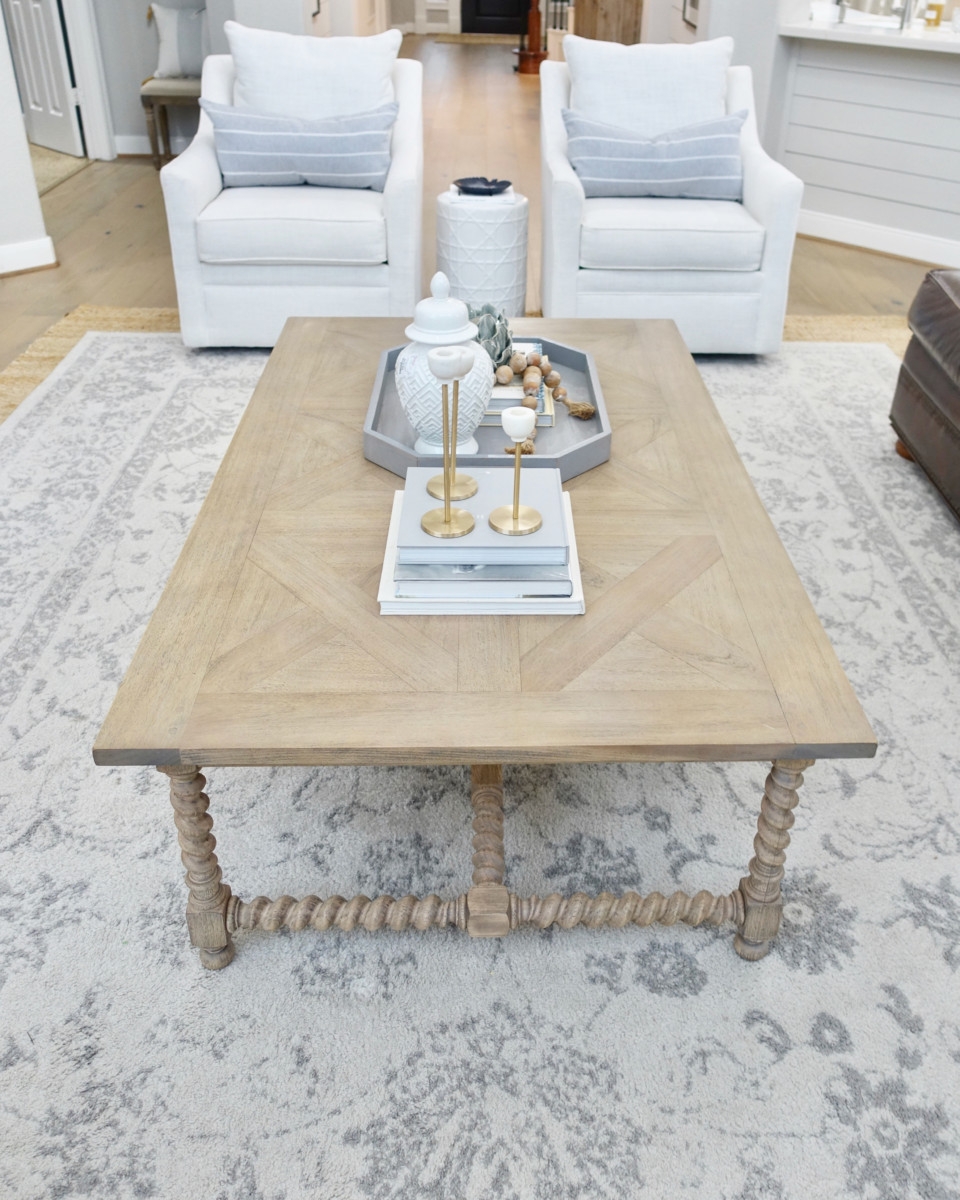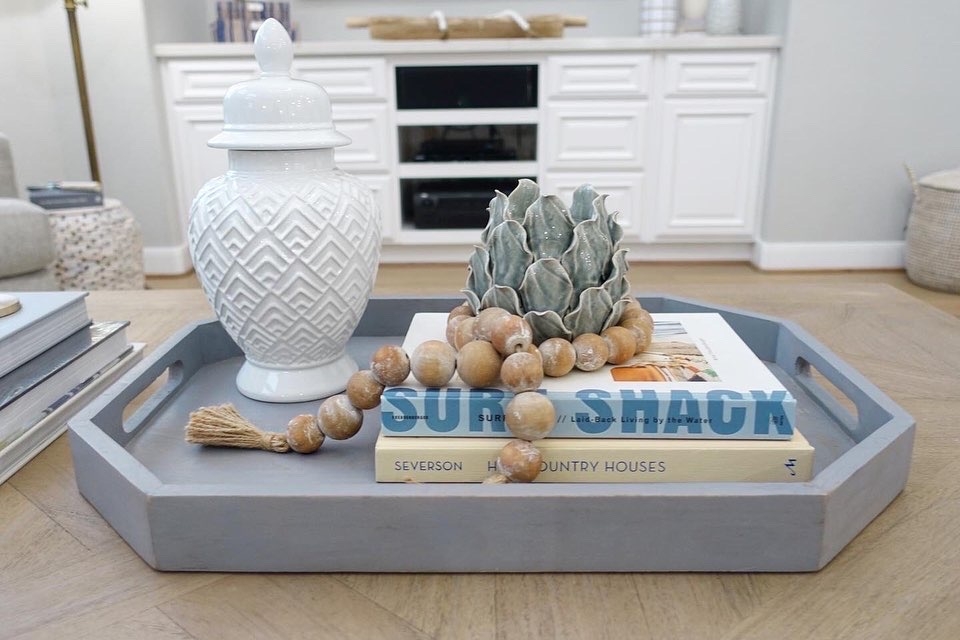 Paint:
Living Room and Entry- Sherwin Williams Repose Grey
Kitchen and Kitchen Cabinets- Sherwin Williams Snowbound
Flooring: Silver Oak Floors in the color Coastal Sand
Entryway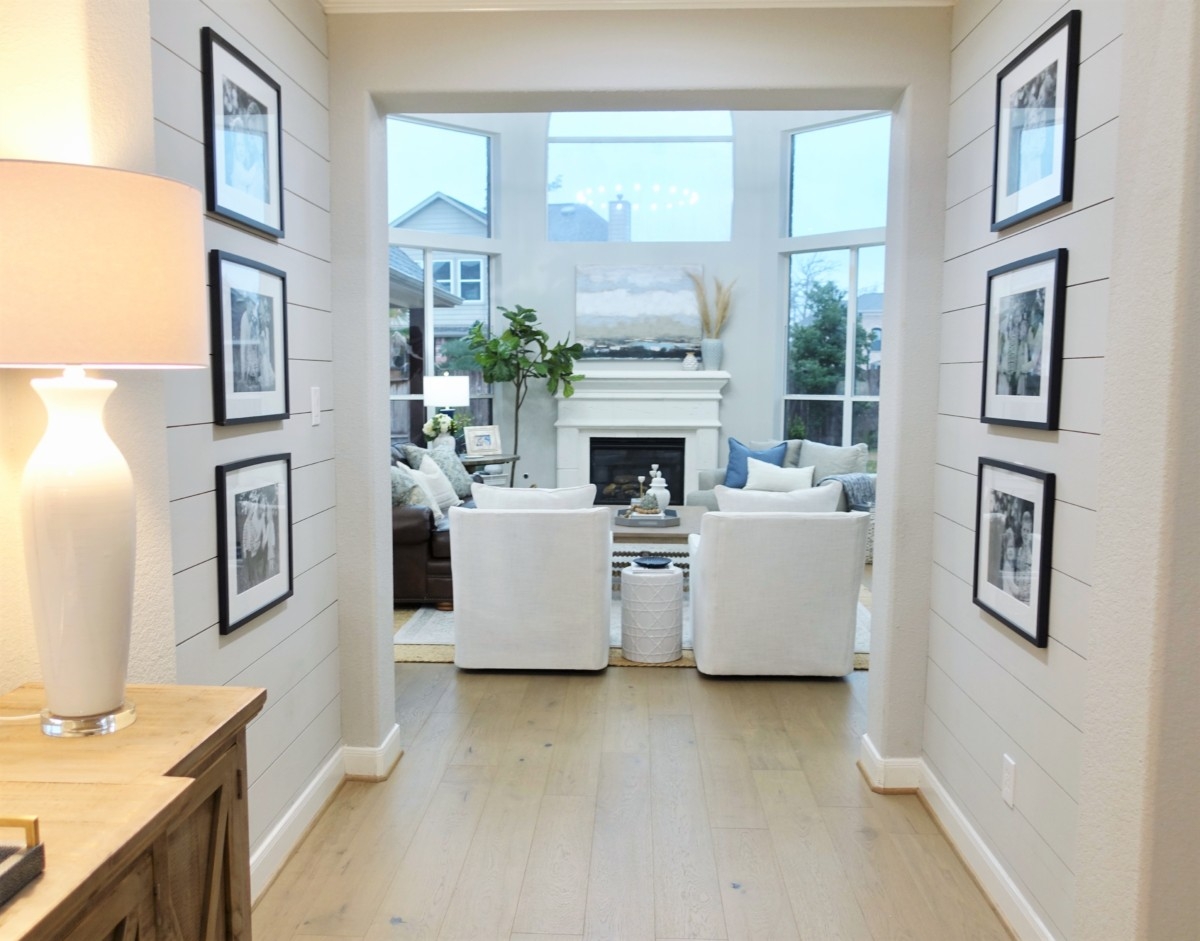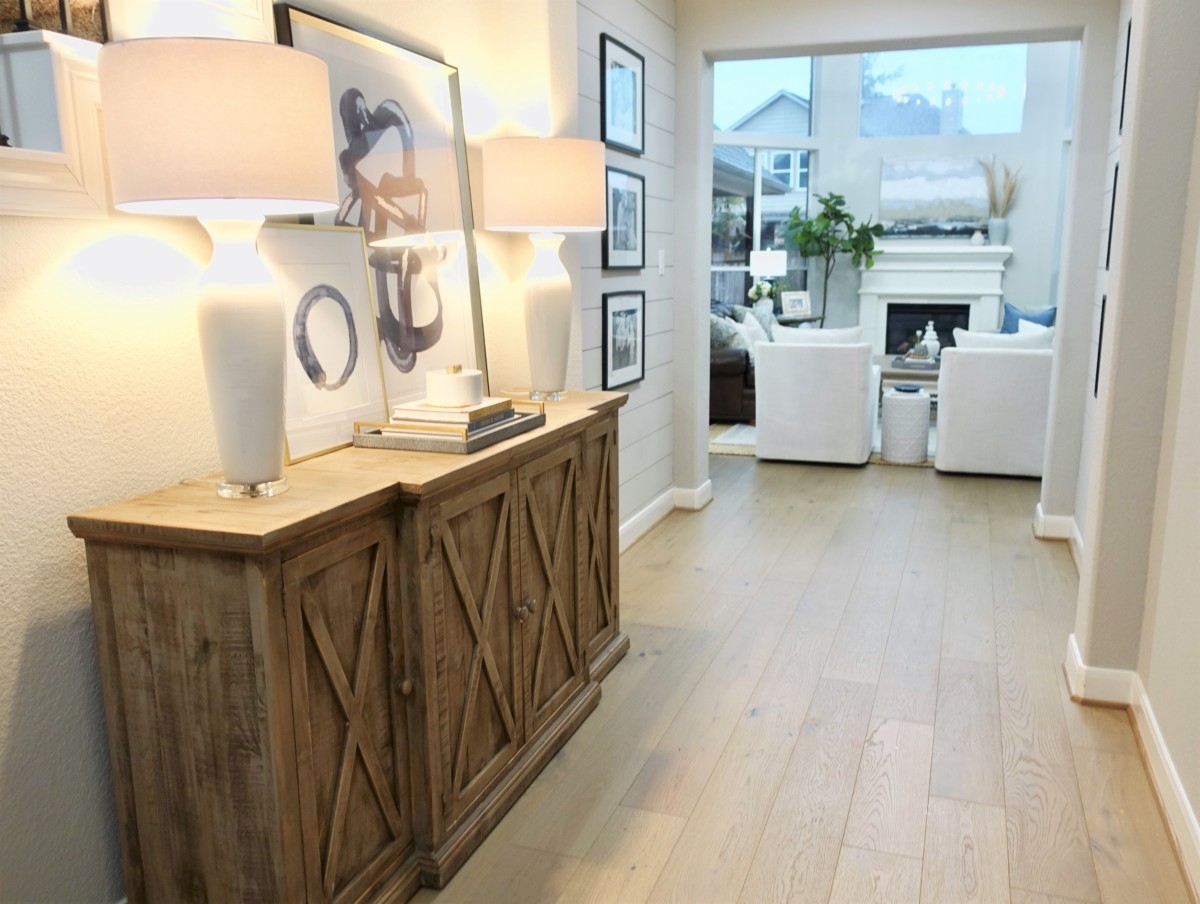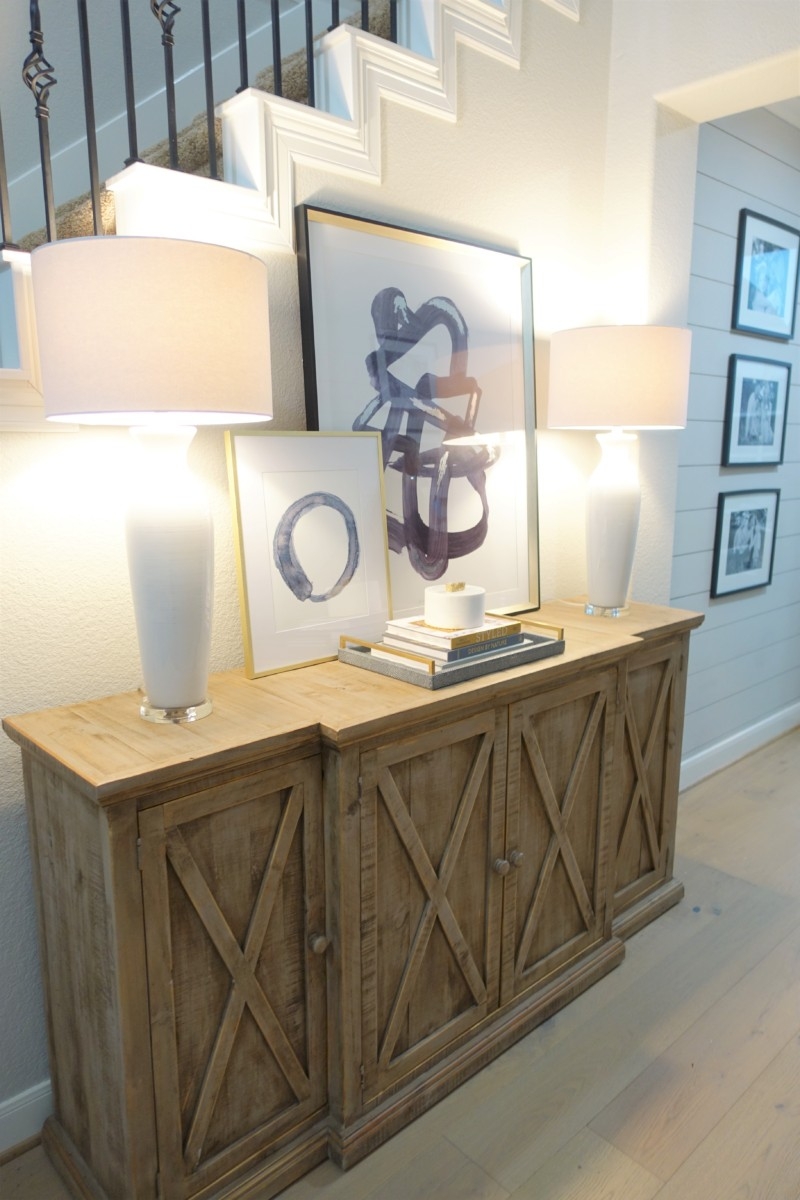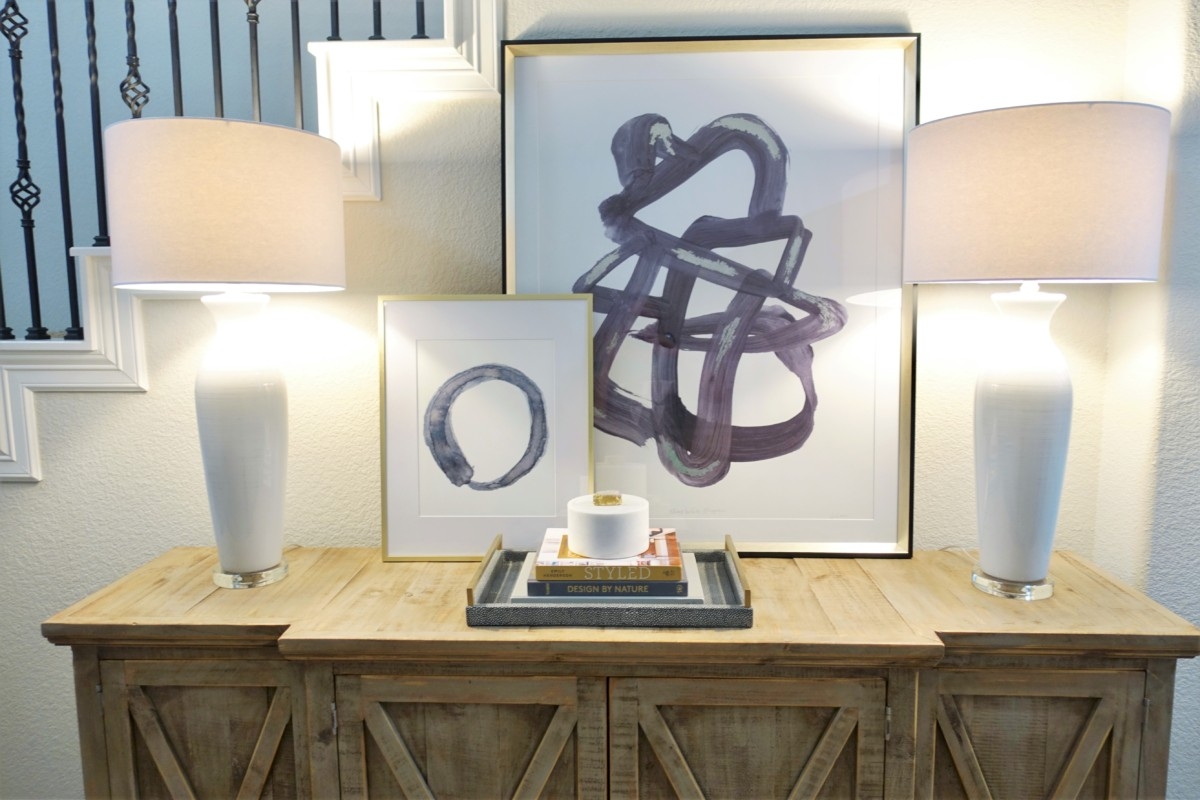 My style is typically traditional but I wanted a more updated traditional style that felt fresh.  I love this shagreen tray, tall oversized white lamps and the abstract art.  I also love that the space is not cluttered but feels complete with the layered artwork and tray stacked with books.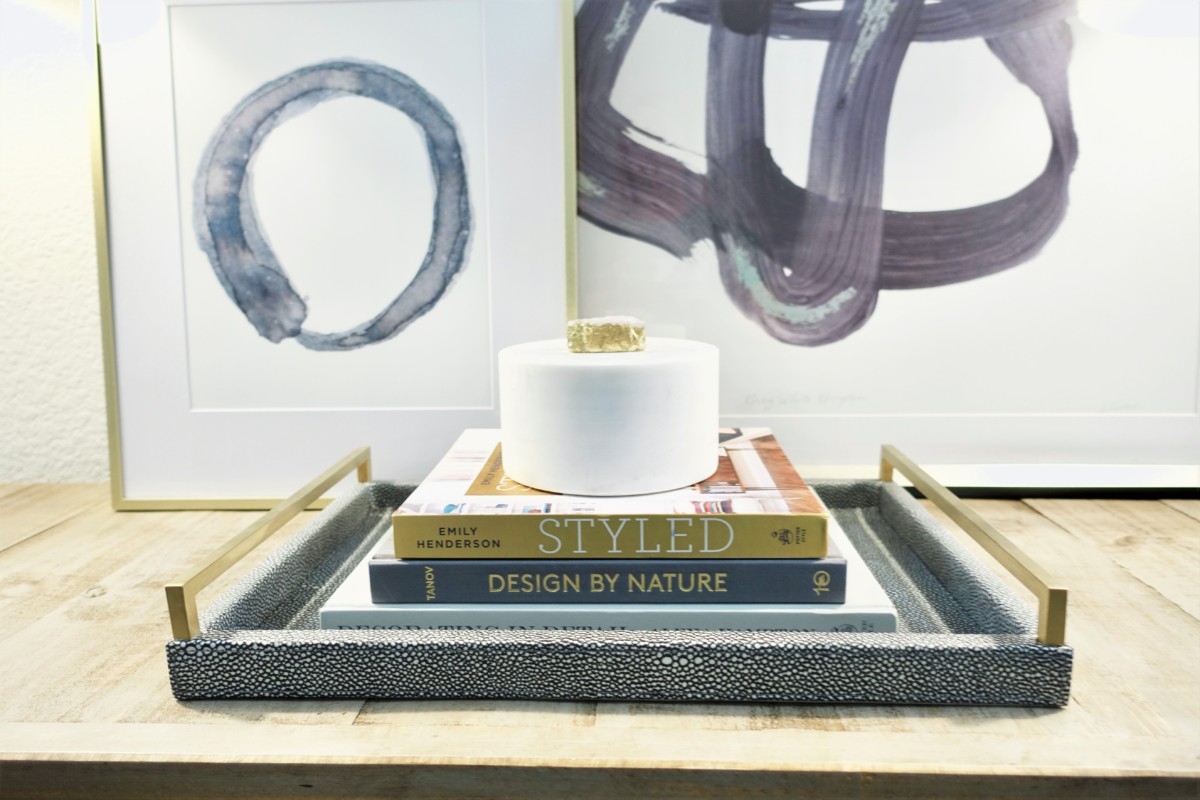 Kitchen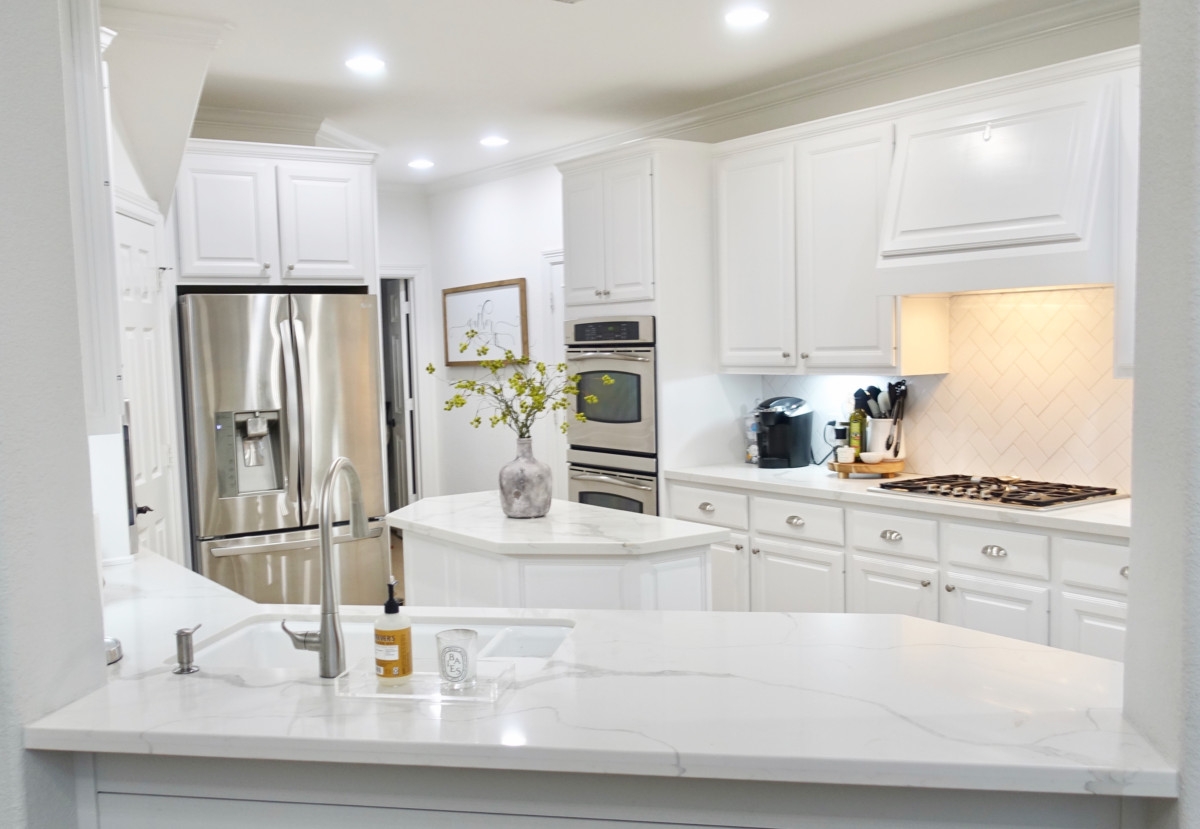 Under the sofa table I plan on getting two X benches or two small skirted ottomans like these in a light antelope fabric.  I think it will warm the space up and also provide extra seating when we have guests over.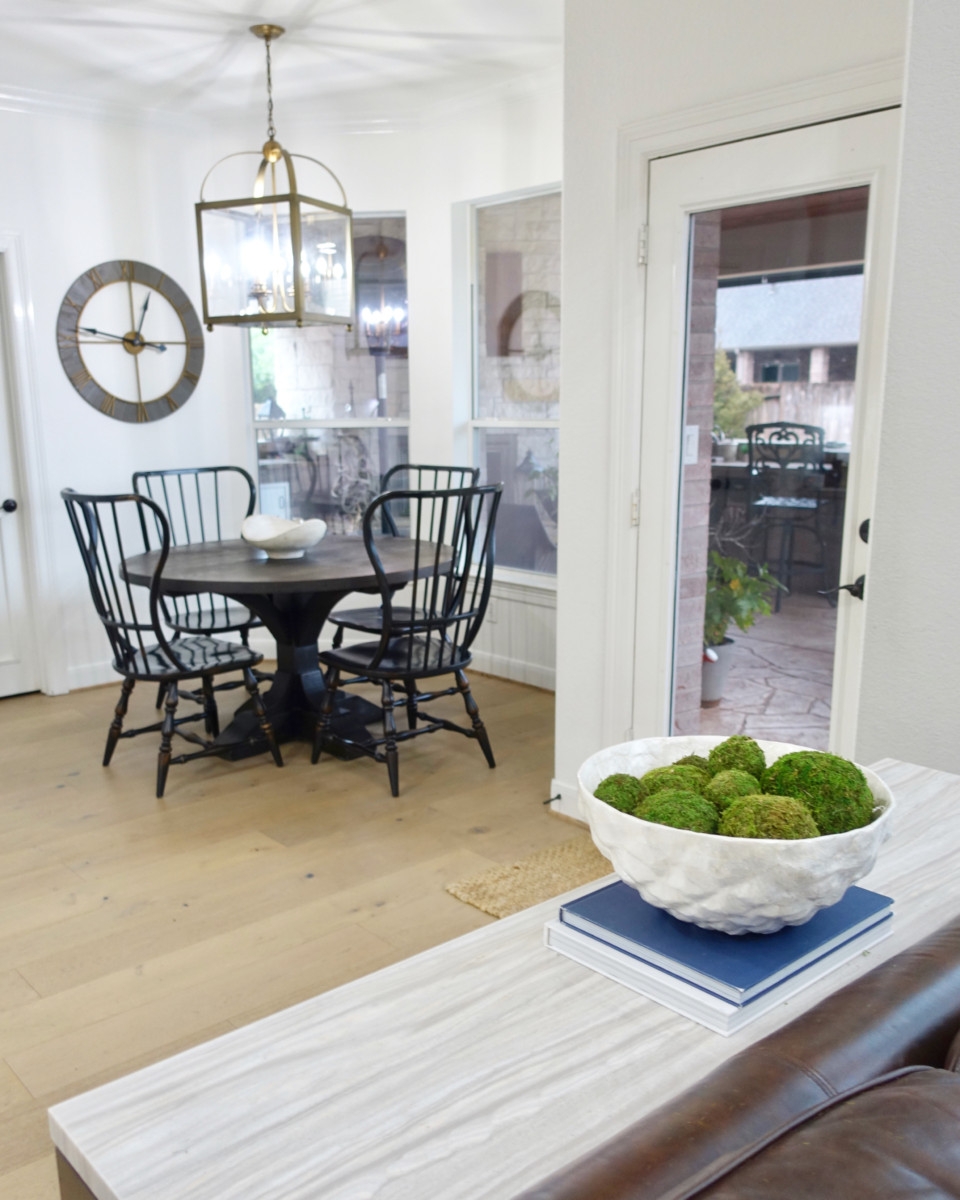 If you are in the Houston area looking to update your home, needing furniture, stain protector or want a little home refresh, be sure to contact THE WOODLANDS STYLE HOUSE and CREATIVE STYLE FURNITURE.  Their customer service was above and beyond and I am thrilled with their work.
***I will list as many sources as possible at the end.  Many of the decor pieces came from HomeGoods or At Home and cannot be linked. I will do my best to link as many items for you as possible.
Coffee Table: Wisteria
Living Room Sources:
Entryway  & Kitchen Sources:
What's your favorite part about my living room makeover?  Let me know in a comment below!