Dressing for Colorado in the summer was a challenge. I came from an inferno, to the lovely Colorado where it was 45 in the morning and night and 75 during the day. Luckily, Nordstrom just had their anniversary sale so I stocked up on fall essentials like cardigans, jeans, the most comfortable layering t-shirts and accessories. If you have never shopped the Nordstrom Anniversary Sale be sure to watch for posts about it. They have fall items available for 40% off and summer items will be available for sale probably around February or March. Utility jackets or Military style jackets are HUGE this year along with cardigans. Be sure to stock up now!!!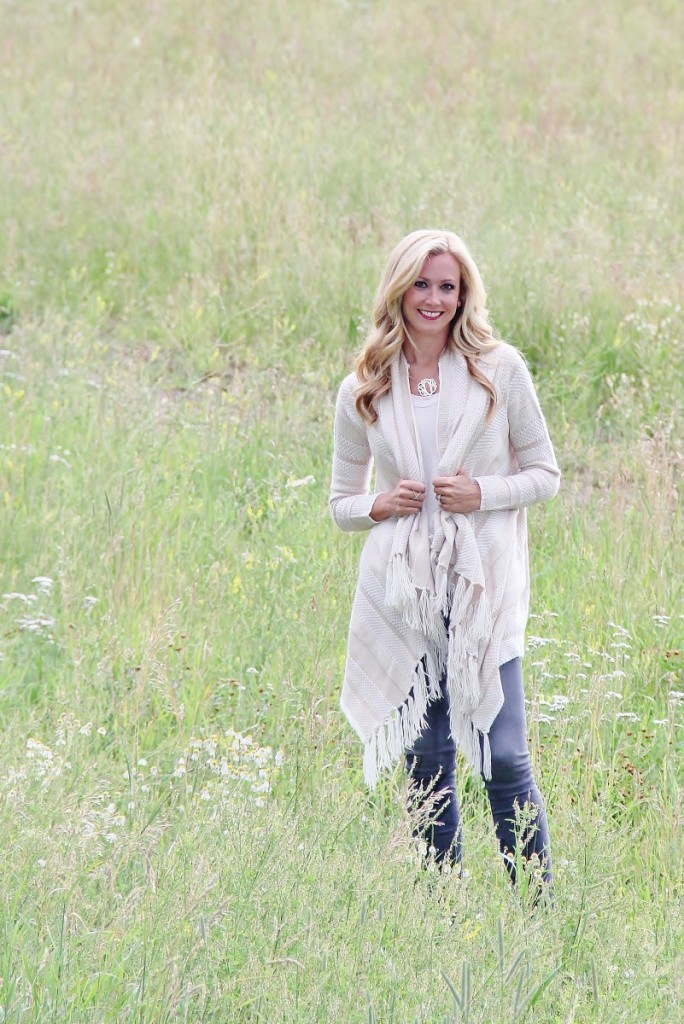 Outfit Details
Cardigan (mine is sold out but I'll post a similar one), T Shirt, Jeans, Booties, Necklace, Ring, Earrings
Outfit Details
Cardigan, T Shirt, Jeans, Booties, Tassel Necklace, Earrings, Tote
 Outfit Details
MUST HAVE-Utility Jacket, Button Up Shirt, Earrings, Ring
Part of my plan to escape the heat was to go white water rafting. If you go in May or June the rapids will be crazy and the water is freezing cold. We went in August so the rapids were not too bad,but still big enough to be fun without fearing for our lives.  The water was still cold but not unbearable.  We used a great company that I had researched called Glenwood Adventure Company. They are located about 45 minutes from Beaver Creek and had a great safety record.  One of the groups even had their young boys who were about seven or eight years old. We floated by them and they loved every second! We had a blast and the scenery was unreal. Towards the end of our trip we saw three mountain sheep climbing through the rocks. At the very end, we pulled the boat ashore and they had a catered lunch waiting for us and even catered to vegetarian or vegan diets.
Of course hiking and white water rafting wasn't enough so I threw in one more adventure! A razor ATV tour 13,000 feet up a mountain to an extinct volcano. This was by far the BEST activity we did. We drove to the 4 Eagle Ranch and met our guide who outfitted us with helmets, goggles and bandanas for our faces. We all wore workout clothes because it was a dusty and dirty ride. Our guide went over how to drive the ATV (easy), and the in's and out's of our trail. There were pot holes of mud, driving next to the side of a cliff, fields of wild flowers, clear blue skies and views of Beaver Creek, Breckenridge and Vail. We were spread out, as to not crash into the person in front of us so we could go fast and have a good thrill ride. When we got near the top of the extinct volcano they had cookies, lemonade and water for us. Then we traveled down the mountain on a different trail to a crystal clear blue lake. It was so beautiful. I felt like I kept saying OOOOH AHHHH, OOOOH AHHHH the whole time we were driving.  I would highly recommend this tour if you are around the area.
 Below, you can see a tall gray triangle mountain. That is an extinct volcano!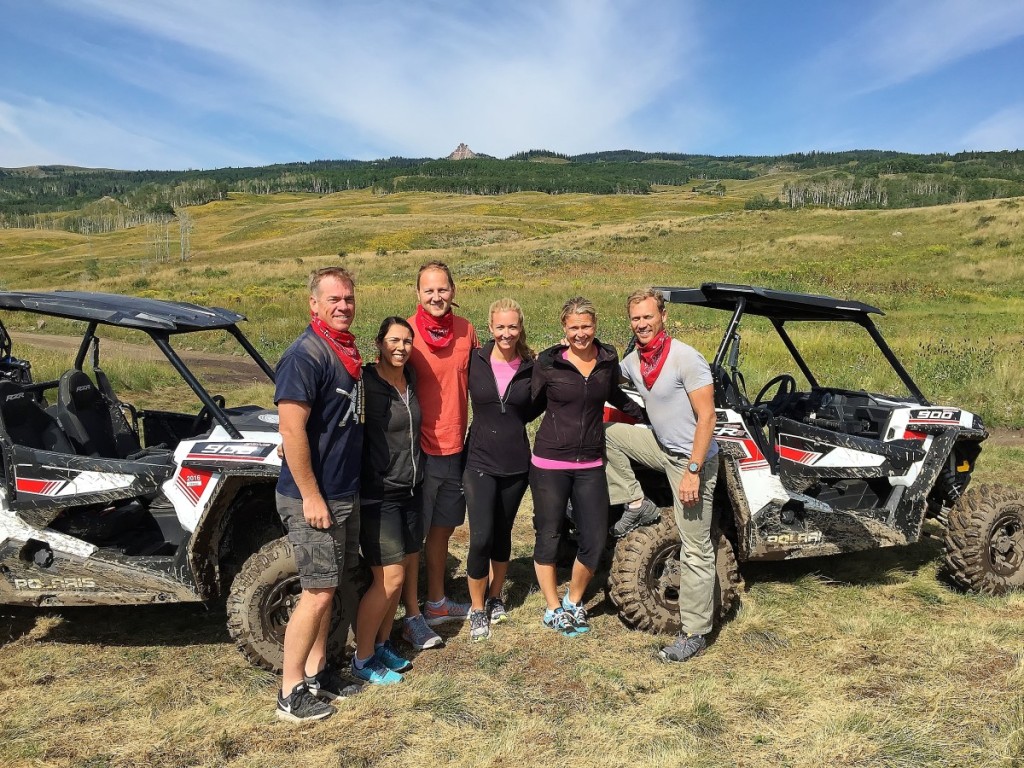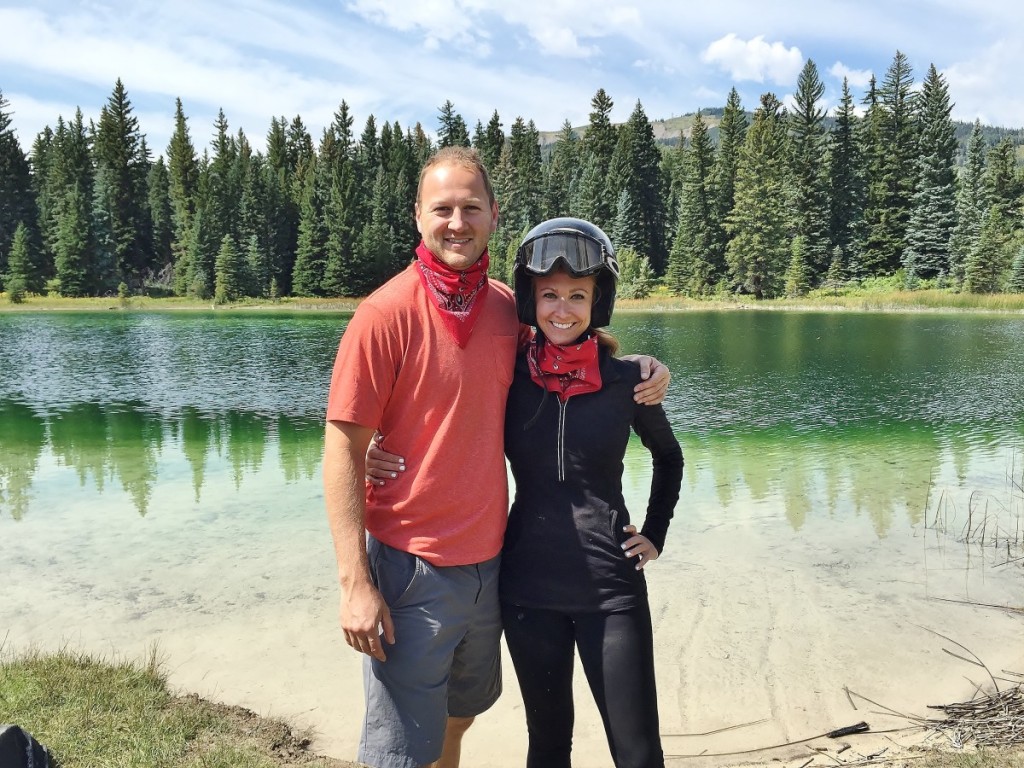 This was Blue Lake. It was crystal clear and you could see all the way to the bottom!
So, next time you are in the market to escape the summer heat or just want a thrilling adventure, I HIGHLY recommend taking a trip to Beaver Creek. The sights of Colorado in the summer will really remind you of the beauty our great nation has to offer.  Rent a condo, stay at The Ritz-Carlton Bachelor Gulch or the Park Hyatt hotels. You won't be disappointed by either. Don't forget to hit up the Nordstrom Fall Anniversary Sale in July/August to stock up on your fall wardrobe goodies!
Thanks for stopping by!
XOXO
Sara