Last week we took a trip to Maui with our friends and it was the most amazing adventure.  If you have the chance to go to Maui I would spend at least six days there.  You will be busy and have so much to see.  I have included all the sights we saw in a basic itinerary for any of you headed there or planning a future vacation.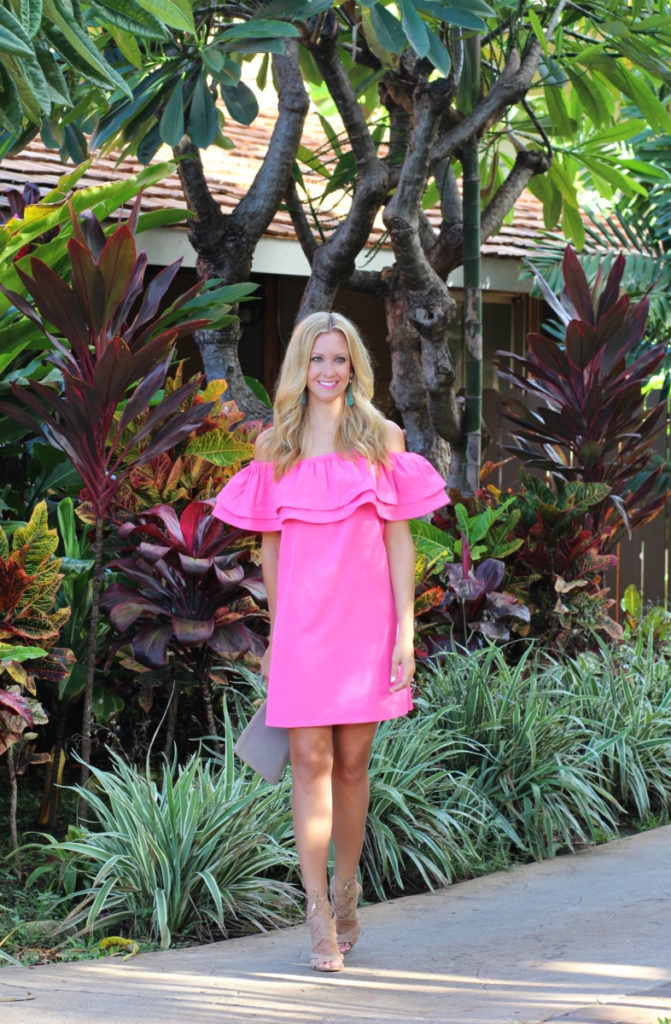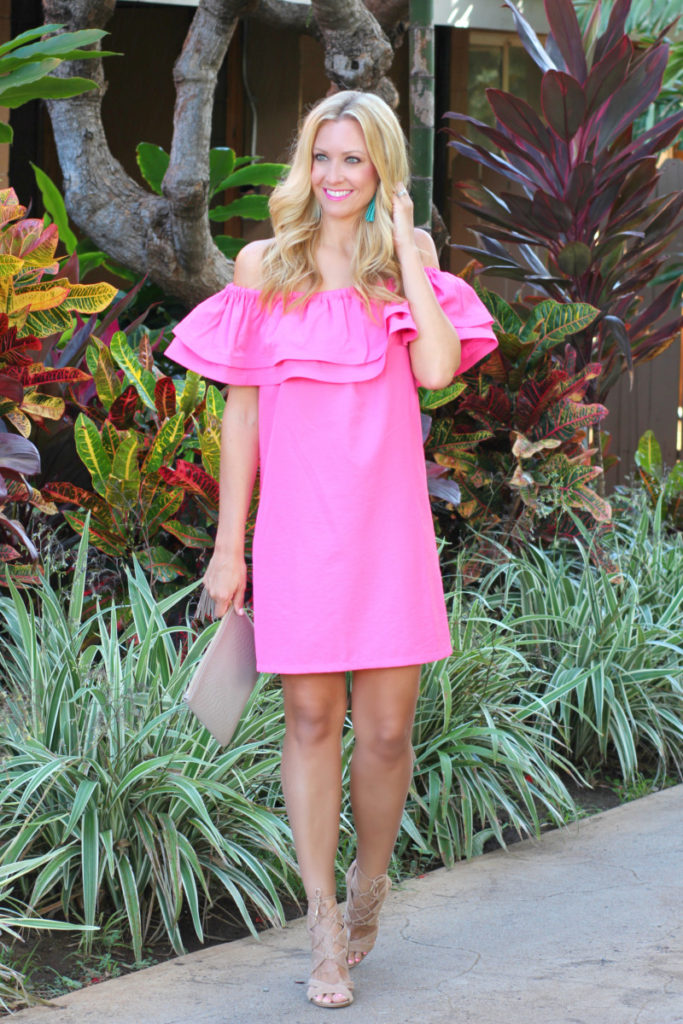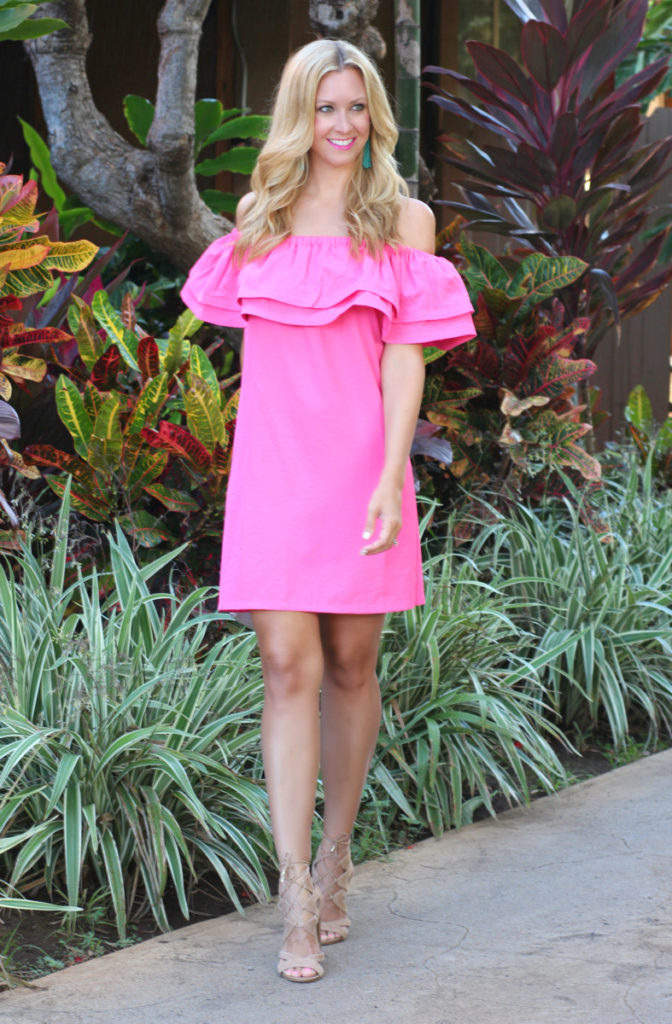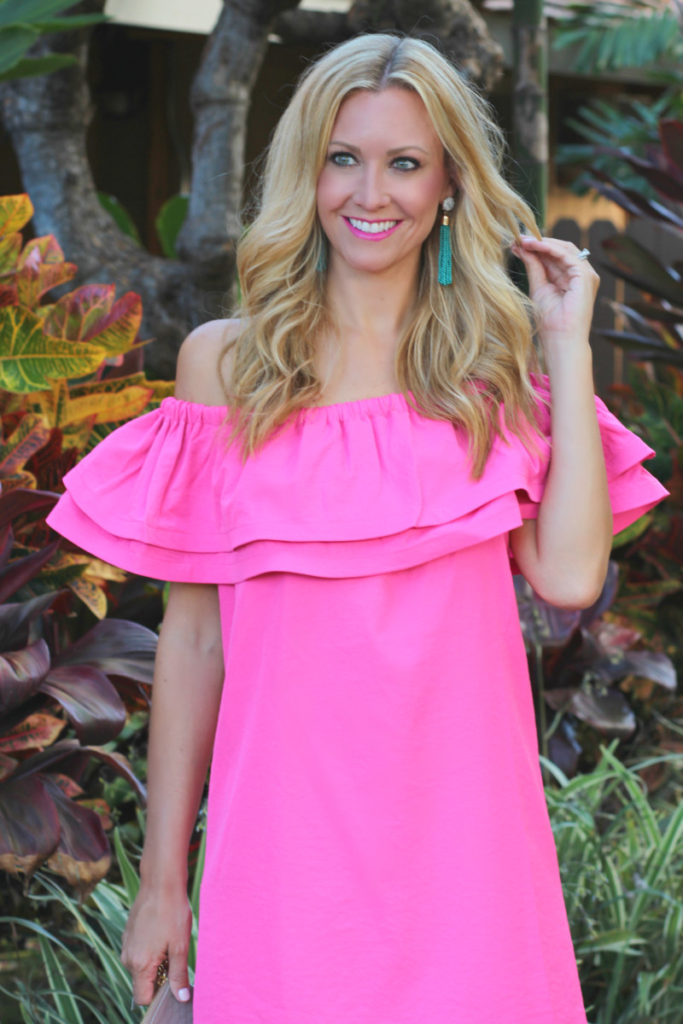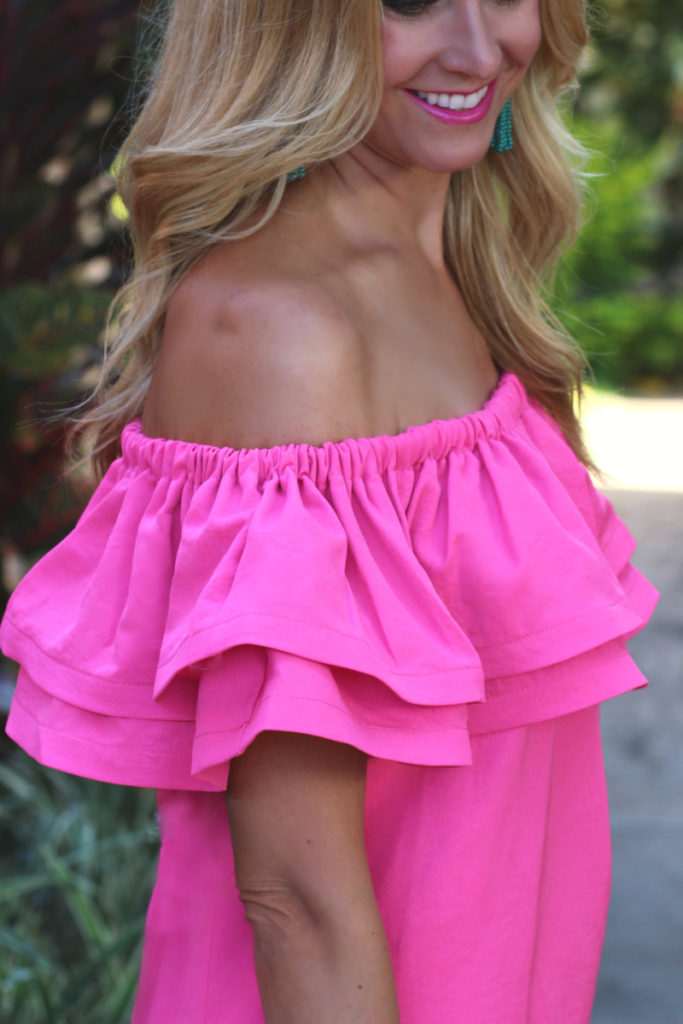 Maui can get pretty hot during the day, but when the sun sets it is gorgeous outside!  This pink dress was perfect for dinner and drinks.  Many of the restaurants are outside or open air.  I loved that this pink shift was easy and breezy.  The pink ruffles made it so fun!  I added these light weight turquoise tassel earrings for a pop of color.
Below is our basic itinerary with some pictures attached.  I absolutely LOVED everything we did and every adventure Maui had to offer us.  My two cents would be to rent a jeep to drive yourself around, bring a lot of snacks, take a lot of water with you on any excursion.
MAUI DAY 1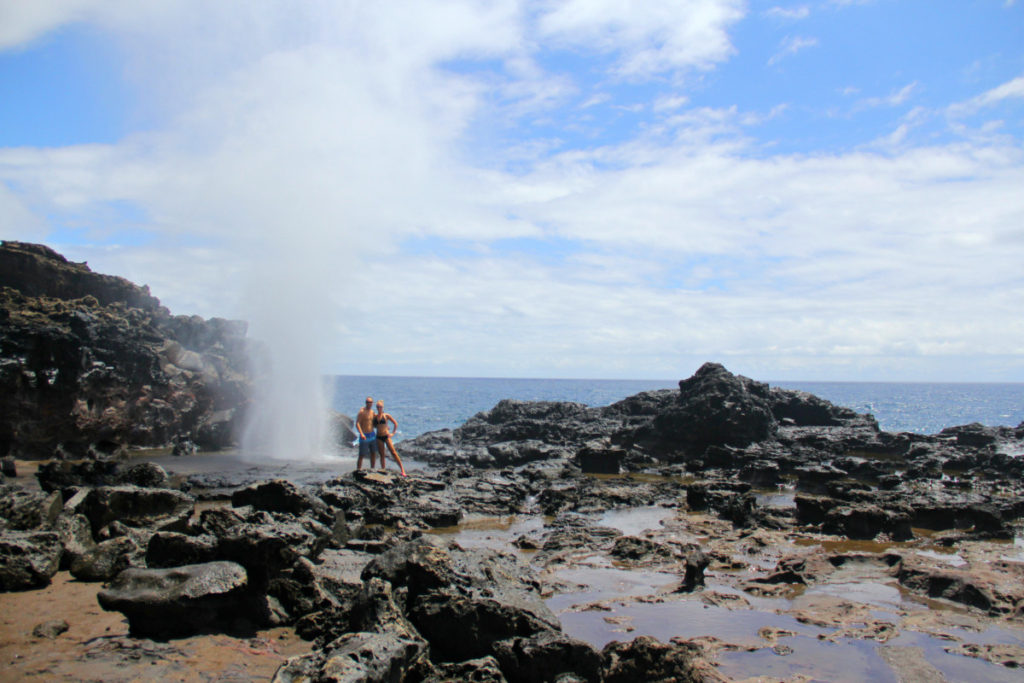 Nakalele Blowhole:  We made the semi treacherous hike down to the blowhole.  There are many signs warning not to get too close. We stayed a safe distance but also learned really fast that most signs that say "Don't" mean "Do"!!!  Use caution on any excursion.  Then we drove north to the Olivine Pools.  These were fun to swim in but got rough in the afternoon.  I would go to each of these right after breakfast as Maui is prone to high winds in the afternoon.
MAUI DAY 2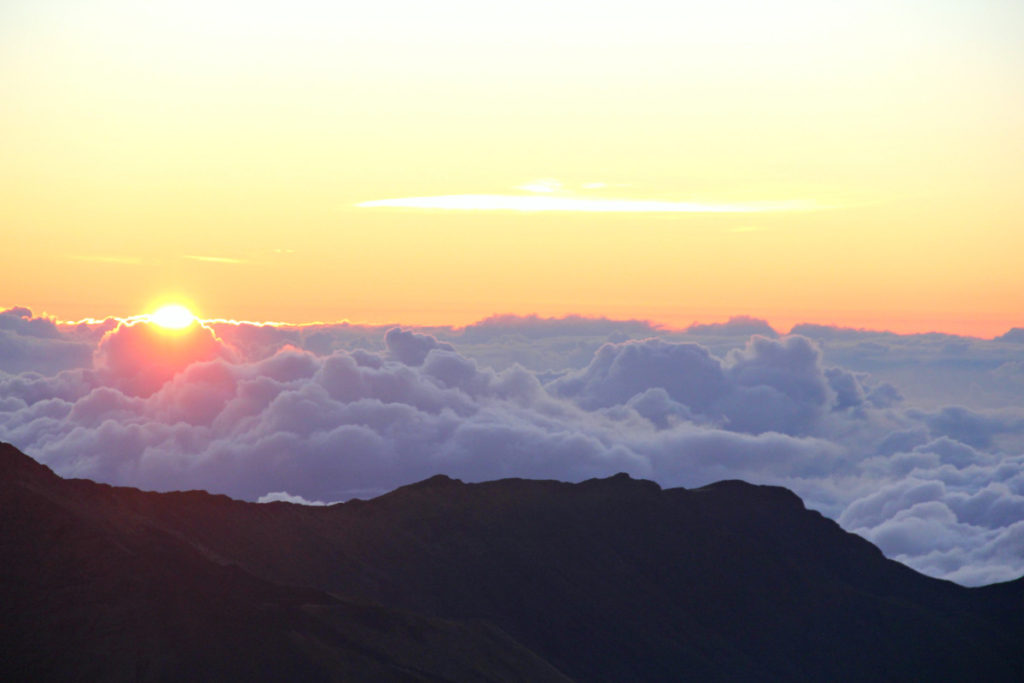 Haleakala Volcano:  We got up at 4am to drive across the island and up 10,000 feet to the top of a volcano.  It was beyond freezing.  Bring WARM clothes!  There is limited space at the top.  When it is full the rangers close the road, so get there early.  It truly is magical.  You are above the clouds and when the sun begins to peek out it is breathtaking.  Of course right after this shot my camera shorted out and I had a panic attack.  The only other camera I could find was a point and shoot.  Let's just say Cannon is on my naughty list and we might exchange words!!!
MAUI DAY 3- Road To Hana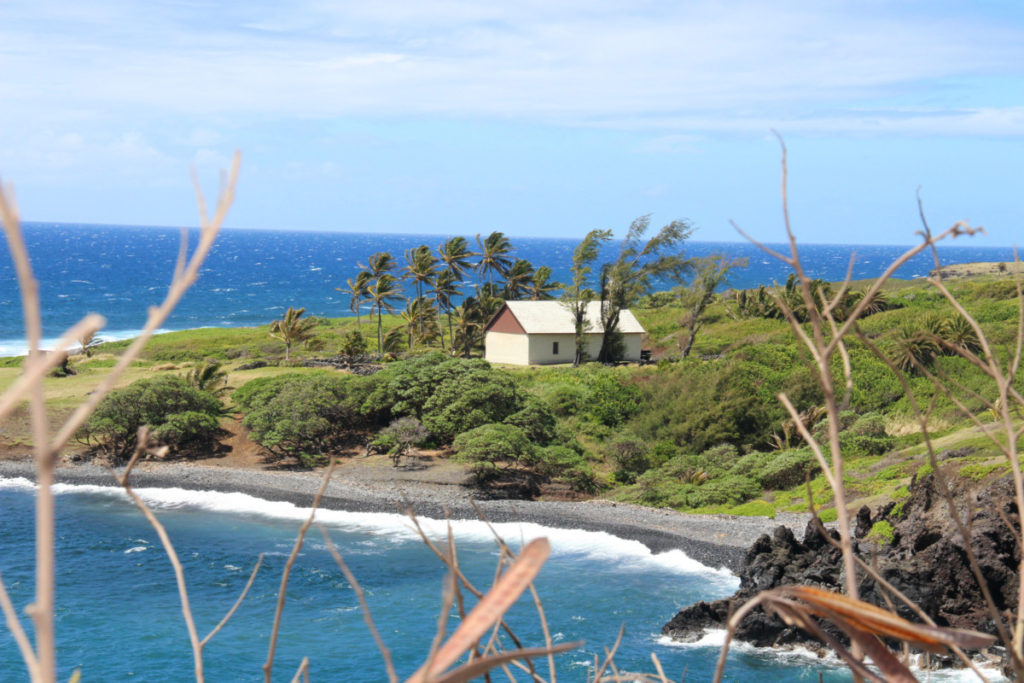 Road To Hana Side Note– We started at the bottom on the "no drive path"  It is worth every red cent to start at the bottom (south end) and drive north.  The locals kind of give you the side eye if you want to drive this section.  They are honestly tired of the traffic from tourists.  I don't blame them.  Many of the roads are 1.5 lane so there can be a lot of pulling over.  We left early in the morning and hardly encountered any traffic on the south end.
Huialoha Church:  Has a church ever had a more stunning view? I bet not.  It is on the edge of the ocean in the middle of nowhere.  Sometimes monk seals are beached at the bottom.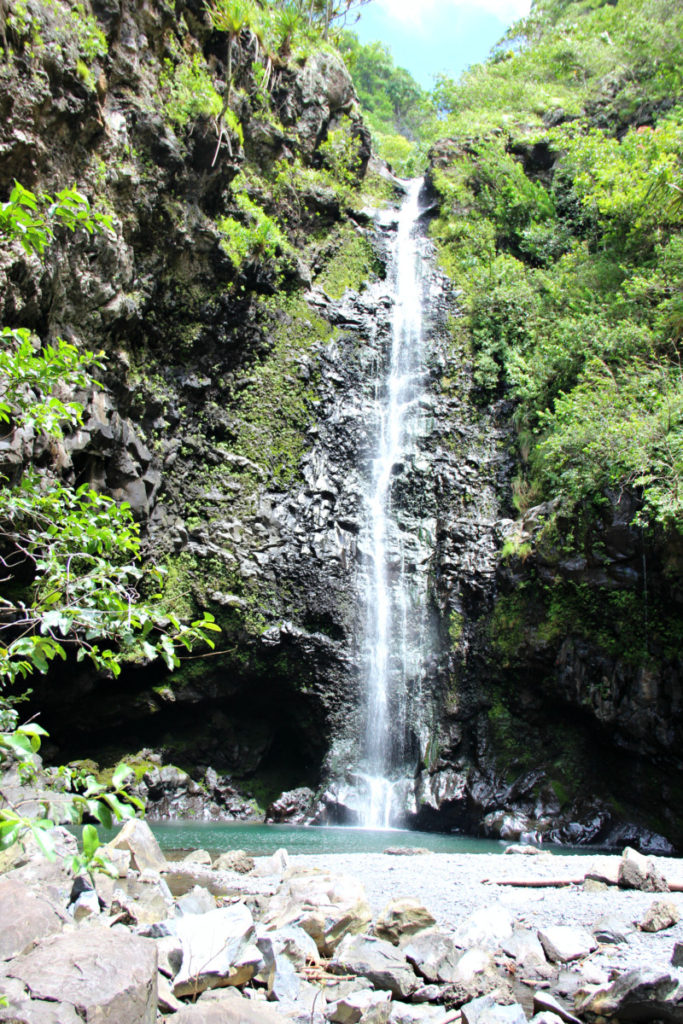 Alelle Falls:  This gem is not easy to find but if you want a deserted waterfall all to yourself with a short, easy hike, this is your baby.  A small trail is located to the left right next to the Alelle Bridge.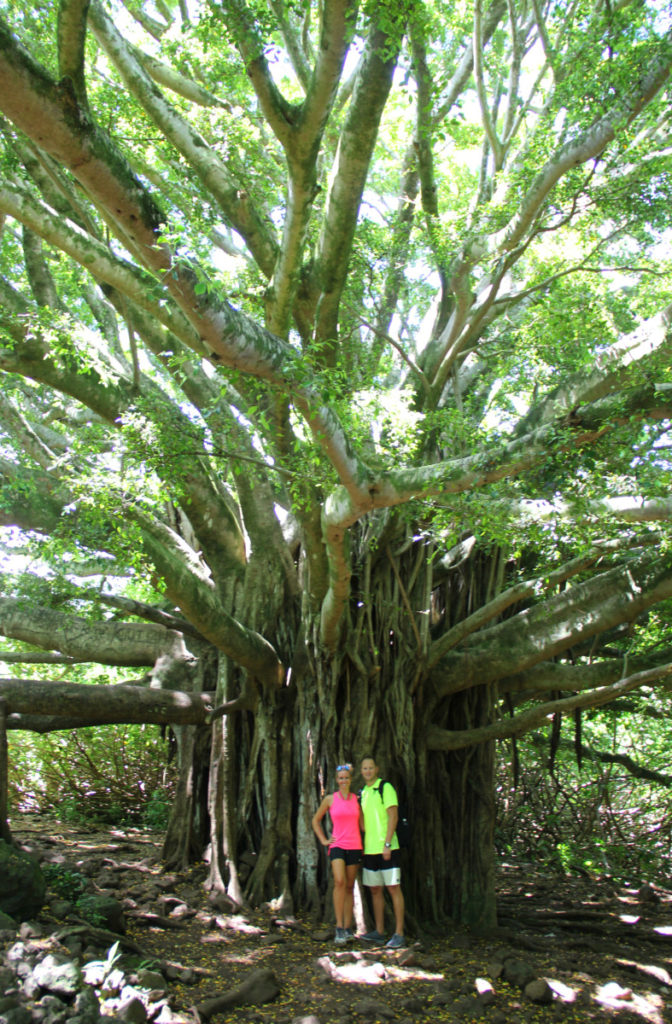 Haleakala Nation Park: Includes Banyan Tree, Bamboo Forest, Seven Sacred Pools and Waimoku Falls.  The waterfall is a good 2 hour hike if you keep a good pace.  Bring water and good hiking shoes.  We wore swimsuits under our clothes.
Giant Banyan Tree:  How amazing is this tree?  I was dying for a fish eye lens so I could capture the whole thing.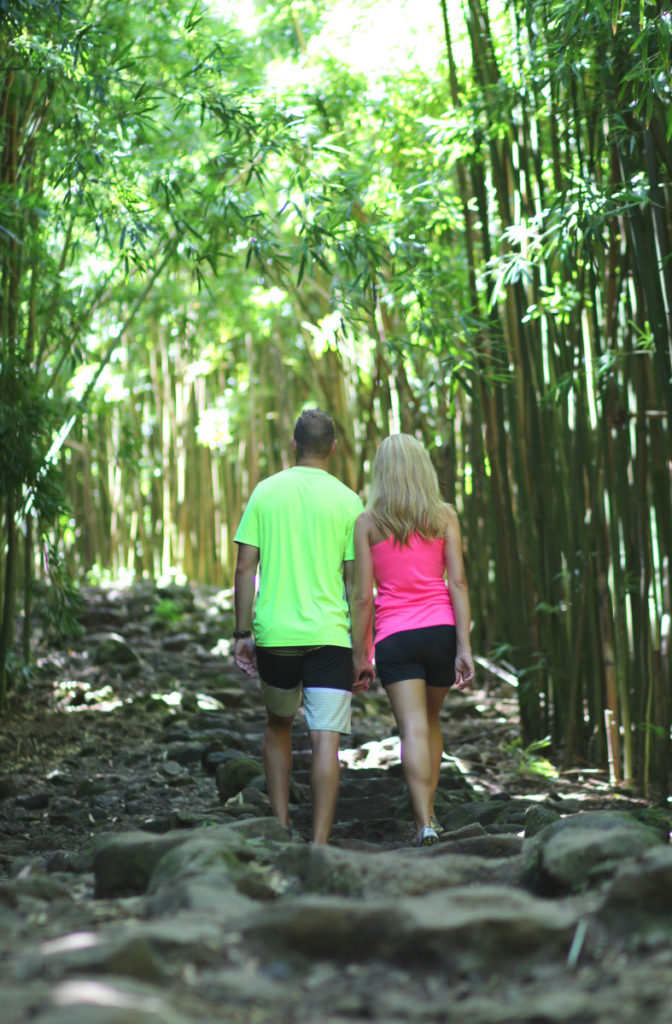 Bamboo Forest:  This hike is like no other.  When the wind blows the bamboo chutes knock against each other and create an earie magical sound.  It was wild to just close your eyes and hear the sound.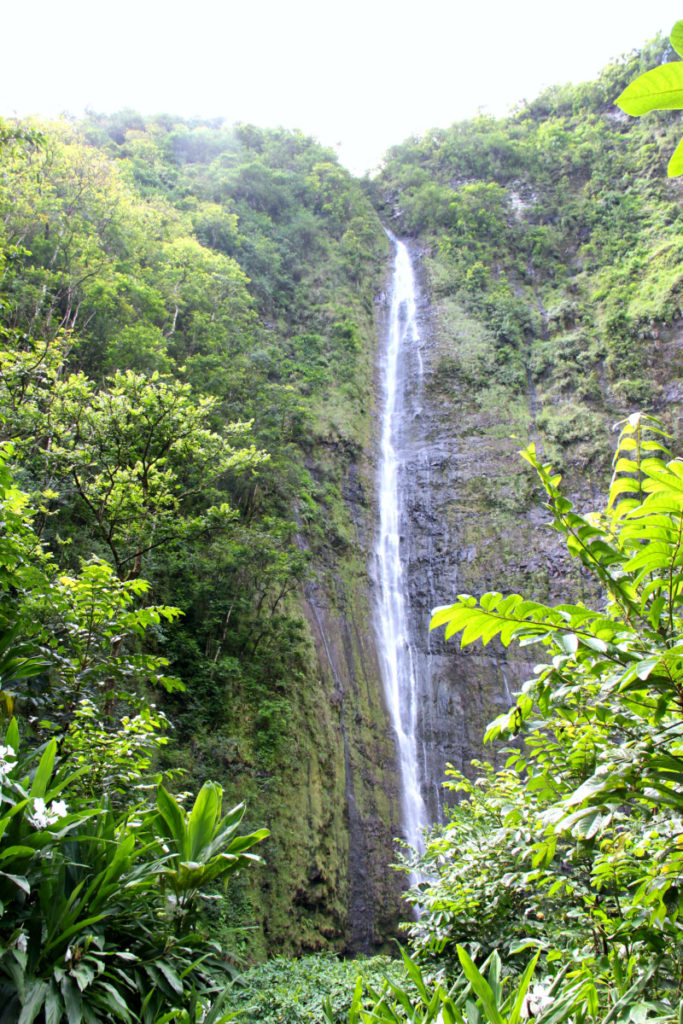 Waimoku Falls:  This is THE waterfall of Maui.  When you get to the end of your hike there is a sign that says " do not go further, it could result in death"  As previously stated we ignored the sign and went to the bottom of the waterfall along with 20 other people.  Then we got in the freezing cold water!  It was beyond words.  250 feet tall and exactly like living in the movie Jurassic Park without the dinosaurs!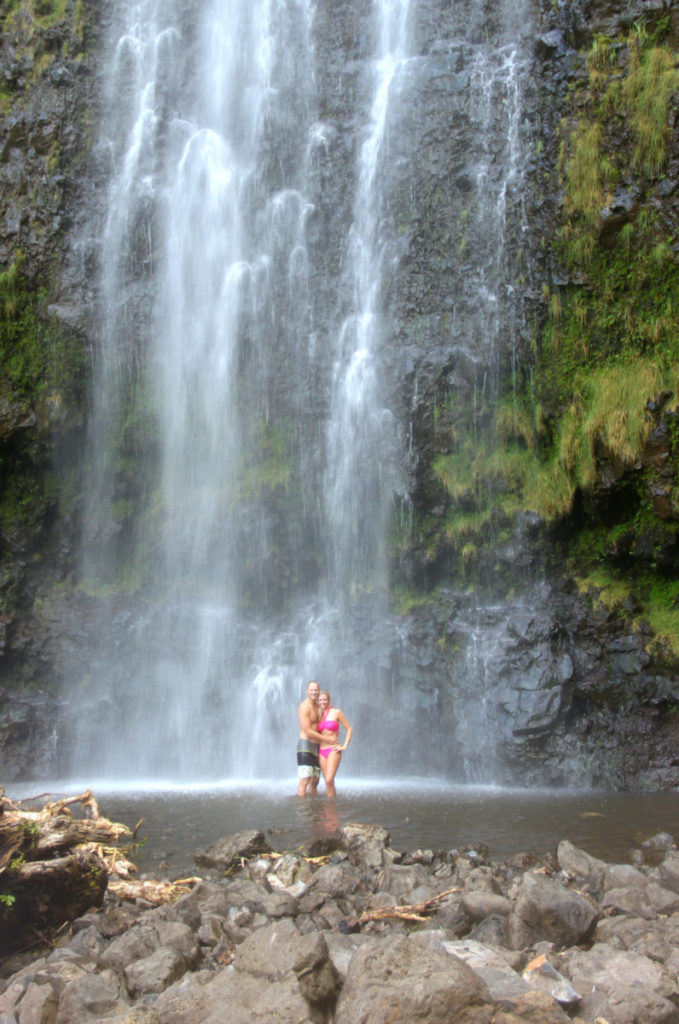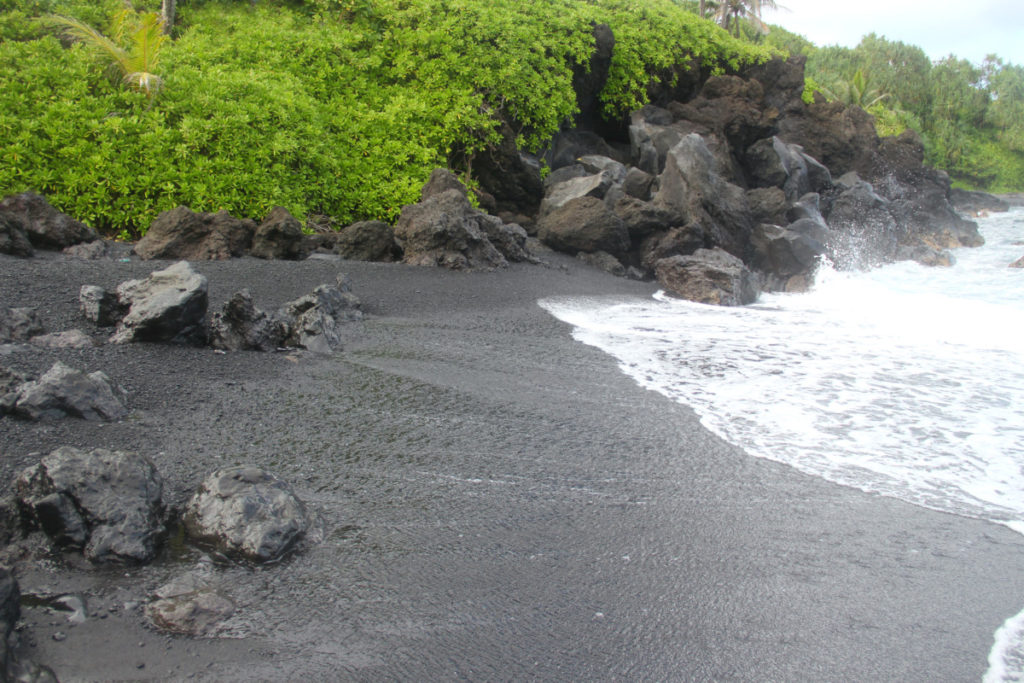 Black Sand Beach:  This beach was pretty crowded with kids boogie boarding and body surfing.  There is a volcano tube you can walk through as well.  It is a cool beach!
There were other waterfalls along the way to stop at but after the BIG DADDY waterfall, the rest were minions!  Our last stop was at Chings Pond.  A lot of locals swim here.  We met a local boy who showed us where to jump from the cliff.  Our crazy friend Archie jumped and has bruises down the back of his thighs a week later!!! Be sure to jump straight and not in a sitting position!  The rest of our drive was spent in shock and awe at the amazing scenery.
MAUI DAY 4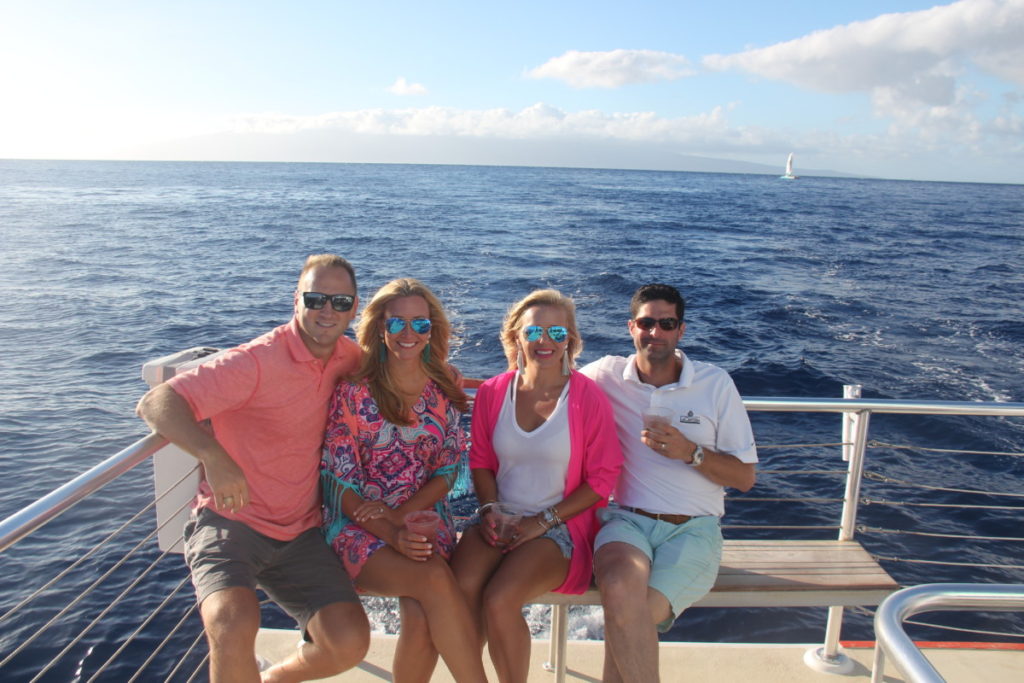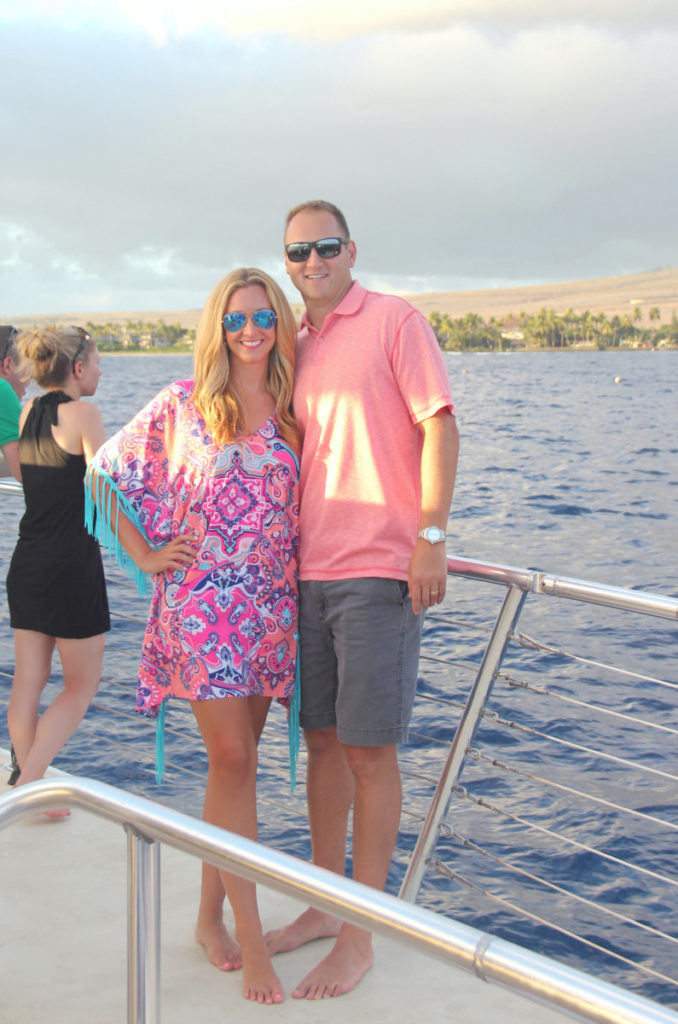 Catamaran Dinner Cruise:  This was a lovely, relaxing evening out with our friends.  The crew on the Leilani II was so gracious.  They served us drinks and a wonderful dinner as we sailed.  It was lovely to see Maui from the other side. Bring a hair tie and don't wear a dress.  It will fly up! # lessonlearnedthehardway
MAUI DAY 5
I don't have pictures because we were snorkeling in Wailea Bay.  This is a beautiful area of Maui.  The resorts are amazing and so are the beaches.  We swam with sea turtles, saw colorful fish and starfish.  Be sure to go in the morning.  After lunch it was so windy we were sand blasted at the beach and the surf was too rough to snorkel in.
FOOD
Restaurants we ate at and Adored!
Miso Phat Sushi– met locals here who told us all the good restaurants! BYOB too!
Merriman's– Dress up for this amazing open air restaurant that has a front row ocean view.  Peter Merriman knows how to run a restaurant and serve delicious food and drinks. A Maui restaurant genius in my book.
Monkey Pod– Wailea- Holy Moly!  It's no shocker this place is owned by Merriamn's as well.  You MUST order the Pod Tai and the Mai Tai shot.  The food was amazing and the atmosphere was inviting and island chill.  There was a ukulele band covering radio hits and our waitress was amazing.  That seems to be the word that sums up Maui- AMAZING!!!
We also enjoyed food at Hula Grill for dinner one night and the drinks at the Marriott after snorkeling.  Lyle and Penny were great bartenders!
Maui is a truly a place of dreams and imagination.  It is amazing!  If you have any questions feel free to leave a comment or email me!  I love to help you out on your visit.  [email protected]