Today I am rounding up my fall favorites for you. These fall favorites are all of the most worn items in my closet. Some, ok most I even pick off my closet floor most mornings while running to carpool. These fall favorites items are all so versatile and easy to intermix with each other. Thats's what keeps me grabbing for them day after day.
If you are anything like me, you live and breathe Instagram. If you want more instagram followers, getting an account manager might be a stroke of genius.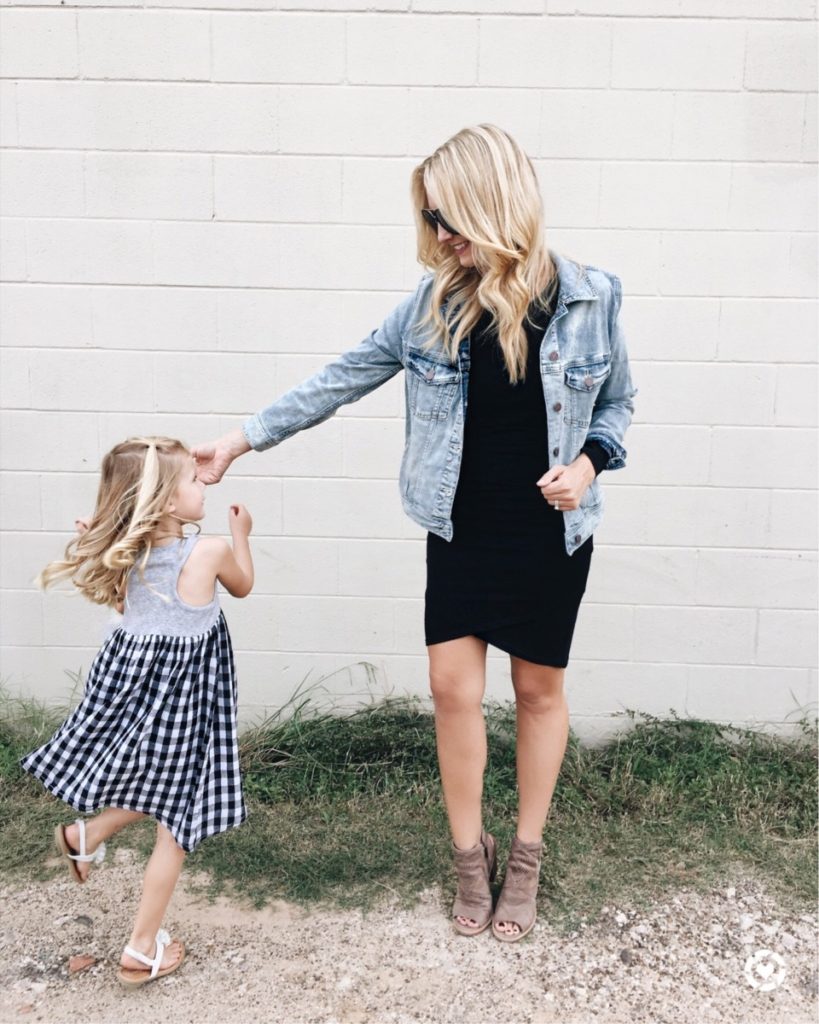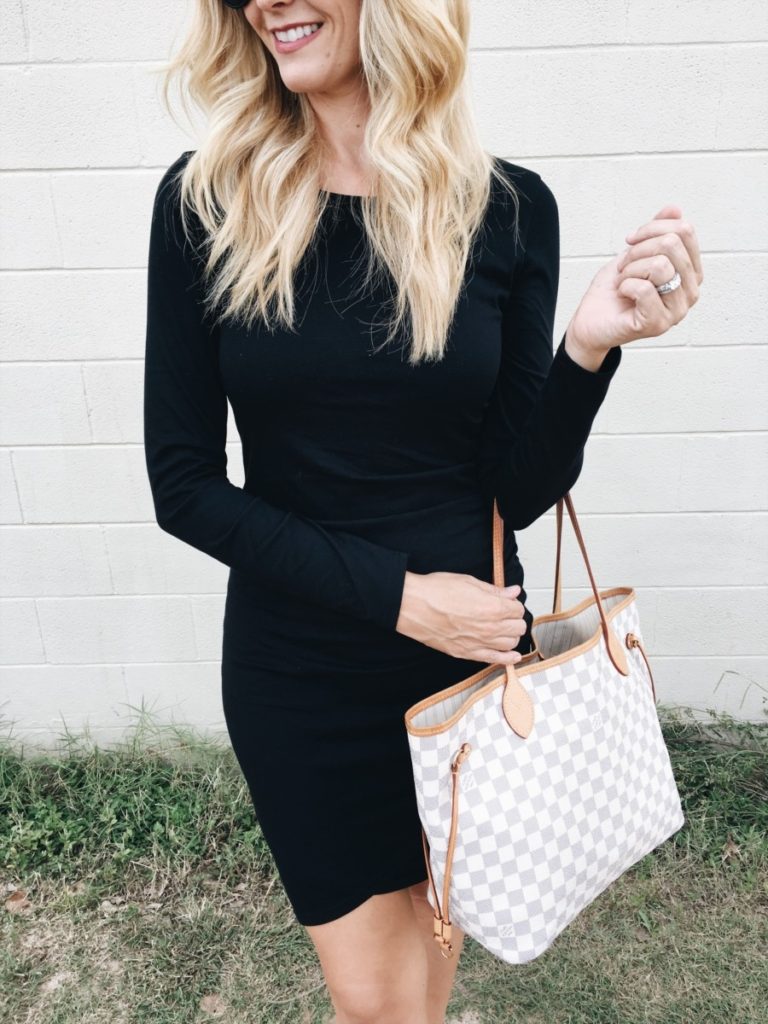 Hands down a MUST HAVE in my book and every other book ever written. Black and navy are my top choices with grey and red coming in a close second. The light pink was a little sheer for my taste. And if you are dreaming of a designer bag but don't want to pay the full price, check out The Real Real. I personally have not ordered from them but three of my friends have and they received pre loved bags in really good condition. One of my friends got a Louis that looked almost brand spanking new.
Dress– Medium, Size Up / Booties-9 / Denim Jacket– XS, size down / Louis Vuitton Neverfull MM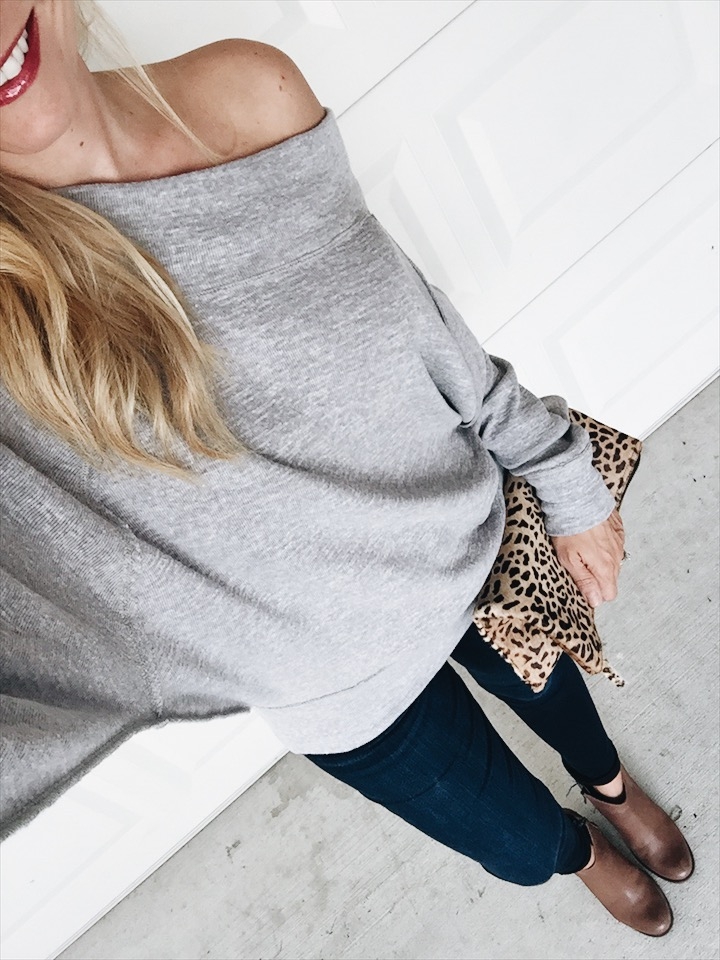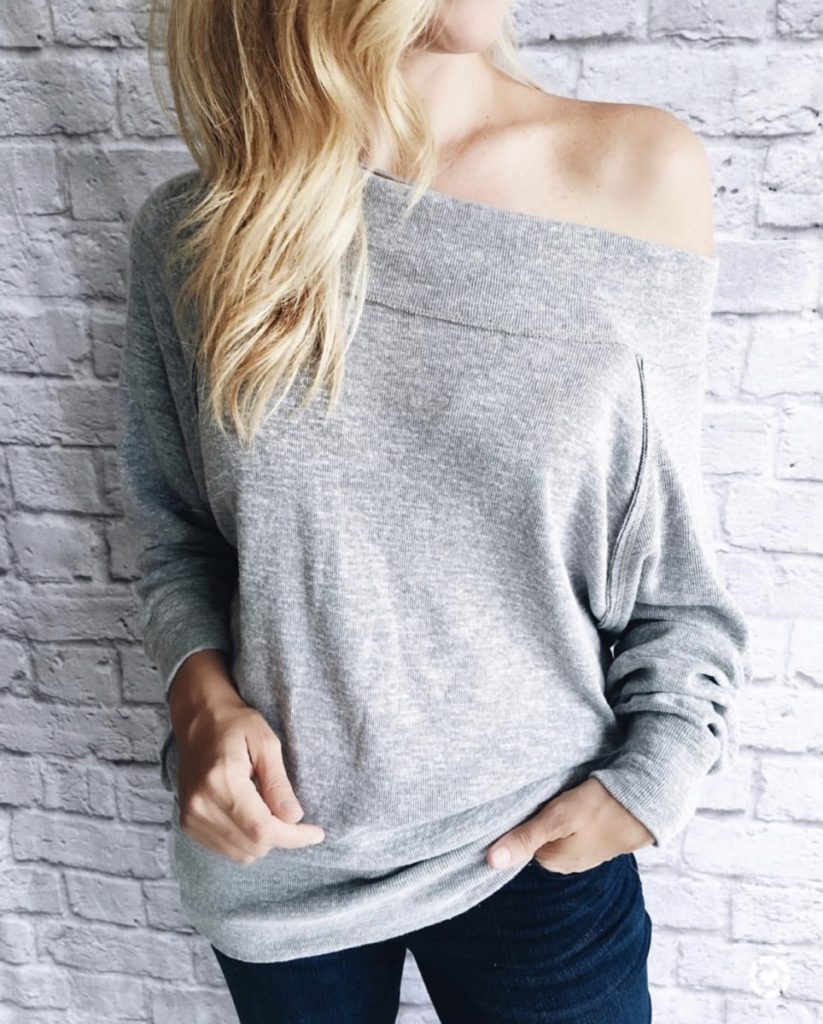 Off The Shoulder Top– Small, size down / Jeans Here & Here / Booties-9 / Leopard Clutch– Budget Friendly Here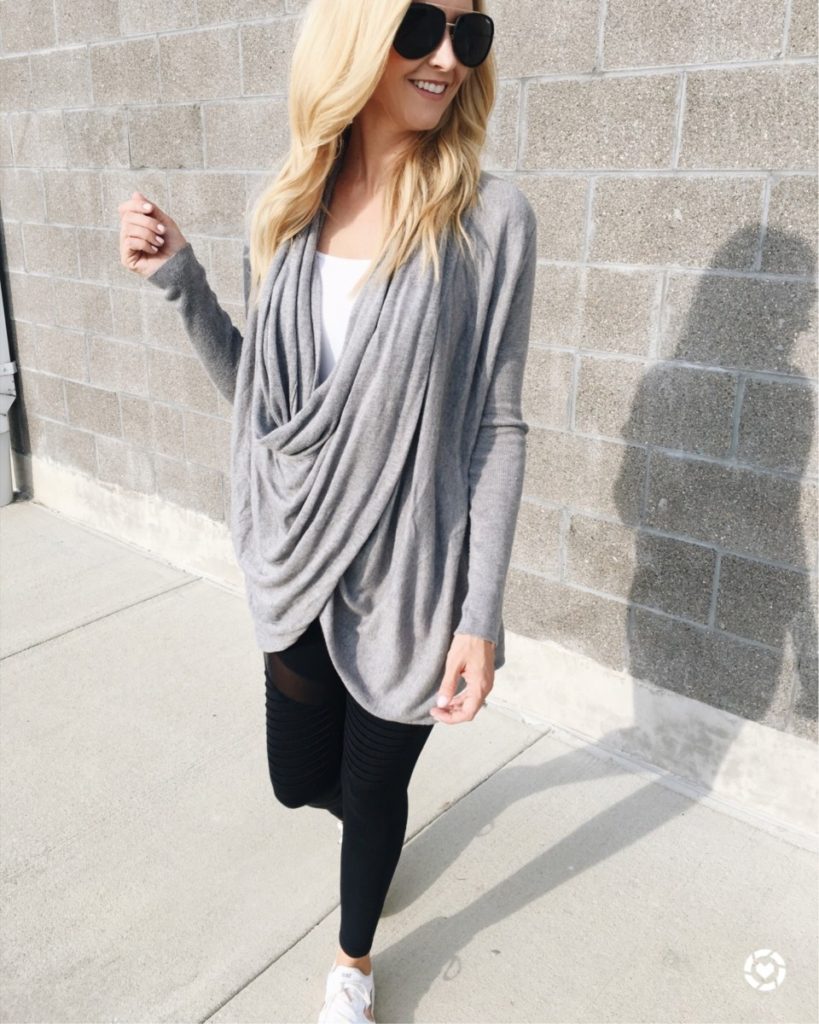 Everyone NEEDS this wrap cardigan. It's so good my sister in law bought three last season and gave one to each one of her girlfriends for their birthday.
Wrap Cardigan– Small / Moto Leggings– Medium / Tennis Shoes / Sunglasses– Under $60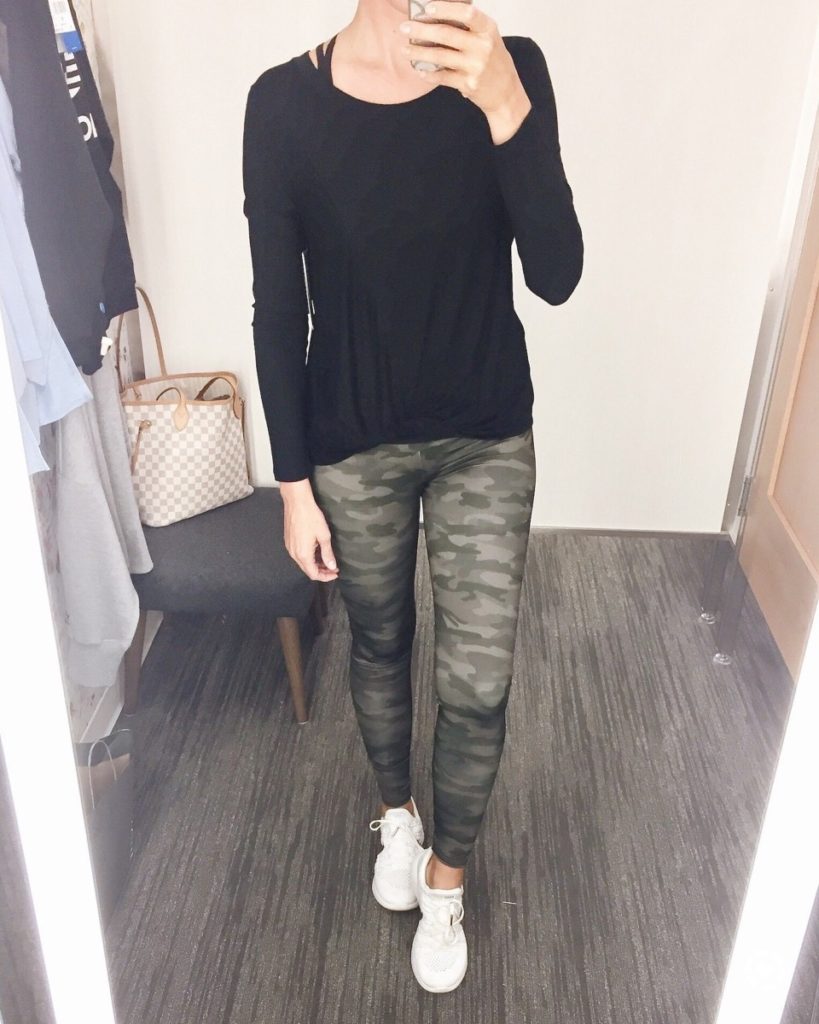 I currently have these leggings on as I type this post! The picture shows them cropped but they are full length. I wore these to spin class and they were great. They are high wasted and stayed up the entire class. Highly recommend these! I didn't get this top and regret it. I will be ordering it ASAP.
Camo Leggings– Sm/Md / Twist Front Workout Top– SM / Tennis Shoes
This top is just plain good. It's like a turtleneck on steroids. Wear it half tucked with jeans. It's long enough for leggings. Add a scarf or cardigan this winter. The material is a jersey knit so it isn't overly thick. I love the bouncy/stretchy material. The dolman sleeves also make it more fun and not as stuffy as a regular turtleneck type top.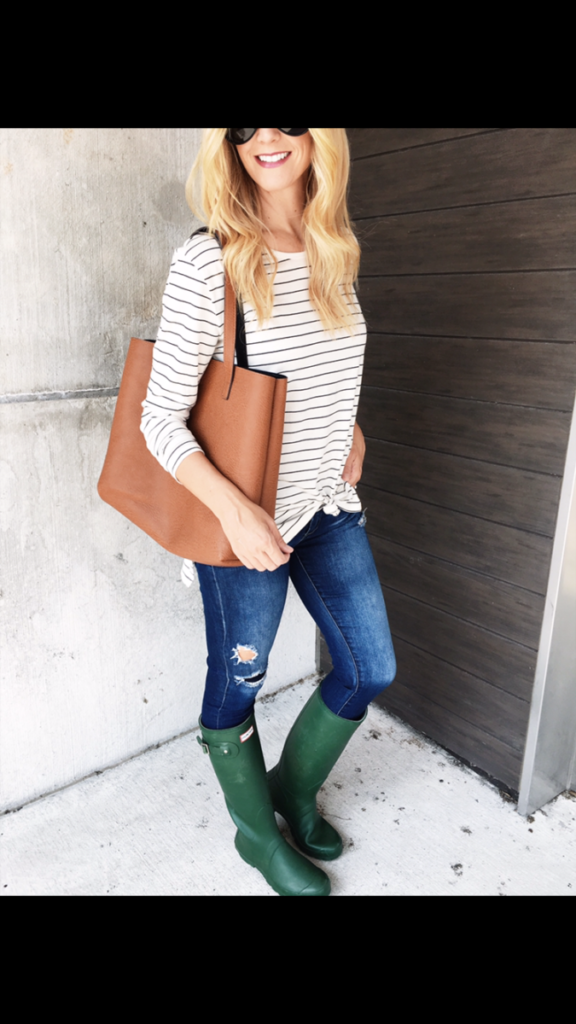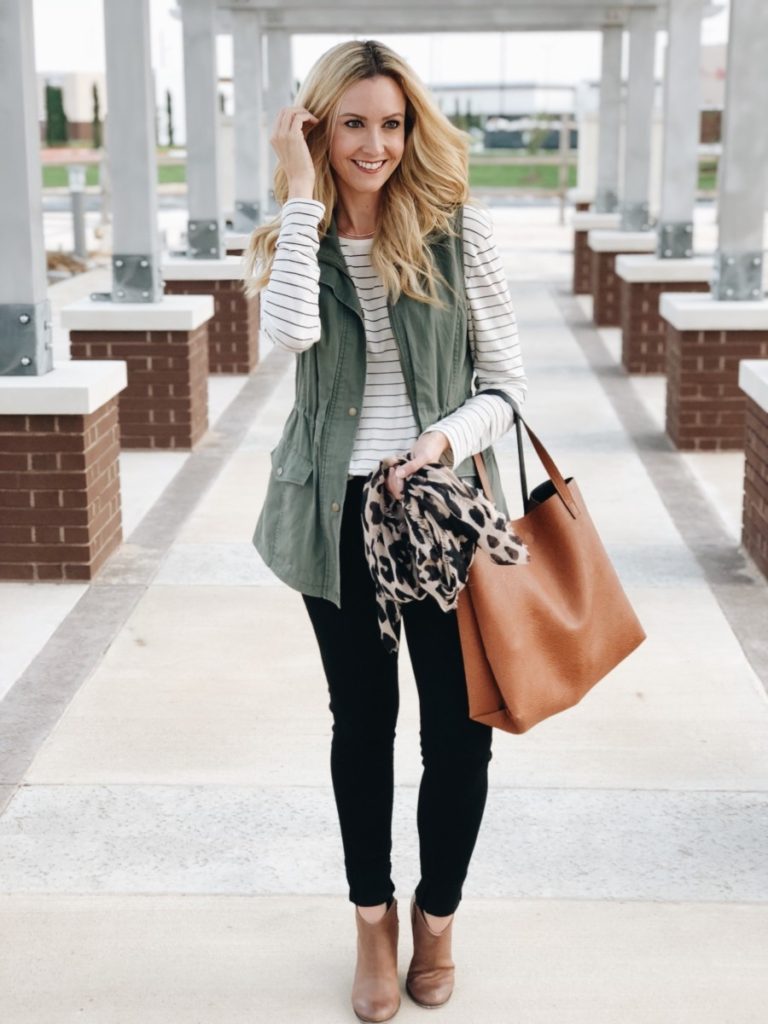 This $19 striped top is my most worn top. Long enough for leggings, perfect with jeans, knot the side or front. Layer it. The possibilities are endless. These brown booties are a closet staple. I popped them on the day I got them and never even got a blister. I am really crushing on the wine color they just came out with.
Striped Shirt– SM / Booties– 9 / Leopard Scarf / Hunter Boots / Tote / Jeans- Black & Distressed / Vest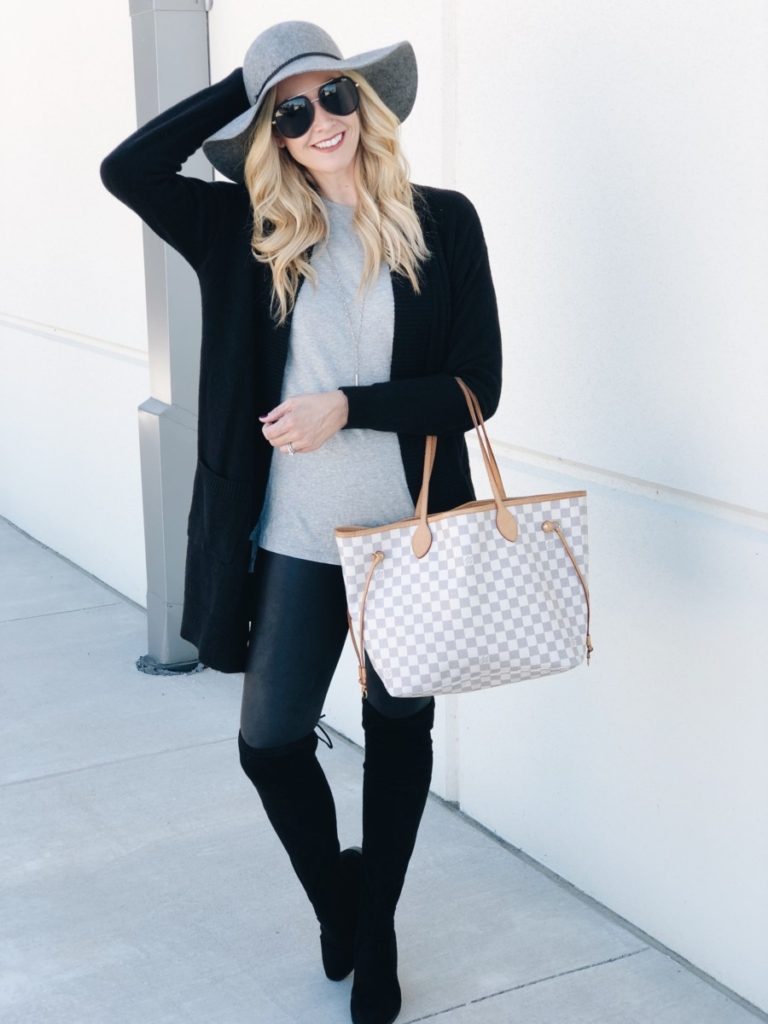 This is the same tee as above but in grey. Guess what- I just put white in the shopping cart. I can't tell you how much I love this black cardi. I'm pretty picky about my cardigans and this one is at the top of the list and definitely one of my fall favorites. I feel like I'm preaching to the choir about these leggings but when they suck every lump and bump into place magically you've got to get them.
Cardigan– XS / Long Sleeve Tee– SM / Faux Leather Leggings– Med / OTK Boots / Hat– 3 Colors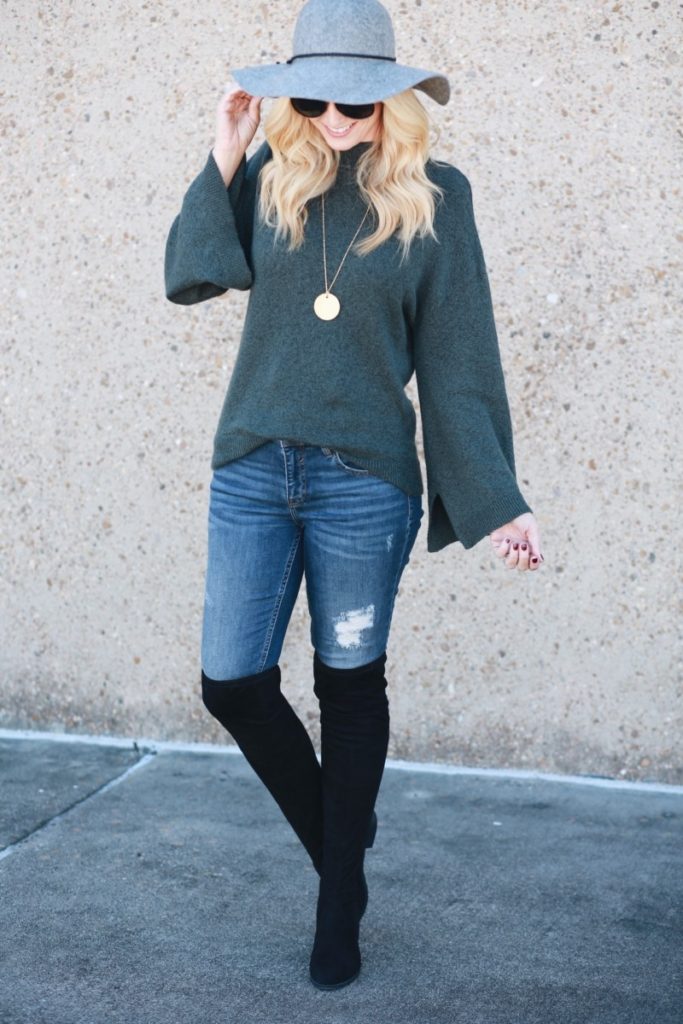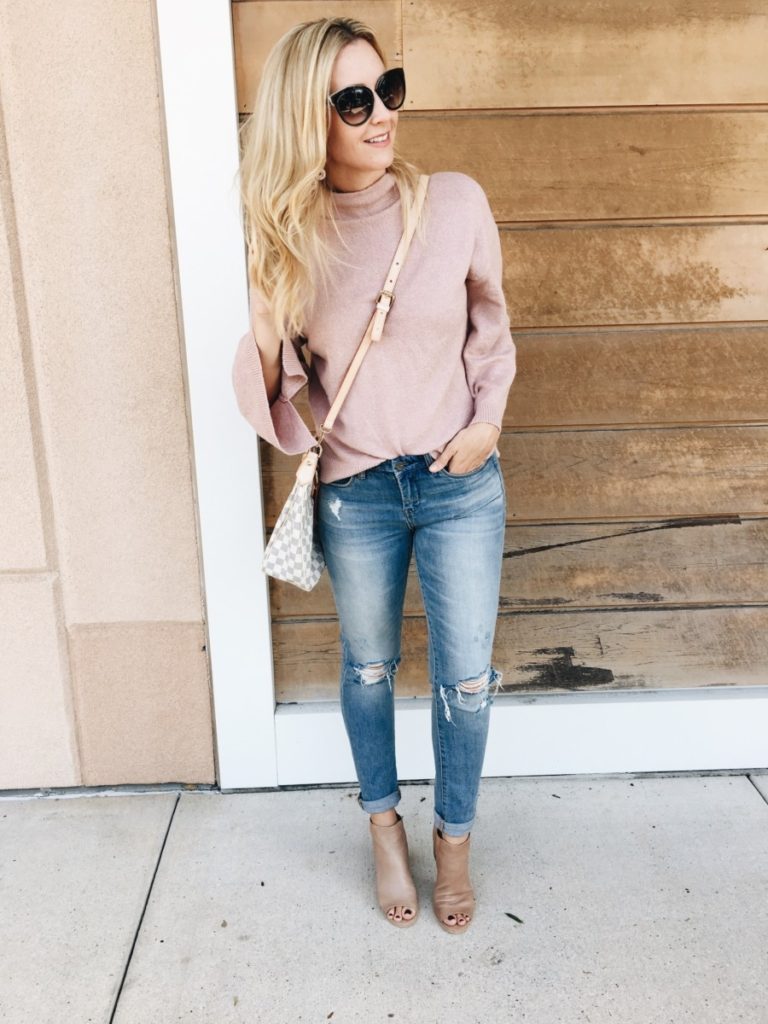 Same Sweater Different Day! I loved this so much I bought the blush in early Sept and then had to have the green for late fall and winter. Apparently the green is called Grey Urban
Sweater– SM / OTK Boots / Hat– 3 Colors / Necklace– LOVE! / Distressed Jeans– True To Size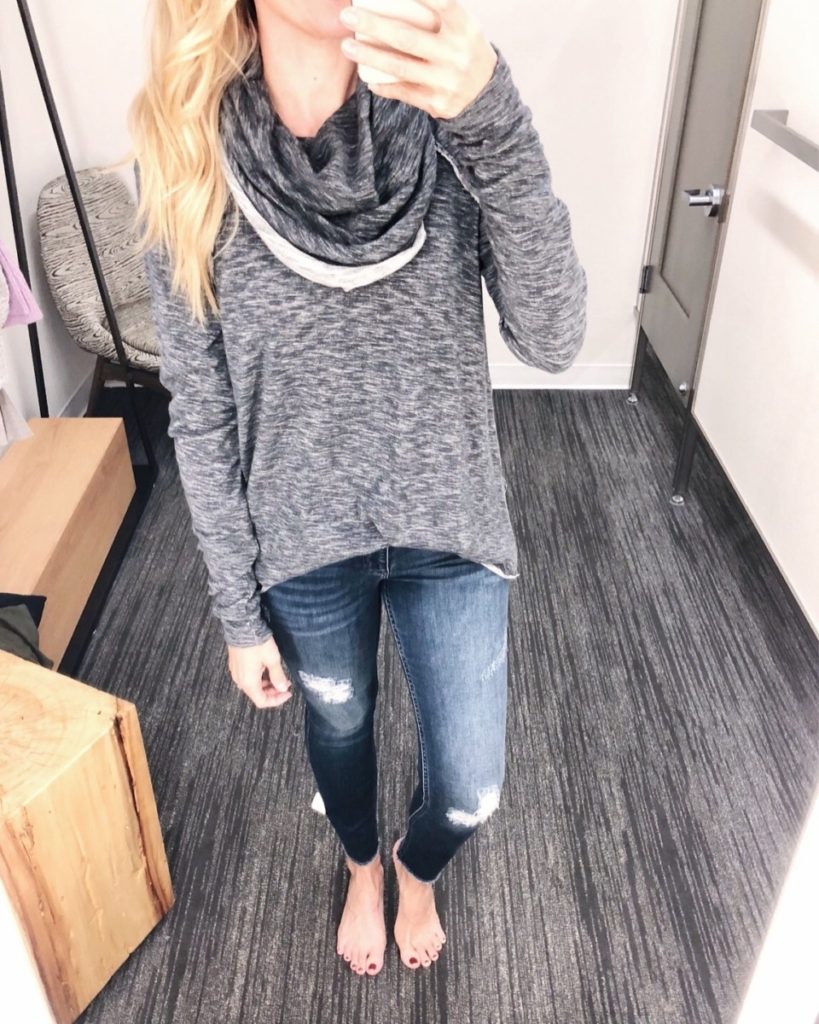 This is another go to top of mine. I didn't buy it last year and it sold out. When they brought it back I scooped it up right away.
Top– SM / Distressed Jeans– True To Size
Don't forget to join me over on Instagram at Noon CST to see my everyday makeup look and discuss some of my favorite beauty products.
If you have any questions about any of my fall favorites looks always feel free to email me [email protected] or leave a message below.
XO- Sara