When I spotted this velvet clutch I knew it would be the perfect accessory to dress up any winter outfit.  The hardest choice was the red one or the blue one!  I went with blue because it was a little different from the typical "holiday red" and it would carry me into spring as well.
Sweater– size small  /  Velvet Clutch– 3 Colors, Under $50  / Jeans- Splurge vs. Steal (I have both)  /Boots– True to Size or Go Up 1/2 a size if you want to wear thick socks  /  Pearl Earrings –  $16,Very Light Weight & These Pearl Earrings– $18  /  Sunglasses– Under $60  /  Curling Wand– T3 Micro  /  Lip Crayon–  NARS Do Me Baby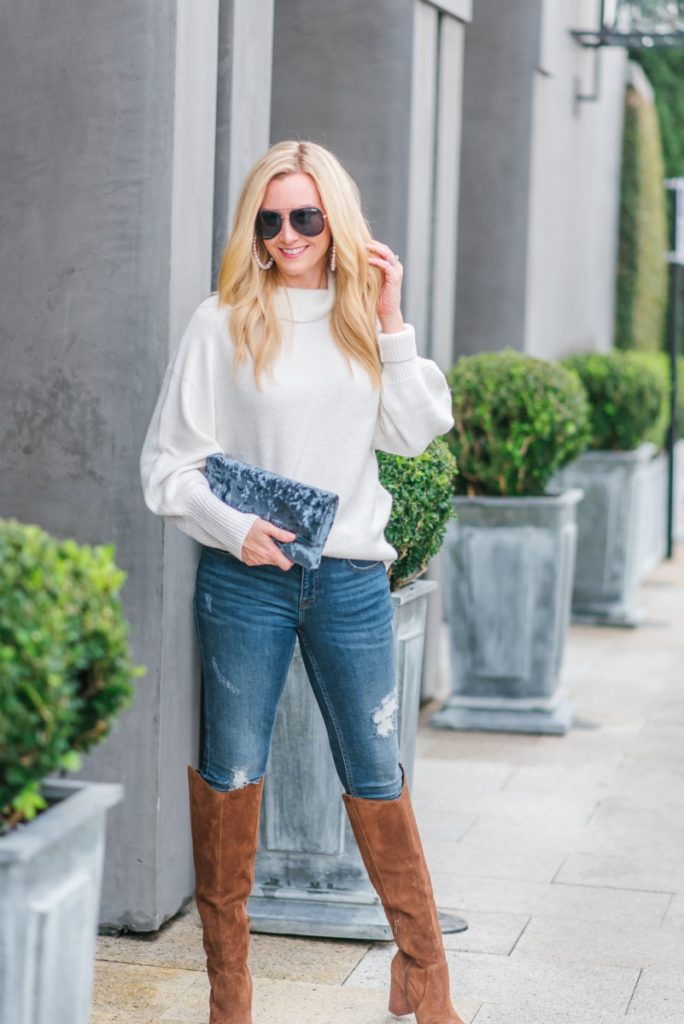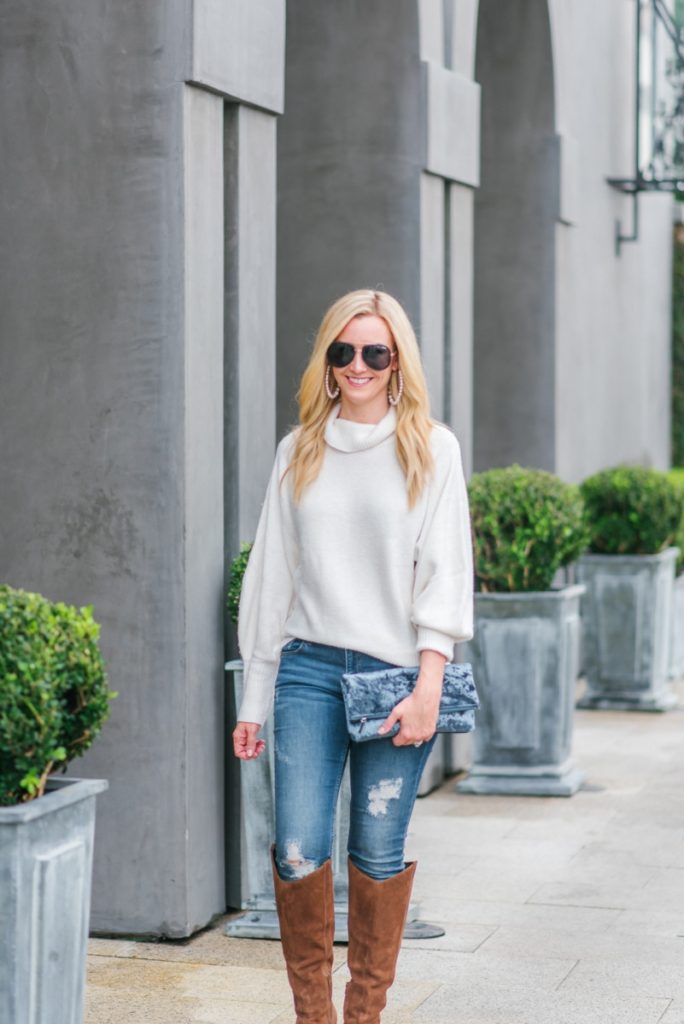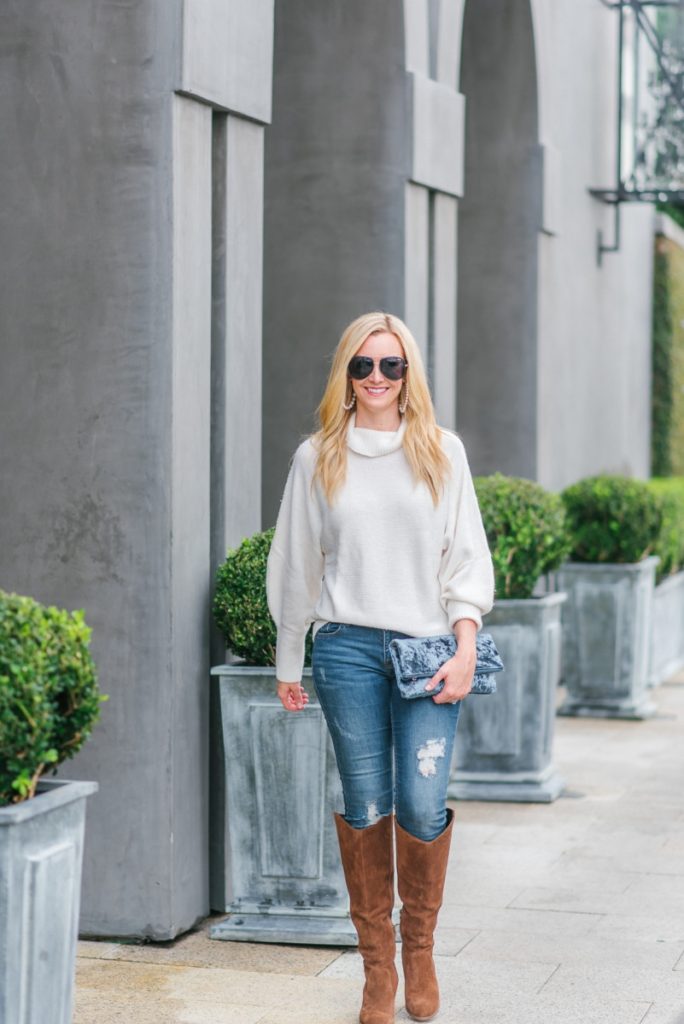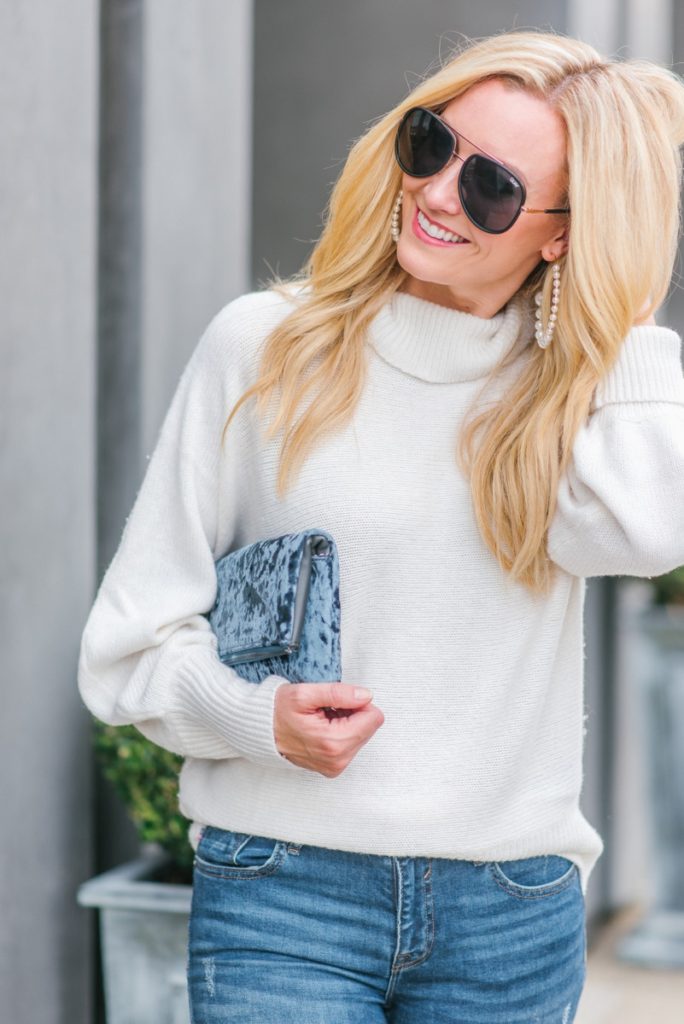 3 Ways To Incorporate Velvet Into Your Wardrobe
Accessories
A velvet clutch adds extra texture to your look.  I wanted to keep this look neutral so I added the blue velvet clutch for texture against the woven sweater and denim. Try adding a velvet baseball cap, belt, or necklace to your look.
Clothing
Last year my friend gave me a black velvet blazer and I wore the fire out of it.  I changed the look of it with scarves, crystal necklaces, wore it over dresses and paired it with jeans.  If you live in the south, a velvet blazer makes a great alternative to a winter coat!  Velvet tops are gorgeous paired with denim and leather.  I have a pair of velvet pajama/lounge pants and a velvet bralette that I have been wearing non stop around the house.  It also garners extra snuggles because my kids love the way the pants feel.
Shoes
Velvet shoes are so pretty and again, add that extra texture to an outfit.  There are so many gorgeous leather heels available right now to pair with holiday dresses or dress up your date night look with a pair of velvet sandals or booties.  Velvet slides have also been all the rage for a more casual look.
BONUS – Velvet Home Goods
I know ya'll went crazy over those velvet pumpkins from my Instagram stories.  To make your day even better, the same shop came out with velvet Christmas trees!!!  She has so many colors and heights to choose from.  You can buy them individually and in sets of 3-4.  Velvet blankets are luxurious draped over a chair or bed.