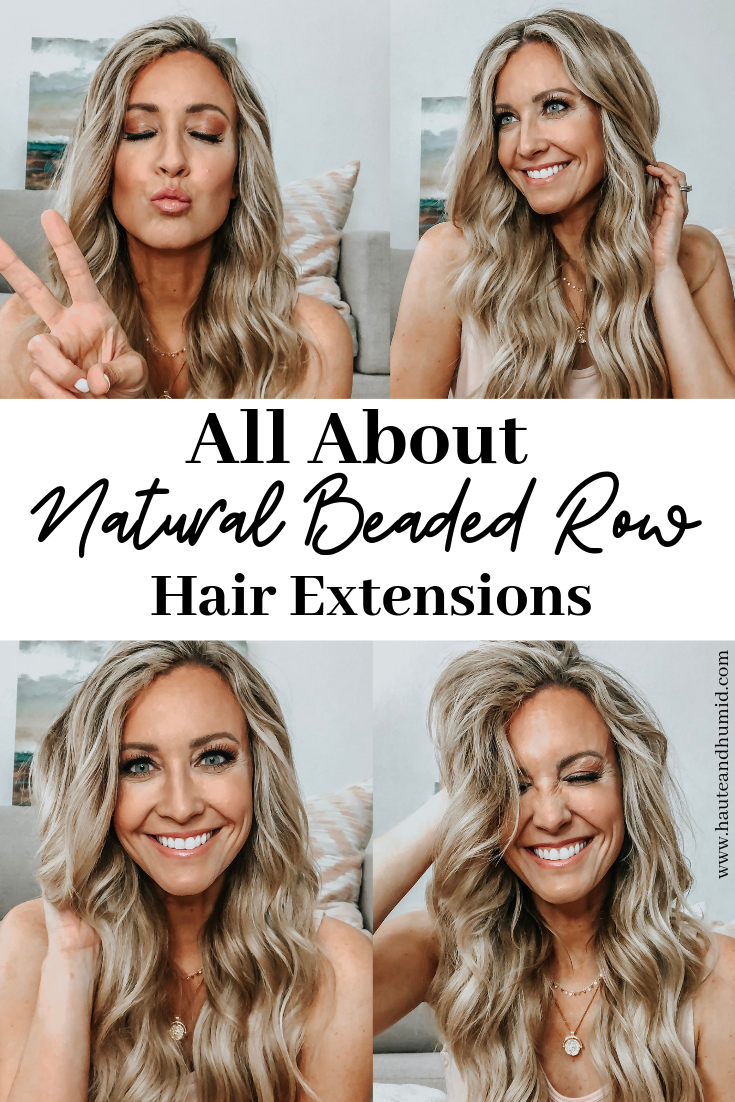 What are Natural Beaded Row hair extensions?
NBR are an exclusive hair extension method where rows are placed in the hair by creating a "track" with a special bead and string technique.  Then the wefts of hair are sewn onto the track.
Do they damage your hair?
This was my biggest fear as well.  Natural beaded row hair extensions leave little to no damage.  This was the main reason I chose this type of extension.  There is no glue or heat applied.  There are minimal contact points which leave less room for damage.
How long does it take to get them?
Your first appointment can take between 5-6 hours.  They will need to color your hair, color the extensions to match, install the extensions and cut to blend them with your natural hair.  Then they will style your hair! My initial appointment took 4 hours.
How much do they cost?
NBR extensions like most are an investment. They can range in price depending on what look you want. If you want to add volume, it is cheaper because you won't need as much hair. When you start adding length the cost will rise, because you will need to add more hair to prevent them from looking scraggly.  If you take really good care of your hair it can last up to 6 months.  This means infrequent washing, not heat styling daily and adding a conditioning serum to the ends.  The initial install can cost anywhere from $1.5-$2K.
How much is maintenance and how often do you need to go?
You need to go in every 6-8 weeks to have the wefts moved up. It does not take as long as the initial install, depending on if you need color. It can cost anywhere from $500-$800 each time you have them moved up which covers tightening, color, and style.
How often can you wash your hair? Does it hurt to sleep in?
It does not hurt to sleep in. The first day or two they will be tight and a little uncomfortable.  At night I put my hair in a loose braid so it doesn't get tangled.
You can wash it as often as you like, or as needed. I have found that since with NBR I can go longer in-between washes, like every 4-5 days. It does take longer to dry and style but your style holds and lasts much longer. Here are some tips on making your style last between washes. Don't touch your hair! The more your hands are in your hair the more oil and dirt you transfer making it look greasy. Dry shampoo on the roots to help you get a couple more days, and oil for the ends to help them stay hydrated and looking healthy.
Natural Beaded Row Hair Extension Must Haves
Styling
What's great about NBR is that I can style my hair any way I like. The curls hold much better, I can braid it, pull it up in a ponytail, up dos, or put it half up. With NBR your curls and your style can last all day.  In the morning I typically touch up a few curls and I'm done!
Do you like these better than the halo extensions?
They are different, but I really love the versatility that I get with NBR. The Halo you can take off and on.  Because it is not permanent you cannot put your hair in a ponytail or flip your head upside down.  A HALO is great if you just need volume or some length for special occasions or events.  NBR is attached to your head and virtually unnoticeable.
Where did you get them done?
I went to Amanda at Amanda K Styling. With 16+ years of experience and specializes in NBR, is a trainer and is one of the top leading NBR stylist in the country. Her salon is beautiful and her staff is amazing. The time and effort that she puts into making your hair look fabulous is worth every penny. Her salon is located at
23907 Gosling Dr.
Spring, Tx 77389
281-216-3095
Check out the conditioning mask and serum combo I have been using on my Natural Beaded Row Hair Extensions!