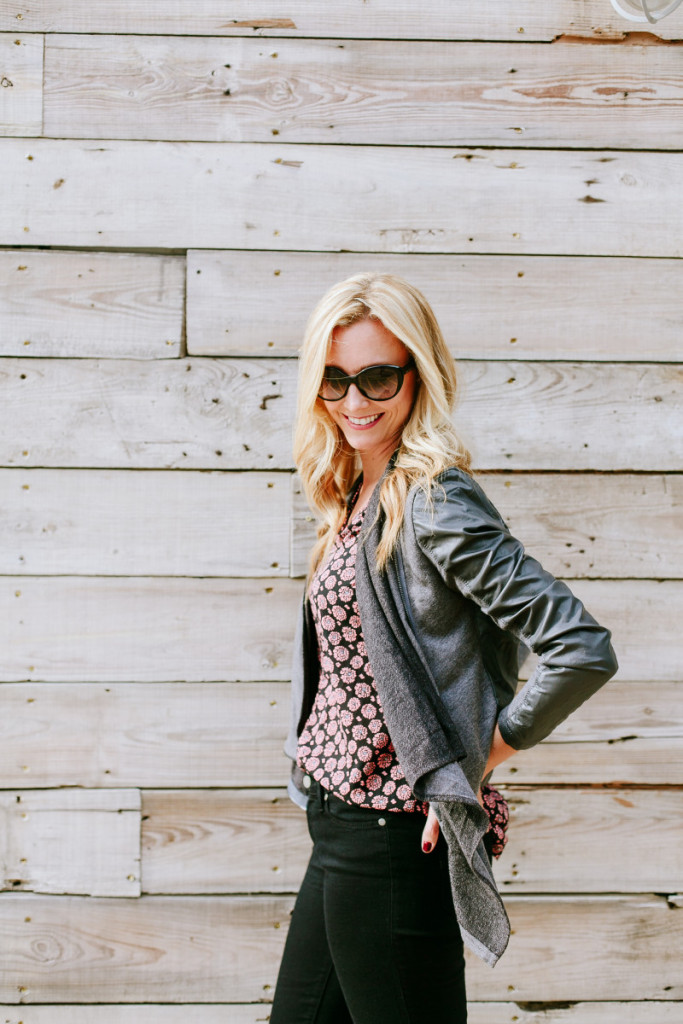 OUTFIT DETAILS
Top,  Jacket,  Jeans,  Sunnies,  Stud Earrings,  Booties-Similar (here & here), Nail Polish, Lipstick
First off, a HUGE THANK YOU to all of you who visited my site for my very first blog post EVER! I appreciate all the support and I loved reading your comments!
Fall is one of my favorite seasons here in Texas. The temps have started to cool down at night so we can sit on our patio while the kids play outside, the neighbors all come out of hiding from the heat and the air smells fresh! We love to sit outside with friends and have a cookout while the kids all run around playing on the swing set or get a game of soccer together. Because the temperature in early fall is hard to dress for I love this effortless fall street style look. It is essentially one of my mom uniforms. I LOVE these Paige skinny jeans paired with these light and airy tops. I have friends with all body types and these jeans seem to fit us all.  It's almost like The Sisterhood of the Traveling Pants with these jeans! They have the perfect amount of stretch, softness and length.
As the sun sets and the night cools, I love a light jacket. This dark gray jacket was an awesome find at the Nordstrom Anniversary Sale. It is thin and drapes beautifully.  I also love that you can zip it up to give it an asymmetrical look. To finish the look off I love wearing a pair of booties with a low heel. I feel like they are fashionable but I am able to chase after my kids without breaking my neck. We all know that if mamma's out of commission the world falls apart! My favorite color is taupe because it's a little gray and a little brown so I can wear them with black jeans, blue jeans, camo print, olive, gray, etc. I hope you all enjoy finding your fall street style to make your everyday more fashionable yet comfortable.
XOXO
Sara