I scored this green top, navy skirt and necklace last year at J. Crew Factory and they brought them back again this year due to their popularity. I love this green top because it is a true bright green and really pops against other neutral colors like navy, camel and black. I also like to color block it and wear it with pink or cobalt blue. The sleeves are a really beautiful flutter sleeve with a small zipper detail at the back of the neck. J. Crew Factory incase you haven't heard is the discounted version of J. Crew. Right now they are having some pretty awesome sales.  I signed up for their Factory First email for 15% off as well as an email about twice a month alerting me to their new arrivals and new sales.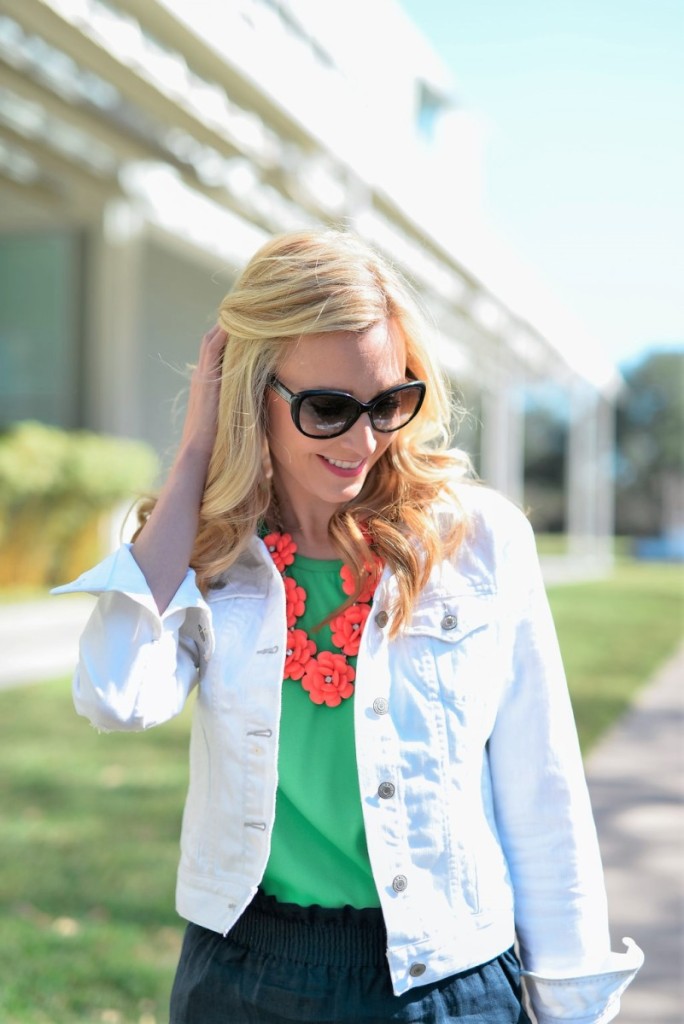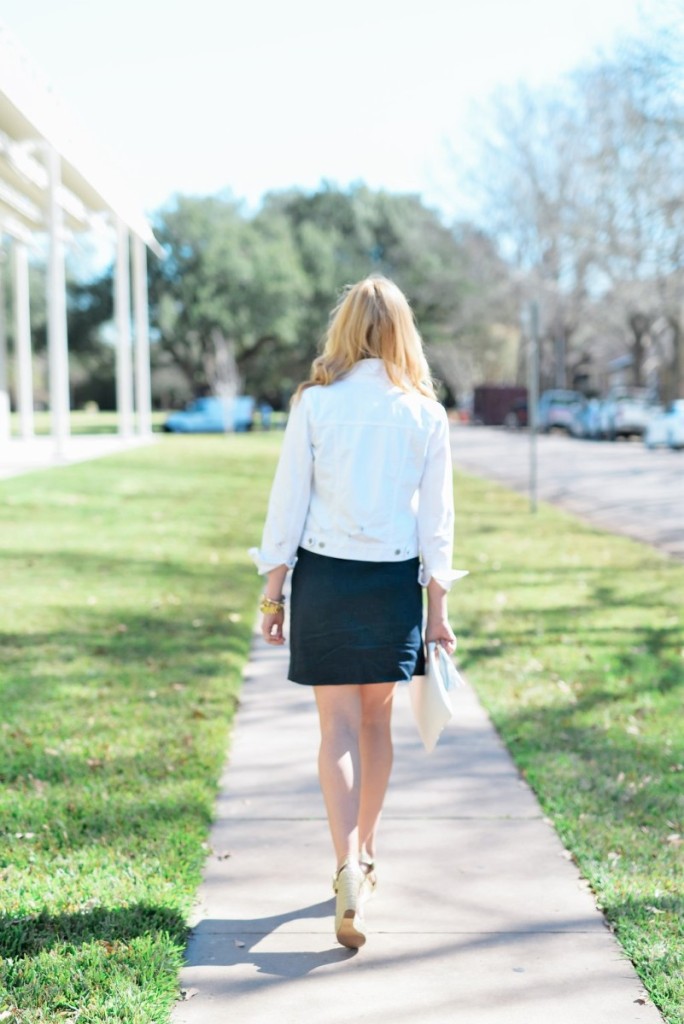 This skirt is one of my favorites. I own it in four colors! The elastic waist makes is super comfortable but also gives some extra detailing to the skirt. It is made of a linen material so it is cool and light for the spring and summer. It says it is a mini skirt in the description but I would not consider it a mini skirt. If you did think it was too short there is an ample 4″ hem that any seamstress could easily let an inch or two out to add some length.  A wardrobe must have is a denim jacket. I love white for the spring and summer because it looks crisp and bright.
My final touches were a bright necklace to add contrast between the white and green. Throw on a cute wedge and some bracelets, BINGO- you are set for brunch, date night or girls night out! Now all I clearly need is a spray tan because my legs are practically glowing!!!
Don't forget that all of my pictures are pinnable to your Pinterest boards!
I also updated my SHOP tab in the menu with some hot spring items that are trending.
If you are on BLOGLOVIN I recently joined. It is an easy way to see what all of your favorite bloggers are doing all in one place. They even have an App! Check out my link below if you are a member or would like to make seeing all of your favorite bloggers easy as pie!
Outfit Details
Stay tuned for my Friday post on a Fashion Bloggers secret outfit recipe!!!
XOXO
Sara