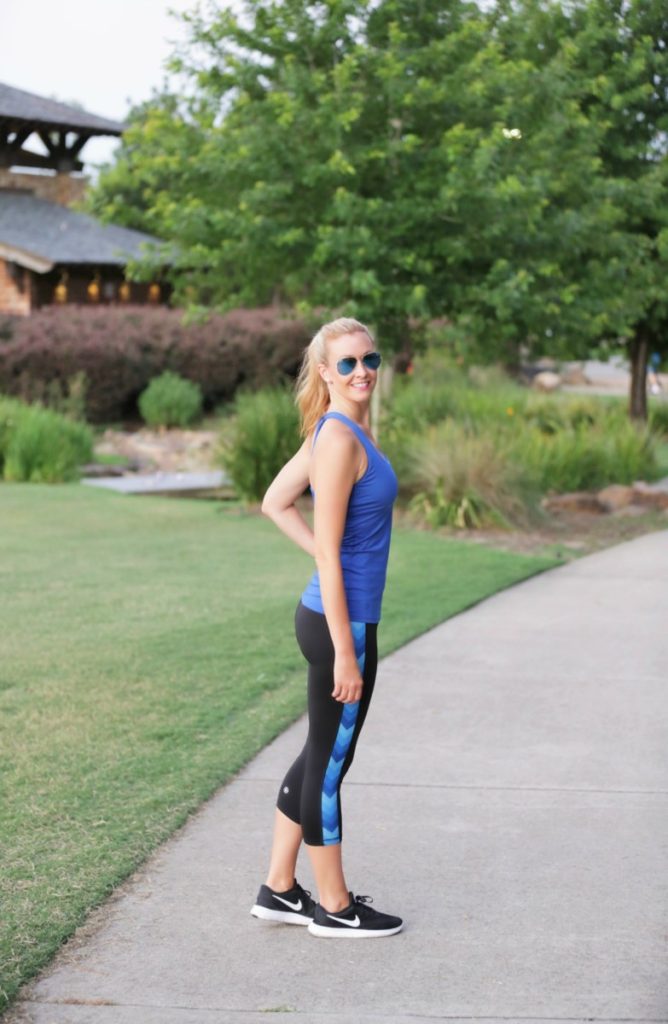 Happy Friday Ya'll!
I wanted to jump right in and share with you an awesome line of workout clothes that are bright and fun by Devon Maryn.  As some of you know I am into running but with the heat in full swing, running outside isn't always an option for me.  Lately, I started working with a trainer two days a week doing HIIT workouts.  These are high intensity interval workouts designed to burn calories fast and tone your bod. Hello swimsuit season!
How adorable is the back of this tank? I love the feminine bow detail and the top has a bra liner so I don't have to wear and extra sports bra.  Let's talk about these cropped pants for a minute! These pants were sent from the heavens and made for working out.  Besides the fun ombre blue detailing, they have a higher waist so you will not be yanking them up every time you bend over.  Thank you Devon Maryn!!!
Below was my last HIIT workout that I did with my trainer.  I love these workouts because they are fast and keep you  moving.  I never get bored and it only takes 30-40 minutes out of my day.  Have any of you used the TRX bands?  I'm convinced the person who invented those along with the workouts is a machine, because using those bands was the hardest thing I had ever done!!!
Here is one of my latest workouts: I do 2-3 rounds of this workout
Hinge– 15lb kettle bell swing
Push– shoulder press with 10lb weights
Pull– 15lb kettle bell sumo high pull
Leg– holding a 20lb disc weight over your head white doing reverse lunges (20 at a time)
Core– TRX knee tuck
Plyo– Burpee
Have a great weekend friends!