Last week I took a little internet break to get my life in order.  The kids finished preschool, we went to the beach and our area had flooding.  Our neighborhood was spared but we had spotty internet for 3-4 days.  So this week I have some new posts for ya'll!
I am totally obsessing over everything white right now. As you can see I even have a plethora of white flowers to plant on my patio behind me!  This white on white look has been one of my favorites for summer. I found this t-shirt at Madewell and am obsessed with it.  It is the perfect shirt to wear with jeans, shorts, skirts etc.  I paired it with white jeans and these fun caged fringe sandals for a girls night out to celebrate my friend Allison's birthday.  We had mini sparkle party hats that we wore as unicorn horns and ate cupcakes!
I know a lot of you might cringe a little…or a lot when you think of wearing white, especially if you have small kids.  I am here to tell you it will be ok.  I have two small kids and wear white all the time.  What I love about white is you can bleach almost anything out of it.  I swear by Clorox pens for spot treating and save a pile of whites to bleach at the end of every week. I think you'd be surprised by how clean your whites actually stay!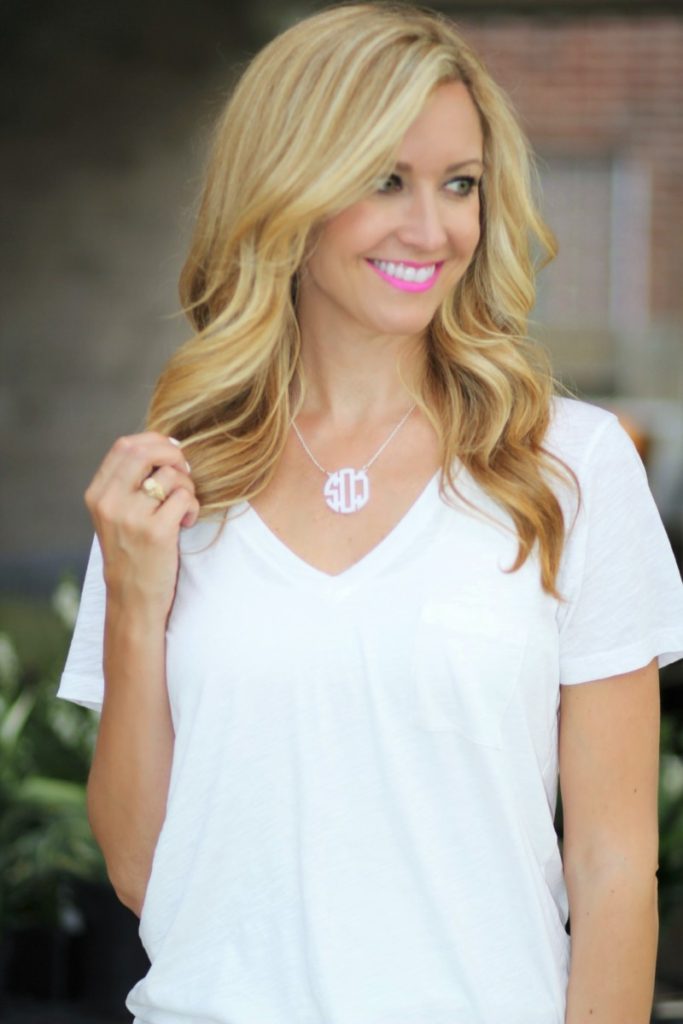 How cute is this white acrylic monogram necklace from JuliaMarie? I love my gold monogram necklace and thought this white one would be the perfect summer staple.  I like the acrylic because I can wear it to a pool party with my swimsuit for a fresh summer look.
Keeping with my love of all things white on white, white nail polish is super huge right now.  My favorite is Essie Blanc.  I always use this quick dry top coat because who has 30 minutes to wait for their nail polish to dry?!?! This top coat is seriously the bomb.com and I swear by it 400%.  It's one of my top favorite beauty products of all time.

Outfit Details