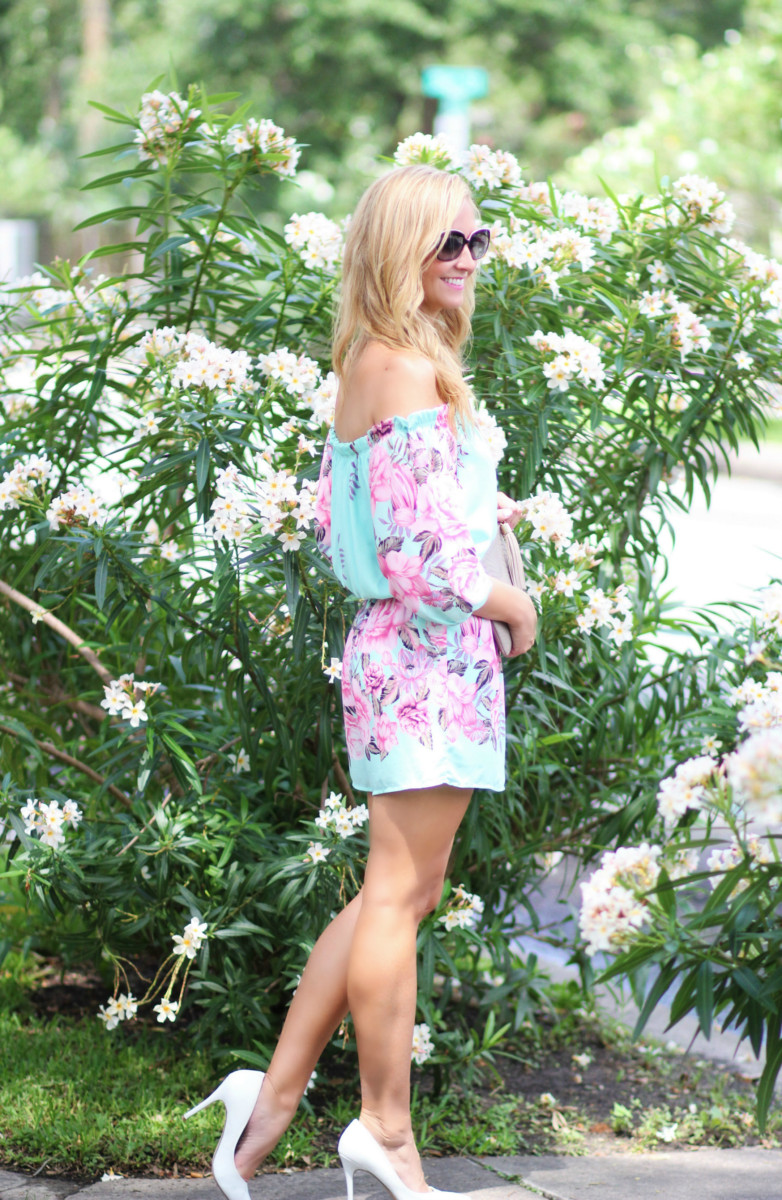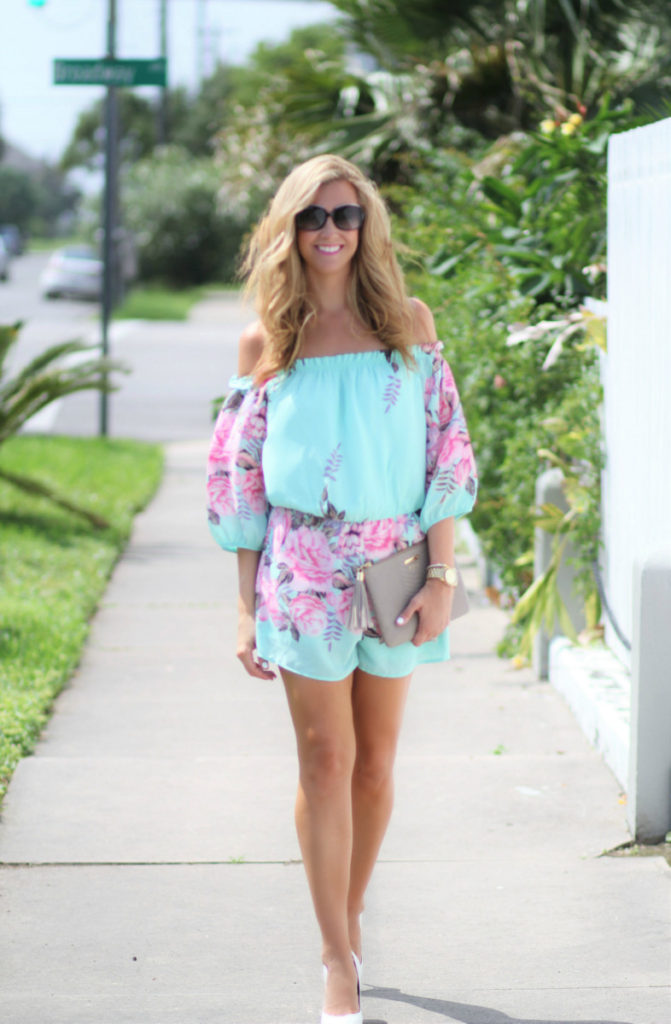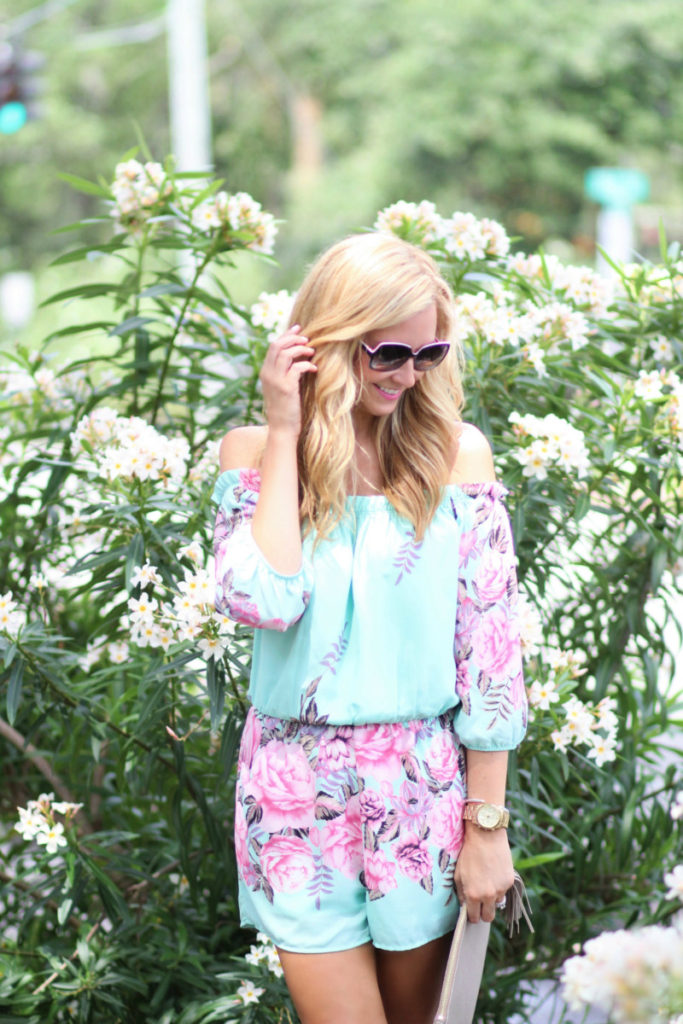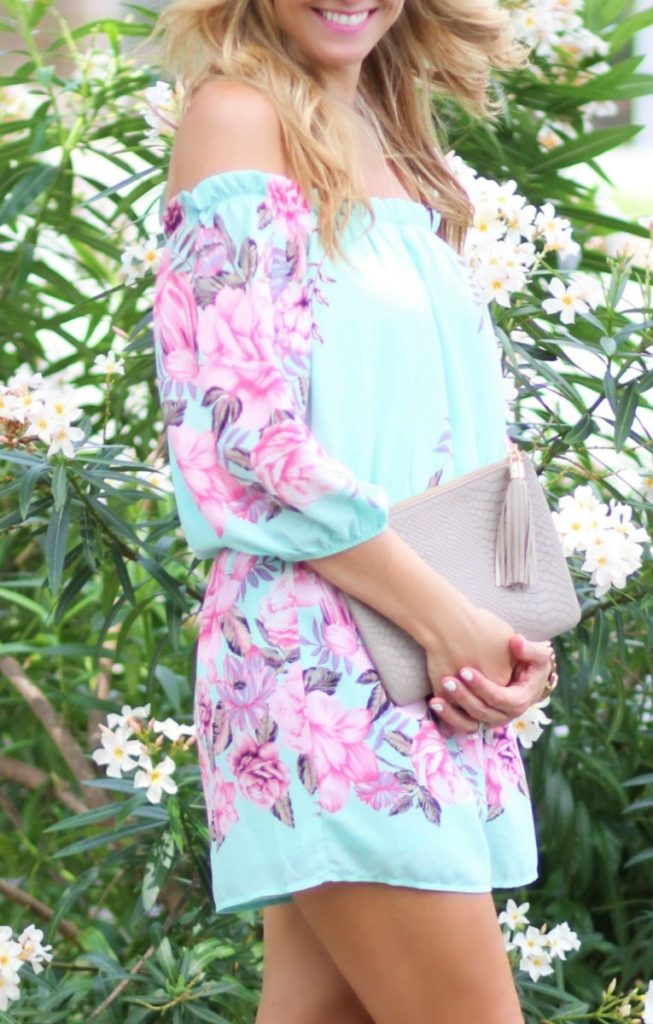 Hi Ya'll! I am back once again with a romper! This time it is a gorgeous off the shoulder floral romper from a boutique in Tomball called The Turquoise Door.  We spent four days down in Galveston at the beach soaking up some sunshine before heading back to the umpteenth day of rain in Houston.  A lot of Houstonians poo poo Galveston because the beaches are not Florida quality but if you really spend some time down there you will find some amazing places.  I personally love driving around looking at all of the restored Victorian houses.  This one had an adorable white picket fence and gorgeous flowers lining the sidewalk.
On another note, taking pictures in a beach town is near impossible.  I have a new found respect for those that can look fab in beach pictures.  The wind is always crazy and the humidity gave me instant poodle hair!
Below are some of my favorite Galveston hot spots:
Mod House Coffee Shop–  Has a gorgeous vine covered arbor lining the street on The Strand. They offer daily lunch specials as well.  Enjoy the cooler evenings with a glass of wine.
Rudy and Paco– A top notch steak and seafood restaurant.  It is next door to the Grand Opera House so it makes for a great pre show dinner experience.
La Kings Confectionery– The absolute cutest old school candy and ice cream shop.  We love taking the kids here for a cool treat to beat the summer heat.  We always leave with a few bags of candy!
Schlitterbahn Galveston– Justin and I take the kids here every summer.  We buy tickets online for a discount, pack our lunches in a cooler to cut costs, get there early and park our cooler by a pic-nic table under the shade of the kiddie pirate ship, grab two double tubes and off we go. We took Paige for the first time when she was 18 months old and she had a blast.  The kids wore their puddle jumpers and the life guards were fabulous at accommodating small children.
Galveston has so much to offer and we love going for day trips or long weekends. Cheers to a happy start to summer!
Outfit Details
Romper from Turquoise Door   |   Pumps  |  Clutch
Pink Tassel Bracelet c/o Gorjana- mini me set and it comes with one for your little girl too!    David Yurman Bracelet   |  Lipstick MAC Pink Noveau