One of my favorite things to do is gather up all of my girlfriends and go to dinner.  It is always sure to be a night filled with laughs, wine, crazy dance moves and teaching someone how to work the Boomerang App!  If you don't have Boomerang you will quickly become addicted after it takes you 14 tries to get your timing "just right" hahahaha.
On our way to Galveston a week ago I ran into H&M and scored these ADORABLE tassel earrings.  Of course I am a major butter fingers and broke one of them.  Luckily, with a needle nose pliers and a steady hand, I was able to save them.  They look heavy but they are light weight and make such a statement.  I also scored this tank at Dillard's.  It is not offered online anymore but check your local clearance rack if you have a Dillard's near you!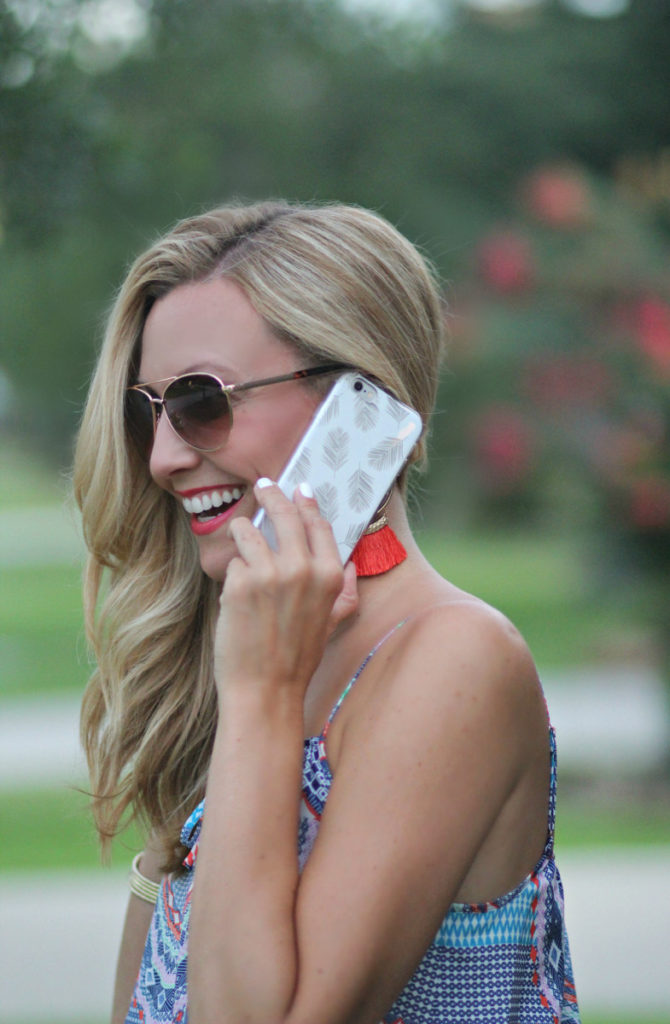 How chic and summery is this phone case?!?! I had an adorable pineapple one but after a few beach trips, kid fingers and being thrown into my bag it was time for a new one.  Incipio sent me their new Getaway collection of phone cases and I can't wait to show you how adorable they are.  My favorite is the flamingo one! I will have to say that I got giddy over the backup phone battery case.  It looks just like a phone case but has an extra battery in it to charge your phone.  I have seen external battery boosters but I had never seen an actual phone case with a battery built in.
If you are looking for a summer wedge that feels like angel wings on your feet, then look no further.  These shoes are hands down the comfiest and softest wedges I have ever placed on my feet.  They never rub and I find myself reaching for them over and over.  The nude color goes with everything!  For less than $100 and almost a five star rating, you know these have to be good.
Cheers to a short week!
Outfit Details