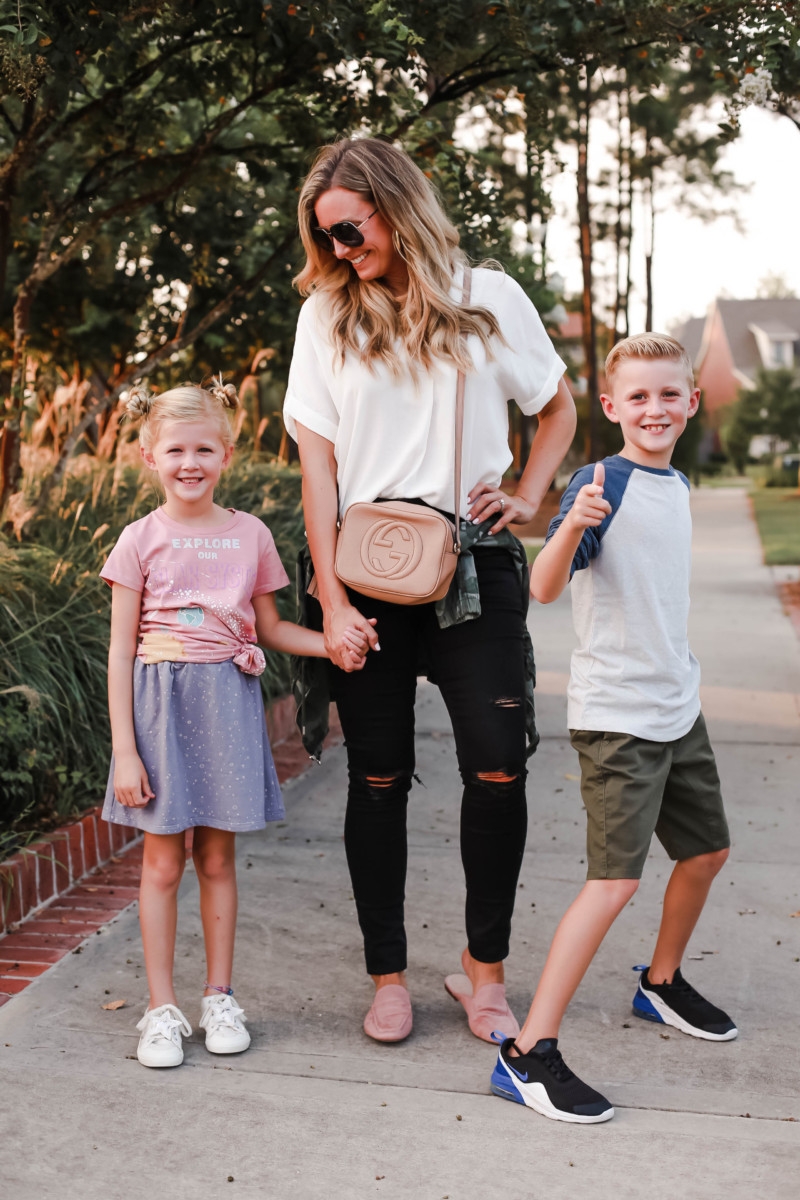 Paige: Solar System Tee / Stars Skirt
Me: Top / Jeans / Jacket /Sunglasses / Bag
Pierce: Baseball  Long Sleeve Top /  Shorts / Sneakers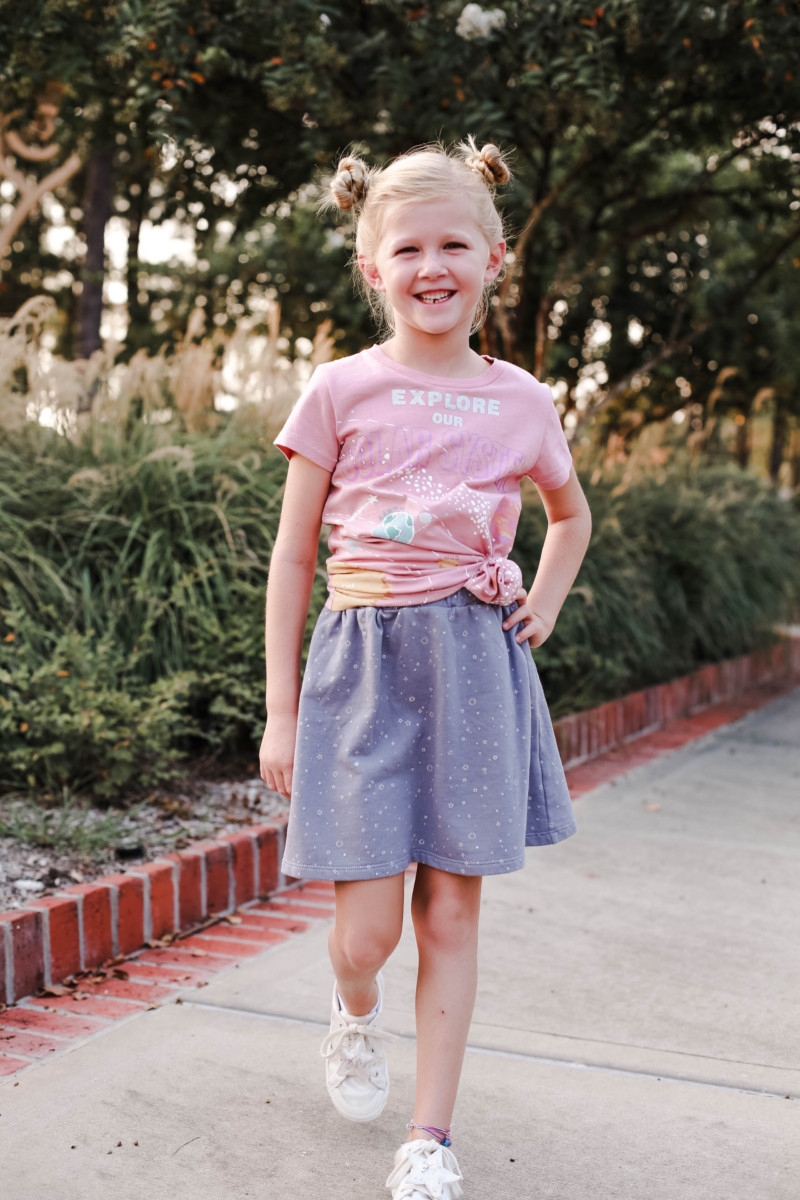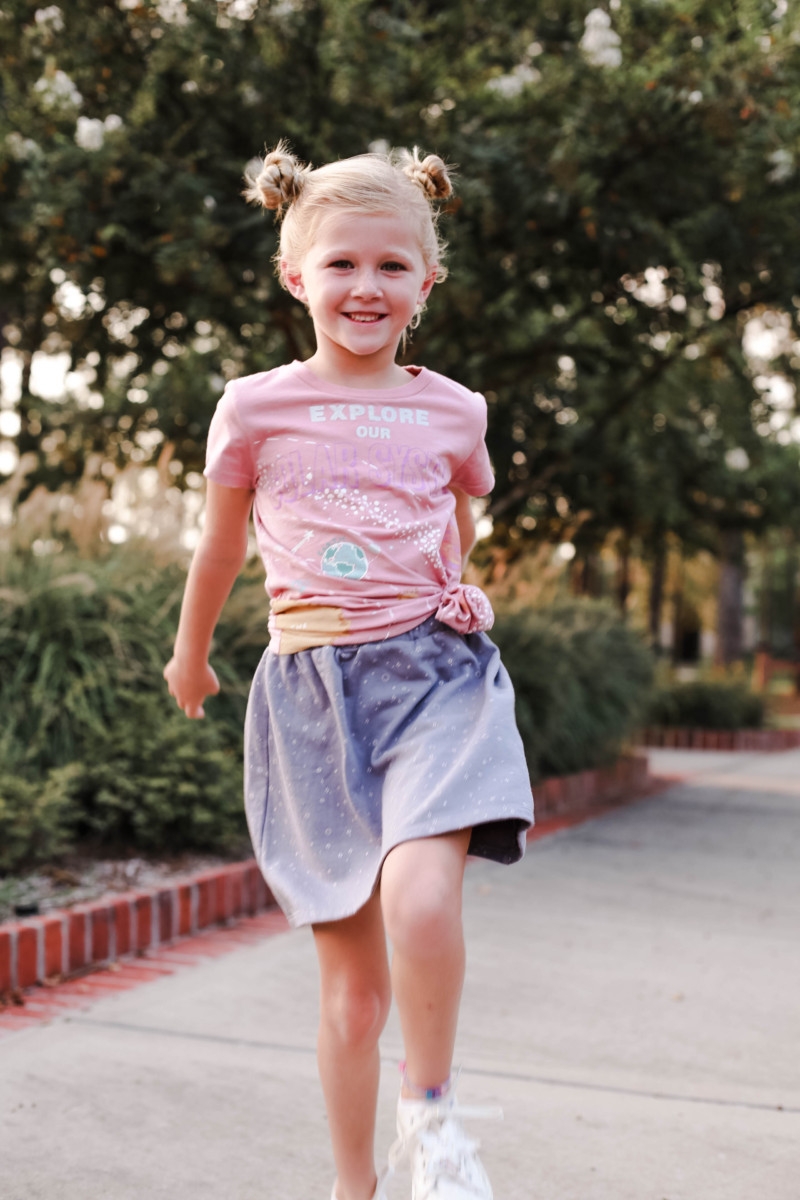 Hey Guys! I'm so excited to share my tips and tricks on how to get to school on time with you today.  But before I do, I  wanted to share some fun clothing options for kids.
My kids are really into science experiments lately and they love talking about space.  Anyone else get 500 questions before bed about aliens, why we don't live on another planet or why don't other planets have dogs?!?  Of course I love their curiosity so I grabbed this solar system tee for Paige and this adorable star skirt.  Peek is one of my favorite kids clothing brands at Nordstrom.  All of their designs are very original and I love the boutique feel without the boutique price.
This unicorn and rainbow dress is also a huge favorite in our house along with this leopard dress.
MOM HACK:  When a dress gets too short, add a pair of leggings underneath and wear it as a tunic top.
Girls Back To School Clothing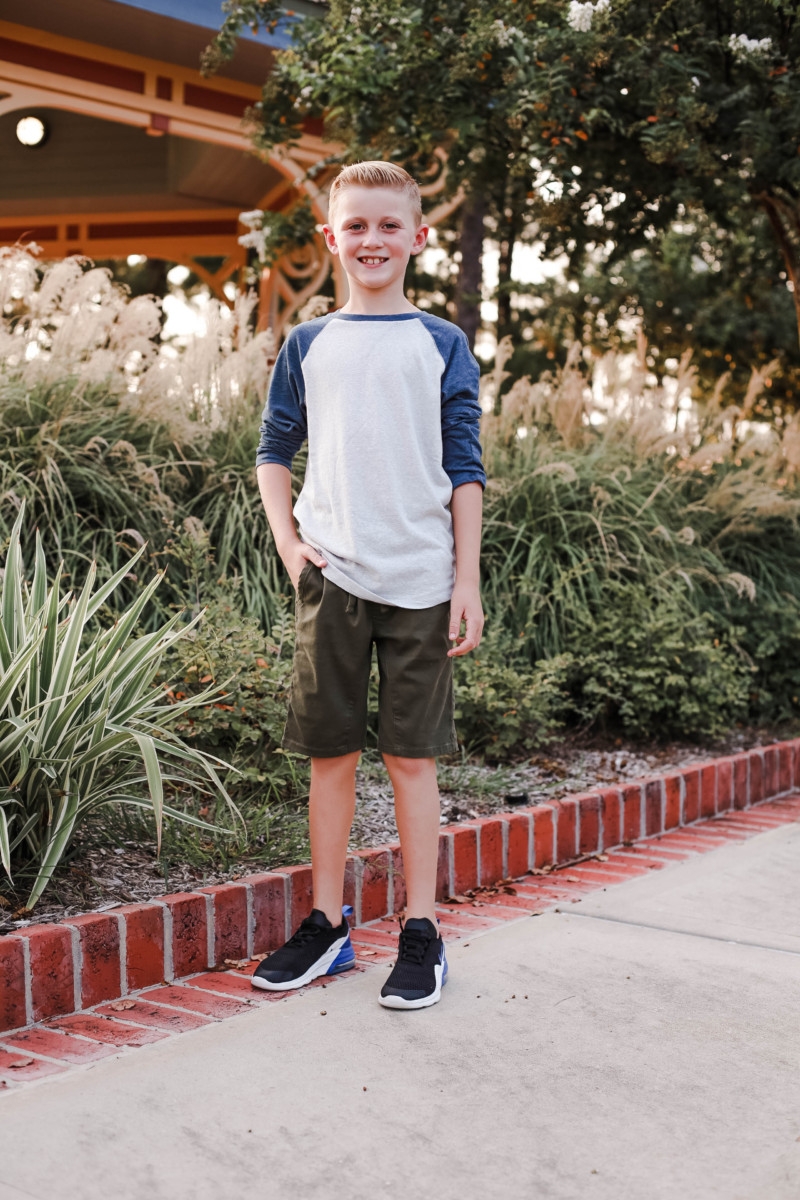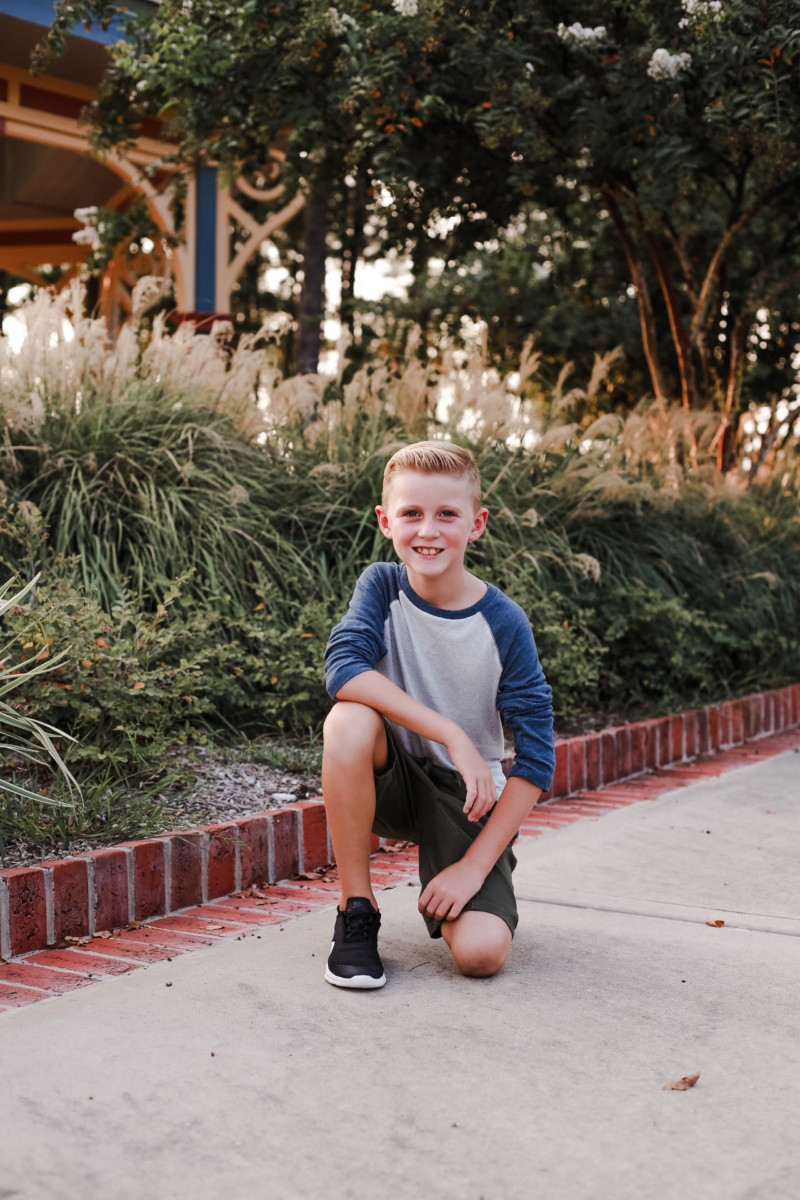 When it comes to boys clothing, we like to keep it simple.  This allows clothing to easily be mixed and matched.  Typically I pick a color palette with 4-5 colors.  This way almost every shirt, shorts or pants will match without me having to micromanage the morning clothing situation.
Boys Back To School Clothing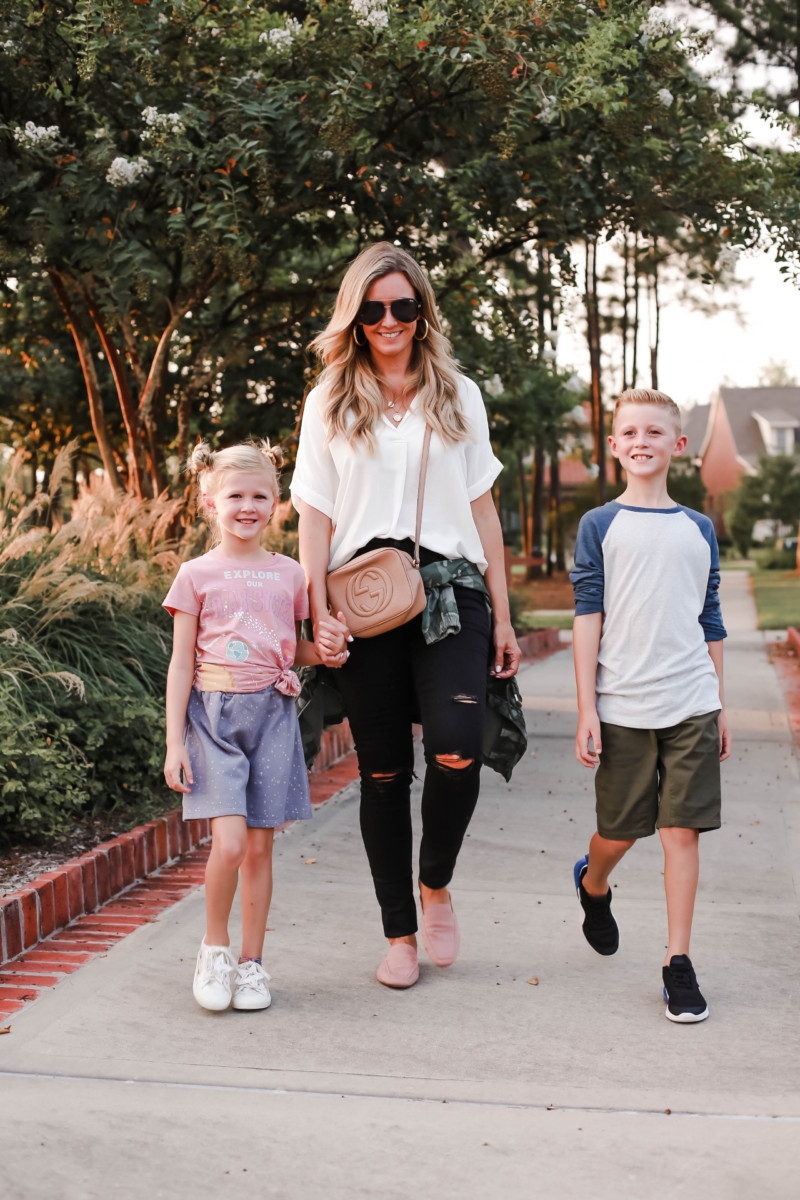 Now let's get down to how we make it out the door for school on time without fighting, yelling or melt downs.  Over the past few years I have figured out seven things that help us get out the door quickly with smiles on everyone's face.
How to Get to School on Time in 7 Easy Ways
Lay Out Clothes Before: I take this a step further and I lay out five outfits.  One to cover each day of the school week.  Tops, bottoms, underwear, socks, etc.  Everything is layed out in a row so when each kid gets up they just have to pop on their outfit and not even think about it.
Pre Pack Lunches: On my Instagram highlights under life hacks I share how I make and freeze pb & j sandwiches and turkey and cheese sandwiches.  I make enough sandwiches for two weeks.  Any "dry" foods are put into their lunch boxes the night before and anything that needs refrigeration is sat in a pile in the fridge so it is easy to grab in the morning.
Easy Breakfasts: Keep breakfast simple.  It might not be organic farm raised eggs with non processed sausages but my kids typically eat cereal, waffles or premade pancakes that can be heated up in the microwave. We also have easy fruit like bananas or apples.
No Electronics: DO NOT TURN ON THE TV OR IPAD!  This was a fight for us last year and this year I made the rule of no tv and no ipads before school.  It was a constant fight to pull them away from electronics and get them to eat, put shoes on, etc.
Wake Up On Time:  Make sure you get up on time. This pertains to us as adults as well as our kids.  My kids are morning people so they pop out of be with 100% energy rearing to go.  Me…not so much!  I am not a morning person.  I have to make sure that I get up on time so that I can get them out the door without being rushed.
Minimize Tasks: In the mornings I only give my kids two tasks at a time.  Put on shoes, get your back pack.  Brush your hair and your teeth.  If your child is even younger stick to one task at a time and stay on top of them to get it done.
Get Ready In One Place: Have tooth brushes and hair supplies all in one bathroom where everyone can be tended to at once.  Have a designated spot for backpacks and shoes.
Thank you to Nordstrom for supporting today's post.  I hope all of you and your kiddos have an amazing school year!
How do you help your kids get to school on time? Share in a comment below!
XO- Sara
To save these tips to your Pinterest page, click the picture below and click the Pin It button!