Hey Hey Hey! I hope you all had a restful weekend and are ready for the Nordstrom Anniversary Sale! I'll touch base on that farther down in the post. Today I am here to talk about how to have an amazing girls weekend! Every summer my girlfriends and I head to the beach for a kid free, man free weekend. It is full of shenanigans, yummy drinks, pool time and fun in the sun. With this being said though, there are times where we like to switch things up a bit. From looking to get a static caravan insurance quote when we do fancy a little short break, to living our best lives in the sun and relaxing by the pool, feel like anywhere we decide to spend time together will always be a great time. Here are my tips for a successful and not stressful girls weekend…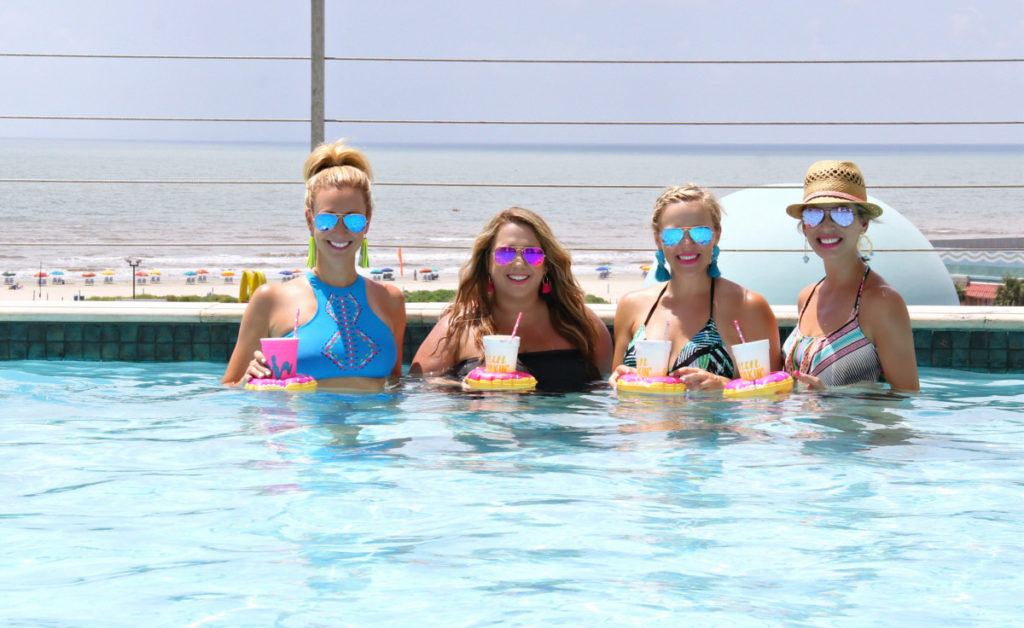 1. Plan Who Brings What– We plan out our meals and designate who will bring what. This way we don't double up on food or drinks. We personally try to save money by eating breakfast and lunch at our hotel/condo.
2. Games/Shenanigans– Everyone in the group is in charge of bringing something fun. Staci brought doughnut floaties, Candice brought wigs, I brought a game and Allison brought party cups and straws. I was the odd one out because I had an adorable cup made for me by Simply Glittered. You can customize your cup and I picked a hot pink glitter cup with my name in blue glitter. THEY ARE SO CUTE! These would make awesome custom party favors! I brought a goodie bag for everyone filled with weekend essentials. I filled them with toiletries, candy, granola bars, pedialite packets and a bottle of water. Staci added to them with these adorable tassel necklaces.
3. Entertainment– We brought our portable Bluetooth stereo to the pool, played never ever have I ever, would you rather and other high school girl games! I of course made my friends pose for a billion pictures just so I could write this post!!! We were lucky enough to enlist a total stranger to push the button on the camera timer about five times for us. I created a Pinterest board of fun girls weekend ideas. We brought goodie bags, replicated fun pictures and made sure to all bring our mirrored Raybans. Don't forget that you can get a free month of sunnies at Shop Ditto by using the code hauteandhumid.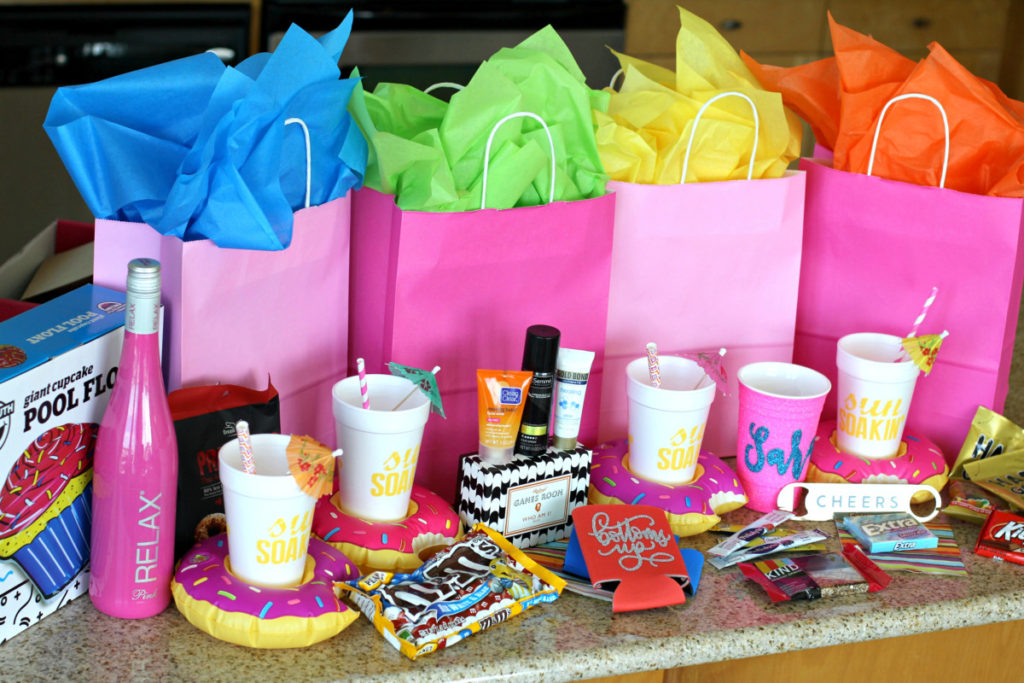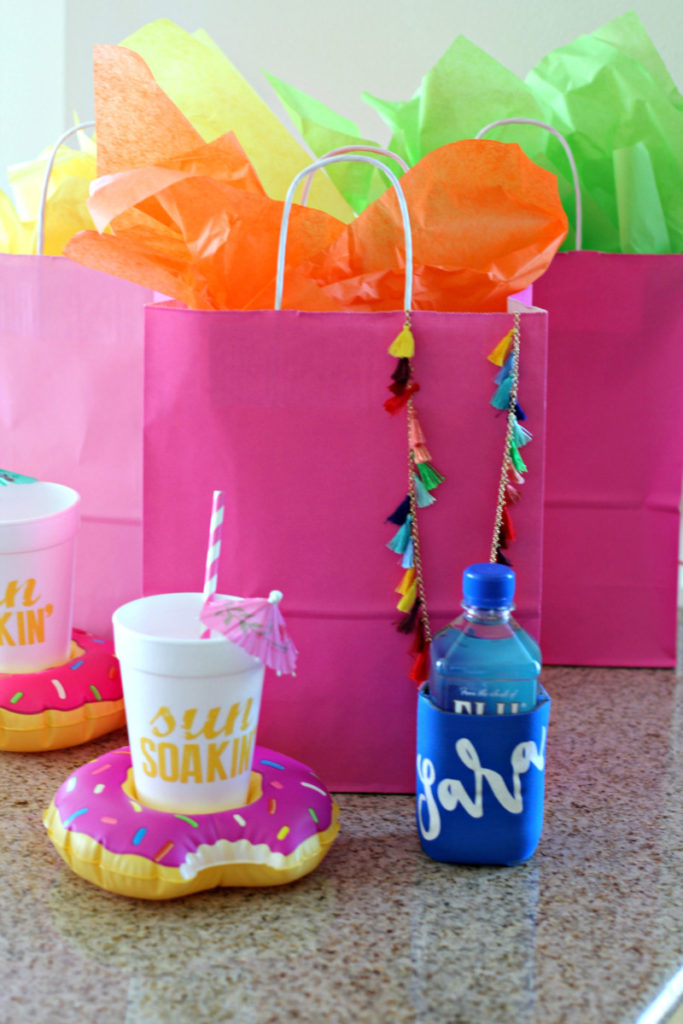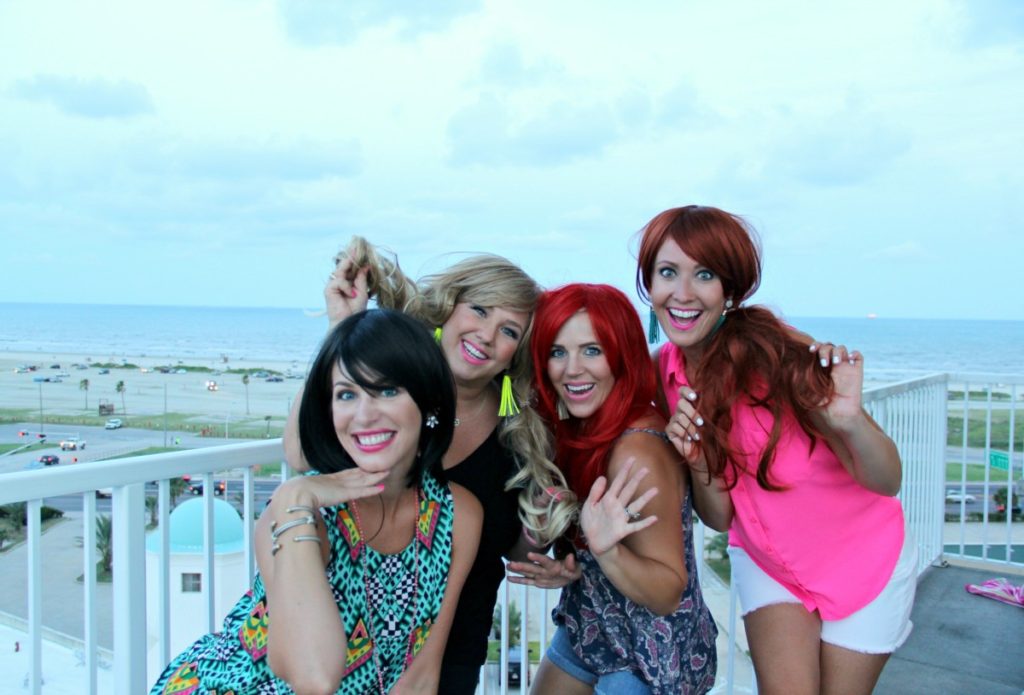 Wigging Out!!! How fun are these wigs?!?! We styled them all night long, traded wigs and did a million boomerangs with these! What do you think? Should we change our hair color?
Party Favors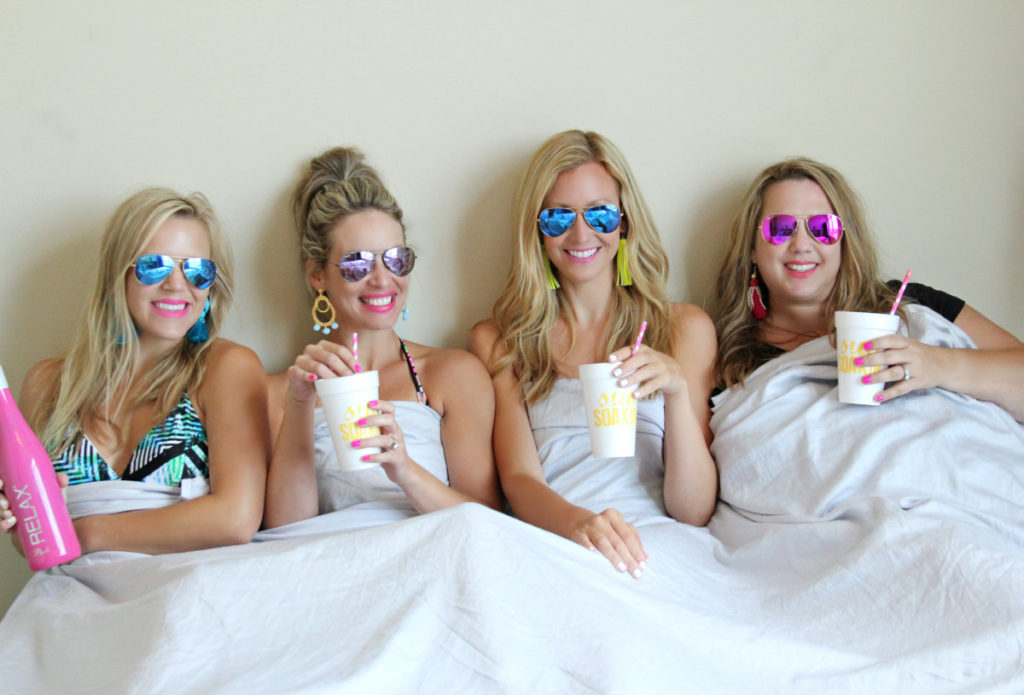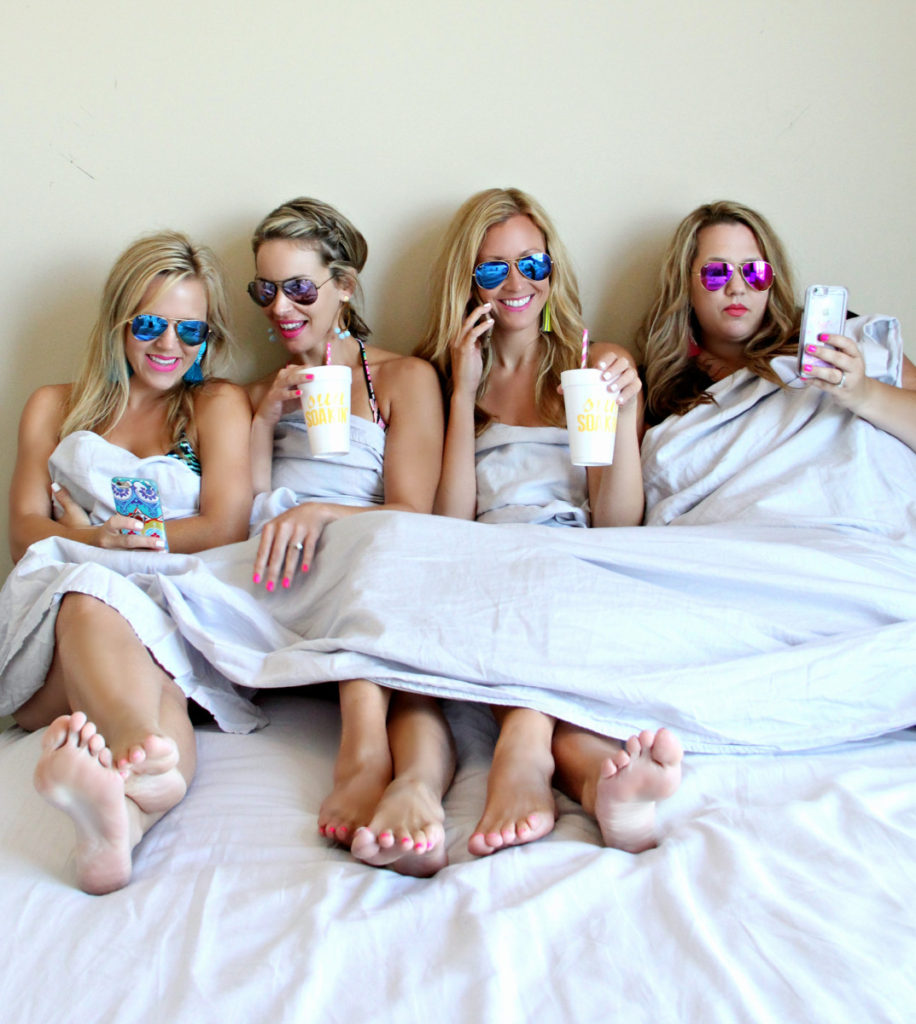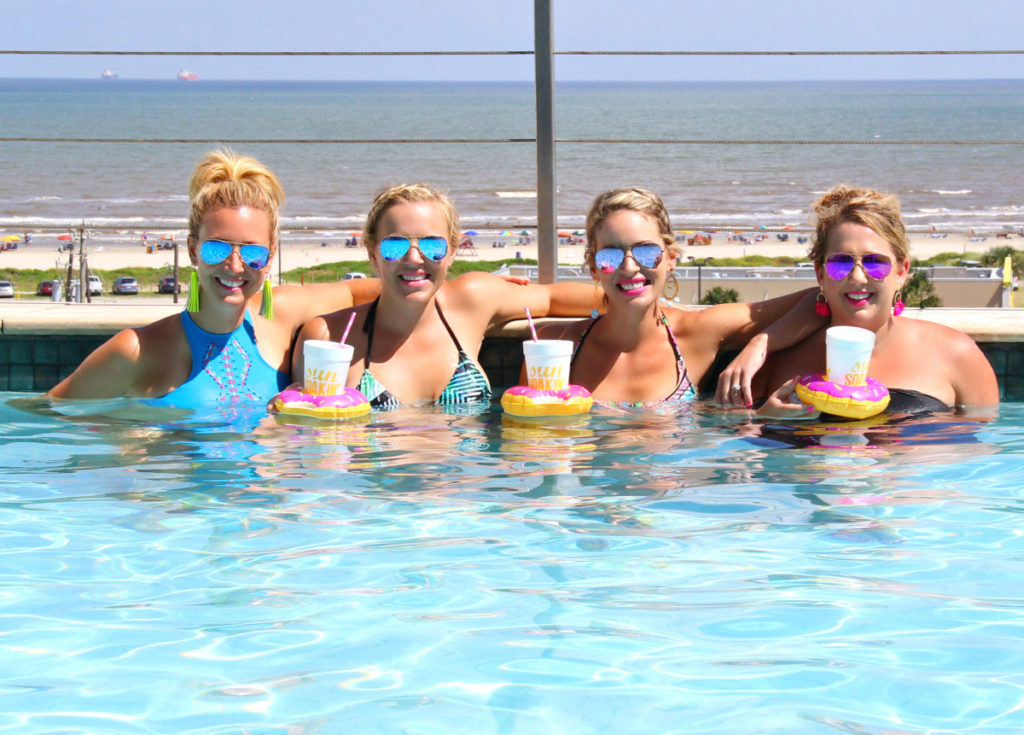 Outfit Details
From Left to Right- Sara, Candice, Allison, Staci
My Suit Top & Bottom (less than $100 for both), Tassel Earrings, Sunnies
Lipstick ( my new favorite and it lasts forever)
Candice's Suit Top & Bottom (on major sale)
Allison's Suit Top & Bottom , Earrings
Staci's Suit Here ( LOVE this brand)
. . . . . . . . . . . . . . . . . . . . . . . . . . . . . . . . . . . . . . . . . . . . . . . . . .
Now on to THE Nordstrom Anniversary Sale!
Ya'll, this is the biggest sale of the year. It is basically Christmas in July!!!
Don't forget to enter the $450 Nordstrom Gift Card Giveaway HERE
Here is a quick overview of what this sale is all about…
Why is this sale so special?
Nordstrom releases their new fall merchandise for a limited time at a mega discounted price. The items in the #NSale are usually the trendiest pieces of the season released by Tory Burch, Michael Kors, Kendra Scott, Rebecca Minkhoff, Theory, Joie, MAC, Bobbi Brown, and so many more. This sale is special because items start out discounted and then return to full price. This is a buy now and save for later kind of sale.
When Can I Shop the Sale?
The Nordstrom Anniversary Sale allows EARLY ACCESS for cardholders from July 14-21. If you have a Nordstrom Debit or Credit Card you can shop the sale. This card is important because items sell out quickly and the card allows you to have first dibs before the general public. You can sign up for a debit or credit card HERE. It takes a few days to process, so if you think you want to shop early APPLY NOW!
The sale will open to the general public July 22. The sale ends and prices will go back up August 8th.
Cheers to Happy and Successful Shopping!