IT'S FINALLY HERE! The most talked about sale of the year…THE Nordstrom Anniversary Sale!!!
Don't forget, Nordstrom always has free shipping and free returns.  Buy what you want and return what doesn't work!
I'll get right to business because I know ya'll are eager to dive in and get shopping.  Let me say that these are my first initial picks from the Nordstrom Anniversary sale.  I found a lot of great basic pieces that can be dressed up or down. I have posted my favorites from the day that I feel I would personally get the most wear out of on a daily basis.
Let's Begin!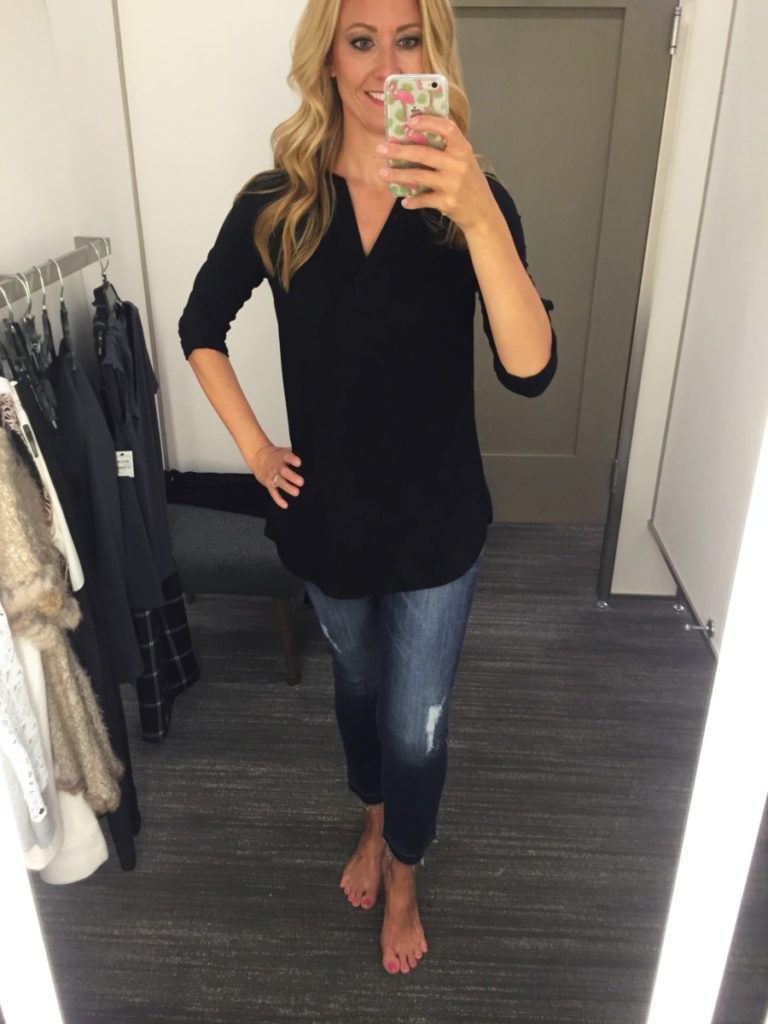 This shirt is always a crowd favorite by Pleione.  It comes in a few different colors but black is always the hottest pick.  This shirt is long enough to wear with leggings aka covers your rear end, has a flattering V-neck and a beautiful draped sleeve.  It makes a great layering piece under vests, scarves or jackets.  I highly recommend buying this.  I get one every year and wear the fire out of it!
These jeans from Kut from the Kloth fit beautifully.  I loved the color and mild distressing as well as frayed hem along the ankle.  They would be Super cute with booties this fall!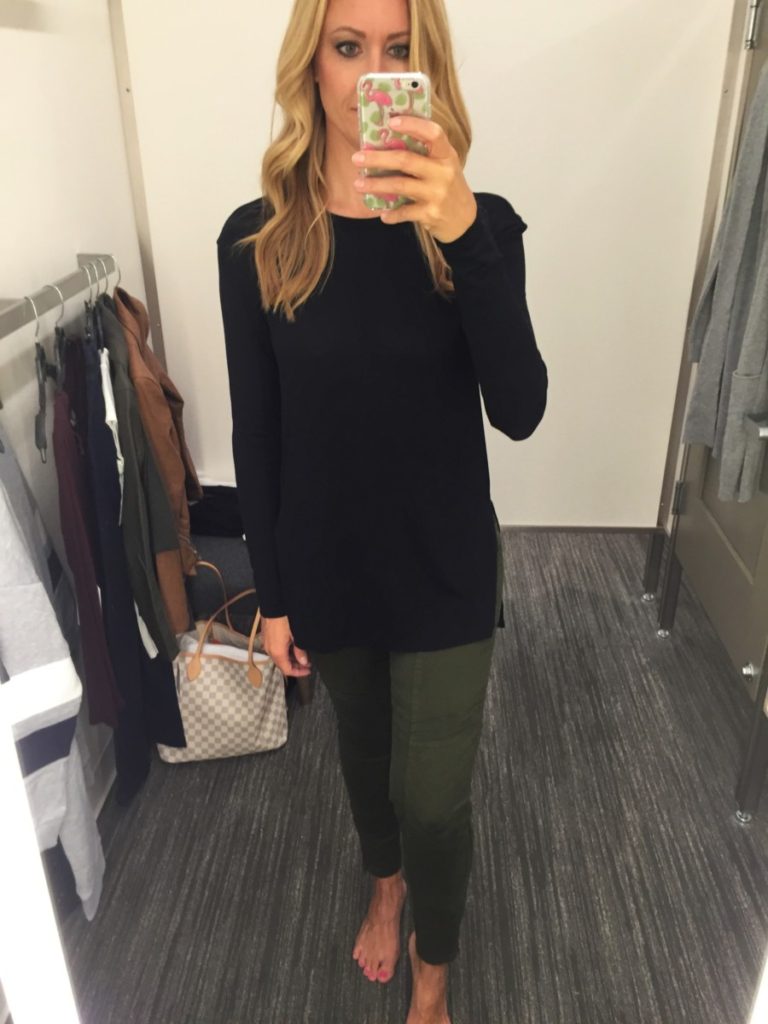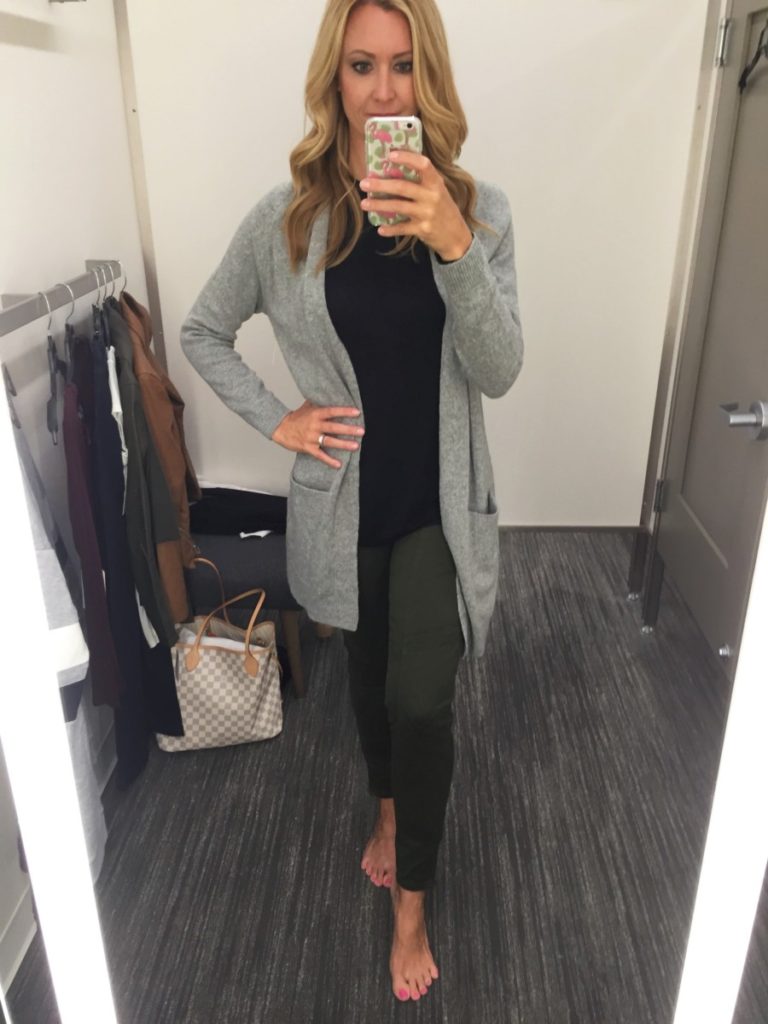 Ill start with these pants because they totally came home with me.  They are soft, have a little zipper up the ankle and some detailing on the thigh area (hard to tell in picture).  I loved that the green was something out of the norm as far as black leggings or jeans.  Yet they still act like a neutral.  These will definitely get their fair share of wear.  I actually want to wear these green pants now!
This black tee is a great basic that is light weight and perfect for under sweaters.  I love the extra length in the back so it can be worn with leggings.
This cardigan was the perfect layering piece.  A lot of times in the south it does not get very cold so a long cardigan is perfect to throw on instead of a coat.  It was soft and the pockets were a great addition.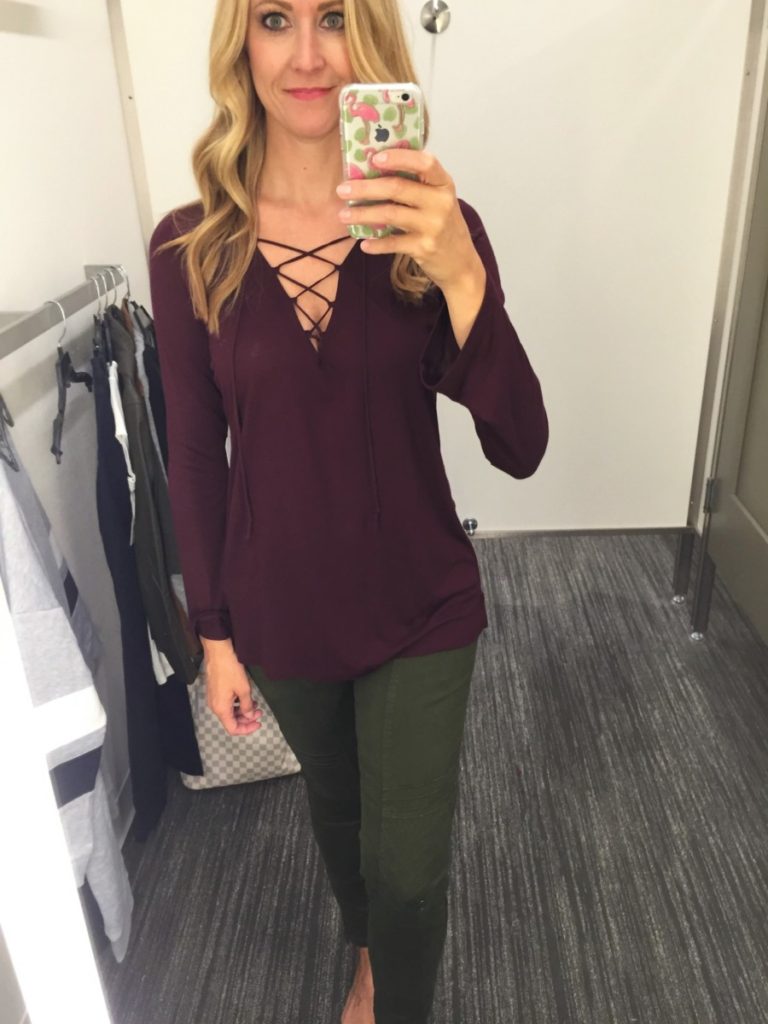 This maroon lace up front top came to live with me today! It too is a basic type top, however, the lace up front is a huge trend and adds interest to the shirt. I have a feeling this will be popular so buy fast!  I of course loved it paired with my new favorite green pants!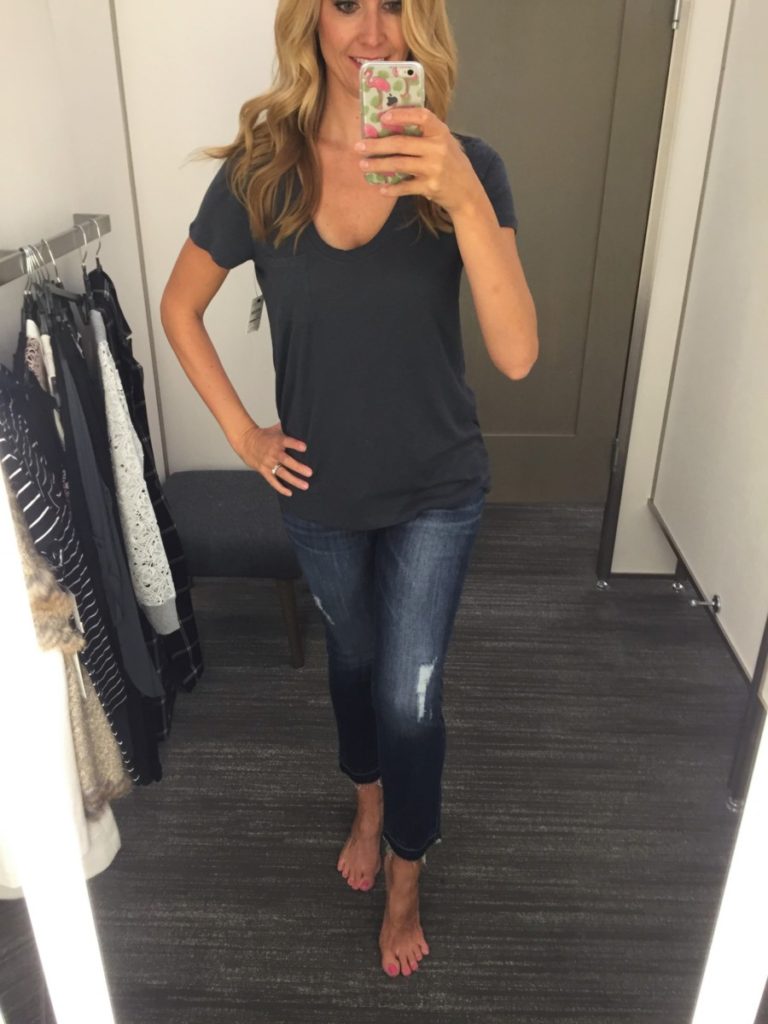 These Caslon tees are always a huge hit.  The gray goes with everything and again these make great layering pieces.  If you don't have one, I highly recommend them.  I got the gray and it will be great with white jeans now and layered with a cardigan or jacket later.  I also love them with a cute skirt in the fall and winter.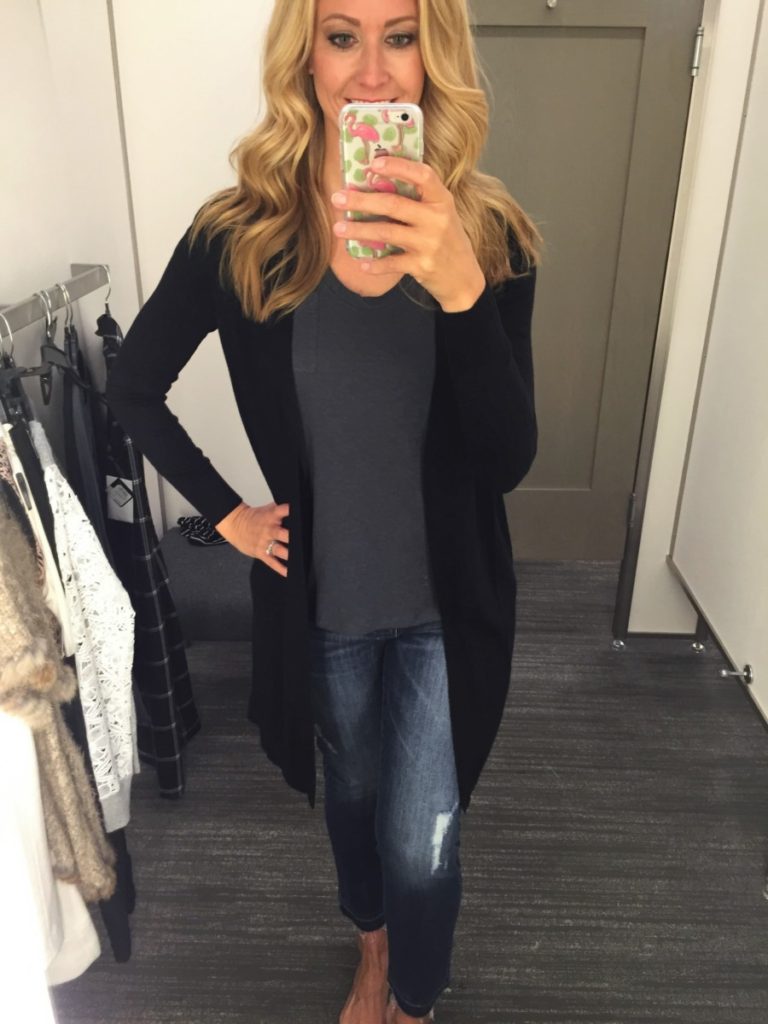 Here is the Caslon gray tee paired with a long black cardigan which also slipped into my shopping bag! There is just something about a long black cardigan that makes an outfit look more put together.  Add a bootie and a long necklace and you are set for the day or cozy up on the couch to watch a movie.  This black cardigan is a MUST!
Side View of long cardigan with side slit detail.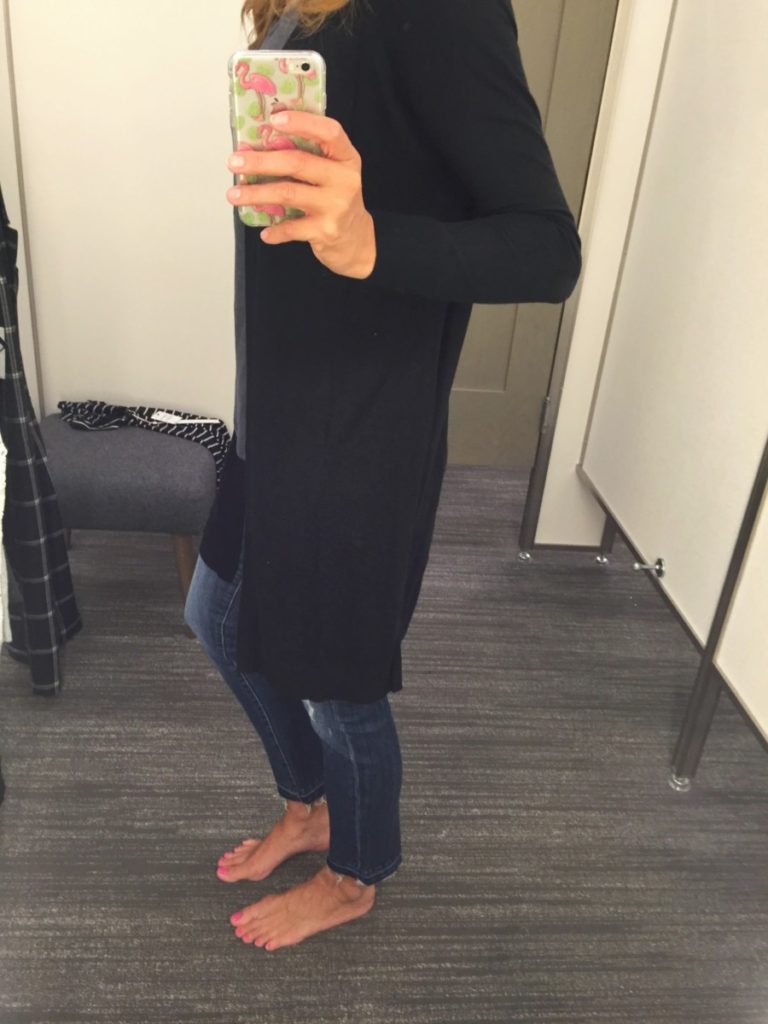 Oh how I have missed you flared denim! Thank you for coming back into my life and making my legs look longer and balancing out my hips!  I mean haven't you missed a little flare legged pant in your life?  This is another great ribbed tee that I paired with this GORGEOUS, butter soft, waist sinching, zipper detailing beauty of a leather jacket.  The brown color is so universally flattering on everyone.  Maybe I will turn my a/c up tonight and sleep in this jacket and my green pants!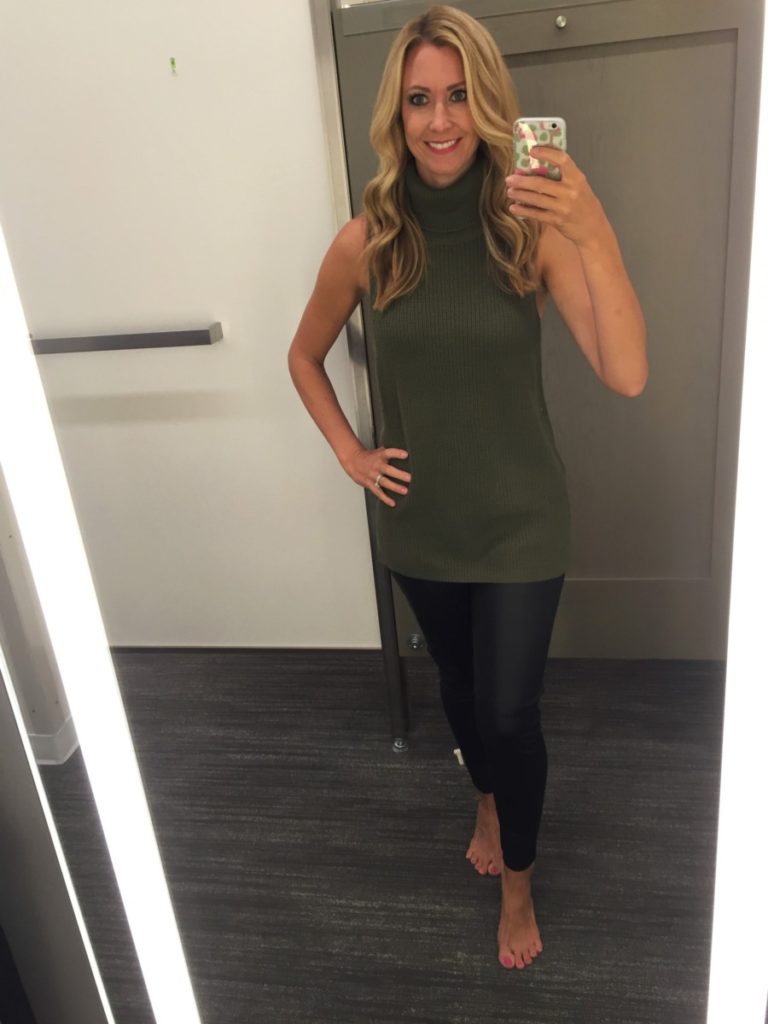 This green sleeveless sweater was perfect paired with these vegan leather leggings aka faux leather.  I bought a pair last year and wore them so much my husband hid them from me!  I LOVE LOVE LOVE leather leggings in the fall and winter.  They just add a beautiful texture to any outfit.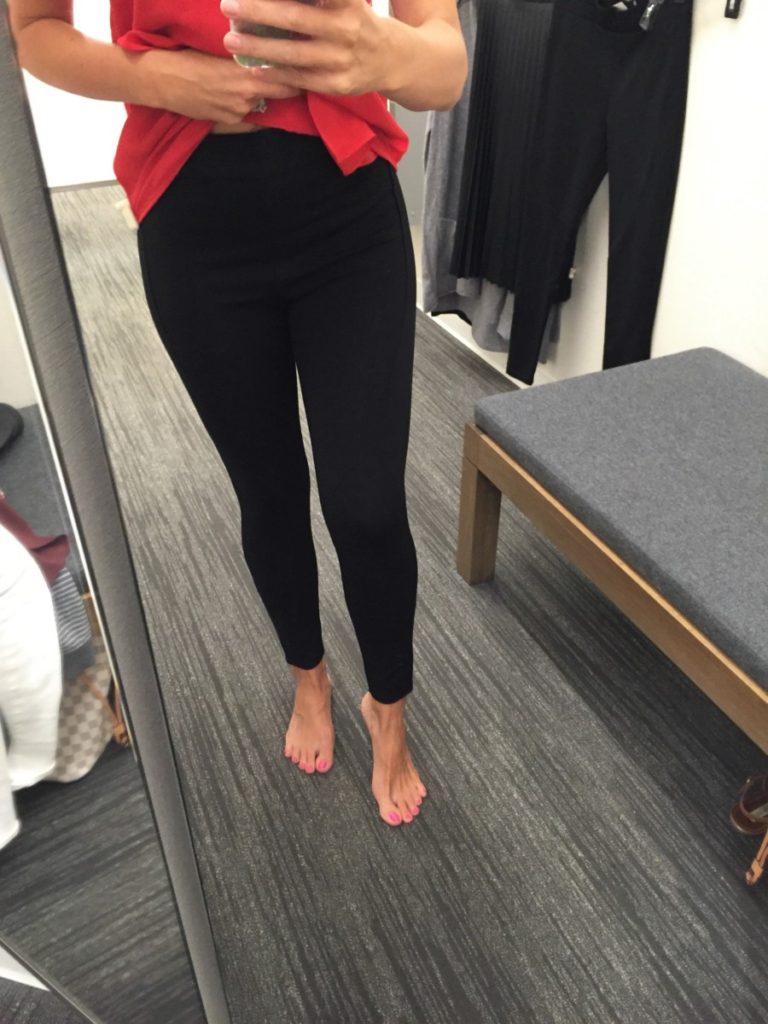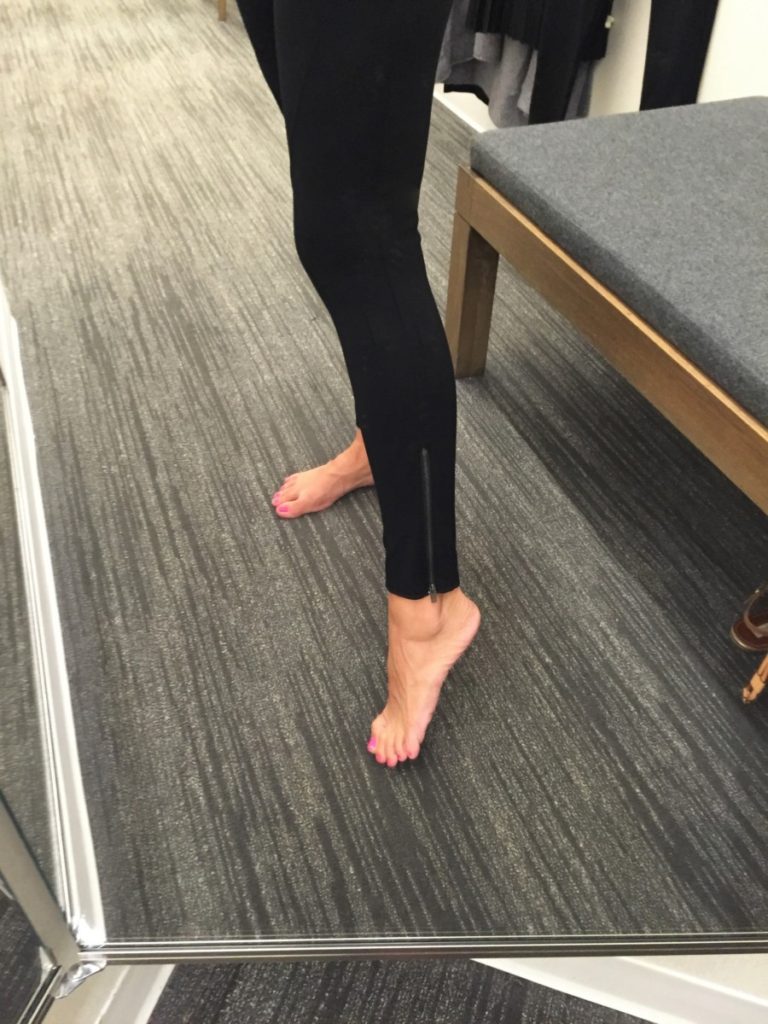 These black leggings are made of a thicker material and have the best side zipper detail.  I loved the thicker material and high waist because it kept everything sucked in and covered the lumps and bumps. These black leggings were so comfy but I would size down to make sure they don't get saggy.  They came home with me as well.
Now I will work my way out of basics and into more intricate fun tops and dresses. EEEEk the dresses just made my day! I wanted them all so bad!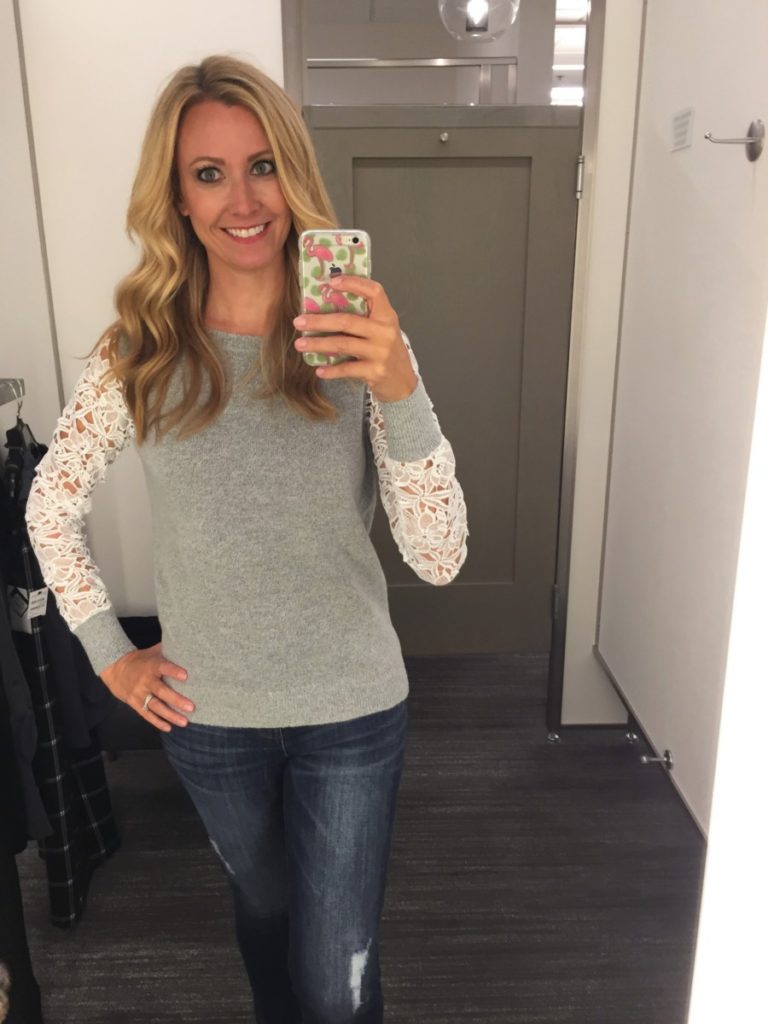 This sweater was love at first sight in the catalog and I loved the fit once I got it on.  However, it was a bit scratchy so I didn't end up purchasing it.  The sleeves were gorgeous and the boucle material had a beautiful texture.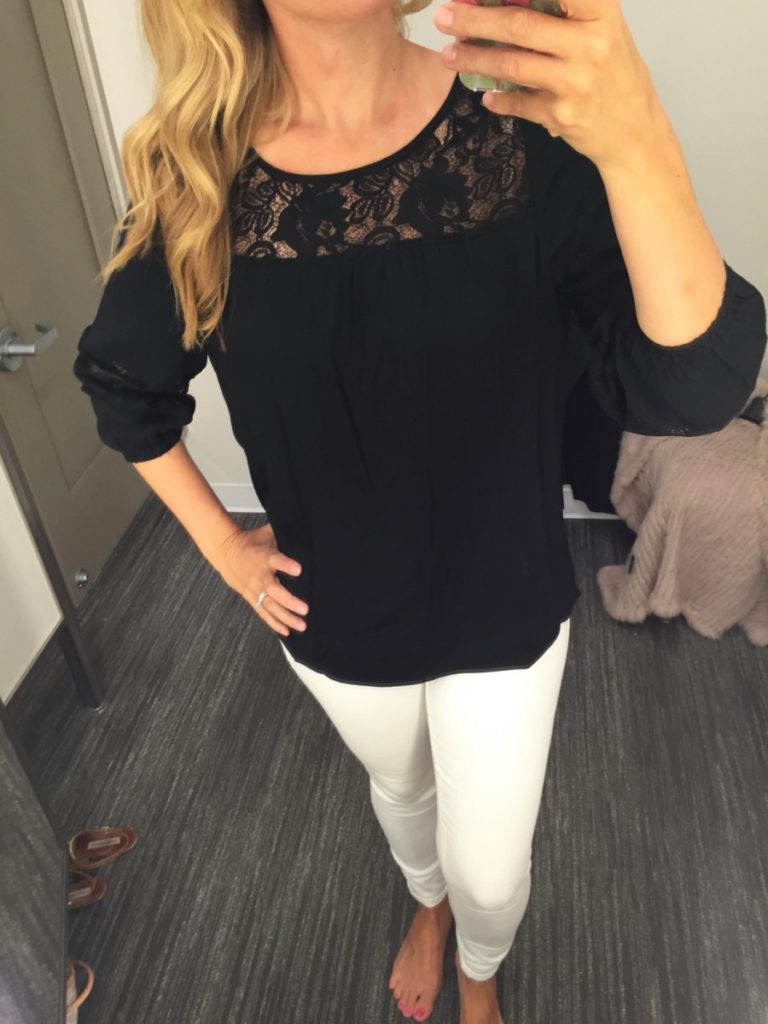 This black Joie top is definitely a splurge item in my book.  I saw the lace detailing and when I tried it on it felt like a dream.  Don't you hate when you fall in love with expensive items you know you shouldn't get? Gah, gets me every time.
Love Token is known for their fur vests.  They are amazing! This blush vest was such a beauty.  I would size down as they tend to run big.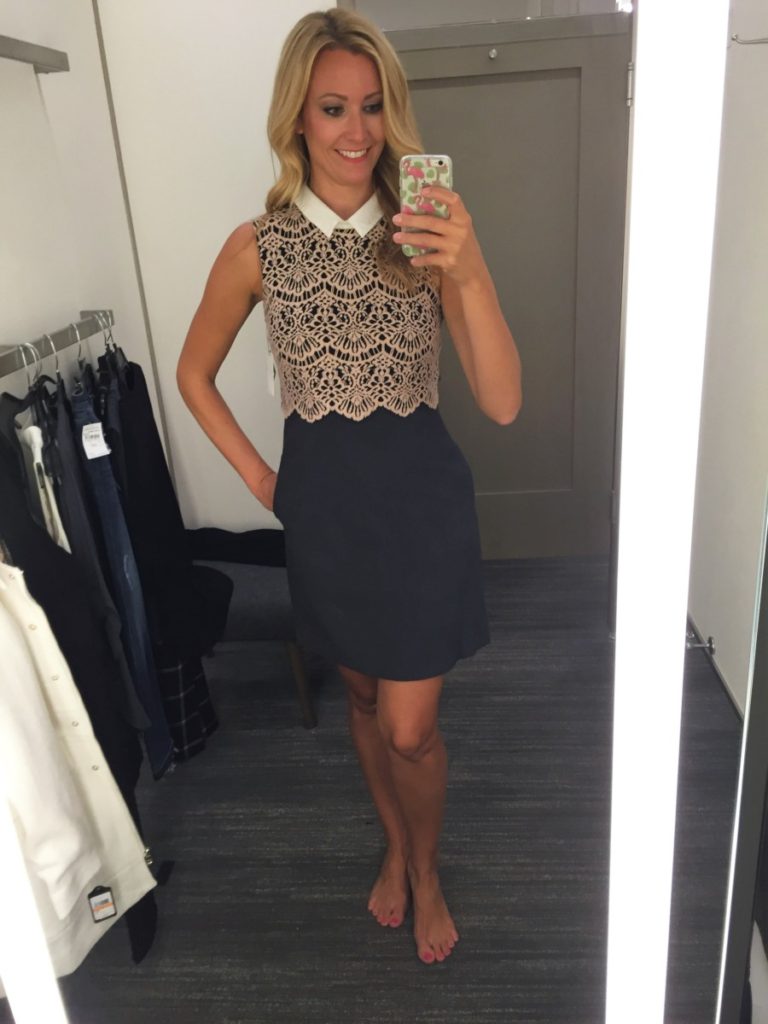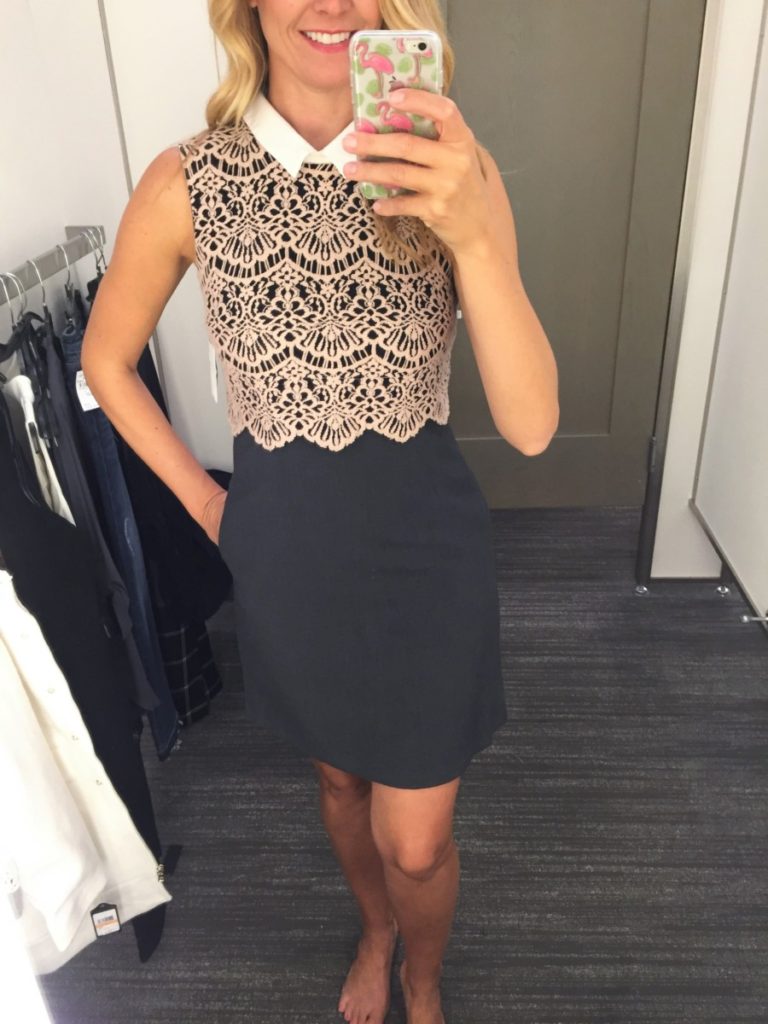 Oh Holy Night! The angels came down and blessed my body with THIS dress.  I mean come on!!!  Where do I even begin with my favorite parts?!?! The collar detail is amazing, the lace is gorgeous and hits your body at the most perfect spot and then the gray skirt pulls it all together with pocket to boot.  A TOTAL MUST BUY NOW!!!!  As in, add it to your cart ASAP!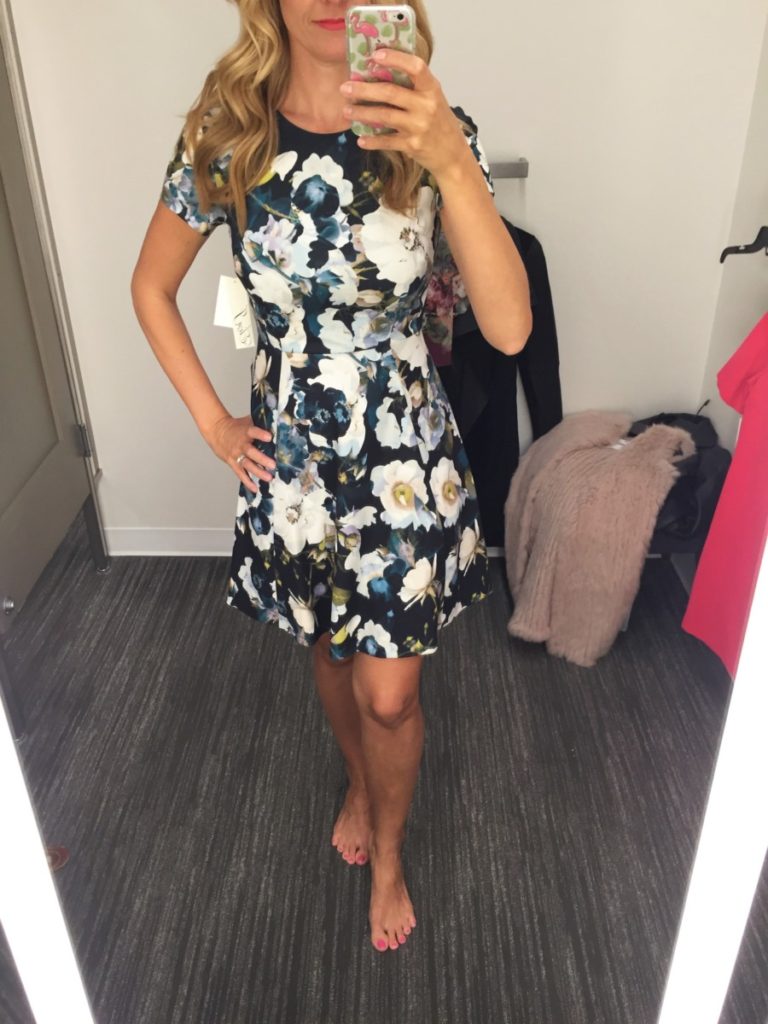 My next favorite dress comes in floral this year.  I bought this dress last year in the leopard print and paired it with my favorite gold belt.  If you don't have this $14 belt order it now because it is perfection!  The material is soft, flowy and easy to move in.  It makes you look like you have a two inch waist, especially with the belt added. The flared skirt hides any sort of hip action.  How perfect would this be for family pictures or Thanksgiving?  Hands down one of my favorite dresses.  Eliza J makes one hell of a dress!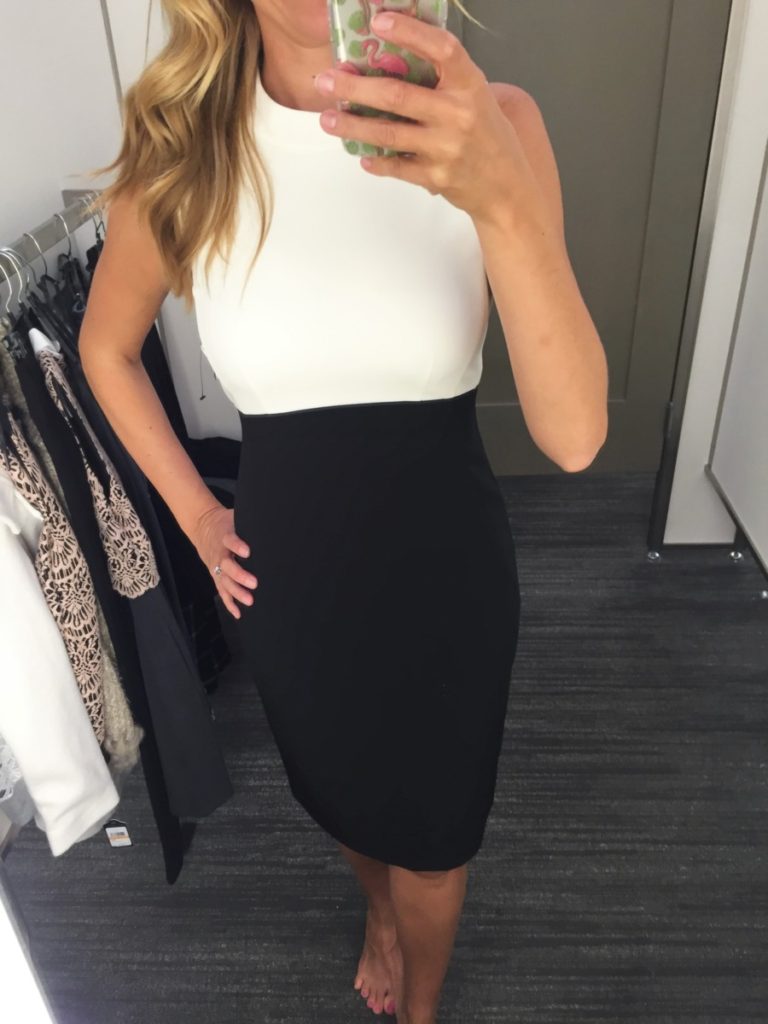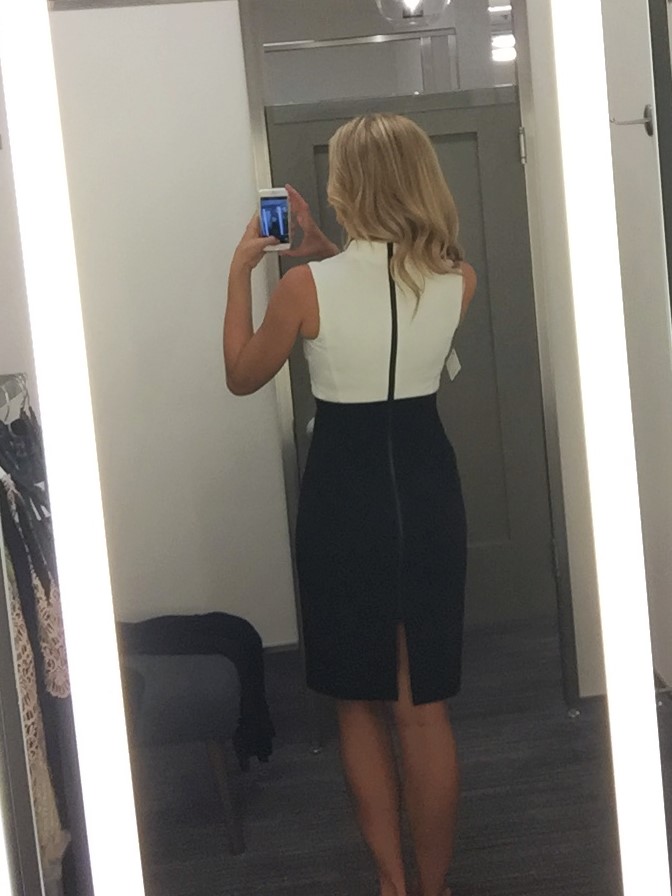 If you are looking for work wear or just a classic, chic dress that will be perfect for any occasion this is your dress.  Black and white never goes out of style and the dark exposed zipper is ah-ma-zing.  This dress could be worn to a wedding, dinner, work function, funeral, school function, date night, etc.  If you need one dress that works with everything, this is your dress!  Again, how hot is that zipper all the way down the back!?!?!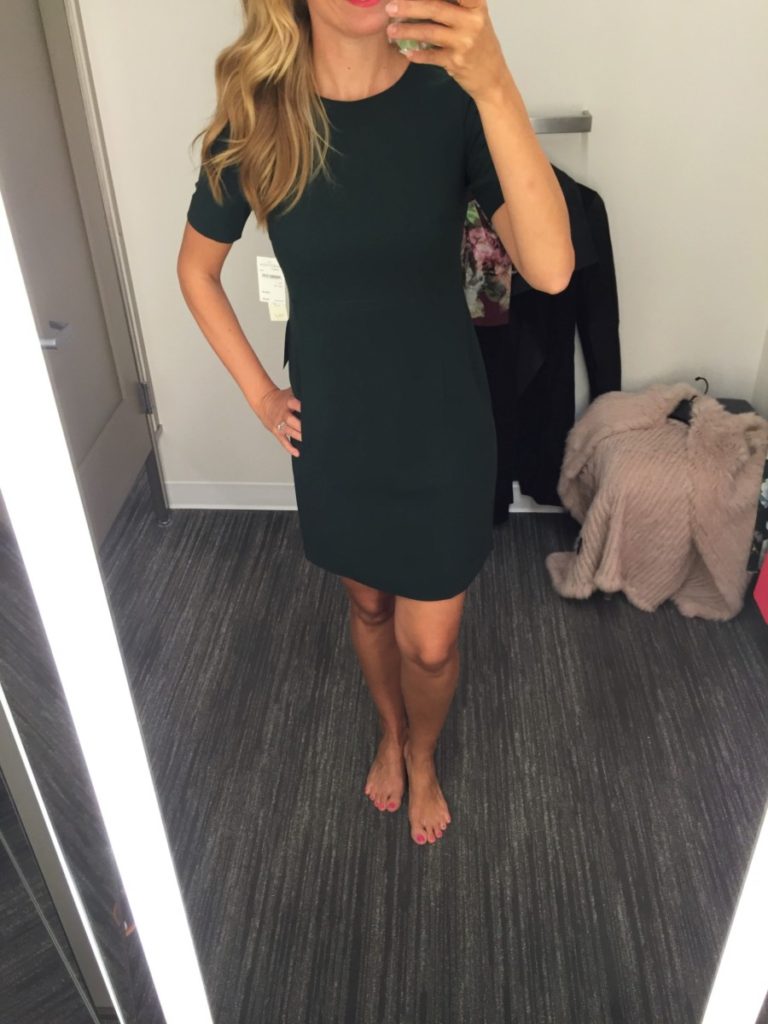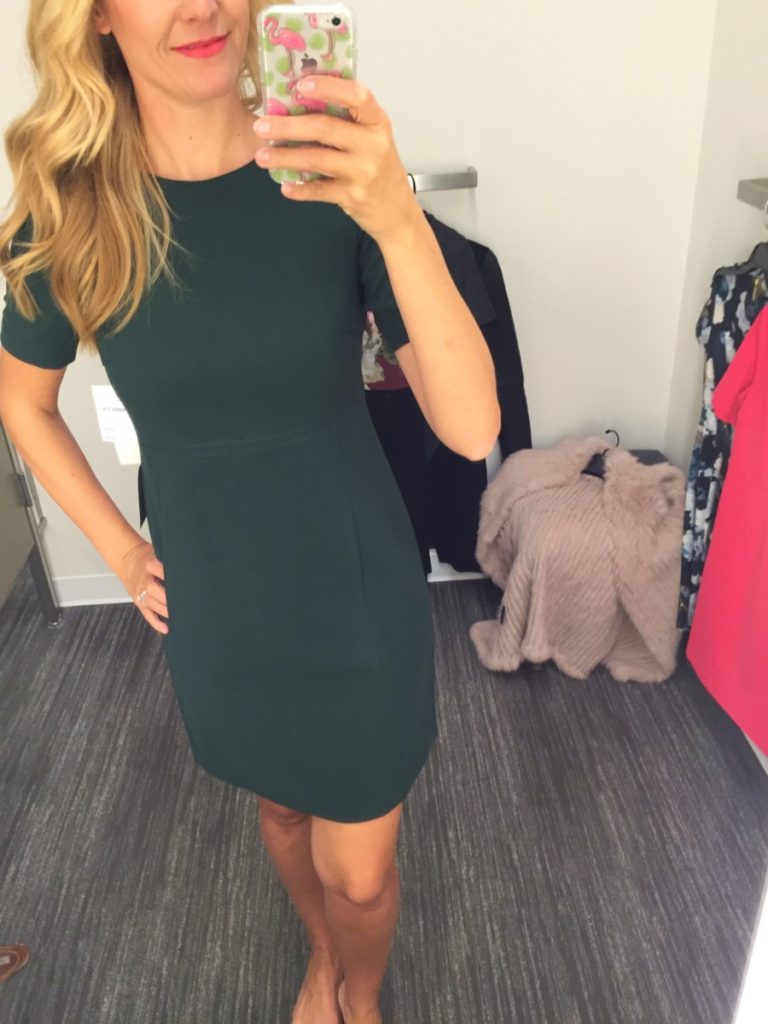 This forest green goddess was adopted by yours truly today.  I didn't love this dress on the rack but I thought "Oh, I'll try it on, what the heck."  And I fell in love,  It looked boxy on the hanger but when I tried it on, I saw it was tapered in at the waist to give the dress and nice shape.  It is also available in a bright pinkish coral color that is gorgeous.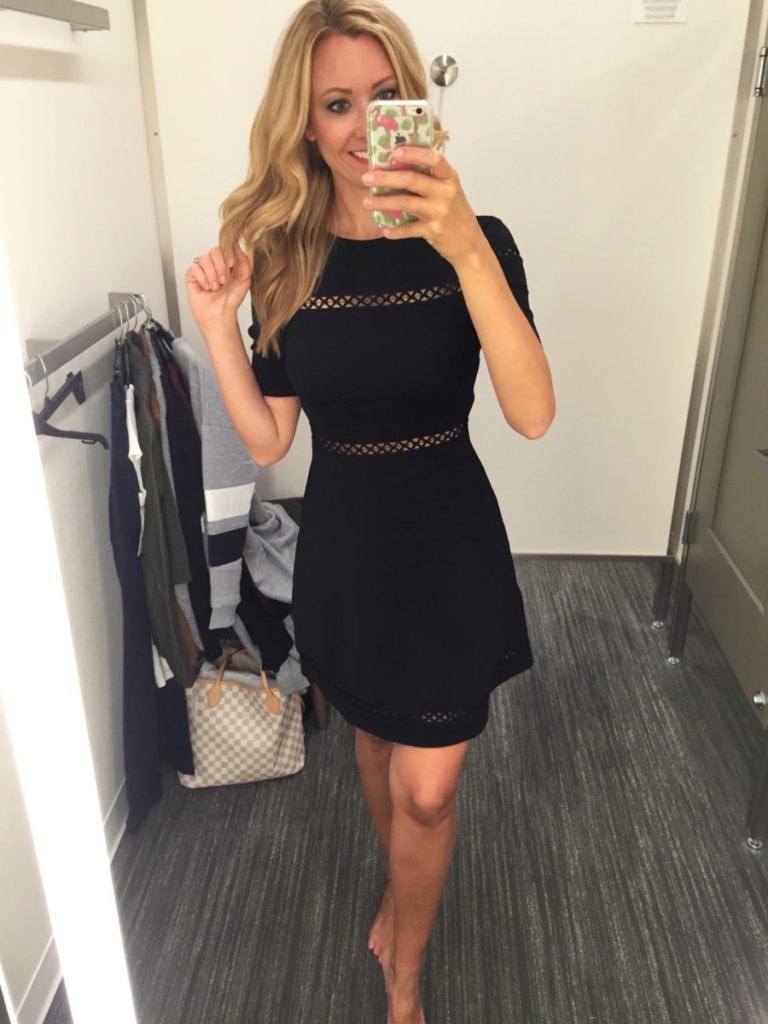 I know this Topshop dress is going to be a favorite! It is an awesome price point and everyone loves a classic LBD (little black dress) with a twist.  It was comfortable and I loved the material.  If you are in need of a black dress, scoop this one up pronto!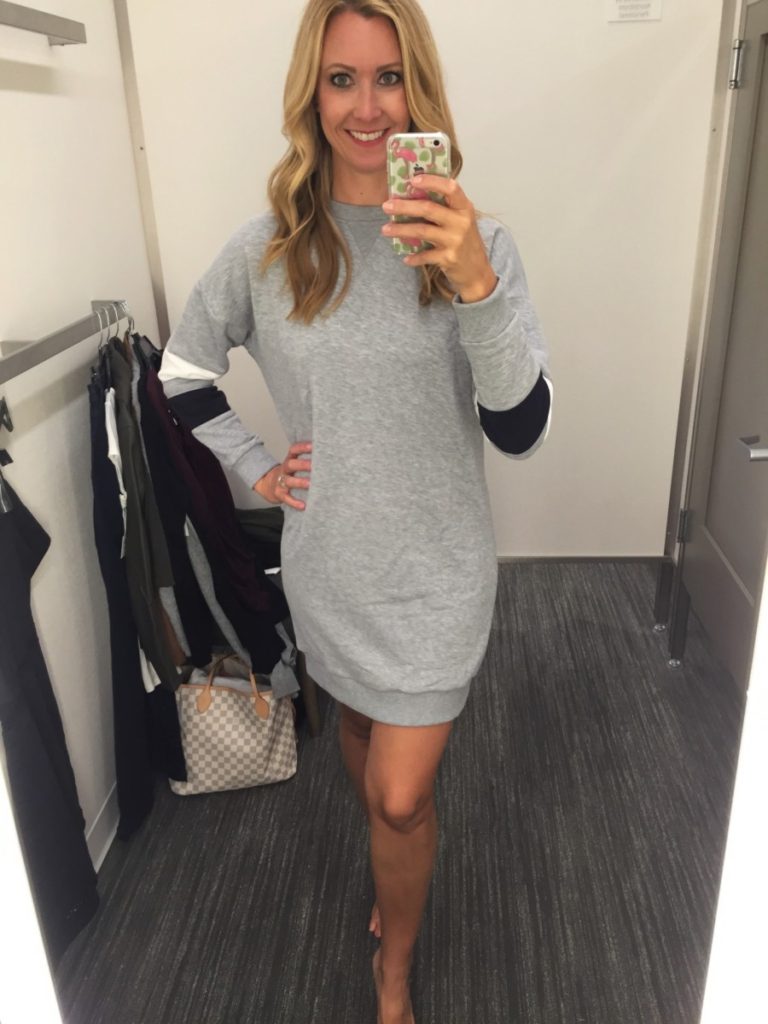 OMG Ya'll.  This collegiate inspired sweater dress was the most comfortable, softest, dreamiest dress I have ever worn.  I'll be pairing this with white chucks for grocery trips, play dates and concerts on the lawn.
Stay tunned for SHOES, BAGS, BEAUTY and COATS!!!
If you live in The Woodlands area and would like an appointment with a Nordstrom Stylist, I HIGHLY recommend Kirsten Berger.   You can book an appointment with her online HERE.  Tell her Sara from Haute and Humid sent you!
HAPPY SHOPPING!