Who is traveling for Thanksgiving or Christmas? I created a holiday travel must have list for you!  One thing I must be when I travel is COMFORTABLE.  I also have a comfy and classic Thanksgiving look that will accommodate all of that turkey and pie. Can we say elastic waist band?!?
Who is ready shop drop and roll those Black Friday sales and Cyber Monday deals? I will have amazing holiday deals for you along with my favorites of the season, so stay tuned here, Instagram or Facebook.
Holiday Travel Must Haves
Click on any picture to take you directly to the item!
Wrap Cardigans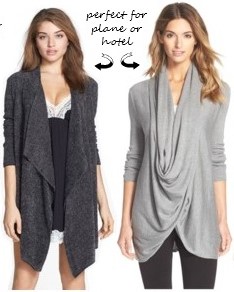 Barefoot Dreams and Wrap Cardigan
My absolute favorite cardigans for traveling or just being comfy are the Barefoot Dreams Drape Front cardigan and this Nordstrom Wrap Cardigan.  I own two of the Barefoot Dreams cardigans.  I have a black one and a beige one because they are THAT good.  If you are stumped as to what to get your mom or MIL, THIS IS IT!  I also have the grey wrap cardigan and wore it on my last trip. They are both amazing for wrapping up and staying warm and comfortable in a car, on a plane or in your hotel room.  I love that they can both be worn as athleisure wear too!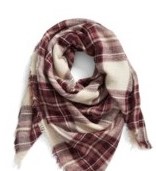 Blanket scarves serve multiple functions when traveling.  I have used a blanket scarf folded up as a pillow on the airplane, throw it over yourself, kids or hubby as a blanket, or cover as much of your face like me when I waited in a taxi line at JFK in 20 degree temps after coming from the 80 degree Houston weather.  I was never so thankful to have that scarf in my entire life!!!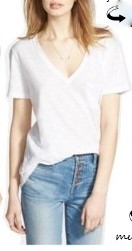 This basic t shirt has served me well.  I have three and wear them basically three times a week!  These T's are just perfect.  From their V-neck, length and durability, you can't go wrong.

Ya'll I do not even leave the house without a rechargeable phone case any more.  Between social media apps, Snapchat and my kids watching YouTube, my phone was constantly dead.  What I love about the case vs. an external charger is the fact that you don't have to hold some weird rectangular thing hanging off your phone if you want to talk or work.
Next, my must read books.  Kristen Welch's book Raising Grateful Kids in an Entitled World was a game changer for our house.  On the flip side, one of my favorite fiction authors is Kristen Hannah.  You have to read Nightengale!!!  I can seriously read her books in two days.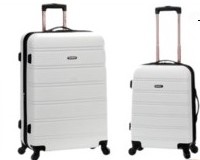 These Rockland Suitcases are on my Christmas list.  It is time for us to upgrade after using the same suitcases for over 10 years. These days, there are suitcases out there that provides the concept of travel tech. Charging ports can be integrated so you don't have to worry about forgetting this device at home. This suitcase combo mentioned above offers a great carry on size (20″) so you don't have to check your bag as well as a medium size (28″) just in case you need a little extra room for all of your goodies.  I love that the white color is easy to spot in a sea of dark luggage.  The hard sides, swivel wheels and retractable handle make these suitcases easy to maneuver through the airport.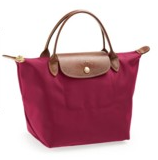 This Longchamp tote is durable and just plain awesome as a carry on for the plane or car.  I like to keep all of my stuff contained and this tote does just that.  It zips closed incase of a tip over is washable…hello kids and comes in a variety of fun colors. Did I mention this tote has almost 1000 Five star reviews?!?!

These wireless Bluetooth headphones are my jam.  I use them to watch movies and then to workout.  With no wires to get in your way and their compact size, these are the perfect pair of traveling earphones.  Mine are pink and grey but they come in other colors as well.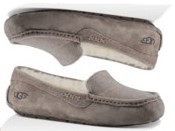 Ugg slippers are my favorite.  These are like walking on a cloud of unicorn hair.  Serious foot magic happening with these slippers!

La Mer is definitely a splurge item.  But hey, it's the holidays!  Right now they have this amazing limited edition La Mer gift bag filled with 5  amazing products.  If you are parched after a plane ride or from dry air, La Mer products will make you feel like J. Lo singing in Vegas…TRUST ME!
I hope everyone has an amazing holiday season.  If you are on the road or taking a plane flight, I wish you safe and comfortable travels!
XOXO
Sara