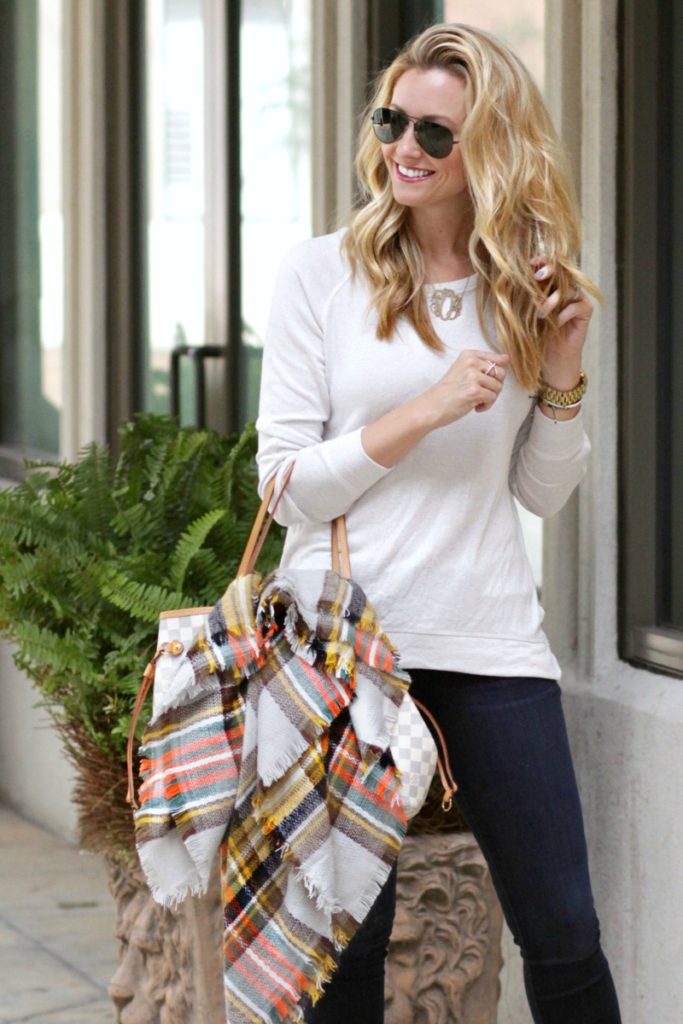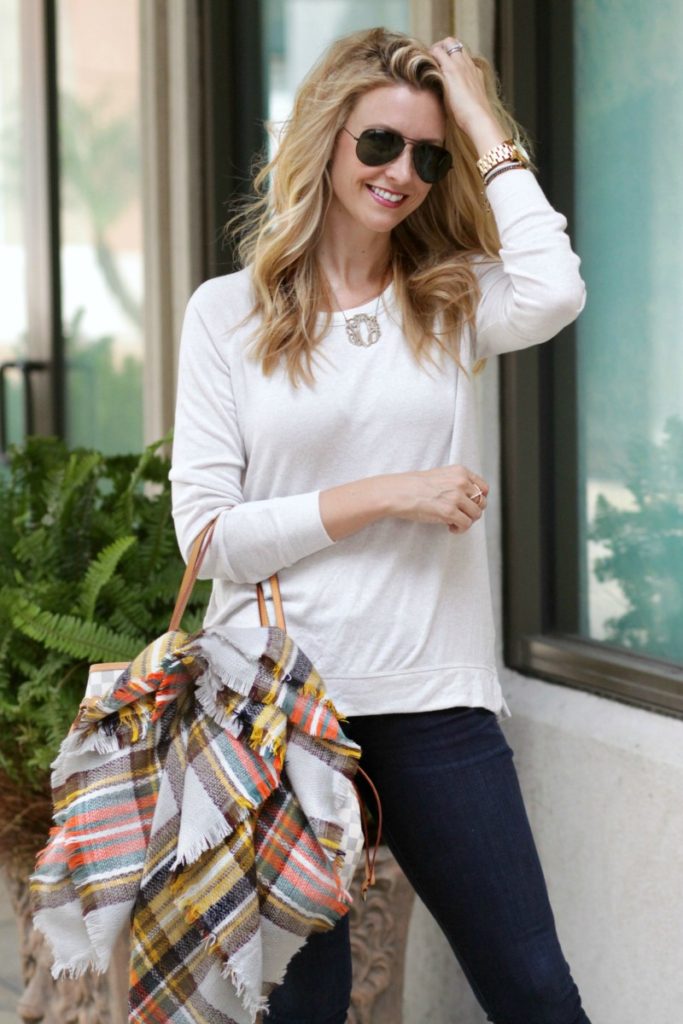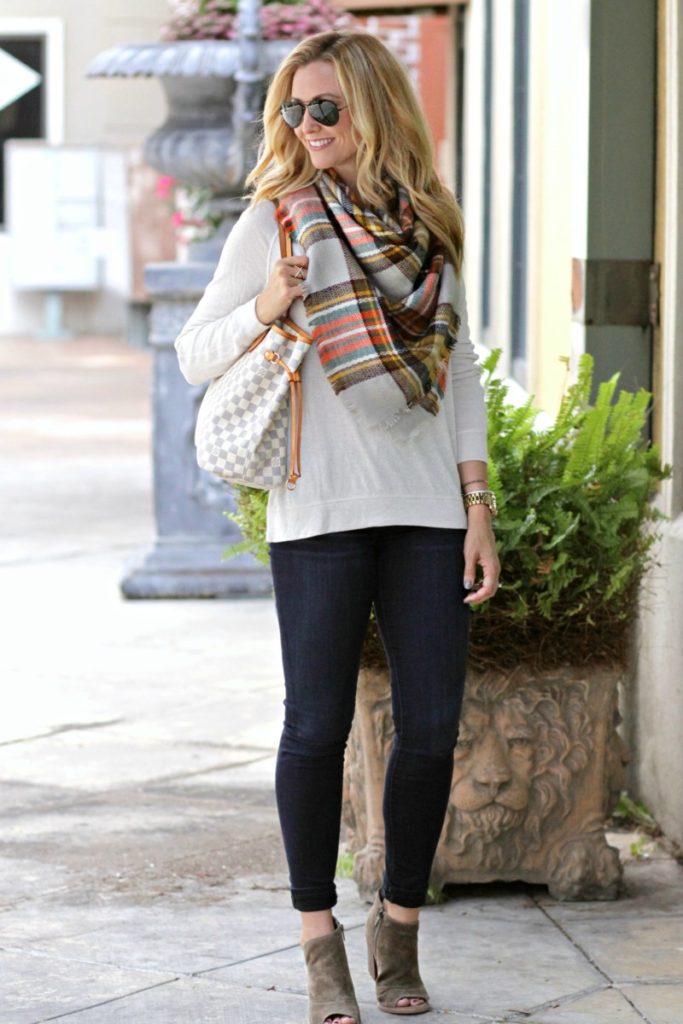 Happy November!
The weather apparently hasn't received the fall memo.  BUT here in Houston it is supposed to be 73 next week, so you know what that means! LIGHTWEIGHT SWEATER WEATHER!  This lightweight sweater has got to be the most comfortable and versatile piece.  The material is a thin cashmere so it is breathable and airy.  I can't wait to pair this with a skirt and tights or add tall boots.  Can you believe it also comes in 14 colors.  These are an amazing price for cashmere and make wonderful presents for Christmas. This sweater runs true to size.  I know I will be adding the grey one to my Christmas list! Don't forget that Nordstrom always has free shipping and free returns.  Often times I order tops, pants or shoes in two sizes and return the ones that don't fit.
Sweater  |  Scarf  |  Monogram Necklace    |    Jeans
Booties  |  Ring  (free shipping free returns!)  |  Sun Glasses (my favorite color for winter!)  |  Watch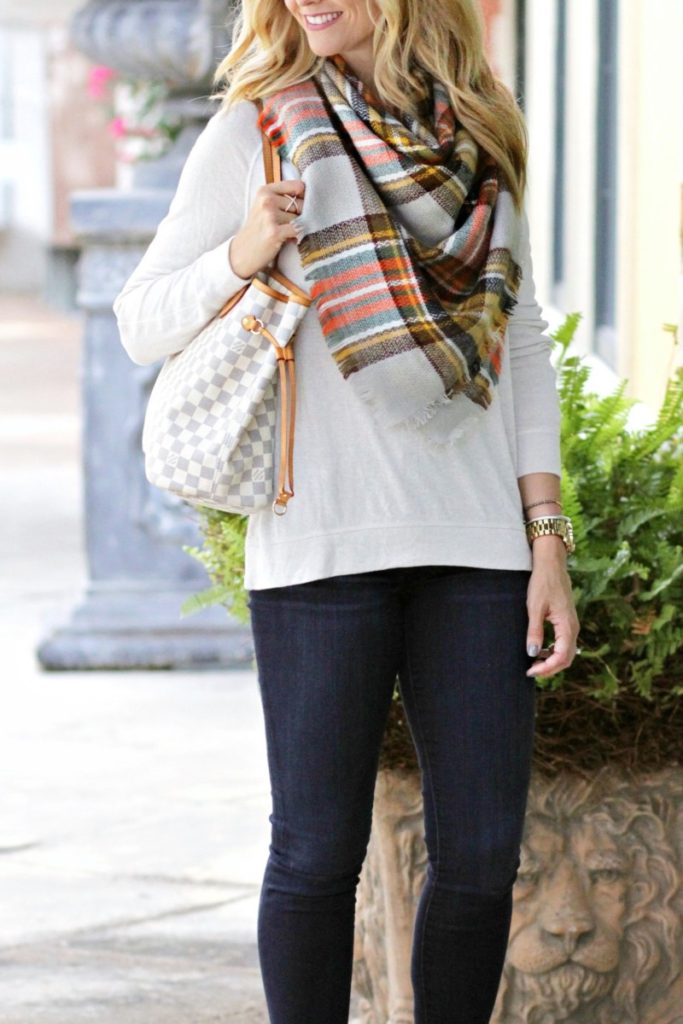 Let's talk more about accessories! This scarf is an amazing steal.  If you buy two a discount is offered as well.  I'll let you in on a little secret…I buy 3-4 of these and keep them around for last minute Christmas gifts or as a gift add on.  You know those last minute parties you get invited to over the holidays?  You need a hostess gift!  How about when your friend or neighbor decides to give you an unexpected Christmas gift.  I hate feeling empty handed and of course love gifting back.  These scarves are a personable gift or really play up a basic top or sweater.  They come in 14 different plaid colors.  How cute would this be in a gift bag rather than tissue paper (This is my creative Martha Stewart idea for the day)!!!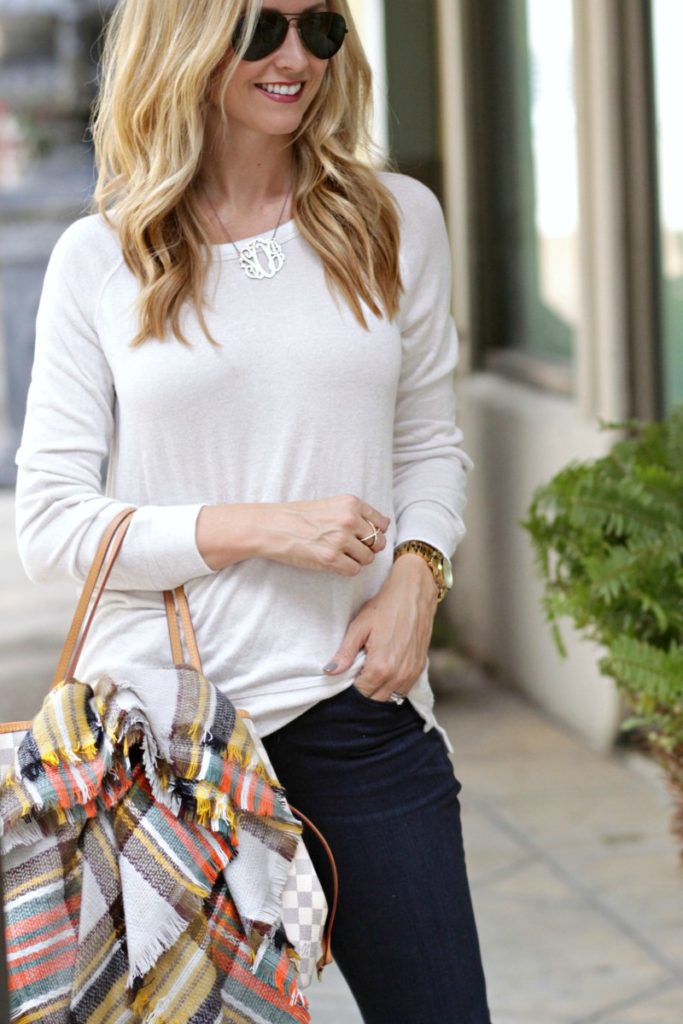 My first favorite accessory is my monogram necklace.  I wear mine almost everyday. It is by far one of my most treasured pieces of jewelry. My  husband gave this to me four years ago for my birthday.  This necklace never goes out of style or season.  You will love this one even more because it is less than $80 and made by a small shop owner.  My monogram necklace has lasted four years been through two kids, vacations, outfit changes and still looks incredible.  My EXACT necklace is linked HERE.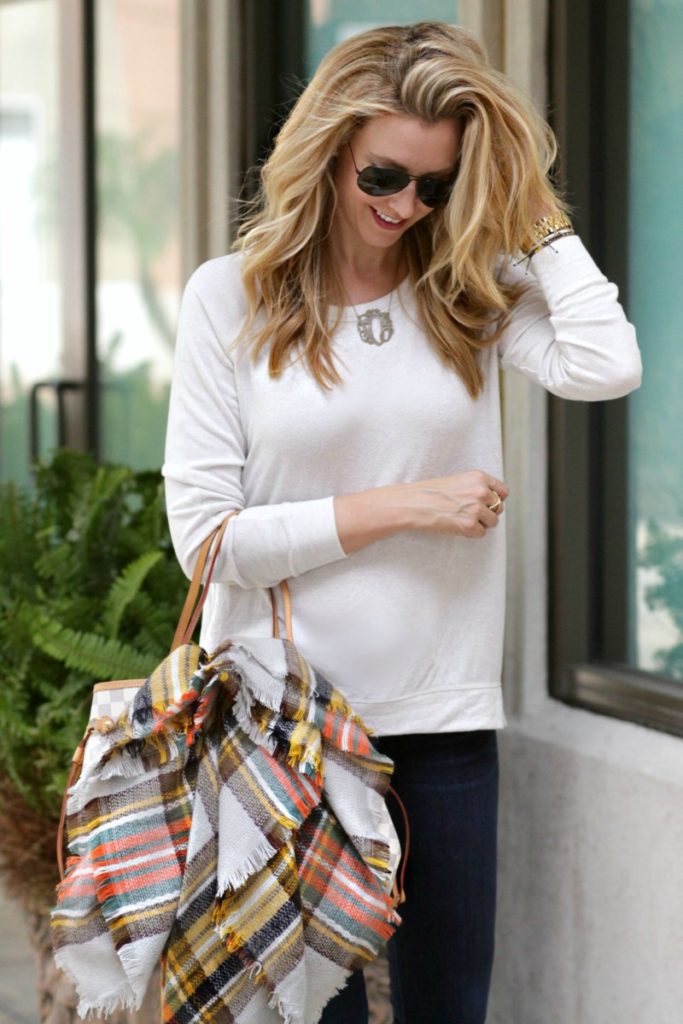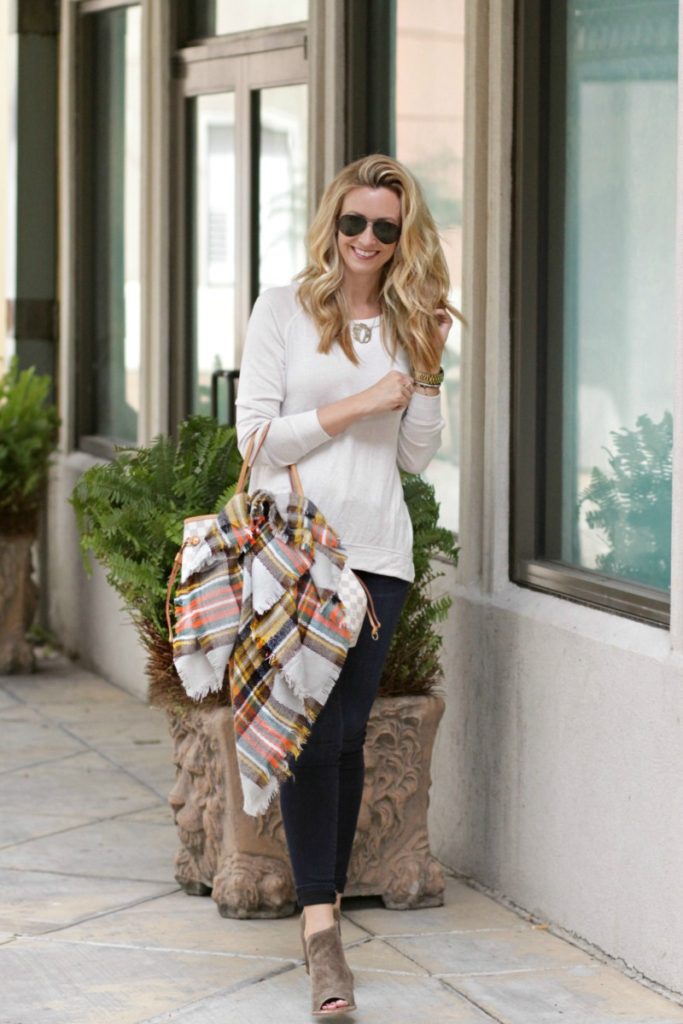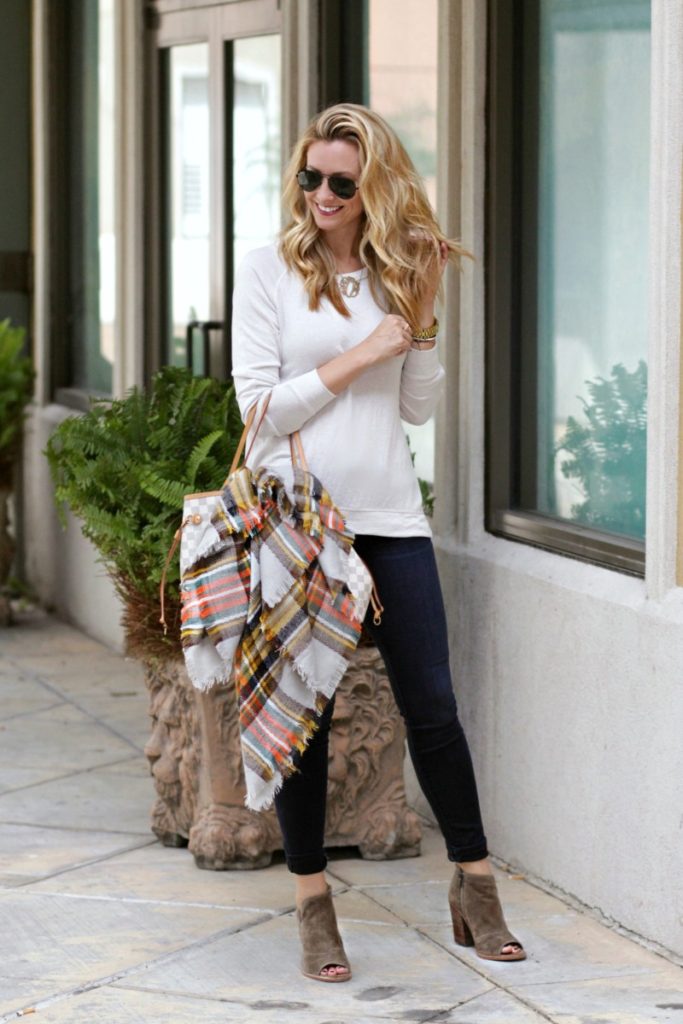 Outfit Details
Happy Hump Day!
Sara