Happy Winter! The winter temps have arrived here in Texas.  My husband wants to turn on the heat but I keep resisting so everyone is freezing in our house!  I am loving layered looks right now.  It can be in the 40's in the morning and heat up to 65 by two.  Jackets and scarves make the perfect layering pieces.  My friend was going to get rid of this gorgeous velvet blazer from Madewell, so I totally snagged it.  I'm all about a fabulous hand me down.  No shame in the hand me down game!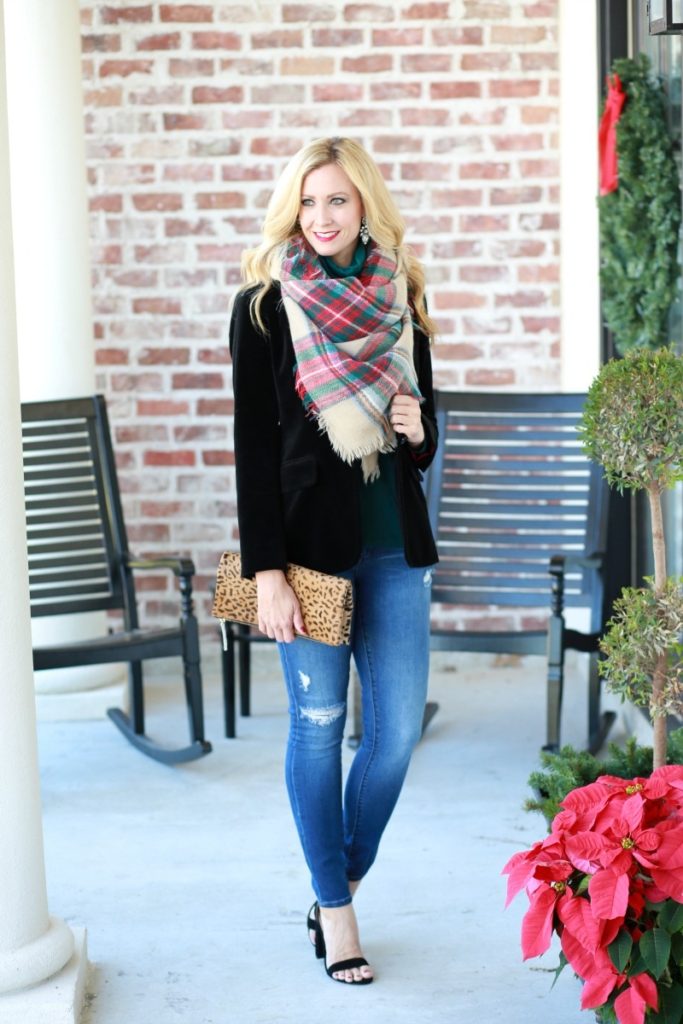 This velvet blazer is perfect for office holiday parties, a coffee date or a dinner date.  I paired mine with a J. Crew tissue turtleneck in forest green because #Christmas!  I honestly have about five of these turtlenecks because they are thin and perfect for layering.  I wear them alone with blanket scarves, under sweaters, with a puffer vest or even with pajama pants at night if I'm still freezing everyone out of the house.  I know everyone has this plaid blanket scarf but for good reason.  It is the cutest and most perfect holiday accessory.  My kids like to use it as a blanket when watching tv.  It is also super cute if you cut it in half and use the other half for your little girl so you can match!
Be sure to follow my Facebook page Haute and Humid for amazing pre Christmas and post Christmas sales that pop up.  I mean how can you not buy these awesome finds? And by you, I mean me!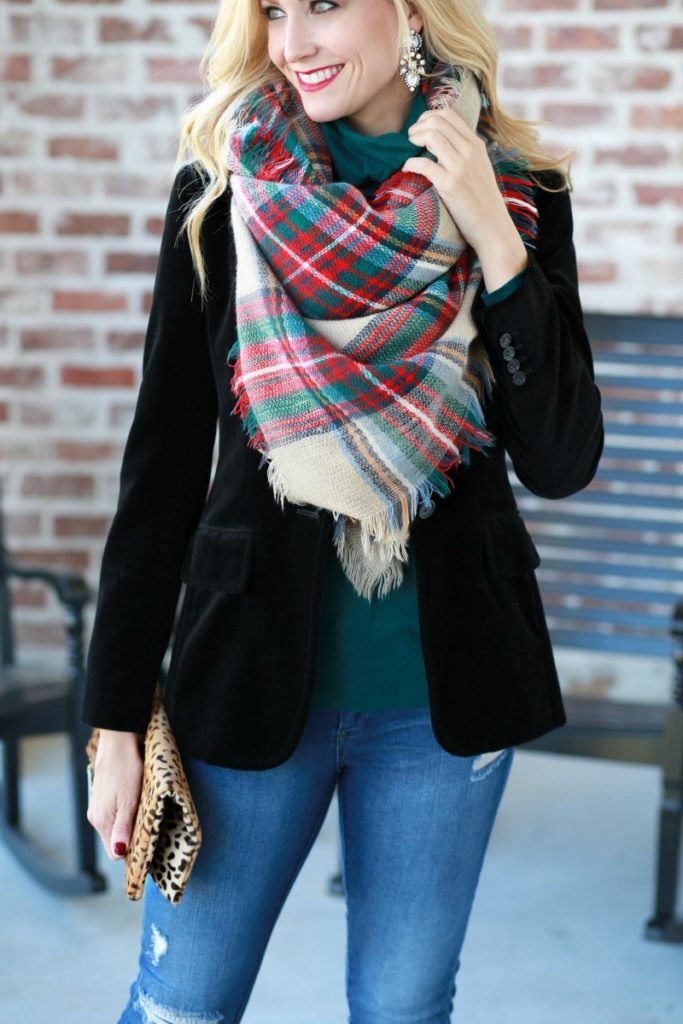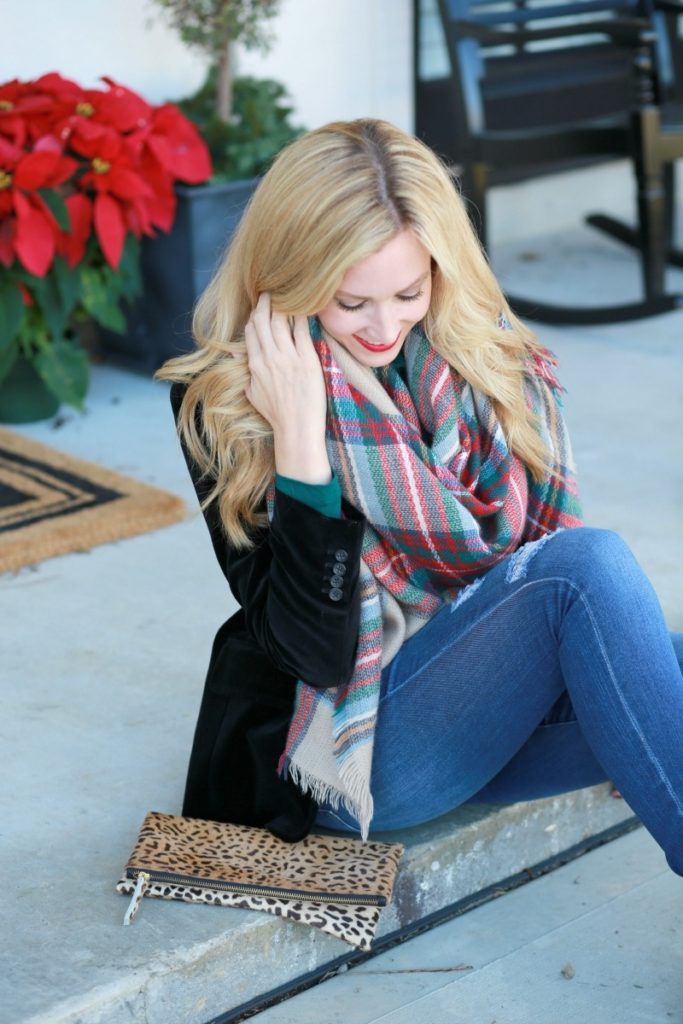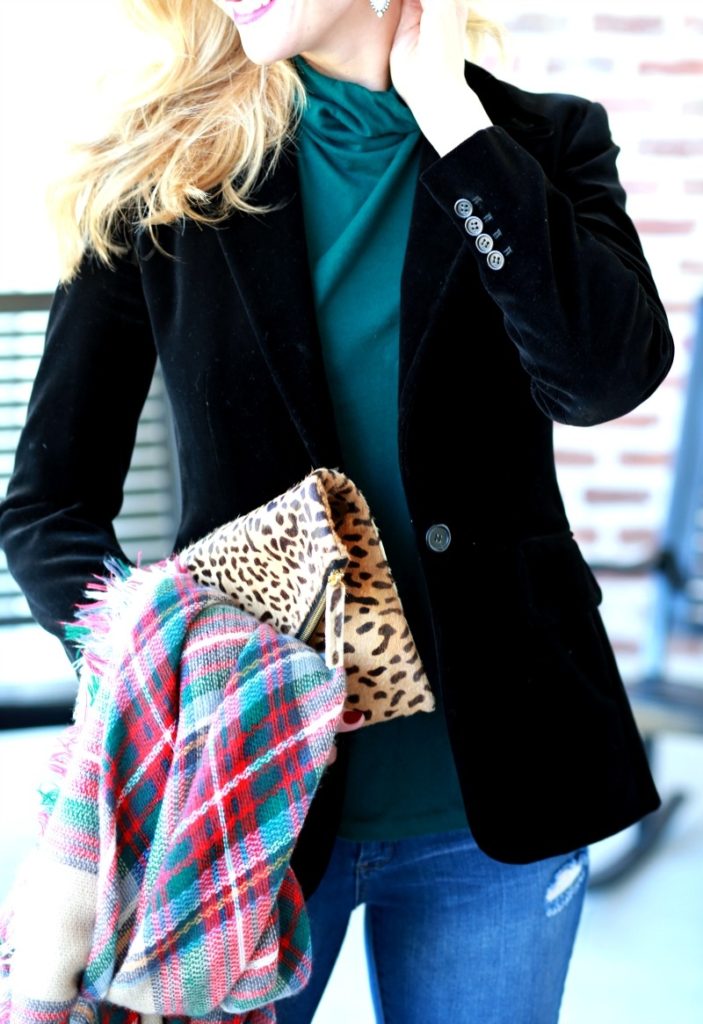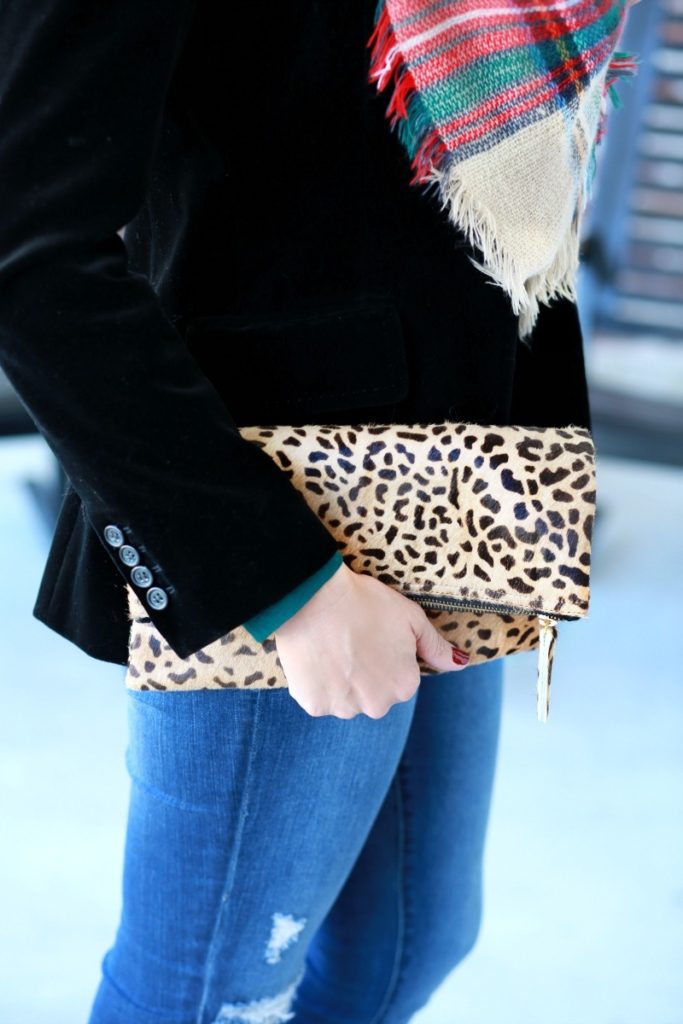 If you have had your eye on the $275 Clare V leopard clutch and can't bear to spend that kind of cash, I have found the perfect dupe for you!  I found this leopard clutch that is almost identical and I love it! It is also about 1/3 of the price!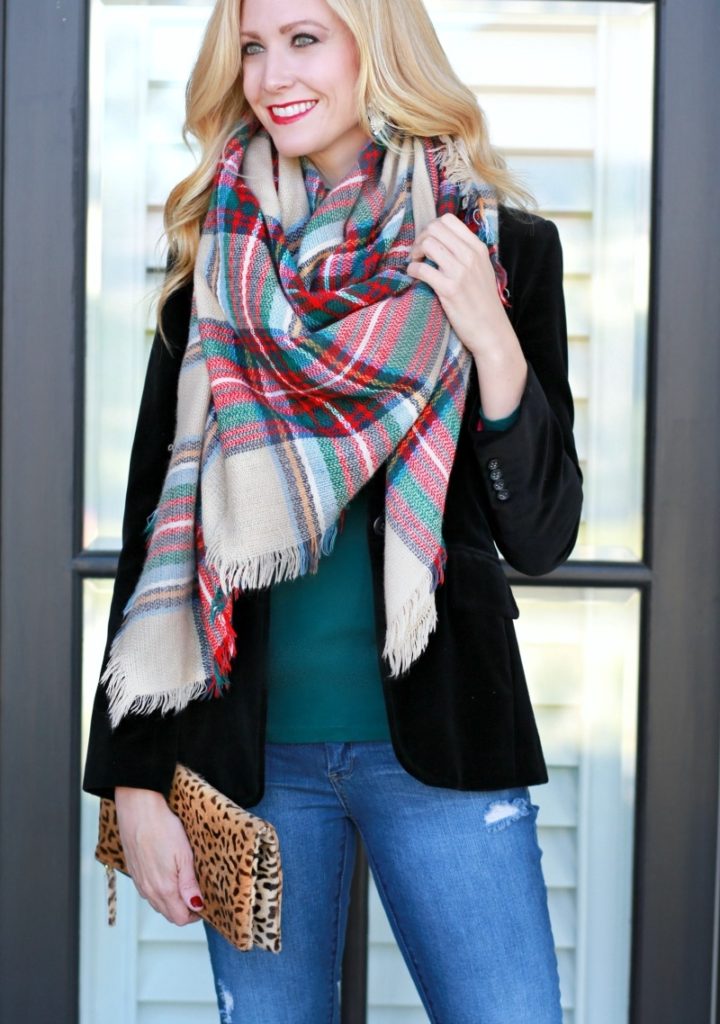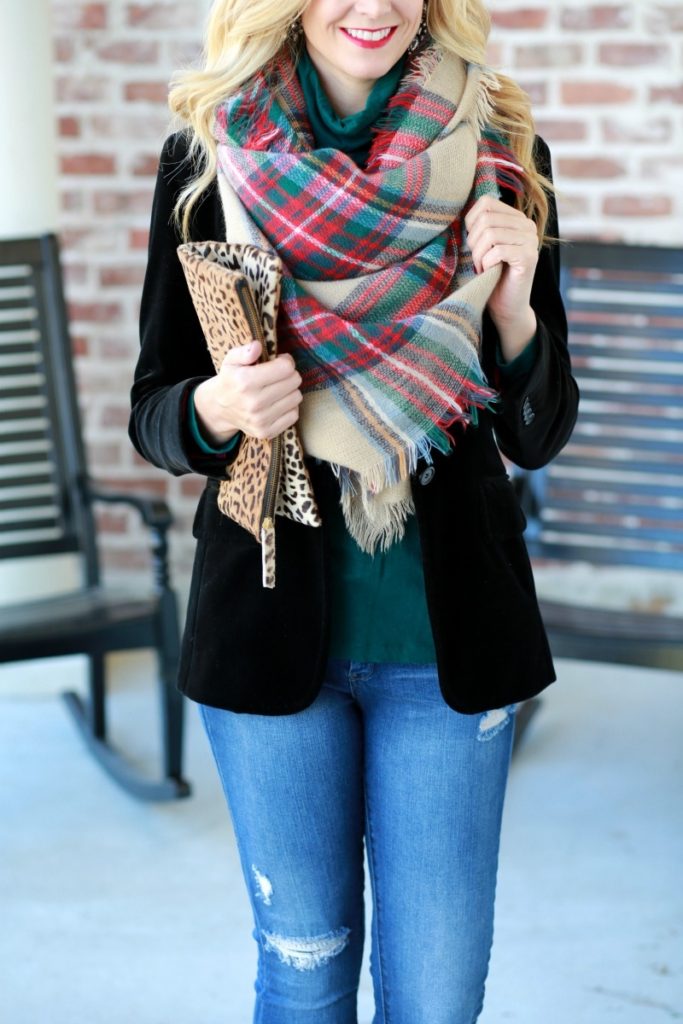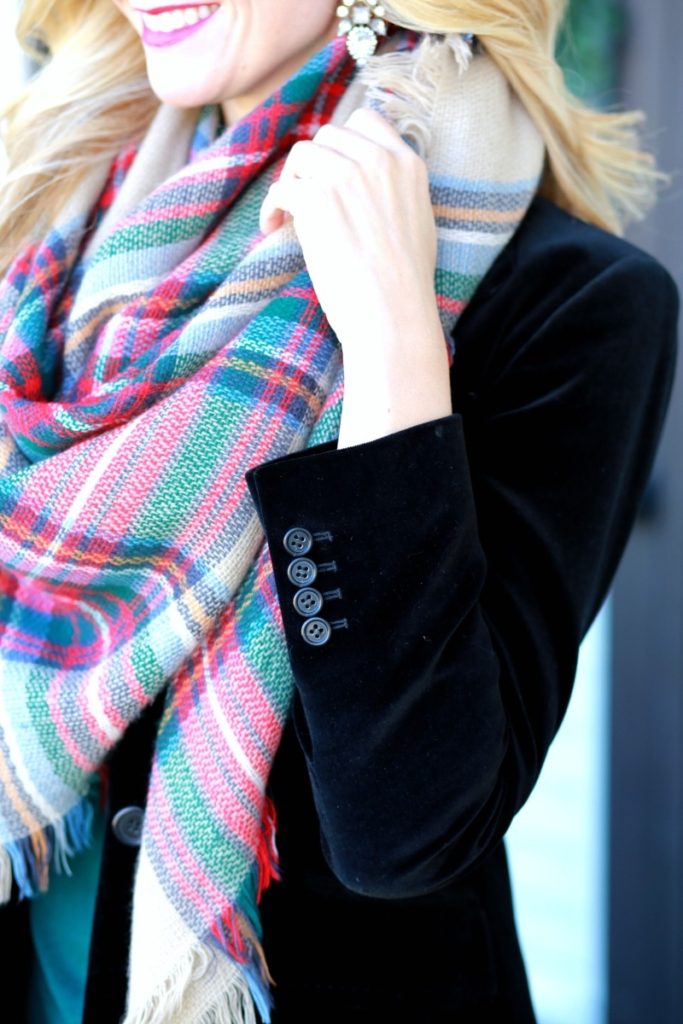 Velvet Blazer- I'm weraing a 4 / J. Crew also has a gorgeous version of this Here
Turtleneck– I'm wearing a medium.  Everything 30% off or 40% off when you spend $200.
Scarf– Facebook Giveaway for one next week here! Get 40% off with code HAUTEANDHUMID40 until Dec. 10th.
Clutch – Mine is a dupe for the Clare V. It is the 11.5×11.5.  The Clare V Leopard clutch can be found Here.
Shoes– Classic Staple Piece. True to size. See them in this post too!
Jeans– Size down.
Incase you missed my epic Gangster Wrapper Instagram post, this suburban mom had to bust out her inner gangster to get some presents wrapped! This shirt is perfect with jeans or pajama pants.