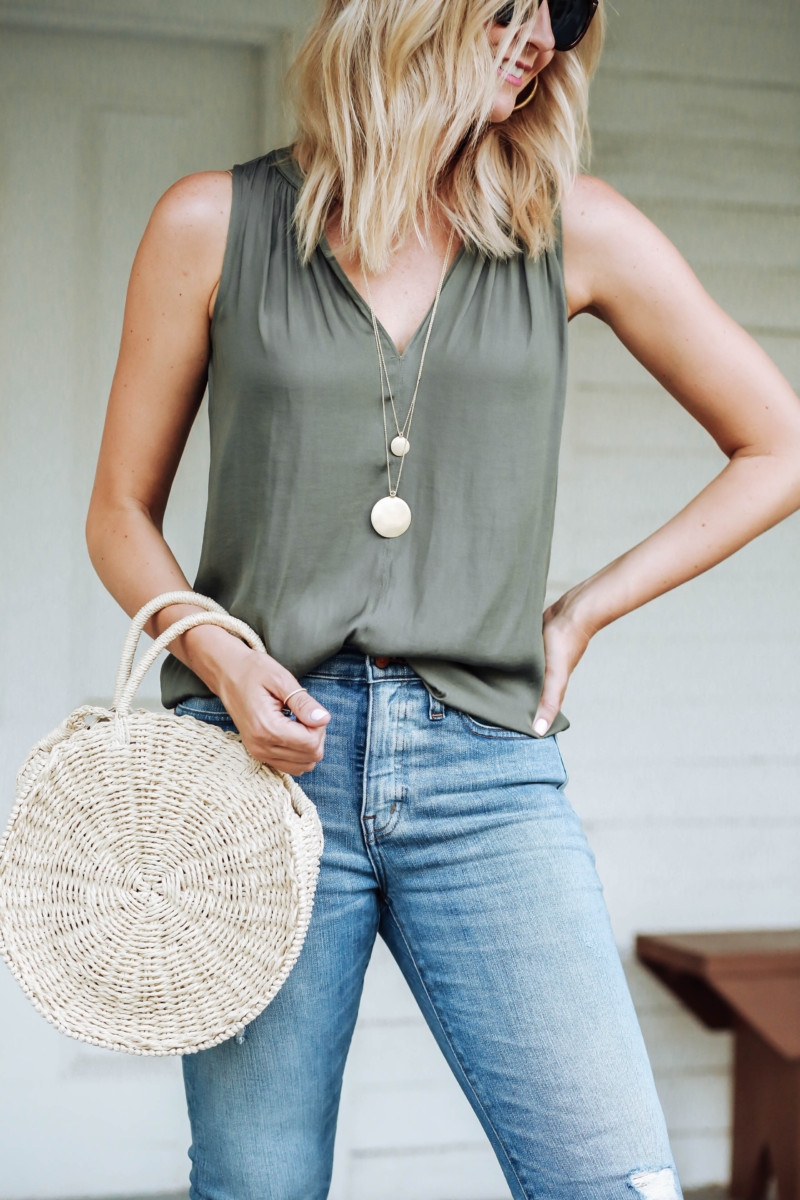 SUMMER WARDROBE INTO FALL OUTFIT DETAILS
OLIVE TOP  |  DISTRESSED HIGH WAISTED JEANS  |  GOLD LAYERING NECKLACE  |  GOLD HOOPS  |  STRAW BAG  |  SUNGLASSES
Transitioning your summer wardrobe into fall can be hard when the temps are still in the 90's.  I like to start the fall wardrobe transition by moving away from bright summer colors and looking for more muted fall colors.  One of my favorite colors of the season is olive.  It pairs well with so many other colors because it acts like a neutral.  I also have this mega comfy olive romper that is perfect for every day or dressed up with a wedge and jewelry.
This seasons hot fall colors are : olive, burgundy, poppy, yellow, lilac, orange and shades of blue and khaki.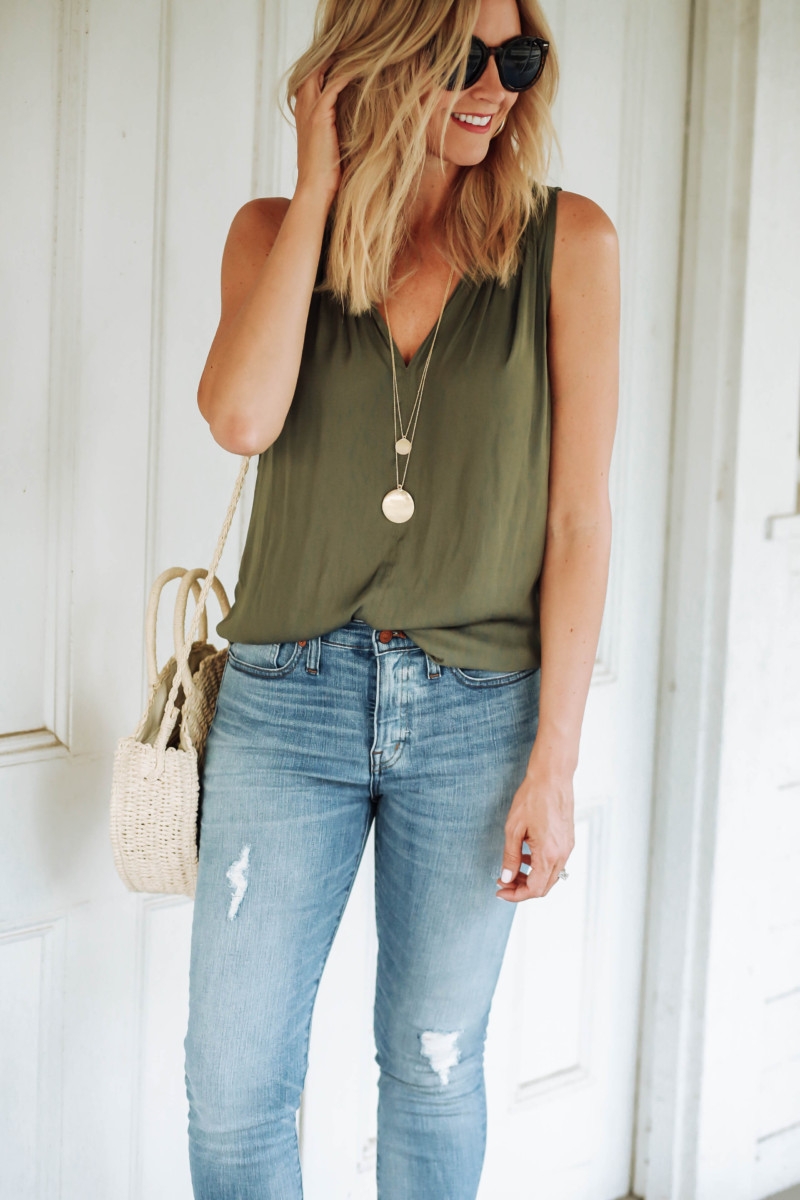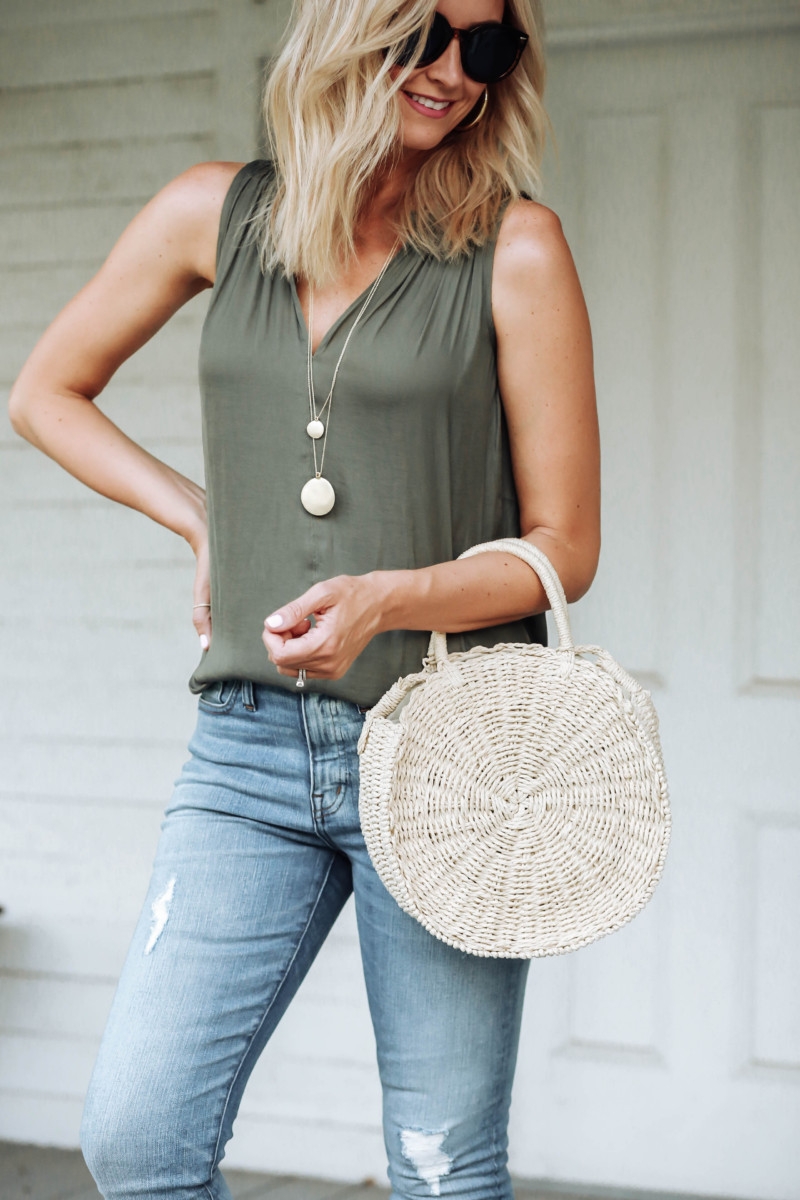 The second way I like transitioning my summer wardrobe into fall is by carrying my straw bags.  This keeps the look light and fun through September.  When fall actually rolls around, trade the straw bag in for a nice leather bag.  I personally gravitate towards cognac or black bags because they are classic neutrals.  Bucket bags are really big right now and I have my eye on this bucket bag.
A big  accessory trend this season is long layered necklaces.  I found this double layered gold disc necklace and it was on sale.  It was such a great piece and will work with so many outfits all season long.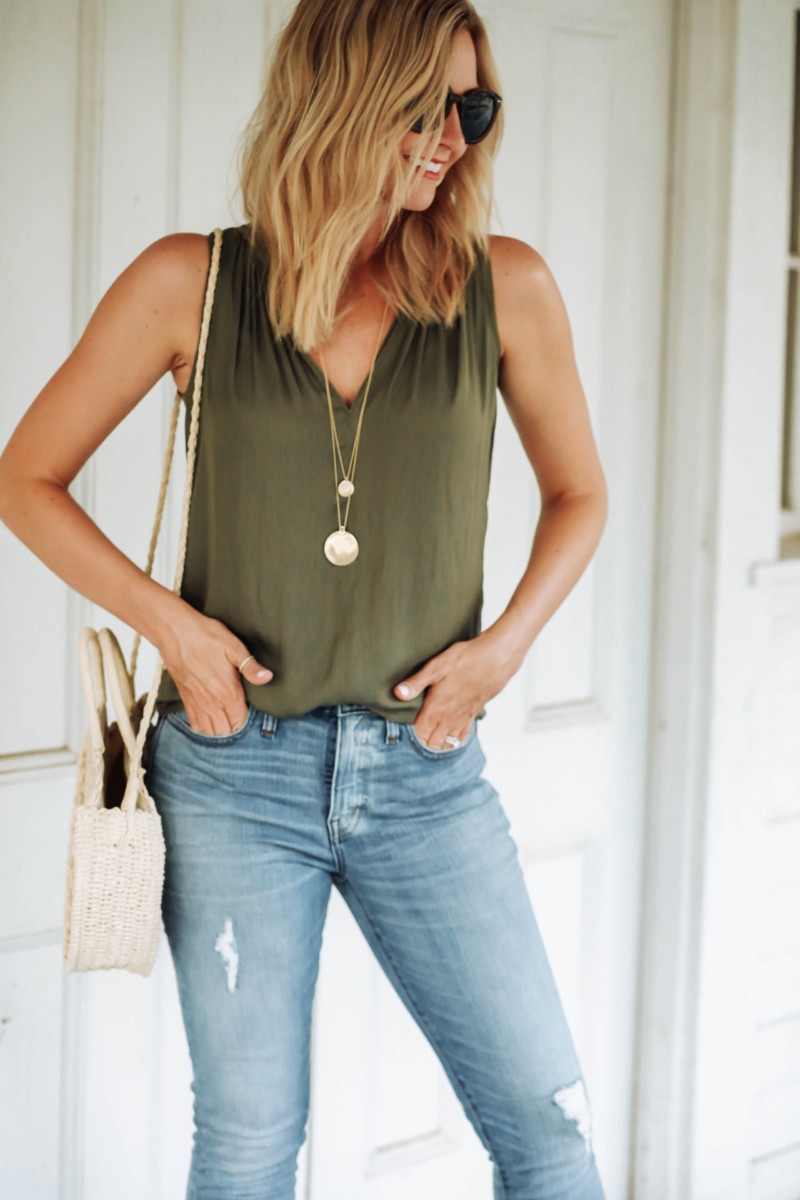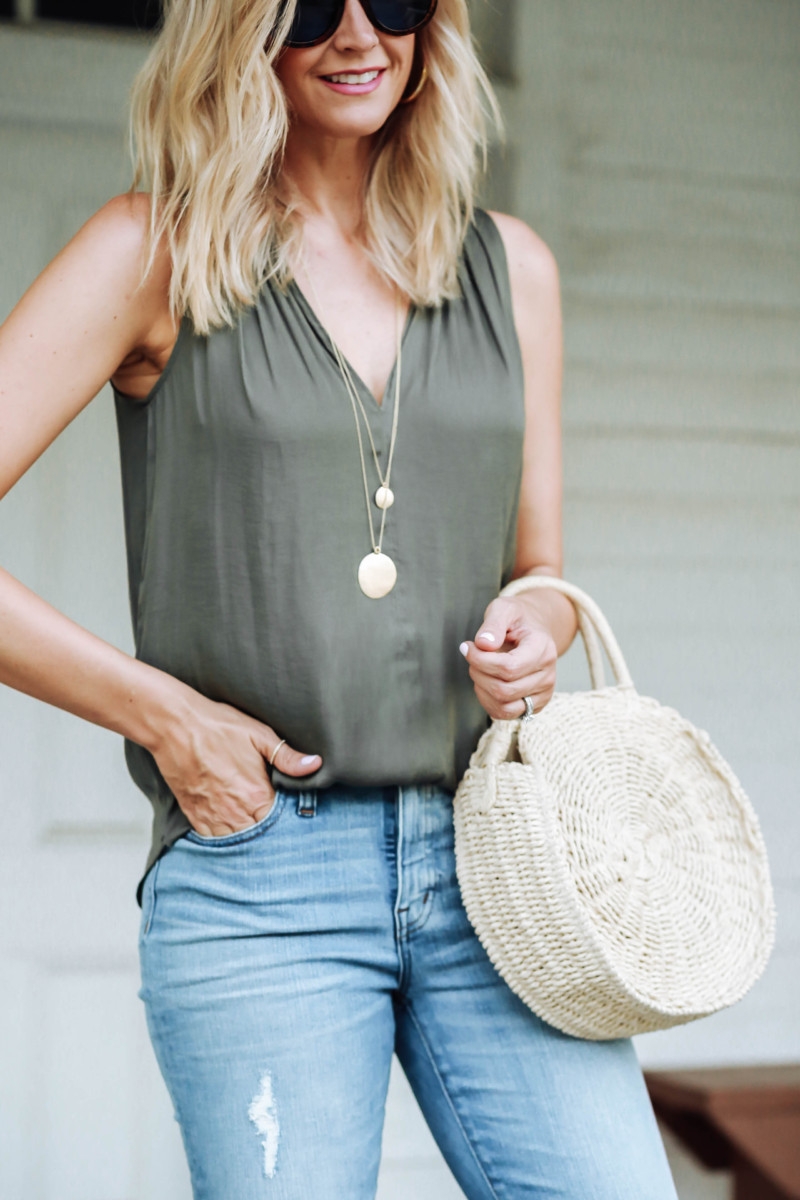 SLIGHT REMIX & ERASING THE BCG (Butt Crack Gap)
If distressed denim isn't your thing then I HIGHLY recommend these high waisted button front jeans.  They fit like a glove and I want them in every wash.  Me and jeans have a love hate relationship.  I have a small waist and bigger booty and thighs so I often have a gap at the waist.  These jeans came up a little higher on the waistline therefor erasing the dreaded butt crack gap or BCG.
If you are also like me, a few too many summer nights of pizza and Mexican food out with friends have gained me two new friends.  Love Handles.  The side bulge creeps up on you but these jeans do an amazing job of slimming the sides and keeping everything smooth.
These were the first jeans to sell out during the Nordstrom Anniversary Sale and I have a feeling they will be a huge hit through fall and winter.
SUMMER WARDROBE INTO FALL OUTFIT DETAILS
DISC NECKLACE   |  OLIVE TOP  |  BUTTON FRONT JEANS  |  SUNGLASSES  |  BOOTIES  |  STRAW BAG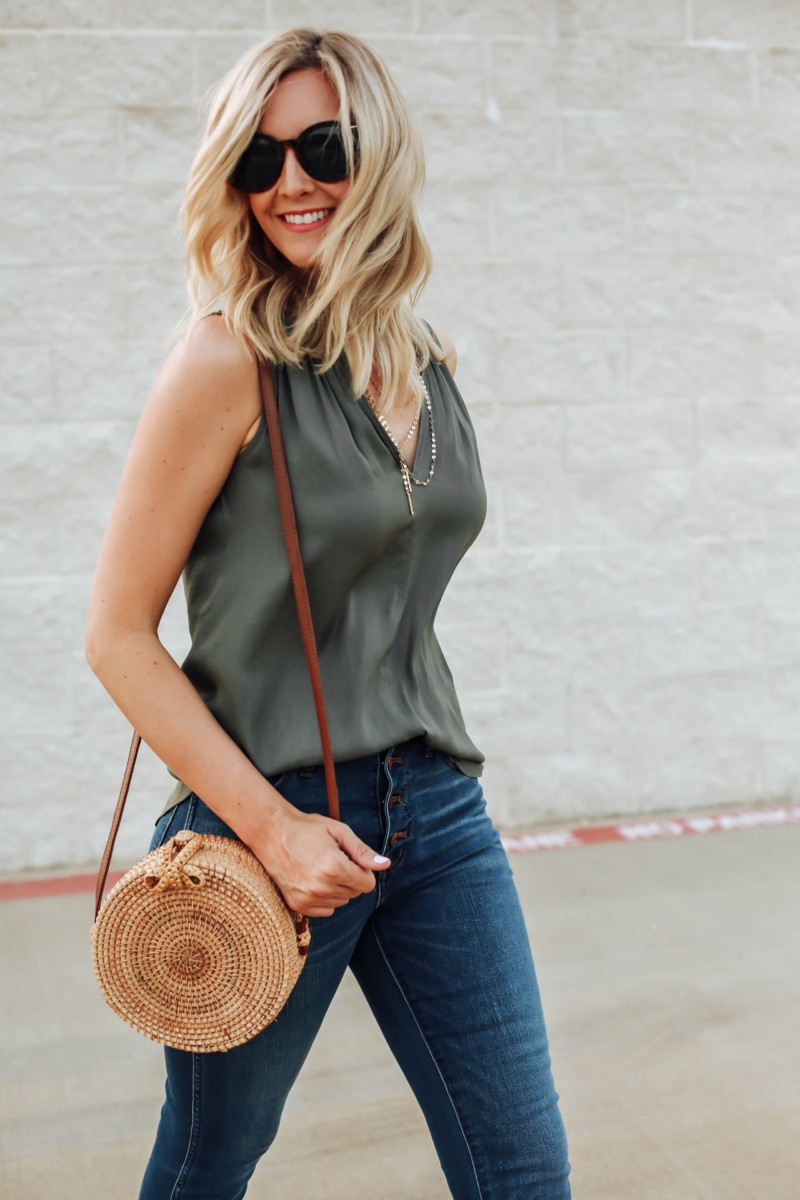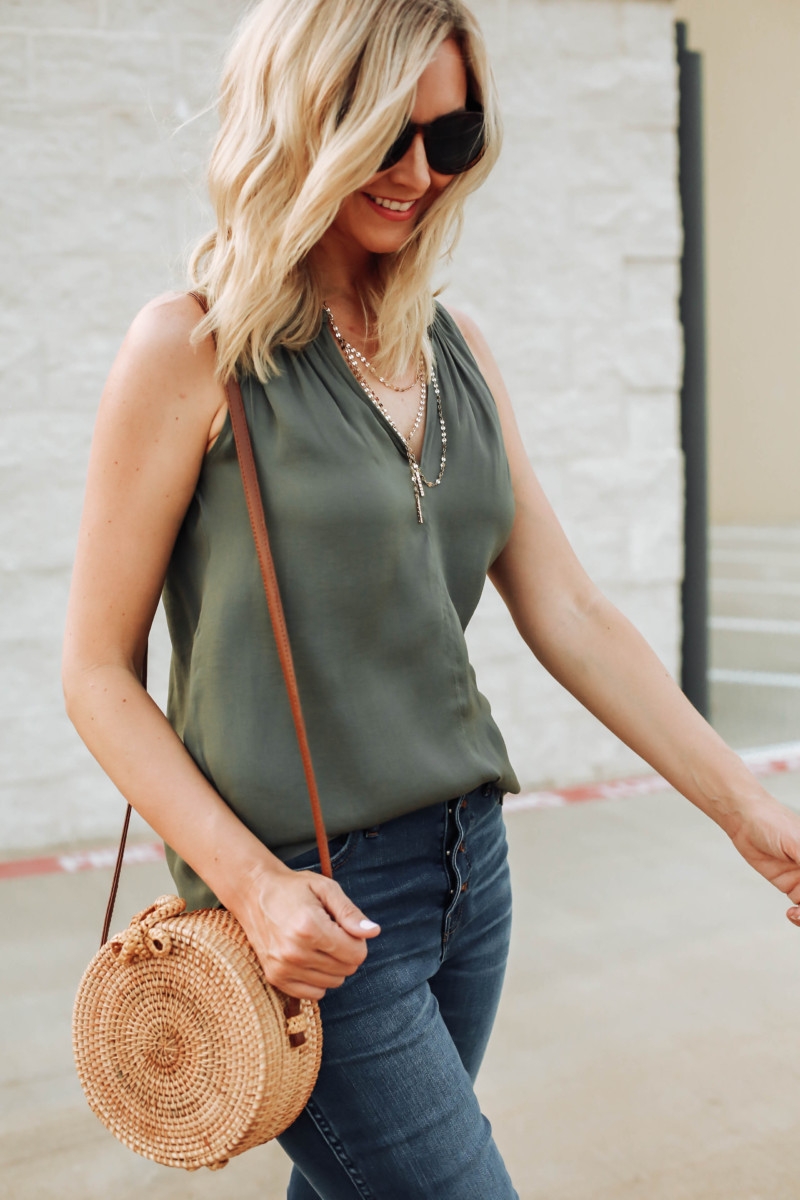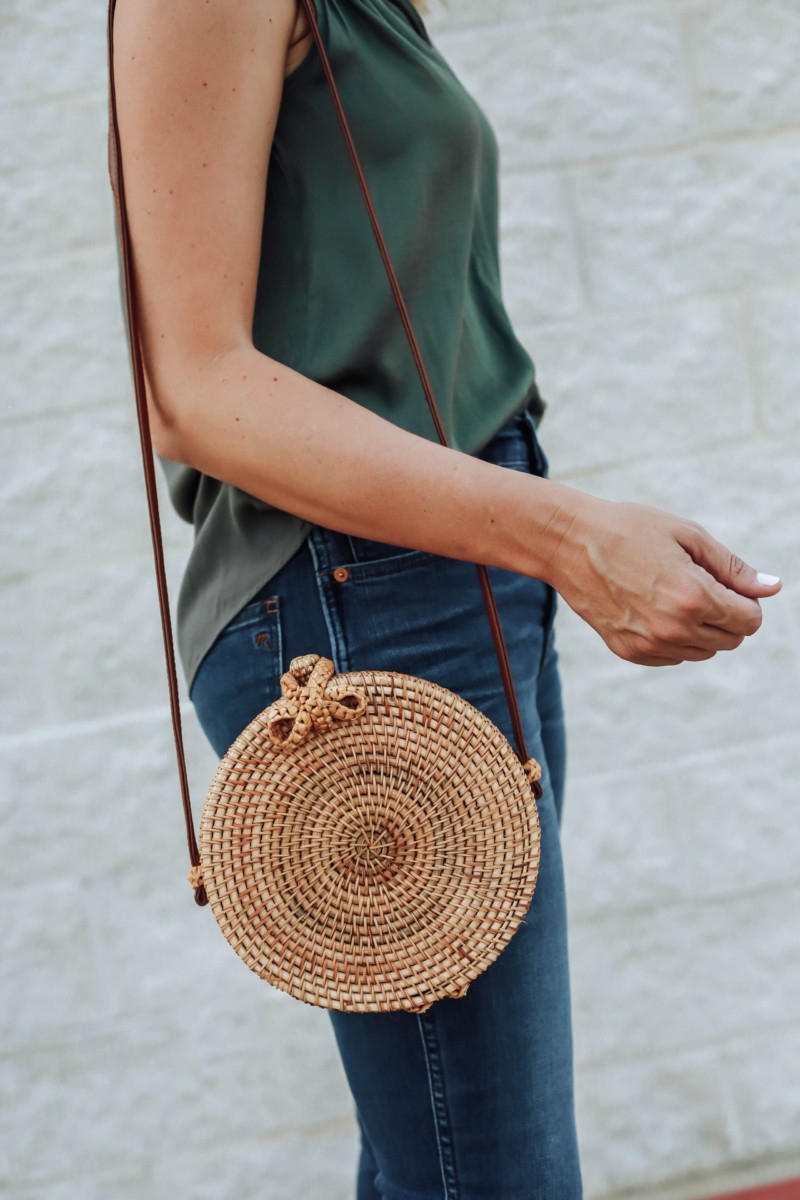 I'll catch you later this week with some more fun posts!
XO- Sara