I have been making a list and checking it twice when it comes to my November Amazon favorites list.  SO. Many. Goodies!!!  Some of these will make really good Christmas gifts, so be sure to bookmark this page or save this link in the notes section of your phone for easy reference.
Most of my November Amazon favorites revolve more around things or gadgets rather than clothing.  However, I scored this black and white striped dress that I 110% recommend.  It is very high quality, ultra soft and perfect to mix and match with scarves, jackets, hats, etc for the holidays.  You could even make this sporty with a pair of these sneakers and this baseball hat.  I also have on this gorgeous $17 gold coin necklace but the scarf covered it up! Check it out on my list below or IG stories.
Amazon Striped Dress– Wearing small  |  Amazon Dupe Bag
Not Amazon-  Leather Jacket, size medium  |  Leopard Scarf  |  Brown Booties (my favorites ever, tts)  |  Sunglasses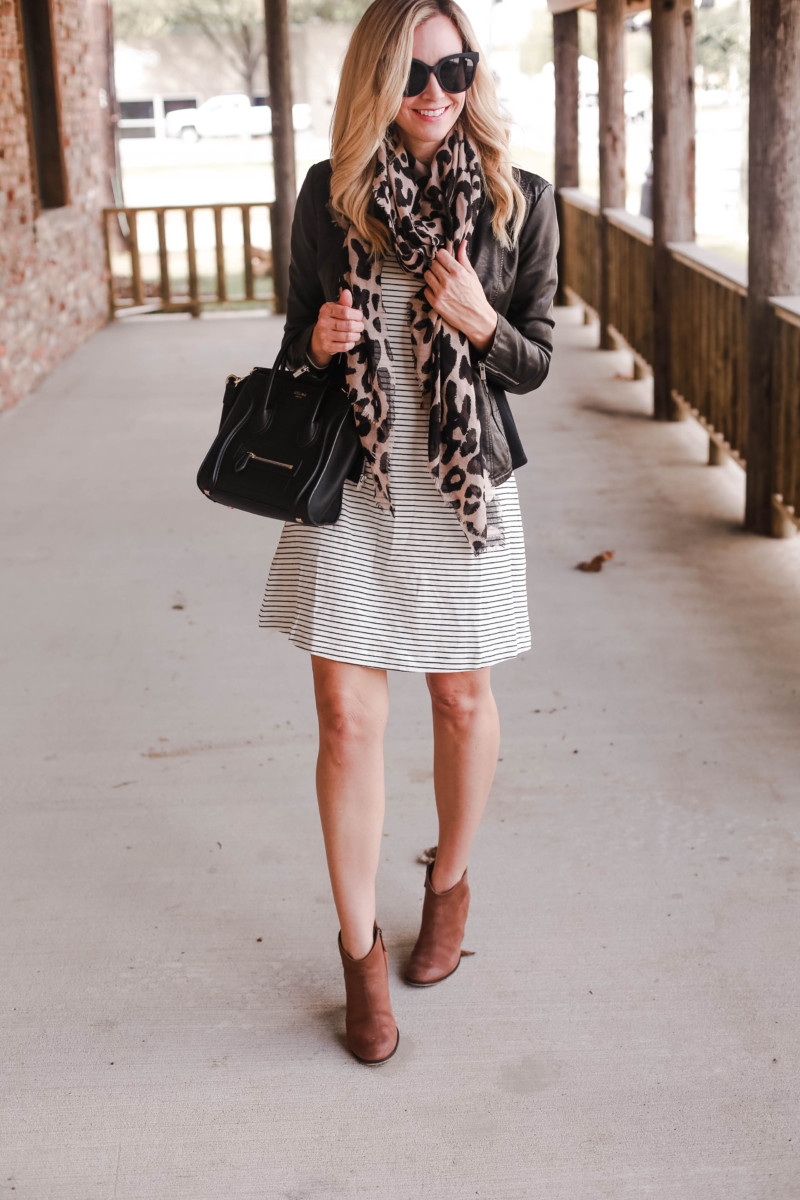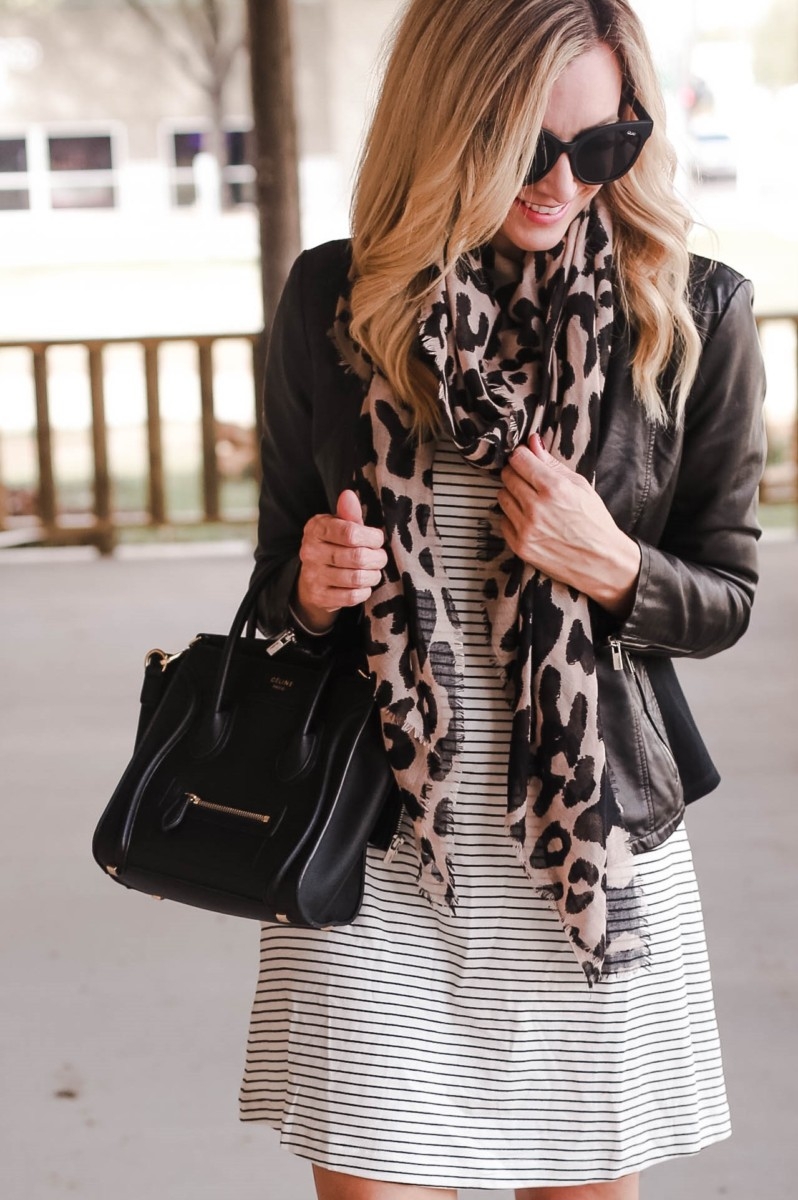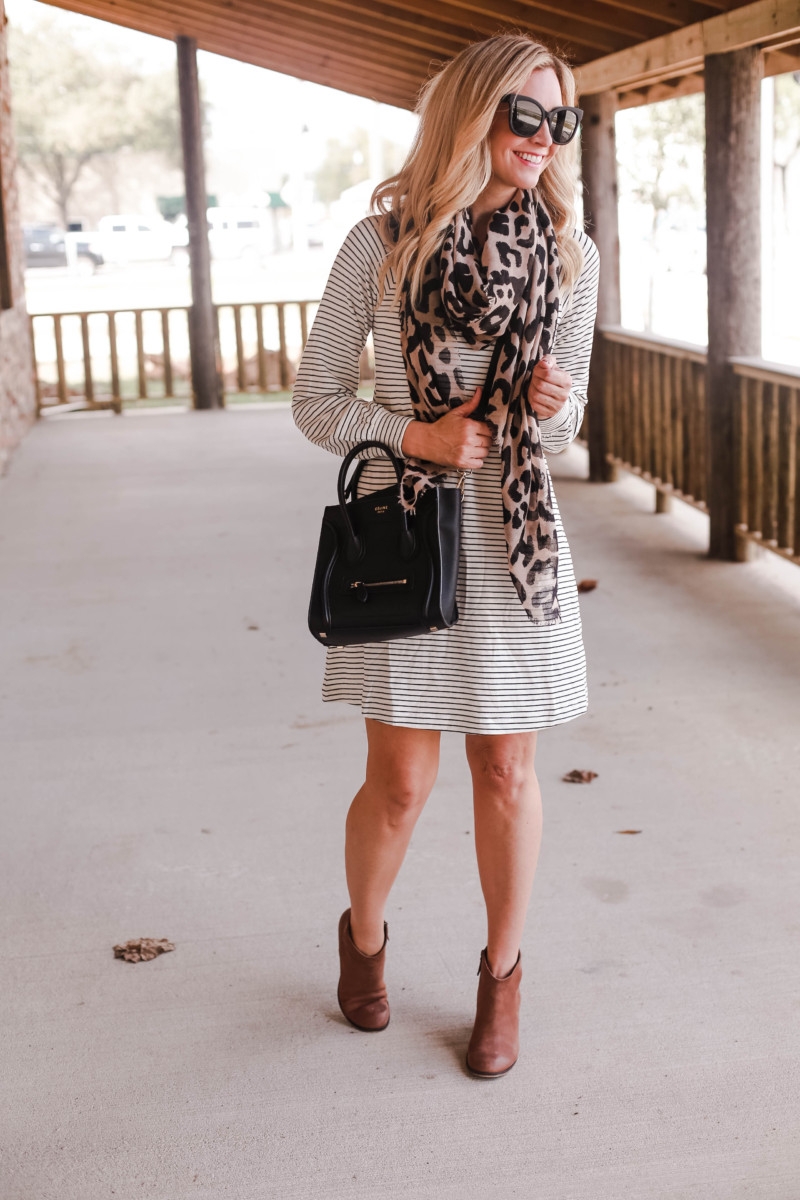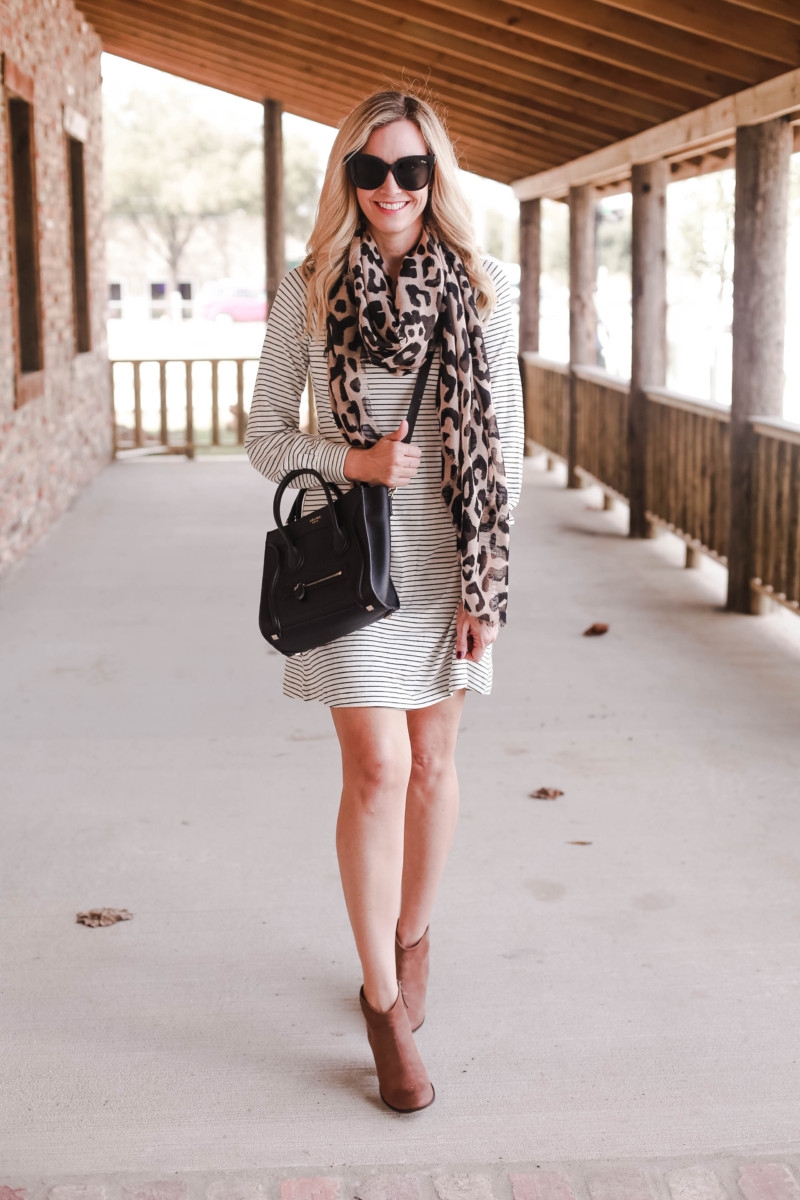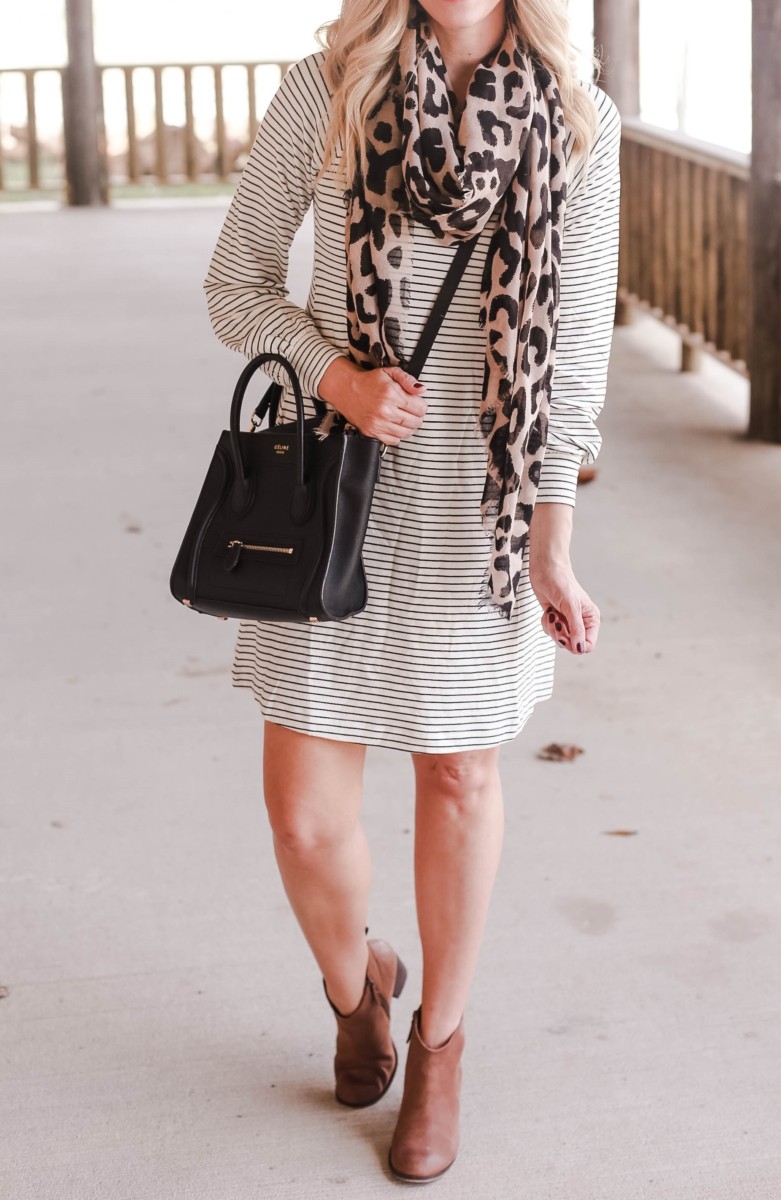 When you reach a certain age not many things are life changing.  This tote insert is LIFE CHANGING.  My totes were always a hot mess.  You know how it is, you throw everything in and your bag basically becomes a glorified landfill.  I have the Louis Vuitton Neverfull MM and the large felt organizer fit like a charm.  The bottom of this is solid so you can pick it up and place it in any tote you have without having to transfer everything individually.  This organizer has a million pockets and a removable velcro divider for some customization.  Buy these for everyone on your Christmas list.  They will thank you!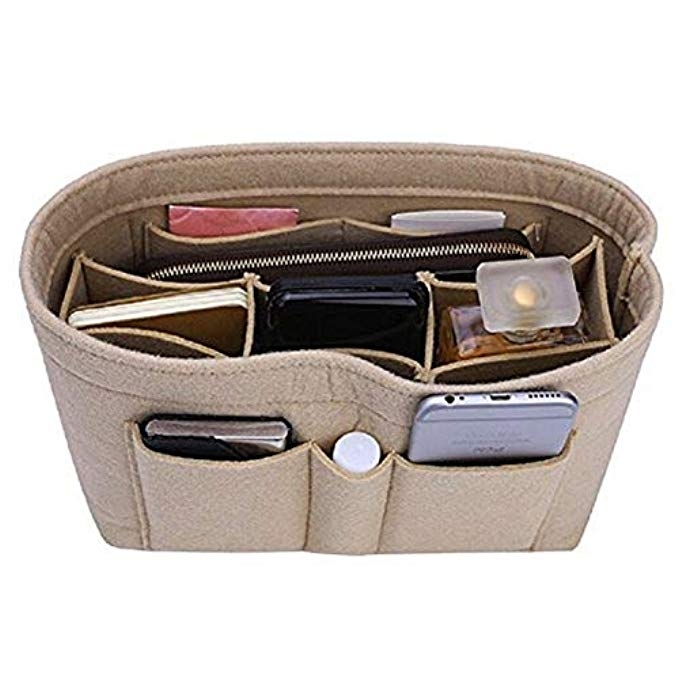 These are super on trend right now and fun to layer with other necklaces.  I searched the depths of the internet and most of these necklaces cost anywhere between $50-$200.  That's highway robbery!  With the lowest expectation, I ordered this one and it was AMAZING!  This gold coin necklace has a night weight to it, the gold hasn't tarnished and the length is perfect.  You can't beat this deal for $17.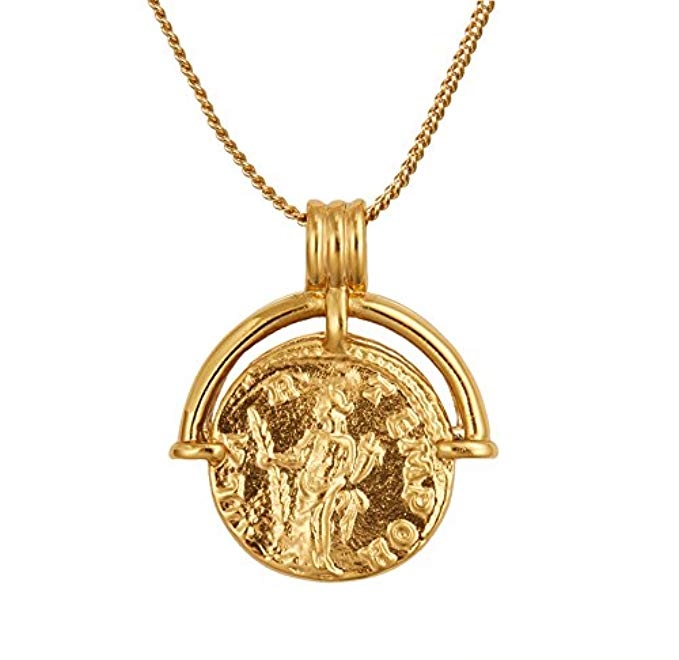 When the weather man says it's officially fall the amount of hacking and snot in our family automatically rises.  After being sleep deprived for 3 straight years this body needs to catch up on all the sleep possible.  Do you have hacking kids?  A hacking husband? Cue the humidifier.  I load it up with some distilled water and this drastically helps.  If you are into essential oils, add a few drops of peppermint or whatever concoction helps with pflem and you'll feel better in no time.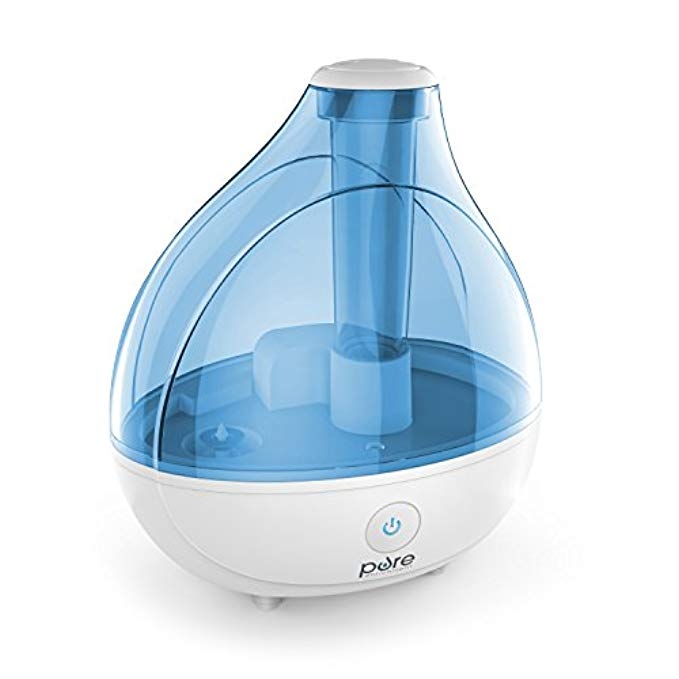 Admittedly I never watched a lot of tv.  This showed up at the doorstep via my husbands Amazon order and I might be more addicted than him now.  When I can turn the tv on by yelling to Alexa- Yes!  When I say Alexa turn to HGTV and she does it-Yes!  Can I install Alexa into my children so when I say put away your shoes, they do it? Not quite yet but Amazon needs to get on that ASAP.  Below are all the Bomb Diggity options the Amazon firestick with Alexa gives you.  If you want a husband/wife gift or a gift for your parents…put this at the top of your list!
Best-selling Fire TV Stick, with the 1st Gen Alexa Voice Remote.

Enjoy tens of thousands of channels, apps, and Alexa skills with access to over 500,000 movies and TV episodes. Enjoy favorites from Netflix, Prime Video, Hulu, HBO, SHOWTIME, NBC, and more.

Access millions of websites such as YouTube, Facebook, and Reddit with browsers like Silk and Firefox.

Launch and control content with the included 1st Gen Alexa Voice Remote. Simply say, "Play Game of Thrones" or "Launch Netflix" and Alexa will respond instantly. Plus, play music, find movie show times, order a pizza, and more—just ask

No cable or satellite? No problem. Watch the best of live TV and sports from AMC, HGTV, ESPN, FOX, and others with a subscription to DIRECTV NOW, Sling TV, or top-rated primetime shows with CBS All Access.

Amazon Prime membership unlocks thousands of movies and TV episodes, including "Thursday Night Football", Amazon Original Series, Prime Video Channels, and ad-free listening to millions of songs with Prime Music.

Pick up where you left off. Bring hit shows and movies with you when you travel. Plug Fire TV Stick into any TV's HDMI port, connect to Wi-Fi, and continue streaming.

Play current favorites or quickly discover what to watch next directly from the Home screen.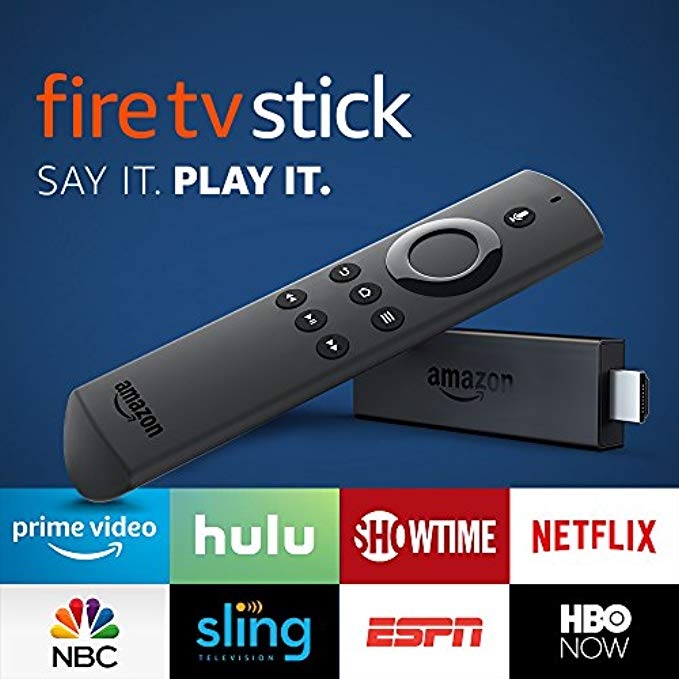 Sometimes I leave my clothes in the dryer for a day…or two…or three.  It is what it is.  I hate laundry and the dryer serves as my make shift dresser.  When I do need something not covered in wrinkles I bust out my steamer.  I previously had another steamer that I thought I loved but after a few months it started spewing water and didn't have a large holding container so I was always refilling it.  This steamer is 100% a travel necessity.  I took it to Nashville and South Dakota to steam all of my wrinkled up luggage clothing.  This steamer will not disappoint!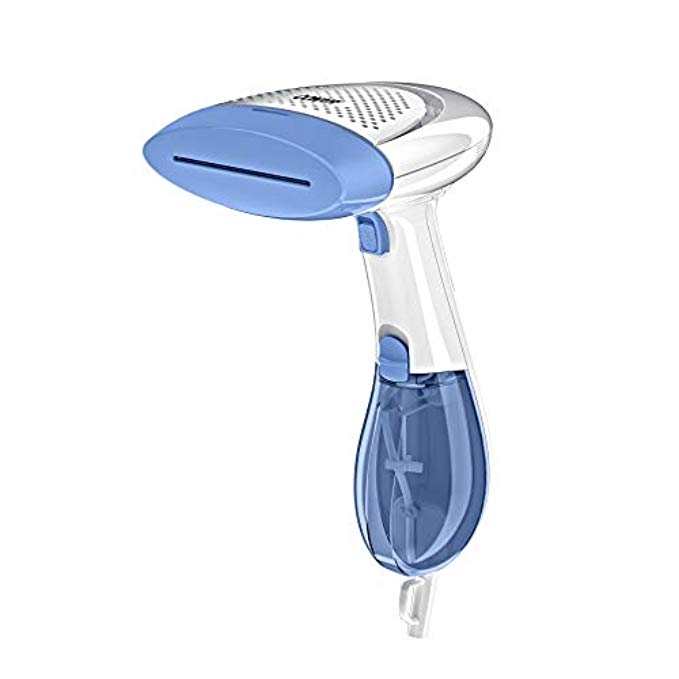 I have white hand towels and most of them have some type of makeup stain on them.  My beloved white Pottery Barn towels were turning a slight orange color and I was tired of bleaching the fire out of them.  Lo and behold I found these amazing  REUSABLE makeup removing cloths.  Use them a time or two and then wash and repeat.  Get yours in a pack of 3 or $4 or 5 for $7.50.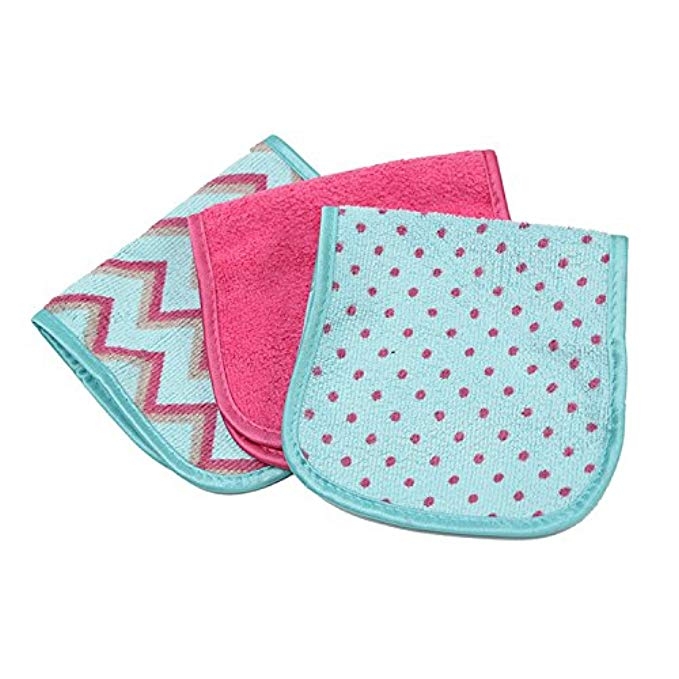 You can also get the "name brand makeup removing cloths typically for $20.  Sometimes they run a special and have a coupon offer for $3 off!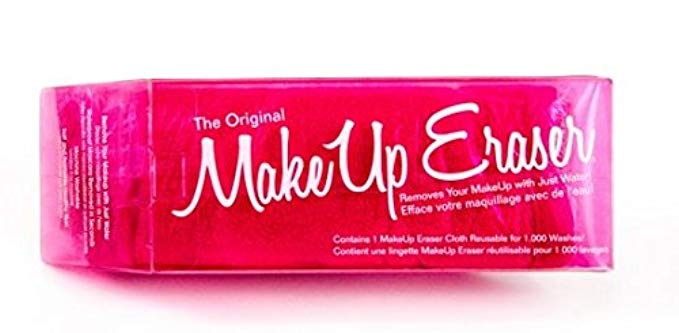 Yep, I comb my eyelashes.  Don't judge.  It's a thing and here's why.  My first love in life is mascara, then my kids and husband.  I kid.  But I do keep 3-4 tubes of mascara around me at all times.  I have blonde lashes and they need a heavy coating of black mascara daily.  I've used this mascara and primer for 2 years and haven't found anything comparable.  However, after the 8th coat things can sometimes get a little clumpy.  Let those lashes dry and give them a good comb out.  Bye bye clumps, hello amazing lashes.  This is the best stocking stuffer!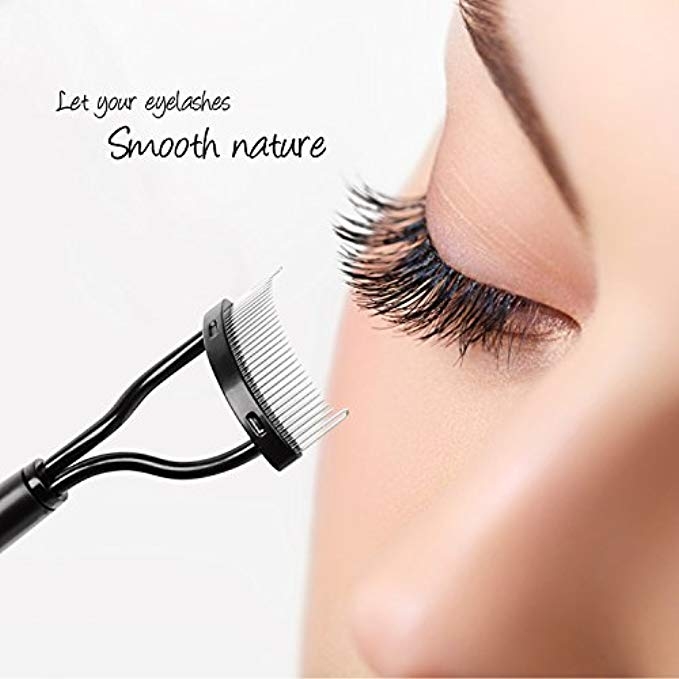 Some of us are about to have a house full of guests.  Some of us will be the guest.  Keep this handy to avoid second hand embarrassment.  Spray this into the toilet water before you do you business.  The natural oils in poo-pourri covers the more nasty natural scent, leaving the restroom smelling fresh and clean. I prefer the citrus scent myself.  These make great white elephant gifts or stocking stuffers.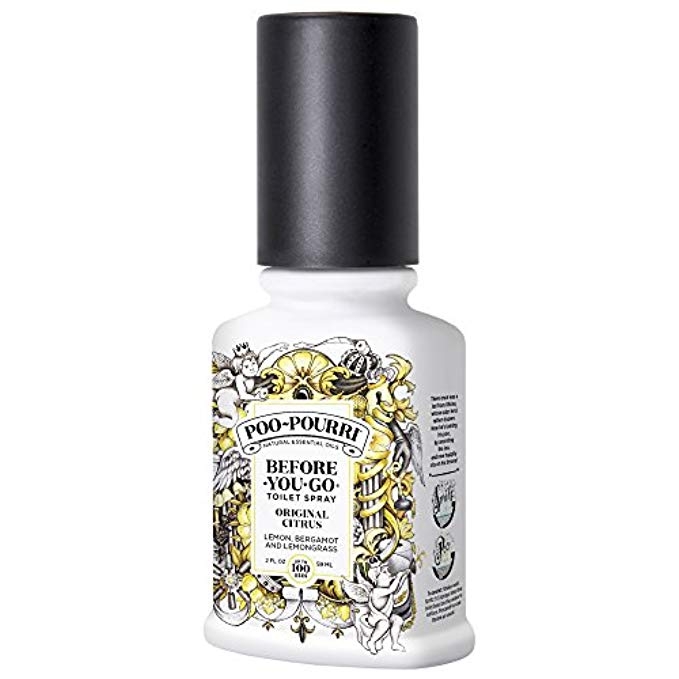 Stop by and check out my other  monthly Amazon posts from the past!
Amazon Favorites March