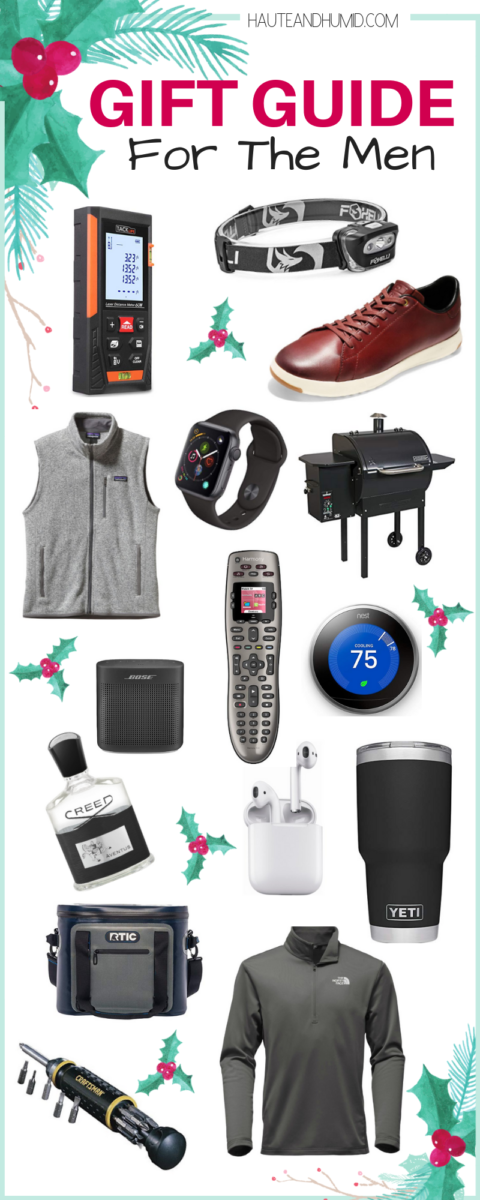 BOOM! The ULTIMATE best gifts for him gift guide is here!  After in-law and parents, this was the most requested gift guide!  Don't worry, In Laws is coming in hot tomorrow! I scoured our house, polled my husband asked his friends, annoyed their wives and came up with the the cream of the crop.  These are items they have and use frequently or would like to get.  Below are more than 30 gift ideas as well as stocking stuffers.
I know many of you are gathering up ideas and making your lists but saving your actual shopping for Black Friday and Cyber Monday (my favorite)!  If you want to refer back to this post just save it in your favorites so you can come back to it later.
CLICK TIP:  Any underlined text will take you straight to that item for ease of shopping.
Best Gifts for Him
Auto Loading Screwdriver–  This stays in our junk drawer and we use it almost daily for small tweaks around the house or adding batteries to kids toys.  All the heads are encased in the handle so there are no lost bits and pieces.
Cell Phone Charging Pad–  Lay your phone on this and it will wirelessly charge.
Soft Cooler– Perfect for sports games, tailgating, floating the river or on the boat. This one isn't as heavy or $$$ as the Yeti version.
Northface Jacket – Get 20% off one item
Patagonia 1/4 Zip Pullover – Get 20% off one item
Nest Thermostat -ON SALE – this works from your phone so you can turn the a/c down or heat up before you even get home!
Universal Remote – Say buh-bye to using 3 different remotes.  We have had this for years and it's a game changer
Mens Casual Shoe – On Sale Under $100
Pellet Smoker – My husband isn't a big talker and he talked about it's amazingness for 30 minutes after his cousin used it at the ranch.
Laser Measuring Tape – Just point and it tells you the distance!
Apple Watch– there are many different options so I am linking to the general page where you can decide on your…I mean your man's needs!
Weather Tech Floor Mats – We have these in all of our cars and they are a LIFE SAVER!  Worth every single penny.
Go Pro – There are a few different versions so check out which one you think would work best
Shopvac Vacuum & Mini Shop Vac ( On Sale)
Patagonia Vest – Get 20% off one item
Headlamp – Perfect for running at night, working on a car, home maintenance, hunting, etc.
Dress Shoes –  My hubby just got these and they are light as a feather and hip with the times without being overly trendy
Best Gifts for Him – Stocking Stuffers
Loving this best gifts for him feature? Take a look here for more of my holiday favorites!