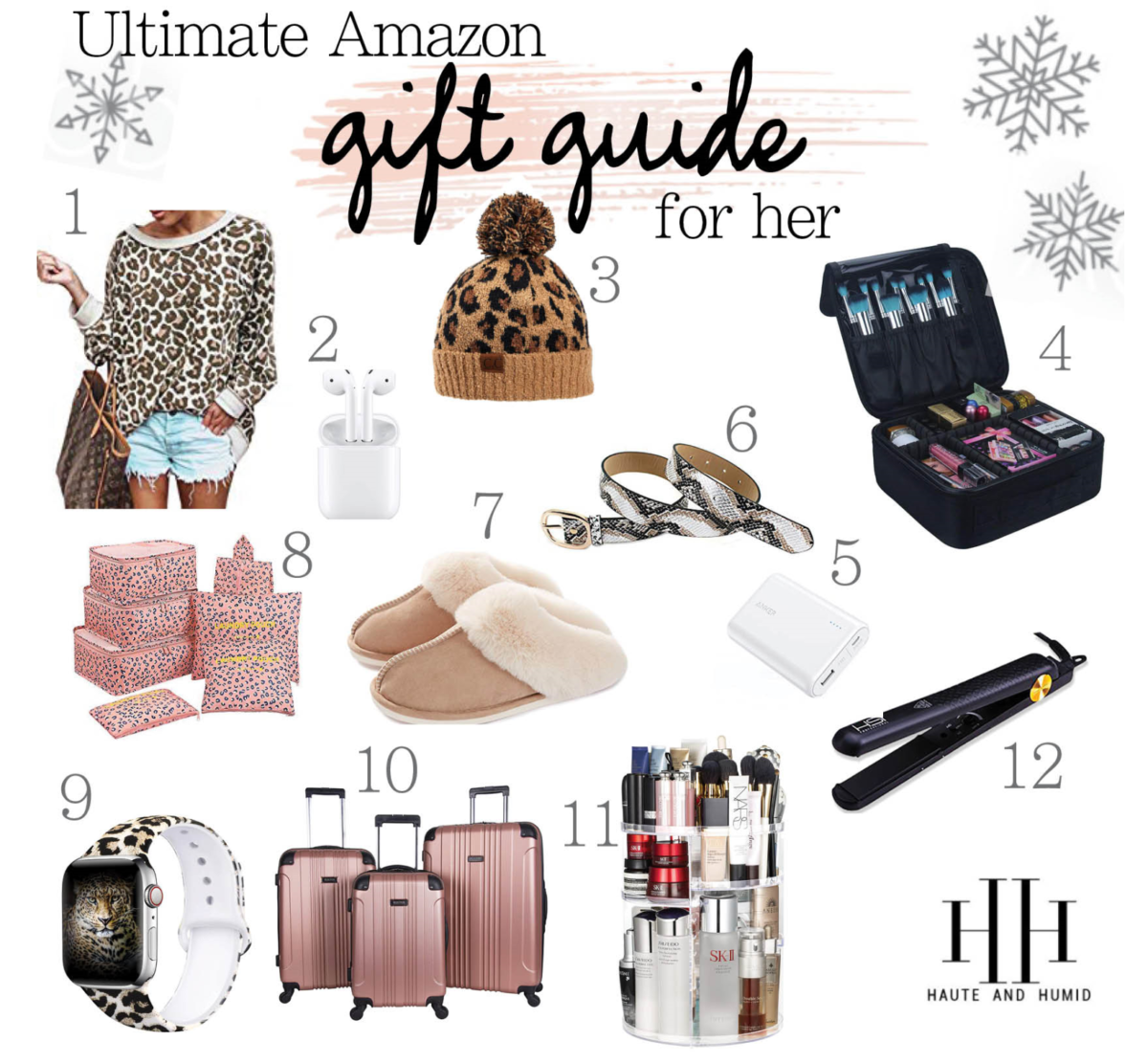 The Ultimate Amazon Gifts For Her Guide
This sweatshirt is great because it isn't too thick so it works from early fall well into spring.  Be sure to order up 2 sizes because it does run small.
These might be a gift for yourself or someone close to you but they are all the rage!  I love that the case also charges them!
This beanie is soft, cozy and under $20.  This would make the perfect gift for your girlfriends, teachers, babysitter or stocking stuffer.
I have had this for two years now and it is a travel staple for me.  You can configure the inside to fit your makeup and there is a space for your brushes.
Two words: GAME CHANGER!  Over 12k reviews and a 5 star rating say it alll.  This external charger will charge your phone in about 5 minutes and have enough leftover power for at least three more charges.  I am constantly letting other moms borrow this when their phone is about to die.  If I could I would gift this charger to everyone I know!
Snake print is super popular and I have a feeling it is here to stay.  If you like to give try new trends but don't want to spend the money, this belt is the perfect option.  Pair it with a neutral outfit or pair it with a dress to add some shape.
Heaven on your feet is what these slippers are.  I wear them daily around my house and love them ten times more than my expensive Ugg slippers.  The soles are hard which make them great for walking around on hard surfaces and the lining is beyond soft with a memory foam bottom for ultimate cushiness.
Are these not the cutest packing cubes you have seen!?!  I have been using these for a year now and cannot pack without them now. I can pack two times more in my suitcase and best of all they help keep me organized.  Easily pull them out and place them on the dresser or desk of any hotel while keeping everything together.  I also love that my items are not all sloshed around after flying. 100% must have!
Three of my neighbors have this watch band and it always catches my eye.  An Apple watch is on my birthday/Christmas list and you better believe I will be snagging some cute watch bands to go along with it.
This pack of three suitcases in rose gold (multiple color options available) are an absolute must have!  The hard side prevents your items from being crushed, swivel wheel for easy pushing or pulling.  One side zips closed to keep all your belongings in place while the other has an elastic buckle for placement. Side Note: No one on the plane ever has rose gold suitcases so I can spot mine a mile away…or when they are delivered on the wrong carousel across the airport!
Organization is key and you can start the year off right by clearing the clutter on your bathroom counter top.  The shelves are adjustable.  It's no wonder this has a cult following on Amazon.
This flat iron as an astonishing 30 thousand reviews and costs less than $40.  Too good to be true?  NOPE!  I bought this bad boy for myself a few months ago and loved it so much I also bought the mini version for traveling and taming those annoying cowlicks in the front of my hair.
This is on my Christmas list so I'm sharing it with you too! My sister in law has it and spent an entire weekend raving about all the things she cooks with it.
Keep everyone warm and cozy with this color block sweater.  It was one of my all time best sellers for the year.  The neutral colors are pretty and make it versatile.
Snagged one of these for my office!  I bought a few of these smart plugs so I can tell Alexa to turn on or off the lights, fan etc without having to leave my computer #workaholic
SHOP THESE AMAZON GIFTS FOR HER:
Be sure to check out my ride or die Amazon beauty favorites which would make for great stocking stuffers or gifts for those other special ladies in your life.
Which of these Amazon gifts for her do you love most? Share in a comment below!