If you are a boxed stuffing kind of person, I hope this homemade stuffing recipe will make you a convert!  This homemade stuffing recipe with bread is my Aunt Jo's.  She was an amazing cook who could best be described as the Pioneer Woman of Iowa.  She spent her days cooking three square meals a day for farmers who came in from the fields and feed lots.
My mom now makes her stuffing every Thanksgiving along with her APPLE PIE.  It is TO. DIE. FOR.  Be sure to make some extra for yourself because it is just as good heated up and served with chicken or a steak as a side item.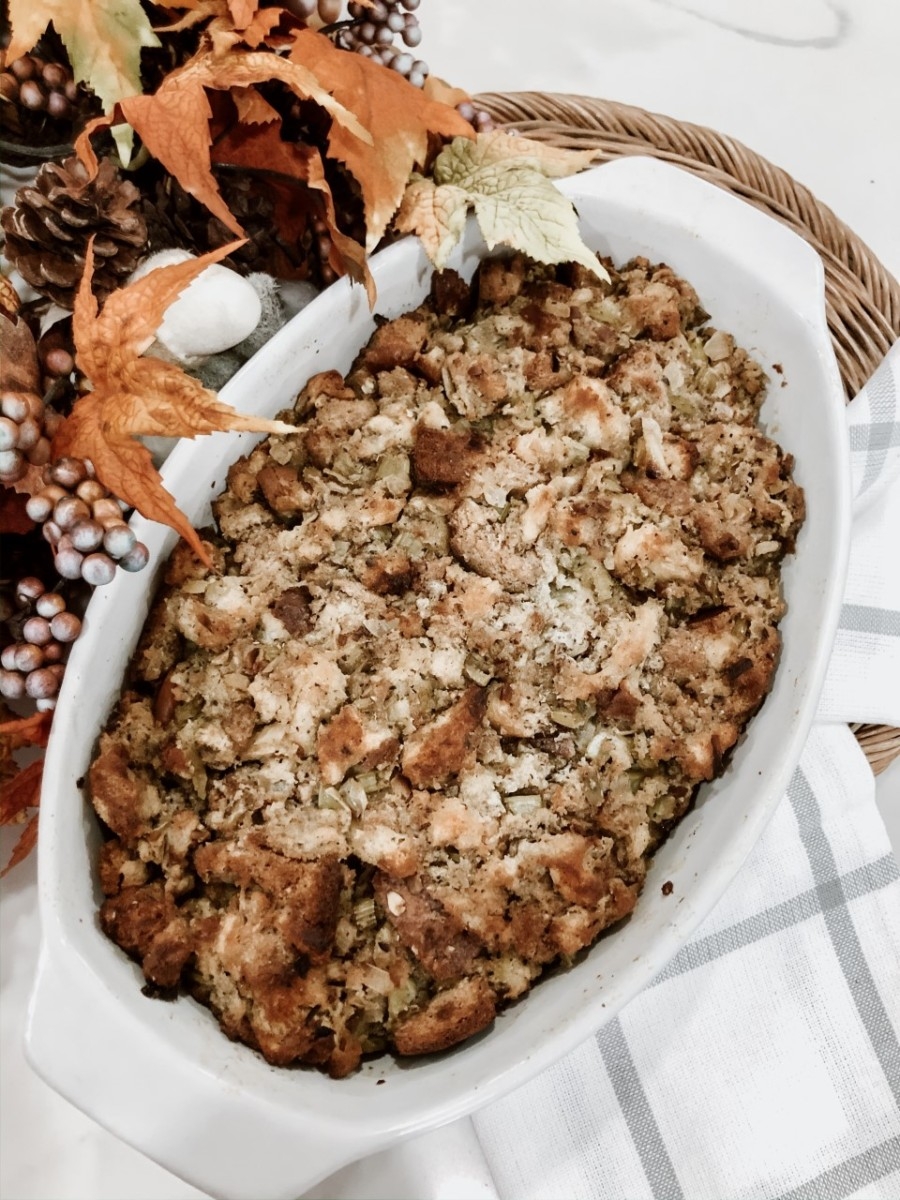 You know a recipe has to be good when it is topped with butter!
Baking Essentials
Aunt Jo's Homemade Stuffing Recipe with Bread
Ingredients
Bread, cut into 3/4-inch pieces (@10 cups) Try whole wheat, white, and multi-grain bread for flavor.whole wheat, white, and multi-grain bread cubes for extra flavor.whole wheat, white, and multi-grain bread cubes for extra flavor.
1 cup butter – plus more for baking dish
1 large yellow onion, diced medium
3 large celery stalks, diced medium
2 garlic cloves, chopped
2 teaspoons salt
2 teaspoon poultry seasoning
2 teaspoons dried rubbed sage
1/2 teaspoon fresh ground black pepper
1/2 cup roughly chopped fresh parsley leaves (can use dried – but use less)
2-3 cups low-sodium chicken broth
Directions
Preheat oven to 350 degrees. On two rimmed baking sheets, arrange bread in a single layer. Bake until dry but not browned, about 14 minutes, tossing bread and rotating sheets halfway through. Transfer to a large bowl. (To store, let cool completely and keep in a re-sealable plastic bag at room temperature, up to 1 week.)
In a large skillet, melt butter over medium. Add celery and onion; season with salt and pepper. Cook, stirring occasionally, until vegetables soften, about 8 minutes. Add sage and poultry seasoning and garlic and cook a few minutes more. Transfer to bowl with bread. Add the broth 1 cup at a time until the bread is very moist but not soupy.  Use more or less broth if needed.
Reserve 4 cups stuffing for turkey. Spoon remaining stuffing into a buttered 9-by-13-inch baking dish. Dot with butter.  Cover with buttered foil or use Pam; refrigerate until ready to bake. Bake at 375 degrees about 30 minutes. Uncover and bake additional 15-20minutes until lightly browned.
I put a little of the stuffing in a bowl and microwave it to check for flavor.  I add more seasoning if needed. I make the night before and refrigerate.
Do you have a similar homemade stuffing recipe with bread that you like to make? If so, share in a comment below!