We all know the turkey is the most important thing on the table at Thanksgiving.  Arguably, the second most important thing are the pies!  What is a well rounded Thanksgiving dinner with out the classic pumpkin and apple pie?  Pies tend to intimidate people.  It's not something we make regularly like cakes.  This year I've got you covered! I'm divulging Mama Mary's easy apple pie recipe.
My mom – Mary, got this recipe from a woman who baked pies at a little shop in northern Wisconsin, where we would visit in the fall.  When my mom told the woman we were moving to Texas, the woman shared her apple pie recipe with my mom and told her she actually got it from a woman in the Texas Hill Country.  Well wouldn't you bet your bottom dollar THAT'S WHERE WE WERE MOVING!  Now if that's not a full circle story then I don't know what is.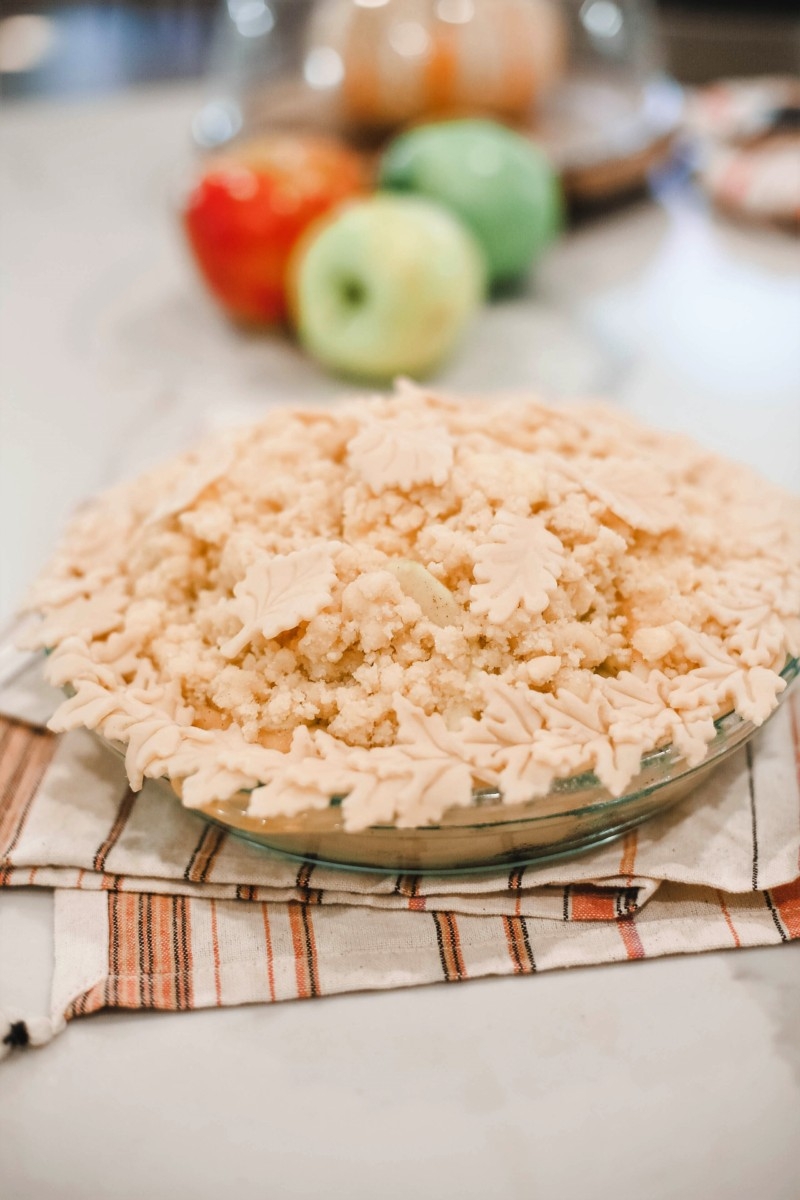 PIE BAKING ESSENTIALS
I am also excited to be sharing the Thanksgiving recipes of my fellow friends and bloggers at the end of this post.  After you check out my easy apple pie recipe, head to their blogs to complete your menu!
Mama Mary's Easy Apple Pie Recipe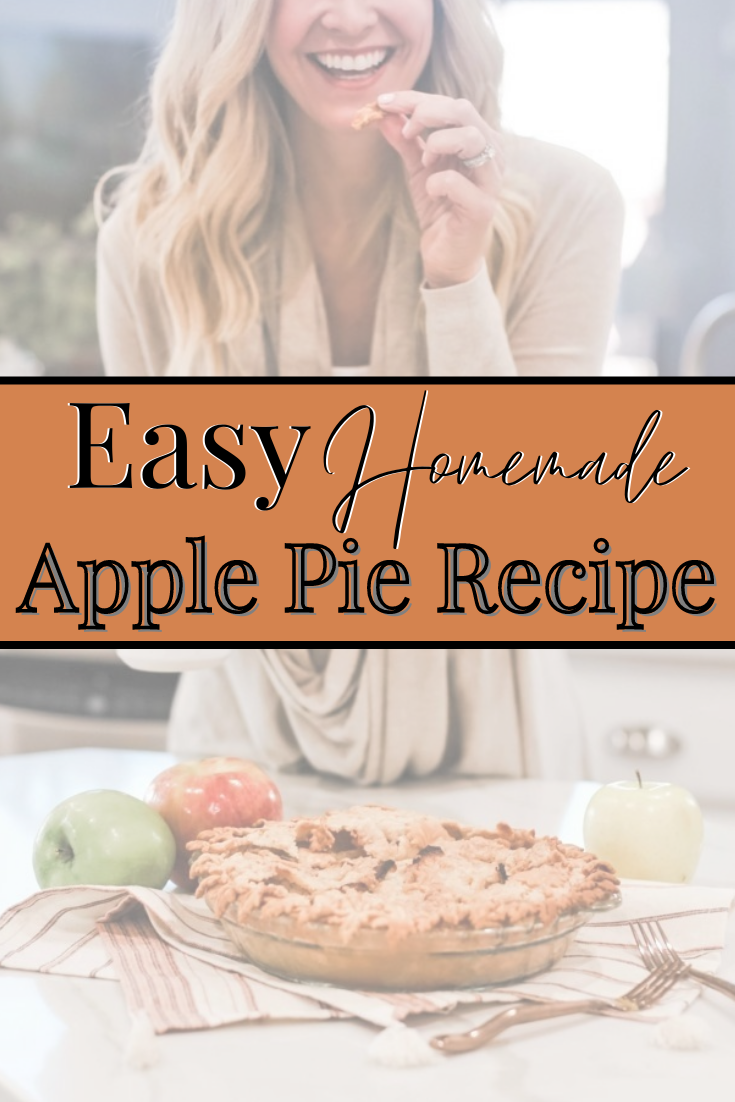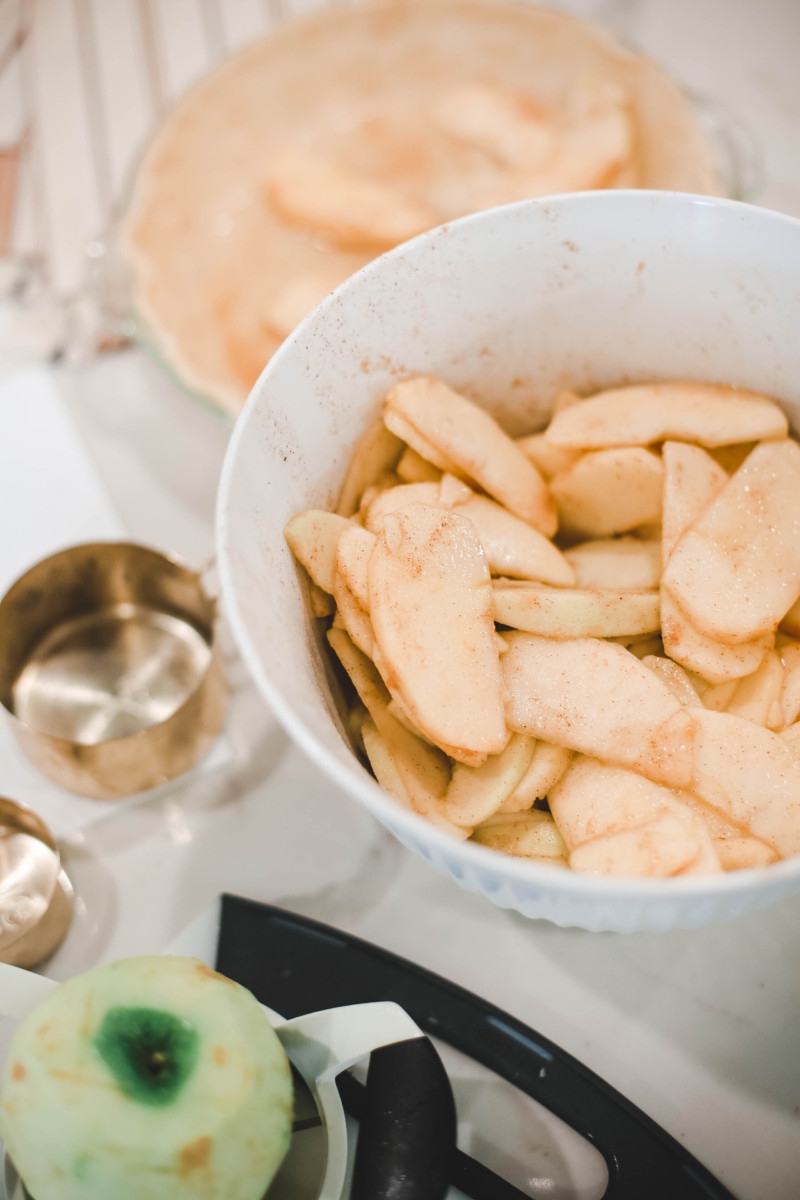 Step One: Preheat the oven to 375 degrees.  Peel and slice 9 cups of apples.  My mom's secret is to mix three different types of apples.  She always uses Golden Delicious, Granny Smith and Honeycrisp.  Make sure you have enough to create a decent mound once they are dumped into the pie dish.  The apples will back down and you don't want to be left with a concave apple pie.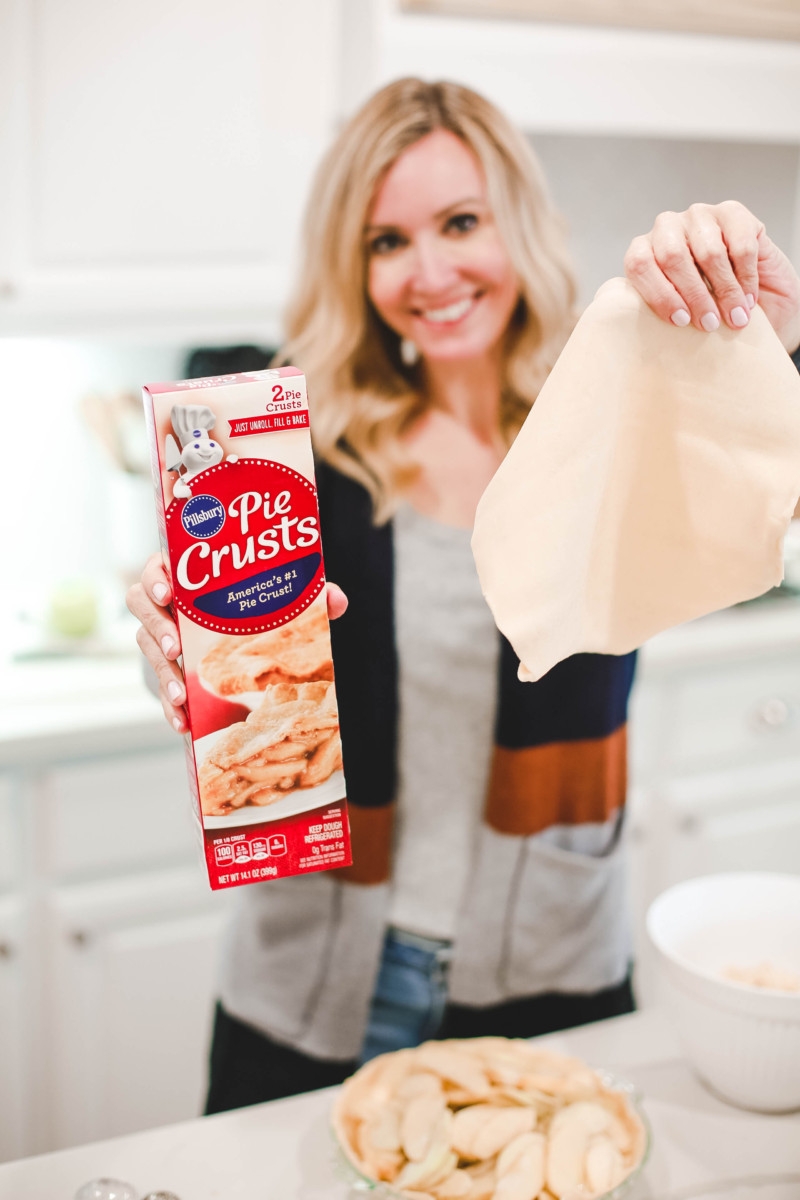 Step 2: Toss the apples, sugar, flour, cornstarch, lemon juice, vanilla cinnamon, salt and nutmeg together. here is where the TOP SECRET part comes in that makes this recipe "easy as pie."  USE STORE BOUGHT CRUST!  Now don't go grabbing just any old crust.  You have to get the Pillsbury Pie Crust.  The package is red and it comes with two pie crusts in a package.  You will need both!  If you are Betty Crocker status then feel free to make your own! Transfer apples to the pie shell.  Dot the top of the apples with 1 1/2 Tbsp cold unsalted butter cut into pieces.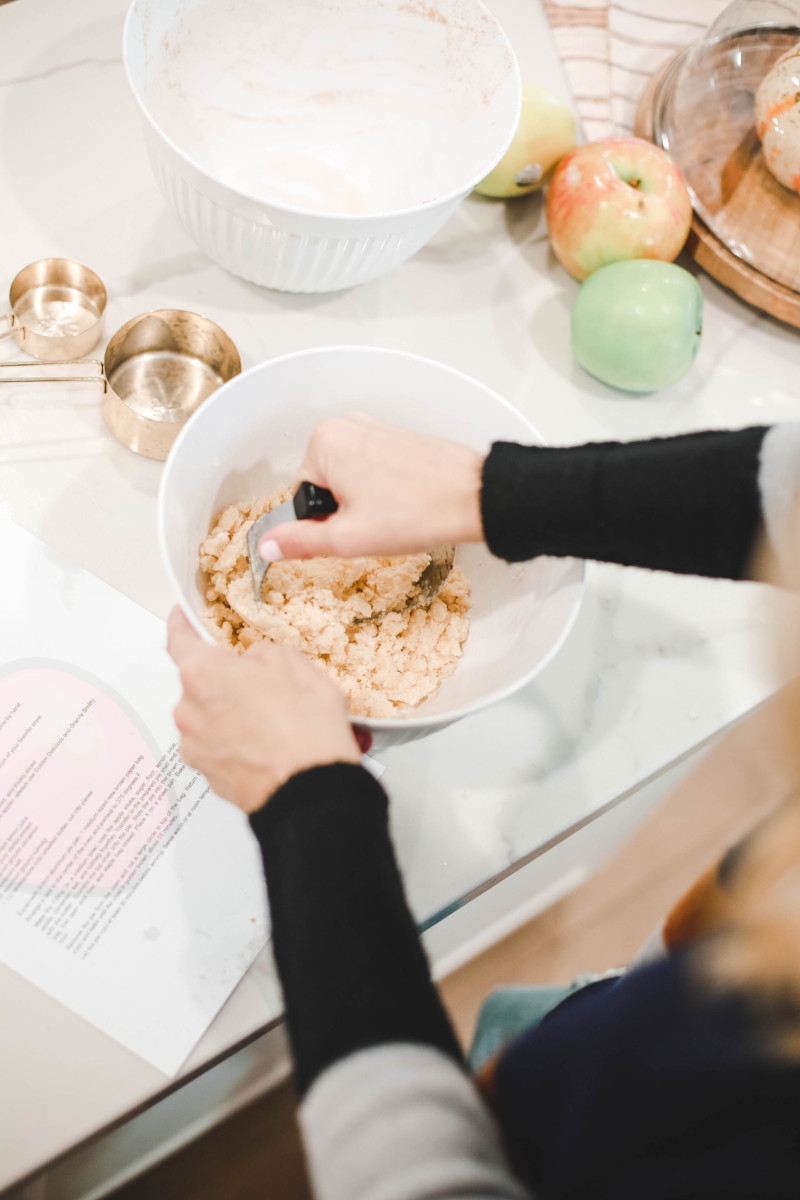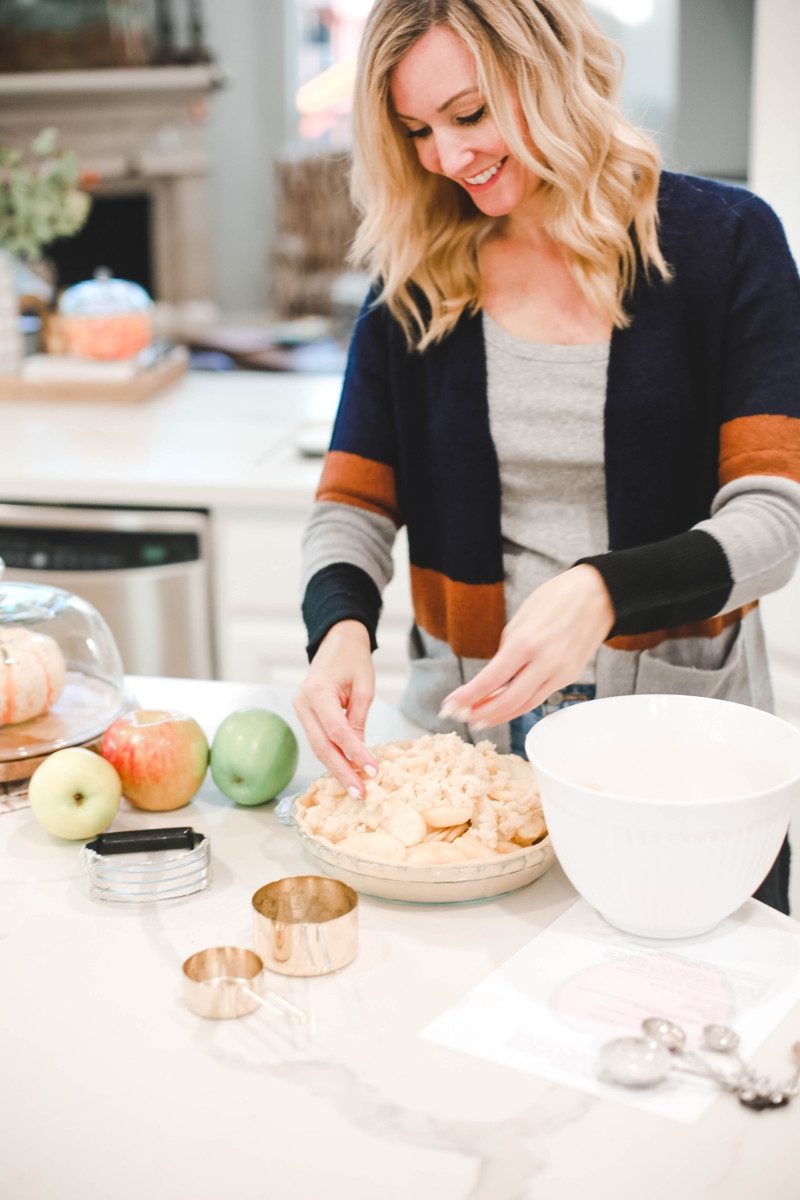 Step 3: Combine 1/2 cup of flour, sugar and butter using a pastry blender (shown above) or a food processor.  I prefer the pastry blender b/c I hate having to take the food processor apart to wash it!  Next, crumble the topping ontop of your apples and butter.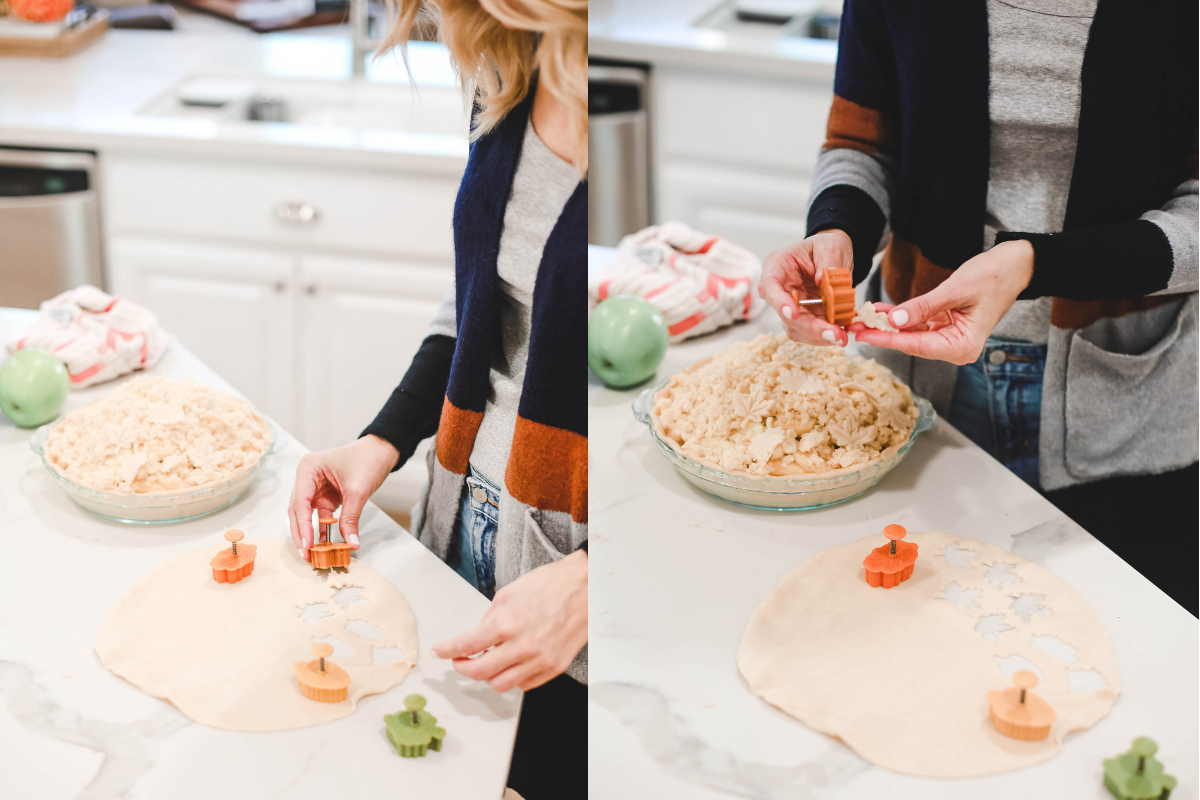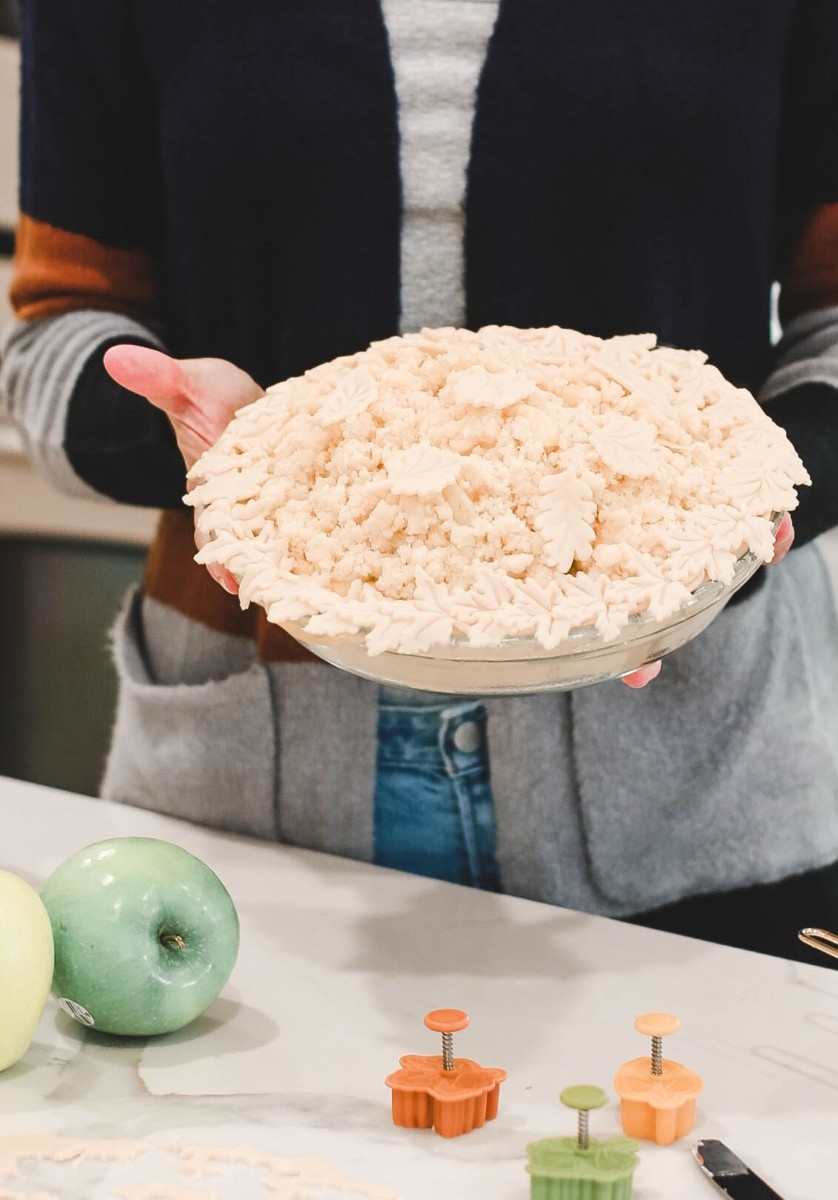 Step 4:  What do they always say on the Food Network? We eat with our eyes first.  Take your easy apple pie from blah to bougie.  Everyone will do a double take and fawn all over your mad baking skills when they see the attention to detail you put into this pie.  In reality, it takes maybe 10 minutes, but makes a world of difference.
Do yourself a favor and buy these miniature leaf cookie cutters
I use the second pie crust and cut out enough leaves to make a ring around the outside of the crust.  Then I use the remaining crust to punch out a few random leaves to place on top of the crumble crust.  Just be sure to pinch the leaves around the ring down a bit so they stick together and don't fall off.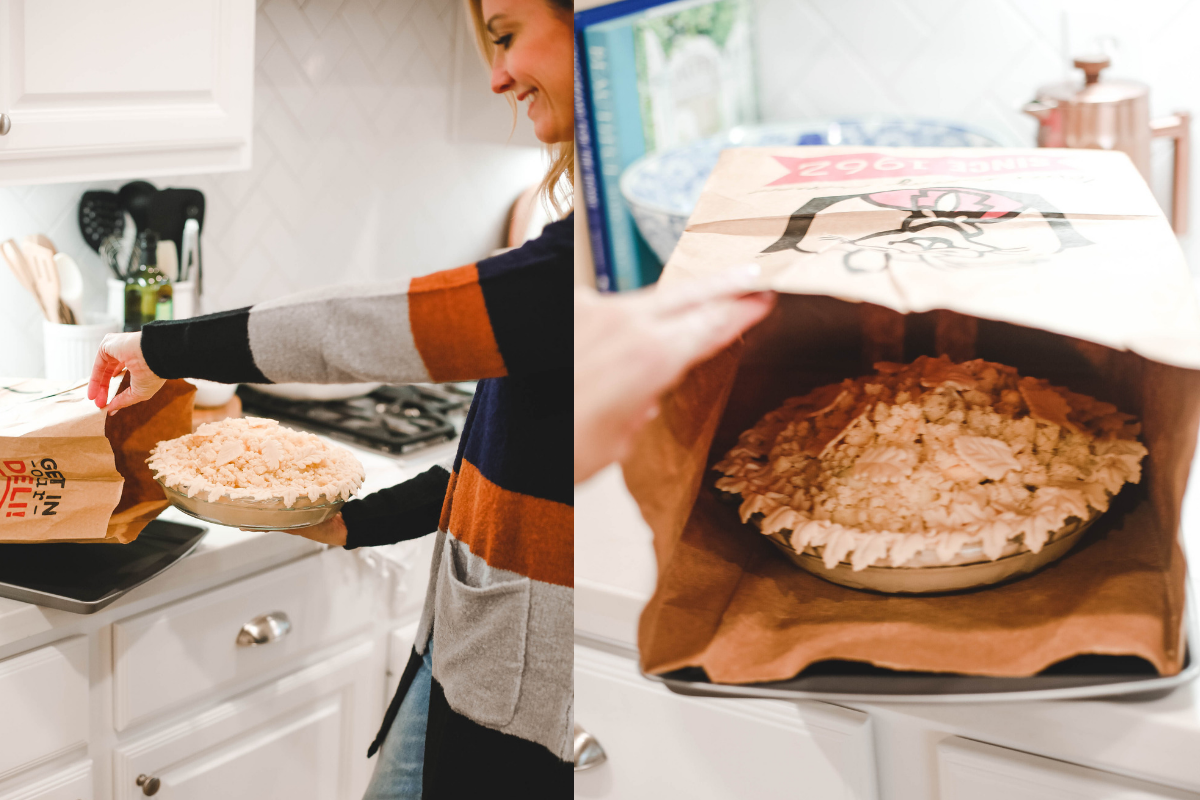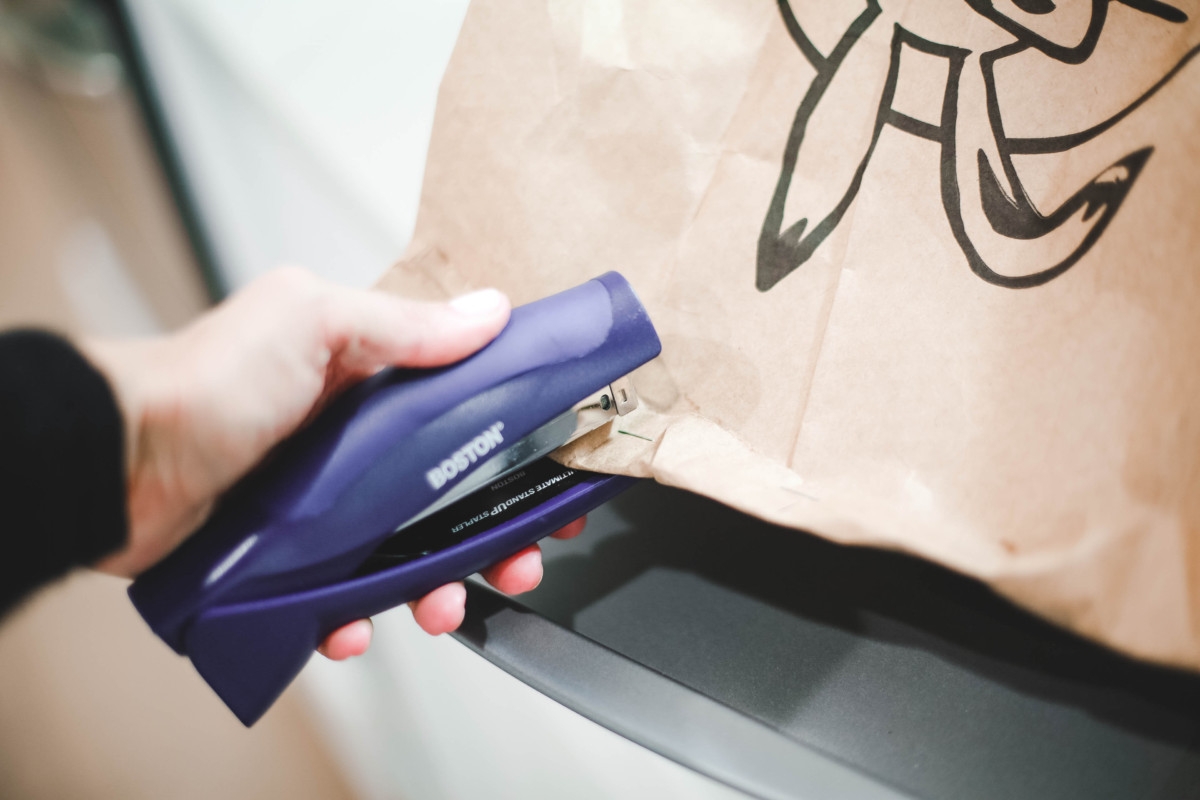 Step 5:  Get an old school paper sack and put it on a baking sheet.  Put the pie inside and staple it closed.  The bag helps keep the apples juicy without over baking and browning the crust.
PS. If you don't have a paper bag, your pie will still turn out stellar! Girl Scout promise.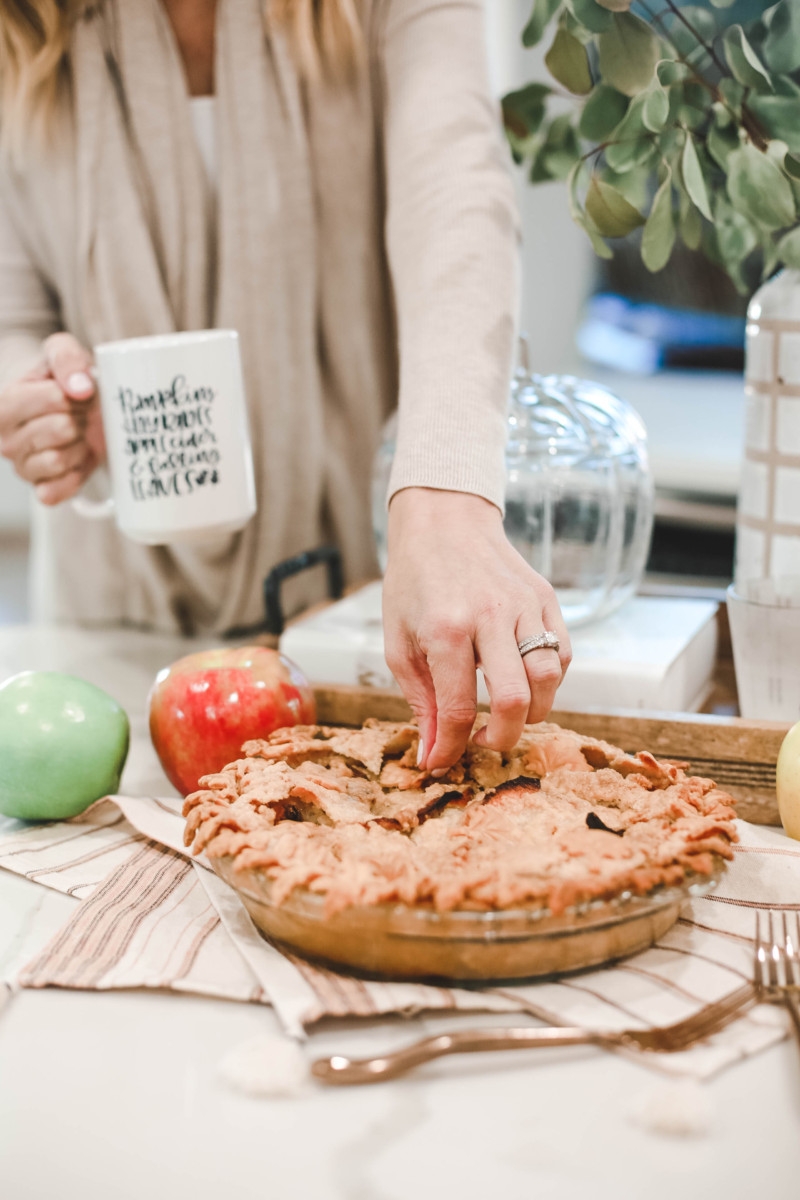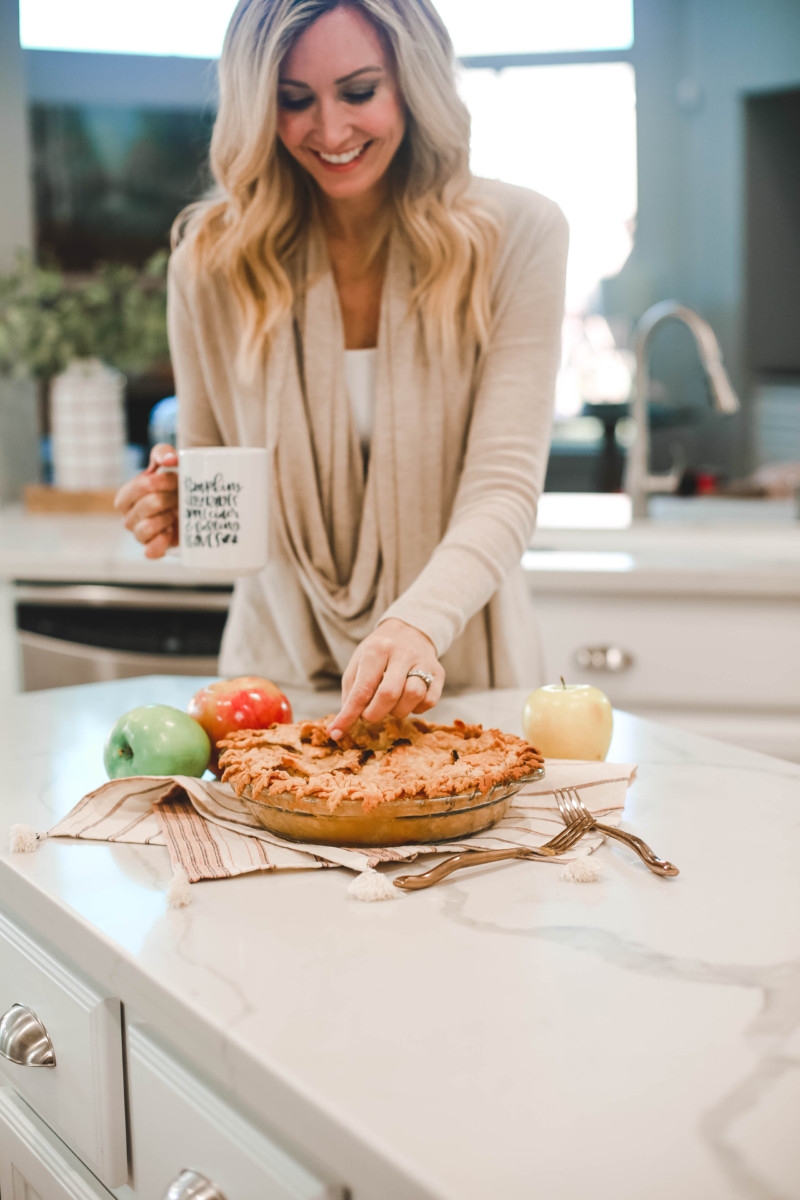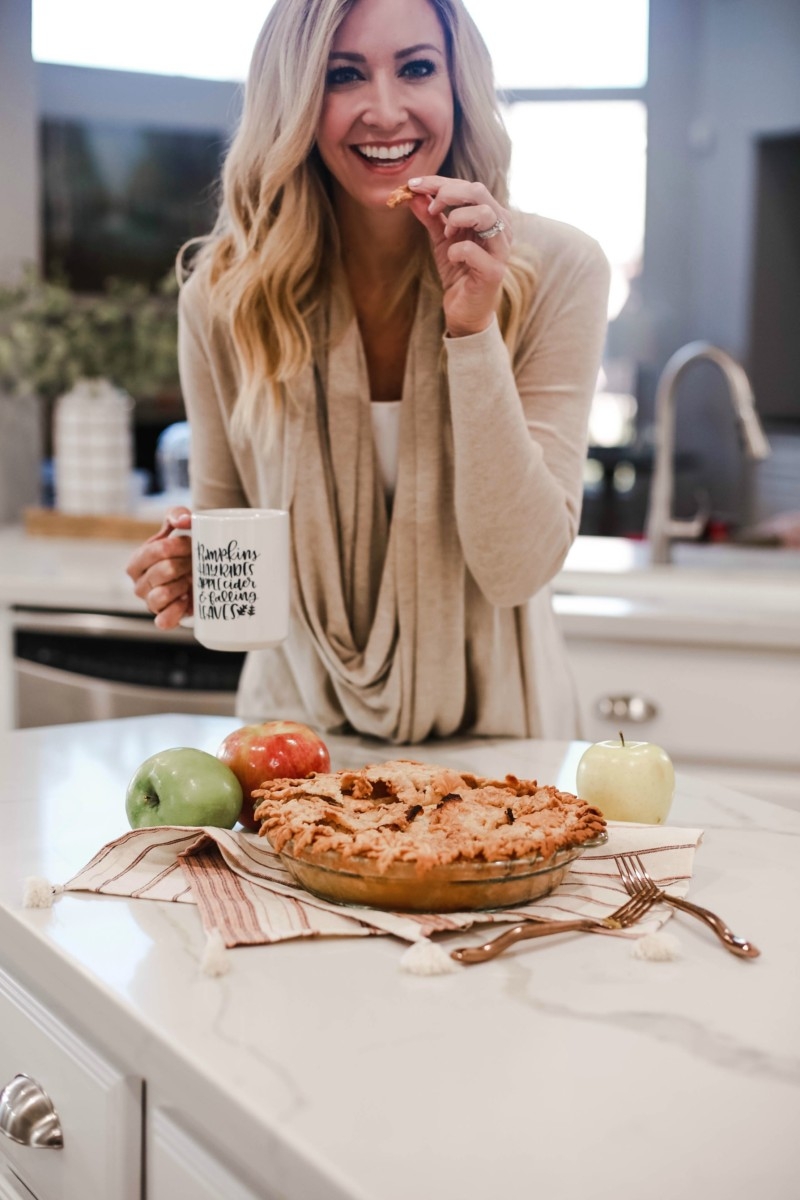 Step 6:  Grab your coffee, scoop of vanilla ice cream and enjoy your pie!
Download your printable recipe below!
Loving this easy apple pie recipe? Take a look here for more of my recipe favorites!
Shop Cute Fall Sweaters
Do you have an easy apple pie recipe that you love making?  Let me know in a comment below!