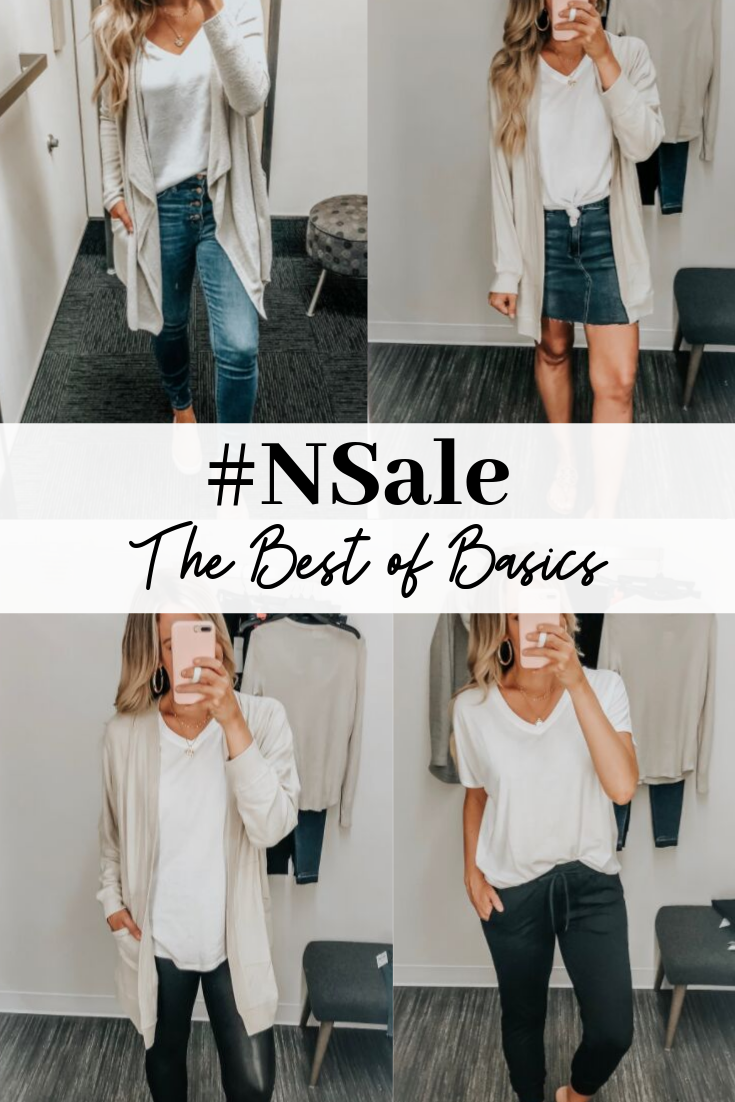 Yesterday's blog post was PART ONE of my try-on haul from the Nordstrom Anniversary sale –Today I will be focusing on the two B's of the Nordstrom Anniversary Sale Early Access Basics & Beauty.  I kept the looks simple so you could see the full item. The beauty department doesn't usually thrill me during the sale.  This year I found some sets that I really loved and knew I would use everything in the set.
Nordstrom Anniversary Sale Early Access
SKIRT & SHIRT REMIX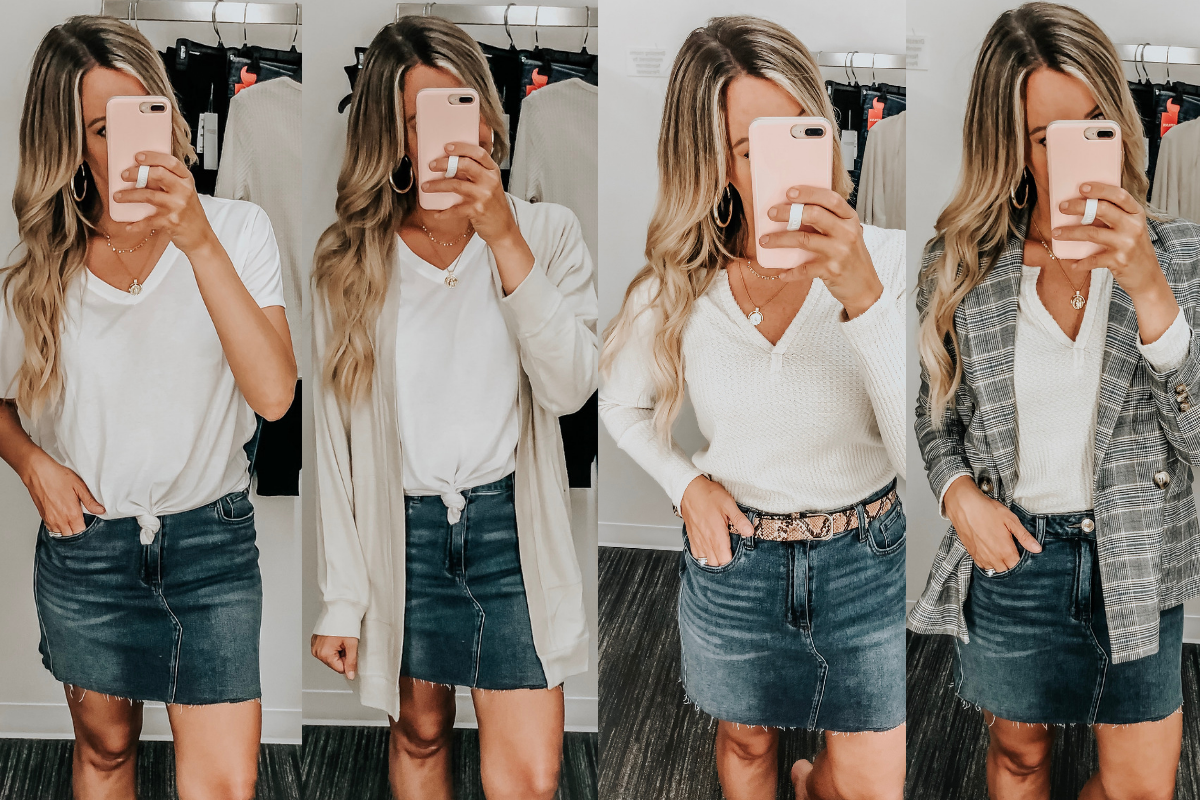 Skirt (28)  //  Oversized Tee (XS)  //  Henley (M)  //  Blazer (4)  //  Snake Belt  //  Earrings
Denim skirts are all the rage this season.  I just got this white denim skirt too!  I remixed this skirt with a few great basics of t-shirts, a henley and even added a blazer.  These gold hoop earrings are a bit of a splurge.  However, a gold hoop is the best classic piece of jewelry.  I am willing to spend money on one GOOD piece that will last rather than buying 3 pieces over and over again.
MADEWELL CARDIGAN & TALL BOOTS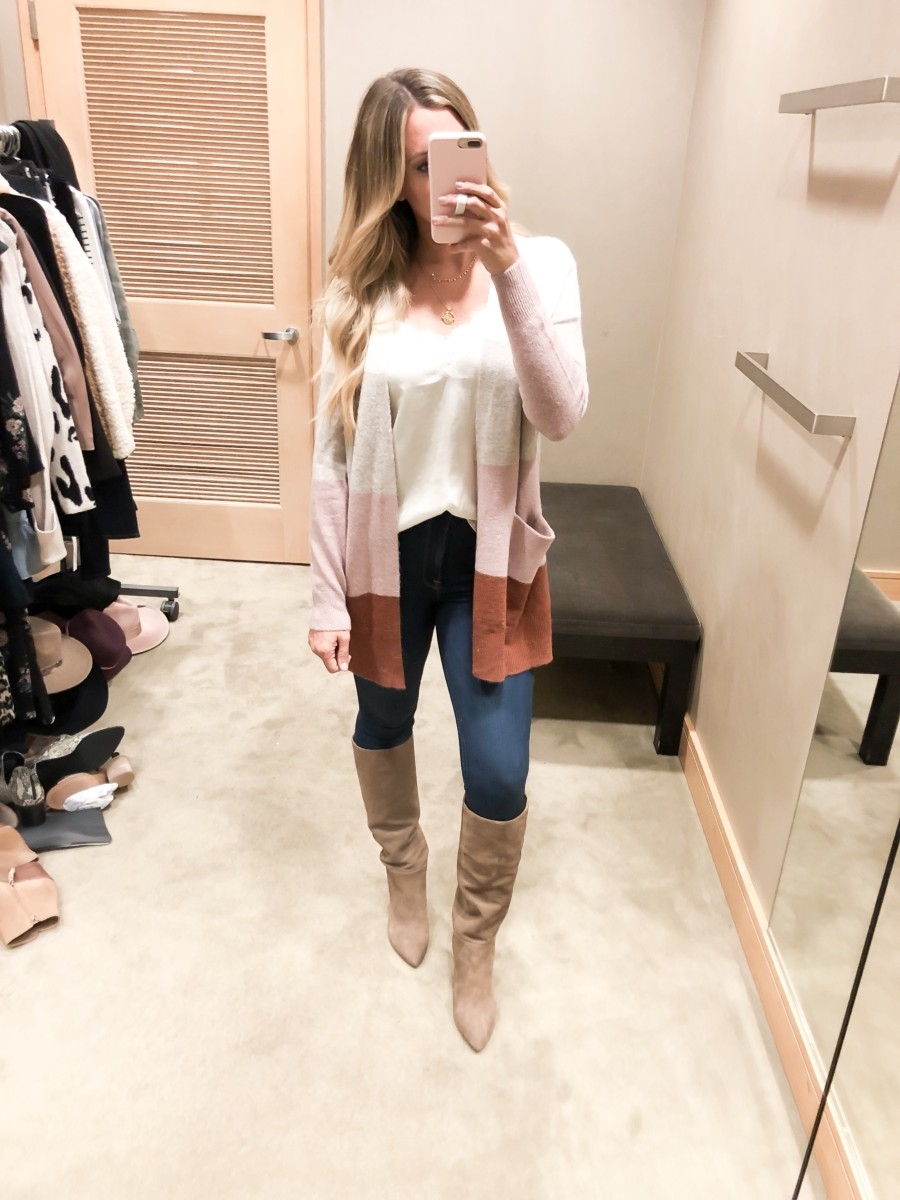 Cardigan (XS)  //  Cami (M)  //  Jeans (28)  //  Boots (tts)
This color block cardigan sells out every year so scoop it up fast.  It does run big so I suggest sizing down.  It is a really soft wool and will pill.  My solution-this $11 fabric defuzzer.  I use it on the inner thighs of my workout leggings too because I'm not a member of the thigh gap club.
These knee high boots were really pretty and not too tall if you are shorter.  I am also looking at THESE TALL BOOTS online.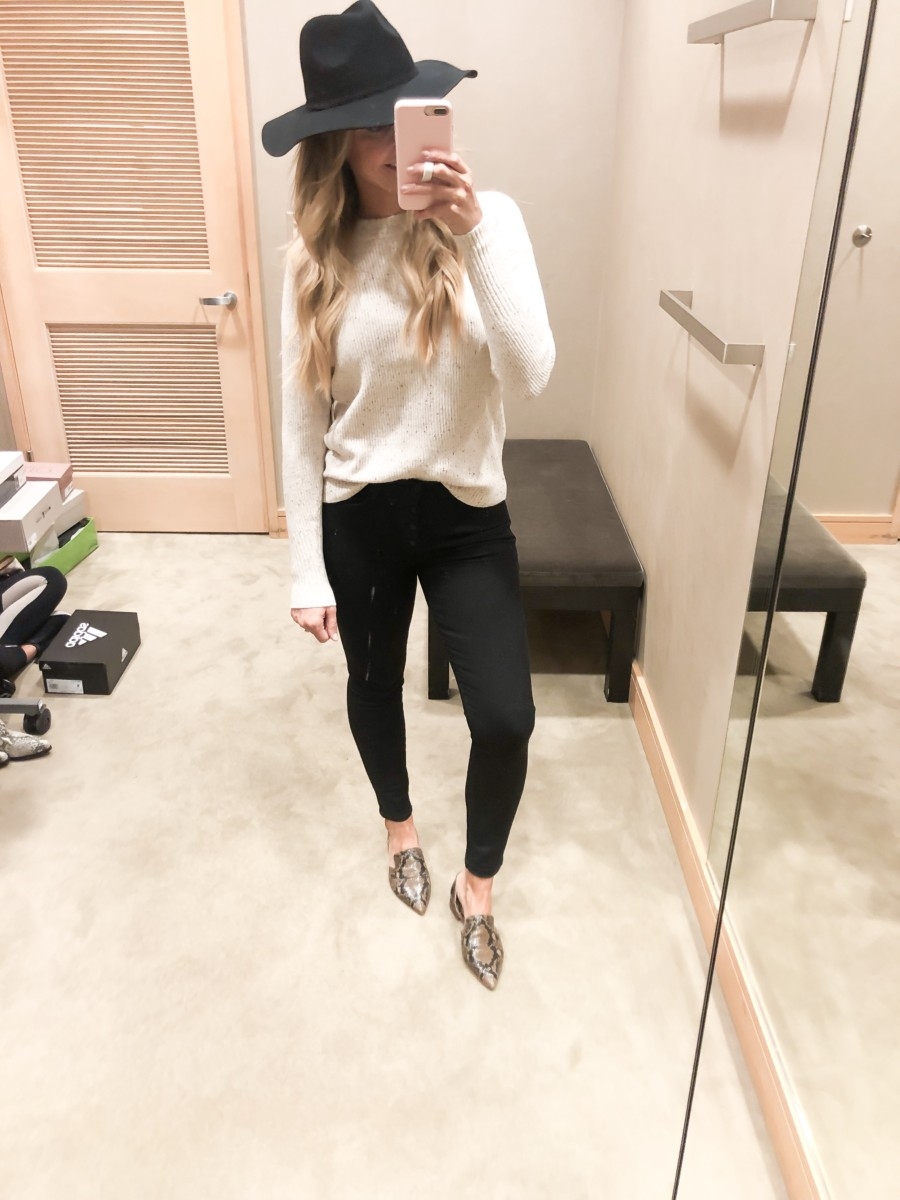 Sweater (S)  //  Jeans (28)  //  Snake Print Flats (tts)  //  Hat
I remixed a similar look to this below.  Snake print is all the rage this season and I love adding touches in my shoes or accessories.  I loved the ribbing on this sweater and it is the perfect neutral with blue or black jeans.
Snake print shoes will 100% be my jam this fall.  These are my three favorite pairs.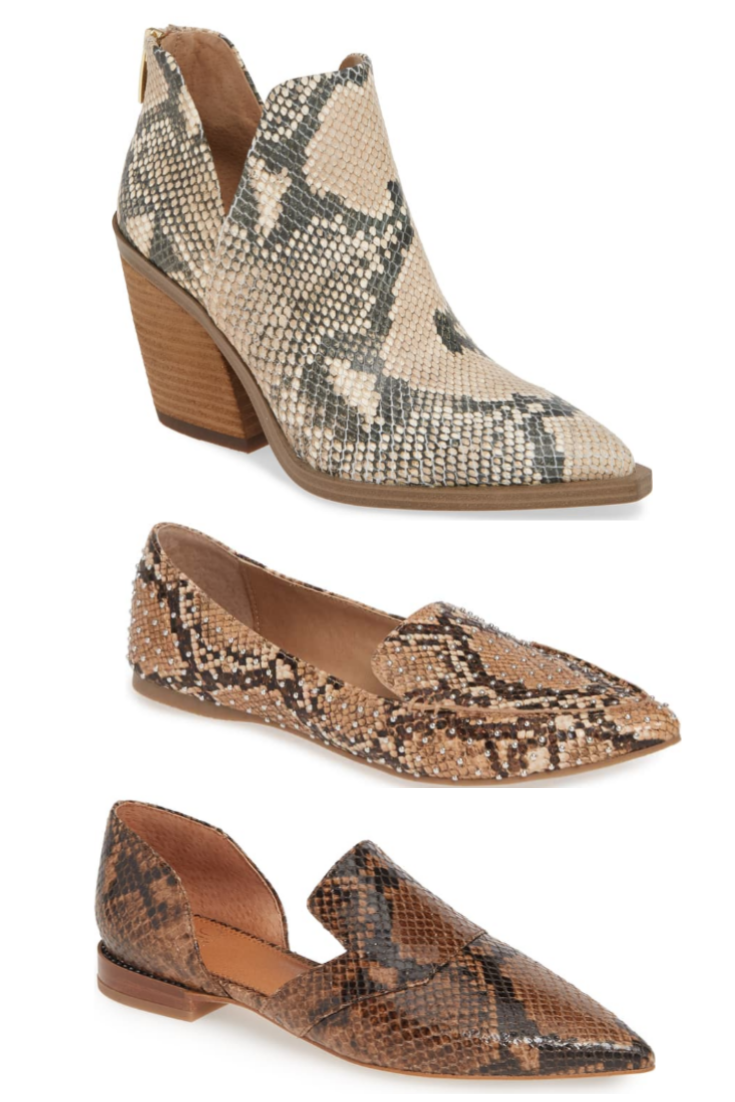 LEOPARD DRESS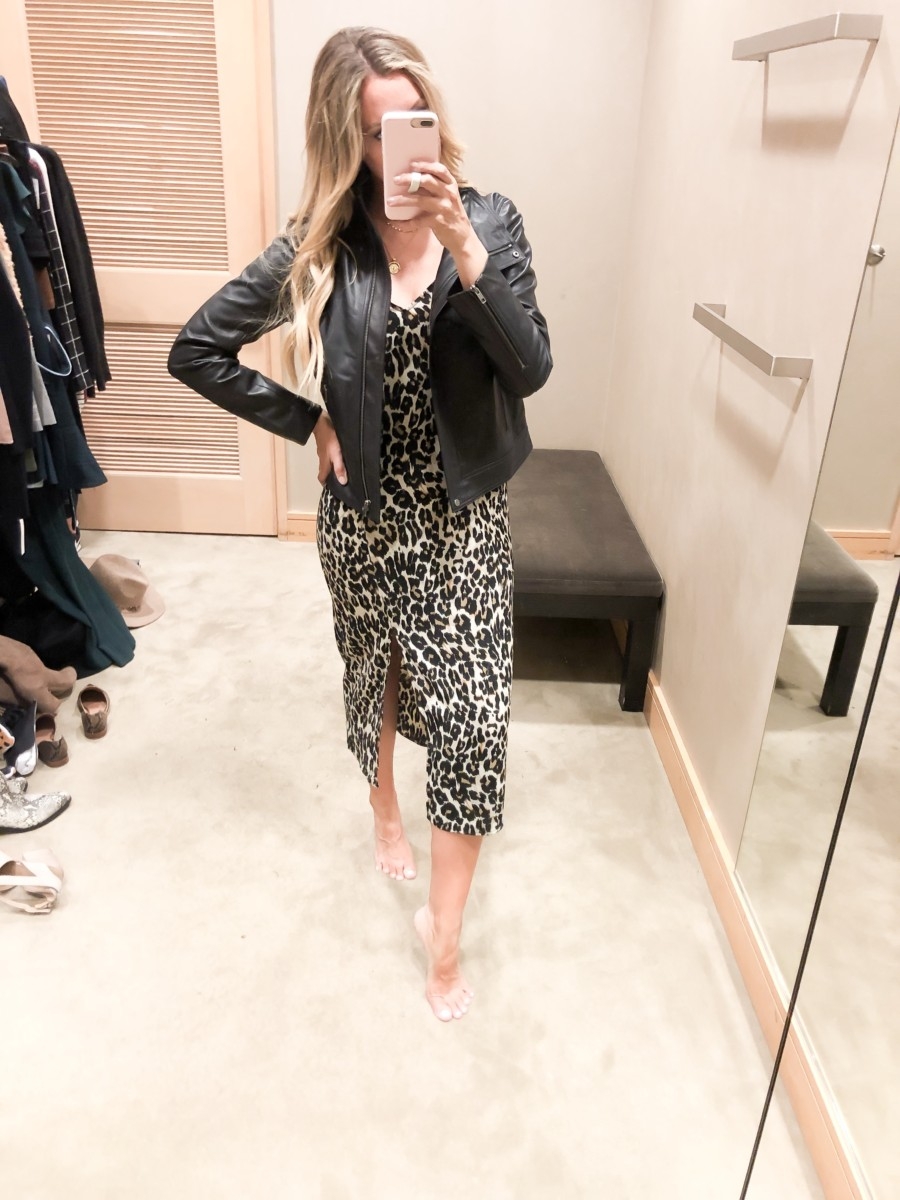 Leopard Dress (M)
This leopard dress can be worn now or later with a jacket.  It also looks adorable belted.  If I was wearing shoes, I would probably wear these!
NIGHT TIME CHIC
Blazer  //  Cami (M)  //  OTK Boots (tts)  //  Jeans (28)  //  Hat
Another trend- blazers.  Ya either love em or ya hate em!  I typically don't love a blazer but this one had a great fit and I loved the ruched sleeves.  These camis will totally sell out so buy all three colors and call it a day.  I layer these under EVERYTHING.  I'm mildly obsessed with these OTK boots.  I've spent my summer working on my winter bod by the beach so anything that lengthens my legs automatically goes in the cart.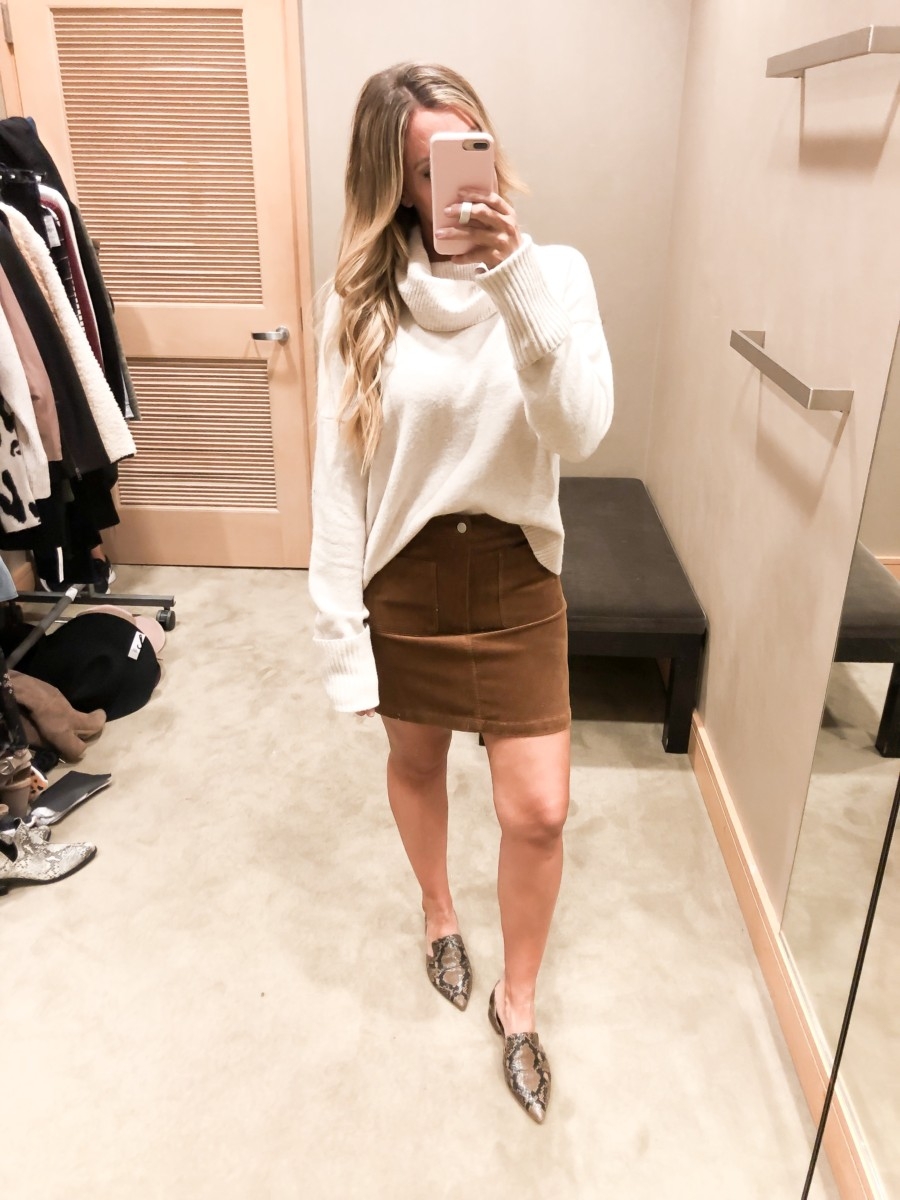 Sweater (XS)  //  Skirt (M)  //  Flats (tts)
This sweater is a major sell out item.  It's so soft and perfect.  This corduroy skirt is going to be a major fall staple.  In the south, fall is basically a second summer.  We all want to feel fall-ish but can't wear sweaters until February.  This skirt is perfect because it is short but made from a fall fabric in a fall color.  #southernproblems
So many of you said GIVE ME FLATS.  Well I'm delivering with these snake print flats.  Again, the pointy toe, lengthening the leg and
soft leather will sell you in a heartbeat.
PULLOVER & FAUX LEATHER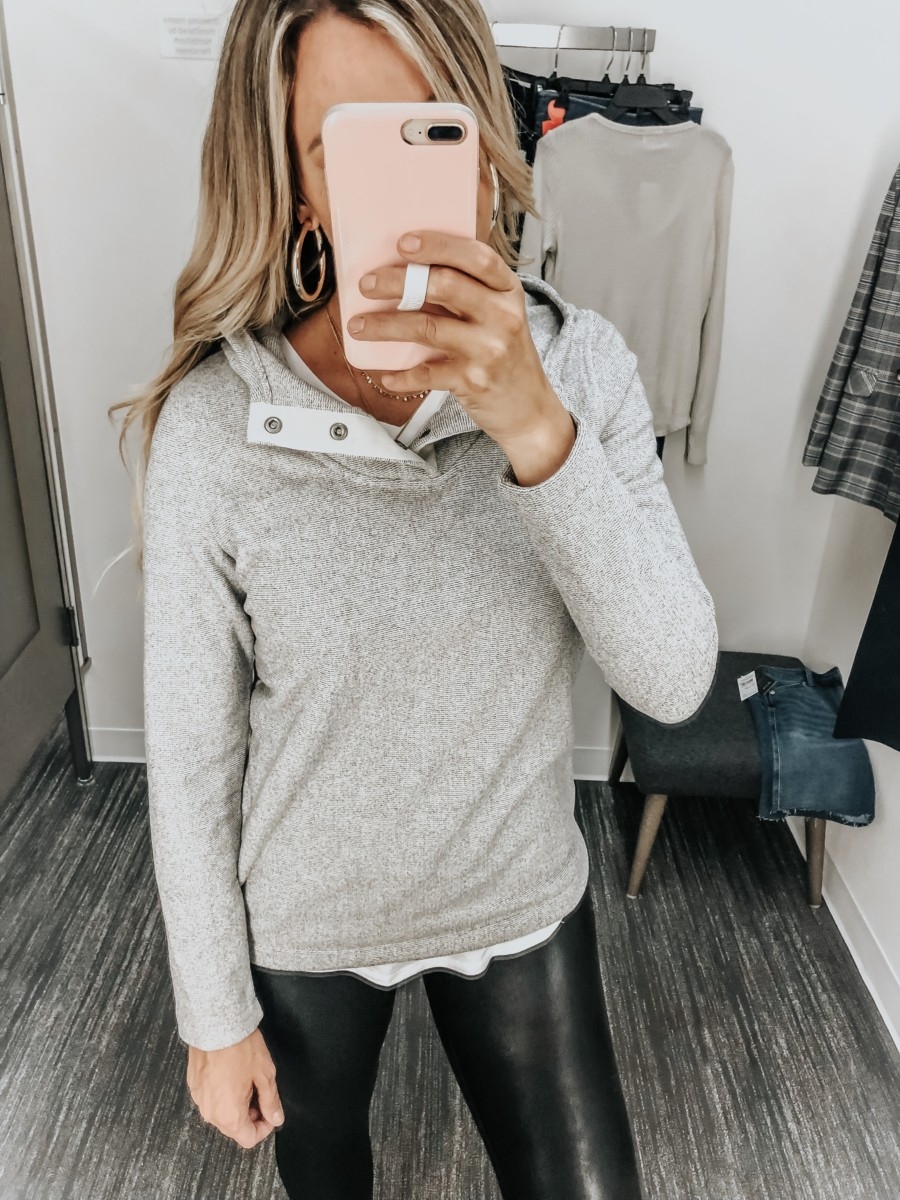 Pullover ( M)  //  Faux Leather Leggings (M)
These pullovers don't go on sale at this steep of a discount, EVER!  My husband asked if I was wearing the camo spanx leggings the other day.  I was like what are you talking about.  Then I looked at how worn the butt was after three years and realized I needed a new pair.  No joke, I wear these daily from Dec-Feb.
MODEL LEG STATUS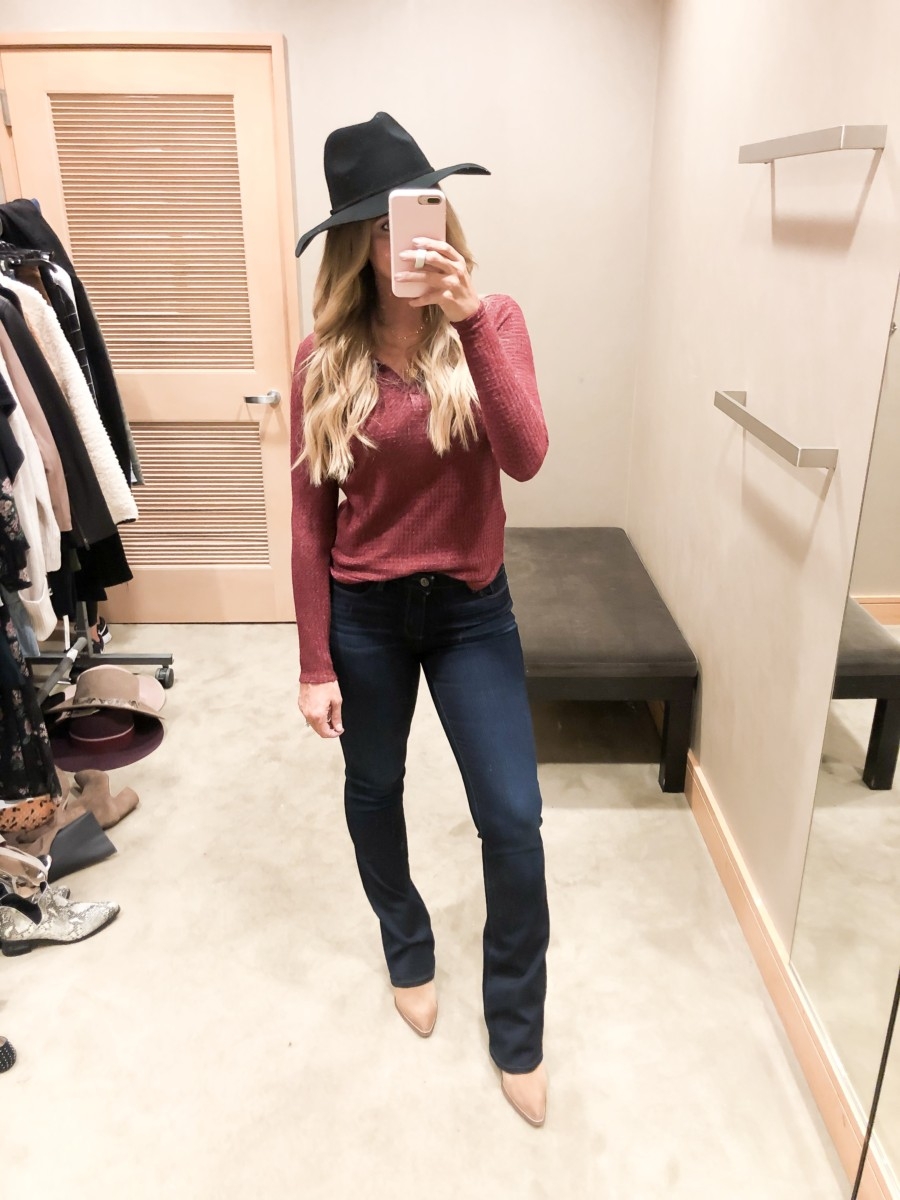 Boot Leg Jeans (28) similar pair also on sale HERE  //  Henley (M)  //  Bootie (tts)  //  Hat
Move over Victoria's Secret Models!  There's a new daddy long legs in town.  I mean are these pants for real?  I didn't want to try these but my friend threatened to not let me have a cocktail at lunch so I caved.  Ugh, I'm so glad she knew me better than me.  PAIGE is one of my favorite denim brands and these pants are LEGIT.
This is the same henley from the first picture (cream) but in red.  I maybe also got it in grey…
BEAUTY & ACCESSORIES
What Nordstrom Anniversary Sale items are you excited about?  Share in a comment below!