Today I'm sharing some Nordstrom Anniversary Sale beauty buys.  When it comes to the beauty department I like to stock up on things I use frequently or save on that splurge item I've been eyeing.  I also like to buy gifts for Christmas, stocking stuffers, birthdays or teachers.  This is a great way to knock out some of your holiday shopping early and save!
The Anniversary Sale is live through August 30th so there is still time to shop the great deal on jumbos/duo packs and  special gifts with purchase.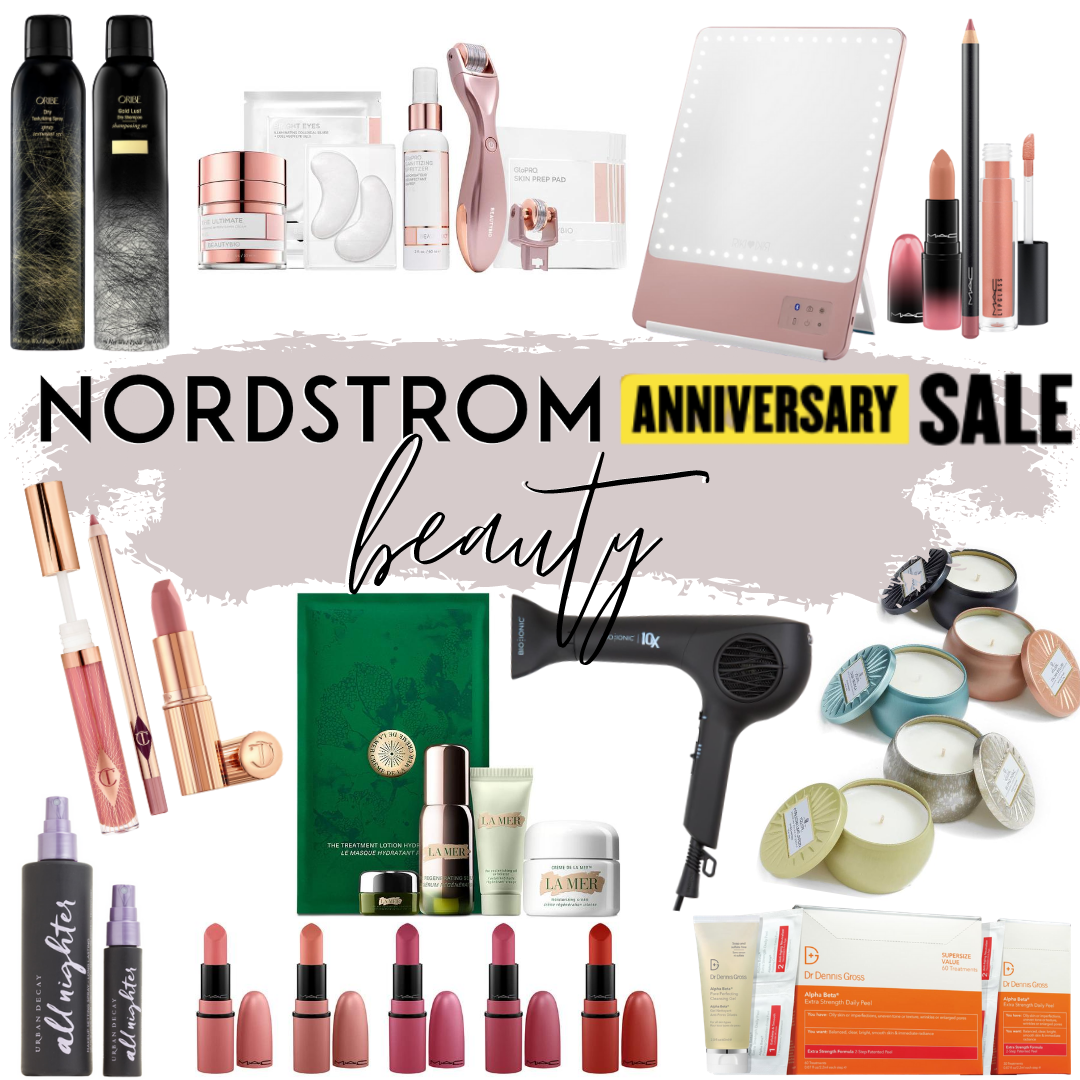 ORIBE Dry Shampoo & Texturizing Spray Duo  // BeautyBio Microneedling Facial Set  //  Riki Loves Riki Lightup Makeup Mirror  //  MAC Lipstick Trio  //  Charlotte Tilbury Lipstick Trio  //  La Mer Facial Set  //  BioIonic Hair Dryer  // Voluspa Mini Candle Set  //  Urban Decay All Nighter Setting Spray  //  MAC Lipstick 5 Set Pack  //  Dr. Dennis Gross Alpha Beta Peel Set
Nordstrom Anniversary Sale Beauty Buys
My stylist turned me onto Oribe years ago and this is my favorite duo!  After curling my hair I spray the texturizing spray all over my ends and finger comb my hair out.  Before bed or in the morning I use the dry shampoo.  This dry shampoo is great because it isn't too powdery and perfect for any hair color.
Microneedling is all the rage for producing more collagen and ultimately keeping our skin look tight and fresh.  At night, swipe a Skin Prep Pad over your skin. Then, use light pressure and roll GloPRO horizontally over the targeted areas 2–3 times, letting the machine do the work. Roll GloPRO vertically over these same sections no more than three times. Attach the Eye MicroTip Attachment to use on your eyes, lips and nose. It should be used for at least one minute to ensure skin has been properly stimulated. Your skin will appear pink or flushed after using. Apply Bright Eyes to clean, dry skin. Smooth the moisturizer over your face.
I bought this mirror last year and can't leave the house without it now.  The lighting is 100% perfection, it comes with an adjustable fold up stand and a magnifying mirror.  If you are a blogger or YouTuber, there is also a magnetic phone holder for tutorials.
There are two color options with this lip kit, Neutral or Pink. I ended up going with pink because a neutral lip tends to wash me out.  The lip pencil in the pink kit is one of my favorite colors that I always keep on hand. The lipstick in the pink kit is the perfect everyday pink.  Not too red and not too brown.
These candle sets are perfect to stock up on for presents.  Divide them up and give them to teachers, friends or stocking stuffers.  These candles are also perfect for powder bathrooms or guest rooms.
This Bio Ionic dryer is salon approved and takes drying hair to the next level.  This dryer was on my wish list and I snagged it ASAP.  Let me tell you, it does not disappoint.  Time to kiss the tired blow drying arm goodbye because this dryer weighs less than 1 lb.  It is so light I almost threw it across the room the first few times I used it.  It claims to dry hair in 10 min or less so I set the timer and got to drying.  I was pleasantly surprised to have dry hair in seven minutes.  This hair dryer is definitely number one at the top of my list.
La Mer is always one of the Nordstrom Anniversary Sale beauty buys I keeps my eyes peeled for.  When the dry winter months hit and my face feels like sandpaper, La Mer always comes to the rescue.  It is a splurge item but the lotion alone is so good I can't quit it!
This lipstick color has a cult following and is quickly becoming known as one of the most flattering lip colors on all skin tones.  Admittedly, I own three tubes of it. Pillow Talk is also one of my favorite colors to wear during the fall.
These peel pads are a personal favorite of mine.  They have helped keep my hormonal acne at bay along my chin and jaw line and improved the texture of my skin.  I love that these peel pads are individually wrapped so they do not dry out and it makes them perfect for travel.
I bought this set last year and it did not disappoint.  The colors were a perfect mix of neutrals with a nice everyday red perfect for the holidays. These would be perfect to gift to a girl friend or use as as stocking stuffer.
Last but not least…the temps are still a million degrees and the sweat is real.  Once I spend time to put my makeup on, I don't want it melting off my face.  This makeup setting spray will lock it and load it so it stays put the entire day.
What beauty items are you planning on buying from the Nordstrom Anniversary Sale?  Let me know in a comment below!
Check out my review of Nordstrom Beauty Best Sellers!
XO- Sara
Thank you to Nordstrom for sponsoring this post.