I am so excited to share with ya'll my Forever Young Laser before and after pictures.  After years of sun exposure, my face and chest were showing major signs of damage.  Melasma and sun spots were creeping in.  I had an iron clad skincare routine and tried chemical peels.  Nothing was touching the dark spots.
I decided to research laser treatments and came across East Shore Medical Spa and their laser tech Lizzy.  Turns out we had a mutual friend in the skincare business and she RAVED about Lizzy.  After two Forever Young laser treatments, my skin looks fantastic.  In this post I'll share my before, during and after results as well as some FAQ's Lizzy answered about this specific laser treatment.  These are original pictures with no filter, no light adjustment or makeup (besides some mascara).
BEFORE MY FOREVER YOUNG LASER TREATMENT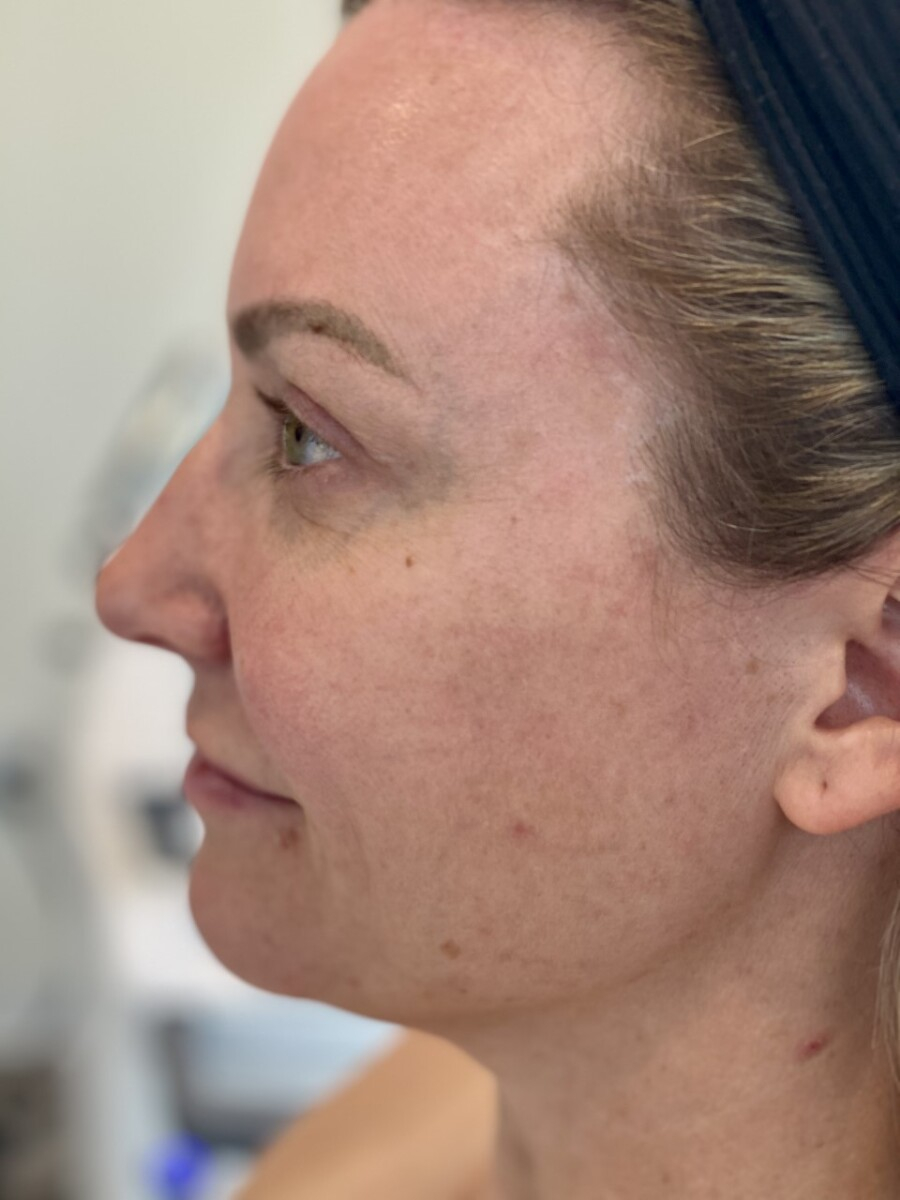 In the below picture, you can see the dark brown sunspot on the lower part of my jaw.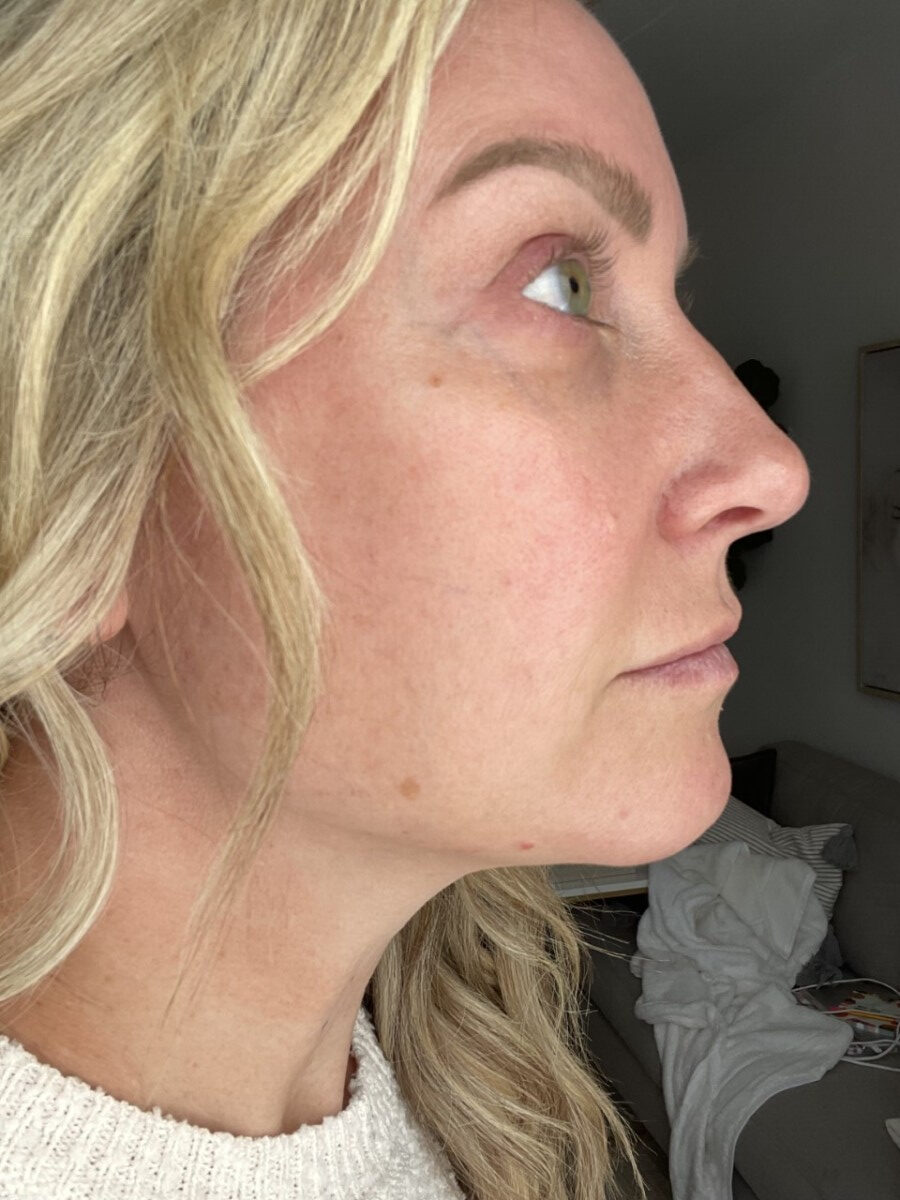 Here you can see the peppery pigmentation on my chest as well as the redness around my nose and chin from broken capillaries.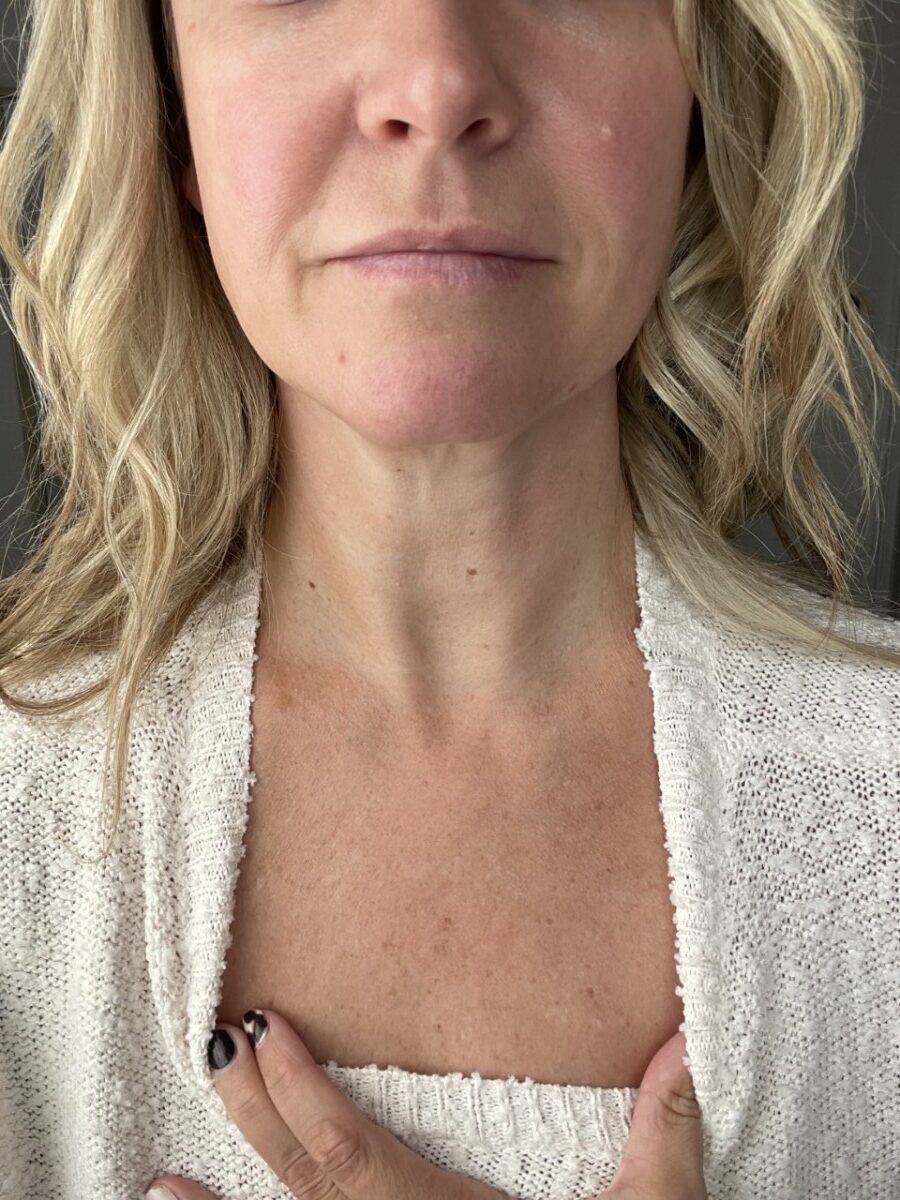 CHECK OUT MY ANTI AGING SKINCARE ROUTINE
DURING MY FOREVER YOUNG LASER TREATMENT
The treatment area will be covered in gel and you will be given protective eyewear.  The laser has different frequencies so it can feel a little "spicy" or like a rubber band is snapping.  For me personally, the pain was minor and bearable.  Lizzy also gives you a tube that blows cold air onto the area to relieve some of the heat.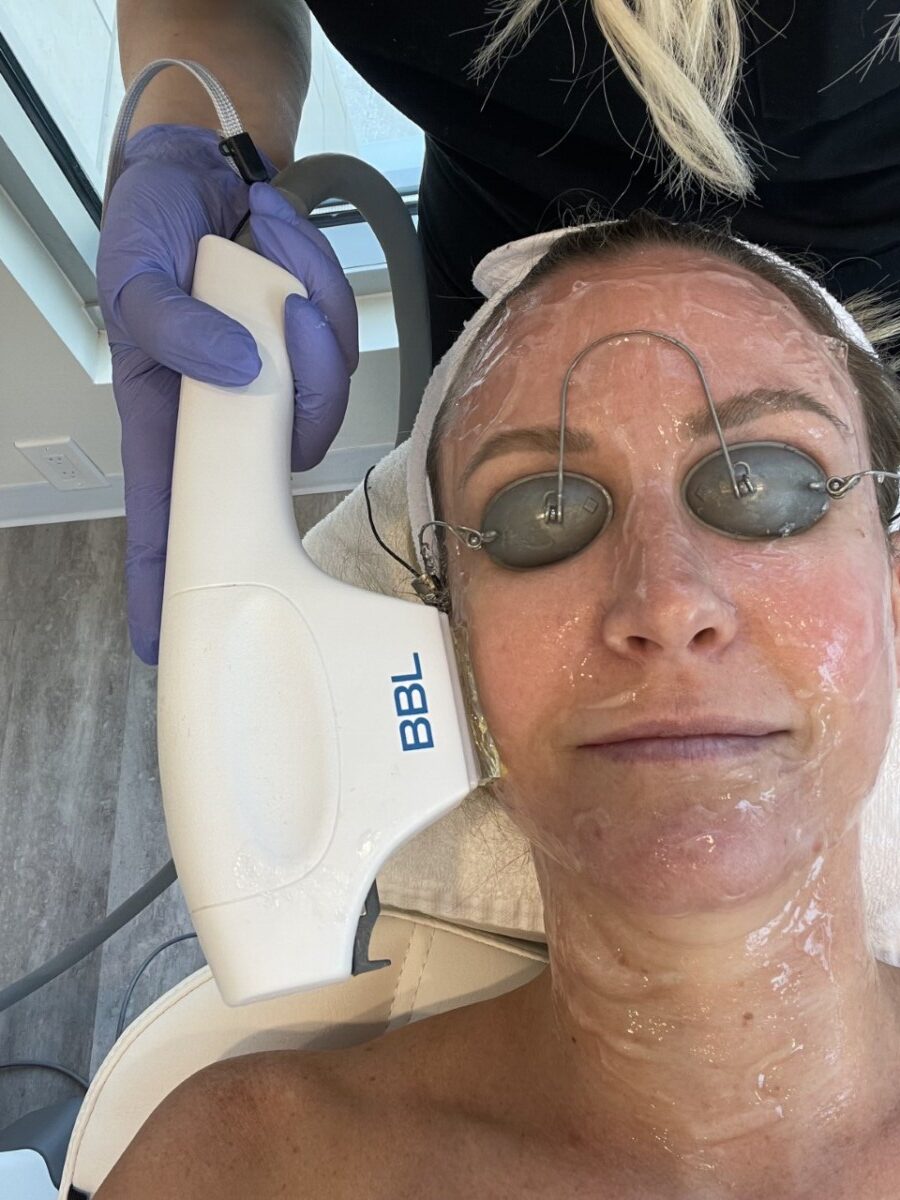 Directly after treatment your skin may feel hot like a bad sunburn for about 30 minutes.  The highly pigmented areas will look dark or peppery. After 24 hrs most of this redness was gone.  It looks painful but I had no pain or sensitivity.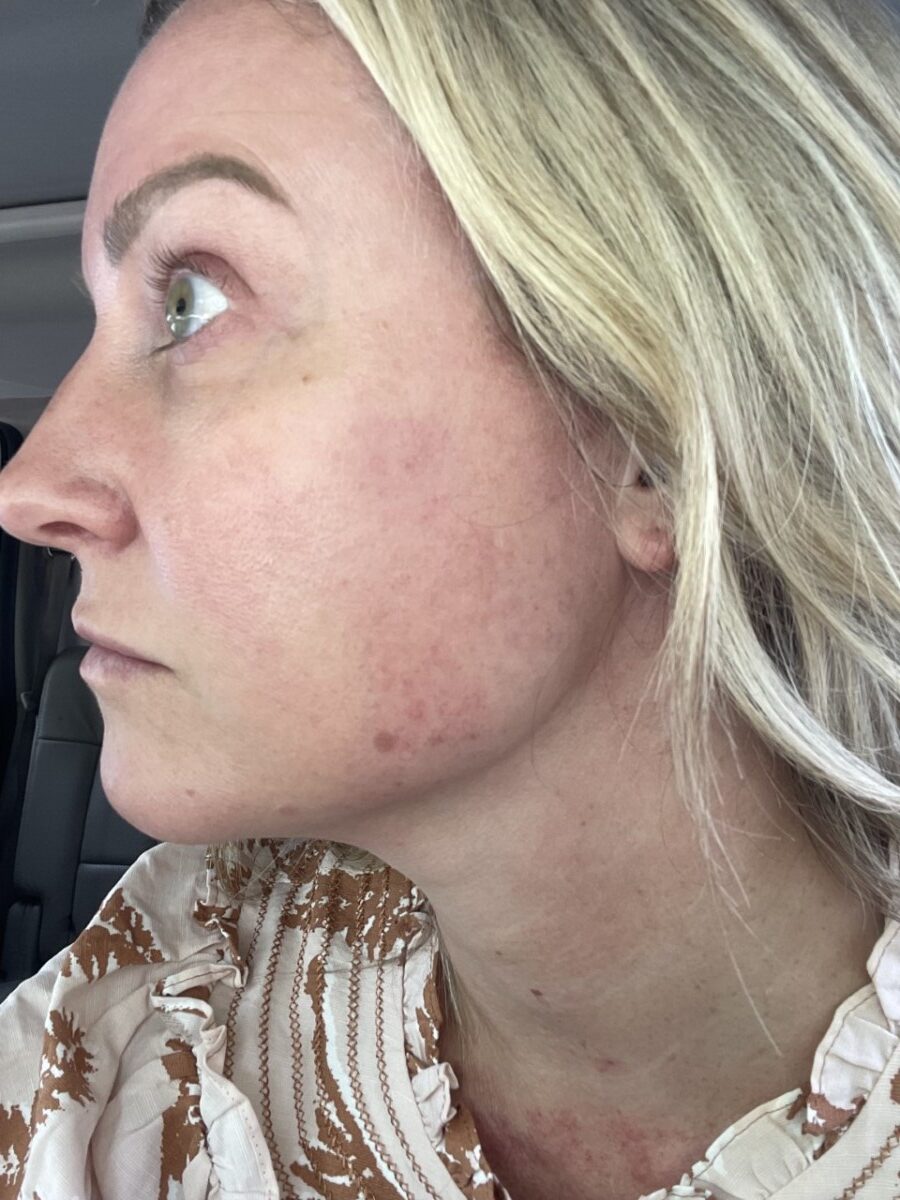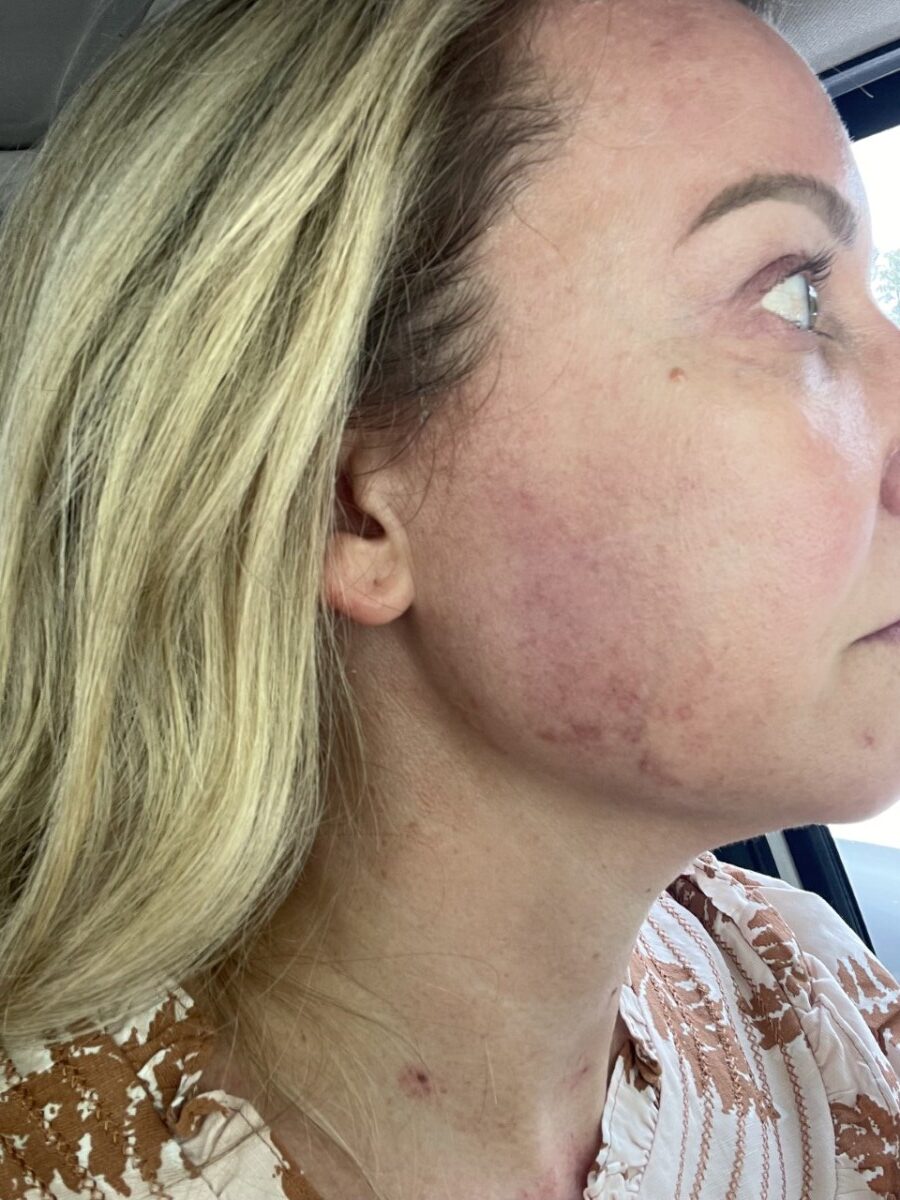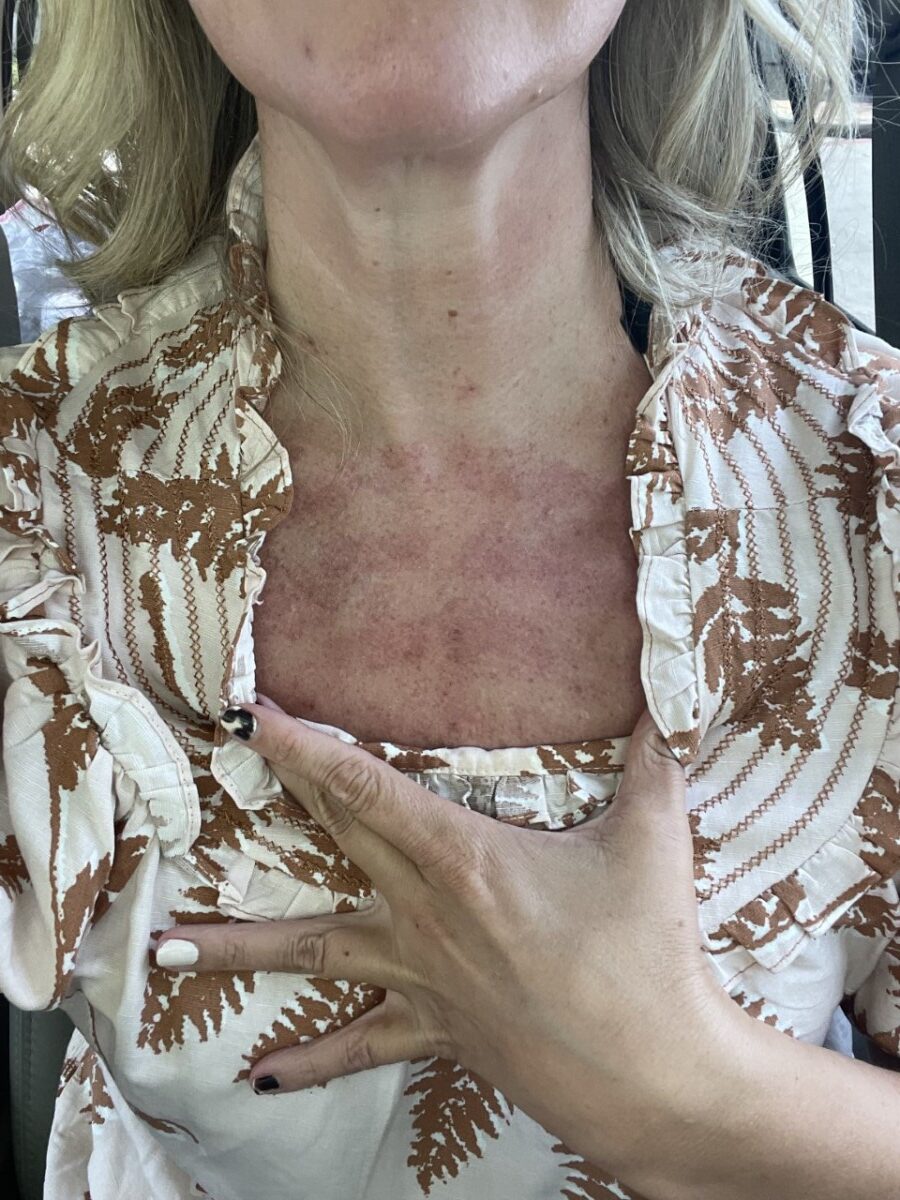 AFTER MY FOREVER YOUNG LASER TREATMENT
One week post procedure.  This completely makeup free picture is the right side of my face where the dark sunspot was.  Can you believe this Forever Young Laser Before And After?!?  The spot is completely gone and the redness is greatly diminished.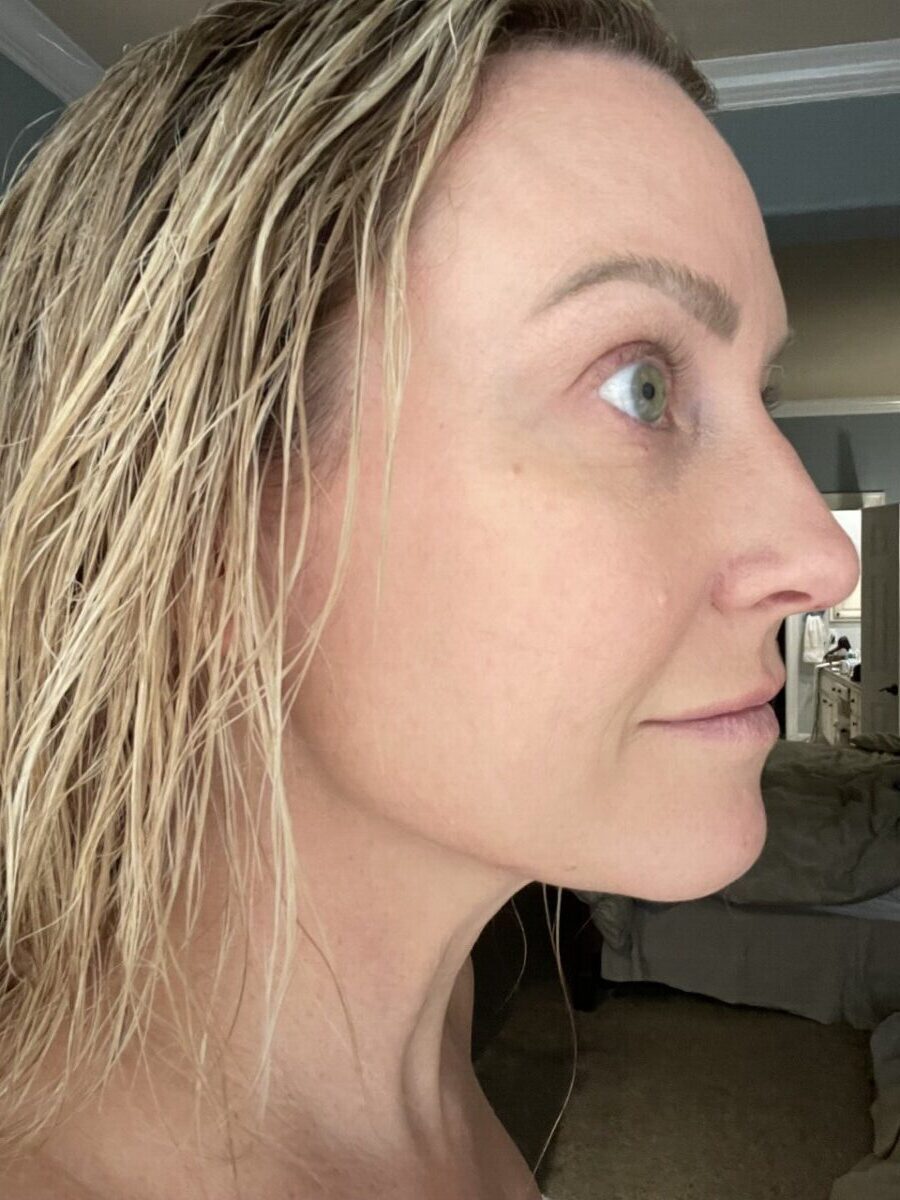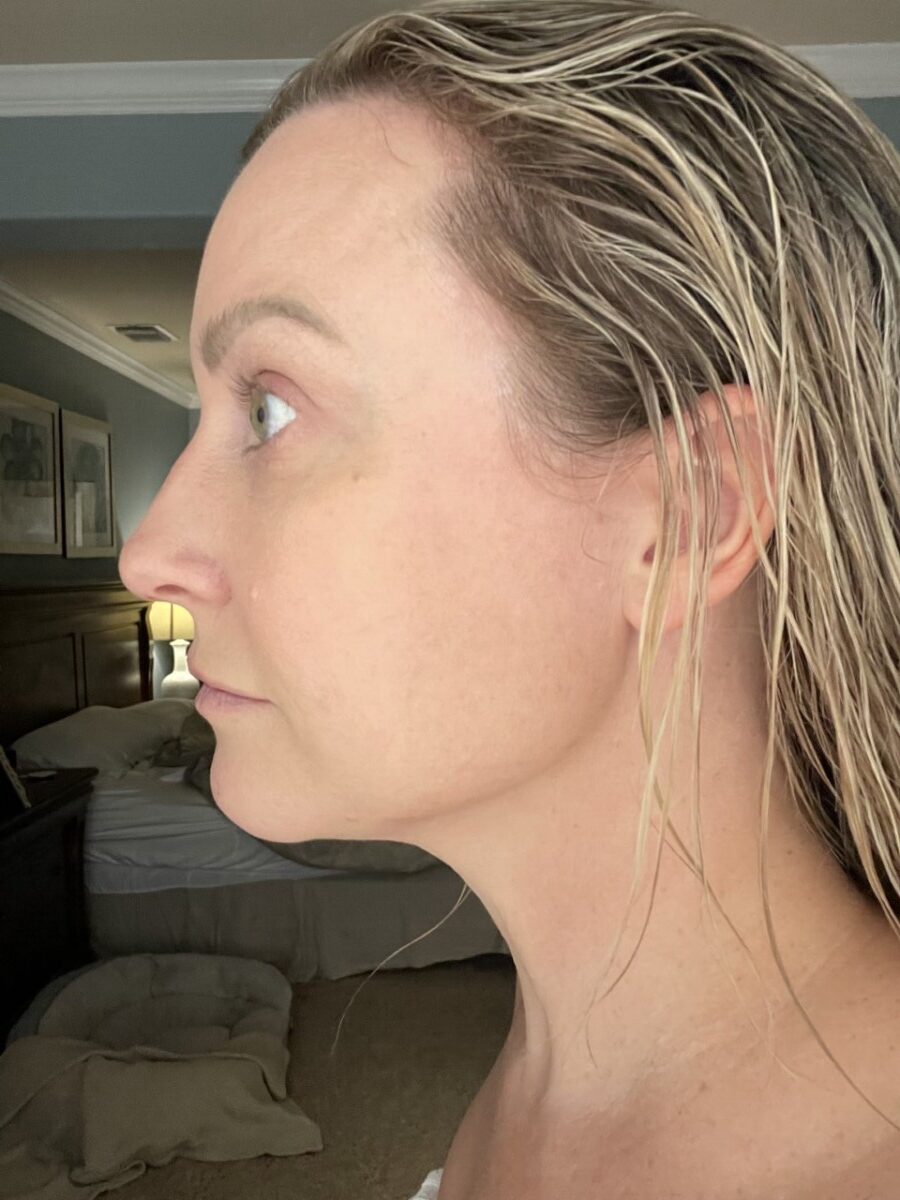 My chest pigmentation was the worst and had  improved about 50% after a week.  Now, three weeks after the procedure I have seen more improvement.  I think with one more Forever Young laser treatment, I'll be able to see even more improvement.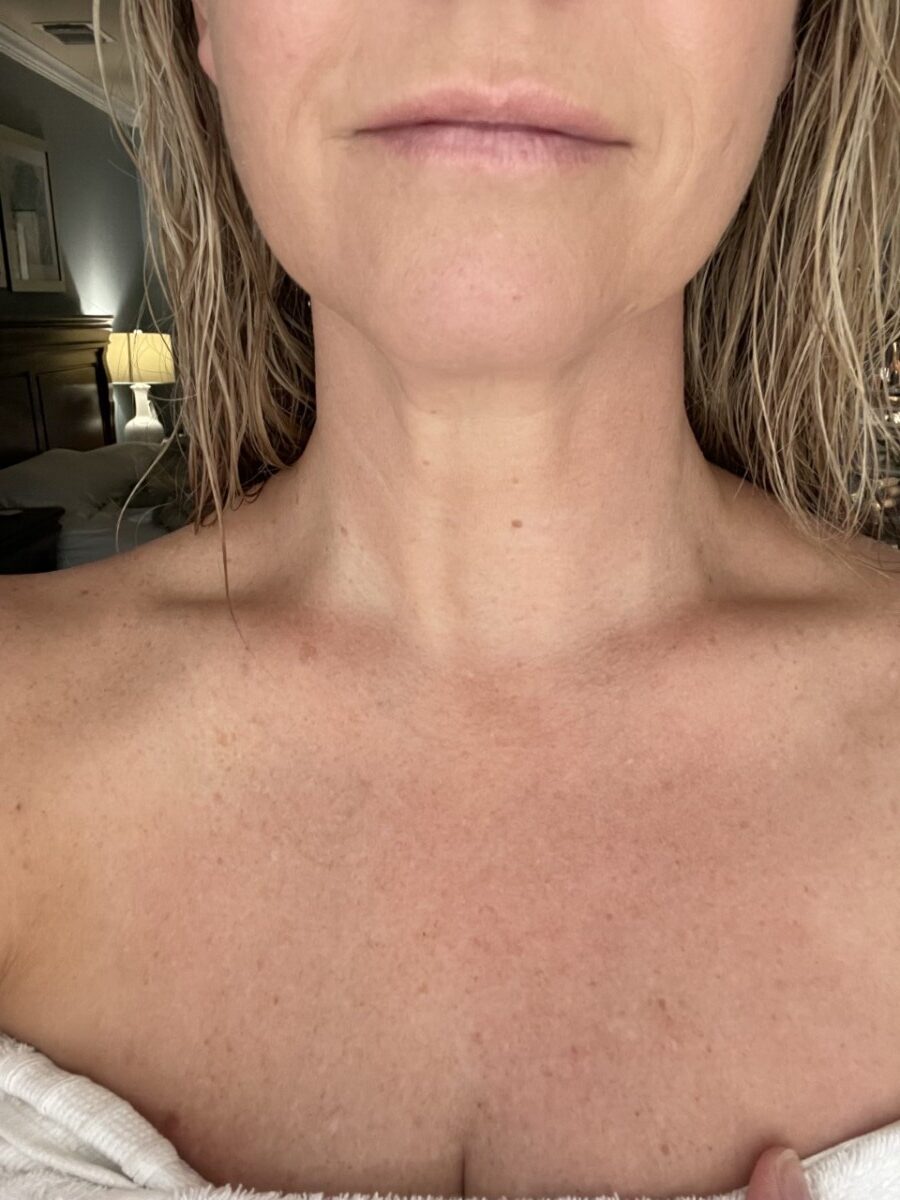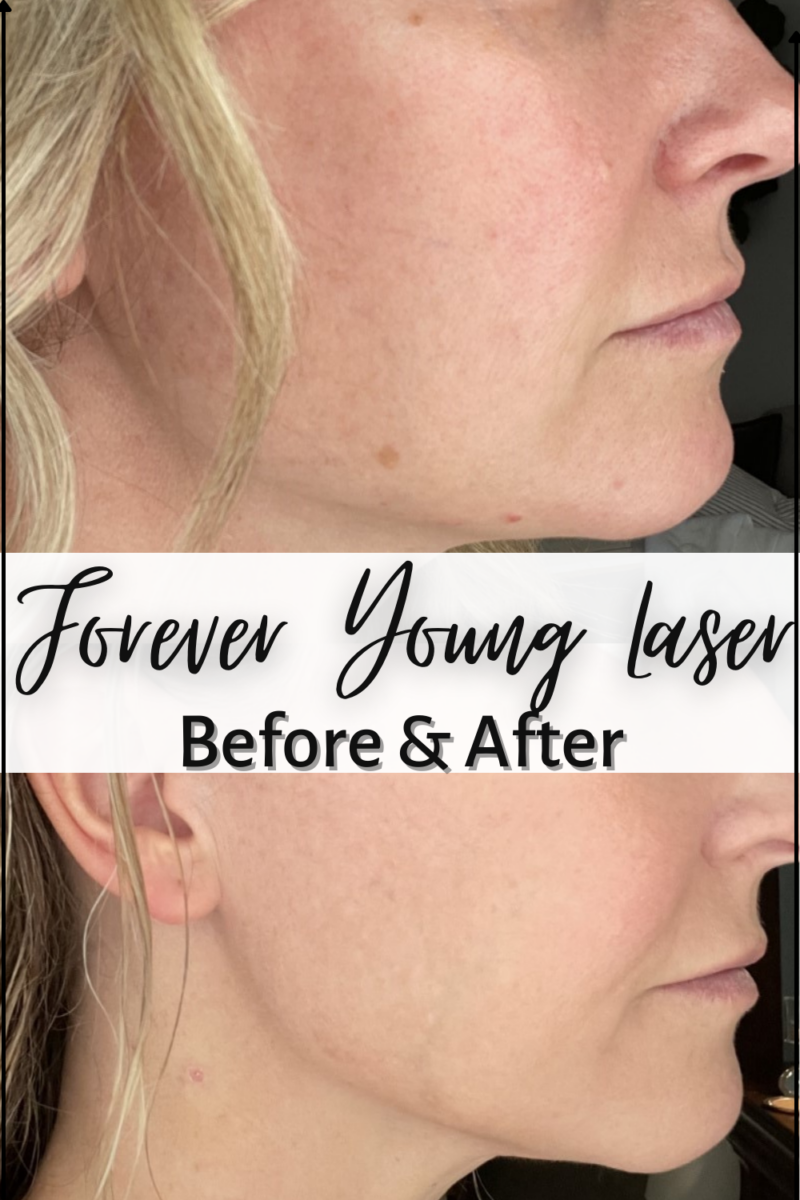 FOREVER YOUNG BBL LASER Q&A WITH LIZZY FROM EAST SHORE MEDSPA
How do you know if you are a good candidate?
BBL can benefit most all medium and light skin individuals. We offer free consultations utilizing our visia skin analysis camera to help determine the best treatment plan for you.
What is the difference between IPL, BBL and HALO?
BBL is the world's most powerful and advanced IPL device on the market. It has improved speed, cooling and more setting options to customize the treatment to you. BBL is also the only photofacial device on the market that has a published Stanford Study on its proven ability to anti-age the skin at a cellular level.
Difference between BBL vs Halo:
BBL primarily works surface pigment and has little to no downtime – suggested 3 or more per year.
Halo laser can be used on all skin types, works deep dermal pigment, retexturizes the skin, and can improves every aspect of your skin. Halo is recommended 1 x per year and has 4-5 days of social downtime (i.e., swelling).
What conditions does BBL treat?
Age Spots, Sun Damage, Fine Lines and laxity, Freckles, Rosacea, Redness and Flushing, Small Facial Vessels, Acne, Scars, Enlarged Pores
What areas of the body can I do BBL on?
Every area of the body. Most common areas are Face, neck, chest, forearms, and back.
How many treatments on average are needed for dark spots on the face?
1-3 treatments are recommended
How does this compare to other laser treatments that also fade dark spots?
BBL is great for superficial dark spots, for deeper pigment we use Halo. A complimentary consultation will determine which treatments are best for you.
Is the Forever Young Laser more effective at reducing sun spots than doing chemical peels?
In my opinion yes. Results are almost instant without the downtime of peeling.
How long does it take to see results after treatment?
Almost instantly you will see the sunspots darken and come to the surface like coffee grounds. The dark spots typically flake off in 5-7 days.
Is there downtime after I get the BBL?
Typically, there is no downtime. For post care we recommend daily SPF 30+ and no vigorous exercise or overheating for 24 hours.
Can people with darked pigmented skin do this laser?
Clients with dark skin are not candidates for BBL. For Darker skin types our go to laser treatments are Sciton ClearSilk and Halo Laser.
Does the laser treatment hurt? What does it feel like? After care?
BBL treatments are quick with minimal discomfort. Some describe the treatment to feeling like little burst of energy on the skin. After treatment your skin feels taut and rejuvenated.
How much does it cost?
BBL Face & Neck is $375 for 1 treatment. We offer 20% off a pkg of 3 treatments and also offer monthly memberships.
I need something for my neck! My neck looks 50 and my face looks 40.
We always treat your neck with BBL when treating your face because there is an added benefit of skin tightening. Depending on your needs, we offer various options for anti-aging the neck including: Sciton Skintyte, Halo Laser, SkinPen, Botox, and Revision Nectifrm.
For more information check out the skin rejuvenation tab on our website and schedule your free consultation with Lizzy.
Forever Young BBL the woodlands tx | East Shore Salon and Medspa | The Woodlands TX | Great Hair and Skin Houston TX (eastshoresalonmedspa.com)