Hello!!!  So many fun things coming up that I can't wait to share with ya'll!  The Nordstrom Anniversary Sale is coming up the second week of August.  This year I will be focusing on shoes and fall/winter staples, home goods, and all things Nordstrom beauty related.
Today's post is a fun one.  Have you ever been curious about beauty best sellers?  Are they REALLY that good?  What makes these makeup faves so good?  Well, my friend Marnie from Ms. Goldgirl and I decided we would be testing out the Nordstrom beauty best sellers and see if they are worth the hype!  Marnie is in her 40's with dry skin while I am in my 30's with combination skin. I love sharing other bloggers or YouTubers who might have a different perspective.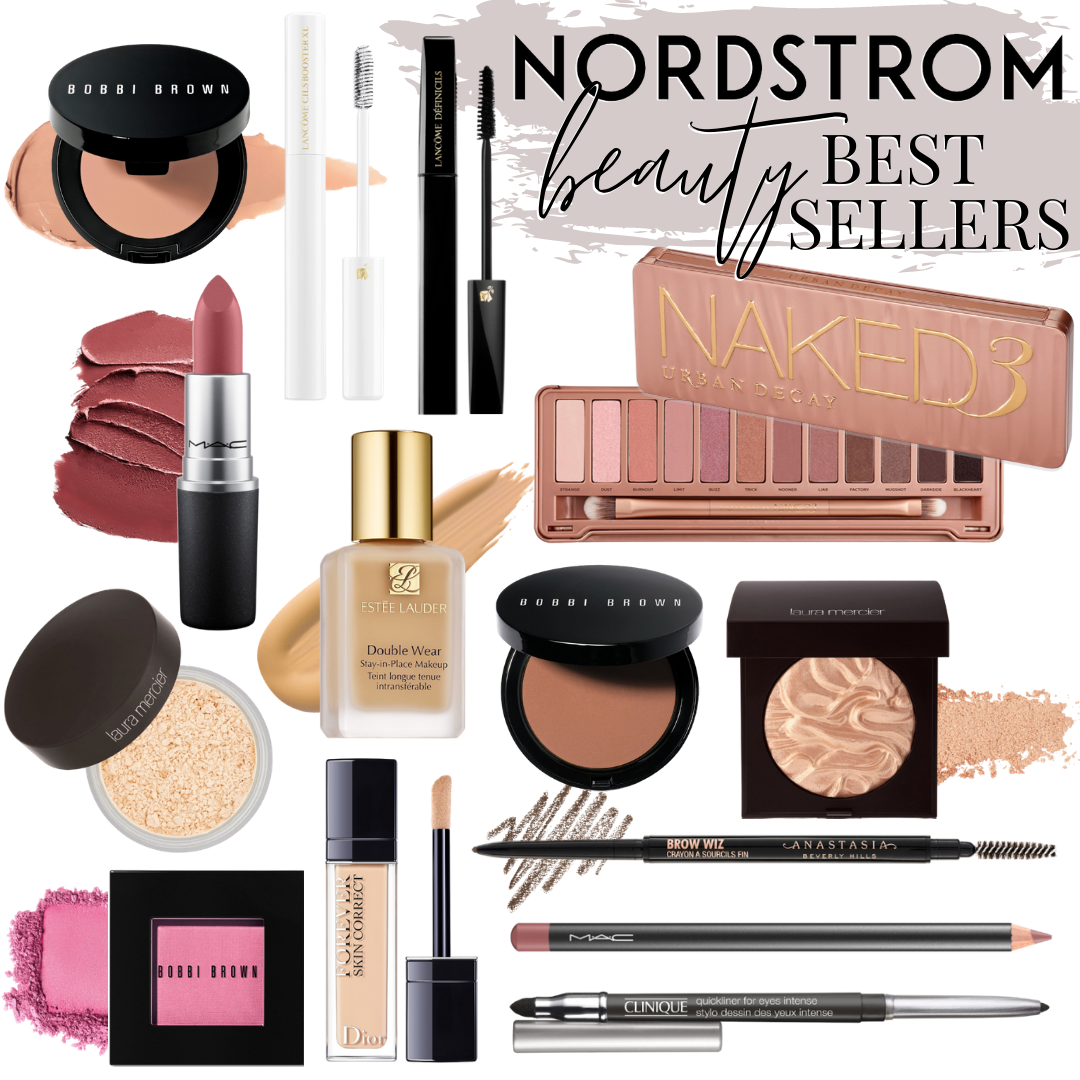 Don't miss my last beauty post featuring Summer Sweat Proof Makeup Tips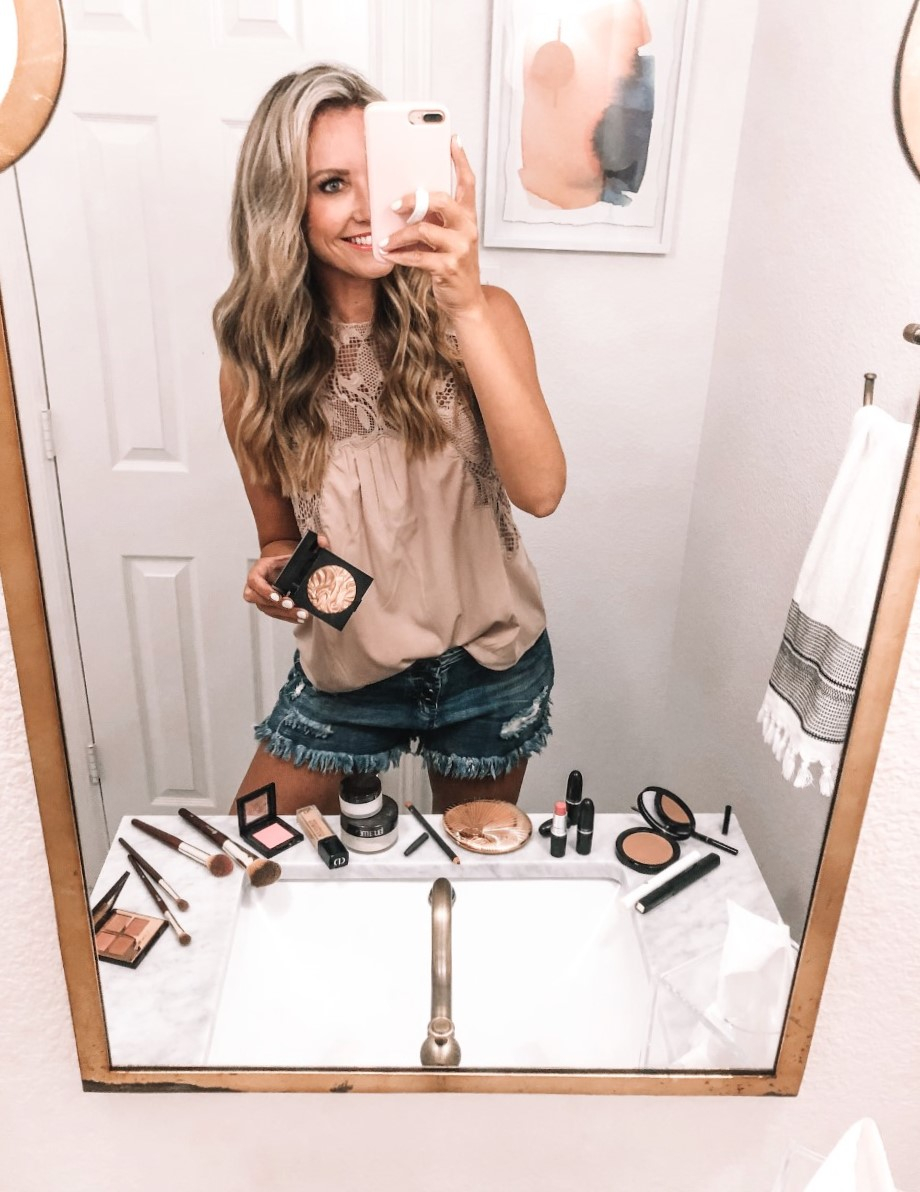 Our guidelines for picking the Nordstrom beauty best sellers meant they were not just the highest reviewed but received the most stars of all the highest reviews.  For example, the double wear foundation was a 5 star foundation but it also received the MOST 5 star reviews.
Testing Nordstrom Beauty Best Sellers
FOUNDATION: Estee Lauder Double Wear Foundation
This has been a cult favorite for a long time.  It is a full coverage foundation that stays put all day long.  If you live in a humid climate or find your makeup melting off during the hot summer months, this is a great one to try!
CONCEALER: Dior Forever Skin Correct
New Favorite! No surprise this is on the Nordstrom beauty best sellers list.  I have dark under eyes and have tried every concealer under the sun.  This formula offers great blendable coverage that stays put. I wear the shade 2.5 Neutral during the summer and will have to move down to 2 Neutral in winter.
CORRECTOR: Bobbi Brown Undereye Corrector
I love a good under eye corrector to brighten my under eyes.  This one gave great coverage but was a bit emollient for my liking during the humid summer months.  I am going to keep it and see how it works during the drier fall/winter months.
This blush was very pretty!  I ordered the shade Pretty Pink and love the soft pink shade.  The shade Peony is also on my list. I liked that this blush was matte and did not have sparkle.  When blushes have sparkle and then you add highlighter the situation can turn into a disco ball effect real fast!
BRONZER: Bobbi Brown Bronzing Powder
This bronzer was nice but I think I needed one shade darker.  I ordered the shade Natural and probably needed Medium for summer.  Again, I'm going to hang on to this and test it out during winter.
HIGHLIGHTER: Laura Mercier Face Illuminator
I don't have very prominent cheek bones so I always use highlighter to accentuate them.  I was using THIS highlighter and still love it but it can be a bit heavy for some.  This compact highlighter is perfect for beginners and gives the most beautiful glow.  I got the color Indescresion and it looks beautiful on the skin.  I use a fan brush to apply it and sweep a bit on my collar bones when wearing tank tops or sun dresses.
POWDER: Laura Mercier Translucent Setting Powder
This translucent powder is a huge cult favorite.  I have been using it for years.  During the summer I will use a damp beauty blender to blot the powder into my skin and set my foundation.  During the winter I will loosely sweep it across my face.   I like that the color of the powder does not change the color of my makeup and it does not get cakey.
EYEBROW PENCIL: Anastasia Brow Wiz
This is my all time favorite brow pencil.  The fine tip allows you to create fine hair like strokes for a natural look.  I use the color Taupe.
EYELINER: Clinique Quickliner For Eyes
I was surprised to see this as the number one eye liner.  I used this for years when I was in high school.  For me the formula is a bit dry and does not glide on as easily as others.  I also wish they had more shade ranges.
EYESHADOW PALETTE: Urban Decay Naked 3 Palette
These palettes are cult favorites and for good reason.  The colors are pigmented and blend easily.  The Naked 3 Palette has gorgeous soft colors that bring out any eye color.
MASCARA PRIMER: Lancome Cils Booster XL Vitamin Infused Primer
This is one of my new faves! If you aren't using a primer TRY IT!  They make a huge difference.  I apply a coat to the front of my lashes and the backside tips.  Let the primer dry for about 10 seconds.  You want it to be tacky.  Not too wet so the mascara wipes it off but not dry so the mascara snags on it.  Primer helps give lashes a fuller thicker appearance.
MASCARA: Lancome Definicils Lengthening & Defining Mascara
This was a fail for me. I didn't really like anything about it.  The color is kind of grey and not a true black.  I also did not like the applicator brush.  I have long lashes and it was hard to get the brush to grip my lashes while I swiped to the top.
These lip liners are another favorite.  The formula lasts a long time so I don't have to reapply very often.  I have these liners in so many colors but my go-to is always the color Soar.  This is a pretty mauve color that goes with a lot of lipsticks.
Another favorite lipstick!  These lipsticks come in a million different colors and have a great price point.  My favorite colors are Modesty, Mehr, Twig, Ruby Woo and Twig
My Top 5 Favorites from the items I ordered were:
Dior Concealer
Mascara Primer
Powder
Lipliner/Lipstick
Highligher
Least Favorite:
Mascara & Eyeliner
I hope ya'll enjoyed this post.  I always like sharing new beauty finds with you.
Thank you to Nordstrom for sponsoring today's post.
-XO Sara
What are some of your favorite Nordstrom beauty products?  Let me know in a comment below!