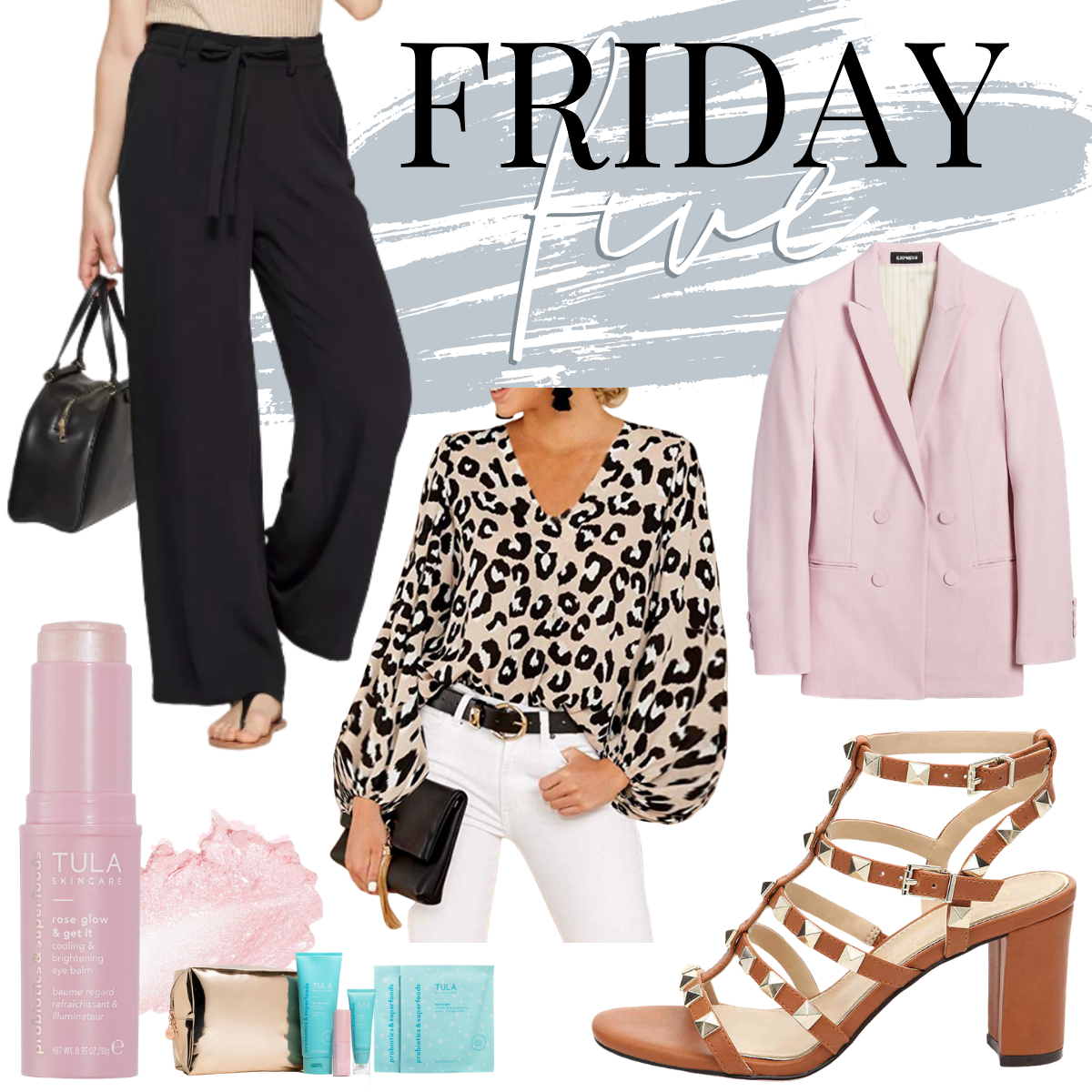 This week's worwear must-have items revolve around cute workwear for Spring.  Consisting of pieces that you'll love again and again right through Spring and into the Summer.  Hello, studded sandal – I see you! 
Cute Workwear for Spring
Flattering and comfortable, wear to the office or to HEB, pair with your favorite blouse or a cute tee.  These high-waisted, wide-leg pants are adorable with the tie detail in the front and would be an easy addition to any wardrobe!
If you haven't brought animal print into your closet yet or are just adding a bit here and there with your accessories, make the leap into this trend with this blouse!  Beautifully oversized, universally flattering v-neck, and lightweight material combined with the timeless leopard print is what makes this top a must-have piece.
There is nothing that'll give you boss-babe vibes faster than slipping on this fully-lined, gorgeously tailored Double Breasted Boyfriend Blazer.  I'm going to look forward to warmer temps (and spray tans!) and style this up with a cute mini, loose tank, and flats, but it's style-possibilities are endless!  
I have to admit, I had a total Carrie Bradshaw "hello, lover" moment when I saw these studded sandals.  I wore mine with a pretty spring dress from Target and my much loved Gucci belt – find the pic in my IG feed and shop this look by following me on the LiketoKnow.it app.
This TULA Cooling & Brightening Eye Balm is a can't-live-without product – it's everything loved about the original Glow & Get It eye balm, plus rosehip oil and hydrating rosewater, so you'll look refreshed, energized, and awake!  Bonus – this gem comes in a great Glow Getters 6 Piece Kit, use HANDH15 for 15% off your order!
What cute workwear for Spring are you currently loving?  Let me know in a a comment below!