Whew what a week it has been! So thankful tomorrow is FRIDAY! We have been on the go non stop and the kids are in full Halloween mode, begging to wear their costumes everyday. Paige is going to be a Koala Bear and Pierce is going to be Rafael the Ninja Turtle. Speaking of kids and always being on the go, who loves quick effective beauty treatments?!?! I know I do because I basically have to get ready every day with two other humans hanging on my body. So, here are a few of my favorite things I have been using lately. None of these are endorsed, I actually use these items and LOVE them!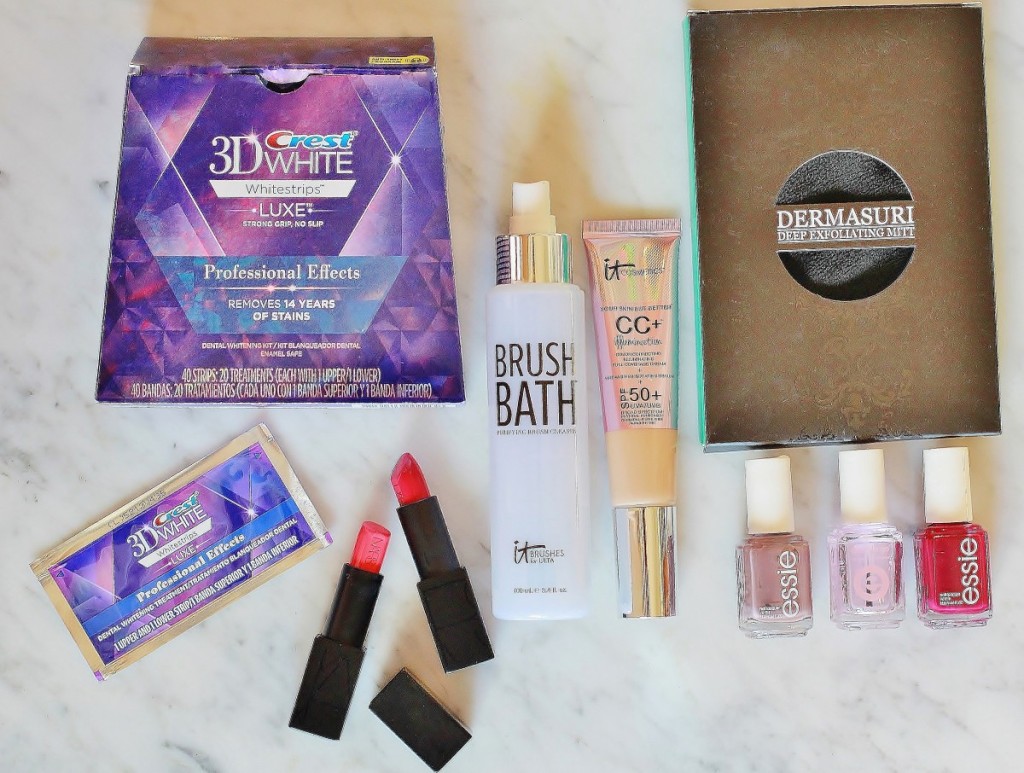 My first beauty favorite is Crest White Strips. They are relatively inexpensive compared to dental office whitening systems.  I normally use them for 4-5 days then save the rest and use 1-2 strips a week as maintenance. I drink coffee every morning so these do a remarkable job of removing those stains. My favorite Nars lipstick always looks better with white teeth as well. I am loving the new Nars collection. This summer I was obsessed with the color Natalie which is a bright coral pink color. This fall I'm loving the color Ava, which is a deep plum red (because of my lighting it looks bright red).
I am also loving Essie Nail Polish and their quick dry top coat. I don't really have time every week to get a manicure and shellac was tearing up my nails. Plus, I don't want to spend $80 a month on someone else painting my nails so I mostly do it myself. As I said before, my two munchkins don't allow for ample nail drying time before they want to swing or need another glass of milk so THIS top coat does the trick. My nails dry quickly and the top coat leaves them looking shiny and glossy for a solid 4-5 days. I love the range of colors Essie has as well.  These are some of the colors in my normal rotation: Fiji (soft neutral pink), Bahama Mama (great for fall), Chinchilly (soft gray), and Fiesta (pink for spring /summer).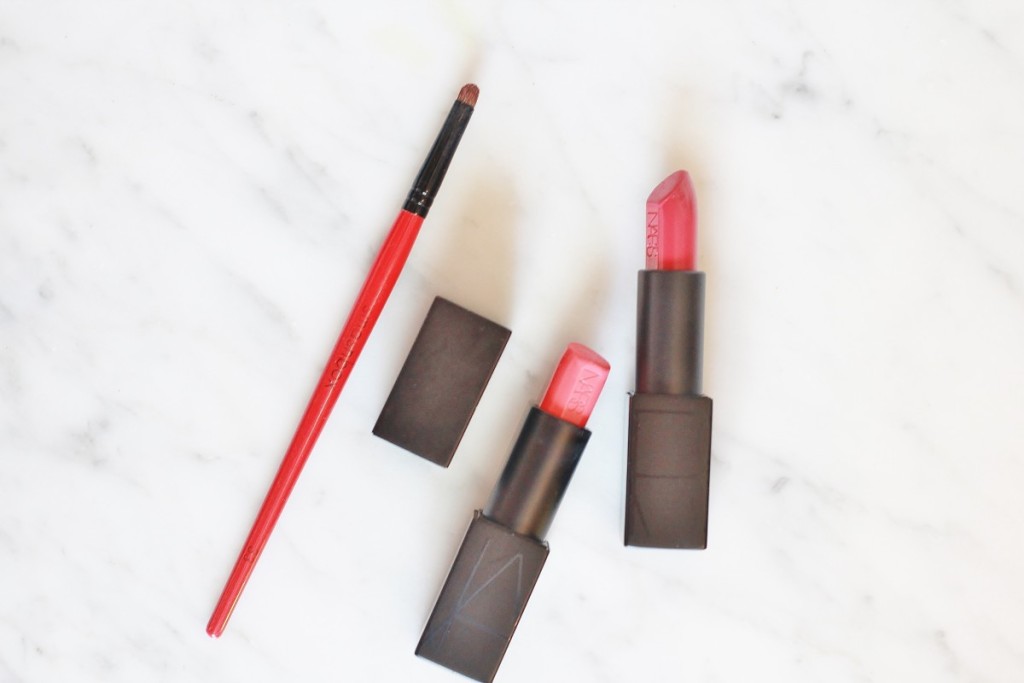 Next up is a newer product line that is quickly becoming a favorite is called iT Cosmetics. I received a sample of their under eye concealer and CC+ cream in my Ipsy bag and was fired up about their products. The CC+ cream has SPF 50 and has wonderful coverage. I could use the medium color in the original. Their newest product has illumination and I had to go one shade lighter. The illumination has tiny reflective specs to give you that dewy skin look. Then, the saleswoman at Ulta proceeded to show me their brush cleaner and I was sold the second she sprayed it on the brush. It smells like a spa in a bottle and the makeup buildup literally melted away leaving the brushes white again. I was amazed!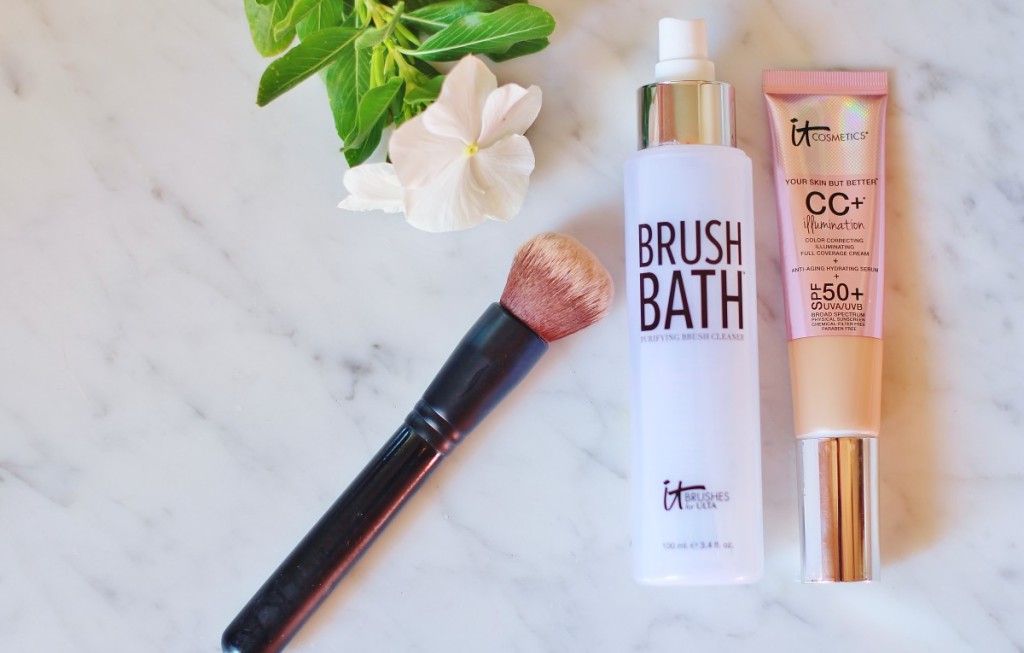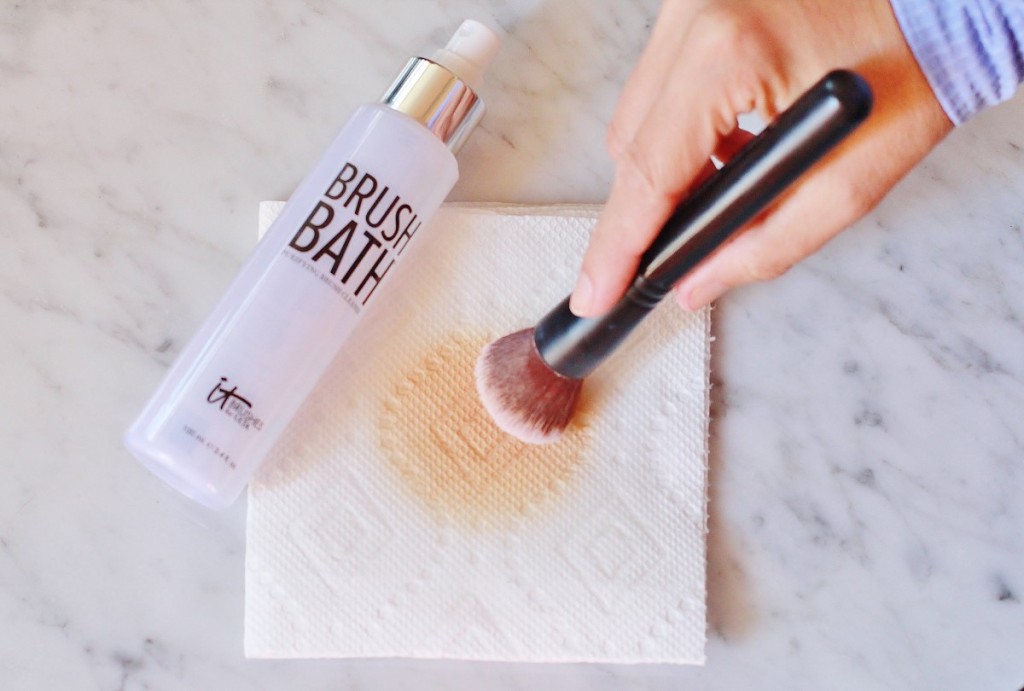 Next up is MY ALL TIME FAVORITE. As in, buy three of these and hand them out as gifts so your girlfriends, mom, sister, mail lady, teachers and anyone else you love can experience having skin as soft as a baby's butt all over again. I stumbled across THIS on Amazon because I was getting those little bumps on the back of my arms and my legs were so dry no lotion on the planet could help them out. Let. Me. Tell. You…OMG LIFE CHANGER. I told all of my friends about the Dermasuri Mitt, they bought it and texted me telling me how psyched they were. Now, before you look at the pictures they are pretty gross but you'll be so amazed you won't be able to turn away!!! HA! I jumped in the shower, rinsed off with plain ol' water, got my mitt wet and started scrubbing my legs (do not use soap before or during). Take a look at the mitt, see those white looking strings? THAT IS DEAD SKIN. As Jimmy Fallon says in that school girl skit he does "EW" just "EW"! I have been using this mit 2-3 times a week so there is not as much skin as the first time I used it.  And guess what? No more corpse like legs and no more bumps on the back of my arms. Get one and come tell me how radical your skin feels.
I hope you all have an awesome weekend filled with a lot of fall festivities and college football watching!
XOXO
Sara