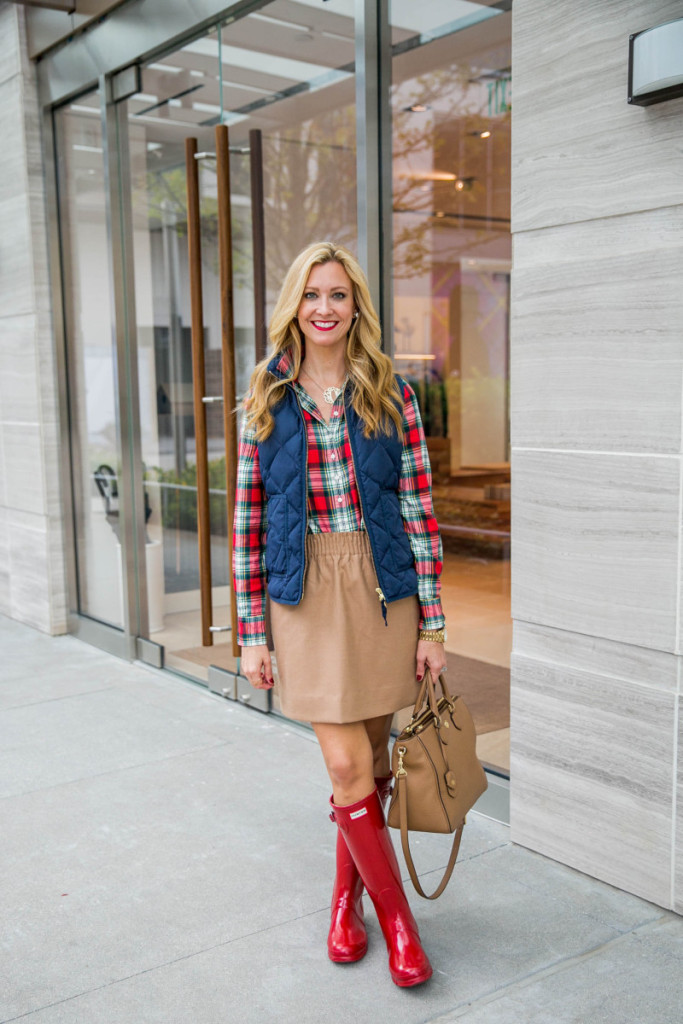 I'm Dreaming of a White Christmas…until it stops raining cats and dogs in Houston I'll settle for wearing this plaid shirt and puffer vest. The weather here has been so crazy. One day it is 85 and sunny, the next pouring rain and 40. YIKES. Anyway, I saw this plaid shirt and it immediately put me in the Christmas spirit! It is so soft and I love that it is a popover shirt with only about 4-5 buttons. It was chilly out so I added this navy puffer vest but paired it with a camel skirt because frankly I don't really like wearing jeans. I would rather wear a skirt or a dress any day.
I was out browsing around the new River Oaks Shopping District and I'll give Cartier the best décor award! They had prelit garland with their signature red and white boxes attached. Now, if all of those boxes had been filled with jewels I would have been even happier!!! The funny part is this business man was standing on the corner and I was wearing my red Hunter Boots because I thought it would rain later that day while I was out. He actually told me he did NOT like the boots. I just laughed it off but maybe I should have offered to let him buy me a suitable pair of shoes from Giuseppe Zanotti or Tom Ford!
This camel skirt is one of my favorites and I own it in about 4 colors. I would size down though because it has an elastic waist and stretches out pretty far. I tied the whole outfit together with my favorite camel handbag and monogram necklace. If you are needing a special gift for Christmas for you or someone else this makes a great one.
Happy Holidays!
XOXO
Sara