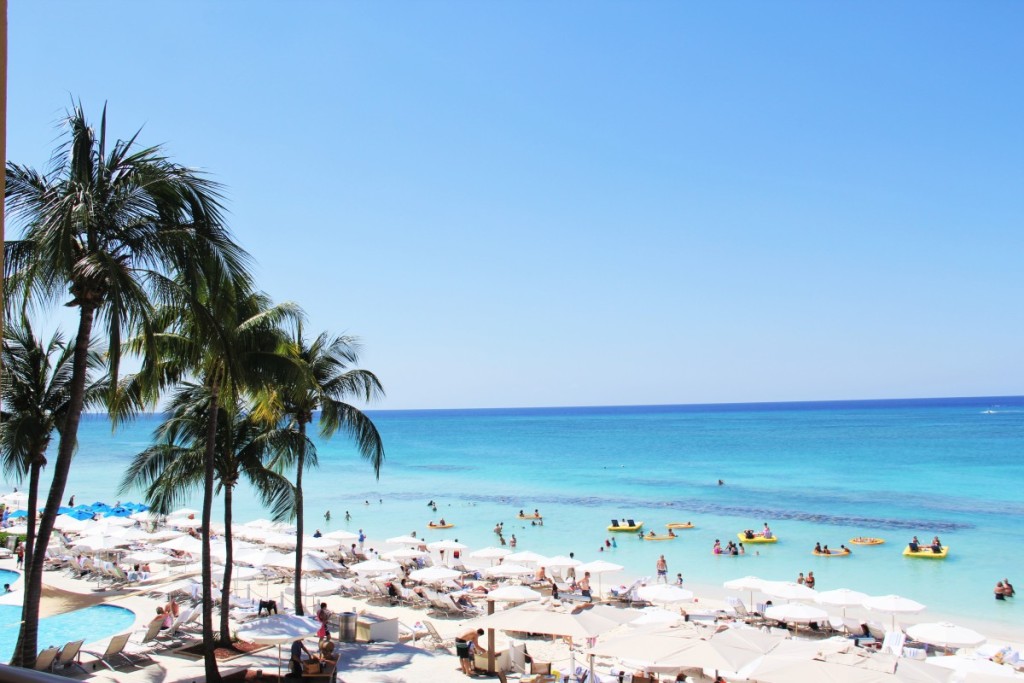 HI Ya'll! I am rounding up some great Fashionable Family Beach Essentials for the Family Today!
How many of you are ready for a beach getaway or just plain ready for summer?  I know I am!  I can't wait to set up my beach chair, put my toes in the sand, watch my kids build sand castles and collect sea shells.  Since we live an hour from Galveston beach we become total beach bums all summer long. P.S. This is a picture of the Grand Cayman…NOT Galveston! For those of you who haven't been to Galveston, the water is brown and there tends to be a lot of seaweed. We are on what's known as the "dirty side" of the Gulf.
Taking kids to the beach is a whole 'nother ball game compared to only worrying about yourself.  I think I heard a collective mom sigh as we all reminisced about the good old days of only taking a towel and small cooler to the beach, rubbing on our tanning oil and laying out for 10 hours sipping on a beverage with not a care in the world. Ahhhhh! Ok, I am snapping out of my day dream and getting down to the real beach essentials!
I have rounded up some fashionable, but family friendly beach must haves, so you and your family can splash in the waves while looking H.O.T, all while staying comfortable and safe from the sun!
OK Ya'll, YOU NEED THIS TOTE!!! Let me reapeat…BUY THIS TOTE NOW! They sell out every year so that says something about the complete awesomeness of this beach/pool bag. Be sure to get the XL size. You have the option of a zip top closure or open top closure. Everyone in our neighborhood has this tote with our last names embroidered on it. I can fit 4 towels, pool toys, swimsuits, coverups, snacks, drinks, sunscreen,, wipes, swim diapers, shoes, pool card, etc all in this tote. It has a small inside pocket and large pocket that runs along the inside as well as an outside pocked on the front. It comes in so many fun summer colors and makes a great gift too. GET YOUR TOTE NOW!!!!
Beach Bum Essentials
The pictures below are interactive. If you see something you like simply click on it and it will take you directly to the site!
SWIMSUITS AND COVER-UPS

CLOTHING ACCESSORIES

BEACH MUST HAVES

KIDS BEACH BUM ESSENTIALS