Happy Monday!
The weather is FINALLY cooperating here in Texas and we have been blessed with a much needed cool front.  Naturally, us Texans go running for every sweater or blanket scarf we can lay our hands on!  I wanted to share with you this perfect sweater I found and styled two different ways.  I took it from day to night with a casual and more dressed up look.  This gem of a sweater comes in four colors and is less than $40.  It does run large in my opinion so I sized down and bought the small.
Look 1- Casual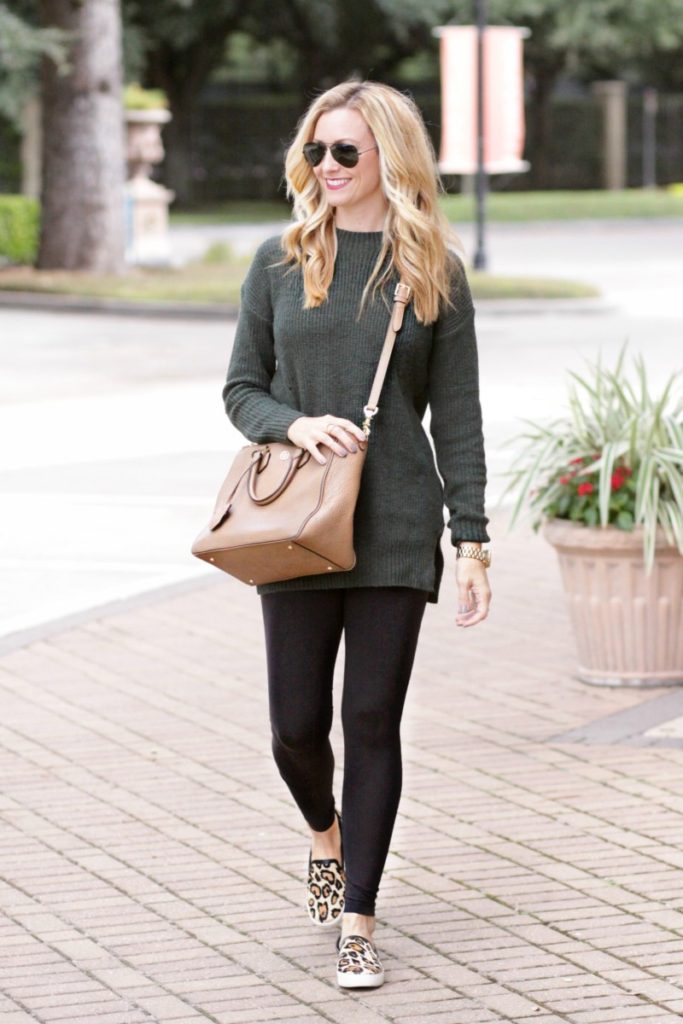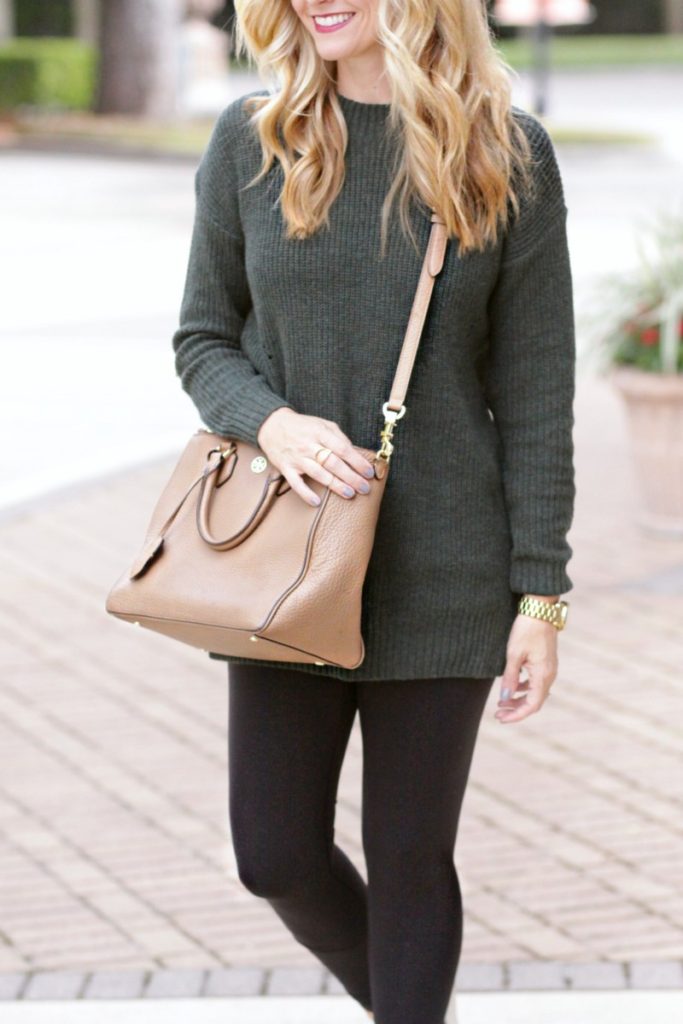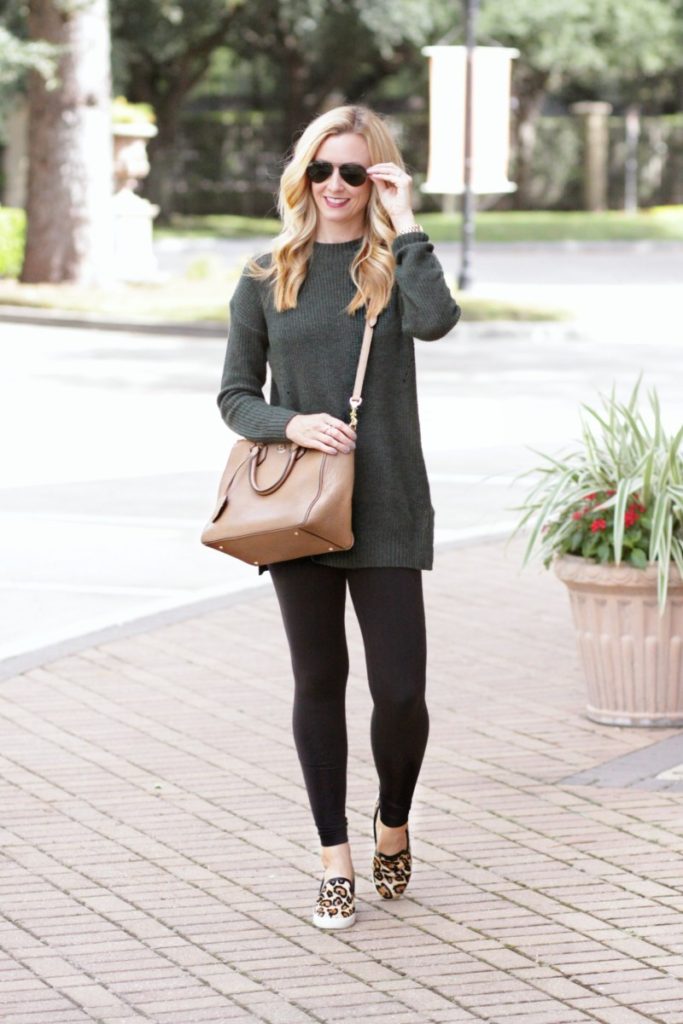 During the weekends when I am running errands or have sporting events for the kids, I like to look cute but my outfit still needs to be comfy and practical.  I paired my perfect sweater with my classic black leggings and these adorable leopard slide on tennis shoes. In this picture I am wearing my Lululemon black leggings.  My other favorite leggings are these Hue High Waisted leggings.  I buy two pairs a year and wear the fire out of them!  They are an amazing price as well.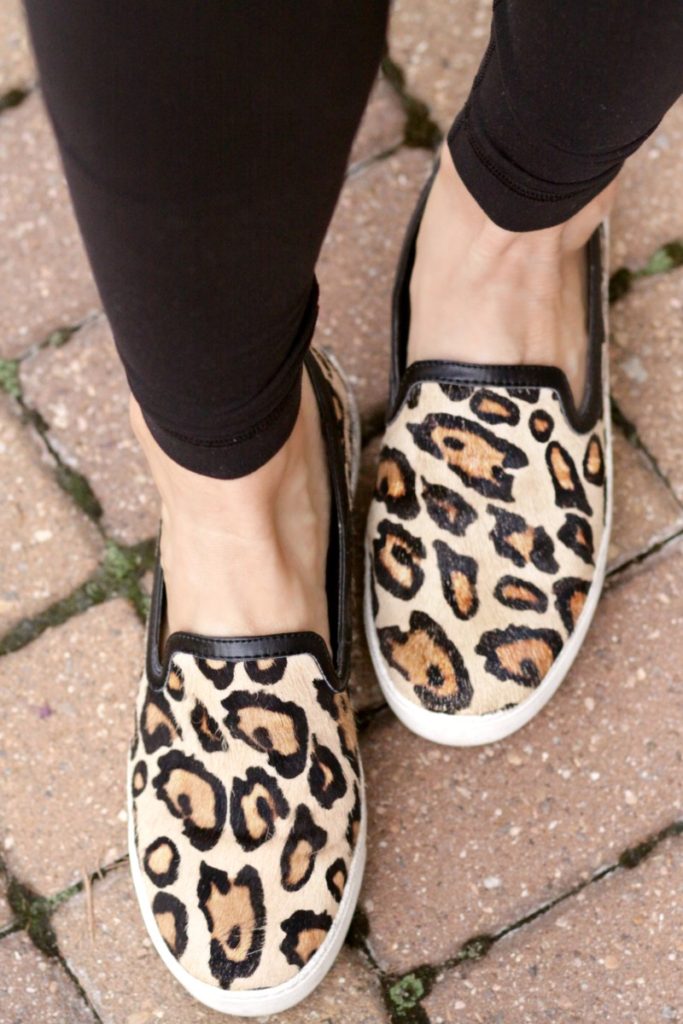 One of the biggest trends this year is the "cool" sneaker.  Finally designers realized that we cannot walk around in 6" stilettos all day.  If you know me, you know I love a pop of leopard.  It always adds interest to an outfit and makes even the most casual outfit look chic.  I wore these leopard slides to the grocery store and had four people ask me where I got them.  Leopard is an awesome neutral and goes with just about any look.  You won't be disappointed if you purchase these leopard slip ons!  Be sure to check out my other favorite pair of fashionable sneakers here.  Between the two, my feet have never been more happy!
My Favorite Fashionable Sneakers
Casual Outfit Details
Look 2- Night Out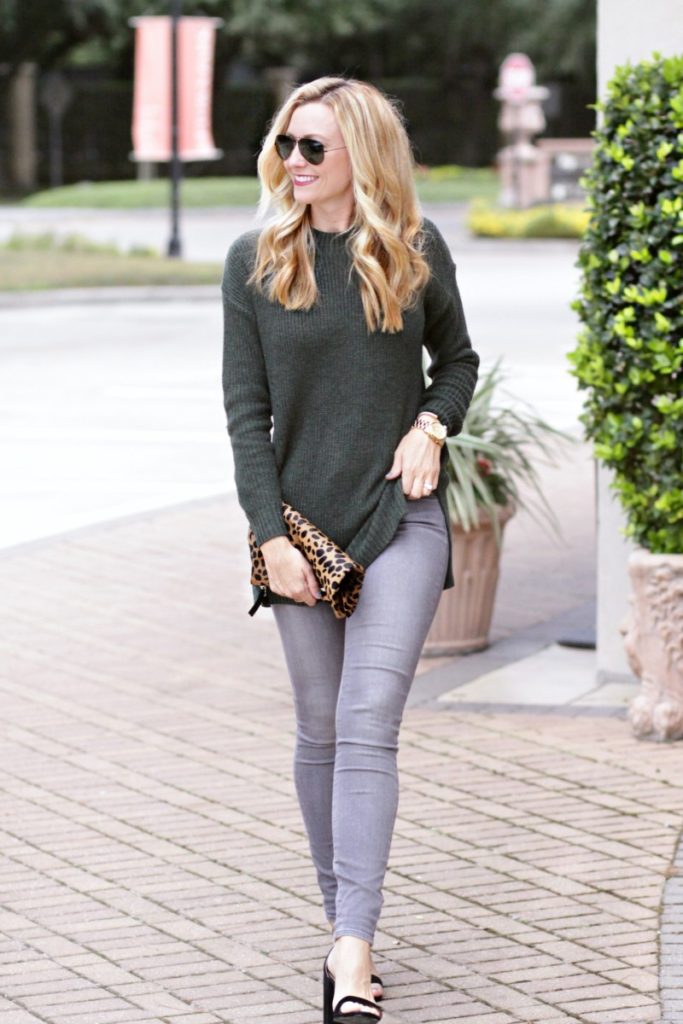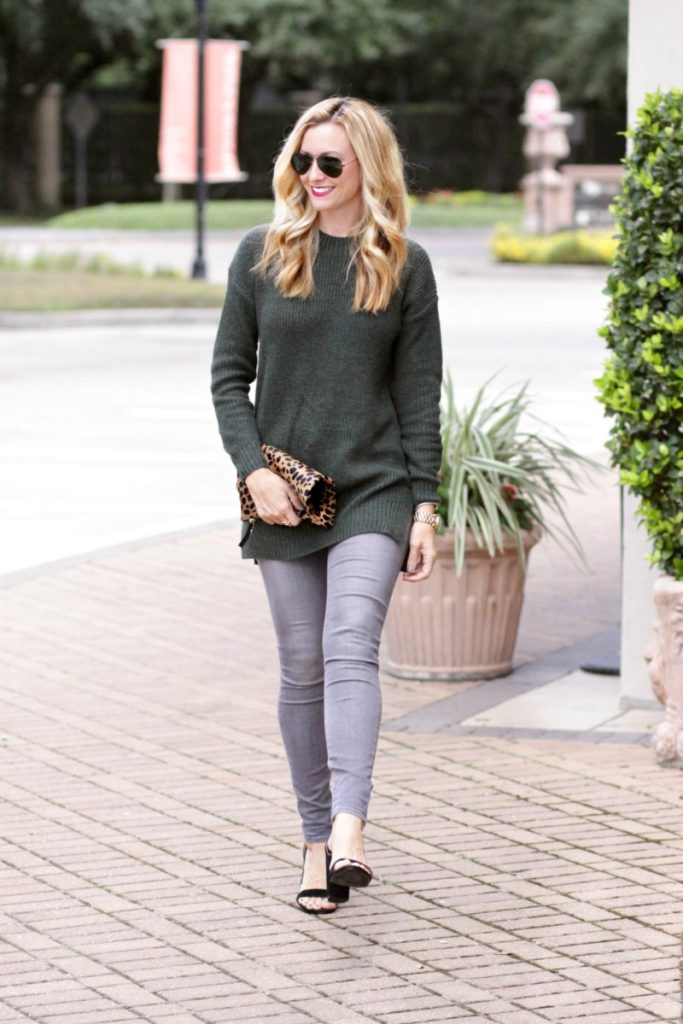 My second look is a more chic, dressed up look for dinner, drinks or a night out with girlfriends.  I swapped my black leggings out for a pair of grey skinny jeans.  Again, I love a hot pop of leopard so I traded my cross body tote for this gorgeous leopard clutch.  My Clare V clutch has been so popular over the years because it truly  is a timeless bag.  This clutch is an investment piece but worth every penny in my book.  If you can't bring yourself to pay the price, I found an identical dupe for less than $100 here.  You can check out another way I styled this leopard clutch as part of my fall uniform here.
Leopard Clutches Original and Dupe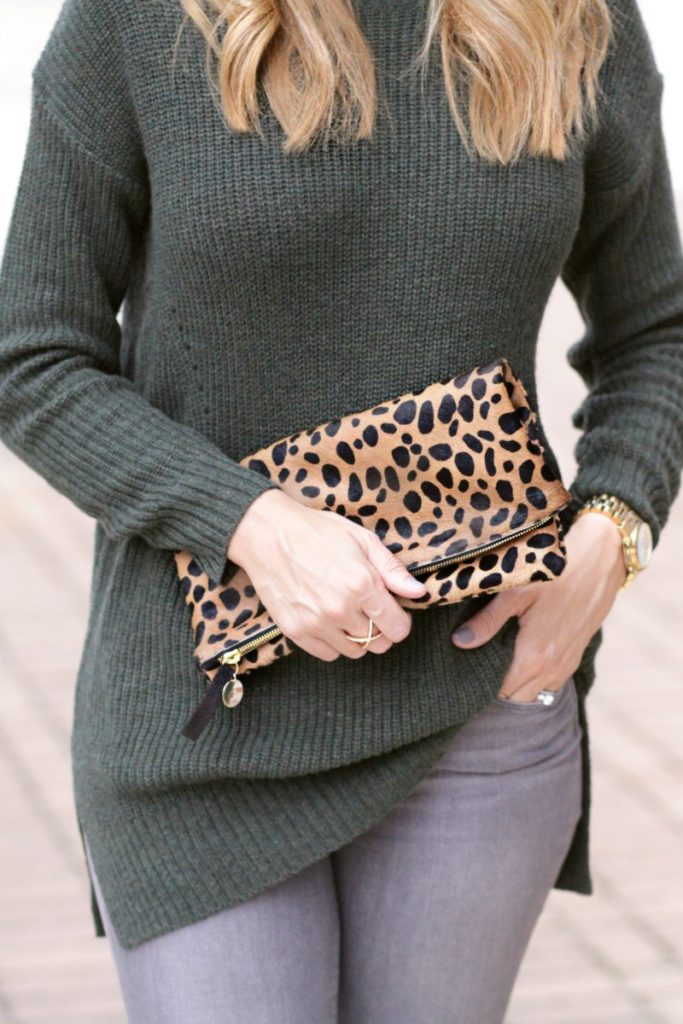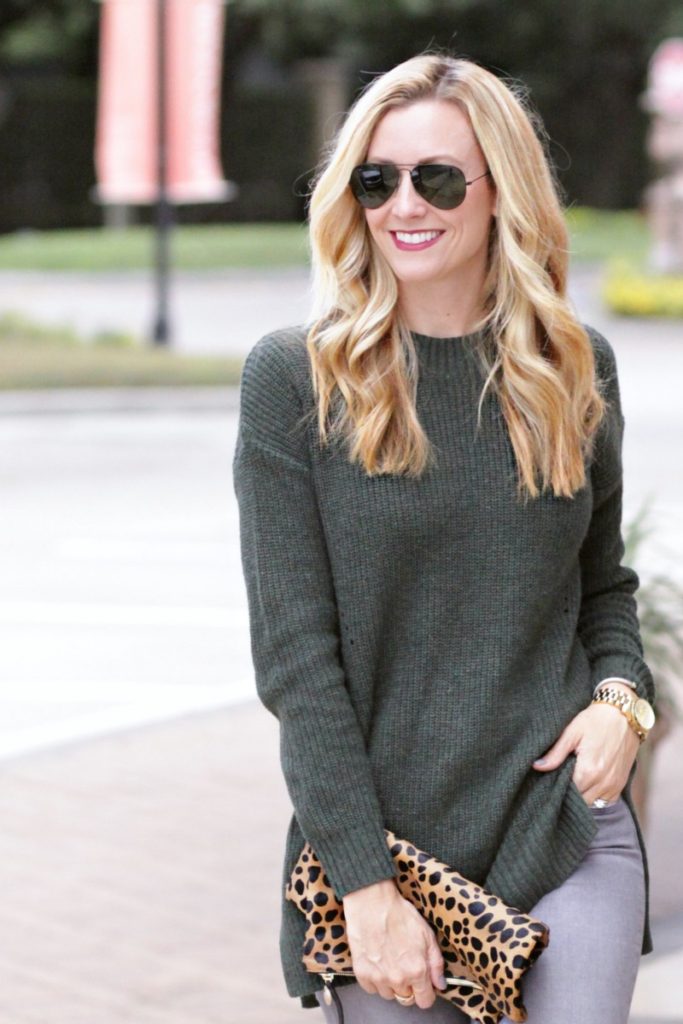 I slipped off my leopard tennis shoes and put on these amazing black strappy sandals with a stacked heel.  These shoes are a must have all year long, classic shoe.  A strappy black heel is always in style.  What I love most about these is the block heel.  It keeps your foot stable so you aren't as likely to be wobbling around.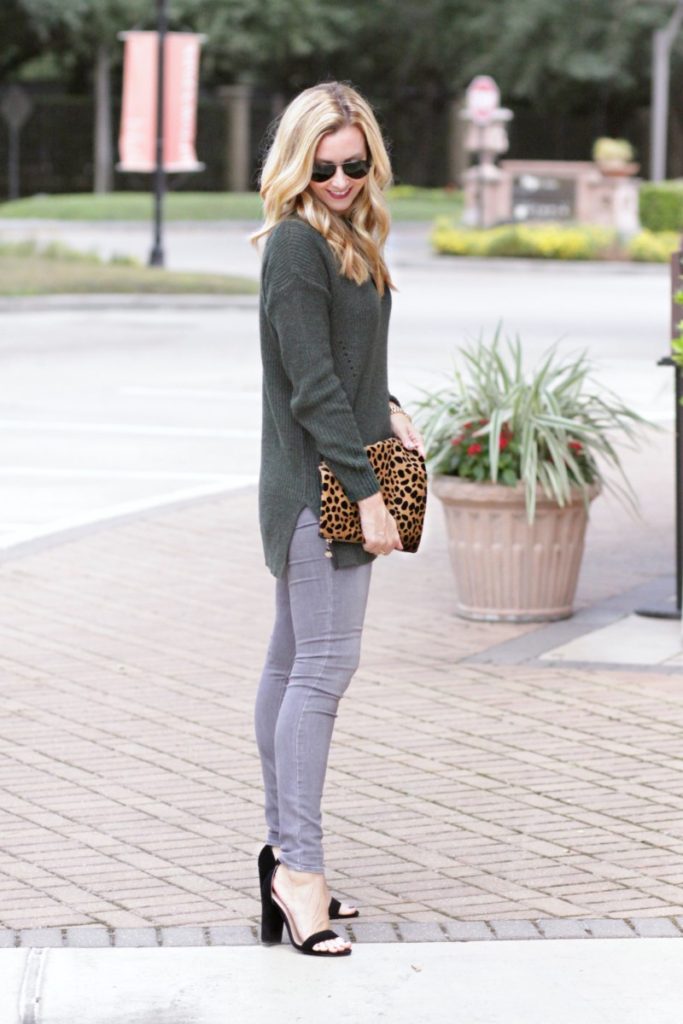 Dressed Up Outfit Details
Don't forget to check out How to Wear a White Ruffle Blouse 3 Ways .  This top has been on SERIOUS repeat.  Also, Halloween is just around the corner so check out this post on becoming neighbor of the year!  It earned me major brownie points!
Happy Halloween Week!
Sara