How perfect is this light pink cold shoulder sweater?  It has the most adorable ruffle around it.  I love that the material is a little thinner and not bulky.  This sweater has been perfect for our mild winter here in Texas and I know it will take me into spring paired with white jeans.  I sized up and bought the medium.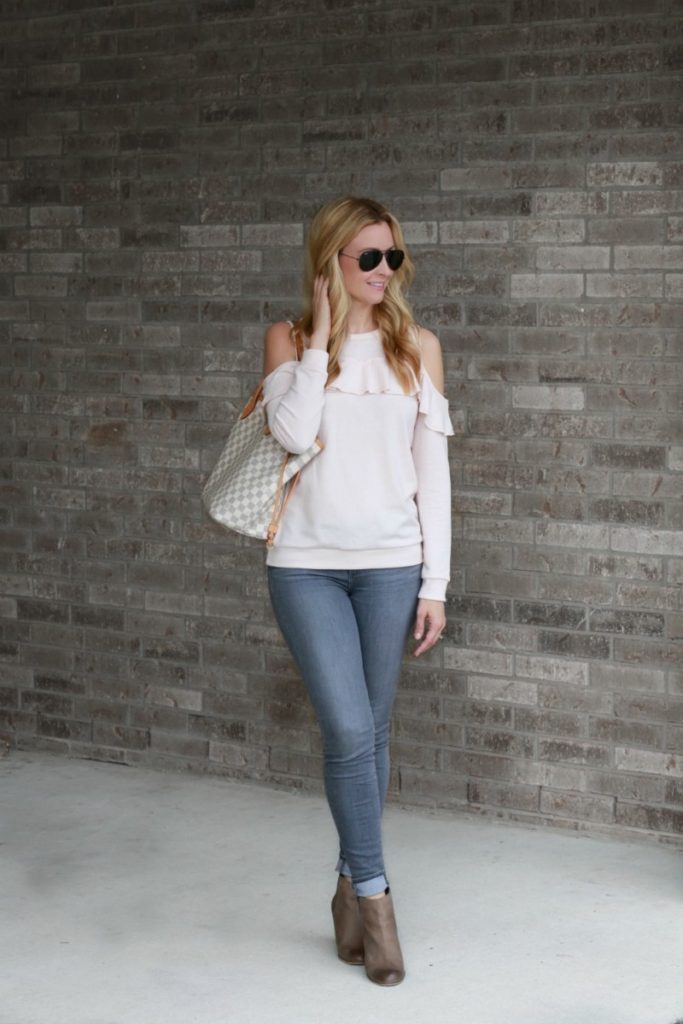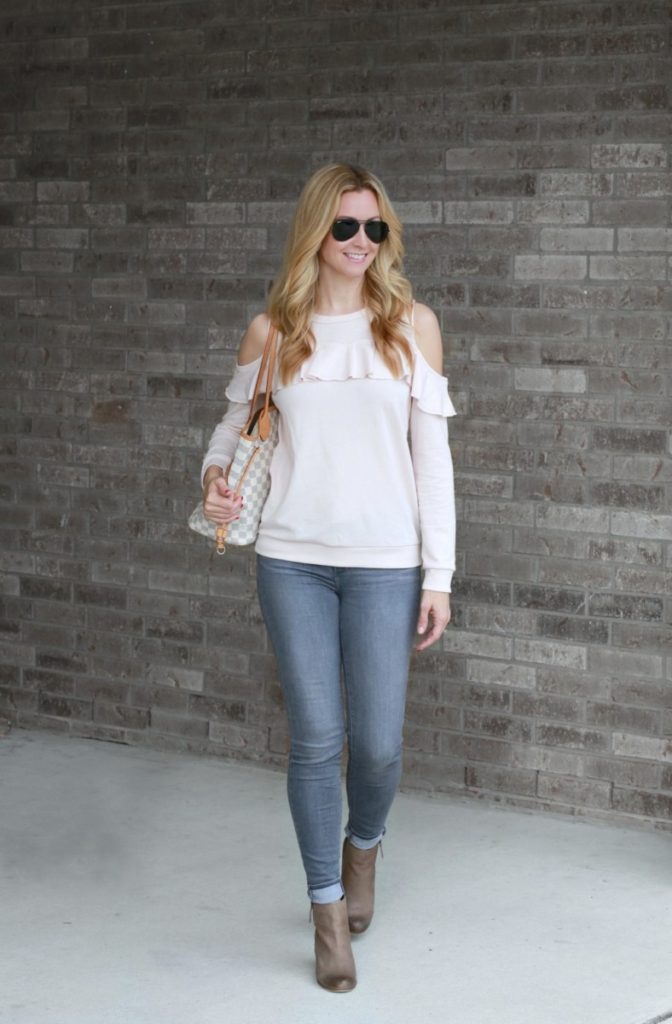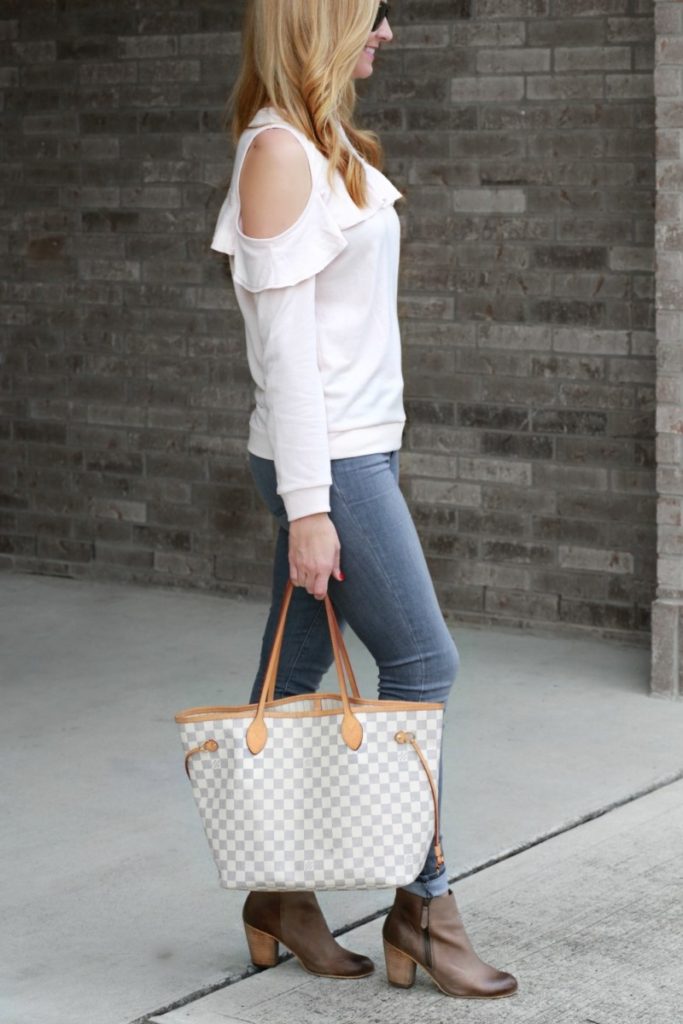 These grey booties are by far my favorites of the season.  My husband may have something to say about the five pairs of grey booties I have but I just LOVE grey booties.  These have a billion five star ratings from Nordstrom so I had to check them out.  I had to go up half a size.  Normally, I am an 8.5.  They were a tad snug so I exchanged them for the 9.  I pretty much wear them every day.  When the brown is restocked in my size I'll be the first one online to buy!
Cold Shoulder Sweater / Booties / Earrings c/o Baublebar / Jeans / Sunglasses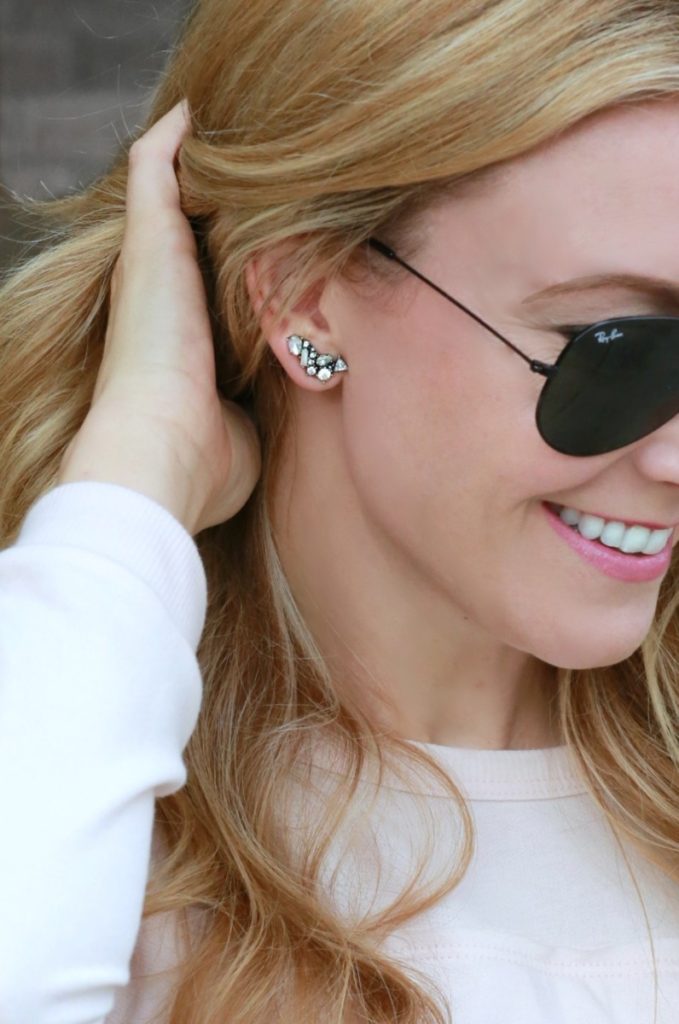 How freaking perfect are these earrings?  They are called crawlers which isn't my first name choice!  If you haven't shopped at BaubleBar, then welcome my friend to the land of amazing jewels.  They have trendy fun jewelry and offer free shipping.  What I love is you can earn points for free jewelry just by ordering.  I am stalking these tassel hotties for the summer.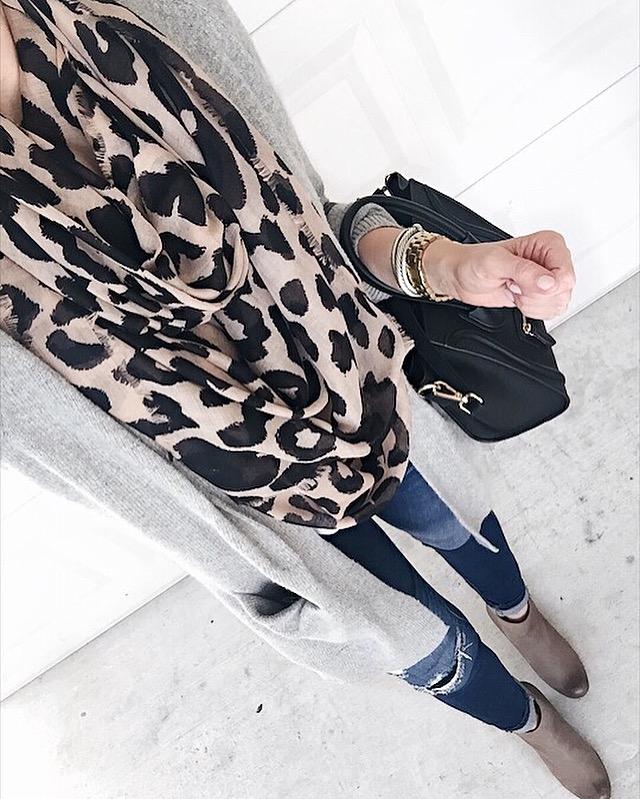 I wore this fun little get up yesterday and everyone LOVED my leopard scarf.  Doesn't leopard just make the world a better place?
Leopard Scarf / Grey Cardigan / White Tee / Booties
* * * * * * * * *
Now onto the person stuff.  I don't like the word resolution.  It sounds like a boardroom full of people in suits solving problems.  The only major issue I have is drinking too many margaritas and finding out queso isn't allowed on Whole 30.  If you are doing Whole 30, please don't call me until day 31 when you can eat the good food and become a happy camper again.  I'm from Wisconsin and any diet that cuts out cheese just isn't for me.  Call me crazy, but if there is one thing I have too many of it's goals.  Basically I have 100,383,756 goals and achieve about two of them a year.  This year I have three goals that translate into one BIG goal: LIVE MORE SIMPLY
Financial Peace–  In case you missed the memo, the US is in a major oil crisis.  My husband lost his job and we didn't have a paycheck for four months.  Thank GOD my bestie dropped off the large case of ramen and box of Franzia.  Thankfully we had saved enough to cover us for those four long months but I would like to be more frugal.  I feel like I want to be one of those people who washes and reuses paper plates and has a billion dollars in the bank at 50.  I took the plunge and signed up for the Dave Ramsey Financial Peace class.  It's a huge commitment but I think it will really put us on the right track for the future.
DeClutter/ Quit Hoarding–  We have lived in our house for almost 10 years now.  Have you ever lived somewhere that long?  Let me tell you about the crap we have saved.  My goal is to go room by room and basically throw out or donate half of what's in there.  Just the amount of random papers we have is crazy.  I want to take it back old school and just have less junk floating around my house to sift through, clean or dig around.
Drink More Water–  Save your eye roll.  This is big for me.  I am not a big drinker.  Well except for wine, vodka or margaritas.  Ever since I was pregnant 5 years ago I cannot handle the taste of water.  It tastes like drinking a metal pipe.  I've tried adding fruit but then it just tastes like metal fruit.  I know I just need to suck it up.  My goal is to drink three 30 oz Yeti cups of water a day.  Don't faint when I tell you that I have gone two days in a row without drinking any water!  I know it will help improve my skin and obviously make me healthier.  Bottoms Up!