Before I snap you out of your mom rut, can I just say that I am watching The Bachelor and it's already SO good!  I quit watching for a while because it was just too cheesy.  This year I am watching Nick because we are from the same town in Wisconsin and I actually played sports with his sister.  He was always a ladies man and I am sure he will bring the scandal this season.  I mean he already slept with one of the girls before the show at a previous wedding!!! WHAT IN THE WORLD!  I love hot gossip especially when it's a staged tv show!  Are you guys watching? Who is your pick for day one?
Now onto business…
Are you stuck in a mom rut? You know, had kids and spend your days at Chickfila, doing laundry, carpooling, making dinner and listening to crying.  Do you feel like you've lost yourself somewhere along the way? If you are saying no, the forward this to someone who has!  Today's post is all about climbing out of the ball pit at Chuck E Cheese and finding your fab self again.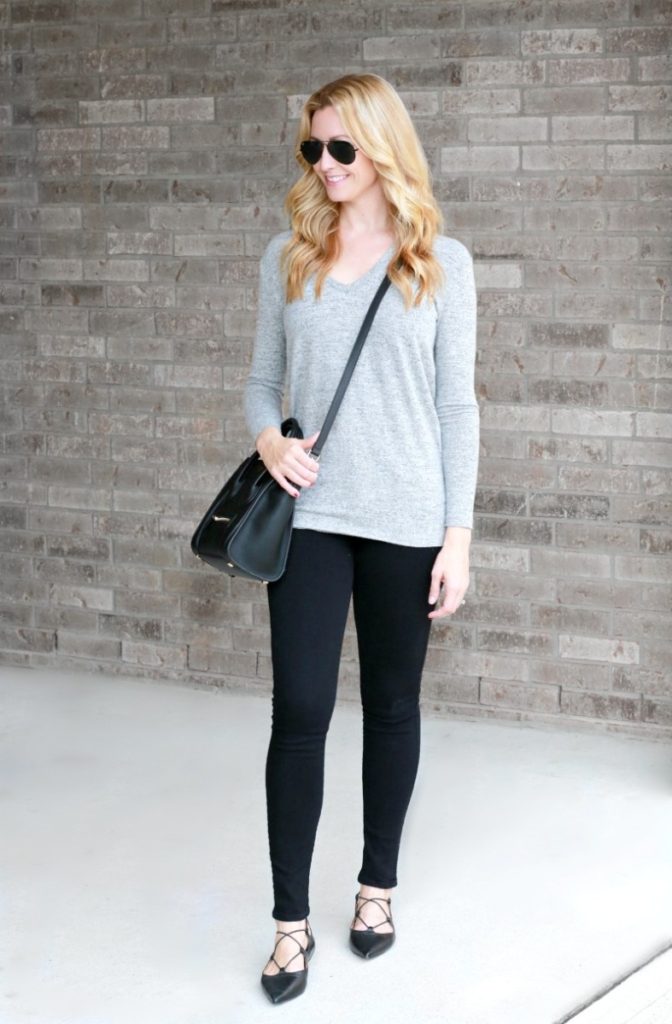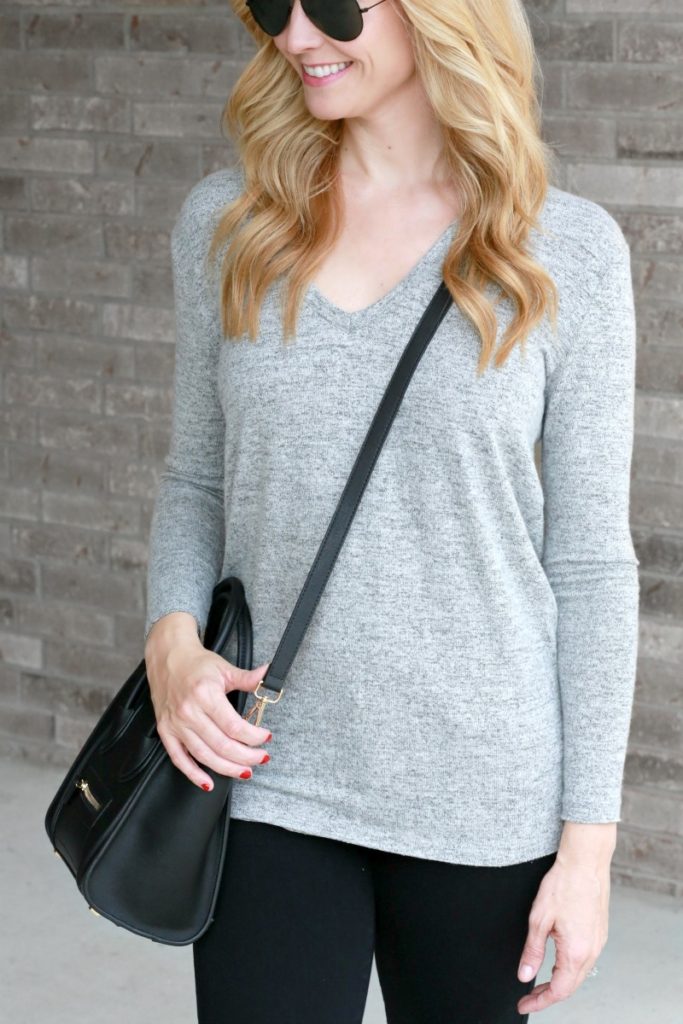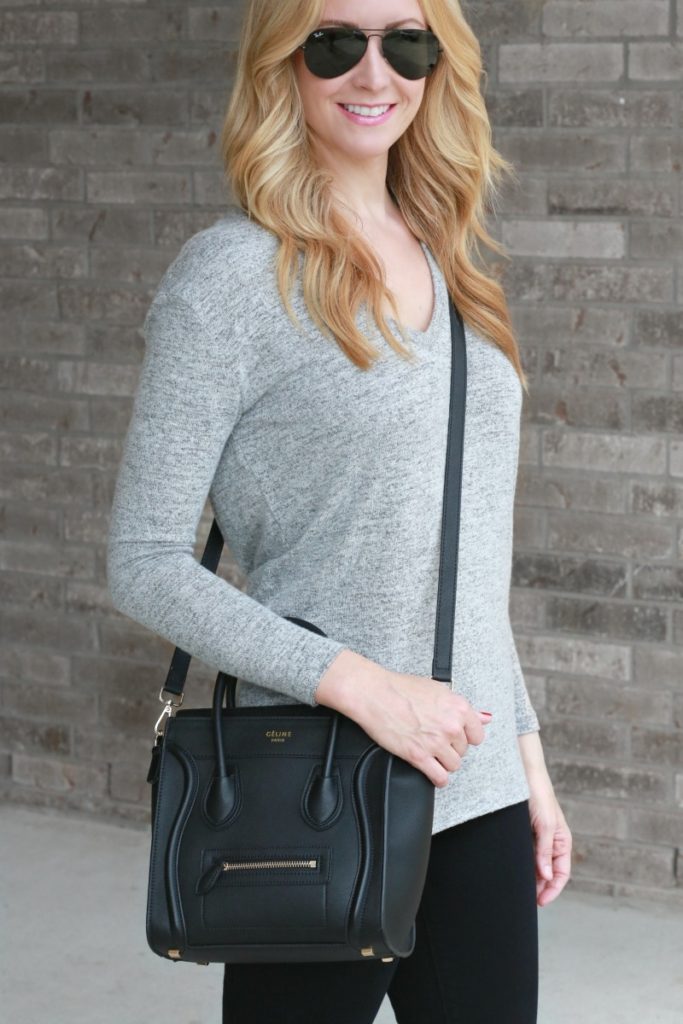 Taking this sweater from day to night by adding a jacket and over the knee boots and a fun pair of earrings
Often times I hear women say, "I just never shop for myself anymore because my body isn't the same after having kids so all I wear is old shirts and yoga pants or these five year old jeans."  If I can beat one thing into your head, let it be this-> You are gorgeous! I too felt this way and my friend snapped me out of my dark hole while standing in a Neiman Marcus dressing room naked, wearing Spanx (totally hot right).  I thought she was the most gorgeous person I had ever seen and I was so envious of her perfect body.  All I could think was that I still had 20lbs of baby weight to lose and my thighs were huge.  But, the entire time I was trying on dresses, she kept saying " I would kill for a small waist like yours and long thin arms."  In that moment I realized she too had insecurities and I had to get over mine.  I started looking at my positives and really focusing on how I was going to emphasize the things I liked about my body.  I am pear shaped and always focused on hiding my larger thighs.  By doing this, all I did was end up wearing clothes that emphasized my hips and thighs.  Accentuate and focus on your positives and those are the things that will shine through when you get dressed or pick out new clothes.  Pick two things about your body that you love and focus on making those even better.  Do you love your blue eyes?  Buy a new blue sweater.  Do you have amazing legs? Buy some skinny jeans or a skirt to show them off.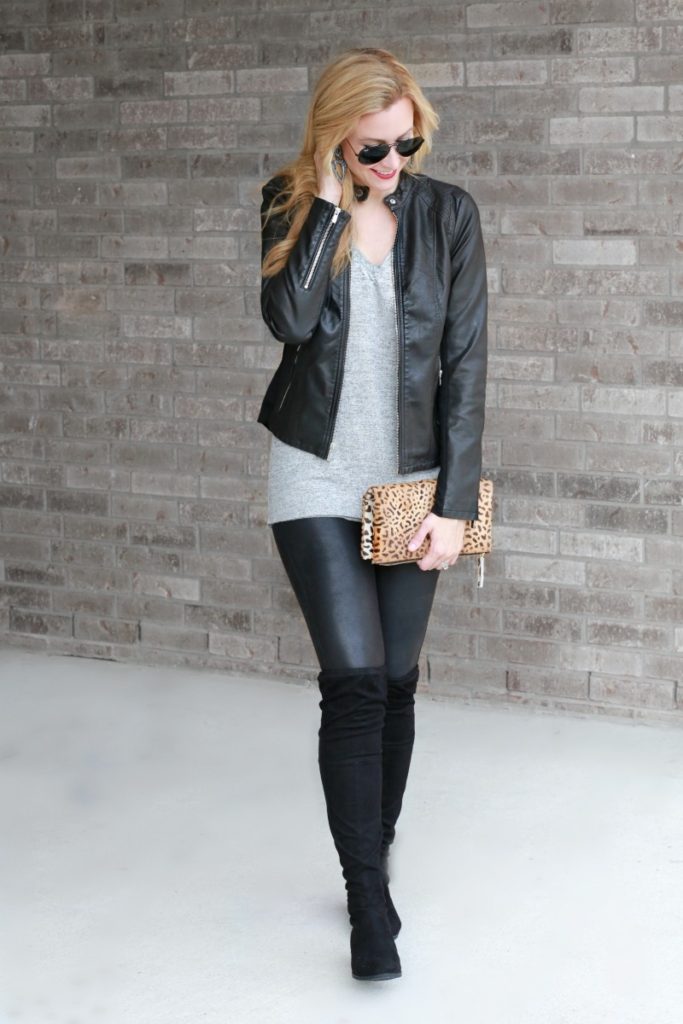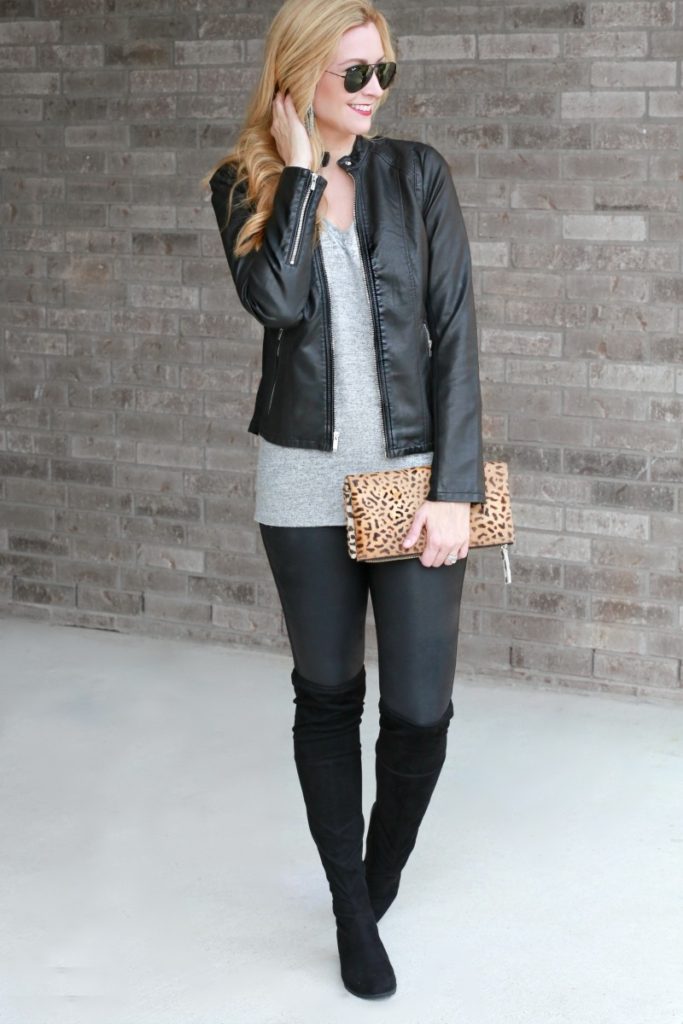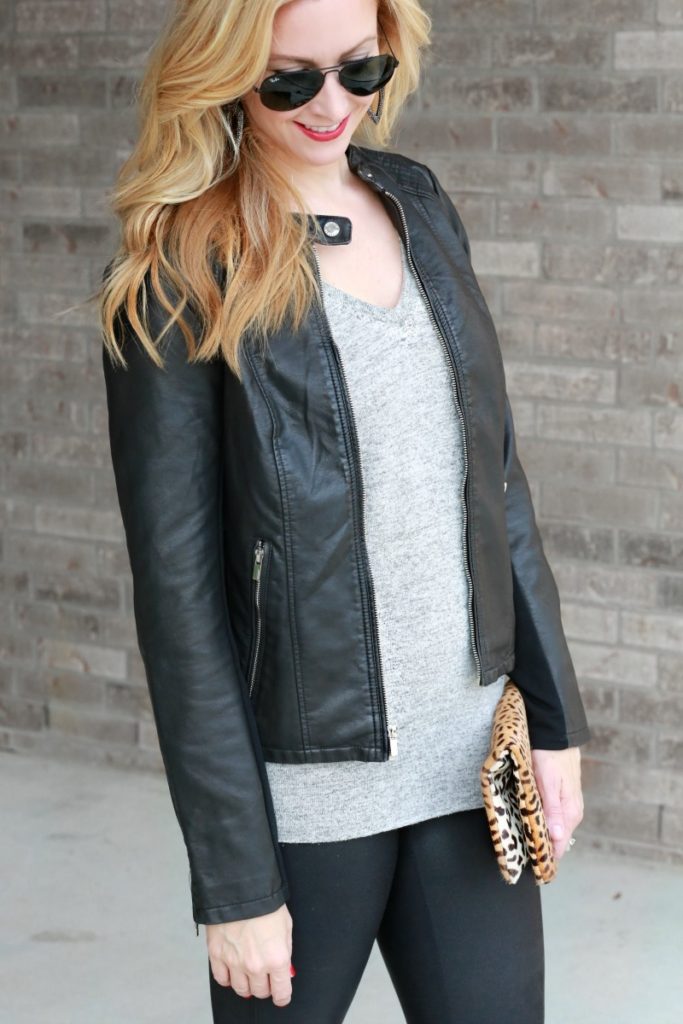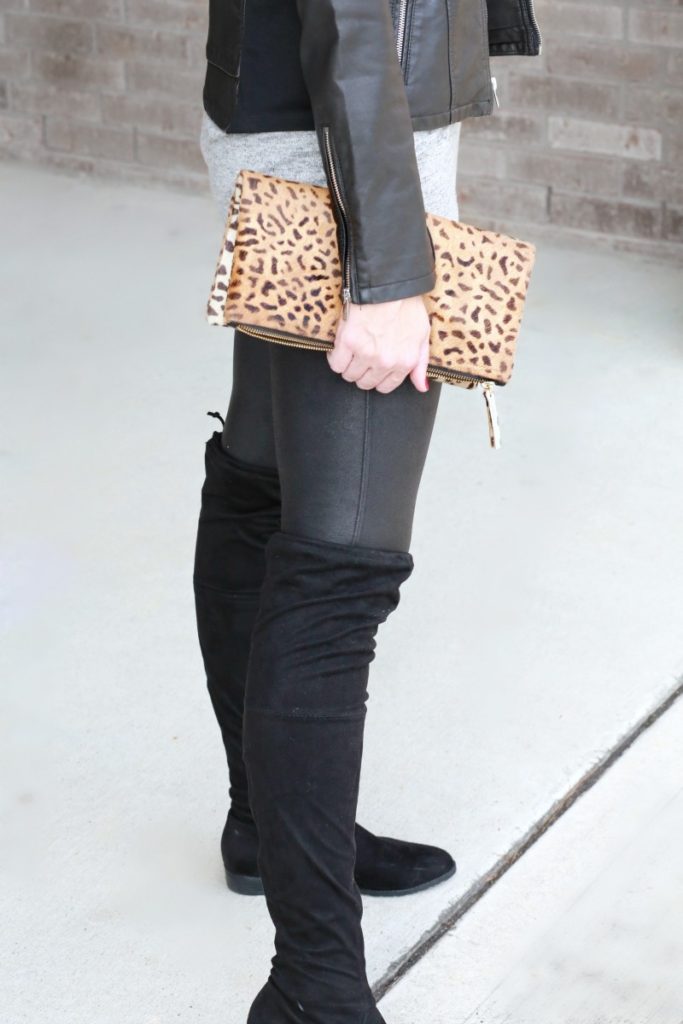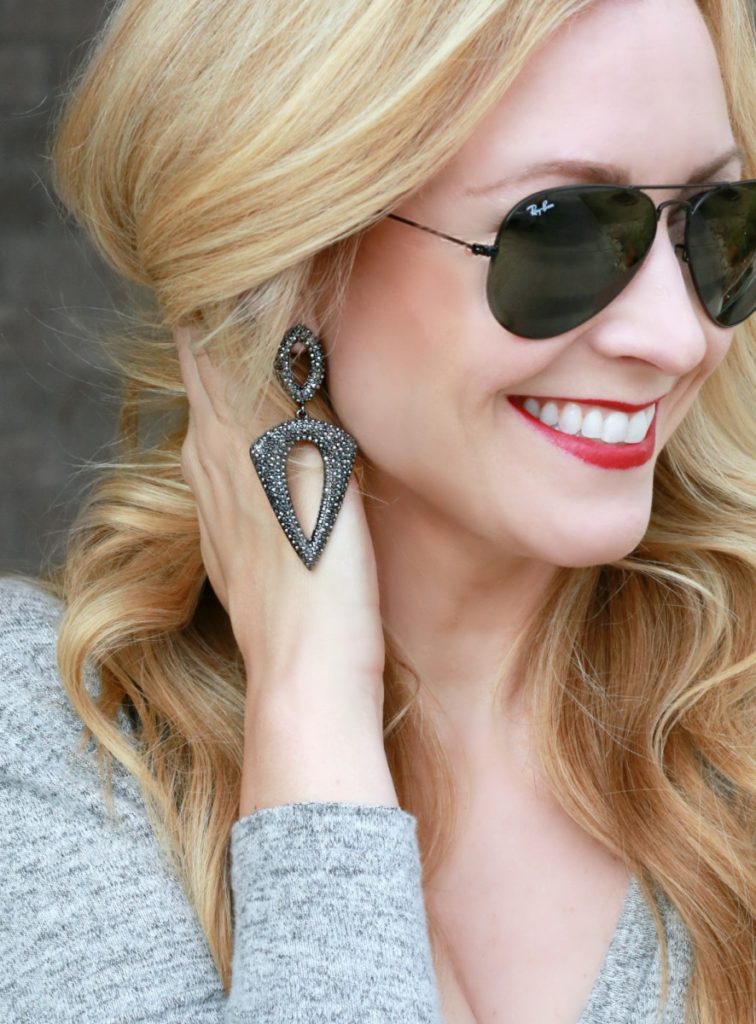 Boots – Mega sale less than $100 with code JOY/ Leopard Clutch
If you are stuck in a mom rut try to find time for yourself at least 3-4 times a month.  Whether it is something small or big, take time to find yourself and find your inner happiness.  Below are some of the things I find help me to feel more balanced and take a small break from my mom duties:
Buy a new outfit.  Haven't bought a cute top in a while? Get one!  Shoes looking ratty?  Get a new pair!
Get a facial or a massage.  I personally love facials.  They are relaxing and often times you get a mini massage too!
Mani/Pedi
Lunch with a girlfriend (NO kids allowed)!
Buy new makeup or even just go get a few new samples at Sephora
Read a book instead of doing house chores.  They can wait…trust me!
Pick up a hobby such as photography, tennis, yoga or gardening (don't laugh, I garden and love it! #ImADork)