Wowzers has this been a busy week!  We had so many amazing parties, the most important one being my birthday of course!  Ok, I won't lie, having a birthday the week before Christmas kind of sucks but I just love turning 29 year after year.  Even though I stay youthful, there may be a birthday Botox visit in my near future. We visited with so many family and friends and often woke up with a bit of a headache.  I mean, when you are constantly gifted wine or champagne glasses, you have to try them all out.  On the first day of Christmas break I thought it would be SO much fun to bake cookies all day.  Negative ghost rider.  The kids helped for a nano second and were over it.  The cookies turned out great but this mamma is over cookies until next Christmas!
Our first party was Pj's and Pizza.  My friend Meredith has a gorgeous house and Santa even showed up.  All the kids gave him toys to take to the kids who are less fortunate than them.  Then, they got face paintings and ate a gallon of sugar.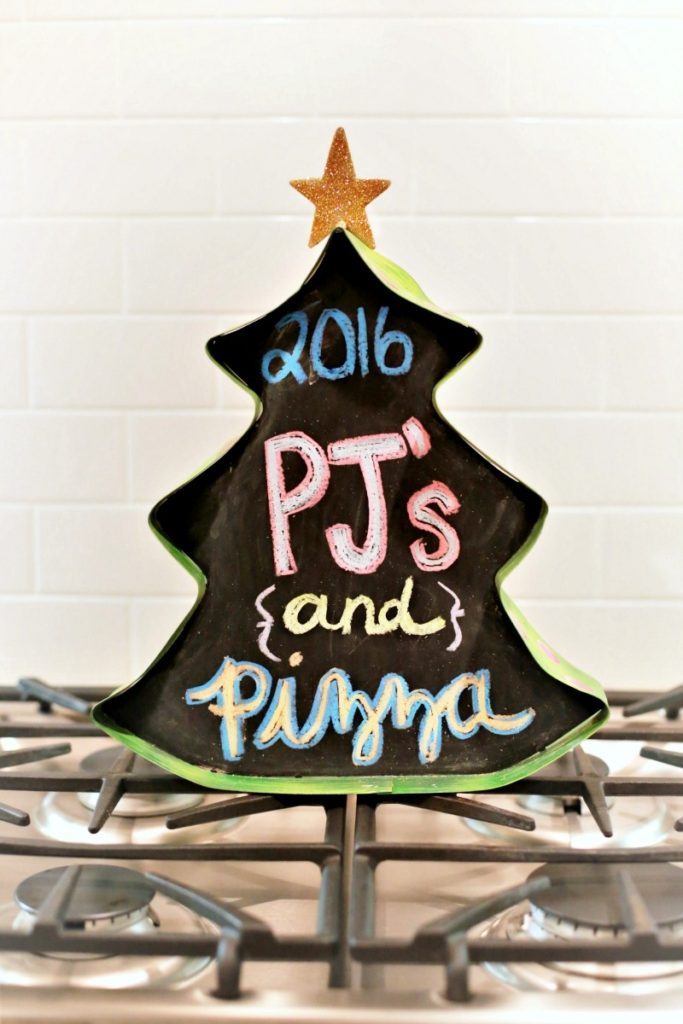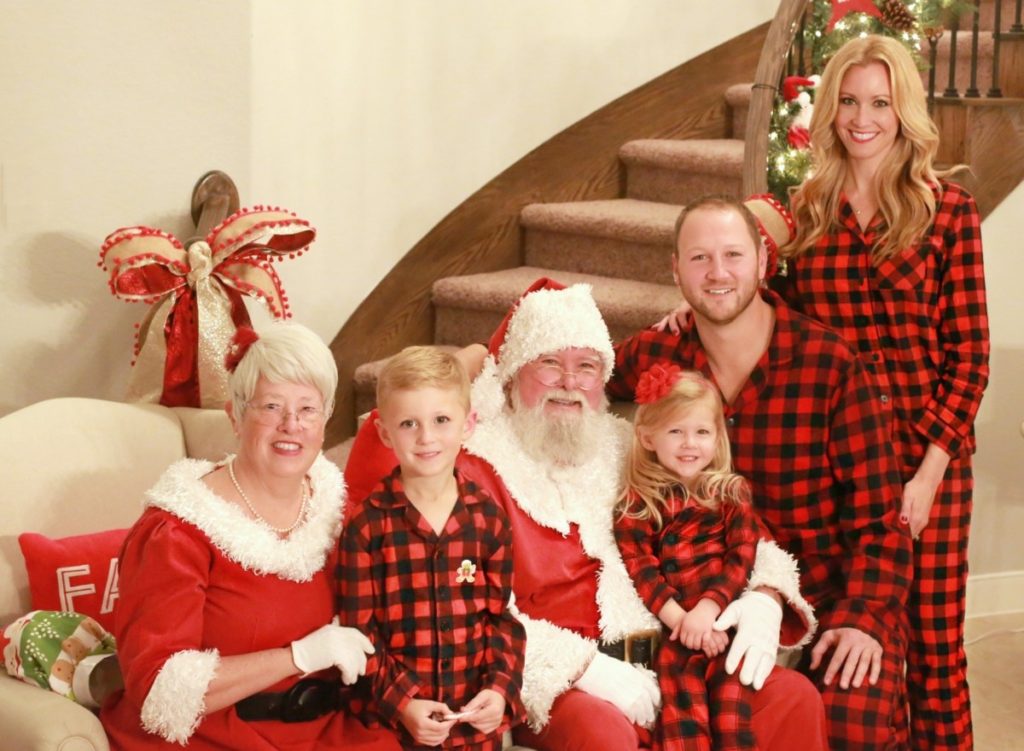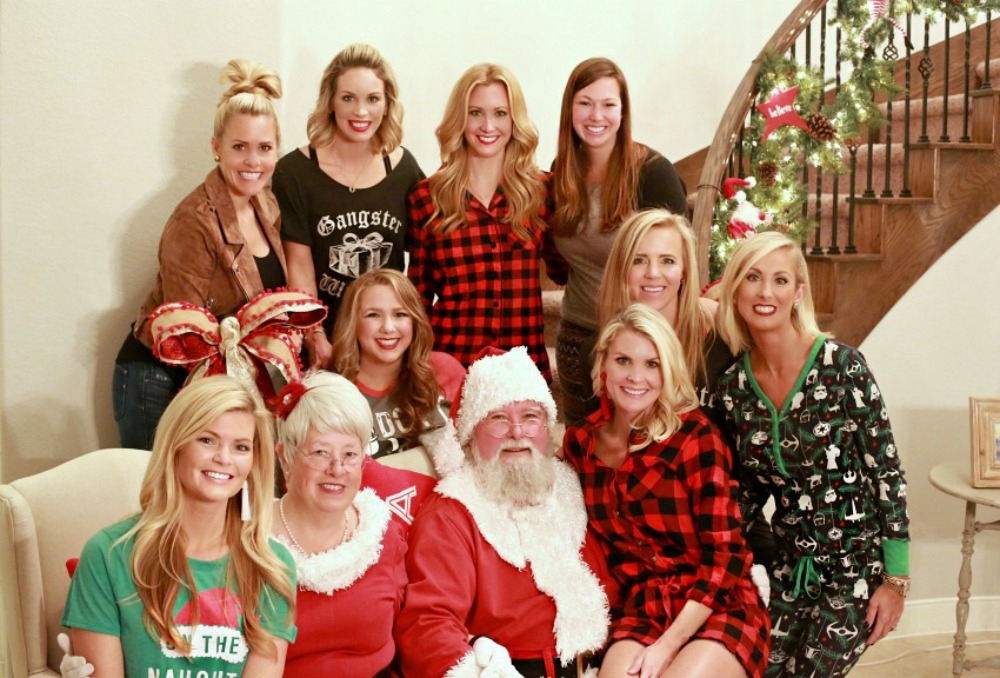 All of my beautiful besties!  I just couldn't thank them more for supporting me and always being there.  Times are never dull with this crowd!  If you haven't seen them on my Instastories…stay tuned, I'm sure a dance party is bound to pop up.
 Bros and Beards!  They both wanted beards and looked HILARIOUS!  These sweet boys love to play baseball together and ham it up…as if you couldn't tell!
*********************
CHRISTMAS SALES
Now onto some fun Christmas sales and the Nordstrom Half Yearly Sale! So Nordy is having some amazing after Christmas sales and I am all about the comfy looks right now.  Maybe because I have eaten my weight in sugar this month or because the mom pooch is in full force.  All I know is I will 100% be one of those people back in the gym Jan 1st…or 2nd.
Grab your coffee, wine or cocoa and get ready for some sales and shopping.  Forward this post to your besties so you can shop together!  After all this is the season of giving so you should give your friends a list of amazing clothes on sale right!  Let's dive in.
P.S. Remember, Nordstrom always has free shipping and free returns!!!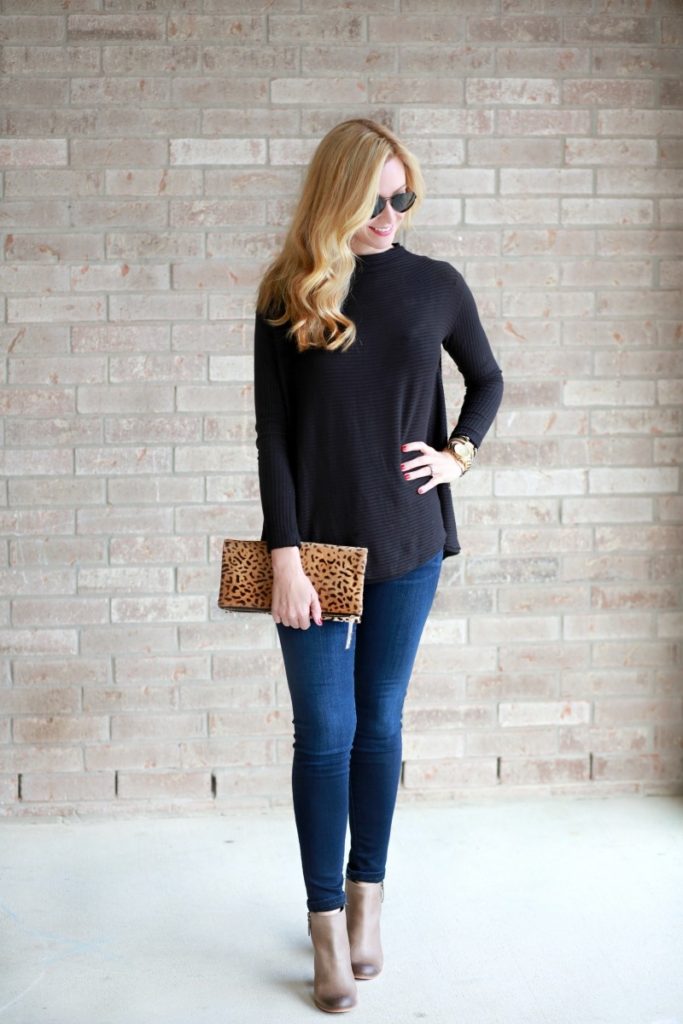 Oh my heavens!  I hate to admit it but I probably wear

this top

three days a week.  The neckline is perfection.  It can be worn as a boat neck or off the shoulder.  The material is soft, swingy and ribbed.  And the best part…LOOK at the back! It is open but has these sewn together sections.  I love 

this top

 because the back makes it fun, but I can still wear a regular bra.  I may just have to get the pink one to wear with my grey jeans!    Next,

these boots

are a hot ticket.  As I type this they are

on sale for $84

.  In the bootie world this is HUGE.  I feel like you cannot find a great pair of booties for less than $100 these days.  I sized up a full size in these.  I normally wear an 8 and got a 9.  These boots come in 4 colors.  If you love the

Clare V leopard clutch

but don't want to spend almost $300, I got you covered.  I found

this dupe

and LOVE IT.  Shipping does take a while so order asap.  Mine is the 11.5×11.5 no strap.  These dark jeans are my go's.  I love that they are one color and not faded on the thighs.
Top

: Runs big. I'm wearing a small /

Booties

: run small, size up a full size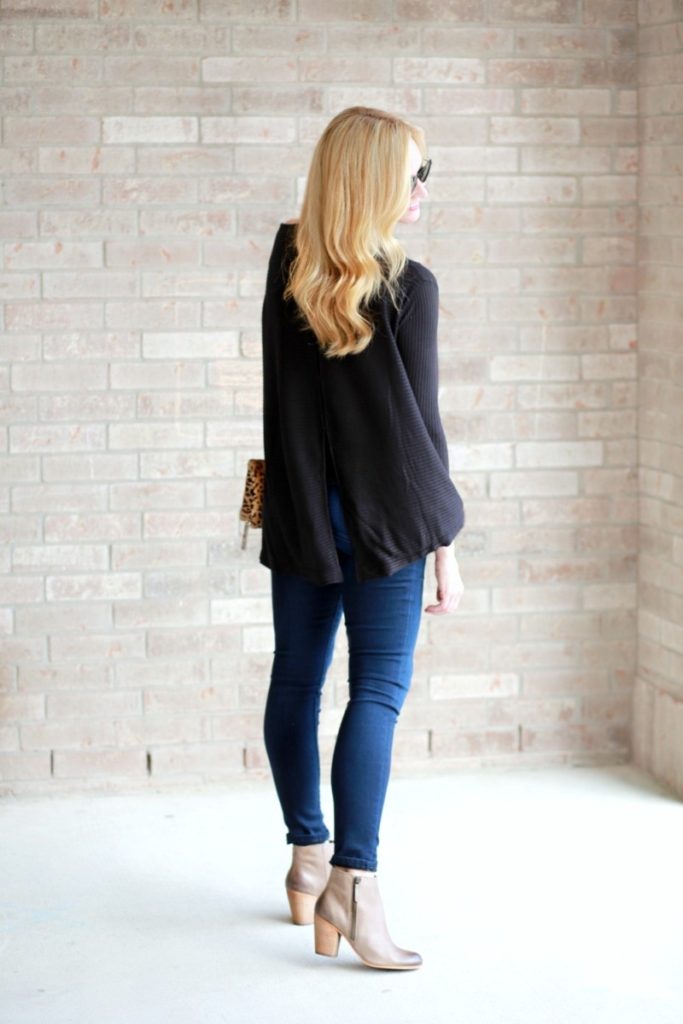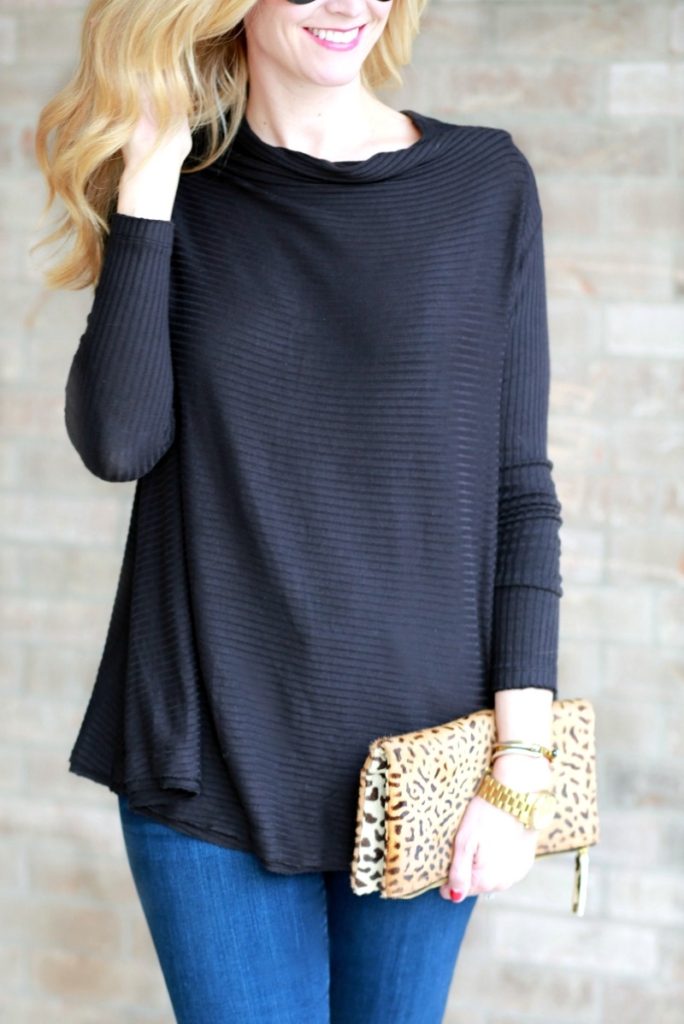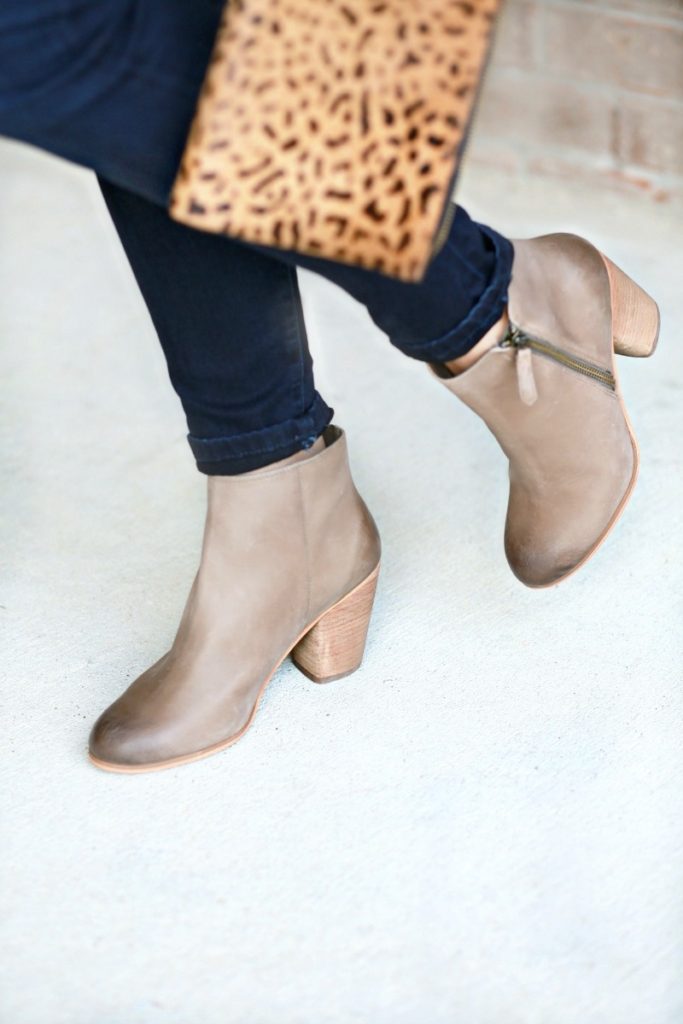 What I JUST bought from the Nordstrom Half Yearly Sale
2. Ribbed Mock Neck Tunic Sweater- This sweater is on heavy repeat with my must have faux leather leggings.  It is now on sale for $23 and available in 3 colors.   If you don't already have these faux leather leggings, what are you waiting for? Truly magic and so comfy.  Good bye mom pooch, hello fabulousness.  My black booties are sold out so I linked a similar pair.
Sweater: Runs large. I'm wearing a small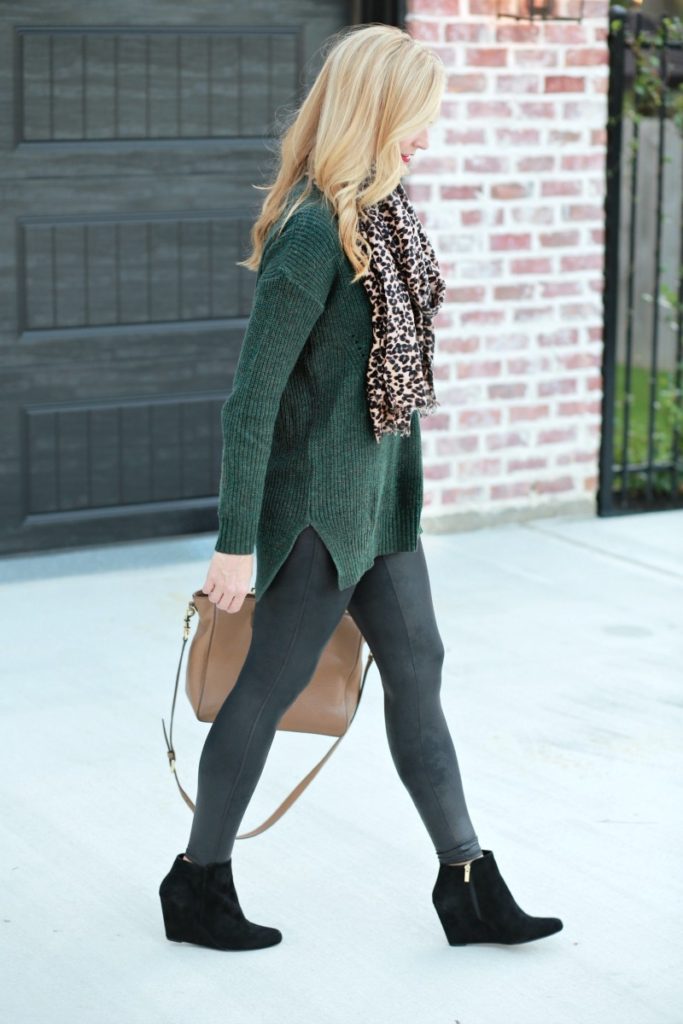 3.  Lightweight cashmere sweater.  So fabulous and I love that it is lightweight.  On Sale and comes in 15 colors. I really love the grey color too.  If you want the same sweater but longer to wear with leggings get the tunic length HERE.  My monogram necklace is not on sale but I wear it everyday.  Mine is 1.75″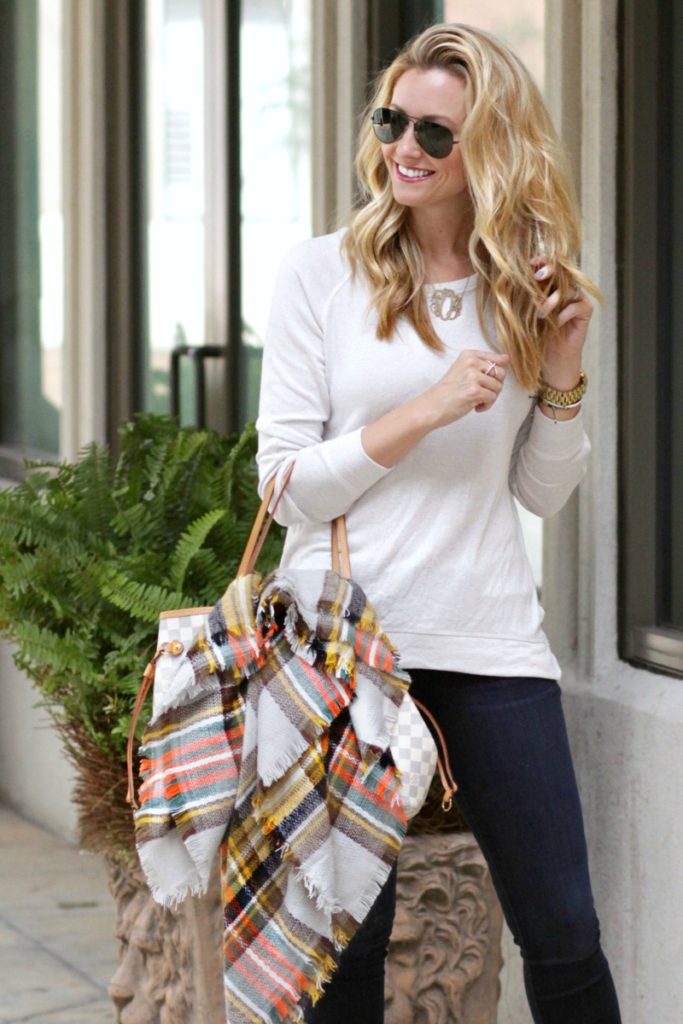 4. My long sleeve scoop neck T is my new every day obsession.  I am about to buy it in white as well.  It is $18, comes in 5 colors and I LOVE it! I wear it with scarves, vests, or a necklace.  A must buy.  My fringe scarf is on sale for $9 and change.  The grey sold out but the black is still in stock.  BUY FAST PEOPLE!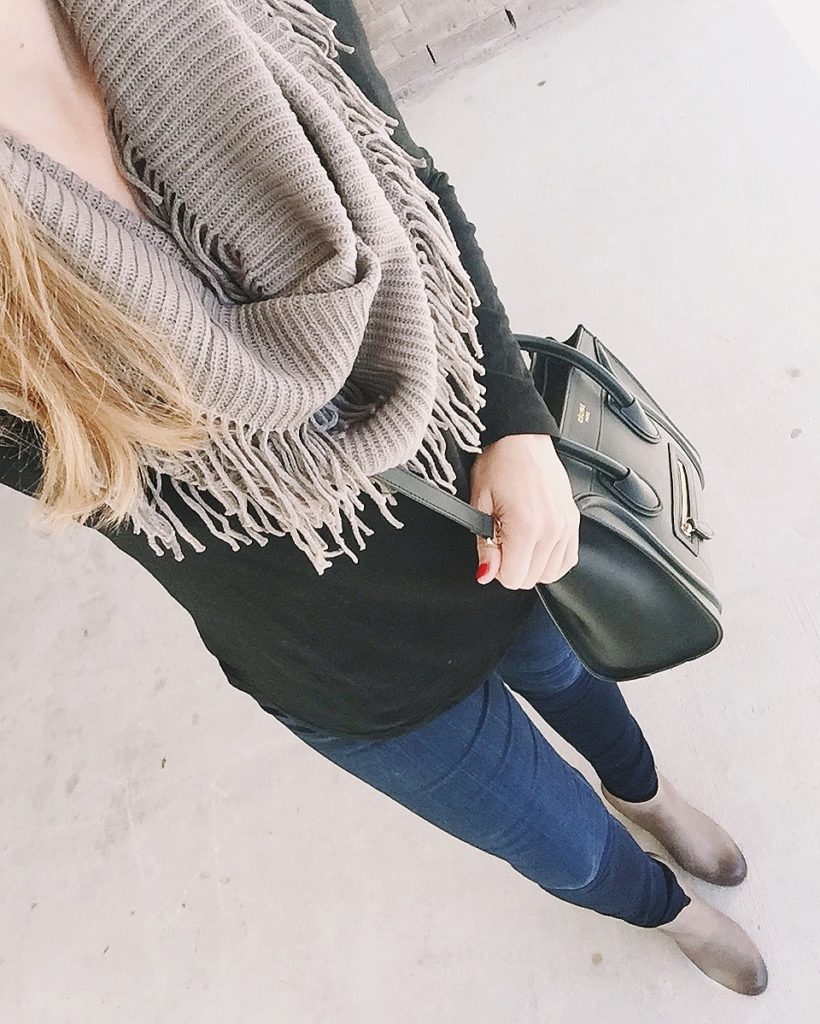 5.  Earring heaven right here.  BP makes a Kate Spade knock off earring and this year they come in a two pack.  ALLLL the praise hands.  My bestie C Money got these for me for my birthday and I LOVE them.  Mine came with this silver glitter pair and a black pair.  They are on sale for less than $10. HOLLA.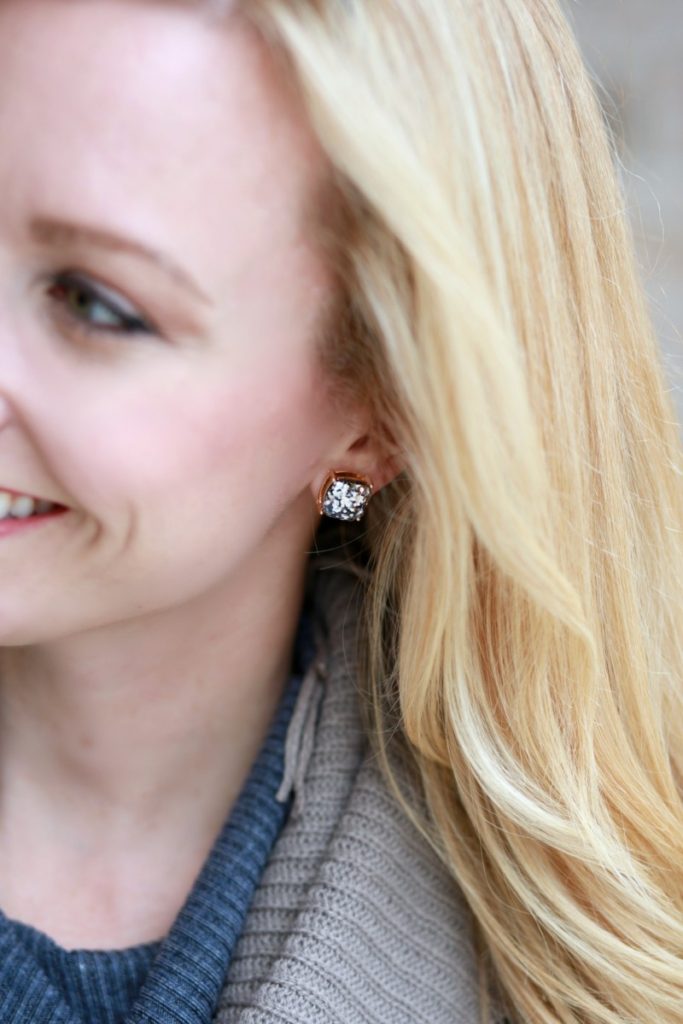 6. This ribbed dress was a tad short on me because I'm a #giant, so I paired it with my faux leather leggings.  If you are 5'7 and under this dress will work perfectly on you.  If you are on the taller side like me, this makes a great tunic to wear with leggings!  It comes in 6 colors!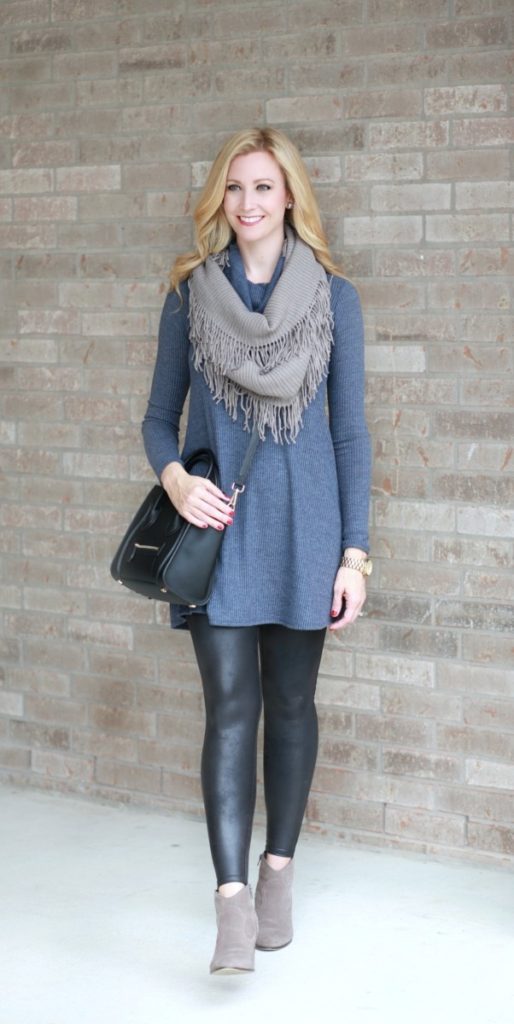 7. I NEED a great pair of tennis shoes! I call the grocery store my vacation home and I basically break up fights between children all day all while carpooling and running 800 errands.  Cute, comfy shoes are a must!  I love the grey because they don't show as much dirt, but I kind of want the white ones too because they would be SO good for summer! Can I just say I love the angle of a selfie.  It makes your legs look so thin!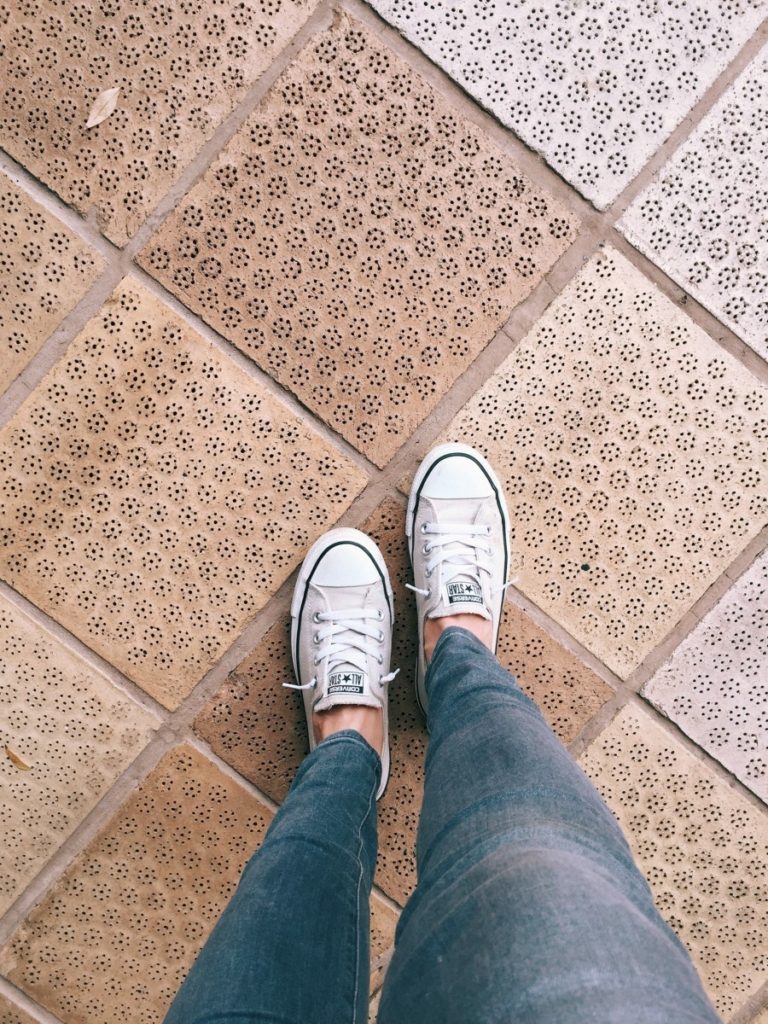 8. Who doesn't love a puffer vest? I own probably 5 because they are so perfect for our fickly Texas "winters." One day it's 40, then it's 75.  These make great layering pieces fo sho!  Paige has on the cutest holiday shirt from Kate Elizabeth Designs.  At the bottom it says #squadgoals!!!!  If you have kids, watch for their new collection in January! Kate Elizabeth also has the cutest summer and back to school clothes.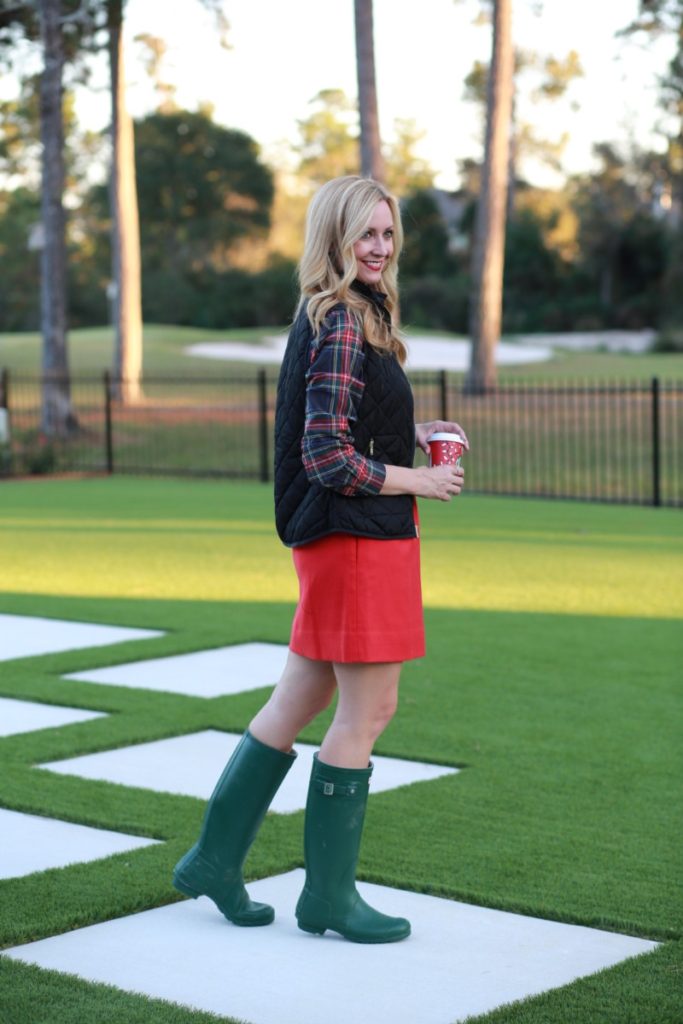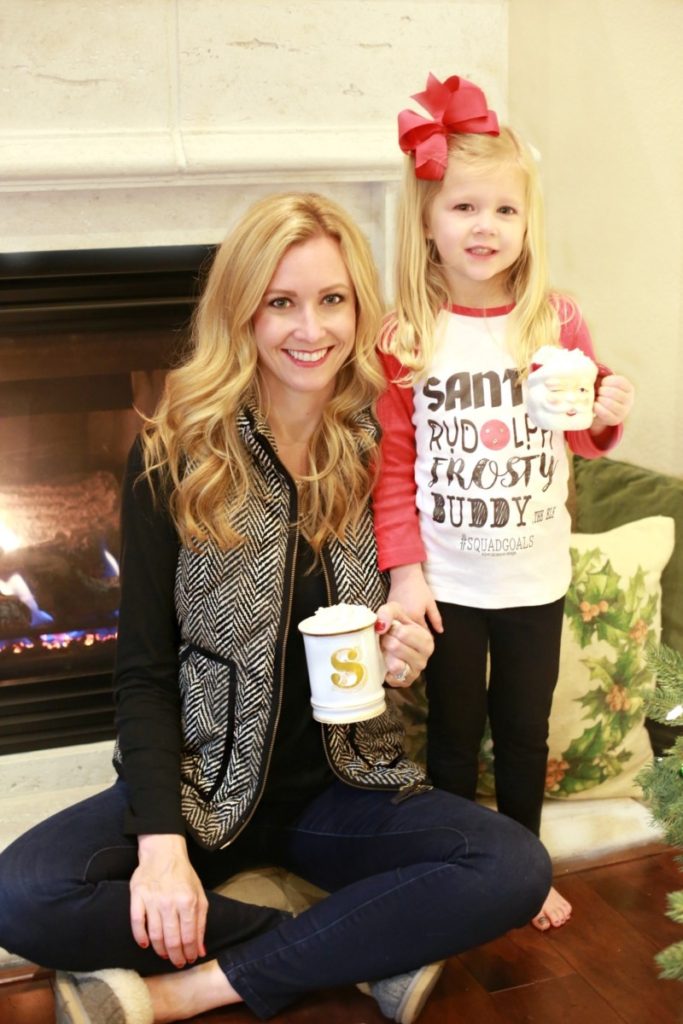 Nordstrom // Half Yearly Sale
Anthropologie // 40% off markdowns w/code "tagtime"
Banana Republic // 40% off w/code "brholiday" & 60% off sale items
BaubleBar // Up to 60% off winter sale!
Old Navy // Up to 60% off site wide
Gap // 40% off with code "wishlist" and 60% off markdowns
Loft // 50% off everything
Gigi New York // 30-40% off new sale items ( their clutches are my favorite)
Ann Taylor // Up to 70% off sale
Janie and Jack // Up to 60% off new sale items
Last but not least, I want to truly thank you all for following along and supporting me on this crazy chance I took starting a fashion, beauty and lifestyle blog.  I knew nothing about blogging and had no "blogger friends"  to lead the way for me.  I dove in, took a chance and this has become a dream job/hobby for me.  I truly thank you for supporting me and reading these posts that sometimes take me 4 hours to write!  Cheers to the New Year!!!
Merry Christmas!
Sara