I was asked to participate in the #LetsFaceIt campaign, sponsored by Studio 35 at Walgreens. Although I have been compensated, all opinions are my own.
After I had a facial a few months ago, the esthetician told me I needed a skincare routine. I promised myself I would wash my face every night before bed and use a face mask at least once a week. However, with school starting and two kids in sports, I started to neglect my skin again. I knew I needed to keep the skincare essentials stocked in my bathroom drawer. There are so many beauty brands out there and they are so easy to get now. For example, you can get something like Phyts Cosmetic Products Online and all you have to do is put your details in and it comes to your door. The wonders of ordering stuff online, you don't even need to leave the house. But that's the main problem, you go online and see all these products that people are selling, how do you know what to pick for your skincare routine? I never thought it would come to this, but I have resorted in watching a number of YouTube videos to help make this whole skincare adventure a lot easier. One thing that I have taken away from this so far is how beneficial vitamin c with hyaluronic acid is to your skin, as it can help reduce the appearance of fine lines and wrinkles. As a mom with two kids, I definitely need to slow down the ageing process, so this is something I know will be a part of my skincare routine.
Since starting my own business, and working with an OEM Cosmetics Supplier, I've learnt so much about cosmetics, and I find myself teaching everybody and anybody about all the different products, and being beautiful on a budget.
With so much money going towards sports and school I knew I needed to keep my skincare routine budget friendly but still high quality. The Studio 35 facial wipes were 2/$9.00 and I grabbed three single use face masks for $4.00.
Personal Hygiene– My kids are young so teaching them about personal hygiene is important. Before bed we practice teeth brushing and make sure nails are clipped. I always use a Studio 35 facial cleansing wipe to remove my makeup while they are brushing. The kids start with wiping their face and think they can wipe their entire body down with a facial cleansing wipe as a replacement to bath time! Studio 35 offers every day skincare essentials that are affordable, high quality and easy to pick up at your local Walgreens.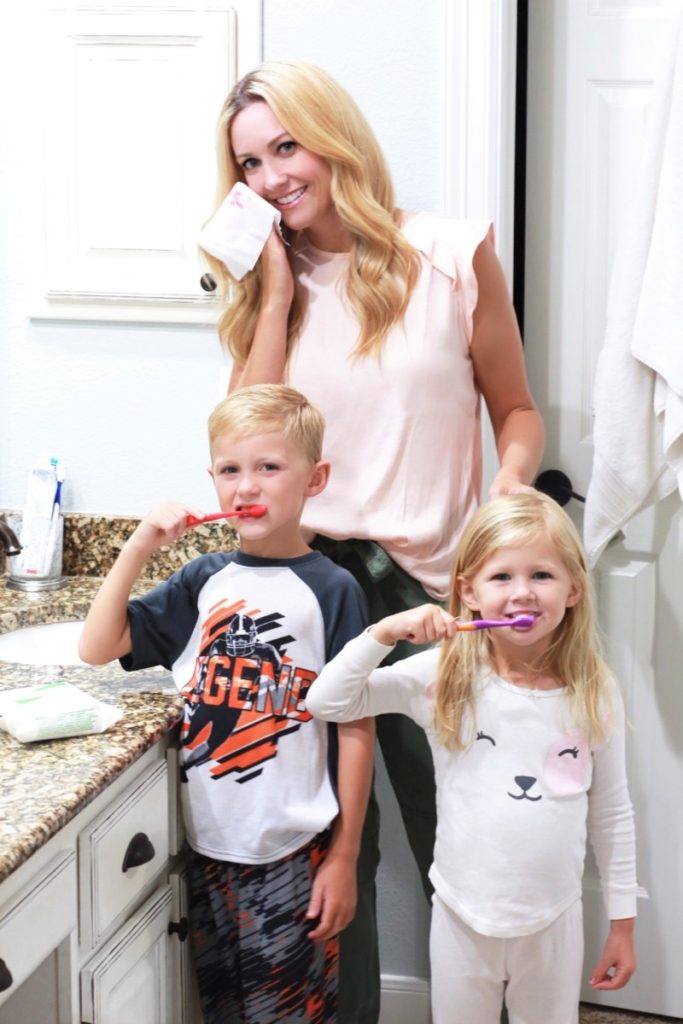 Multitask– Most of my day is spent multitasking. This applies to my skincare routine as well. To maximize my time, I will apply a detoxifying charcoal face mask from Studio 35 while reading to the kids in bed. This kills two birds with one stone. The Studio 35 single use face masks are BOGO 50% off from 7/30-8/26.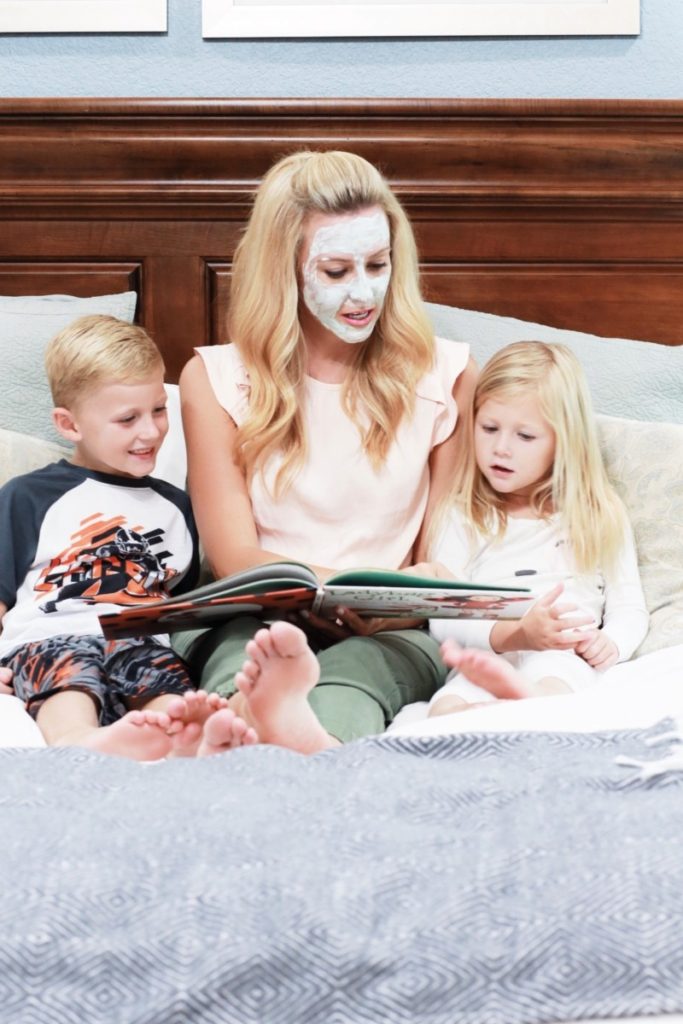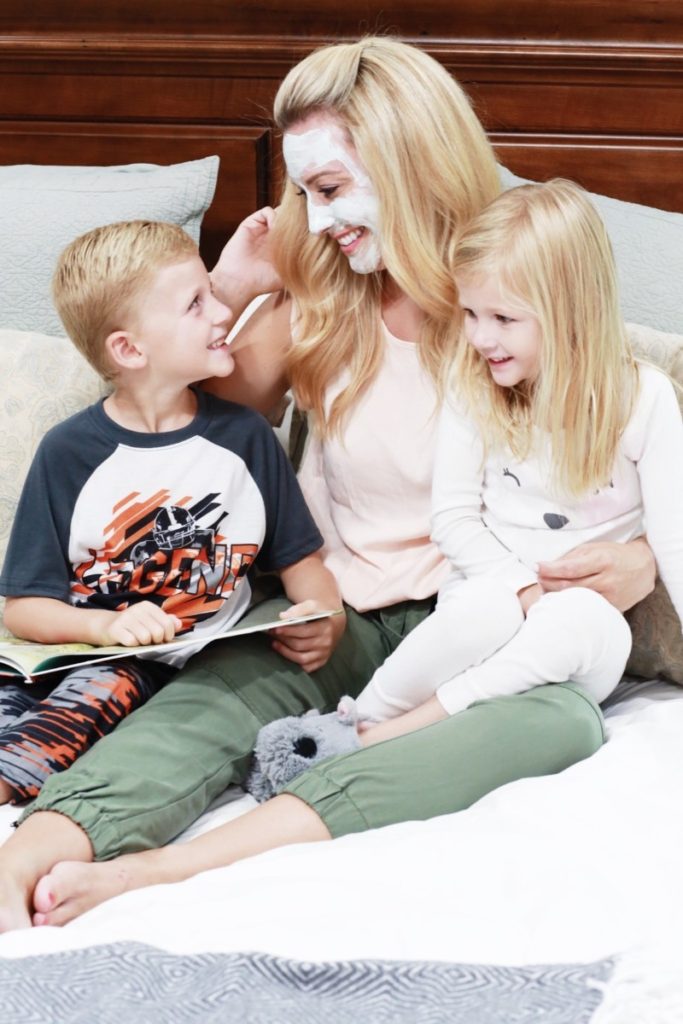 Playtime– The summer sun and chlorine has definitely parched my skin. To rehydrate I use a Studio 35 sheet mask. I wish I could lie peacefully in bed with my sheet mask on but realistically that isn't going to happen. Instead, I apply the sheet mask and use this time to tell made up stories or we come up with scary/funny names they can call me while I'm wearing my face mask. My favorites are Eyeball Ghost Zombie and Blood Barbie.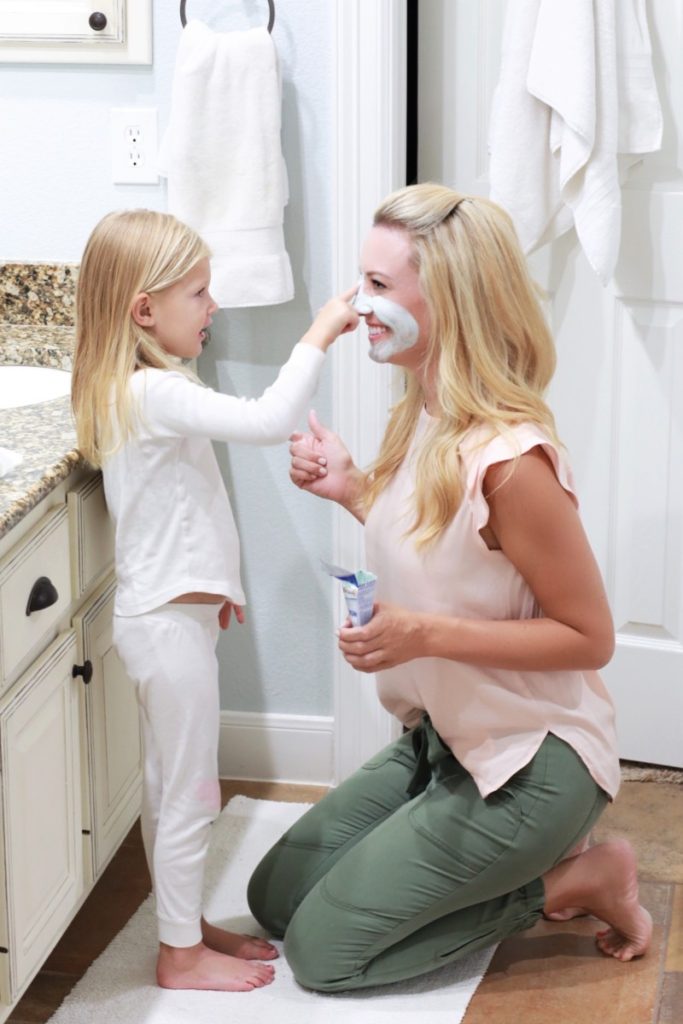 Studio 35 face masks come in a full tube or you can buy individual packets. I love the individual packets because I can tailor the mask to my skins needs. These masks are also packaged conveniently for throwing into an overnight bag for traveling. Perfect for your skincare routine!
Do you have any favorite ways to maximize your time while also taking care of yourself? I'd love to hear of any of your ideas or skincare routine hacks!
XO-Sara
This is a sponsored conversation written by me on behalf of Walgreens. The opinions and text are all mine.