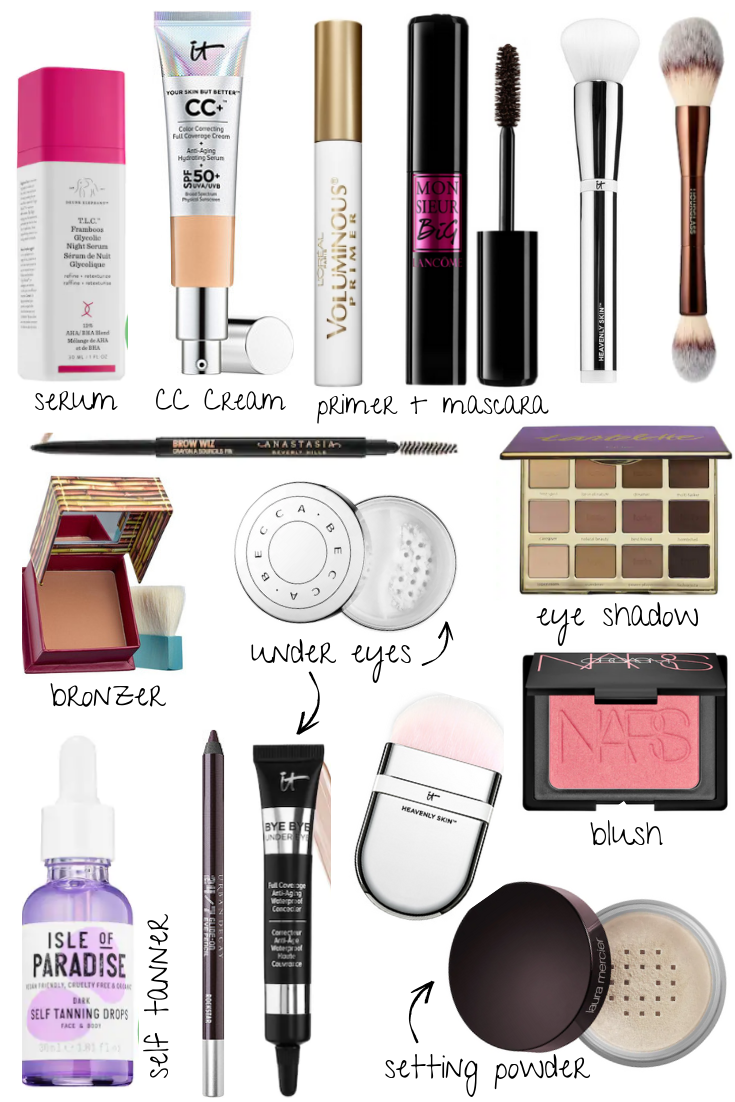 Today I am sharing with you my five minute face.  I have my quick everyday makeup routine down to five minutes because I either A. Like to sleep longer B. Have to rush kids out the door or myself out the door to school/meetings or C. I am not a professional YouTube makeup artist.  I'm just an everyday gal who has carpool and a dishwasher to empty.
Quick Everyday Makeup:
Skin Care
I used to put so much time into my makeup and zero time into my skincare.  My skin started to HATE me and I realized I had to have a great base before I could paint it!  This is the glycolic serum I use at night before applying my moisturizer.  It has changed my skin like no product I have ever used.  My skin has improved texture, tone and I have zero redness from irritation.  I have drifted towards using more Drunk Elephant products lately because they are clean and free of chemicals.
Self Tanner
These self tanning drops are a game changer in my book.  I add three drops to my moisturizer at night 1-2 times a week and the color is perfect.  It looks exactly like you have been in the sun a bit minus the typical orange tint.  You can also use these drops on the rest of your body mixed with your typical body lotion.  They sell out quickly so if you find them in stock buy TWO BOTTLES!
CC Cream + Foundation Brush
This cc cream is my ride or die.  I have used iT Cosmetics CC cream ever since it first came out on the market.  I use one pump and dot it all over my face.  Then I use the most amazing foundation brush to blend.   This brush has anitmicrobial bristles so keep bacteria away.  Bacteria causes breakouts and that's obviously a huge yuck in everyone's book.
Mascara Primer + Mascara
If there is one drug store product I can't live without it is this mascara primer.  You can grab it at Target or the grocery store.  I coat my lashes then let it sit for about 30 seconds before I apply my new favorite mascara.  I swore I wouldn't stray from my old mascara...until I found this mascara.  The brush and formula help lengthen and add volume.
Concealer + Brightening Powder + Double Sided Powder Brush
If you have dark circles this concealer is your new bff.  It offers major staying power and unbelievable coverage.  A little goes a long way so you don't need much.  I dab it on with my ring fingers and set it with the smaller end of this double sided powder brush.  I recently bought this under eye brightening powder and really like it.  It helps reflect the light under my eyes and brighten up those pesky dark circles, while setting my concealer.
Eye Shadow
If I had to pick one eye shadow palette to use, it would be the Tartlette Eye Shadow Palette.  It has a wide range of neutral colors and a great mix of shimmer and matte colors.  I like to use the darker shadows to line my lower lash line for a softer look versus using a liner.
Favorite Brushes
Blush
I have used the same blush for five years now.  Nars blush in "orgasm" is a cult favorite because it goes well with so many skin tones, is the perfect rosy pink and has the the prettiest shimmer to catch the light and make those cheek bones pop!
Bronzer + Bronzer Brush
Just like the Nars blush above, Hoola bronzer is another cult favorite.  It has the perfect mix of browns for contouring your cheekbones and forehead.  The brush that comes with it is so-so.  I prefer this flat bronzer brush from iT Cosmetics.
Eyeliner
I'm not a pro with liquid liner so I stick to pencil liners.  These Urban Decay eyeliners are soft and stay put all day.  They come in every color under the rainbow but my favorites are: Demolition (dark brown), Rockstar (deep plum) and Perversion (black).
Setting Powder
I've tried many powders and keep coming back to this translucent setting powder. I apply it with the bigger, fluffy end of this brush.  The powder is finely milled so it applies smoothly and doesn't cake up in creases and wrinkles.
Brow Pencil
My eyebrows were microbladded two years ago but have faded in some spots.  I fill them in with this Anastasia of Beverly  Hills brow wiz pencil.  If a section is too dark or you make a mistake, use the spoolie at the opposite end to erase or blend any dark spots.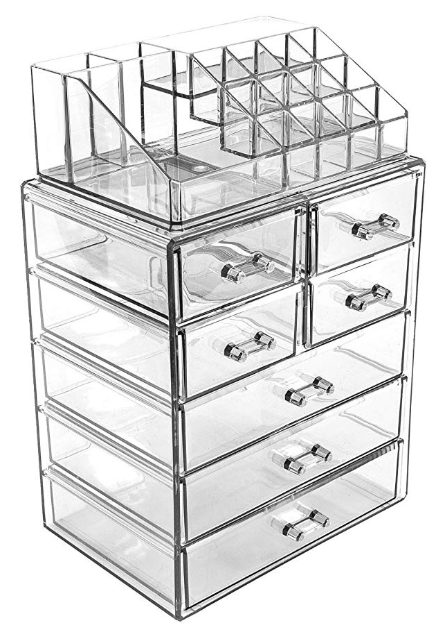 For easy reference, you can save the picture below to your Pinterest board!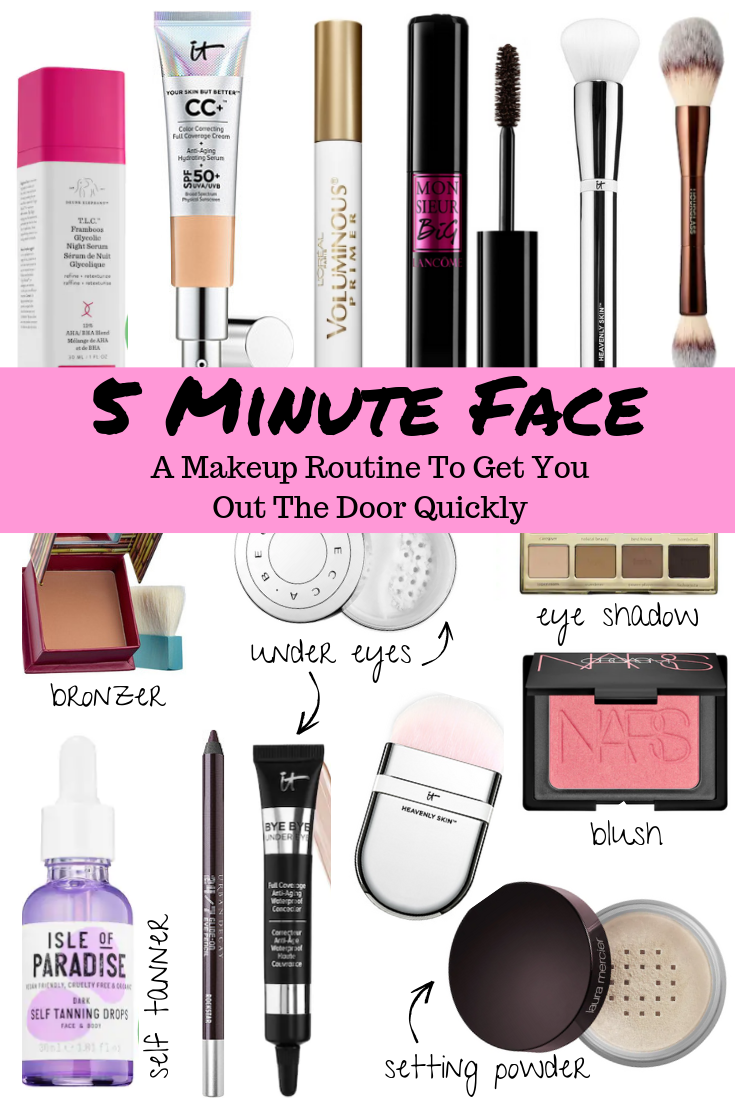 Loving this quick everyday makeup feature? Take a look here for more of my beauty favorites!