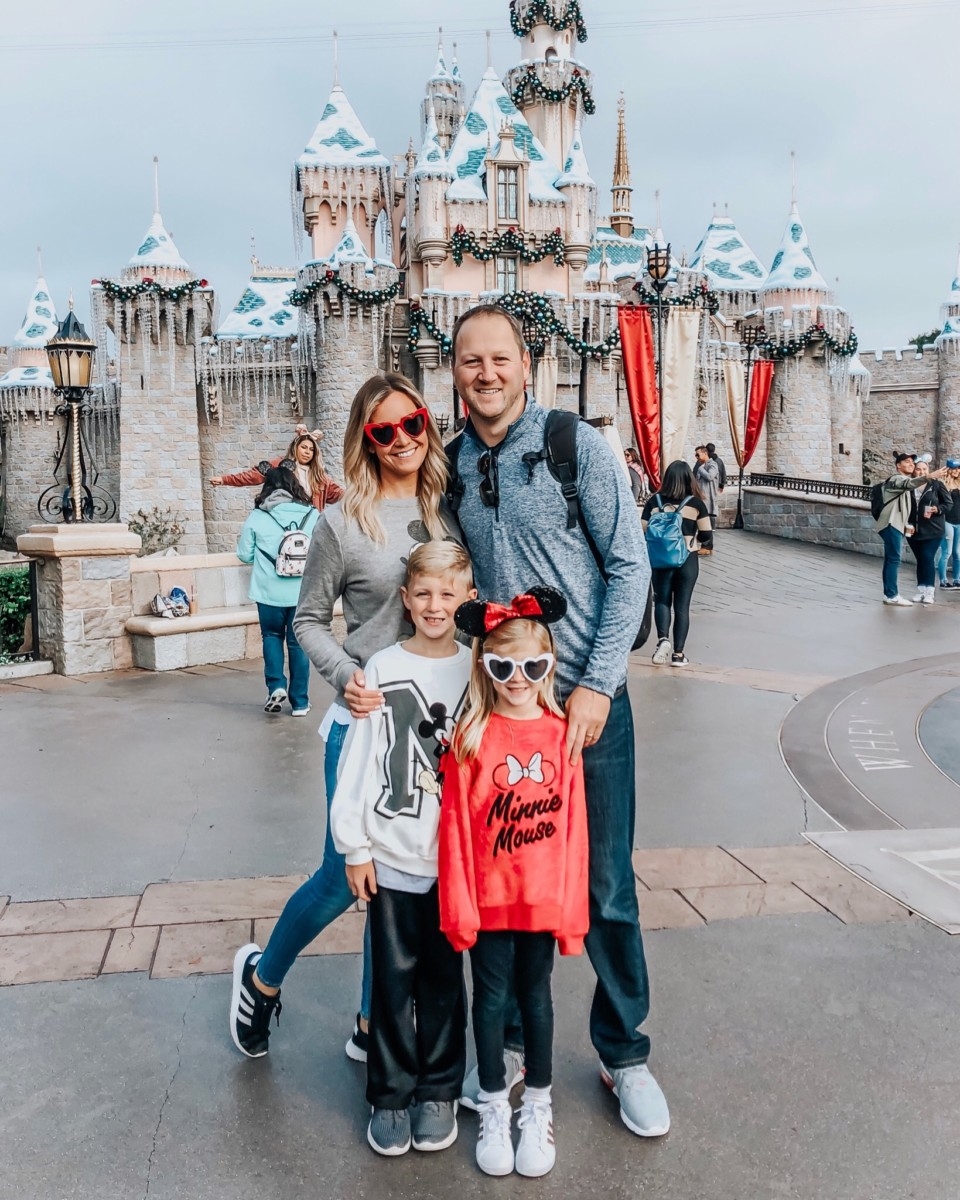 Hi Everyone!  As most of you know we took a Disneyland family vacation the first week of January.  We lucked out with amazing weather and I have so many tips and tricks to share with you.  This was our second trip to Disneyland and definitely the most fun!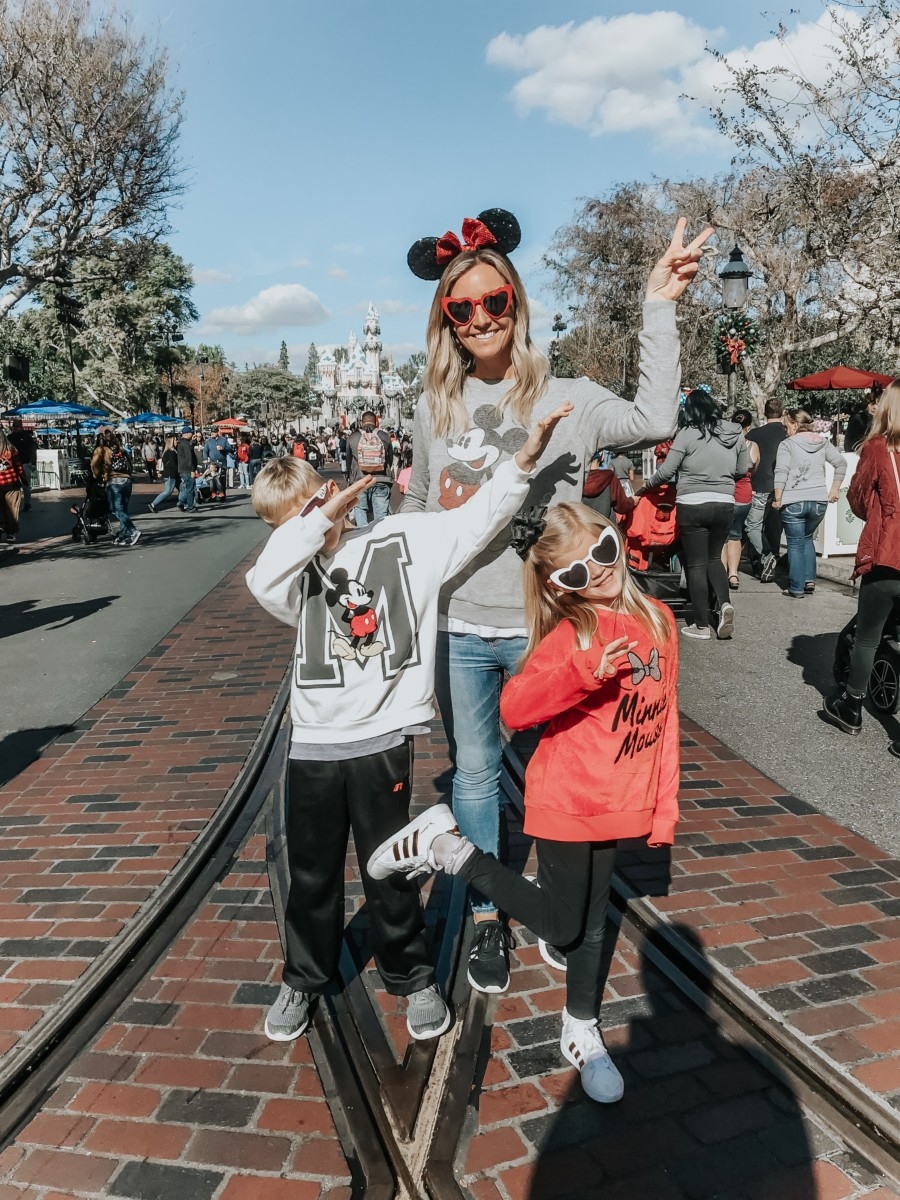 DISNEYLAND FAMILY VACATION OUTFIT DETAILS
The first time we went the kids were 3 and 5.  We had to take a stroller, a TON of snacks and they were not remotely happy about ever waiting in line.  Even if it was a 20 minute line.  This time around the kids were 5 and 7.  We did not bring a stroller and the kids did great walking.  Below I will list some of my must haves to bring into the park with you:
Disneyland Family Vacation
Disneyland Necessities
Backpack for mom and dad- I used this $19 backpack
Snacks, apple sauce packs & a bottle of water
Bandaids
Sunscreen
Download Disneyland App- I'll go into depth about this below
Comfy shoes
Sweatshirts- it cools down a lot at night in California, especially if you stay for the parade
Mickey/Minnie Ears
Sunglasses- Paige and I wore these fun heart glasses!
Autograph Book– only bring this if your children are really into meeting the characters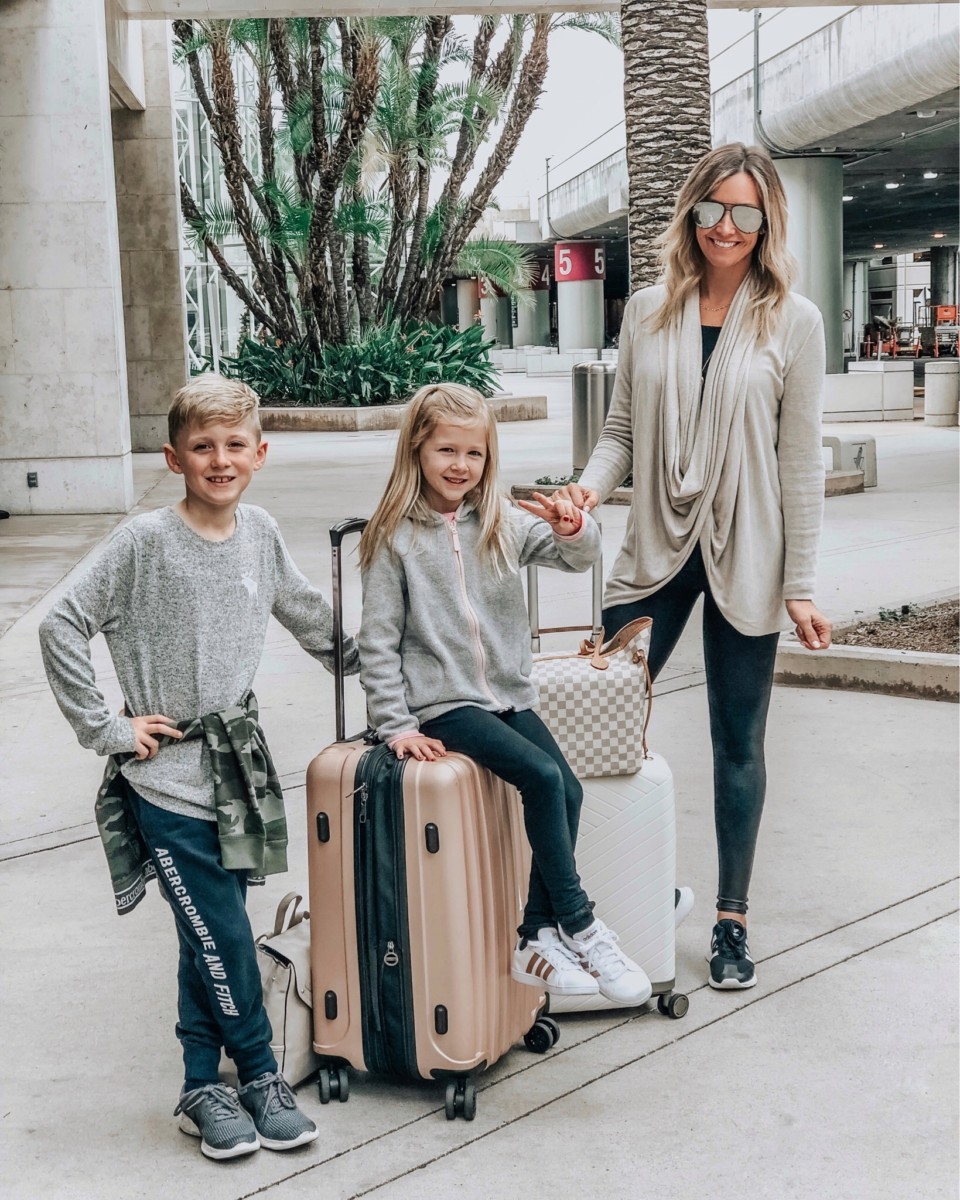 DISNEYLAND FAMILY VACATION OUTFIT DETAILS
MOST ASKED QUESTION: Why  did we pick Disneyland (California) over Disney World (Florida)?
Our biggest and best reason was we had family friends staying in California from Australia and we wanted to see them.  The second biggest reason was Disneyland is very low key.  A Disneyland family vacation doesn't take a year to plan and the cost can be significantly lower than Disney World.  We wanted to take the kids on a trip, spend time together as a family and not break the bank doing it.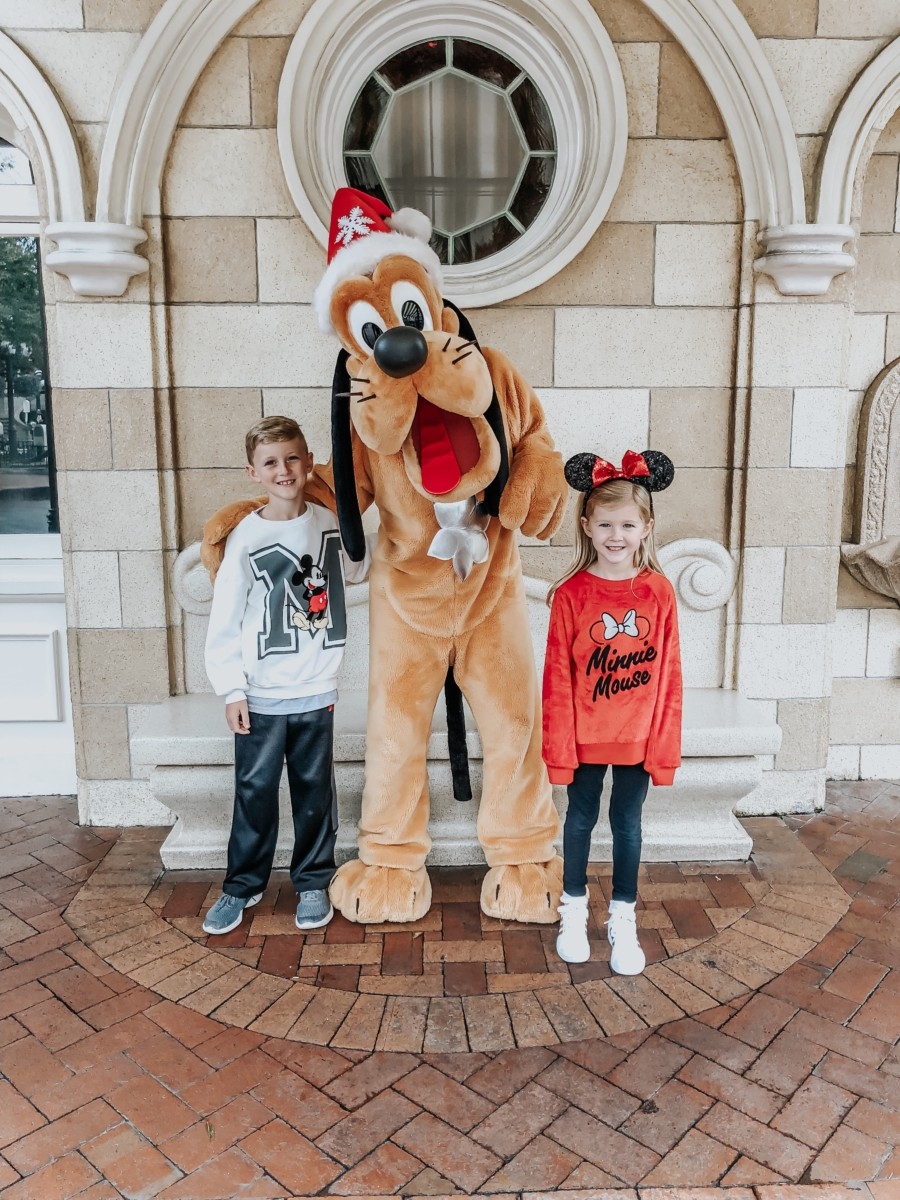 Tip 1 Find Discounted Tickets ONLINE
I legitimately bought our tickets the night before we went to the park!  I found discounted Disneyland tickets on this site.  We were only going to two days so I bought the 2 Day 1 Park Per Day tickets.  This way we could do Disneyland one day and California Adventure the next.  When I got the email, the tickets said they couldn't be printed before 24 hours due to security issues.  I had a stroke of genius and took a screenshot of the bar code.  When you download the Disneyland app you can scan the bar code and your tickets are added automatically to your app.  Boom!  Tickets bought and downloaded to the app within an hour.
Tip 2  Accomodations
This was our second time to Disneyland and we had a house to stay at which was obviously free to us.  The first time we went, we saved MAJOR money by staying down the block at the Anaheim Marriott Hotel/Convention Center Hotel (literally 2 blocks from Disney) for a fraction of the price of a Disney hotel.  We did have a rental car and parking was relatively easy.  Disney is a very efficient place so we were parked, through security and on the little shuttle at the park in 20 minutes.
Tip 3 MaxPass/ Disneyland App
Disney has a new feature on their app called the MaxPass aka the new, more convenient FastPass. Previously, you would have to find these FastPass kiosks around the park to get your next pass.  It involved A LOT of running around the park. You do have to pay per person per day for the pass but it will  MAKE OR BREAK your day!  Justin downloaded the app and signed in with my UN and PW so we were always on the same page.
Before our trip I did make a list in the notes section of my phone of the rides we absolutely wanted to ride on.  The second you walk into the park, get the MaxPass and get your first FastPass to whichever ride you want to ride first.  The app will tell you when you can get your next FastPass and the FastPass wait times per ride.  This saved our trip!  The longest we waited was 15 minutes.  The kids were happy, we were happy and we were able to ride almost every single ride in the entire park- minus some of the "baby rides" as my kids called them.
Another thing you can use the MaxPass for is ordering food.  We ordered our Dole Whips on the pass, showed up to the window and they were ready!  We also ordered our lunch using the MaxPass.  I highly suggest sitting down for dinner and taking a break around 6/7 for dinner.  If you are able to stay for the parade and fireworks at 9:30, this will be a much needed break.
Disneyland Park FASTPASS Attractions
Big Thunder Mountain Railroad
Buzz Lightyear Astro Blasters
Haunted Mansion / Haunted Mansion Holiday
Indiana Jones Adventure
Matterhorn Bobsleds
Roger Rabbit's Car Toon Spin
Space Mountain
Star Tours — The Adventures Continue
It's A Small World
Disney California Adventure FASTPASS Attractions
Incredicoaster
Goofy's Sky School
Grizzly River Run – water ride
Guardians of the Galaxy
Radiator Springs Racers
Soarin' Around the World
Toy Story Midway Mania!
World of Color (does not affect obtaining ride FASTPASSes)
Tip 4 Bring Your Own Snacks
Yep, you can bring your own snacks into the park!  This time around Justin and I both brought a backpack.  We filled them with applesauce pouches, crackers, pretzels, fruit snacks, cookies, etc.  When you do have to wait in line it pays to distract the kids with a snack and will save you a ton of money!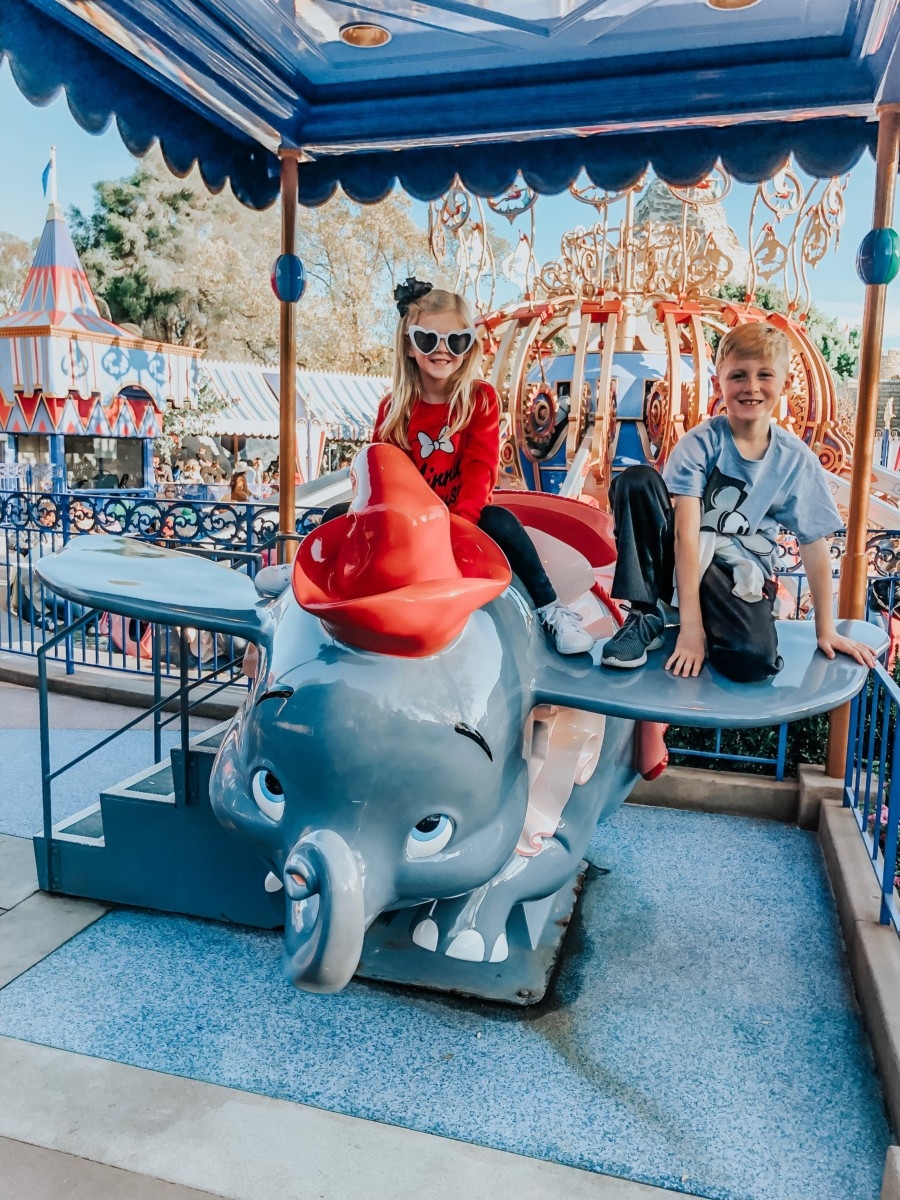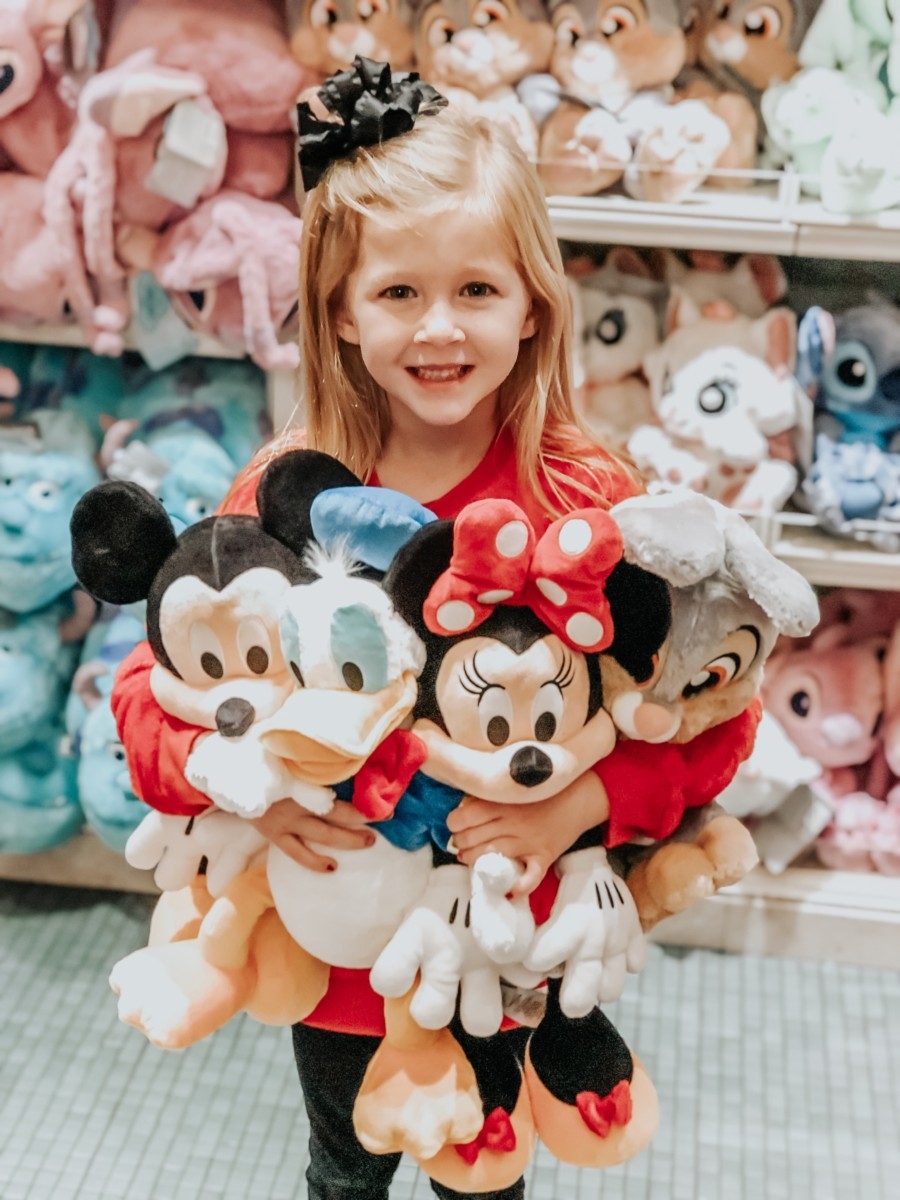 Day One Agenda
( Agendas are approximate.  I was going off memory!)
Arrive to park at 8:30
Get fastpass for Matterhorn while walking to Frontierland to ride Big Thunder Mountain Railroad
Ride Indiana Jones, Haunted Mansion and Pirates Of The Caribbean (Mobile order Dole Whip before Pirates ride)
Get Next fastpass
Pick up Dole Whip  and take a break before heading to ride Matterhorn
Nemo ride
Lunch in Tomorrowland (take 30-40 minute break)
Ride Space Mountain, Buzz and Star Tours
Snack
It's A Small World, Dumbo Ride, Snow White,
Each kid pick out a toy (various running around the park!)
Grab a spot for the holiday parade at 6
Ride Matterhorn one more time
At this point the kids were melting down and we knew we wouldn't make it to the late parade at 9:30 pm aka 11:30 our time
We went back to the car and grabbed something to eat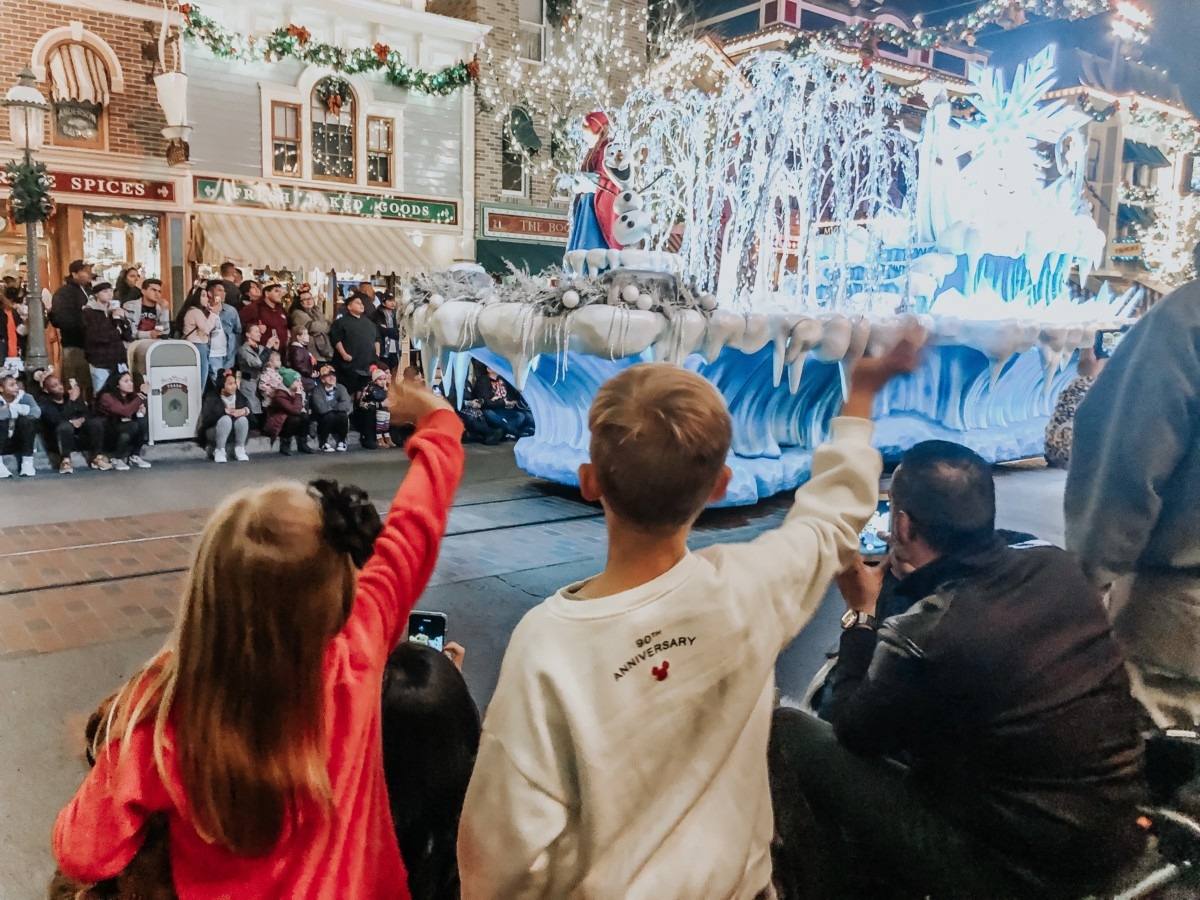 Day Two Agenda
Get to California Adventure by 10 ( We were a little more lax at this park because it is smaller and we planned to be back with our family for dinner by 6:30)
Fastpass to Incredicoaster
Ride Swings and Jumpin Jellyfish
Get a churro, pretzel and icee- basically all the snacks!
Little Mermaid
Ride Incredicoaster- super proud of our kiddos for being fearless and riding this roller coaster!
Monsters Inc Ride
Get Fastpass for Radiator Springs Ride
Mater's Junkyard Jamboree
Snacks and watched a street show outside of Guardians of the Galaxy
Guardians of the Galaxy Ride- this is where I held onto my 5 year old like I was a 3 year old  and prayed not to barf!
Lunch at Carthay Circle- This was a nice break but the restaurant is pricey.  They are known for these cheesy ball things but I would pass on them.
Toy Story Midway Mania- Justin's ego was crushed when I beat him in laser shooting hahaha
Rode Incredicoaster one last time
*** There is a Bugs Life Land which we skipped because our kids were a little old for it.  The water rides were also closed for repair and it was too cold to ride them. Luigi's Rollickin Roadsters was also closed.
*** We did not stay for World Of Color which is a fountain based light show.  If you plan to stay I highly recommend getting a fastpass for the best viewing area.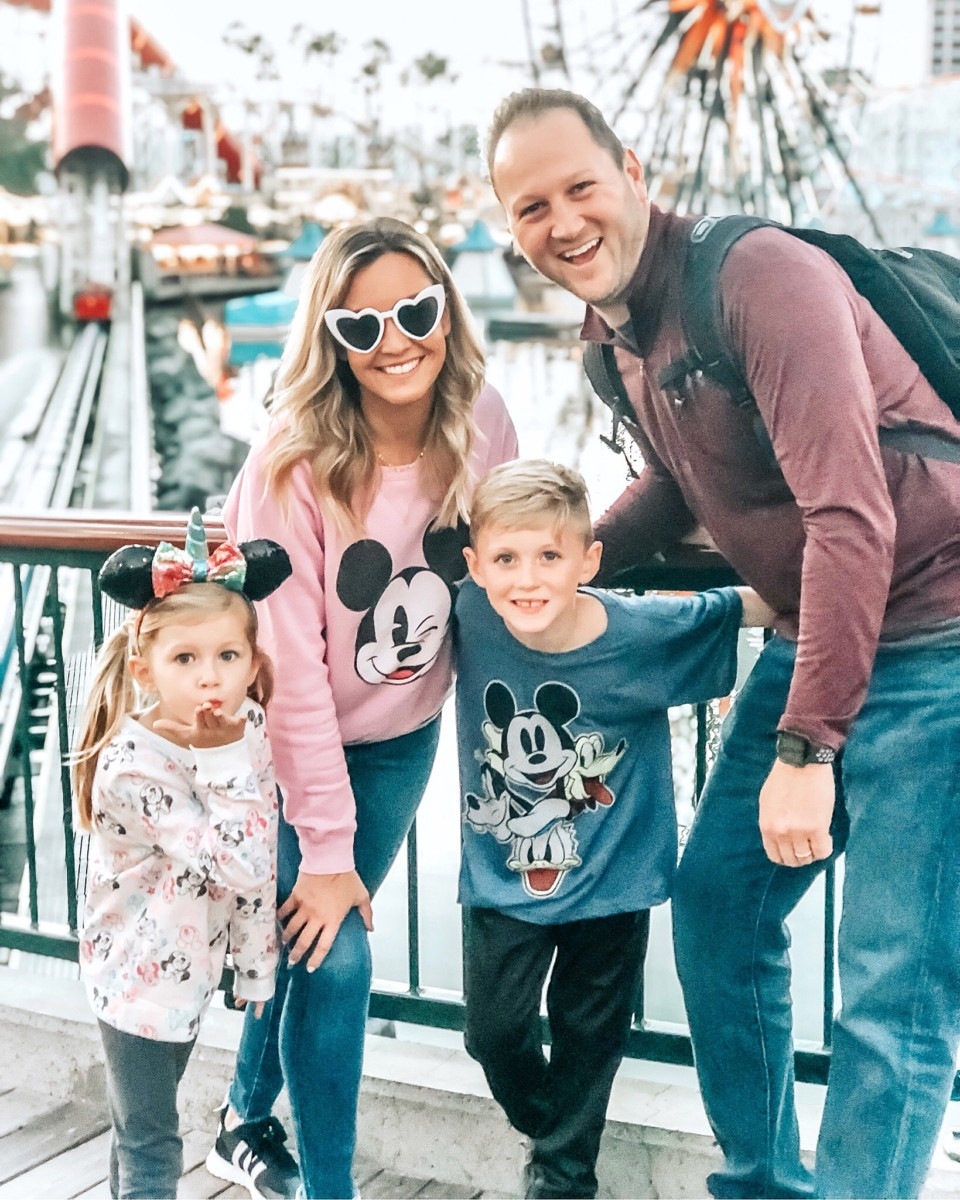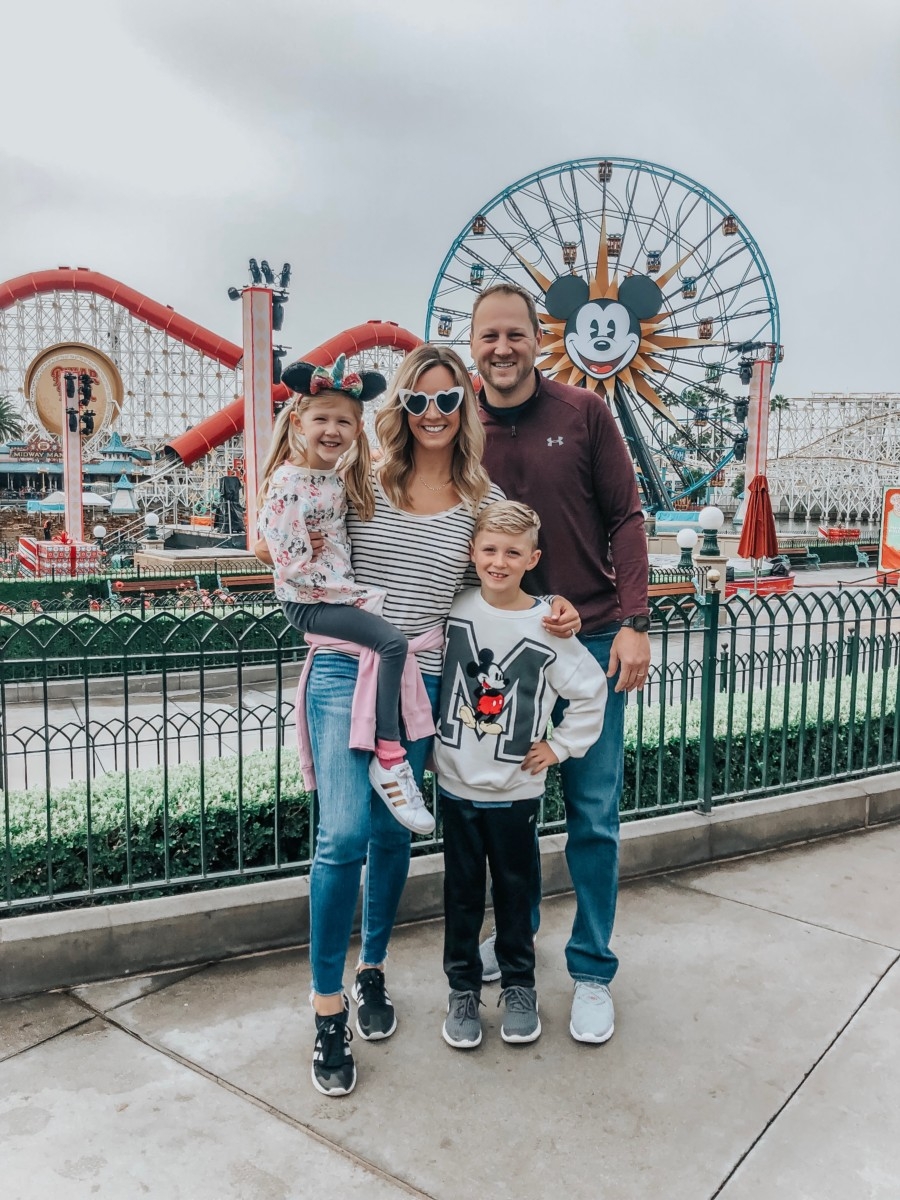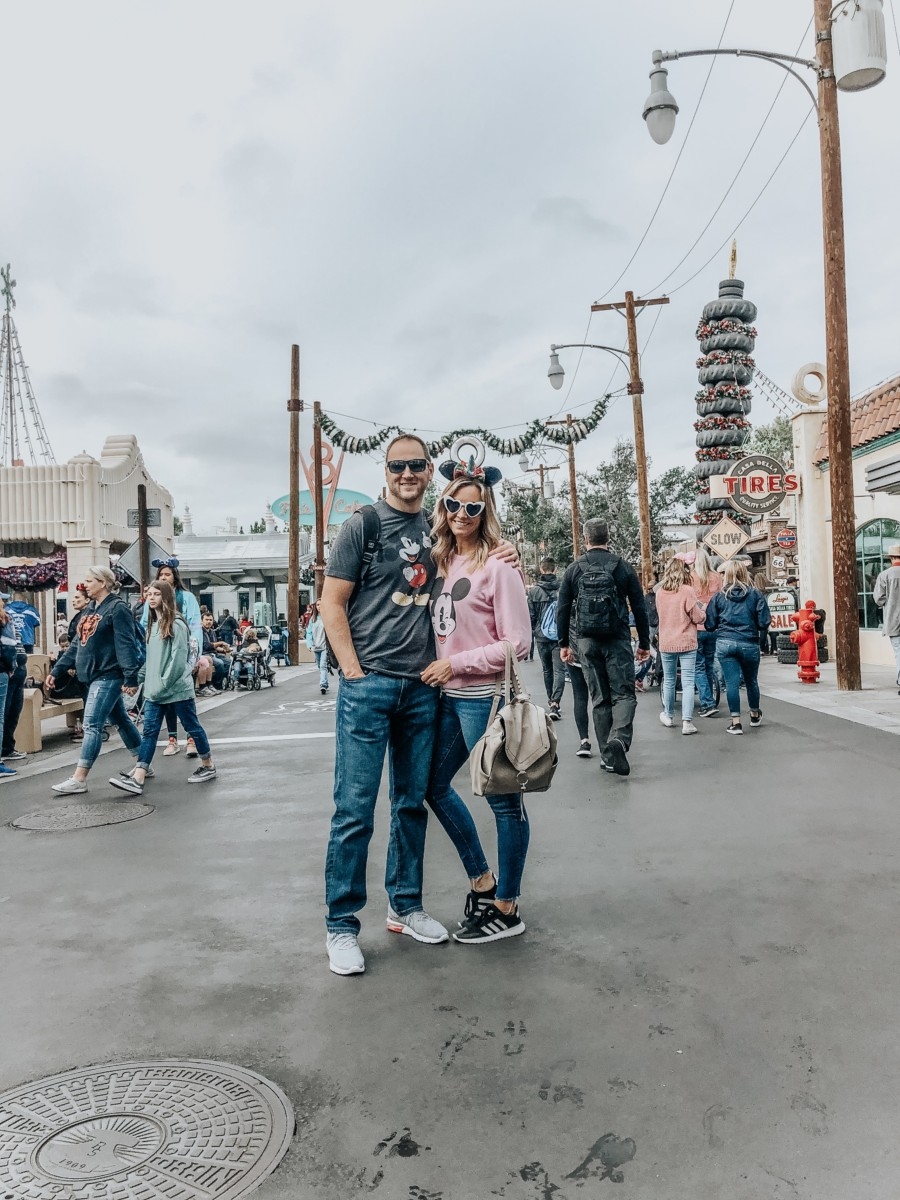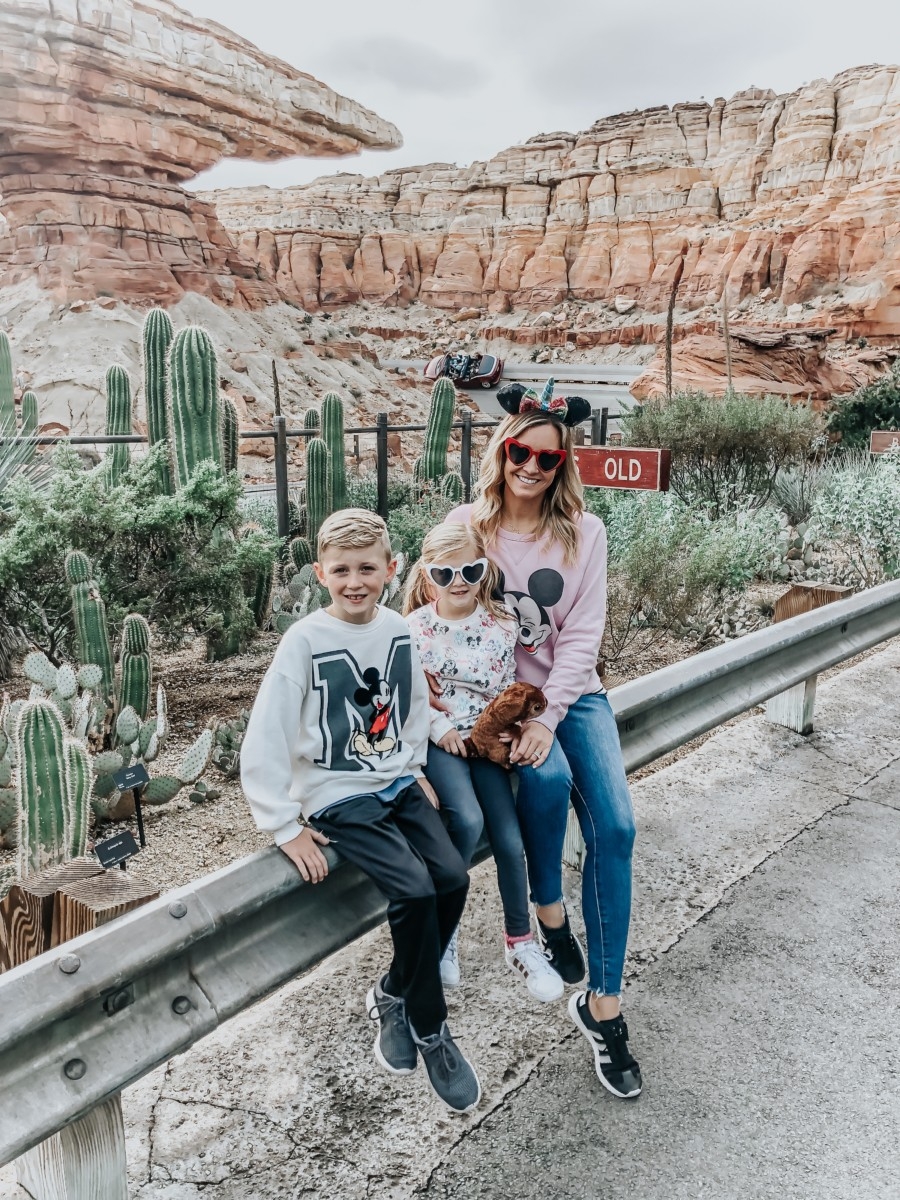 I hope this helped those of you looking to head to Disneyland!  Feel free to ask any questions in the comment section and I will be sure to get back to you!
XO- Sara