Mother's Day is right around the corner (May 10th) and it's time to start perusing the internet for that special Mother's Day gift.  Many of us are not able to spend the day with the women we love to celebrate but I'm still choosing to show mom some love with a special gift.  I rounded up a few of my favorite go-to Mother's Day gift ideas to make shopping a little easier.  If you can't think of a gift or maybe your mom is someone who has it all, may I suggest stopping over here for a bouquet of fresh flowers.  Now let's get to the fun stuff!  Below you'll find some fun items that are sure to bring a smile to mom's face or treat yourself with a gift for being an awesome mom!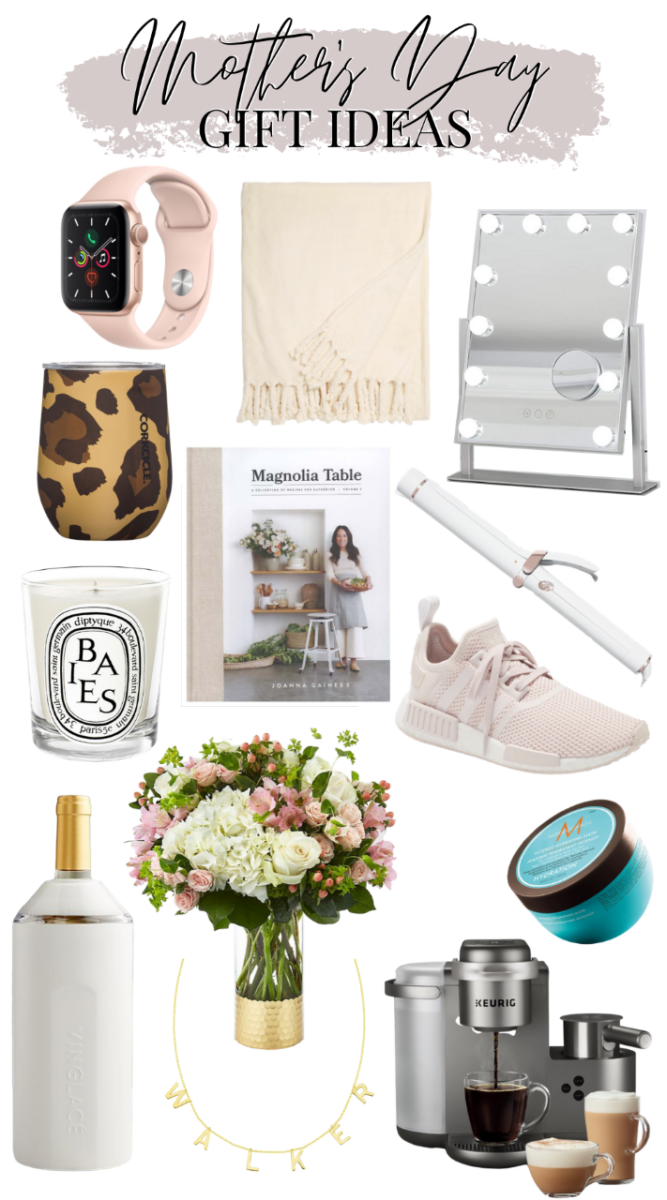 Mother's Day Gift Ideas
Sneakers– These sneakers are great for a workout or pairing with your favorite leggings around the house.  They come in multiple colors and I love the fit of them.
Apple Watch– Give the gift of technology or ask for it for yourself! Track your steps, monitor sleep, check the weather.  This baby does it all.
Blanket– This blanket is not super heavy but it is SO SOFT.  Every time I pass it in the store I have to touch it.  I finally caved and bought one in grey and cannot wait to get it in the mail.
Makeup Mirror– A lot of you spotted this in my stories when I shared my office and my DM's were flooded with questions about this mirror.  It offers dimmable LED bulbs and touch control design.
Insulated Leopard Wine Glass– If you are a wine lover or love a good sparkling water, these non breakable glasses are perfect for the pool, lake or taking a walk around your neighborhood.  This white iridescent one is also too fun to pass up.
Magnolia Table Cookbook– Who doesn't love Joanna Gaines?!?  If you or your mom are trying new recipes or want a really pretty coffee table book, this one is sure to bring a smile to her face.
Curling Iron– This is one of my all time favorite hair tools.  I use the 1.25″ barrel.
Candle– This candle is a cult favorite.  The scent is slightly floral but with a musky hint.  I've never run across another candle that compares to this sent.  I also love THIS CANDLE.  It is another classic cult favorite.
Vinglace Wine Chiller– Want to keep your champagne cold all day long?  Sitting on the patio and hate dealing with ice melting everywhere when chilling your wine?  This is the best little invention. It will keep your wine or champagne chilled for hours!
Personalized Necklace– These necklaces are delicate and adorable.  Add a child's name, the word MAMA or whatever your heart desires.
Hair Mask-  I have two favorite hair masks.  First is the Colleen Rothschild hair mask.  I just bought my third container because it leaves my hair hydrated but not weighed down and silky smooth.  Use code HUMID20 for 20% off your order.  My second favorite is the Moroccan Oil Hair mask.  If you have extra dry hair or curly dry hair this is a great hair mask for restoring moisture.
Coffee Maker– Starbucks who?  This coffee machine will make all your morning dreams come true…minus the barista!
Flowers– Mom's love flowers.  Isn't there something calming and happy about a room with flowers?  Pick mom, grandma or sister out a gorgeous bouquet and have it delivered.
Mother's Day Gift Ideas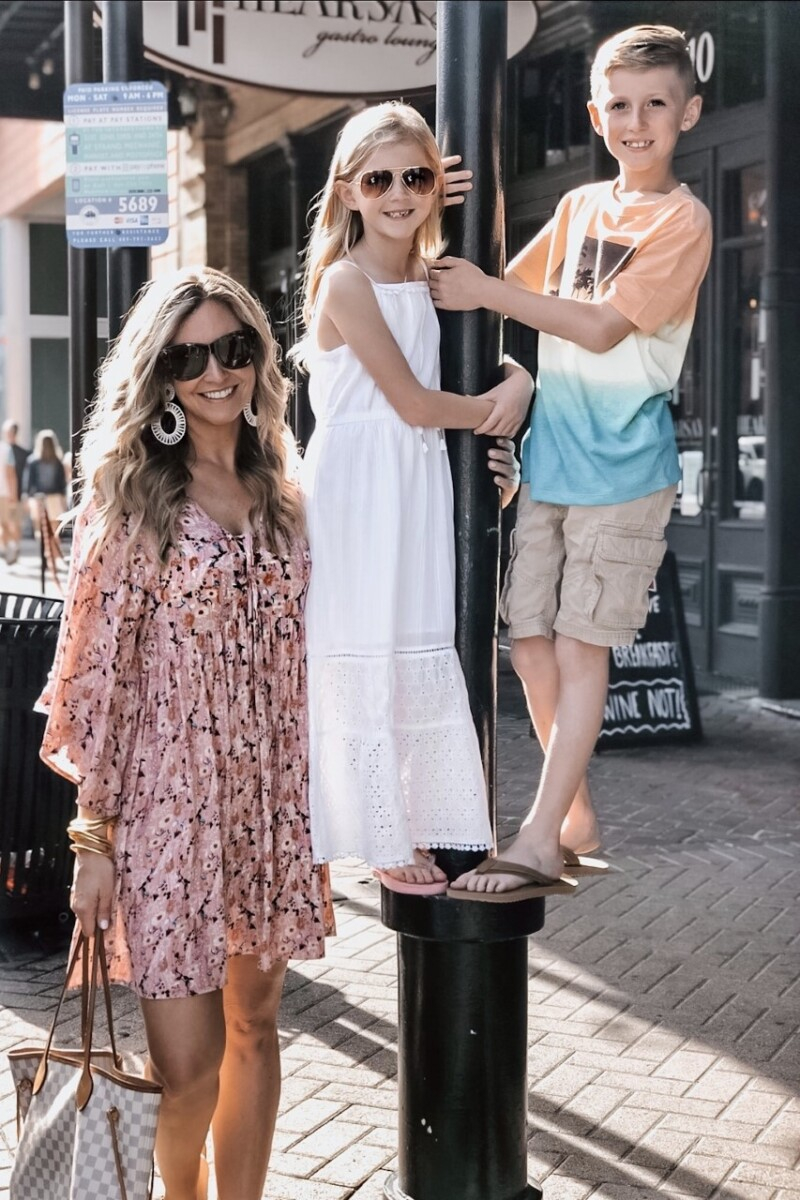 DRESS  //  EARRINGS  //  SUNGLASSES  //  SANDALS
What are some of your Mother's Day gift ideas?  Let me know in a comment below!