Let's talk premium denim today!  Fit, brands, cost and color.
Why does premium denim cost so dang much?
I am also sharing my five favorite jeans – Nordstrom denim styles and colors.
Yesterday I popped into Nordstrom to check out their latest and greatest in jeans.  In years past I only bought premium denim because it fit like a dream.  Along came two kids and I didn't want to fork over the cash for one pair of jeans.  BUT, what happened was I was buying multiple pairs of $65 jeans.  None of which fit well.  They were always too big in the waist or stretched out during the day.  This created baggy legs and me constantly pulling my jeans up as I walked.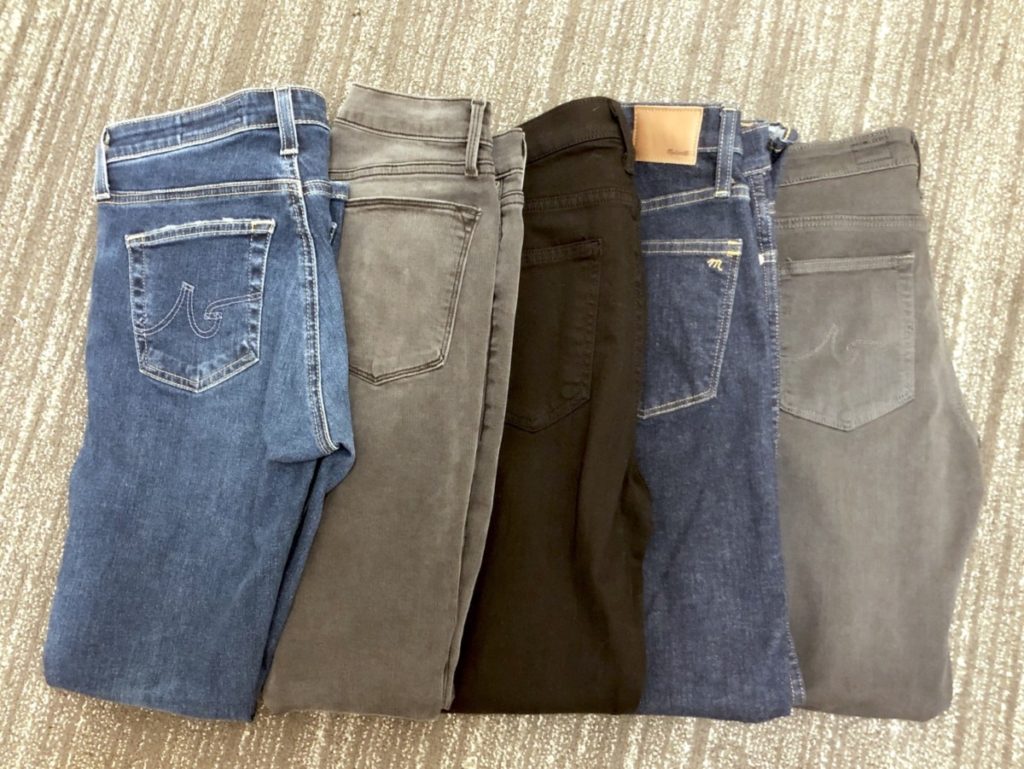 Favorite Jeans & Cost
I think this is numero uno on everyone's list.  Why do name brand favorite jeans cost so dang much?  Their styles, fit and color are crafted down to an art form.  The pockets are aligned to lift and shape your butt.  Expensive denim is curated to hold its shape over time.  No saggy baggy booty here!
FAVORITE JEANS – AG JEANS
AG Jeans are a Nordstrom denim favorite.  If these aren't clean I have a mini laundry panic attack.  Hands down a MUST HAVE!!!  These jeans will last you years (I have had the same black pair for 4 years!). Their hand done washes are  perfection and they look genuinely broken in.
These jeans fit practically every body type.  I am pear shaped and they hug every curve perfectly.  No gaping in the back, the stretch is amazing and their comfort level is incomparable.  They also fit my friend who has a more boyish figure and my friend who is an inverted triangle shape.
AG The Legging Distressed Denim– Size 28  /  All The Jingle Ladies Sweater – Medium  /  Striped Top– Medium  /  Necklace  /  Poncho– XS/SM  /  Booties– Size 9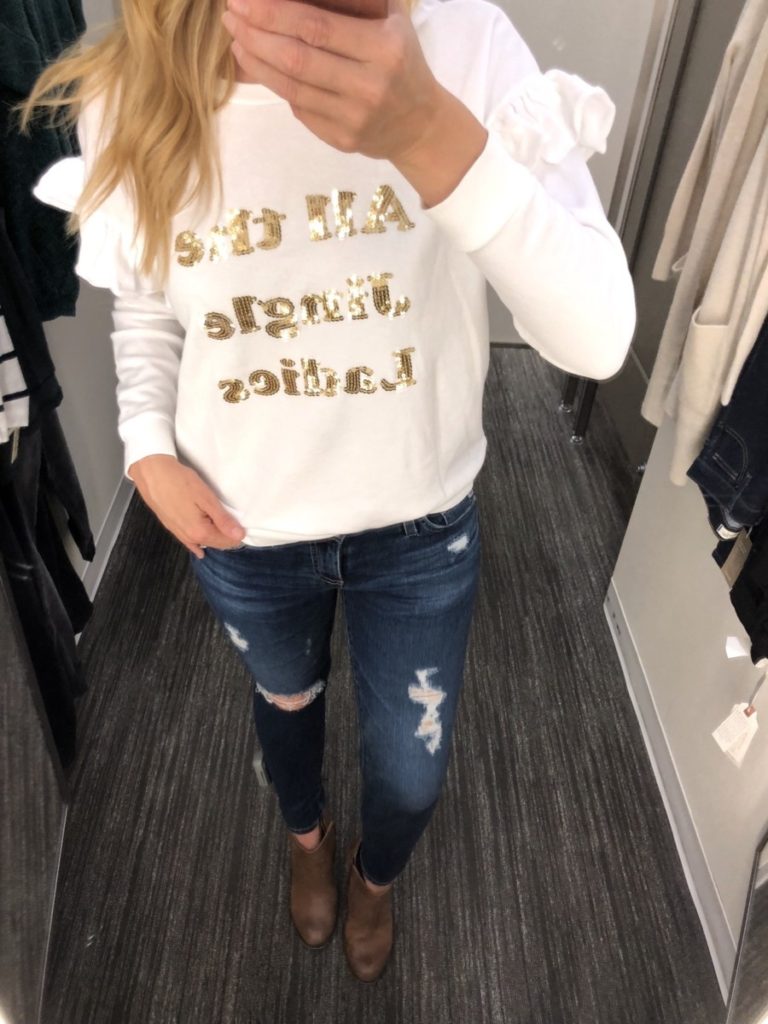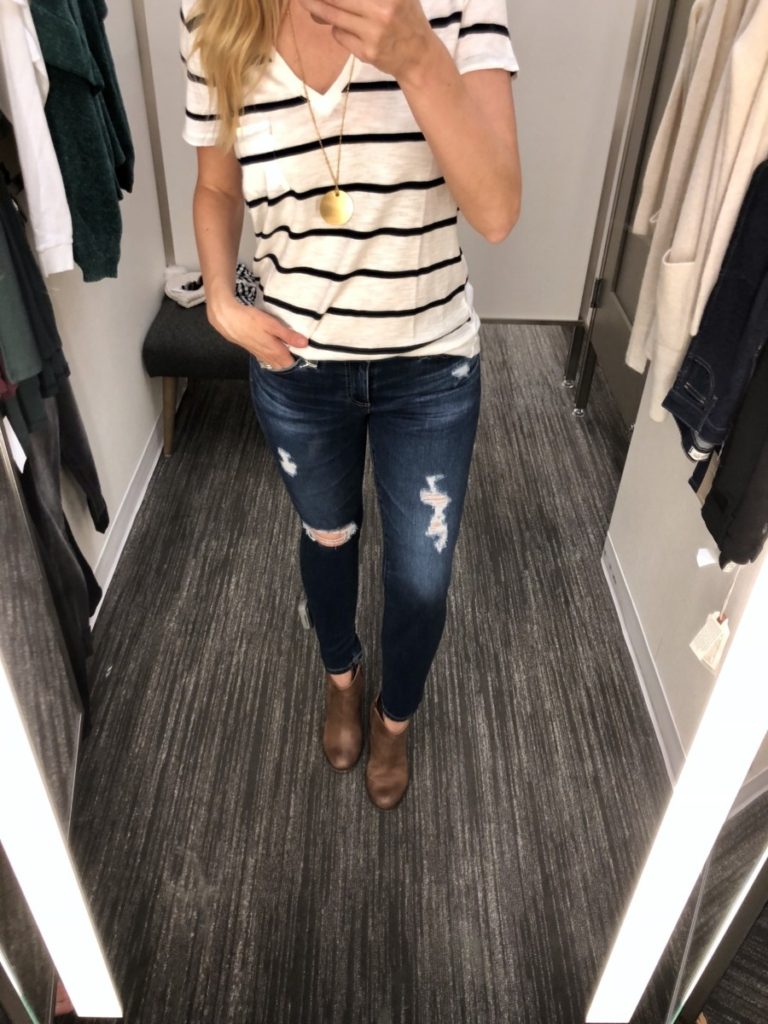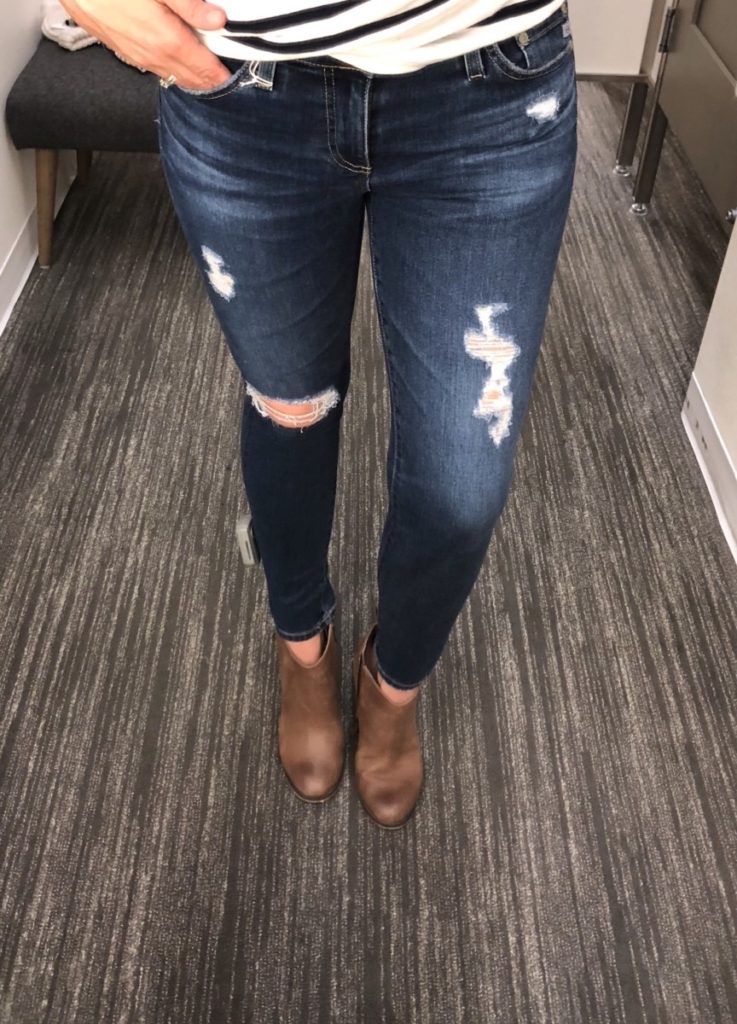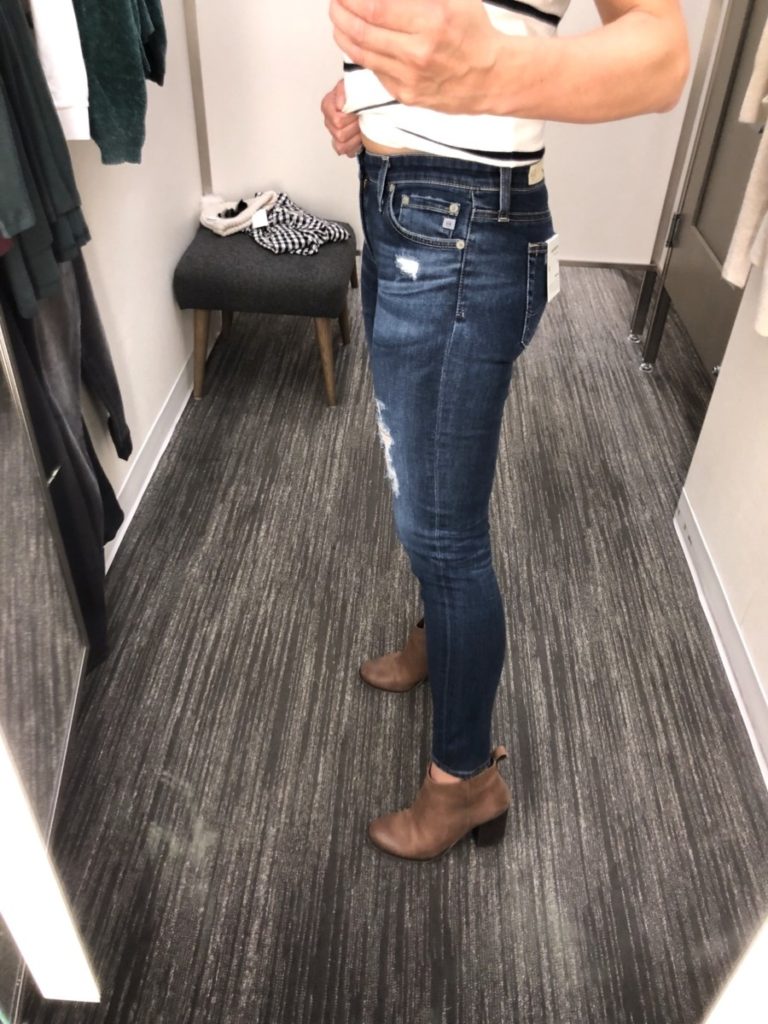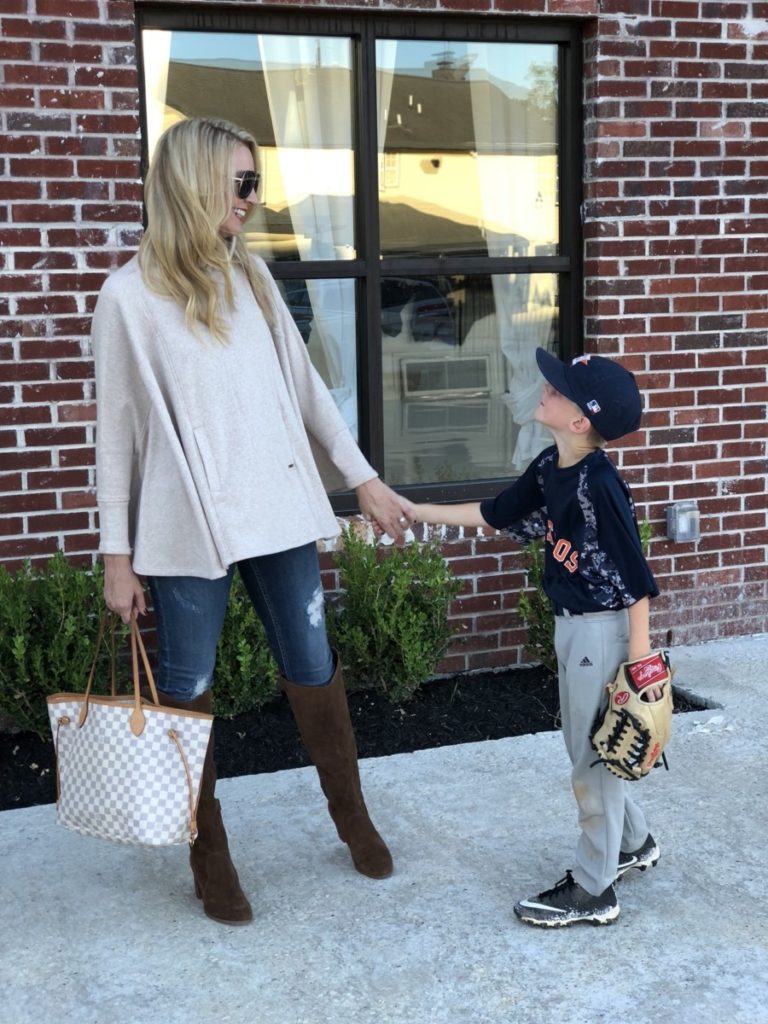 AG Farrah Skinny Ankle– Size 28, Grey Mist
These favorite jeans also come in blue and black.  If you love a higher waisted jean and want a jean that really suck an tucks everything into the right places, ie: love handles, saddle bags, belly pooch.  Did I just describe all the things these jeans were doing for me?!?  I guess that's why I'm hitting spin class like WHOA.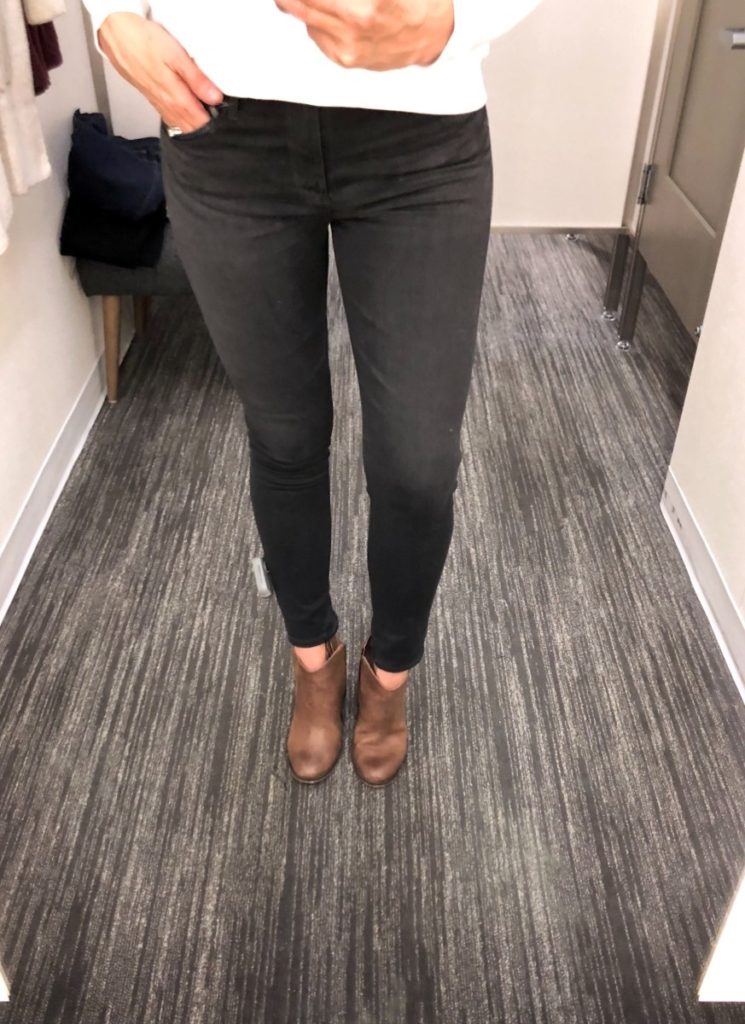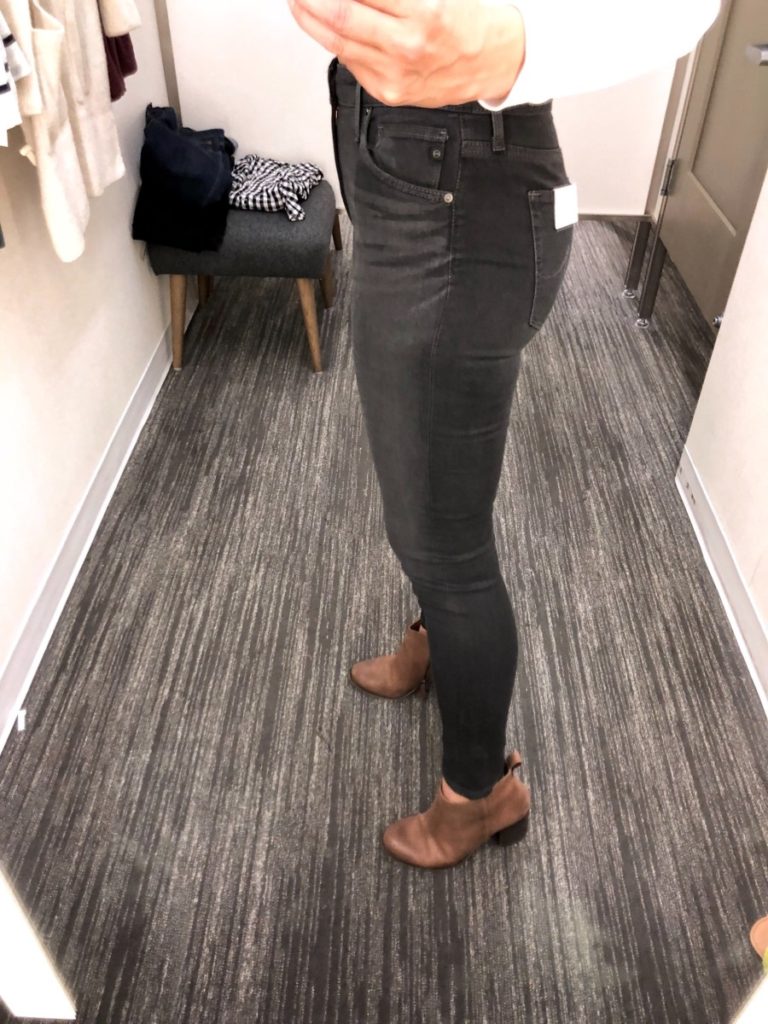 FAVORITE JEANS – FRAME DENIM
My friend in Austin is a Nordstrom stylist.  She told me about these favortie jeans last week so I figured I would try them on.  Hot damn if they aren't one of my new favorite pairs.  They come in multiple colors but this dark grey was different and ended up being very flattering.  I loved the high waist, again for body contouring aka sucking in the lumps and bumps.  I also loved the raw hem with the side slit ankle.
FRAME Le High Skinny– Size 28  /  Sweater– Size Small, Comes in Crimson, beyond soft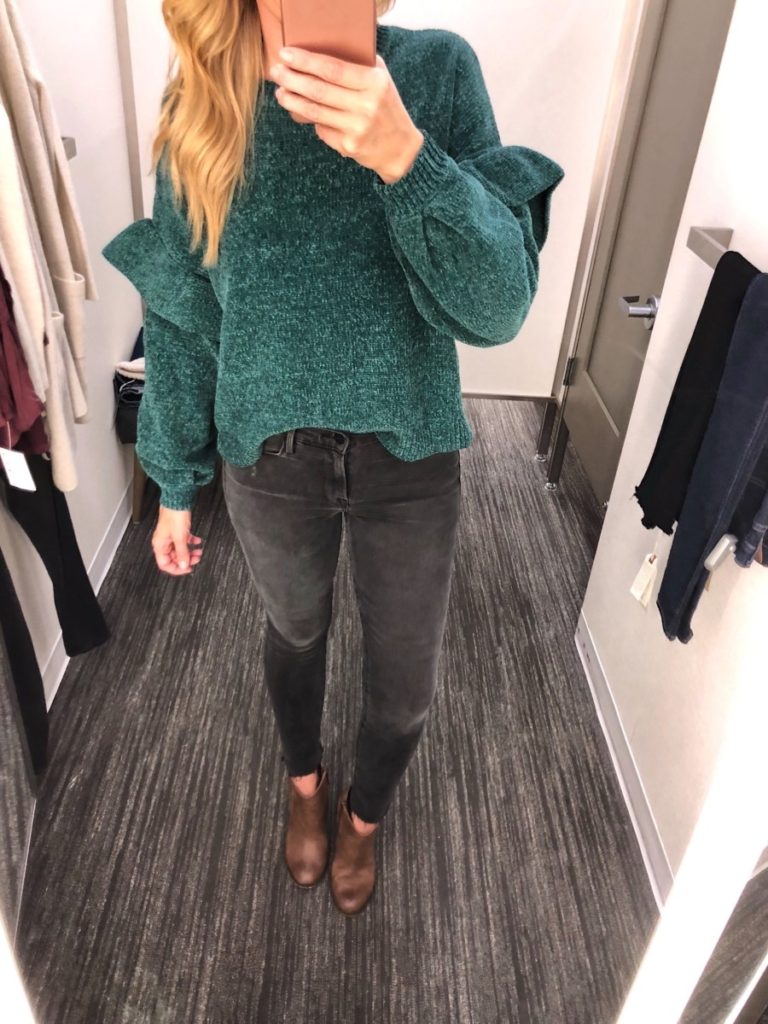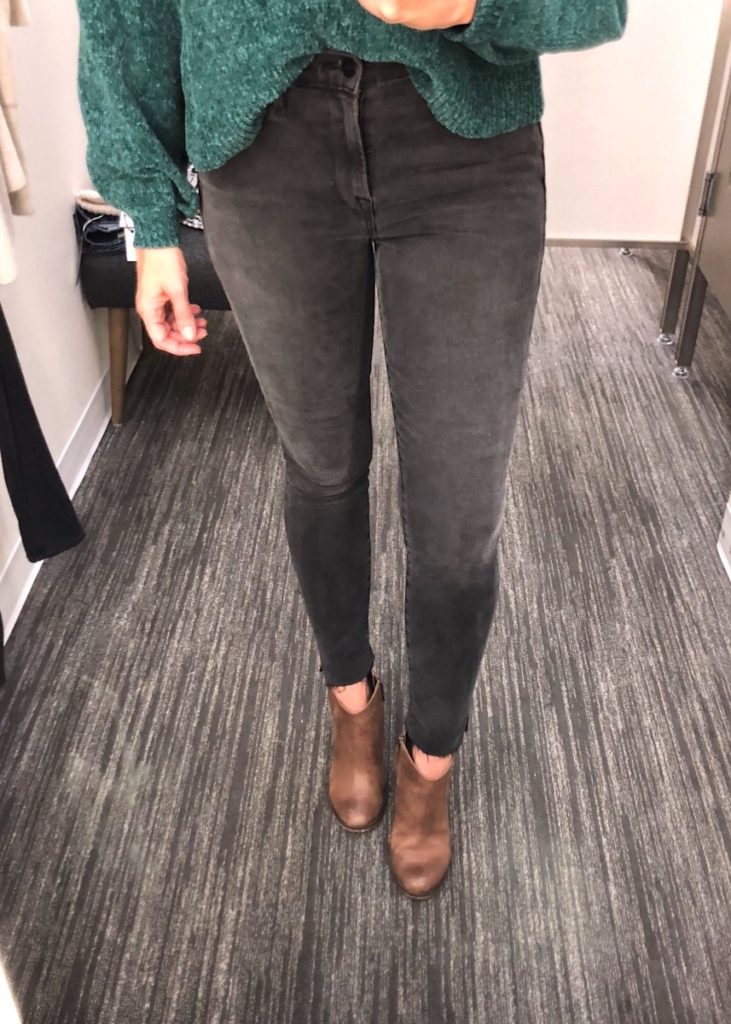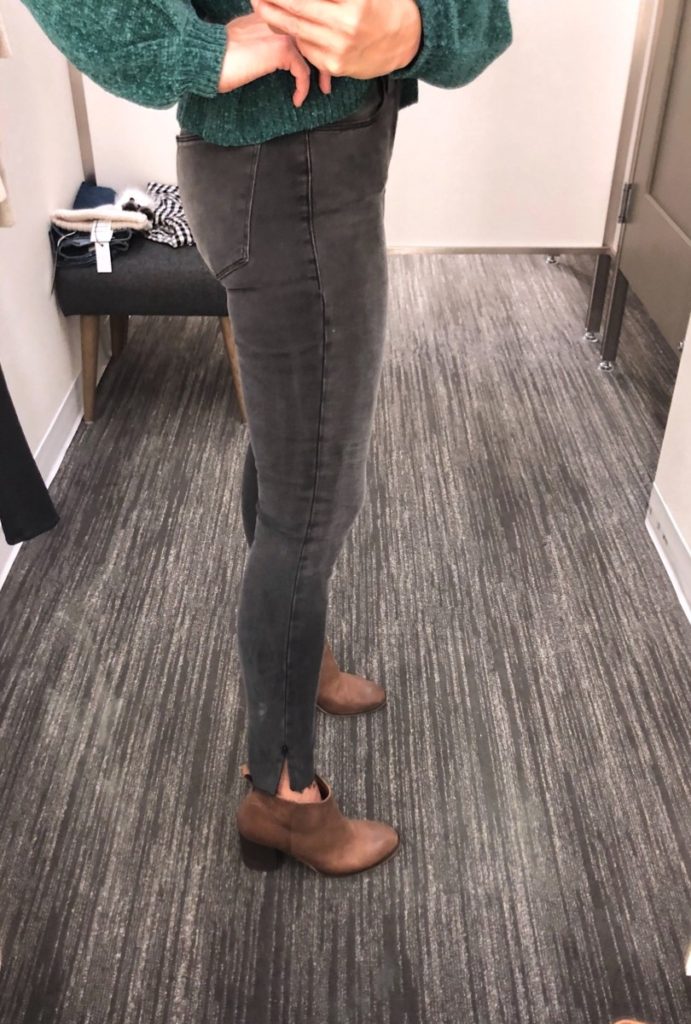 FAVORITE JEANS – CURRENT/ ELLIOTT
I had never tried on a pair of Current/Elliott jeans.  I decided to grab a pair of these black high waisted jeans with a raw frayed hem.  Do you notice a high waist trend?  It's because everyone was tired of their butt cracks hanging out all the time when they bent down! The frayed ankle was a fun touch to basic black denim.
Current/Elliott Super High Waist Stiletto Ankle Skinny Jean– Size 28   /  Green Tee– Size Small, See my striped & grey one here  /  Burgandy Ruffle Hem Top– Size Small, Multiple Colors  /  Tassel Necklace  /  Booties– Size 9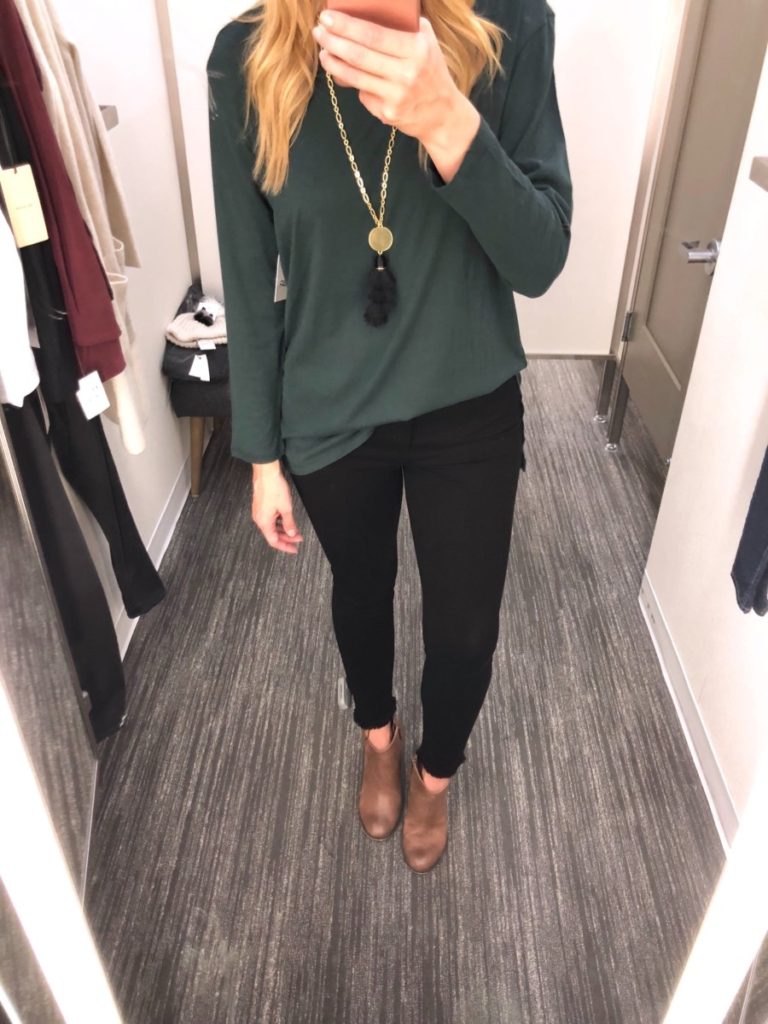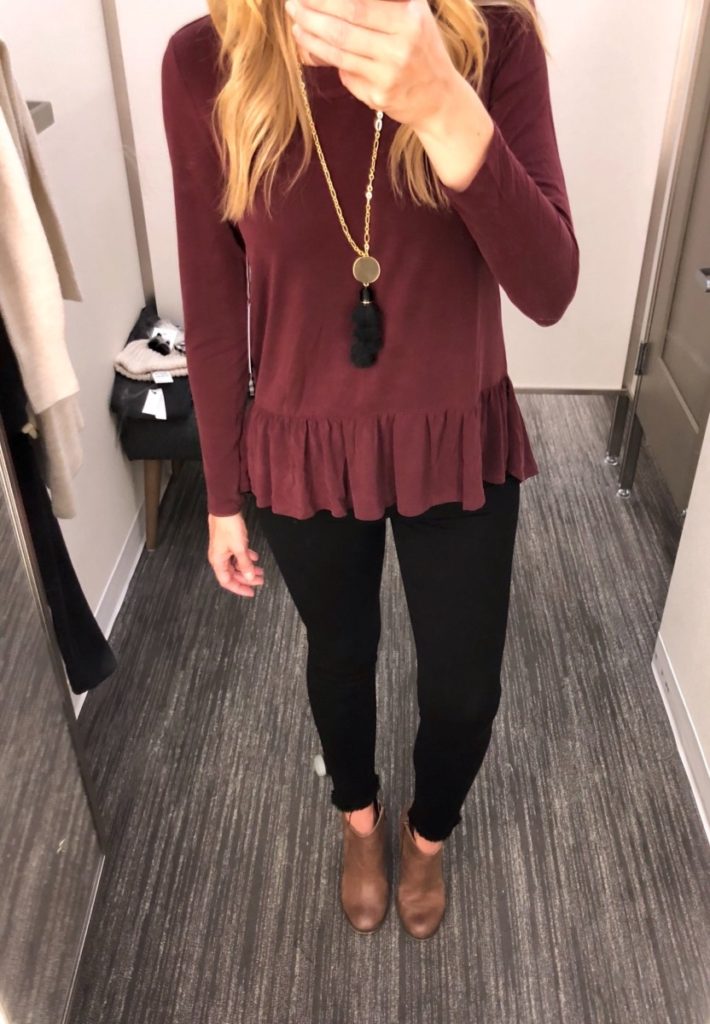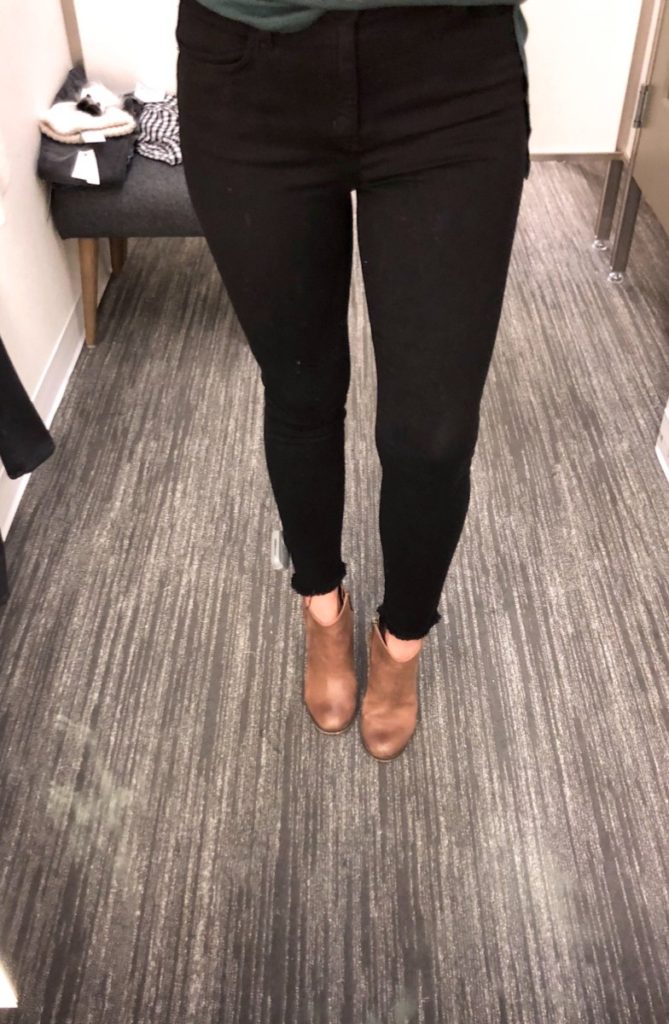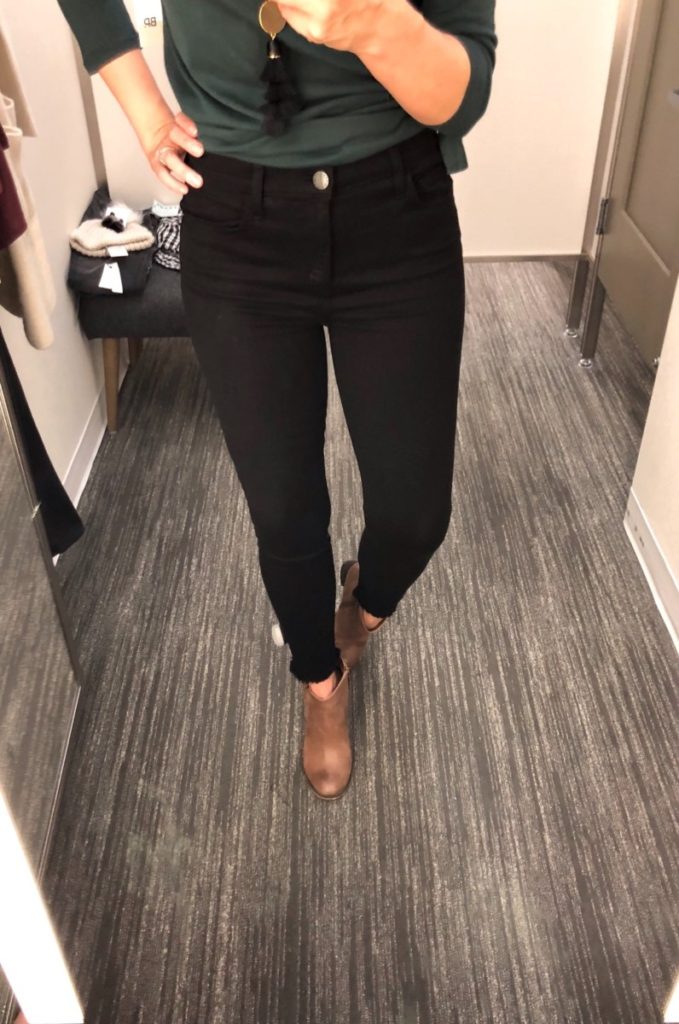 FAVORITE JEANS – MADEWELL
These had rave reviews and my friends love them.  Paige was busy hiding behind the mirror putting 8 billions stamps on her arm so I thought, what the heck, Ill try on one more pair of jeans.  These had rave reviews on the Nordstrom denim page and my friends love them so I tried them.  High waisted- check, dark wash- check, awesome stretch- check.  These Madewell jeans are a great classic pair and look really cute rolled up with booties.
Madewell 9 Inch Riser Skinny Skinny Jean– Size 28  /  Cream Cardigan, Size XS, Obsessed with this cardi, on my Xmas list  /  Black Tee– Size Small,  BEST Tee EVER people!  /  Necklace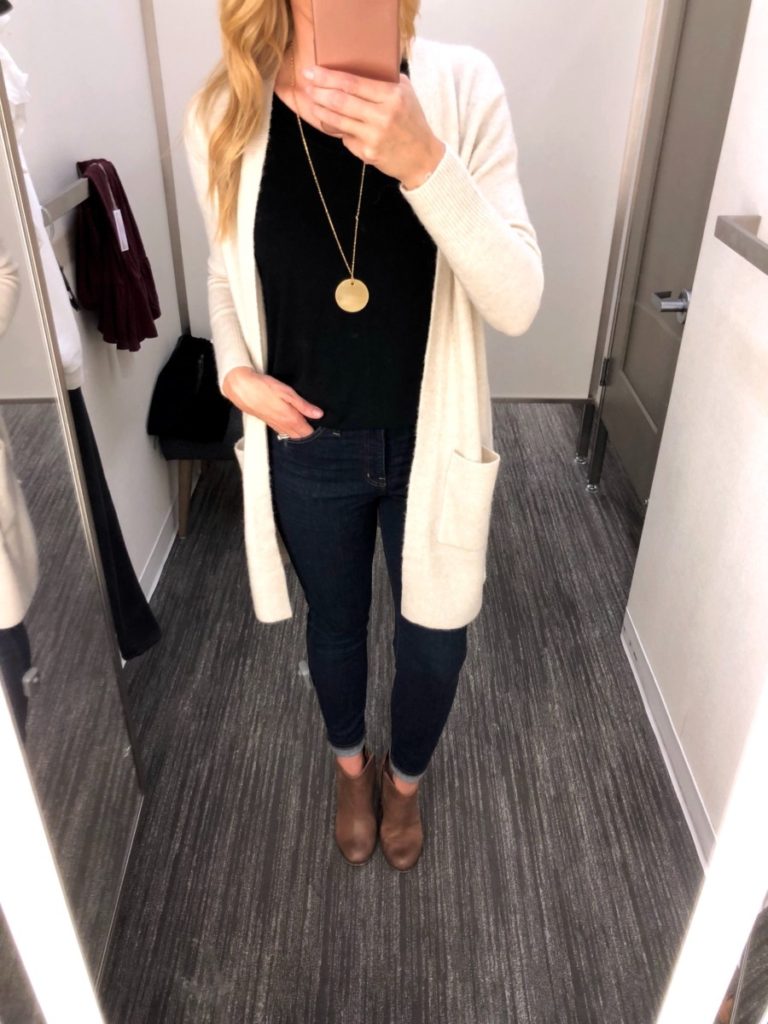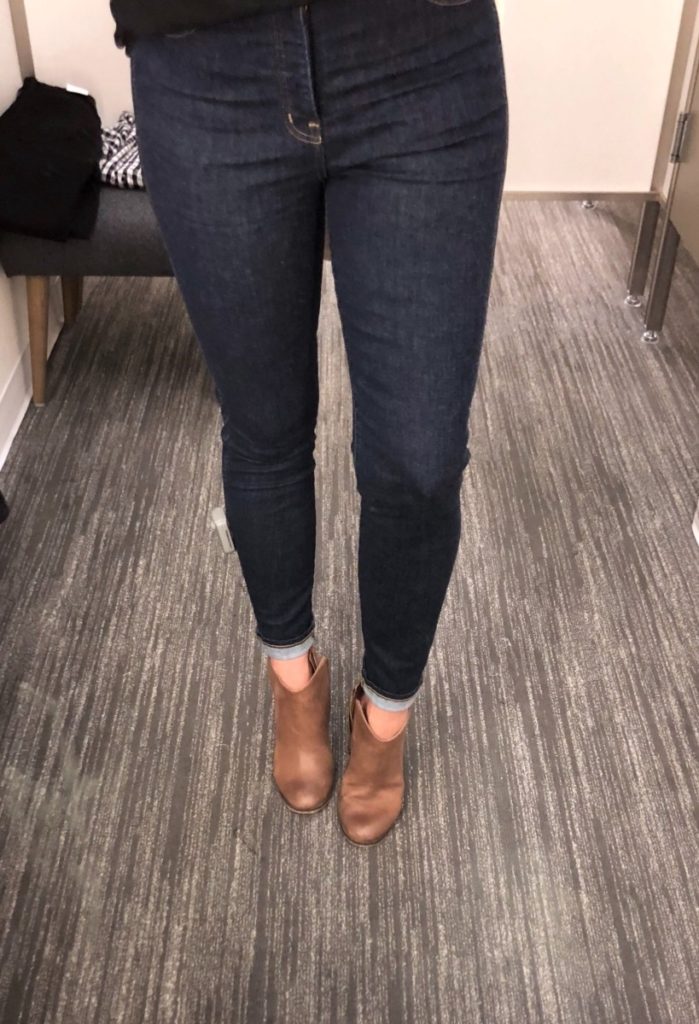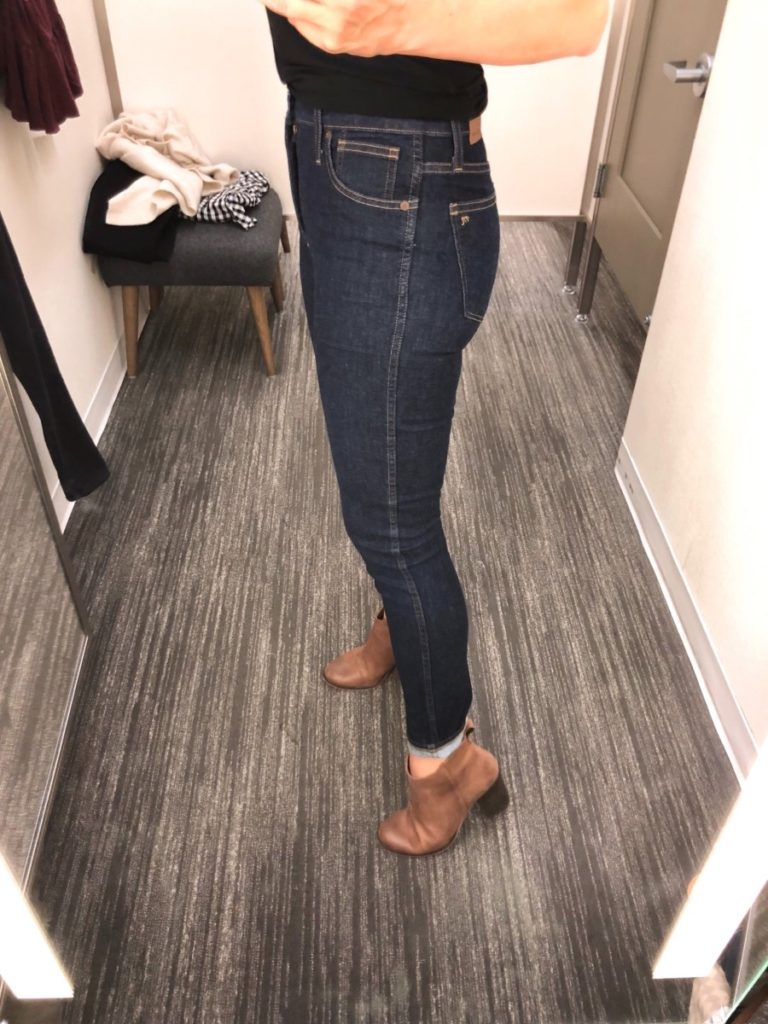 There you have it folks.  My breakdown of the favorite jeans from Nordstrom denim brands and styles.  If you have any questions about fit, sizing, color, etc. Please leave a comment below and I will be sure to help you out ASAP.
Thank you to Nordstrom for sponsoring this post and a big thank you to ya'll for supporting me and the brands I love to work with and share with you.
Have a great start to your week friends!
XO- Sara