Ah summer!  The days are long and hot but always seem much more relaxed.  Our days are typically filled with trips to the pool or beach while trying to beat the heat.  We also love to have friends over for dinner and socialize a little later into the night because #noschool!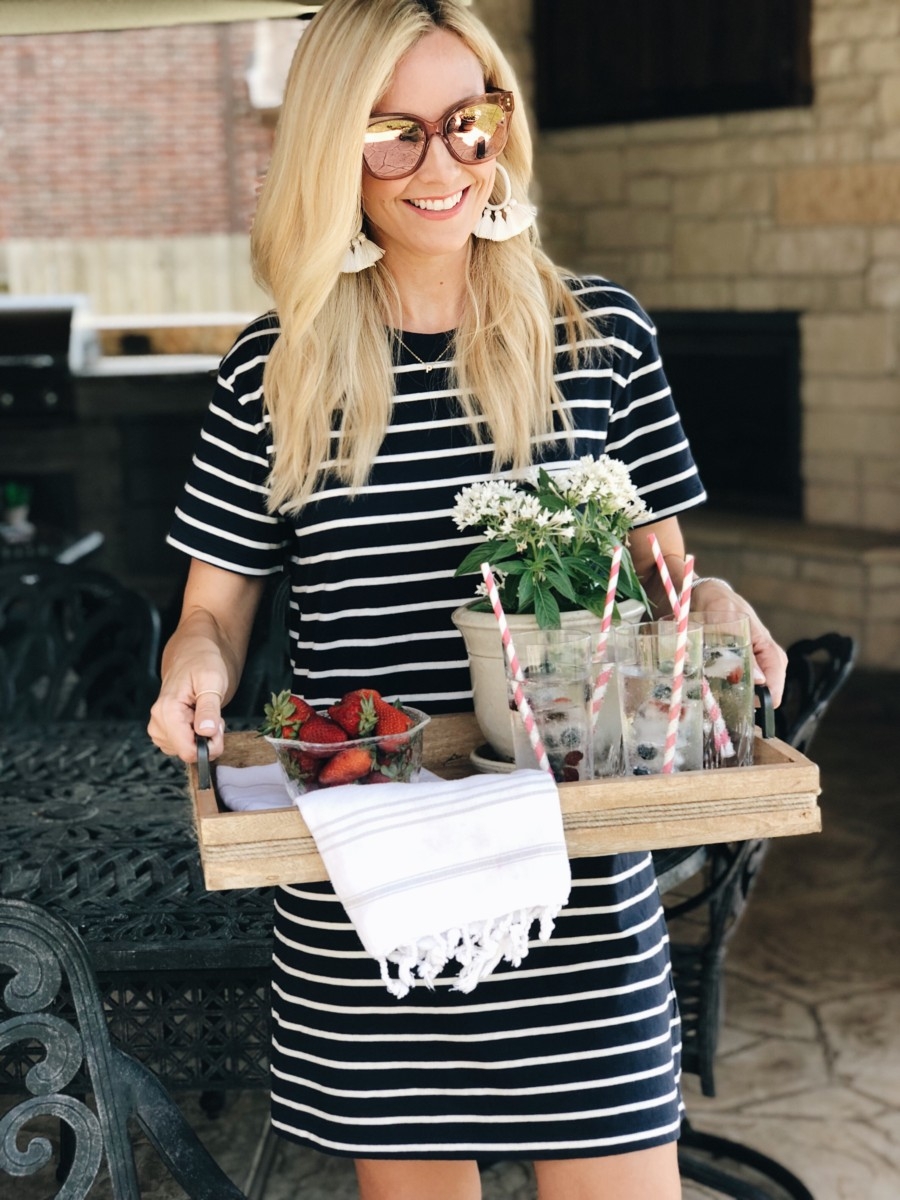 Dress  |  Sunglasses  |  Earrings – similar |  Sandals Here & Here  |  Favorite Insulated Cup
However, the days of being 22 and eating and drinking whatever I want are long gone.  I love being in my mid thirties but my body is hating me a little more every day.  I have had to learn how to eat healthier and swap out those creamy pina coladas and sugary mojitos for low calorie cocktails.
A while back we were at the beach and I posted some of my favorite low calorie cocktails on Instagram Stories and it is still one of my most requested DM's.  It seems you guys are all looking for easy, low calorie cocktails that won't leave  you with a moment on the lips for ever on the hips syndrome!
Below are my 5 favorite low calorie cocktails that are both EASY & REFRESHING!  Many are made with vodka because vodka is a low calorie liquor that is easy to mix.  I also made sure the serving sizes are geared towards what someone may typically drink.  We all know we probably aren't drinking only one cocktail out of a single rocks glass!  I also rounded up all vodka calories up to 70.  Most vodkas are between 67-71 calories per ounce.  I also have some healthy snack ideas and my favorite low carb/keto ideas for those of you who are busy or on the go.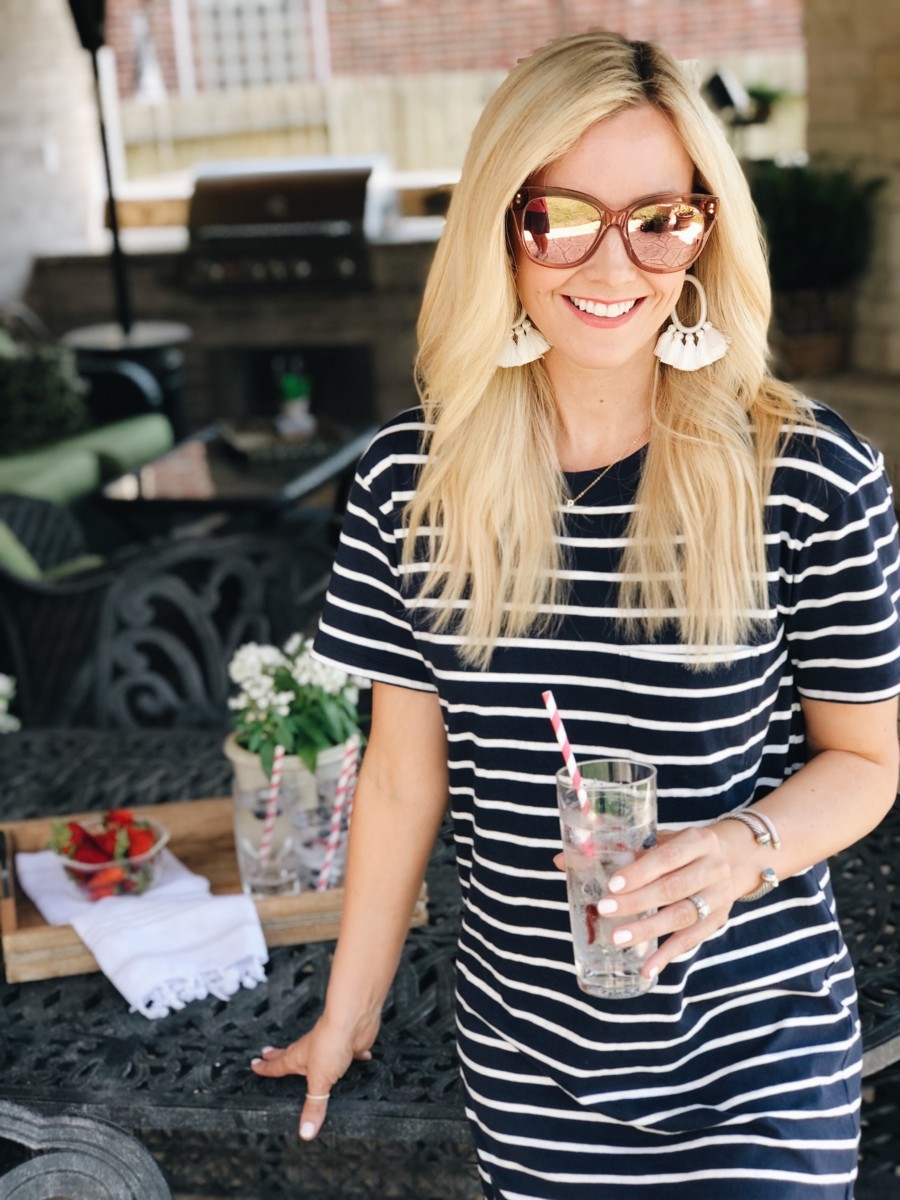 Recipes for Low Calorie Cocktails-
Limeade & Vodka
16 oz Minute Maid Limeade 15 Calories
2 oz Tito's Vodka (gluten free) or Ketel One
1/2 Glass Ice
Stir both ingredients together for limeade with a kick!
170 Calories
Crystal Light & Vodka
1 Packet Crystal Light Water Bottle Packet ( I like peach tea, raspberry lemonade & lemonade)
8 oz Water (half a bottle of water)
1/2 Can La Croix – Optional (I typically use whatever fruity flavor I have)
2 oz Vodka
Mix all ingredients together with ice.  I usually make this in my large 30oz Rtic cup for the beach or pool and it will last me a long while.
220 Calories
Grapefruit Topo & Vodka
1 Bottle or Can Grapefruit Topochico or any other grapefruit flavored mineral water
2 oz Deep Eddy Grapefruit Vodka
1/2 Glass Ice
Grapefruit for garnish, mix all ingredients together with ice.
140 Calories
Bougie White Claw
1 Can Ruby Red White Claw Seltzer
1 Oz Vodka
Dash of Ocean Spray Diet Sparkling Cranberry (comes in a can by sparkling water or juice isle)
Mix White Claw Ruby Red with vodka and a dash of diet sparkling cranberry for a splash of sweetness.  This is optional but I like a touch of sweet.
170 Calories
The Coconut
1 Can Coconut La Croix
2 Oz Malibu Rum
Optional- Dash of Ocean Spray Diet Sparkling Cranberry (comes in a can by sparkling water or juice isle)
My friend Katy always said she wanted a drink that tastes like suntan lotion smells!  I die laughing every time she says this.  She came up with this cocktail and if you love coconut, this will be your jam!
51-60 Calories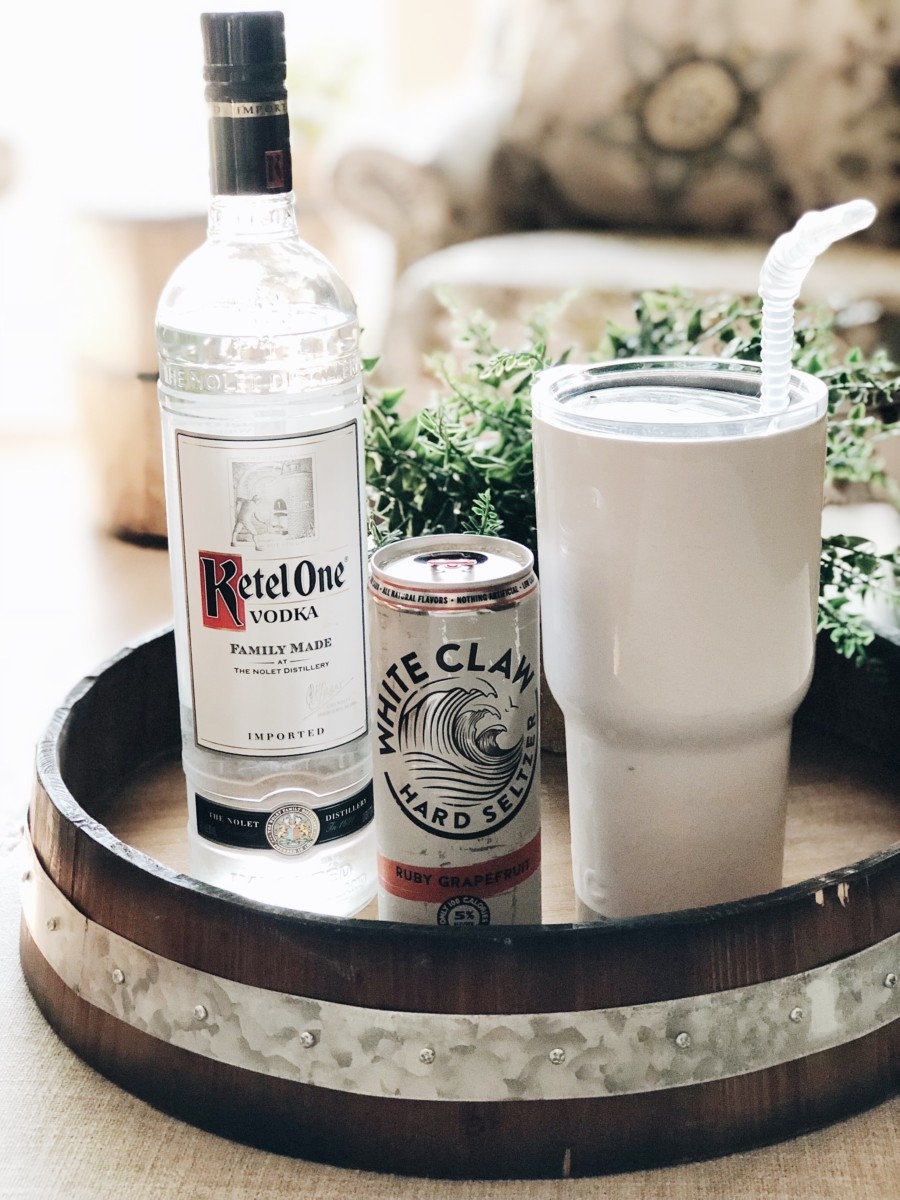 I also love a classic rum and Coke Zero if you are looking for something other than vodka.  I would love to know if you have any favorite low calorie cocktails up your sleeve for summer.  Leave a comment below or shoot me an email ([email protected]) and I will add to the list!
And as always, please drink responsibly.  If you are out, call Uber or Lyft and drink safely by the water.
XO-Sara