I intended to have this post up first thing in the morning but my allergies have been off the charts.  I hate taking medicine but finally broke down and took some Allegra last night. Needless to say I fell asleep.
So, now onto one of my all time favorite looks.  The jumpsuit! Why do I love them so much? For starters it is one piece of clothing.  No mixing and matching required.  Two, they are so comfortable.  I love casual jumpsuits and dressy jumpsuits.  When everyone is wearing a dress to a party, change it up and wear a jumpsuit.  My casual black jumpsuit is perfect for a casual dinner or add this  belt (model B) and a pair of heels for a dressed up look.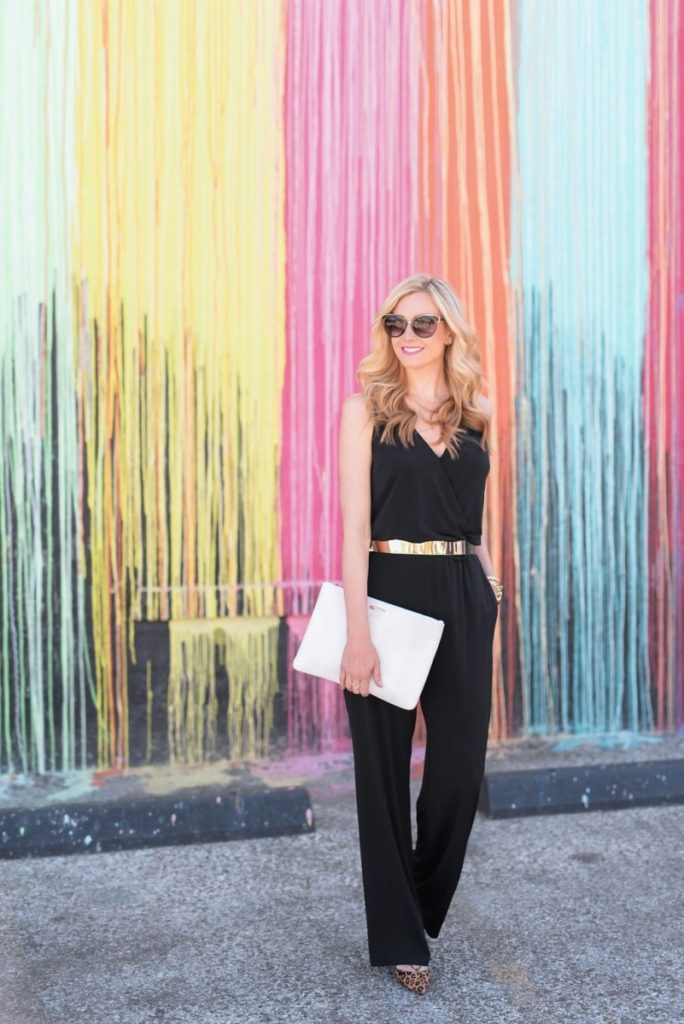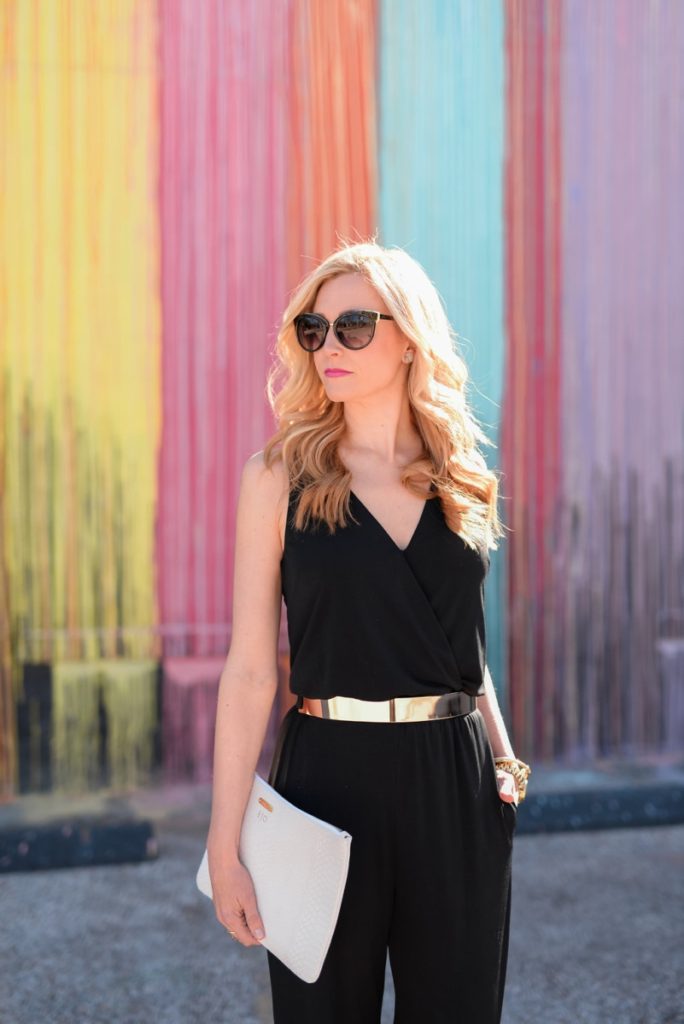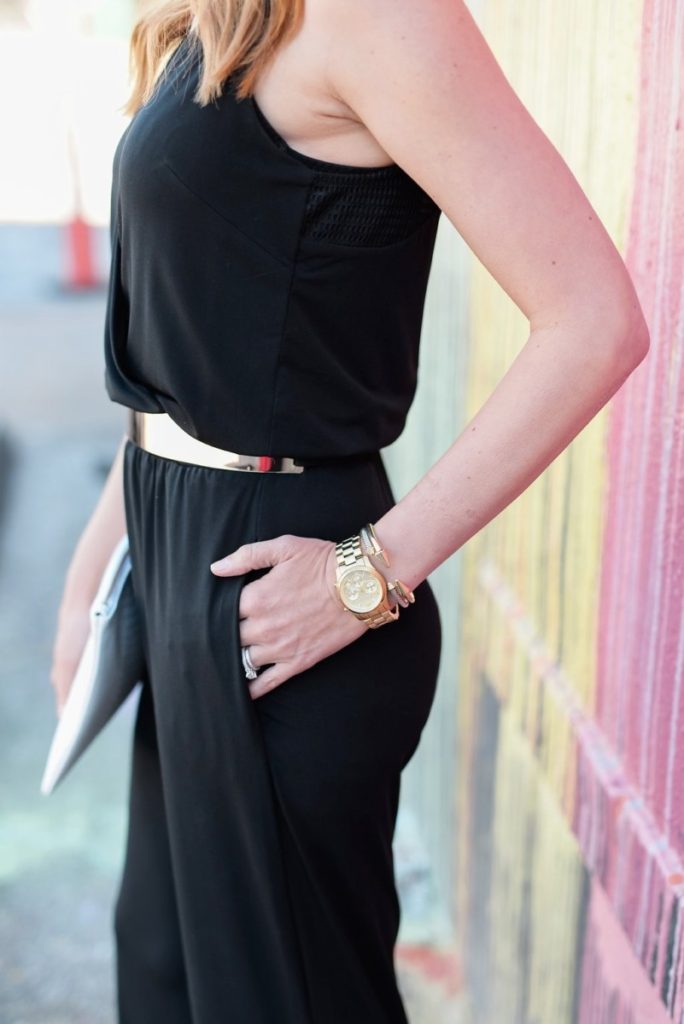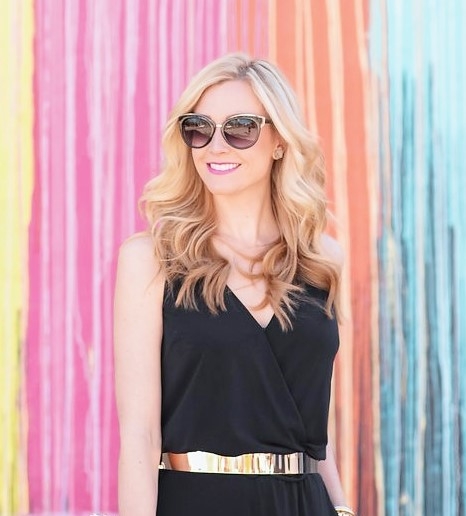 Jumpsuit |  Gold Belt (Model B)  |  Leopard Heels 
Clutch  |  Sunnies  |  Pink Lipstick– Hot Gossip
* Click the jumpsuits in the picture for links
TOP ROW
Tied Belt (removable) |  Tapered Ankle  |  Silver Belt
MIDDLE ROW
V Neck   |  Embellished Neckline  |  Halter
BOTTOM ROW
Key Hole Front  |  Halter Wide Leg  |  Ruffle Bust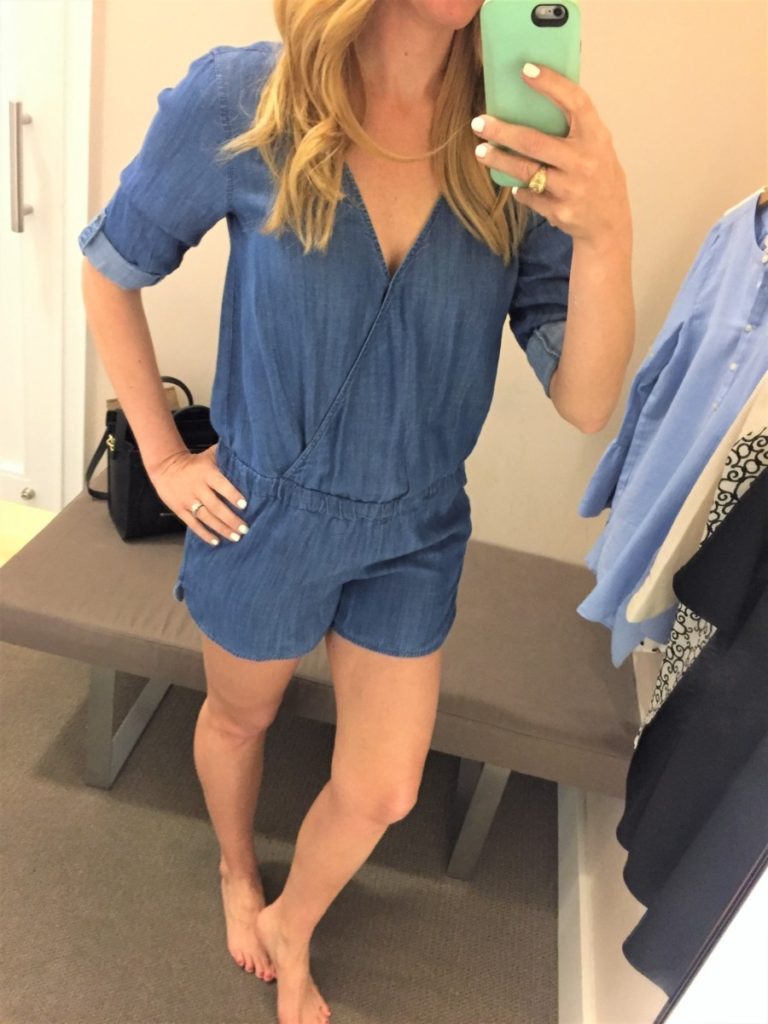 Chambray Romper – I am wearing a 2
If there is one thing I love more than a jumpsuit, it's a romper.  Again, one piece of clothing that can be worn casually or dressed up.  For daytime I would wear a pair of sandals and my monogram necklace.  For a nighttime look, I would wear wedges and a statement necklace or a pair of fun earrings like these.  This romper also passes the long torso test!  I hesitated on this one and didn't buy it.  Ugh, why don't I think sometimes?  The dry desert air must have been affecting my brain.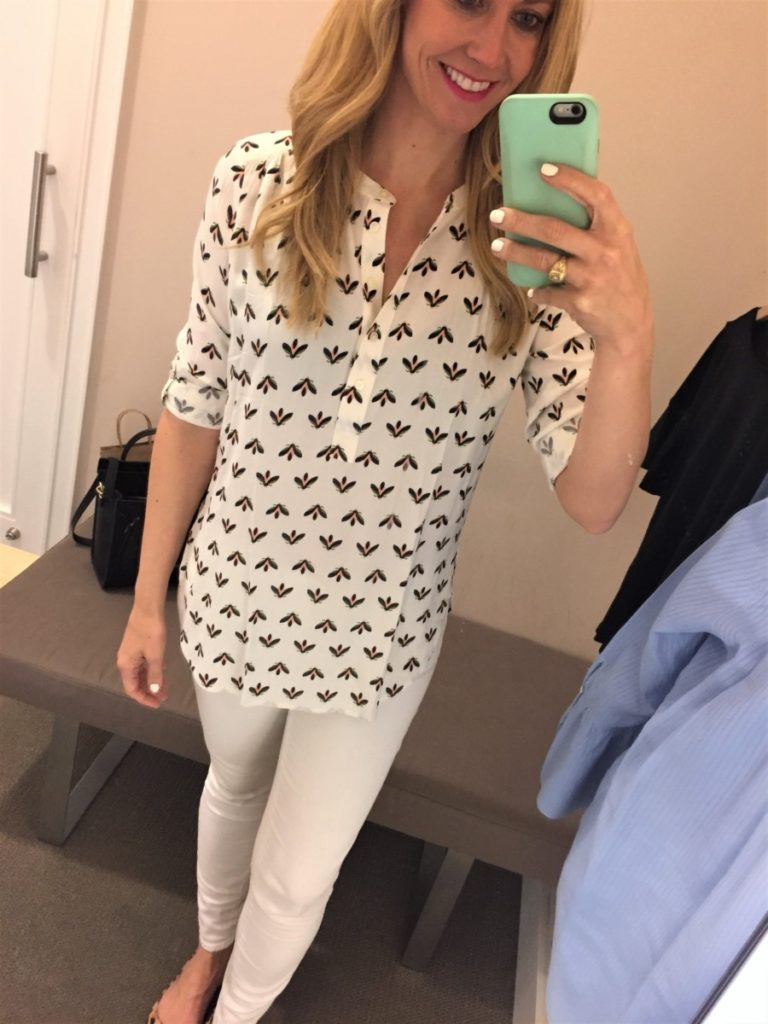 Printed Tunic  -Wearing a small
This top was so pretty.  I would wear it with dark or distressed denim and it will even be cute tucked in with a pair of shorts!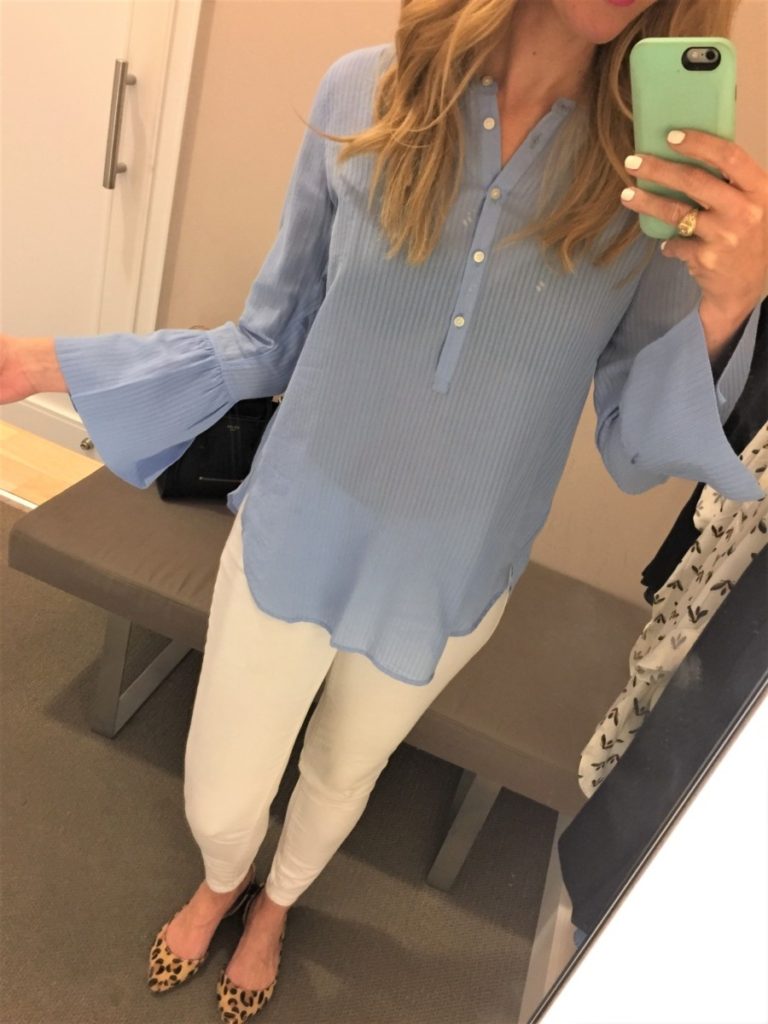 Blue Bell Sleeve Top – Wearing a small
I bought this top because the blue was so pretty and I loved the bell sleeve.  You can see how I styled it two ways here.  Note to self: Don't wear a black bra to try on clothes.  The air in Scottsdale was so dry so all of my clothes kept clinging to me.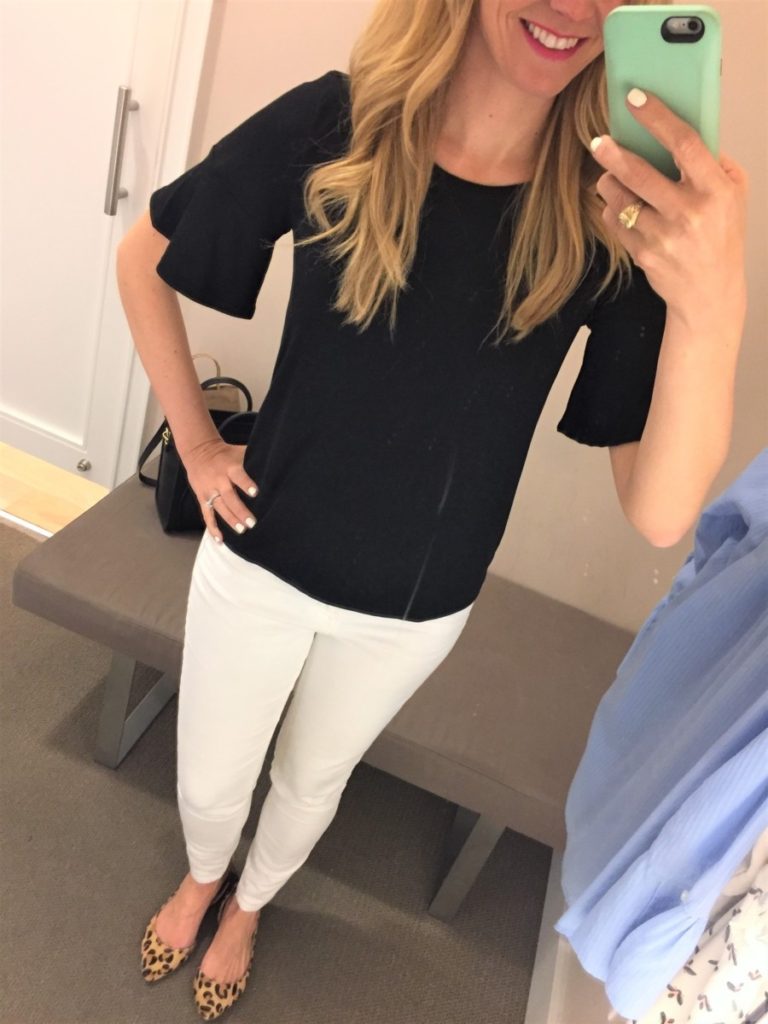 Black Bell Sleeve Top – Wearing a small
This top was adorable and would be perfect for work as well.  I love the blush color it comes in but the store was sold out.
Black Sleeveless Ruffle Top   -Wearing a small.  Now 40% off
How adorable is this top!  I loved the ruffle detail across the front and along the neckline.  Again, this would be great for work with a cardigan or blazer too.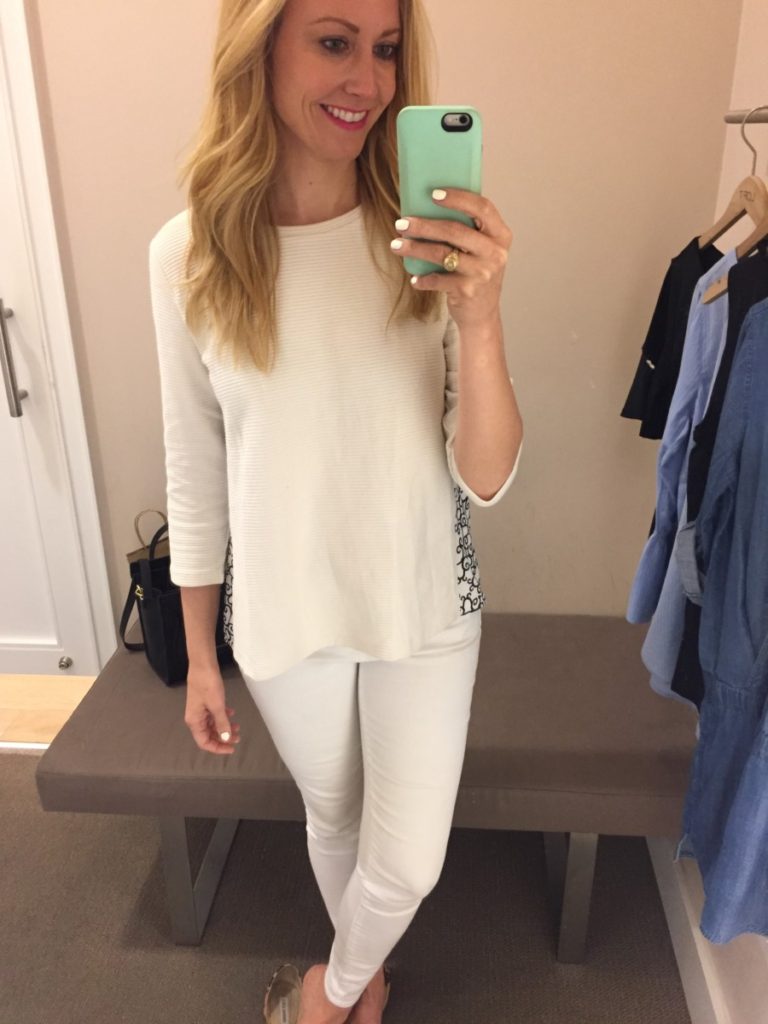 Mixed Media Top – Wearing a small
This top was so cute and reminded me of a mullet.  Business in the front, party in the back.  I loved that the front was more structured and the back was lightweight and flowy.  This top would be perfect to wear to work with dress pants or casually with a pair of jeans.
Always free shipping and free returns! No questions asked.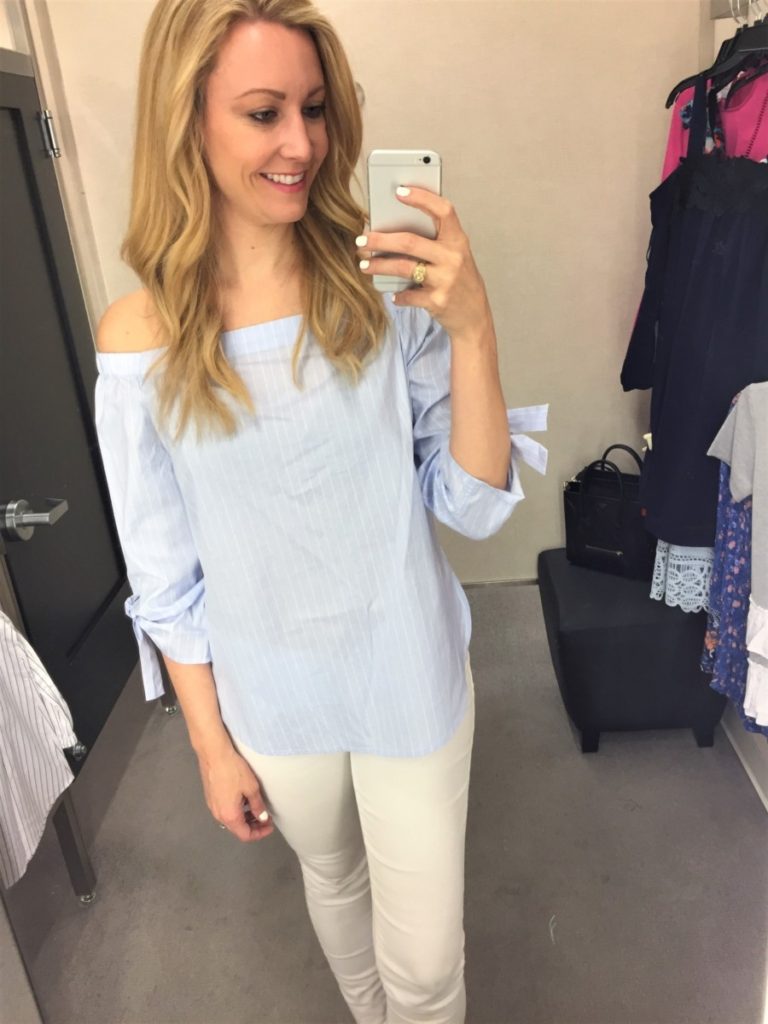 Blue OTS Top with Side Ties – Wearing a small
I have an obsession with OTS tops and this one was adorable with its tie sleeves.  It has a thin white pin stripe and would be gorgeous with this statement necklace or these drop earrings.  It would also be amazing with a pair of shorts or jeans.  I posted my favorite OTS top here.  This one is about $20 cheaper and comes in 3 colors.  A definite spring must have. Nordstrom is killing this year with their darling OTS tops.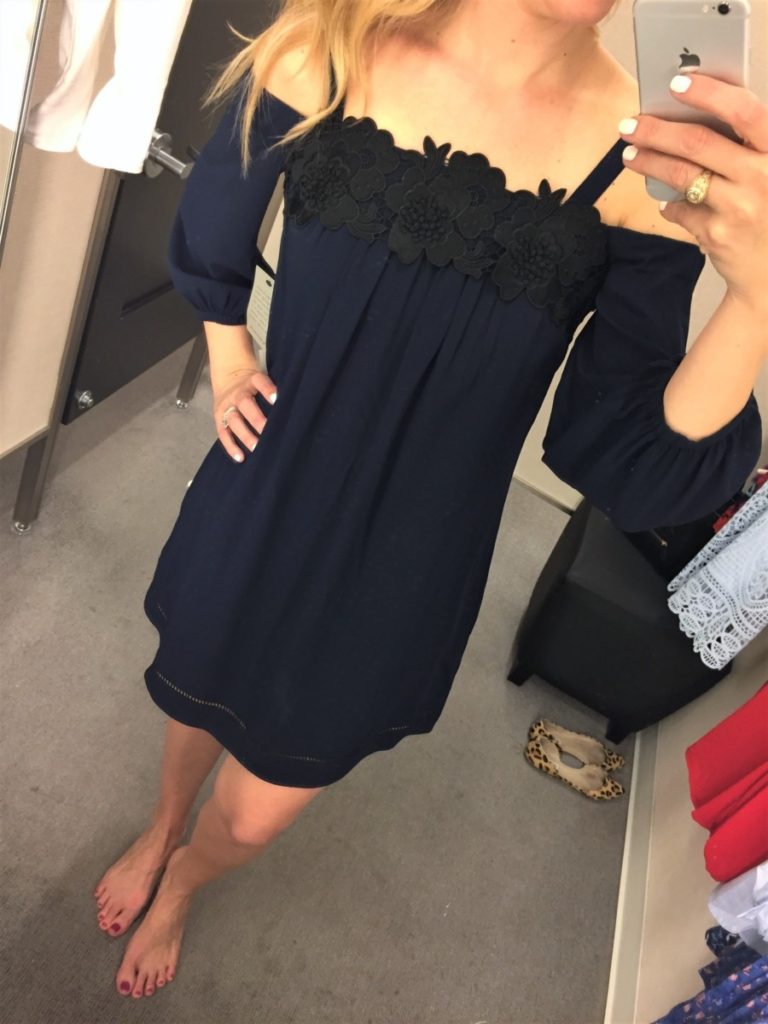 Navy Shift Dress with Black Floral Neckline – Wearing a 4.  Needed the two but it was sold out in store.
I am typically not a fan of shift dresses because of my pear shape.  I tried this one on for shits and giggles and LOVE IT!  It would be so pretty for a wedding or as a casual spring/summer dress.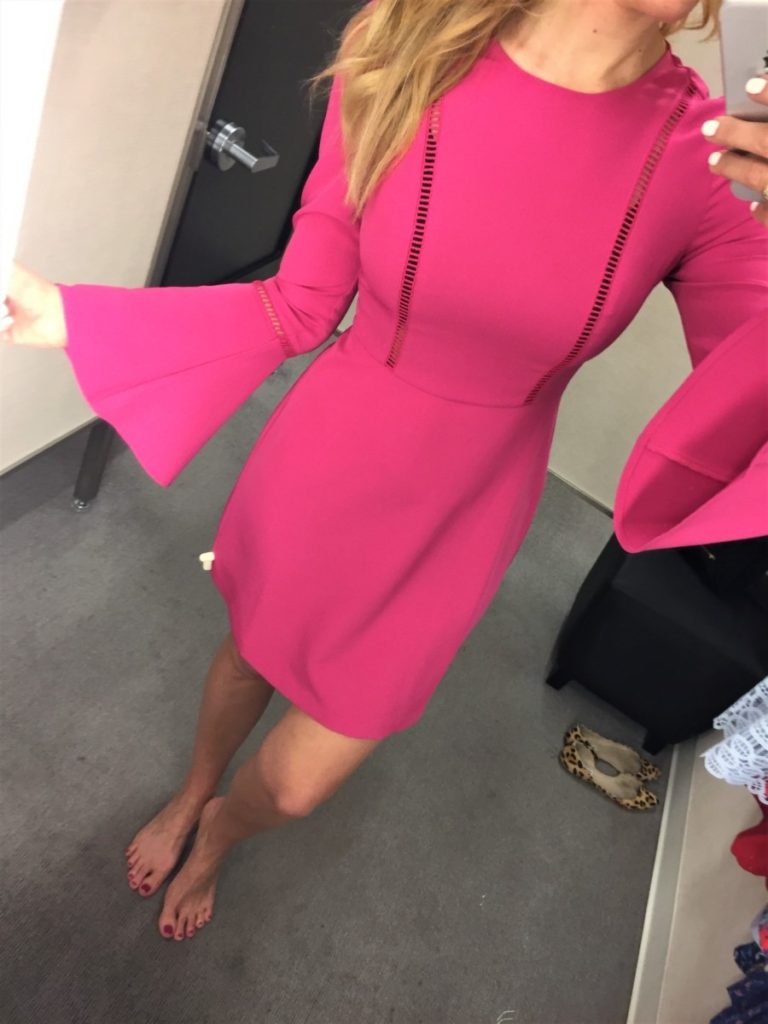 Pink Fit and Flare – Wearing a small, Less than $100
This dress was ADORABLE!  I didn't buy it because I had a carry on suitcase. I will say if you have a large chest, this may not be the dress for you.  Luckily for me, my chest is deflating by the second (insert frowny face).  My BFF called and said she happened to buy the exact same dress for her work conference.  Good thing, because now I can borrow it from her!  Get this, when she got it delivered the zipper was broken.  She called Nordstrom customer service and they are shipping her a new one in time for her conference on Monday.  This is why Nordstrom is amazing.  Free shipping, free returns and amazing customer service!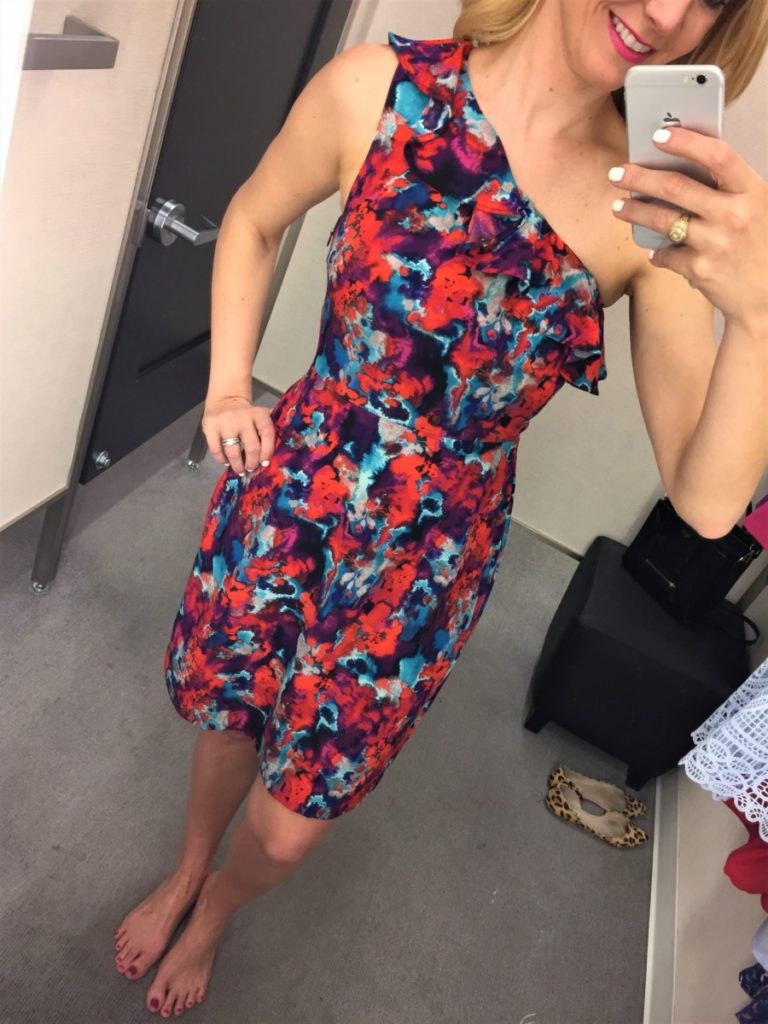 One Shoulder Floral Dress (only $88!!!) – Wearing a Small
This dress would be darling for Easter or a wedding.  I loved the flattering fit.  It was so dry in AZ that the static cling was getting the best of me!  I thought this dress would look totally pulled together with my gold belt!  This dress is a total steal in my book.  How often do you find a gorgeous dress for less than $90?
Nordstrom Looks
I hope you are as ready for spring as I am!
Cheers
Sara